As one of the longest-running trail series, it's safe to say the Peregrine is among the first shoes runners think about when going offroad. It can handle nearly anything you throw at it thanks to its tried-and-true comfort, agility, and traction. But what truly puts the v13 above its predecessors is its thicker slab of midsole foam—making it even more capable for easy days, long slow miles, and the occasional race through punishing terrains.
Pros
Cushioned and protective midsole
Better for longer efforts than the v12
A good trail racing option
Great traction whether on ice, snow, gravel, and dirt
Mud just falls off the outsole
Comfy and airy upper
Performance-oriented fit
No heel slippage
Smooth and natural-feeling ride
Cons
Debris tends to get in
Not as fast as other speedwork trail shoes
Too-firm midsole
Who should buy the Peregrine 13
Get a hold of this Saucony staple if you:
Want a light and nimble pair for your everyday trail runs.
Want a shoe that's capable of racing through the most technical of trails.
Are looking for a fast trail runner that's also cushioned enough for long miles.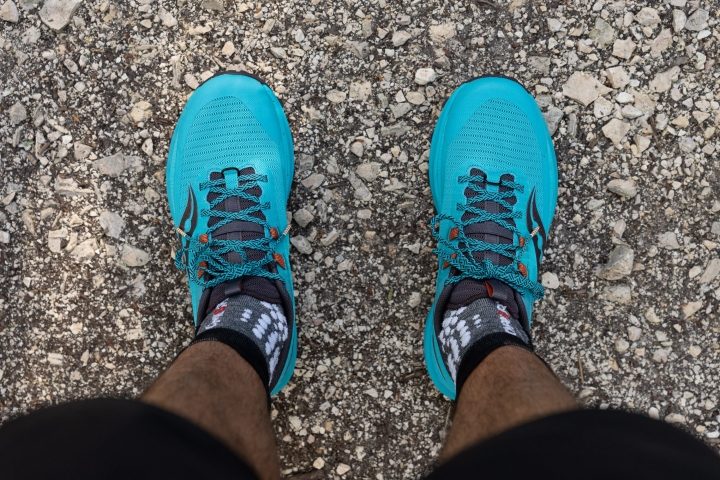 Who should not buy it
Those looking for a flat-out explosive trail running shoe should opt for the Hoka Torrent 2 or the Endorphin Edge. If a tank of a trail shoe is what you're after, check out the Speedgoat 5 or the ASICS Fuji Lite 3.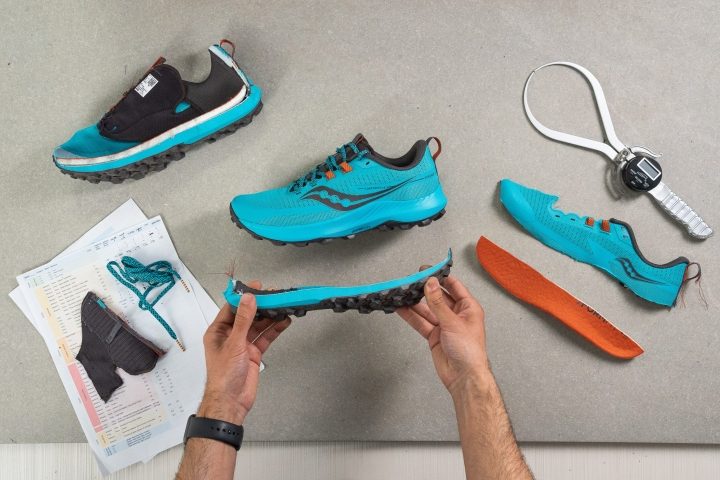 Wider and breathable, but still pretty narrow
Fact check
The average breathability rating for trail shoes is 2.9, and we gave the Peregrine 13 a rating of 3. This shoe can handle warm weather, but not for extended periods of time.
The Peregrine 13 runs true to size. It has a snug forefoot that transitions into a slightly wider midfoot and heel. One reviewer said that the shoe was comfortably accommodating for his narrow, low-volume foot, "while still being very secure no matter the speed or how technical the terrain."
Those with broader feet, on the other hand, should go for its wide sizes.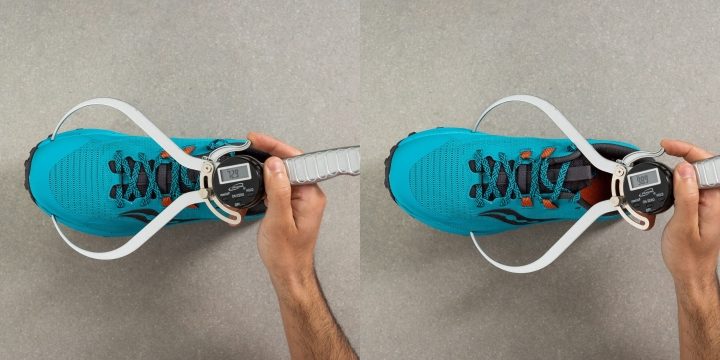 Fact check
Upon closely examining the upper, we observed that this shoe has a particularly narrow fit in the big toe area. In comparison, the popular
New Balance Fresh Foam Hierro v7
is 10.4% wider at that measurement point, which is one of the largest differences we've encountered.
Top-class upper
The mesh of the v13 "remains one of the best trail uppers out right now," said one critic. Users were impressed at how light, airy, and comfortable it felt. At the same time, it offers a fit that "helps with security for nimble, quick landings."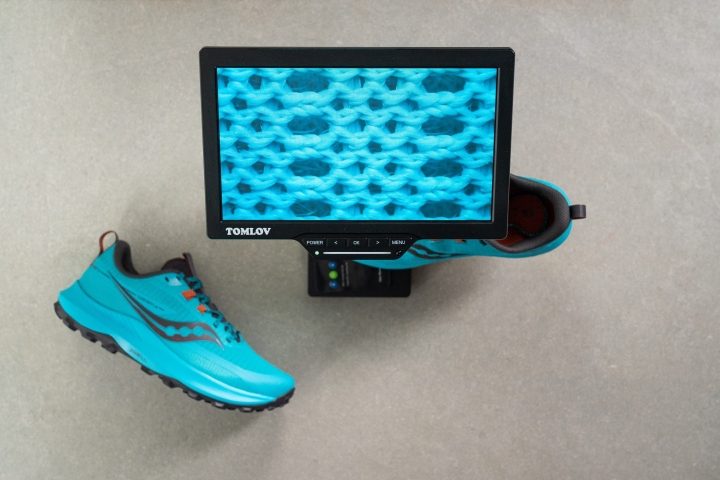 One texter noted that "the Peregrine has always had excellent durability and I would expect v13 to be the same."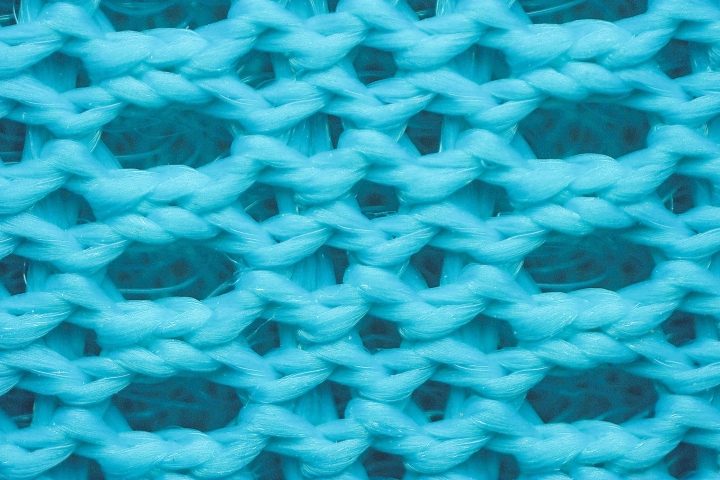 Fact check
After examining the upper under our microscope, we can confidently confirm that it possesses the anticipated toughness, and its durability will be exceptional.
While the rigid-but-padded heel counter prevents heel slippage, there has been a reported issue where debris slipped into the shoe through the heel collar. We rated the heel stiffnest at 3 out of 5.
Now an even better daily trainer
The big story in the Peregrine 13 is the added 1.5 mm of PWRRUN midsole foam. While it's still a firm experience overall, testers said that the shoe got noticeably cushier underfoot—with the harshness of the previous version now severely diminished.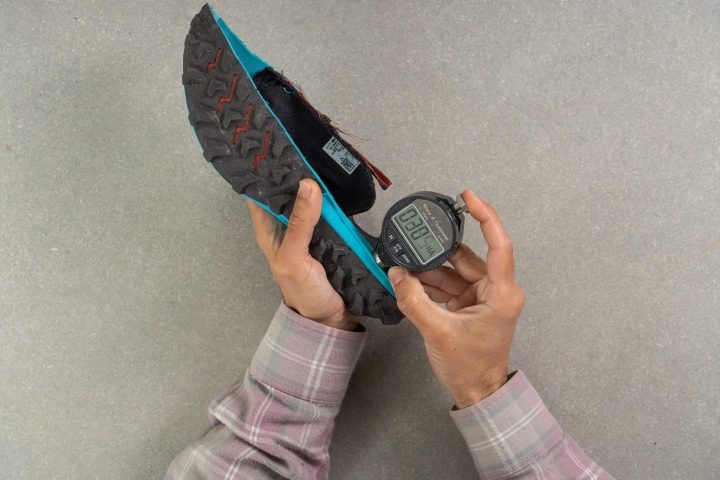 Disclaimer: We calculate the average of four durometer measurements, disregarding any outliers. The photo above shows one of the takes.
Fact check
We measured the shoe's TPU-based midsole at 29.1 HA, which confirms testers impressions about the shoe's firmness. In comparison, its race-oriented sibling, the Saucony Endorphin Edge, is 47.3% softer. This difference is real!
The extra 1.5 mm of foam "adds a totally new dimension to the shoe," says one expert, as it's now "far more of an all terrain, daily trail trainer" versus the more technical-oriented Peregrine 12. That's good news.
Winter-proof
A common drawback of many trail running shoes is that they become quite firm in cold temperatures—please refer to our guide for more details. Thankfully, the TPU-based foam in the Saucony Peregrine 13 is one of those that performs admirably during winter conditions.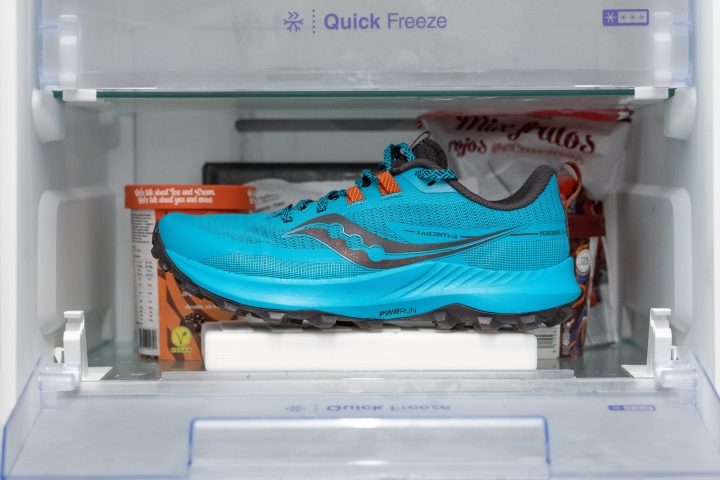 Fact check
The PWRRUN foam in this shoe only hardens up by 16.3% after being in the freezer. For comparison, the EVA-based Salomon Ultra Glide 2 does it by 81.9% and becomes an absolute brick.
On the other hand, how does the Saucony fare in terms of flexibility? Once again, it surpasses the average shoe by becoming only 36.7% firmer, compared to the typical 43.5% increase in firmness that we measured.
The taller Peregrine 13 hasn't lost its edge
What the v13's taller stack lost in agility and ground feel, it made up for in underfoot comfort and responsiveness.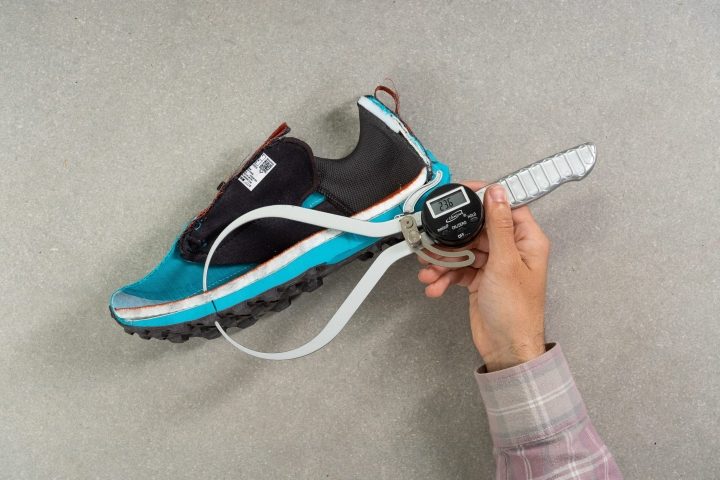 Disclaimer: We always include insoles in our stack measurements.
Fact check
We meticulously measured the stack of the Peregrine 13 to confirm the brand's official claims of a 28/24 mm stack, resulting in a 4 mm drop. Hats off to Saucony, as our measurements came out to be 27.5/23.6 mm that implies an incredibly close heel-to-toe drop of 3.9 mm—only 0.1 mm away.
This was apparently a trade-off runners did not have a problem with, as the shoe still performed well on technical terrain. "I have not yet felt them to be less stable and are equally confidence inspiring," expressed one critic when comparing it against the v12.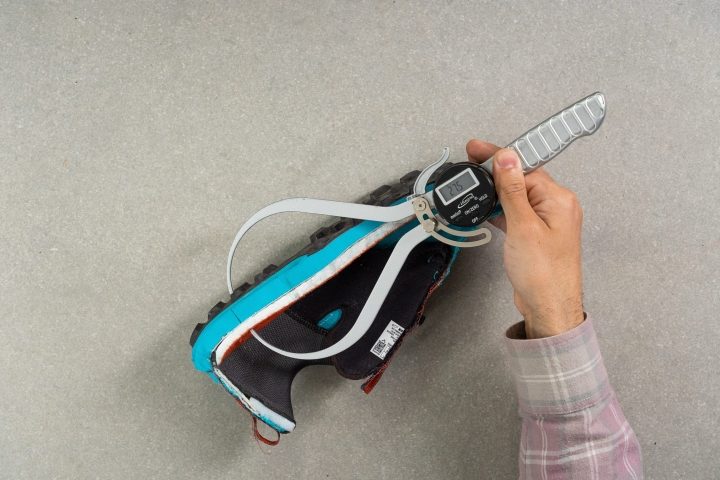 Disclaimer: We always include insoles in our stack measurements.
Though "not snappy or explosive" like other speedy shoes such as the Brooks Catamount 2, users still found its ride to be light, quick, and smooth enough to be a race-day option for some.
More protective for heel strikers and flexible enough
The more pronounced "extended swallow-tail design" under the rearfoot of the Peregrine 13 allows for softer landings and smoother roll-throughs, both of which are beneficial for heel strikers.
Moreover, this shoe is really flexible. We only needed 20.8N of force to bend it to 90º—which is almost 40% less than the average shoe.
Fact check
In our manual assessment, the results were exactly the same that the ones obtained by the Peregrine 12. It scored 2 for longitudinal flexibility and 1 for torsional flexibility, being 1 the lowest and 5 the stiffest.
The Peregrine 13 is one of the most flexible trail shoes out there.
For comparison, this is the super-stiff Kailas Fuga YAO. What a difference!
We also measured a pretty decent platform, with 109.3 mm in the forefoot and 85.4 mm in the heel.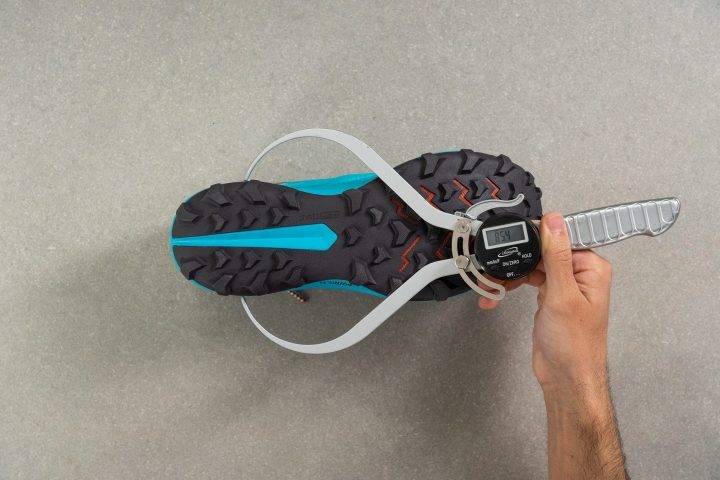 Fact check
The thirteenth iteration of the Peregrine is 2.5% wider than the v12 in the heel, which is another plus for heel strikers!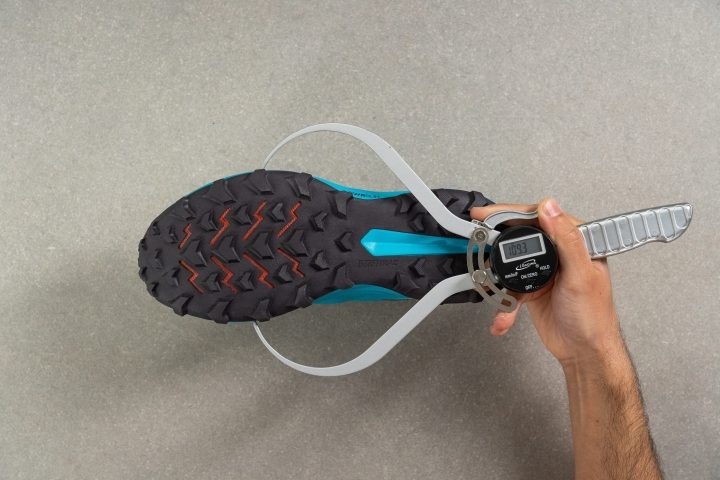 In the forefoot, Saucony reduced the width by 2 mm, making the shoe better suited for those with narrow feet that also are rear to midfoot strikers.
Technical trails are technically easy in the Peregrine 13
The Peregrine 13's full-coverage outsole is complemented by 5-mm lugs in providing excellent traction in almost every trail condition, although "slightly below that of La Sportiva and Scarpa in performance." Nevertheless, runners shared that they were able to run confidently on snow, ice, dirt, and gravel.
They also liked how the redesigned lugs and lug pattern smoothened out the ride and shed mud better.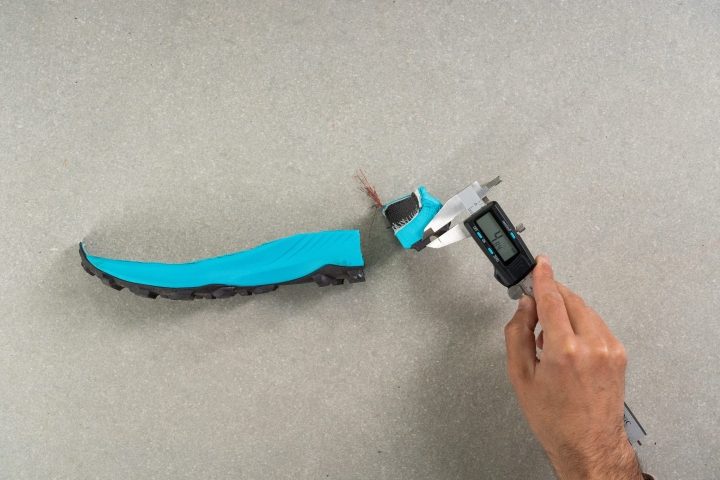 Fact check
We measured the lugs at 4.8 mm, which is quite significant. For comparison, the Salomon Sense Ride 5 lugs are 27% smaller, while those on the Altra Outroad are 52% smaller.
Fortunately, Saucony chose to stick one more iteration with virtually no rocker, which is well-suited for technical trails.
Durability may be a bit concerning
One shoe expert mentioned finding a small crack developing along the indented section of the exposed midsole foam after only 50 miles. While not a major cause of worry, those concerned about durability should take this into consideration.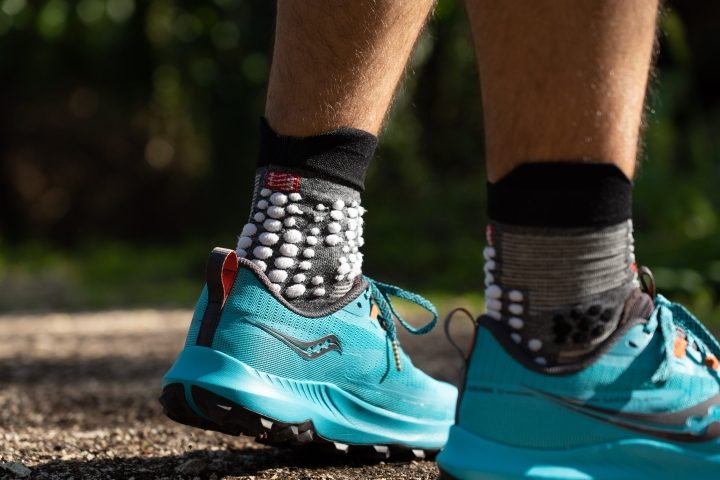 No broken feet here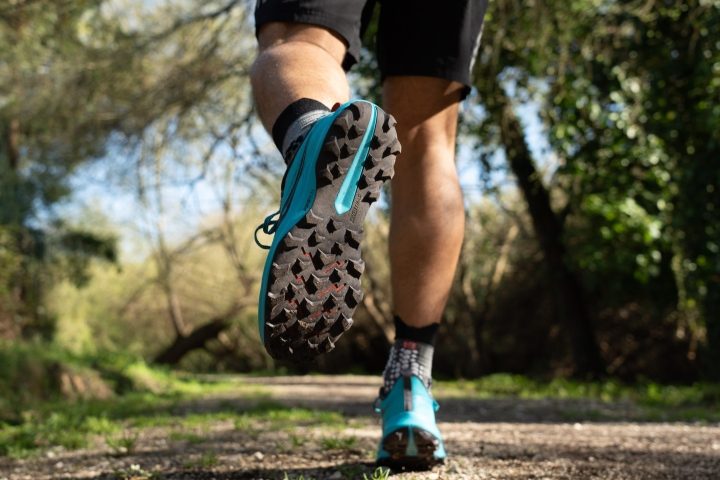 In addition to the thicker cushioning, reviewers also appreciated the shoe's flexible rock guard for providing extra protection and stable landings on rugged, uneven terrain. This combination gave the shoe an added advantage "for bashing the downhills and not feeling as beat up."
Saucony also decided to go with a hard-enough rubber in the outsole, being less than 1% softer when compared to the average shoe. That's enough for a shoe like this.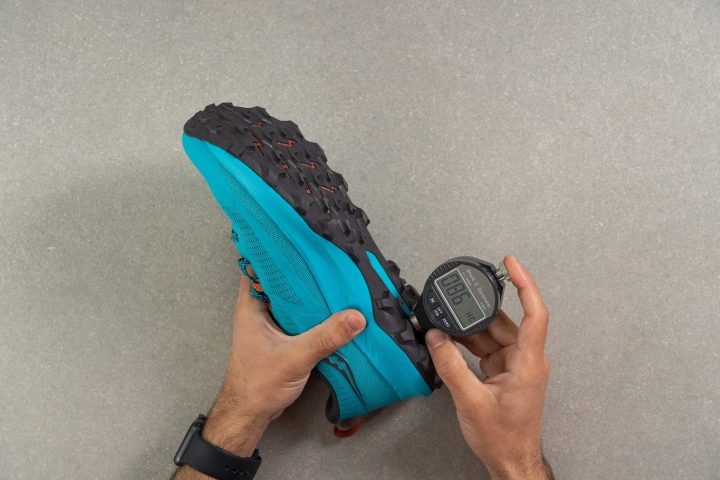 Disclaimer: We determine the average value from 4 durometer readings, excluding any anomalies. The image provided depicts one of the recorded measurements.
It's also interesting to note that Saucony included an eye-popping 7.0mm thick insole. That's 34% more than the average shoe and obviously contributes to the softer feeling compared to the previous Peregrine.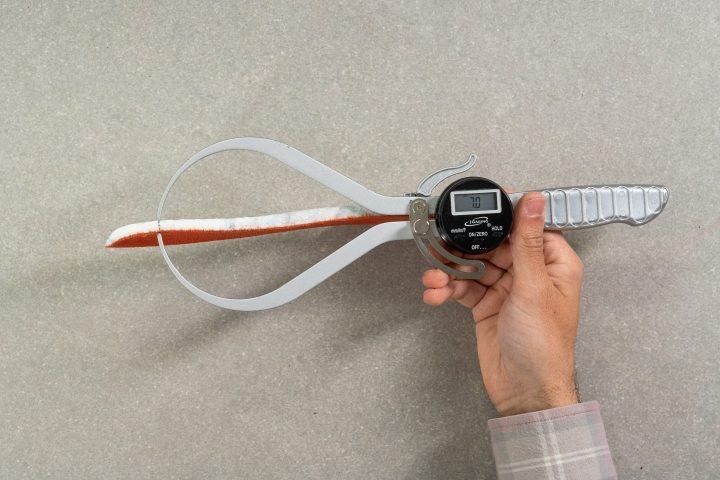 Lacing is one and done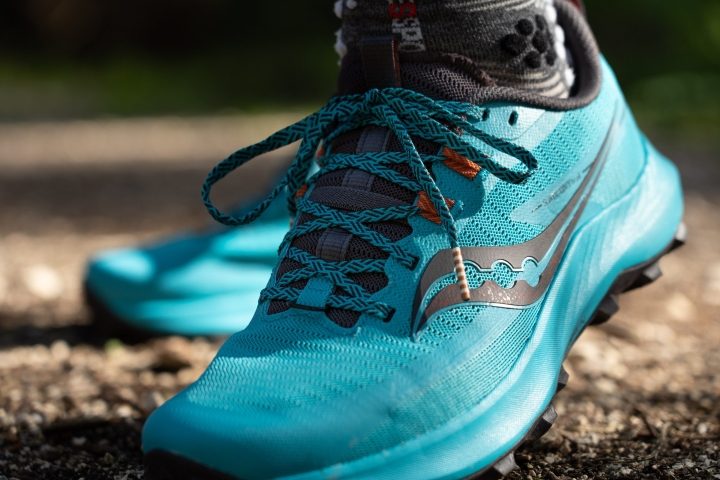 Testers liked the amply padded-and-gusseted tongue of the Peregrine 13. This, together with the laces, provide a solid, complete wrap around the foot without any pressure or lace bite. According to one runner, it was one of the rare shoes where she was able to go on a run "without having to stop multiple times to fine tune the laces."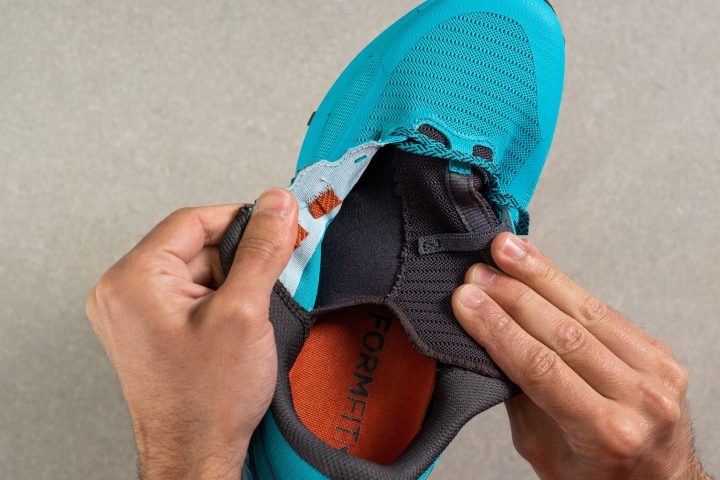 Fact check
Though the tongue is incredibly comfortable, it's worth mentioning that the ultra-padded sensation of past Peregrines is not present here. In contrast to the
Saucony Peregrine 11
's plush 11.0 mm thick tongue, this model features a 3.8 mm tongue, making it a remarkable 65.4% thinner.