Saucony Peregrine 11 review
88
The Corescore is a score from 0-100 that summarizes opinions from users and experts. Below shows the distribution of scores for all running shoes.
Verdict
A beast in all our trail runs, the Saucony Peregrine 11 was more than confidence-inspiring! It's a tank that mutes out all the harshness of the trails while eating up everything you throw at it! From slick mud, snow, dry, and rocky stream crossings, this shoe just bites hard and deep into the ground. It's also built to run fast, and we got exactly that in the Peregrine!
Pros
Outstanding grip
Perfect foot lockdown
Great for mud, ice, rocks
Durable as a tank
Cons
For narrow feet only
Not breathable
Heavy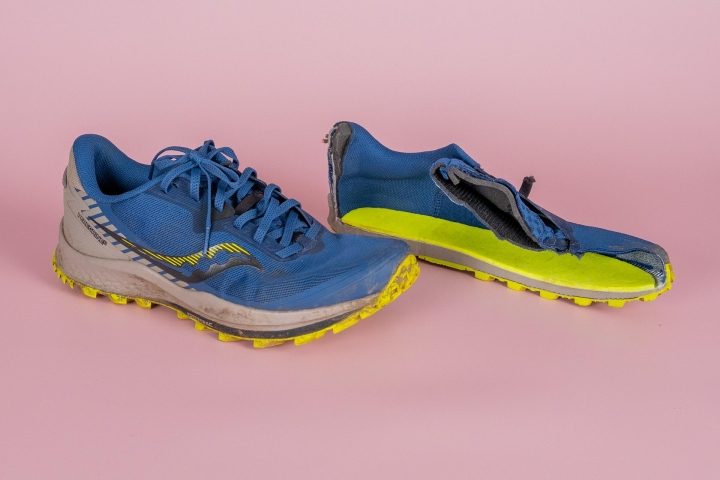 78% say it's true to size.
We earn affiliate commissions at no extra cost to you when you buy through us.
Comparison to similar running shoes
| | | | | | | | |
| --- | --- | --- | --- | --- | --- | --- | --- |
| | Add a shoe to compare | Add a shoe to compare | Add a shoe to compare | Add a shoe to compare | Add a shoe to compare | Add a shoe to compare | Add a shoe to compare |
| CoreScore | | | | | | | |
| Users rating | | | | | | | |
| Experts | | | | | | | |
| Best price | | | | | | | |
| Ranking | | | | | | | |
| Popularity | | | | | | | |
| # of colorways | | | | | | | |
Saucony Peregrine 11 review and lab test
Great winter shoe for people with narrow feet.
The Peregrine 11 is a heavy-duty trail shoe with grip, durability, and performance as its focus. This shoe is ideal for the runner that wants to smash trail regardless of the terrain and yells from the trailhead "ground feel be damned!"
I don't know if that's anyone's battle cry in the real world, but these shoes are stiff underfoot, heavily padded in the upper, and wrapped in thick rubberized overlays to keep the elements out. I'll say it again too, the grip is outstanding!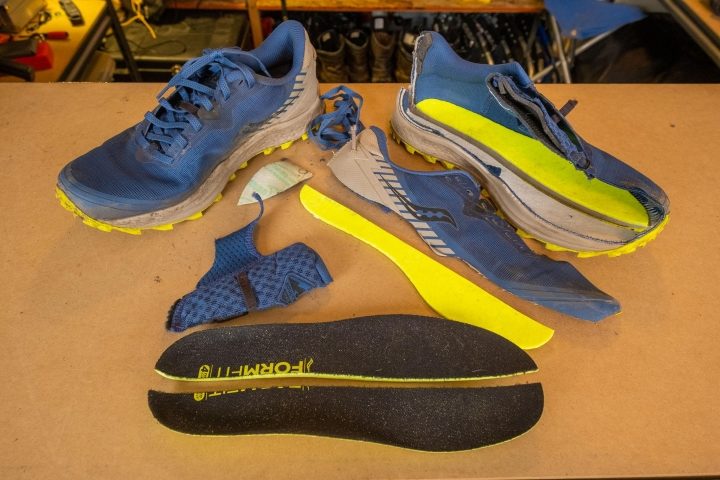 Don't buy this shoe if you have wide feet or if you are looking for
If you've gone down the path of minimalist shoes at all and enjoyed it, the Peregrine 11 will be a step in the opposite direction.
Perfect lockdown: the reason to buy this shoe
Lockdown was amazing and Peregrine 11 is confidence-inspiring on steep fast trails since there are virtually zero movements once the shoe is laced up tight. This is what this shoe is built for.
I was impressed that I didn't have any heel slip, normally super-stiff heel cups (77.5N, compared to the average runner being just 62.2N) don't work for me, but it did on the Peregrine 11.
Most likely it's because the upper is so stiff, once locked down over the midfoot, thanks to the tensioned overlays and thick, somewhat stretchy gusseted tongue, there's no way your heel is moving around.
Comfort failure: too narrow & too stiff
If I was going to compare these to ski boots… Haha just kidding, we all know ski boots are not comfortable at all, but that pain has a purpose, and I felt that way with the Peregrine 11.
I had issues with the fit of the Peregrine 11. It's built on a narrow platform, at 107.9mm under the forefoot, it's the skinniest shoe upfront we've tested and well under the average of 113.4mm. Mix that with a very stiff upper that doesn't have much flex and my feet were hurting the first two runs.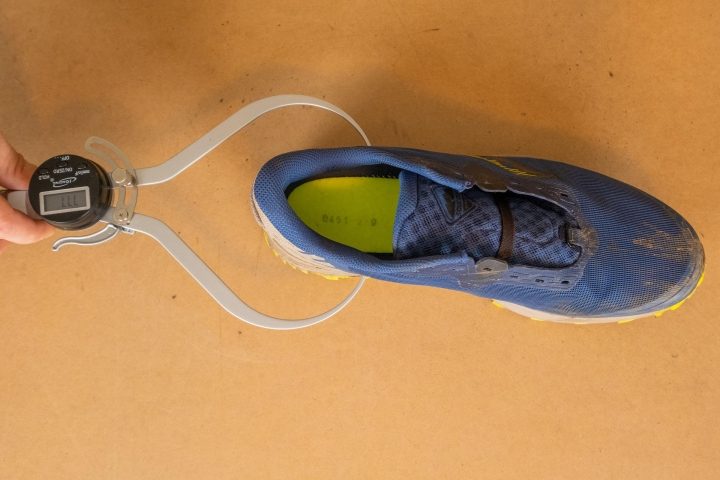 This is not just an upper concern, the midsole is stiff too, at 34.7HA on the durometer it's 27% stiffer than the average shoe in our test.
They are designed to grip, and part of that is a tight, stiff upper, I just didn't need this level of performance and prefer my trail runners to be a bit plusher.
It took a while to break in, and I even cut my first run short because my feet were cramping up.
Outstanding grip: you will trust Saucony Peregrine 11
I've mentioned this above in the ride section, but man, the grip is amazing.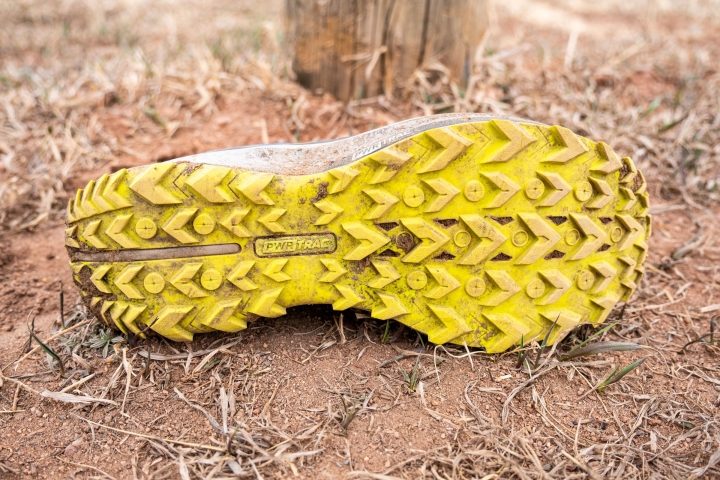 I pushed them hard through everything I could, including slick mud, snow, and over dry, rocky stream crossings, and they were confidence-inspiring.
We don't get a ton of mud here in Colorado, so I'm not sure if I'll need these come mid-summer, but on softer terrain, they excel!
Too warm to be your summer running shoe
Although the Peregrine 11 is technically made from mesh, I would not call these highly breathable.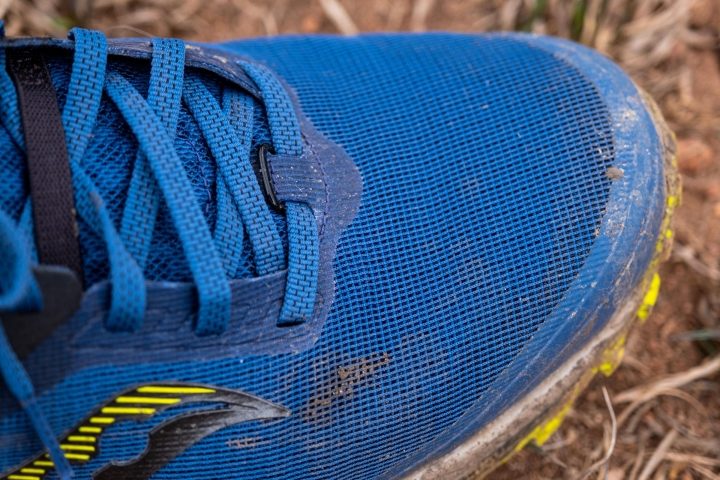 They felt warm, even on a cool spring day in the mountains, and with the rubber overlays, I don't think come July I'd pick this shoe unless I was at higher elevations.
Generous padding certainly didn't help. There's plenty of padding in the upper, the tongue alone is 11mm thick, double that of our average measurement of 5.5mm.
The ankle collar follows suit as well with more padding than almost any other shoe we've put through the RunRepeat lab at 9.6mm, 14.4mm, and 15.9mm (front, middle, back of the ankle collar).
In our lab, we perform a transparency test to see how much light goes through the upper. Peregrine 11 let only 2.2LUX through. The average we have so far? 100.9LUX!
This means it could be a great winter shoe. It has built-in gaiter attachments, at least on the toe, none on the heel.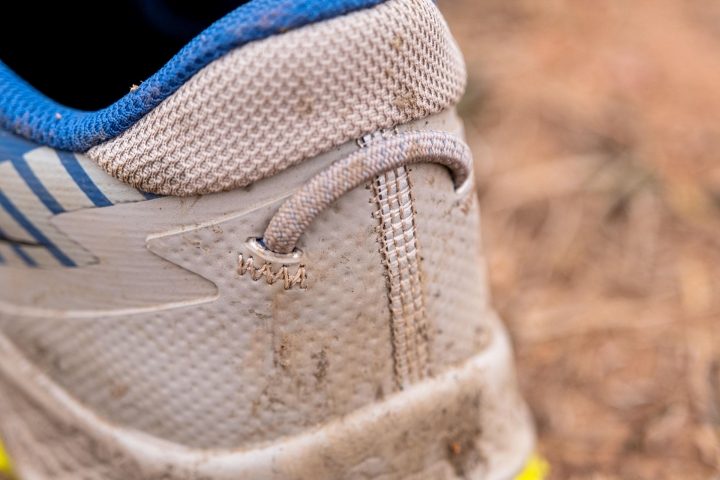 You can attach the gaiters to the stretchy horizontal heel loop on the back of the shoe, but there's no velcro tab which I'd prefer.
Peregrine 11 crushes everything under your feet
Looking past the fit and comfort issues, the ride is amazing. I say this because the grip is amazing.
The ride itself is stiff, and there's no ground feel, but because this shoe is designed to grip so well I found myself tearing down muddy, icy, rocky, rooty trails at full speed, coming into blind, 180-degree turns with steep drop-offs without the need to slow down.
Talking about stiffness, even in our lab the shoe took 33.6N to be flexed. Compared to the average of 26.2N for the other shoes we've had in our lab, it definitely sits on the stiffer side.
This comes from the deep, sharp, widely spaced, multi-directional lugs. Saucony says they are 6mm deep, but I found that number to include the whole outsole, the lugs themselves are just 4.35mm deep, which is still the deepest we've tested so far.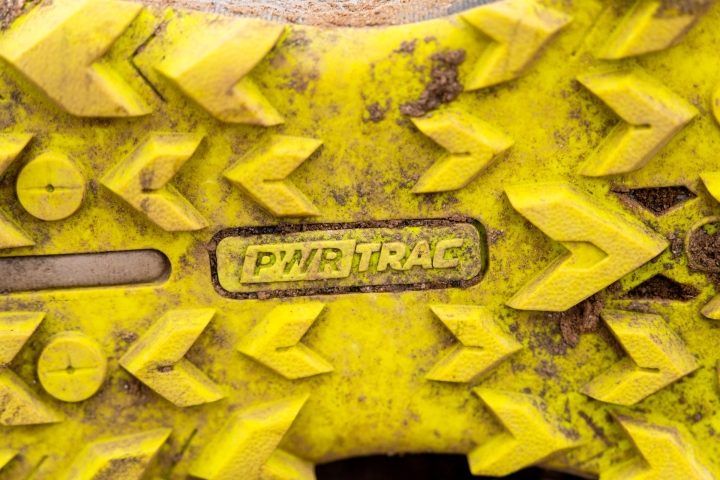 It's also touted as a 4mm drop shoe, I got 5.1mm on our measurements, but still, it's flatter than some trail shoes and I like how that balances these shoes out on difficult terrain.
It's fun to run, it's fun to forget about everything but going fast. I wish I could have gone 10 miles, but after about 2-3 miles my feet had had enough.
They are built to go fast on technical gnarly trails. You don't need the Peregrine 11 to coast along on breeze trails in your local town park, they are meant to go up and down varied terrain, and would even be a great off-trail option.
Adaptation period: a must
Unfortunately, these shoes need miles to open up. Not to harp on my skiing metaphor too much, but I felt like that guy with race boots that you see sitting by the fire in the lodge after just 2 runs with his boots off, rubbing his tire arches.
They did start feeling better after some abuse, but they are stiff. There's just no flex in the upper either, and the midsole is designed to lock you to the ground, not spring you off it.
Too heavy with no excuses
They are heavy, at 11.2 ounces (318g) I'm surprised it's called the Peregrine and not the Dodo.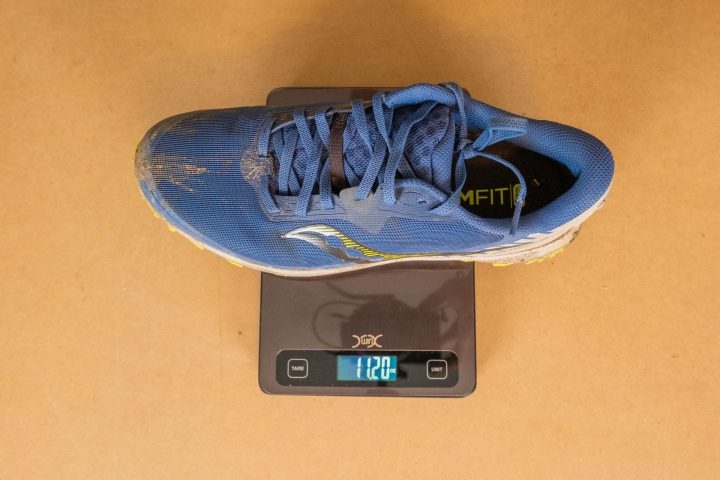 Here's a shortlist that adds up:
A 6mm outsole with lugs designed to climb Everest,
stiff upper with tons of padding that's 1.8mm thick where the heavy overlays are,
a rigid 2mm thick plastic heel counter (thickest we've tested), and
an 11mm padded tongue.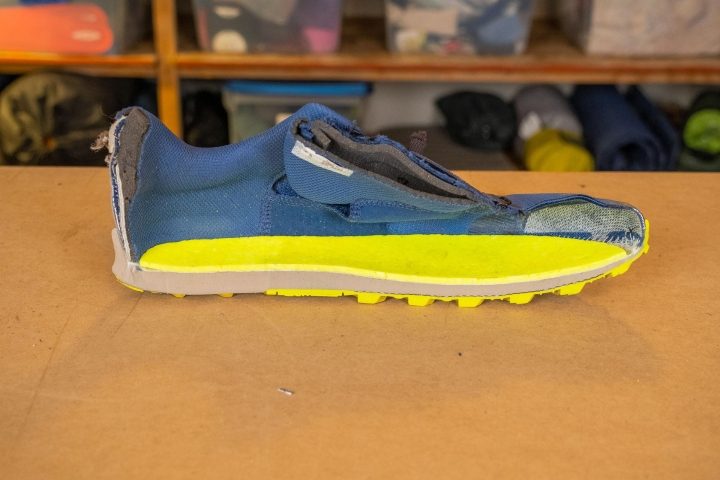 I'd like to try to justify the weight by saying, "but they are packing a lot into this shoe" but I really can't, they are heavy.
Peregrine 11 is durable as a tank
The Peregrine is built like a tank. The welded overlays are covered in thick rubber, blocking out the elements and the inevitable rubbing wear that comes from running in the dirt.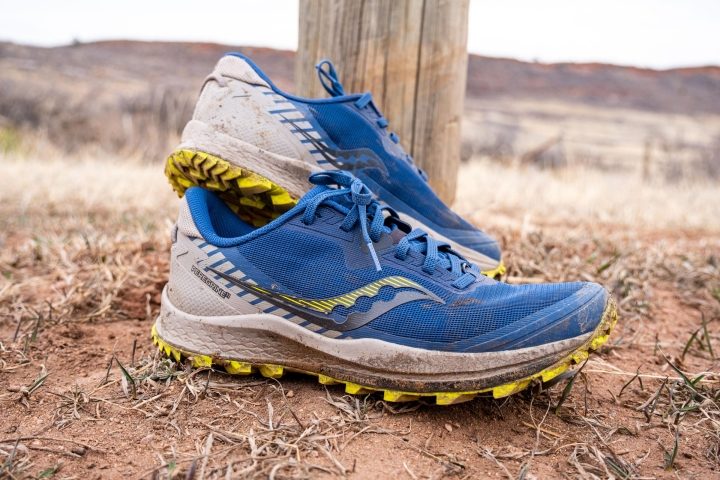 I think they will go much further and last much longer than your feet may want them to!
Conclusion
Ultimately, the Peregrine 11 is a high-performance shoe designed to go fast. The name says it all! It grips amazingly well, it instills a confidence that's unsafe at times, and although my wider feet didn't love the fit, it has a place. If I was living in the PNW or somewhere that saw more wet and muddy trails, I'd want a shoe like this.
But for me, it's just too stiff and narrow to stay in my daily rotation, and although I love the way it looks, and the emotion it alludes to (yes I read My Side of the Mountain as a kid), I wish it was less of a race ski boot, and more something the masses could enjoy.
Complete lab-specs overview
Saucony Peregrine 11
Weight - Left

318g

Weight - Right

313g

Weight - Insole

22g

Weight - Lace

4.7g

Length - Overall

291.8mm

Length - Insole

273.62mm

Width Midsole - Forefoot

107.9mm

Width Midsole - Heel

81.5mm

Width Midsole - Middle

62.8mm

Width Upper - Forefoot

102.4mm

Width Upper - Heel

77.7mm

Width Upper - Middle

76.7mm

Stack - Forefoot with insole

22.4mm

Stack - Heel with insole

27.5mm

Stack - Forefoot without insole

16.7mm

Stack - Heel without insole

22.6mm

Drop

5.1mm

Outsole thickness (Forefoot)

6.54mm

Outsole thickness (Heel)

6.54mm

Lugs Depth

4.35

Insole Thickness

4.2mm

Laces (without stretch)

50inches

Laces (with stretch)

55.5inches

Lace Stretch %

11

Laces - Thickness (Height)

1.15mm

Laces - Width

6.1mm

Durometer Outsole Forefoot (Room Temp)

80.8HC

Durometer Outsole Heel (Room Temp)

81.3HC

Durometer Midsole Forefoot (Room Temp)

34.7HA

Durometer Midsole Forefoot 2nd layer (Room Temp)

N/A

Durometer Midsole Heel (Room Temp)

29.7HA

Durometer Insole (Room Temp)

35.0HA

Flexibility of the shoe (Room Temp)

33.6N

Durometer Outsole Forefoot (Freezer 1 hour)

80.5HC

Durometer Outsole Heel (Freezer 1 hour)

85.5HC

Durometer Midsole Forefoot (Freezer 1 hour)

40.1HA

Durometer Midsole Forefoot 2nd layer (Freezer 1 hour)

N/A

Durometer Midsole Heel (Freezer 1 hour)

34.0HA

Durometer Insole (Freezer 1 hour)

39.3HA

Flexibility of the shoe (Freezer 1 hour)

51.4N

Durometer Outsole Forefoot (% change with temperature)

-0.41

Durometer Outsole Heel (% change with temperature)

5.12

Durometer Midsole Forefoot (% change with temperature)

18.27

Durometer Midsole Heel (% change with temperature)

21.72

Durometer Insole (% change with temperature)

12.38

Flexibility of the shoe (% change with temperature)

53.23

Thickness - Heel Counter/Insert

2mm

Thickness - Ankle Collar (min)

9.6mm

Thickness - Ankle Collar (max)

14.4mm

Thickness - Ankle Collar (Range of taper)

15.9mm

Heel counter material

fiber board

Thickness - Tongue

11mm

Flexibility of the heel counter

77.5N

Light test (transparence)

2.2LUX

Lace slip test with the knot

13.3N

Longitudinal flexibility (0-5)

2

Torsional flexibility (0-5)

2

Tongue: gusset type

both sides

Laces: profile

Flat

Laces: extra hole

yes

Laces: are they long enough to use the extra hole

no

Heel tab type

finger loop

Insole: removable

yes
Control devices:
Multi-density midsole
Rigid heel counter
Elevated medial insole under arch
Supportive tensioned medial upper
Medial flare
Thermoplastic medial post

no
yes
yes
ye
no
no

How minimalist the shoe is in %

32
Note: all the tests were done on a men's shoe US size 9.
Compare popularity
Interactive
Compare the popularity of another shoe to Saucony Peregrine 11:
Saucony Peregrine 11 video reviews