From do-everything to "fun trail buddy," the Timp 4 from Altra is positioned as the brand's trail runner that can go the distance. With its plush and comfort-oriented construction, it delivers a soft and forgiving ride on easy days out on the trail. Whether you're running on light or moderately technical trails, the Altra Timp 4 might be for you.
Pros
Grippy on wet trails and steep descents
Bouncy and responsive
Natural-feeling ride
Pillowy landing
Dampens impact
Wide toe box
Secure lockdown
Drains fast
Breezy under warm conditions
Cons
Way pricier than the Timp 3
Lacks stability on technical trails
Who should buy the Altra Timp 4
Get the Timp 4 if you're looking to buy a:
trail shoe for both long and short-distance daily trail runs
soft yet peppy ride for light trails and moderately technical terrains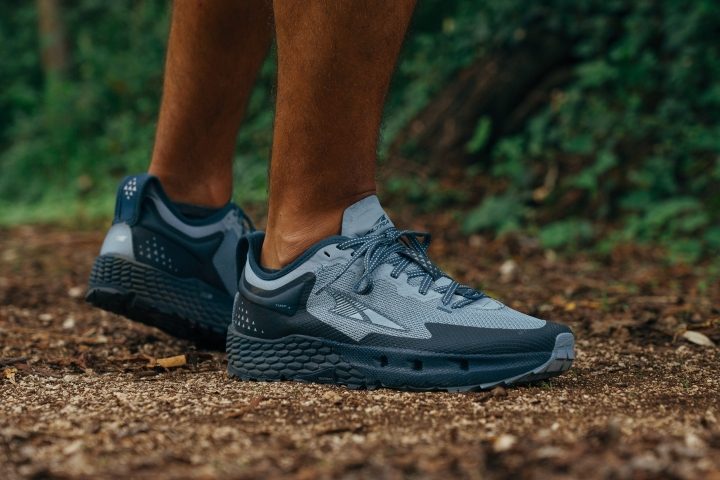 Who should NOT buy it
Runners who want a cheaper alternative to the Timp 4 can buy the Altra Superior 5 instead. And for those who want surefooted strides on highly technical trails can consider the Altra Lone Peak 6.
Altra Timp 4 vs. 3: From hybrid to a more trail-ready shoe
Past iterations of the Altra Timp have been perfect for door-to-trail excursions, traveling, walking, and even hiking. In the fourth version, the changes made the shoe a more trail-specific one:
a new midsole that's softer and livelier
a modified lug layout to increase traction and flexibility for a more natural ride
a taller heel collar for a better fit
an altered heel that's plusher for a more premium feel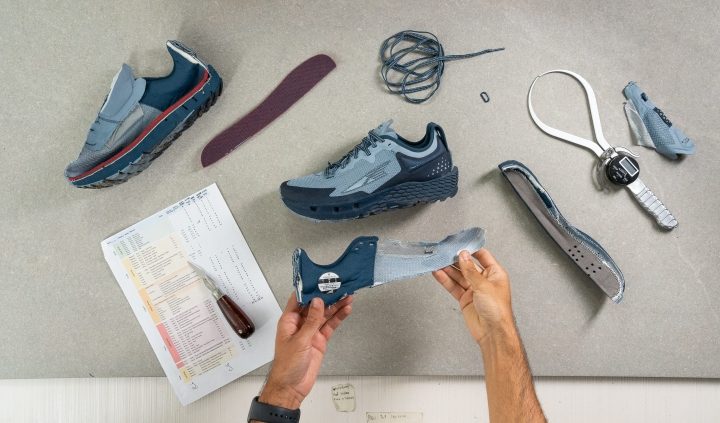 Cushion is oozing with goodness
The midsole is softer than the last version, and there's so much of it; each footfall feels pillowy.
Whether running low or high miles in the Altra Timp 4, it mutes out ground feel and dampens all impact; it keeps pain at bay.
Fact check
We checked the Timp 4's foam softness with a durometer and it is indeed on the softer side. It is 27% plusher than average.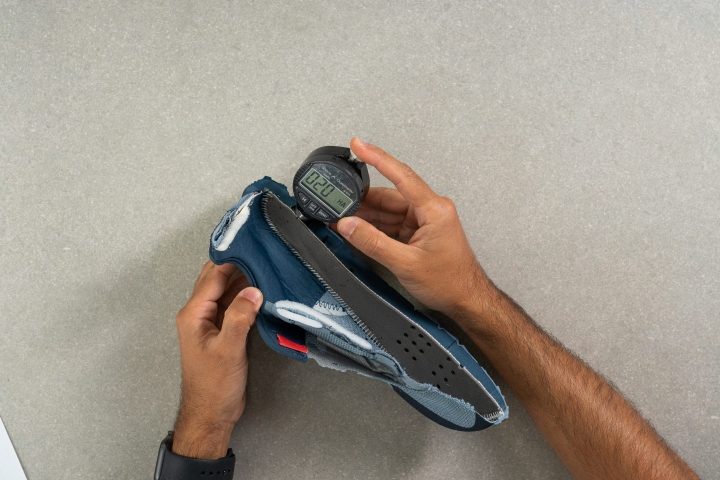 Disclaimer: The photo shows 1 out of 5 measurements that we took with the durometer to ensure accuracy.
However, the shoe's midsole has a tendency to firm up in cold temperature. After spending 20 minutes in the freezer, the foam got 61.3% firmer. This is a significantly bigger change compared to how other running shoes react to cold (24.5% firmer on average). So, the Altra Timp 4 is likely to require a little breaking in on a colder day.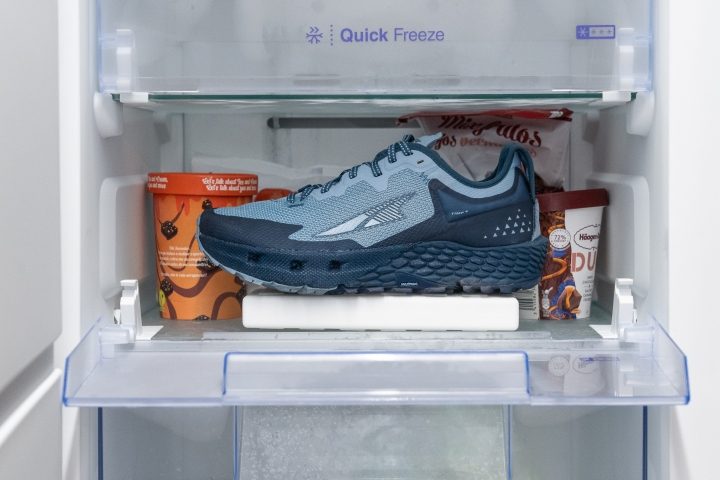 Fact check
As for the stack height, the shoe's got an average level of thickness in the heel (29 mm) but is considerably thicker in the forefoot (28.9 mm over the average 24.4 mm). The measured heel-to-toe drop (0.1 mm) also corresponds to Altra's zero-drop promise.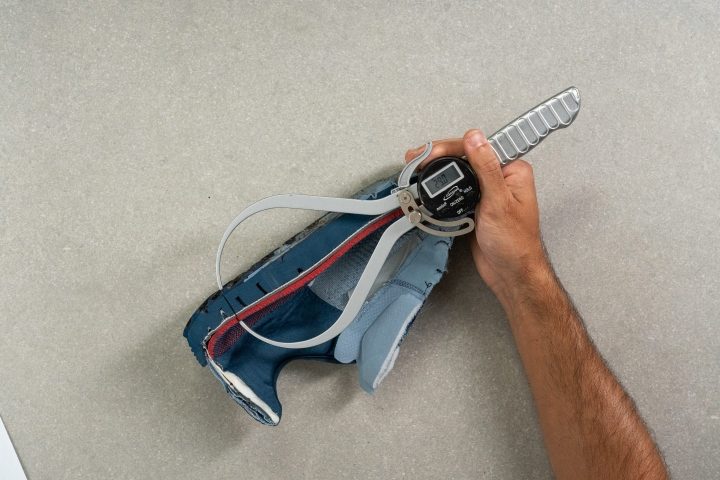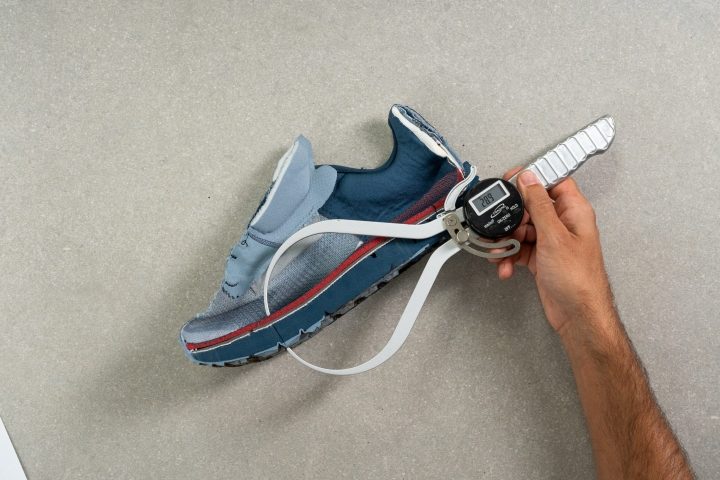 Disclaimer: Our stack measurements include the insole. In the Altra Timp 4 it is 4.2 mm thick.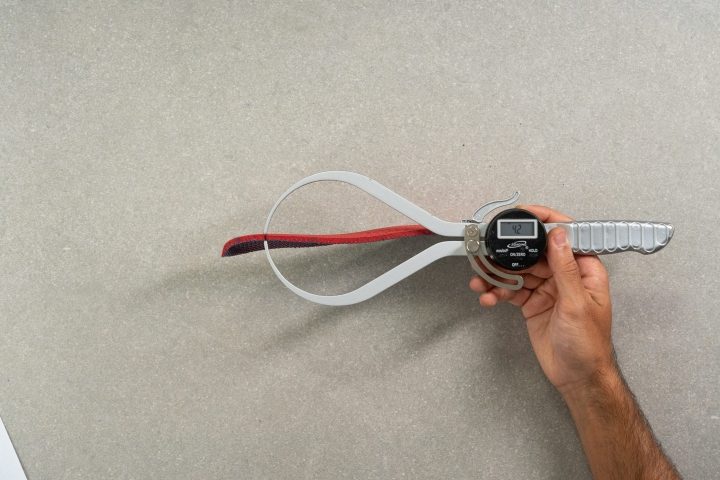 Stability is somewhat sacrificed to the softness
However, based on the runners' feedback, the shoe's softer foam hurts its stability, especially on highly technical terrains.
In our tests we also found that the shoe has less-than-average torisonal rigidity which might as well contribute to the feeling of instability
Dries fast, breathes well
Thanks to its porous upper, this shoe doesn't store moisture. Those who have run through creeks and puddles all claim that the shoe doesn't feel heavy when wet because it drains water fast. Apart from excellent drainage, the shoe also maintains a breathable sensation under humid conditions.
Fact check
See how easily the smokes passes through the upper on the Altra Timp 4.
You can also see which parts of the upper are more breathable in our transparency test below.
Ride is better than ever
With the redesigned cushion, the Timp feels "bouncy, soft, and fun." According to the majority, it feels peppy; it doesn't feel sluggish when the pace starts to liven up.
On top of this, the shoe is flexible which makes the ride even more natural-feeling.
Fact check
It is in fact a little more flexible than average, but not too much. Only by 7.5%.
Disclaimer: We take 5 measurements before finalizing the results to ensure accuracy.
The Timp 4's traction is great
It's definitely "grippier," commended several Altra Timp loyalists. One of the gripes they had with the Altra Timp 2 and 3 was that they lacked the bite on slick and rocky descents.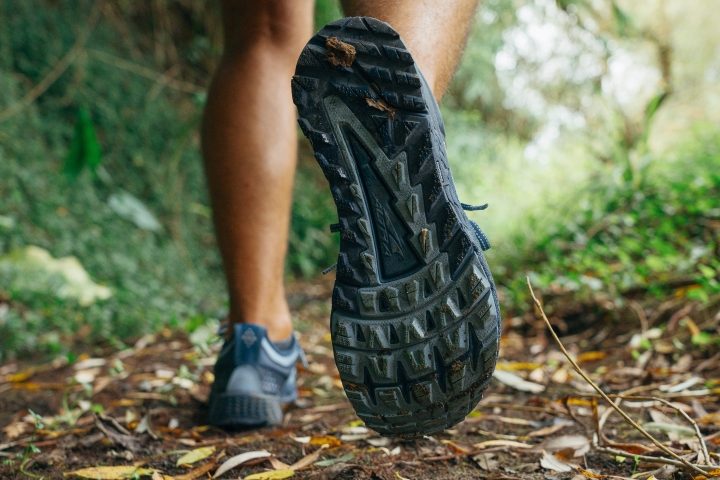 In this iteration, it sticks not only on wet surfaces and steep descents but also bites better on light-fire roads and moderately technical terrains.
Fact check
This is actually a nice surprise given that the lugs of the Timp 4 aren't the deepest. They are 2.9 mm, while the average is 3.4 mm.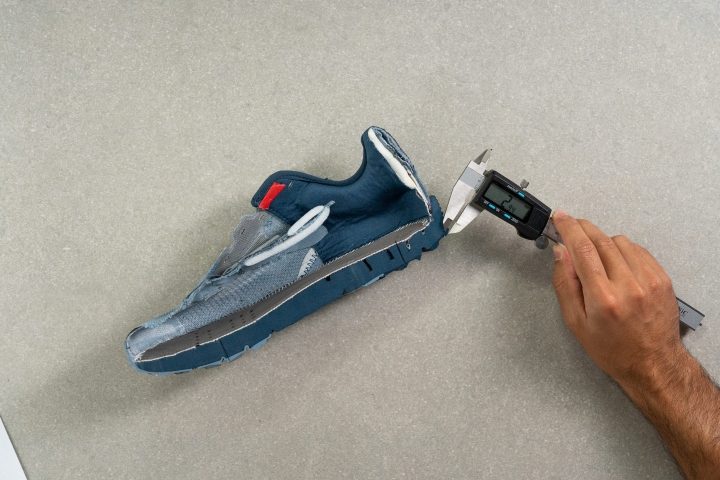 Toe box: Altra roomy
The Altra Timp 4 may be in Altra's standard fit, but when compared to other running shoes, it's still exceptionally roomy.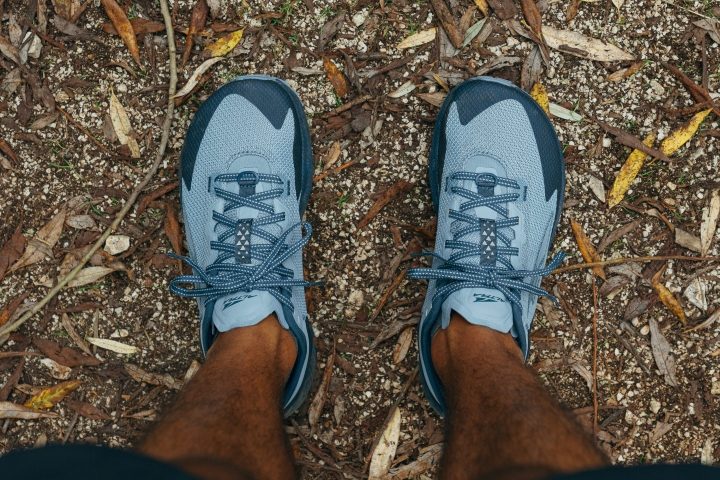 So much so, runners find it comfy even when their foot swells after long miles of running.
Fact check
The upper of the Altra Timp 4 has a solid width of 100.7 mm in the forefoot. This is roomier than the average 98.2 mm.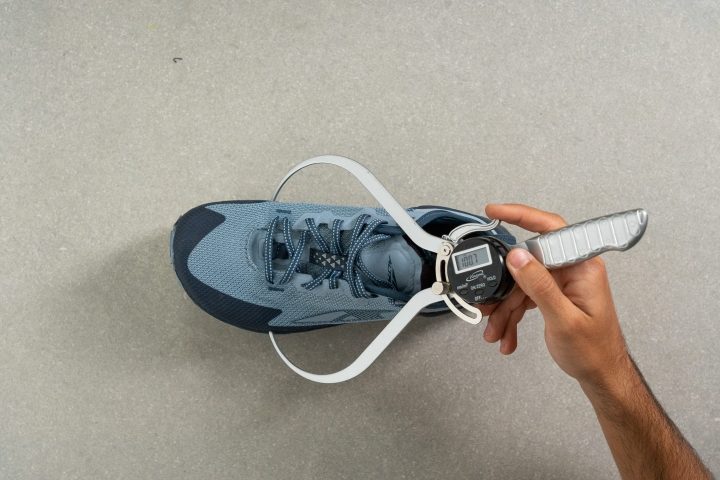 If you're an Altra fan who prefers an even wider toe box, experts suggest going for the Altra Lone Peak instead.
Keeps you locked in
The Altra Timp 4's midfoot is snug; there are no reports of slips from multiple trail runners. And in the rear, it's made plusher making it just as secure.
Fact check
The heel counter gets 1 out of 5 (5 being the stiffest) on our stiffness assessment test.
The gusseted tongue also plays its part in keeping the foot in place throughout the run.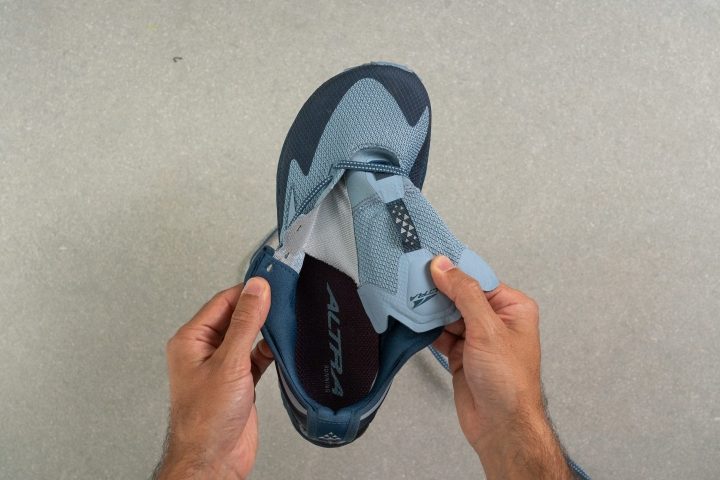 The tongue is extra padded where it's most needed
Altra went with an interesting design tweak by putting more padding on top of the tongue, where the risk of lace bites is higher. It is 10.4 mm thick in this area.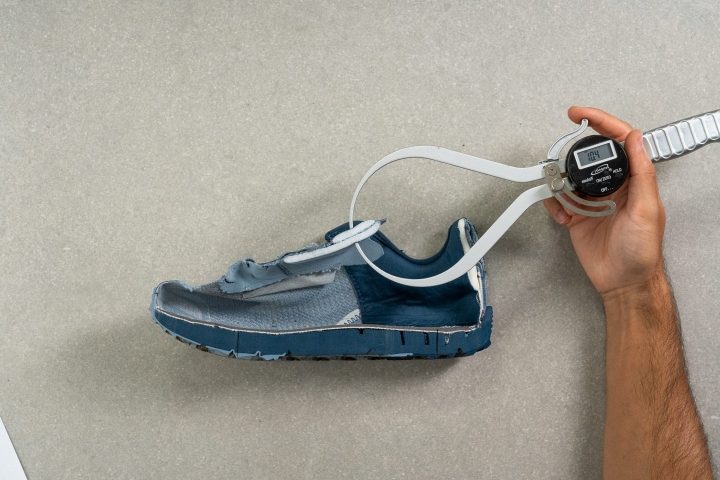 However, closer to the toes, the tongue is made thinner where padding isn't so necessary. It is 6.7 mm down there.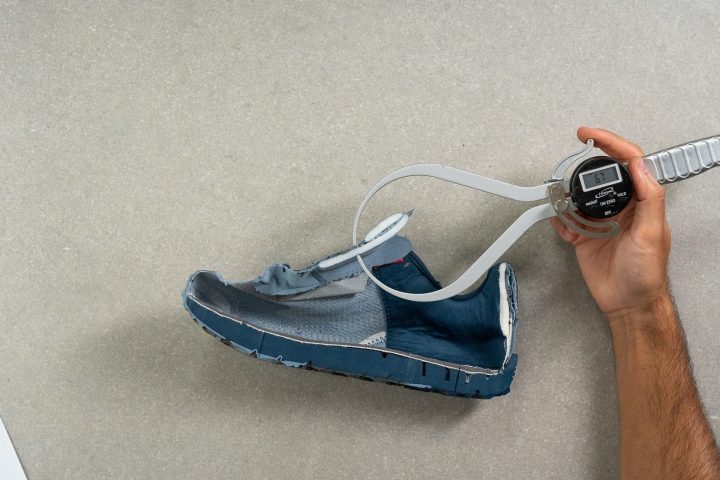 A big jump in price
From $140, the Timp 4 from Altra goes all the way up to $160. As critics would put it, it's a "pretty significant" price increase. To put it in perspective, trail shoes, on average, retail for $129.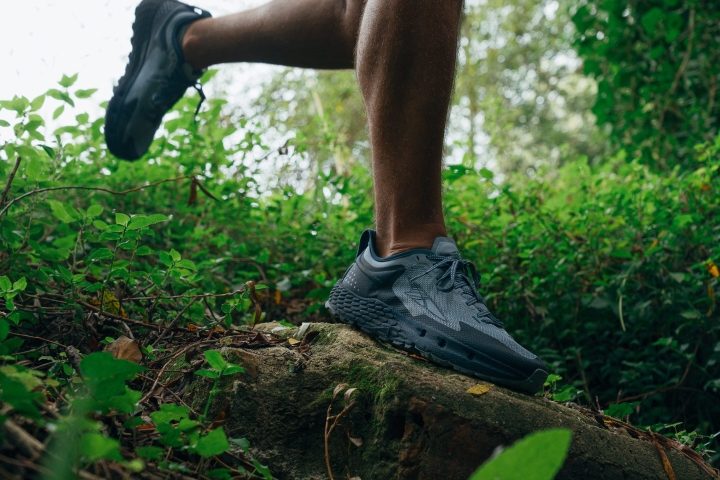 Gaitor attachments are handy
You can easily add a gaitor thanks to the Velcto piece on the heel and a hoop on top of the laces.