'Traditional' is a word experts have used liberally when reviewing the Mizuno Wave Rider 26. It's a straightforward, no-frills trainer that does its job and does it well. Although not everyone can be a fan of its 12-mm heel drop, those who are say that it's comfortable, well-cushioned, durable, and offers a pretty smooth ride.
Pros
Comfortable and

breathable up

per
Cushioned ride, especially for heel strikers
Lightweight
Good lockdown
Great traction on most surfaces
Durable
Dependable daily trainer
Classy and conservative design
Eco-friendly
Cons
Tight around toes
Sky-high heel drop
Needs som

e breaking in

Not for fast paces
Who should buy the Mizuno Wave Rider 26
Get the Wave Rider 26 if you:
want a shoe for those 'comfortably hard' days
are a heel striker looking for a cushioned ride without skimping on responsiveness
need a daily trainer with enough, but not overbearing, stability control.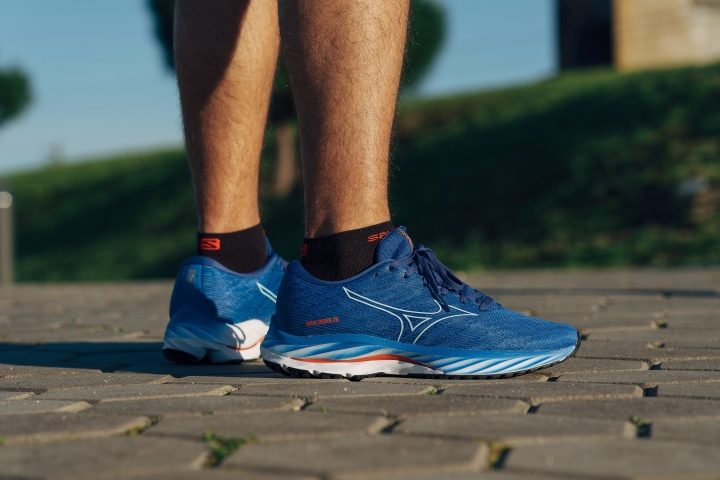 Who should not buy it
For runners who dig the cushioned-yet-firm feel of Mizuno shoes, but find the Wave Rider 26's high heel drop too much, there's the Wave Sky 5 (8-mm drop).
For a more do-it-all shoe that also has the same cushy, grippy, locked-down qualities as the WR26, check out the Nike Pegasus 39.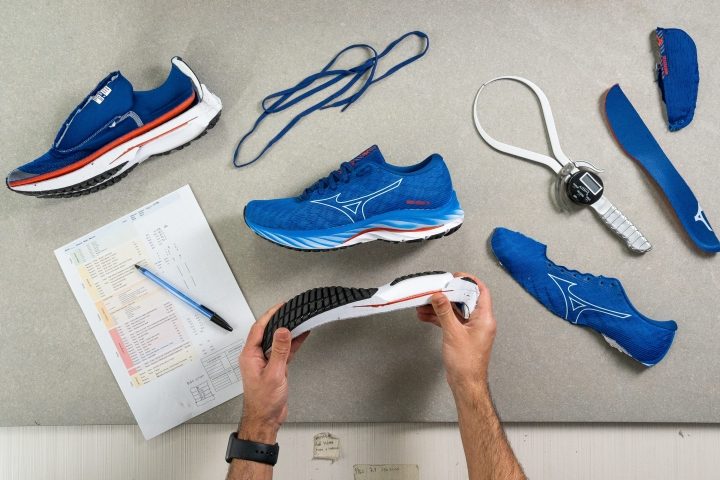 Updates on the Wave Rider 26
Off the bat, let's take a look at what has changed in Mizuno's 26th iteration of its Wave Rider collection:
The slimmed-down and slightly-repositioned Wave plate is "less obtrusive as a support element" according to a tester and offers an increased energy return
Fact check
The bright red piece in the middle of the foam is the Wave plate. According to Mizuno, this stiff component creates a more stable platform to minimize injuries and adds responsiveness to the cushioning. You can see how it's been altered in the photos below.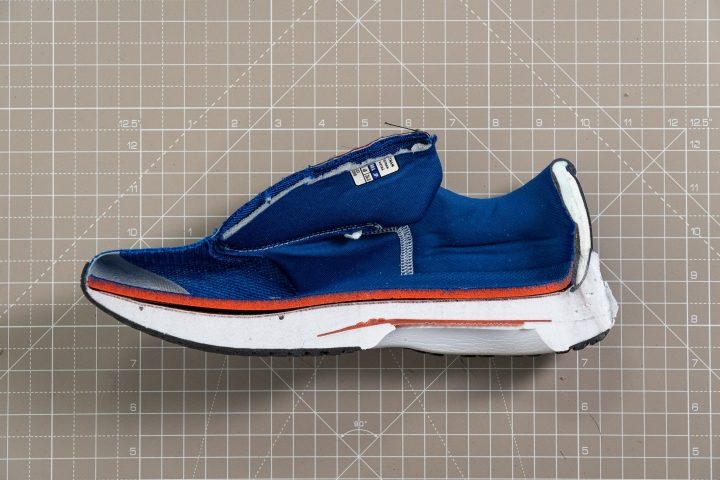 Mizuno Wave Rider 26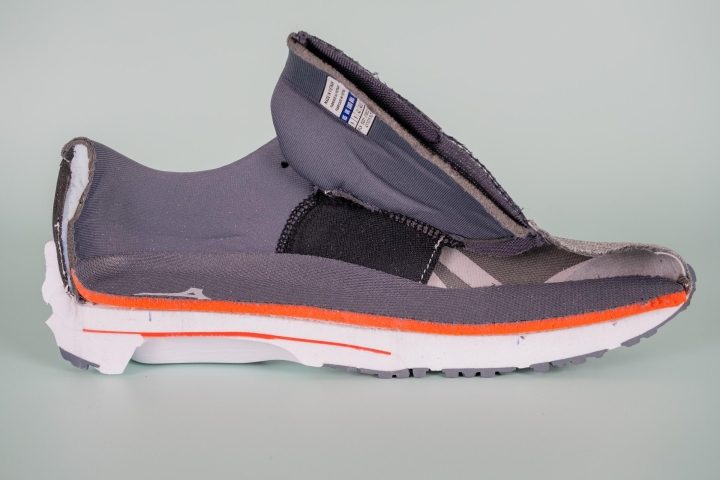 Mizuno Wave Rider 25
An additional 2 mm of Enerzy foam to both the forefoot (26.5 mm) and heel (38.5 mm) which, as a happy runner confirmed, results in "smoother flowing from landings."
Fact check
Based on our measurements, it appears to be even a little thicker than that: 27.4 mm and 39.2 mm respectively.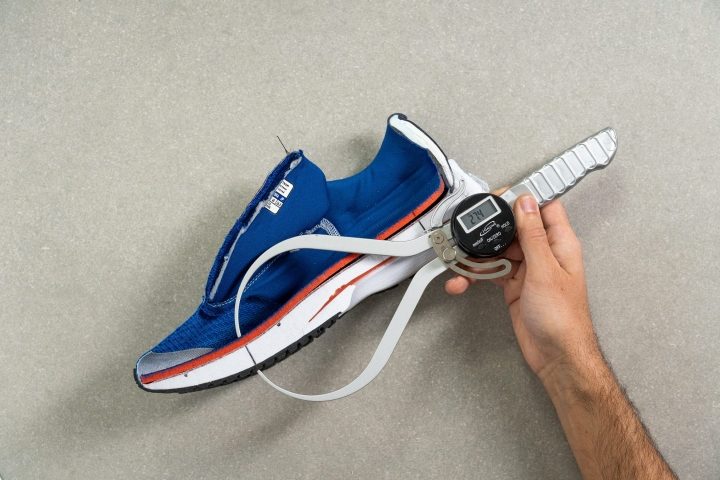 Mizuno Wave Rider 26 forefoot stack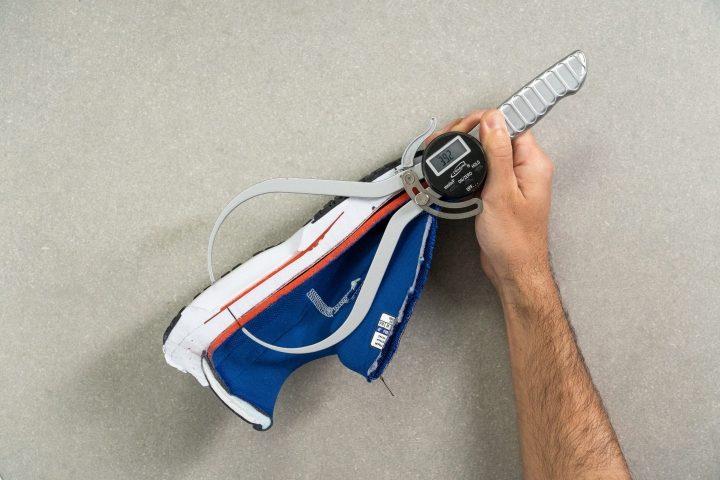 Mizuno Wave Rider 26 heel stack
A softer and thinner Jacquard mesh upper
A redesigned outsole, with more continuous rubber coverage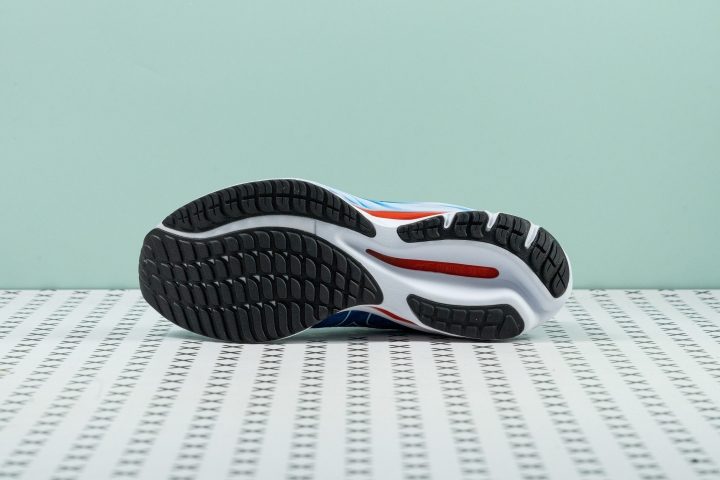 Mizuno Wave Rider 26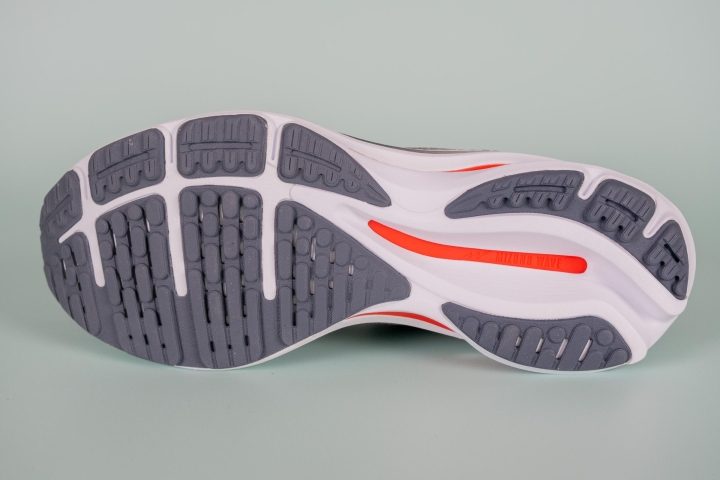 Mizuno Wave Rider 25
Nice and breathable daily trainer
The majority of runners were more than happy with the breathable mesh upper of the Rider 26. It keeps the interiors well-ventilated and lets the heat escape rather quickly.
Mizuno Wave Rider 26 (left), Adidas Runfalcon (right)
Fact check
Assessing how much smoke and light is able to pass through the Jacquard mesh, we scored the shoe's breathability as 4 out of 5 (where 5 is the most breathable).
Comfortable, secure
upper
The Mizuno WR26's upper⁠ seems to have gotten the approval of a majority of experts, praising its secure lockdown:
"Very secure but not over snug"
"No potential hotspots, and it molded to my foot well"
"One of my favorite uppers of the year so far".
No heel slippage has been reported by the reviewers.
Fact check
No wonder the shoe got so much praise for its lockdown. On a 1-5 scale where 5 is the stiffest, we assessed the shoe's heel counter as 5.
Tight around the toes, but Wide is available
There are quite a few runners who found the WR26 to run a bit small and tight. The toe box also felt narrow, according to some users, which doesn't make it ideal for people with wide feet.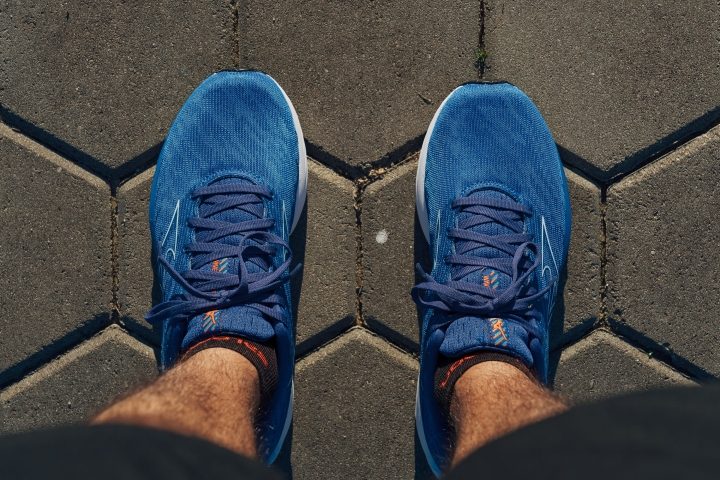 Fact check
Surprisingly, when we measure the forefoot width (100.1 mm), it runs on the wider side. In fact, it is 1.9 mm wider than the average (98.2 mm). So, the tightness could be due to the nature of the materials around the toes.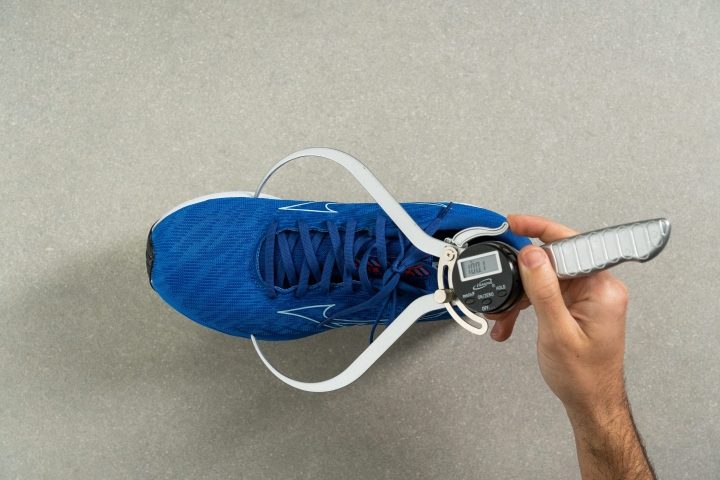 Some reviewers also claimed that the combination of having a narrow forefoot, high heel-toe drop, and a rigid plastic toe guard led to uncomfortable results, ranging from toes feeling like "they were being pinched by the upper at a push off" to getting a "really big blister" after a 4-mile run. For a better experience, users recommend sizing up by 1/2 or opting for the wide sizes.
Fact check
Length-wise, we measured the internal length of the shoe to be 267.1 mm in a men's US size 8. Based on Mizuno's official size chart, this corresponds to men's US size 8.5. So, the Wave Rider 26 actually runs half-size large.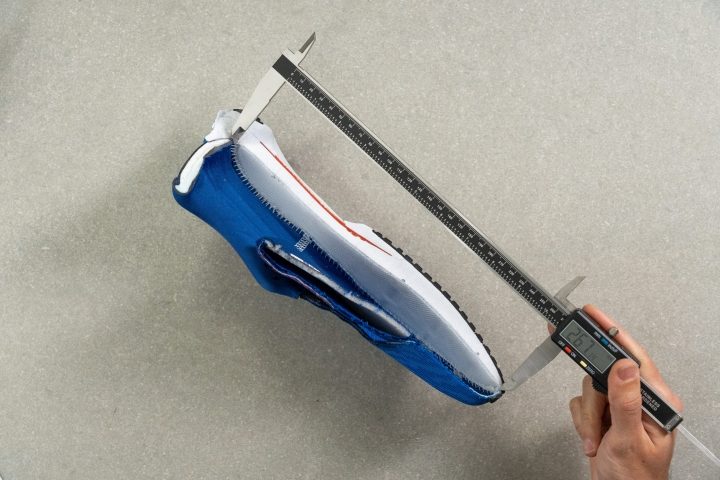 Another complaint coming from the runners is that the 26's high heel counter and gusset tongue made for a somewhat challenging foot entry.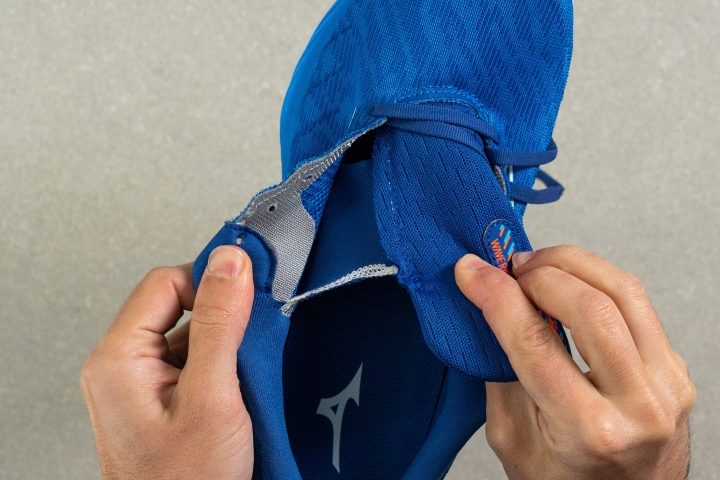 Max cushioning, Mizuno-style
The consensus among people who have tested the Mizuno Wave Rider 26 is that these shoes are pretty dang comfortable. One group of experts stated that the added 2 mm of Enerzy foam took the WR26's cushioning "from meh to solid."
The same group also stated that while it isn't nearly as soft as most supercritical or Pebax-foam shoes, it is still the "softest Wave Rider ever"—and that says a lot for a brand with a slightly firmer take on the word 'soft.'
Fact check
Our durometer measurement of the foam softness fully supports the reviewers' opinions. The Wave Rider 26 is softer than running shoes on average by as much as 28%!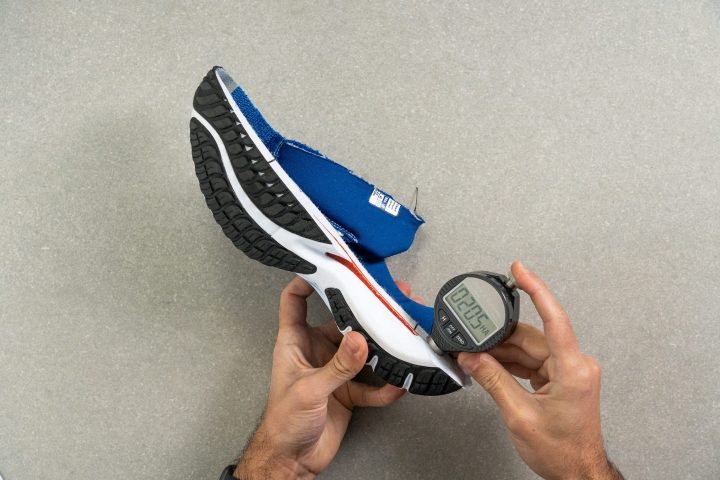 Disclaimer: We take our lab measurements 5 times before noting down the final result. This is to minimize the chance of error. The photo shows the last measurement.
Fact check
What's more, the foam doesn't get that much firmer when exposed to cold temperatures. After 20 minutes in the freezer, the foam only got 16% denser. Even in its frozen condition, the shoe remains 16% softer than most midsoles in room temperature.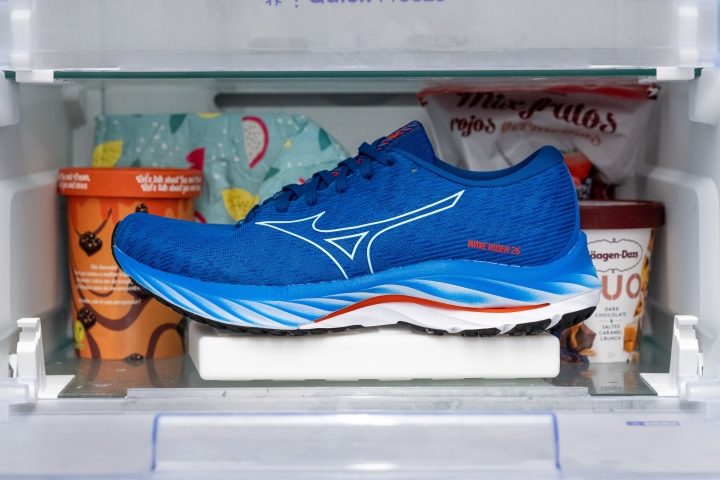 Despite the shoe's softness, it still manages to provide a decent level of stability for a neutral shoe.
Huge drop
As with the previous version of this Mizuno staple, the 26's heel-to-toe drop remains at 12 mm. What also remains is the myriad of synonyms some runners use to express their disdain for it: steep, pronounced, too high, noticeable, excessive, "felt like I was running in a high-heeled shoe."
Fact check
Our measurements of the shoe's stack confirm the official heel-to-toe differential. It turned out to be 11.8 mm in our lab tests.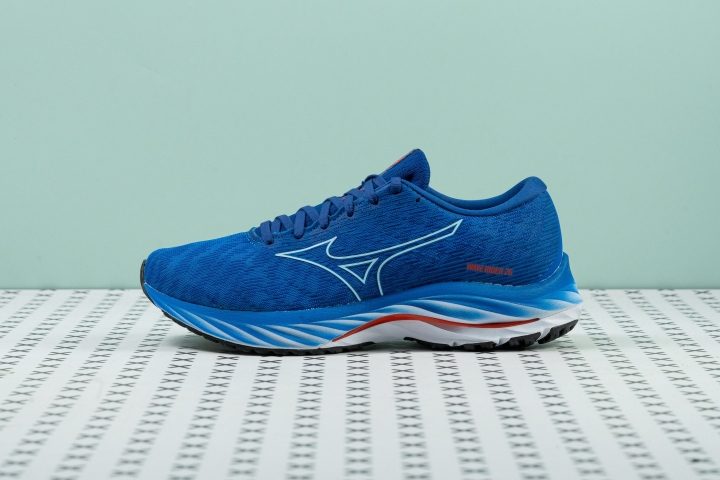 A responsive and pleasant ride, if you don't mind the drop
Heel strikers and runners used to higher drops, though, found the 26 to be a solid daily trainer. Because of the slimmer and repositioned Wave plate, thicker stack height, and outsole design, experts reported experiencing a smooth, energetic, and distinctly propulsive ride.
One tester added that the initial firmness and rearfoot clunkiness he experienced got noticeably evened out once the midsole started to break in, which took him about 20 miles.
Foot bends effortlessly in the Rider 26
Runners seemed to have no problem with the shoe's flexibility whatsoever.
Fact check
The Wave Rider 26 strikes a balance between stiffness and flexibility. Measuring the shoe's resistance to bending, we found it to be 16% more pliable than the average.
Fact check
In a manual stiffness assessment, we ranked the shoe as 3 on a 1-5 scale where 5 is the stiffest.
Surefooted strides, even in wet conditions
Runners also appreciated the WR26's new outsole and its more continuous and interconnected rubber coverage, saying it has led to better traction and added rigidity.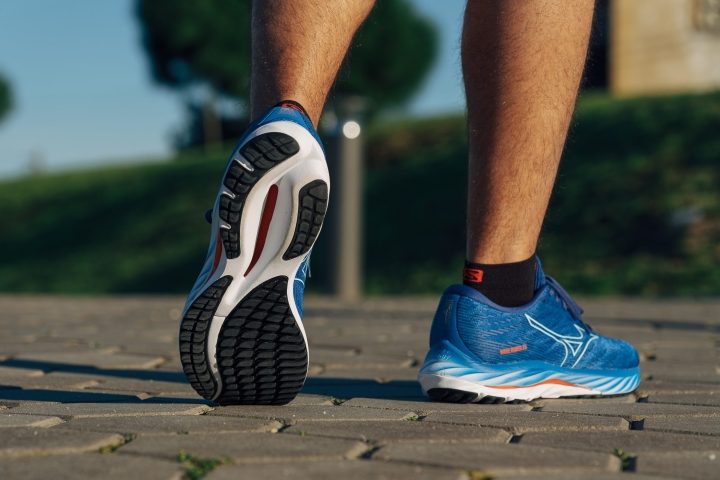 A couple of runners liked the traction it provided, with one reporting that he "didn't have trouble making quick turns," and another lauding its ability to perform on some of the slipperiest of conditions, especially during the fall, "with leaves falling and early-morning runs."
Impressively light
Coming in at 283g for a men's size 9, the 26th Wave Rider has gained slightly more weight compared to its predecessor (the Wave Rider 25 weighs 277g). Users still found this impressive, considering its near-max cushioning and the extensive use of rubber on its outsole (the average weight of daily runners is 287g).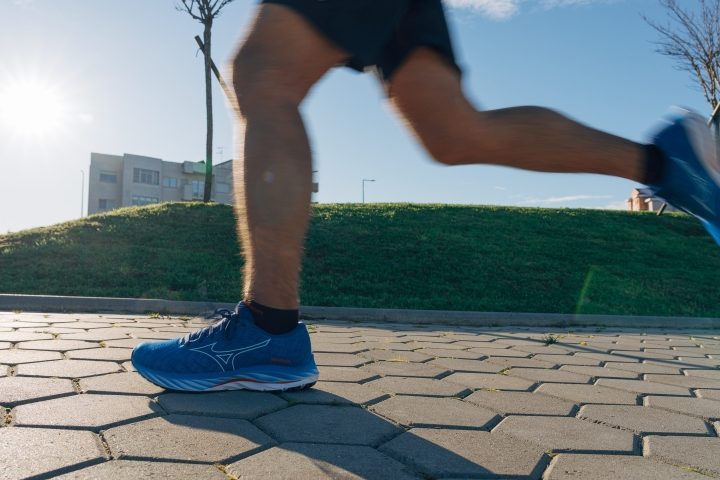 The Wave Rider 26 is best for middle miles
The Wave Rider series has long been heralded as a tried and true daily workhorse, and the 26 is no exception. Most veteran runners acknowledge that its strength lies in that sweet spot between long slow runs and fast efforts.
"Can for sure do 'workouts' and tempo to moderate distances"
"Struggles with uptempo efforts and anything faster."
Good-looking and good for the environment
Some users expressed their admiration for the WR26's clean and simple design and colorways. One claimed that the shoes looked classy enough to wear "to a fancy event," while another liked it so much that she "would buy a hundred of them in all different colors."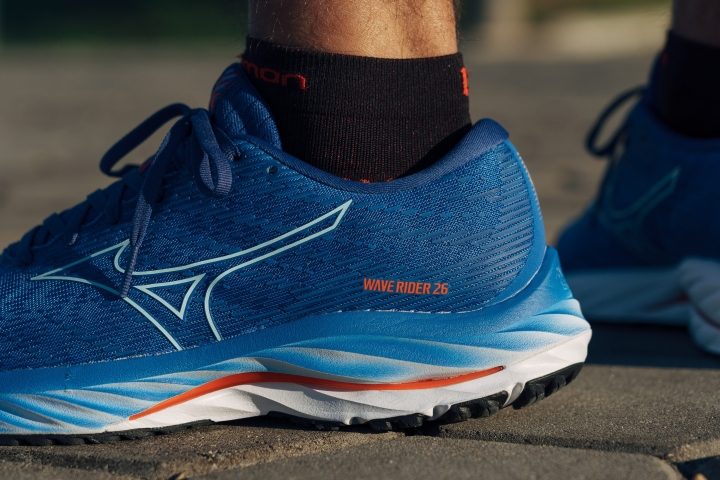 Its upper and Wave plate are also made from eco-friendly materials, which is a plus in any book.
High quality at a slightly higher price
At $140, the Mizuno Wave Rider 26 is not cheap, especially with the average daily trainer costing about $118. That isn't to say, though, that there aren't people who found the price justifiable:
"reasonably priced at $140 for a shoe with that level of craftsmanship"
"high-quality shoes from a reputable brand … absolutely worth it"
"You get what you pay for with this shoe. I didn't know what I was missing."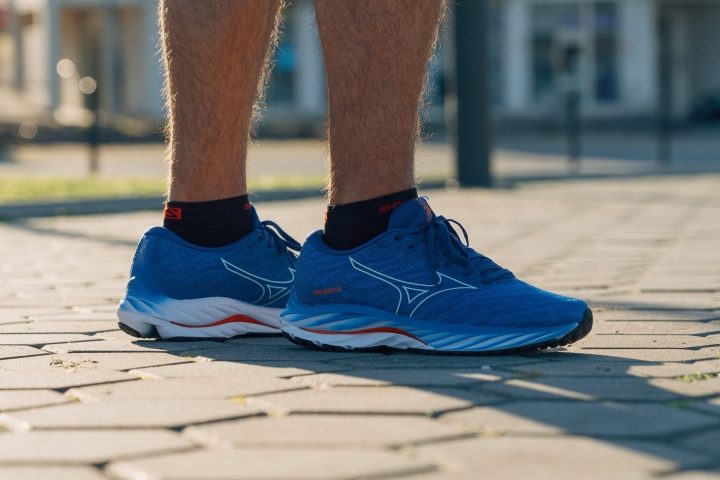 A pleasant bonus: reflective elements
The Mizuno logo on the heel counter lights up in dark conditions.