The Wave Horizon 6 from Mizuno is a stability running shoe that's built ready for cruising long miles and giving your feet and legs the rest day they deserve during recovery sessions. Unlike other stability shoes, the Horizon 6 doesn't feel harsh. As a matter of fact, it's a very comfy shoe that will give you all the cushioning you crave.
Pros
Support that's not harsh
Impact-absorbing
Gives your stride a boost
Very comfy for recovery runs
Stable when cornering
Breathable
Keeps the foot in place
Grip that sticks
Cons
Long break-in period
Comes with a hefty tag
Who should buy the Mizuno Wave Horizon 6
Because it's highly cushioned and protective, the sixth version of the Mizuno Wave Horizon deserves your attention if you want a:
supportive running shoe for daily training and recovery runs
road shoe for easy, long runs
highly cushioned shoe that's equally stable but not harsh for both overpronators (feet roll inward) and neutral runners.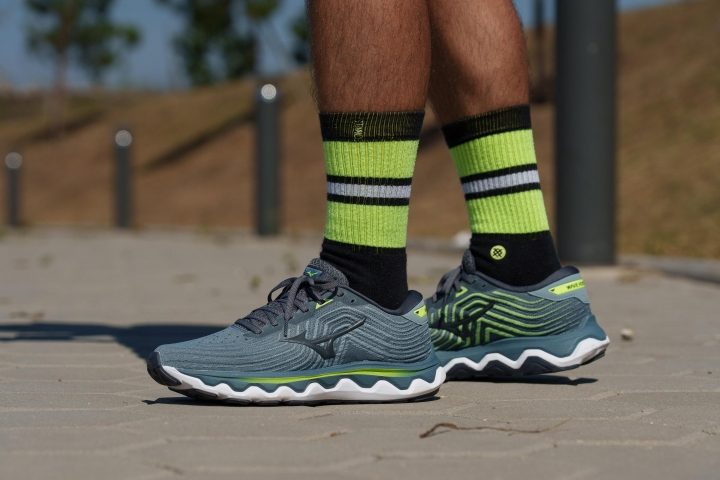 Who should NOT buy it
The Mizuno Wave Horizon is not perfect. One, it's a behemoth. And two, its break-in period is exhaustingly long. If you don't want any of these, then we highly suggest going for the Mizuno Wave Inspire 18 instead.
If you're a Wave Horizon fan but want to save a few bucks, instead of getting version six, stick with the Mizuno Wave Horizon 5. When there are new models available, older versions go on sale.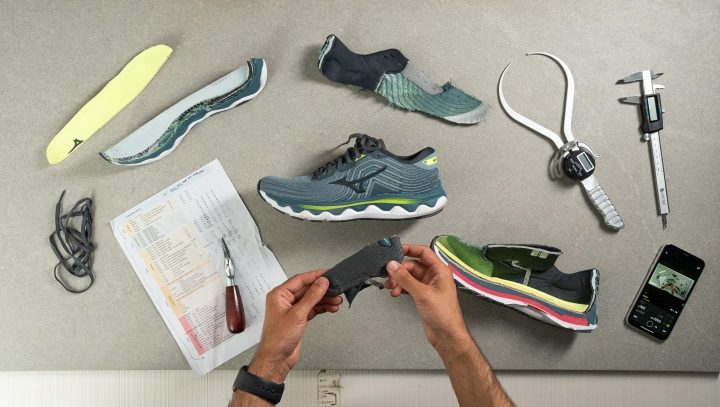 Mizuno Horizon 6 vs. 5
For a squishier and responsive ride, a new midsole is introduced.
Out goes the old mesh upper and in comes the new eco-friendly stretch-woven upper, offering a better foothold while being more accommodating.
It has better stability owed to its wider base.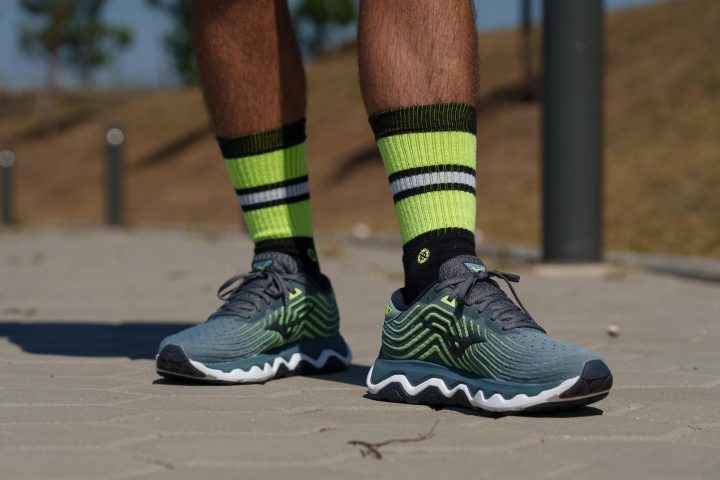 Not your best night-run shoe
While it has some reflective elements, they are rather small and not so flashy.
Less intrusive but more stable
"It appeared to be an approach more continuous and 'flowing'" is a statement given by a running expert who loves the shoe's unobtrusive support. Unlike other stability shoes, which another tester describes as "restrictive and jarring," the Horizon 6 is not harsh.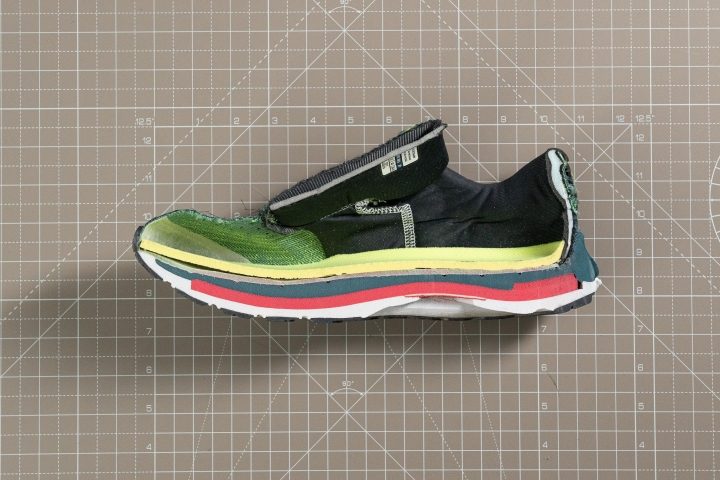 So how is stability attained? "There is plenty of cushion here that is never mushy soft or over firm," explains one runner. On top of this, the shoe has a wider base, encouraging planted steps.
Fact check
Not mushy or over firm? Time for a lab check. What's surprising is that the midsole has 3! layers - they all scored differently on our durometer. But, they averaged at 22. The average softness in our lab is 29.1 which means that the Horizon 6 is softer than the average running shoe we tested. What gives it that spot-on touch is, most likely, the combination of the 3 layers.
What also might have helped is a heel counter that is very stiff. On our test, it scored 5 out of 5 which means it is the stiffest. The average for all the shoes we've tested so far is 3.0.
Heel drop lower than advertised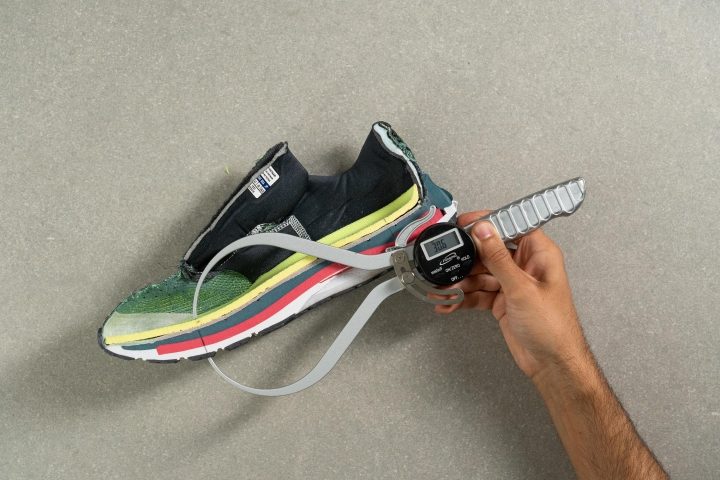 Fact check
Mizuno says 8mm, we measured 6.5mm. Heel was measured to be 37.1mm high, and forefoot 30.6mm.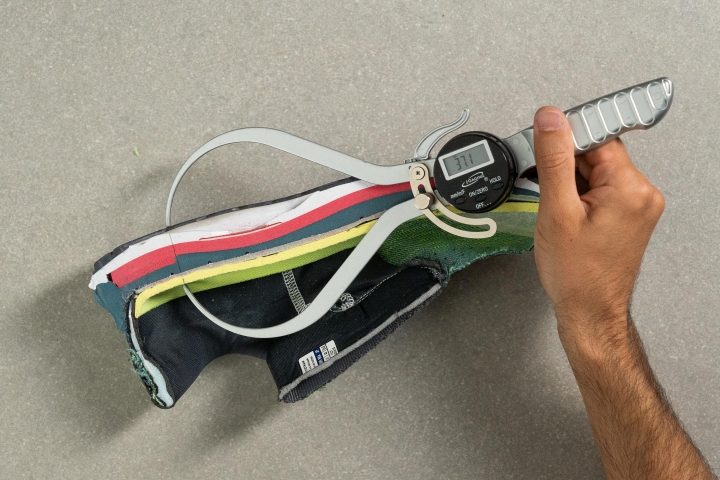 MUCH stiffer in cold weather!
Our lab tests also go on to check how the shoe behaves in cold weather which we simulate by putting the shoe in the freezer for 20mins. After that we check flexibility and softness. Mizuno Horizon 6 got these results:
flexibility has decreased by 76.9%! It went from 34.6N to 61.2N needed to flex the shoe. Keep in mind that the average change for flexibility from room temperature to the freezer is 21.7%.
softness has changed very little, you would most likely not even notice it. It went from 22.0 to 25.2 on our durometer, which is a 14.5% change and the average is 21.7%.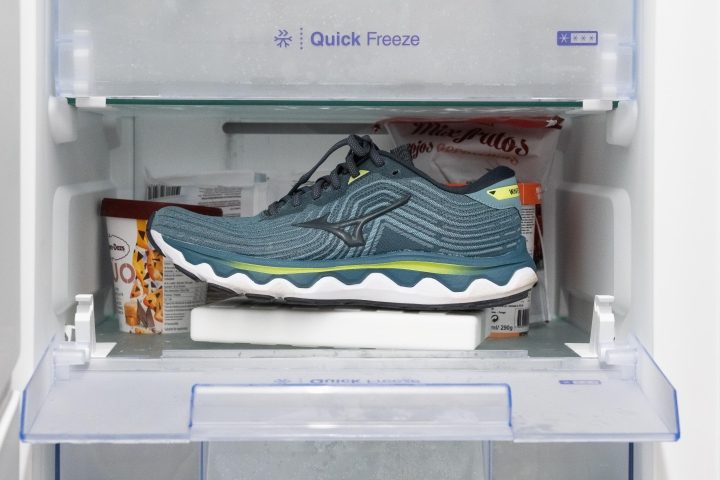 It's fun, not boring
"Euphoric" is how one road runner describes his experience with the shoe's midsole. Why so? Because it's noticeably more responsive and lively than the past version.
Another adds that it's "an incredible ride" because apart from the fun it offers, it also brings lots and lots of shock absorption, thanks to its generous cushion.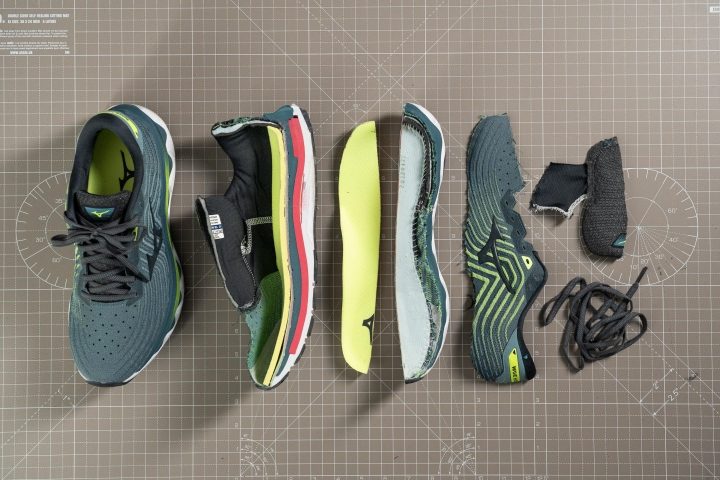 Break-in period is long
Despite all the good stuff about the shoe's midsole, one thing about it that critics have complained about is the lengthy adjustment period it requires.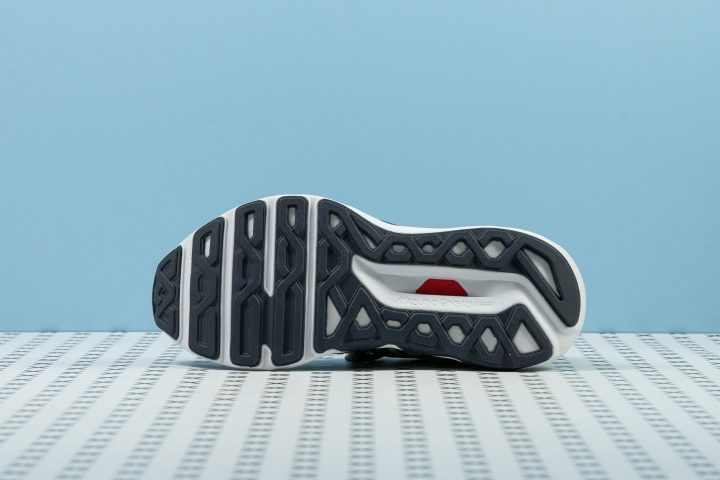 This is all because of the rather stiff outsole that makes the ride slappy. But once past this, reviewers swear that the ride becomes "smoother flowing" as one of them would describe.
Fact check
To check this, we did flexibility tests and those showed that this shoe actually sits around the average when it comes to stiffness. With a force gauge, we got 34.6N which is a bit more force needed to bend the shoe than the average (29.6N). Our manual longitudinal flexibility test gave the Horizon 6 a 3 out of 5 (5 being the stiffest and 3.3 being the average).
The Wave Horizon 6's upper crushes it!
It's flexible, airy, and offers an awesome lockdown. And what's even greater is that it doesn't have a lot of fuss.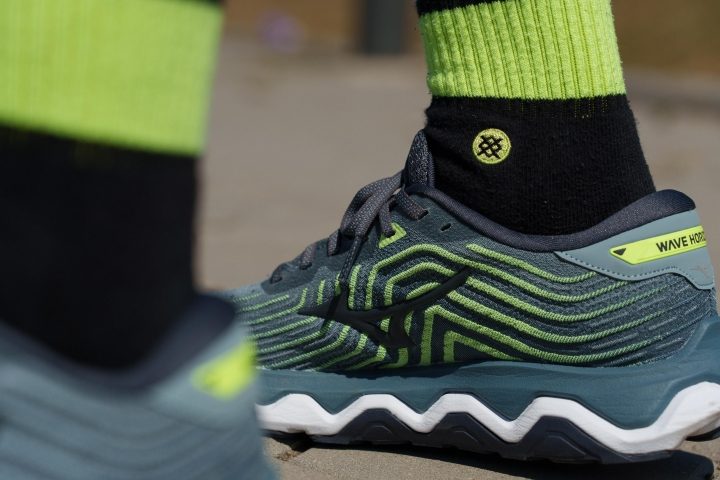 As one tester would put it: the upper is "simple in construction, detailed in its design."
Even the thickness of the tongue confirms this breathable "no fuss" design - for Horizon 6, it sits at 3.6mm while the average is 6.0mm.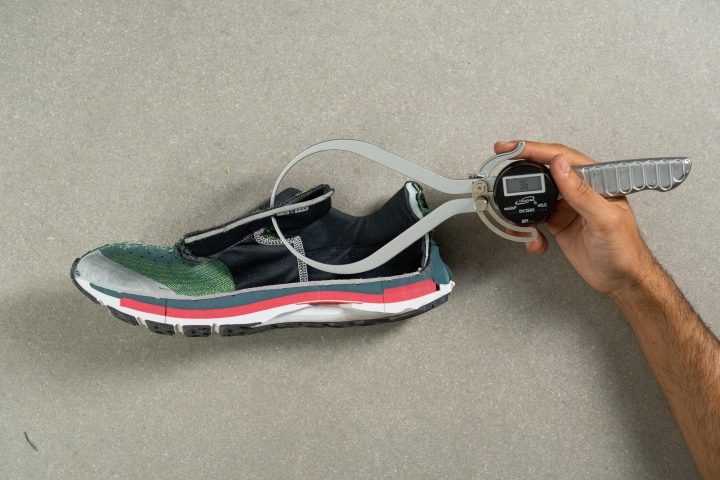 Lockdown couldn't be more awesome
Speaking of lockdown, it's terrific! Complementing the non-squeezing upper is the non-gusseted tongue (not attached to the sides) that does a great job of keeping a movement-free hold.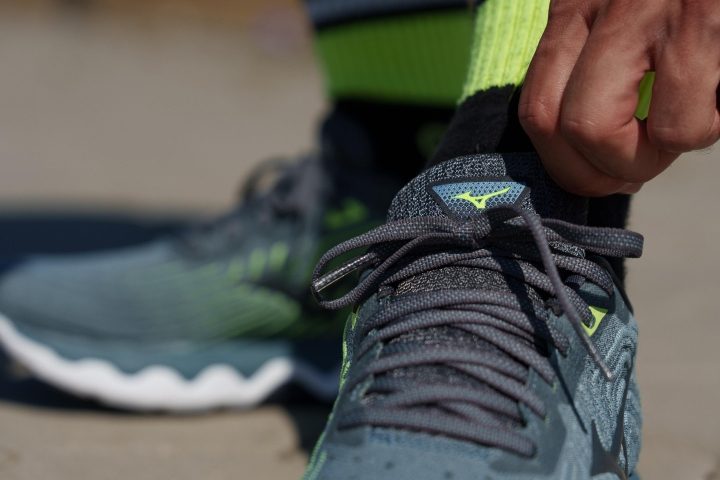 Average weight for a stability shoe
The Mizuno Wave Horizon 6 is "a big shoe no less!" shares one expert reviewer. And at 303 grams/10.7 ounces, it's almost as heavy as an average stability shoe.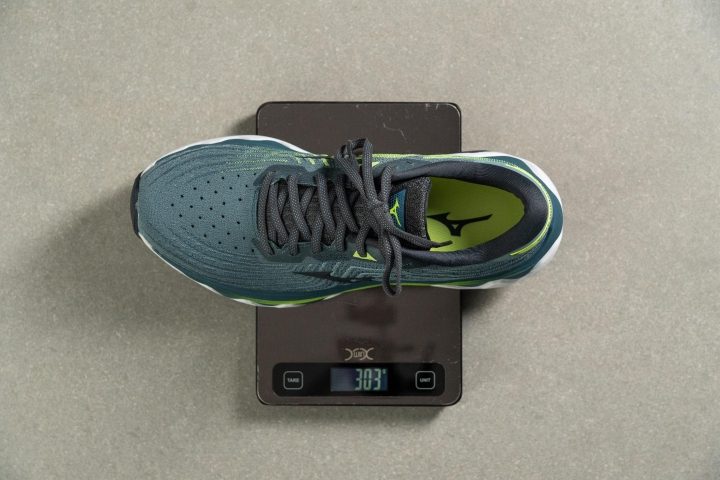 Just for context, stability running shoes, on average, weigh 297 grams/10.4 ounces. In the words of one runner: the Horizon 6 is "a shoe of such 'magnitude.'"
It sticks
When cornering, this road shoe is like glue. "It's fairly tacky," states one commenter. Backing this up, another adds that the outsole "grips the road in all types of weather."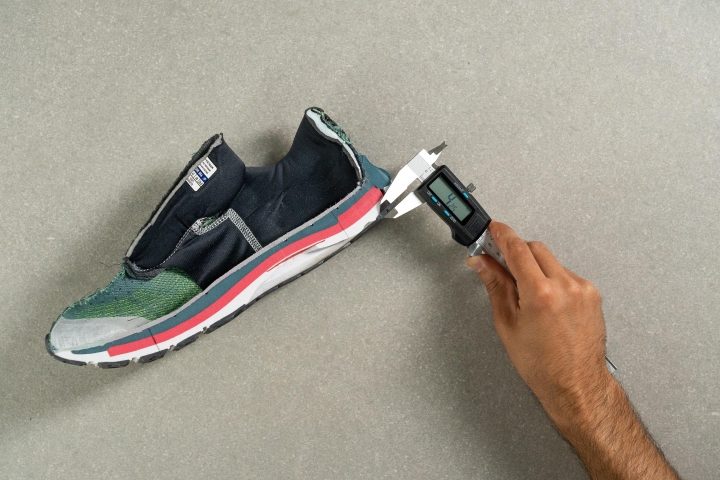 No wonder, looking at our lab numbers, the outsole is 4.3mm thick while the average outsole thickness in our database is 3.6mm.
The price is over the top
A Mizuno loyalist sums up the majority's take on the Wave Horizon 6's price. As he says, if you're looking for "an overpriced walking shoe, this is worth a look." Given its use and limitations, the shoe doesn't give its $170 price tag any justice.