Mizuno aims at lighter and peppier with the Wave Rider 25. This daily trainer is flexible, comfortable, and perfect for the heel strikers out there that need a ton of foam in the heel to softly dampen impact. The shoe is breathable, and light on the environment with its recycled mesh upper. It's a great entry point into running shoes for the beginner runner but ultimately falls short for those looking for something a bit more high-performance.
Pros
Lightweight
Comfortable
Breathable
Stable for pronators
Grippy
Durable
Cons
Too much drop
Tall heel
Heel slip
Mizuno Wave Rider 25 review and lab test
Mizuno drops a lighter, more peppy ride with the Wave Rider 25.
I am not a big Mizuno runner, but anything that's billed as being lighter and more energetic gets my attention.
This shoe is a classic-styled daily trainer. It's stable and designed for light pronators or neutral runners that tend to land on their heels.
The comfortable midsole underfoot provides mile after mile of consistent feel and the upper is breathable and easy on the environment.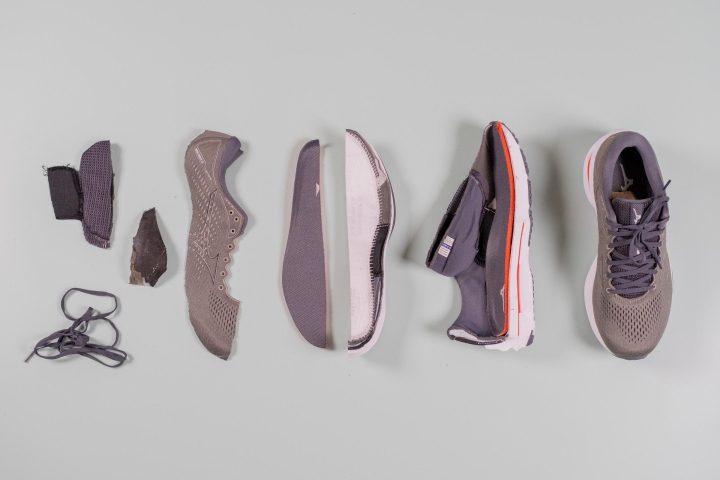 That's right, Mizuno created the upper from recycled materials which is always a plus!
Read more to see if you need to check out the Wave Rider 25.
Who should buy the Mizuno Wave Rider 25
Buy the Wave Rider 25 if you long for the classic feel of shoes from decades past.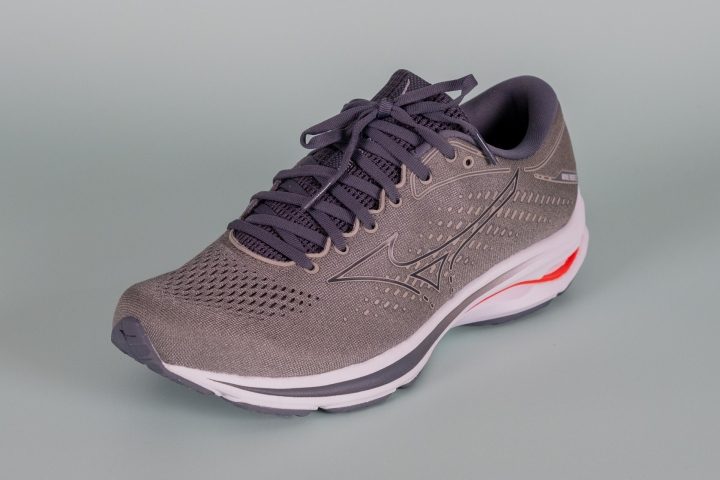 It's consistent underfoot, has a lot of foam in the heel, and is a great option as a daily trainer for the heel strikers out there.
Also, if you need slight stability control, this shoe will work for pronators that don't need a full medial post design thanks to its stiff heel counter and Wave Plate underfoot.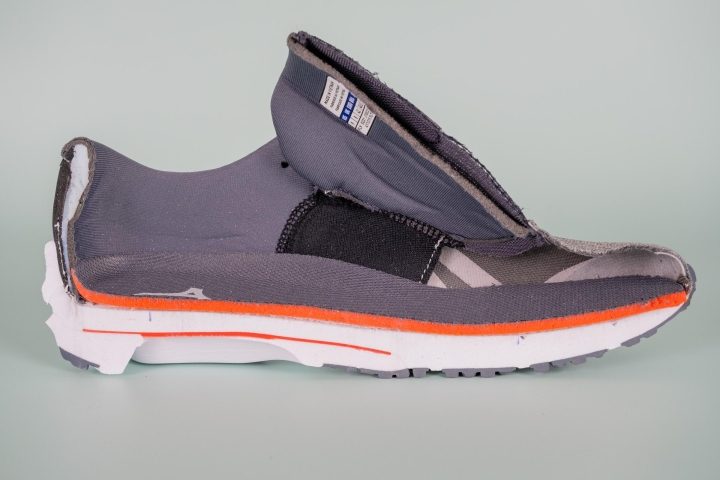 This would make a great beginner shoe if you are just getting into running as well.
Who should not buy it
Don't buy the Wave Rider 25 if:
You want a really bouncy shoe. The new updates have made this shoe a bit more peppy than past versions, but it's a touch dull compared to more modern shoes. Check out the Brooks Hyperion Tempo instead.
You want a super plush feel. This shoe could be softer all around. Check out the Hoka Clifton 8.
You're looking for a budget shoe. At $135 dollars there are cheaper shoes out there worth checking out like the Brooks Revel 5.
Ultimately, the Mizuno has a lot of competition, shoes that do it better, lighter, and cheaper.
I struggle to recommend this shoe over its competition, but if you are a Mizuno or Wave Rider fan, this new model is better than past iterations.
Wave Rider 25 true to size
The shoe fits true to size, and the toe box is plenty wide for those with wide feet.
There was a bit of heel slip in my experience thanks to its insanely stiff heel counter which scored 5 out of 5 in our stiffness rating. I'm not really a fan of super stiff and padded heel cups.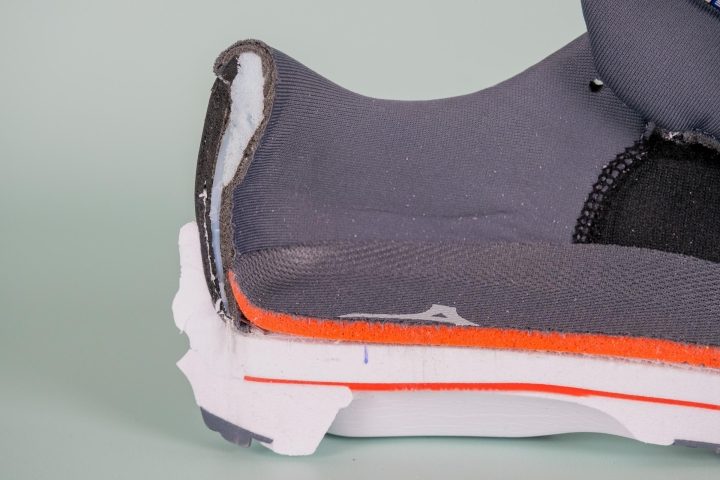 There is a gusseted tongue which helps with lockdown over the midfoot, but the gussets are skinny and I could feel them on the inside of my feet near my arches. That annoys me to no end. Gussets are great when they are unobtrusive, but as soon as you can feel them I'd rather go without them.
In the end, the shoe feels a little cheap to me. The tongue is a stiff foam feeling instead of being soft and plush, and the rest of the shoe follows suit.
Comfortable but n ot plush
The shoe is comfortable, there's not a ton to complain about in terms of how it feels on your foot. It's padded and well built.
But again, I could feel the gussets and I hate that.
However, there is a thick 5.5mm removable insole for added comfort underfoot which is nice.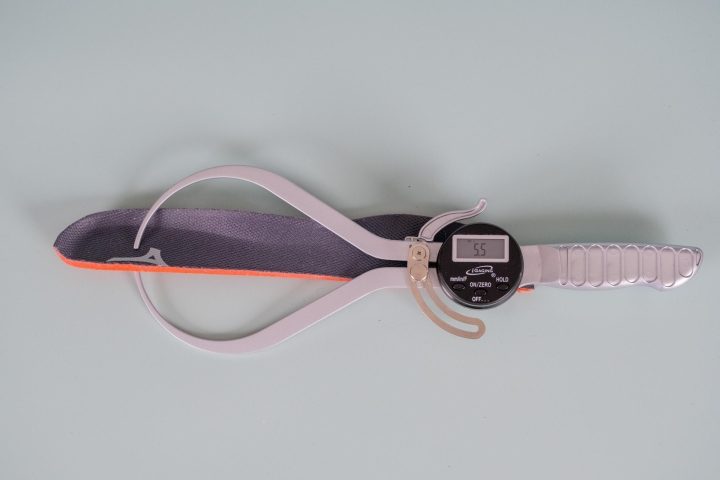 And it's built with a moderately thick tongue at 7.8mm (average is 5.5mm) giving it plenty of padding over the top of your foot, even though as I mentioned it's a bit inexpensive feeling.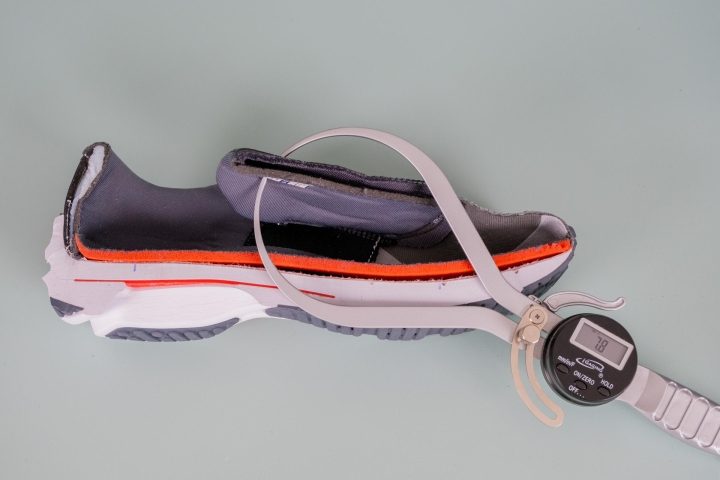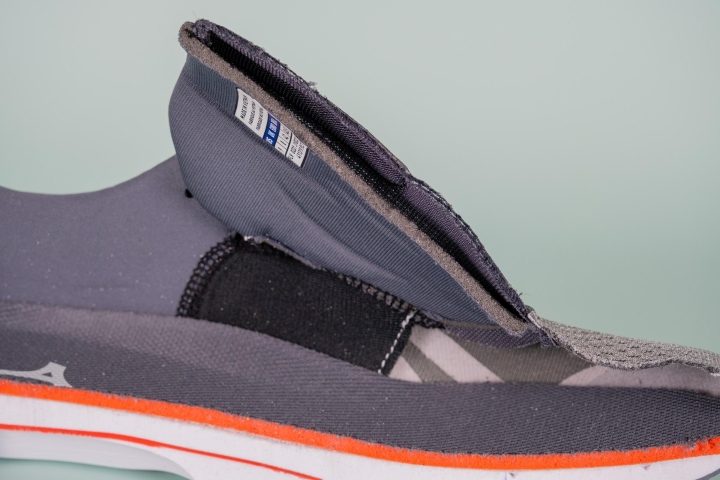 The main pro is the shoe is very airy and breathable, thanks to its recycled mesh upper. I dig when brands use recycled materials well without adding weight or bulk in doing so as Mizuno did here.
Peppier but still dull
Ok the important stuff, how did the shoe perform.
The midsole is peppier, but nothing too exciting, I'd still bill it as dull if I wasn't comparing it to the last version. Mizuno claims it's 17% lighter and has 15% more energy return and I'll admit it's soft and comfortable, it does the job. But in 2021 I want something more exciting, something that gets my blood pumping. Sorry Mizuno there's still some work to do here in my opinion.
The main problem with the Wave Rider 25 is its tall drop. At 12.3mm, that's extremely noticeable.
The 38.4mm stack in the heel is nearly breaking World Athletic regulations, and in my opinion, it's a touch wobbly since it's built on a narrower than average platform (111.3mm in the forefoot and 89.5mm in the heel. Average is 112.8/89.7mm).
To me, this is just too much stack, too much drop, and not ideal for my style. If you're a heel striker this may be a decent option, but otherwise, it may be challenging to get on your toes with all this foam in the back of this shoe.
Lastly, there's a plastic wave plate in the rear half of the shoe is designed to give the shoe some pep and stability while allowing the front to flex through your stride. This design works well, but the front of the shoe feels under cushioned and a bit too flexible to really get a propulsive toe-off.
At just 24.8N on the flex test (average shoes measure 37.5N) you lose a bit of the pep the shoe could have if it was just a touch stiffer.
Mizuno needs to take 4mm of the foam in the heel and add it to the forefoot to balance things out here.
Get used to tall drop
Unless you're a heel striker used to tall drop shoes, these are going to take some getting used to. Be sure to slowly break these in to avoid any injuries if you are coming from low drop (0-6mm) shoes.
Learn more about drop from our Ultimate Drop Guide.
Impressed at its weight
The weight is actually decent on the Wave Rider 25.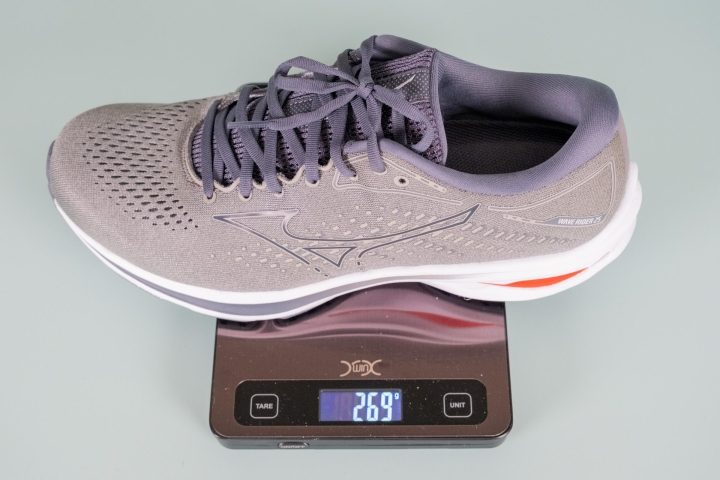 At 9.5 ounces (269g), this is respectable for a cushioned daily trainer. Impressed they could pull this off with all that foam in the heel.
Durable tough shoe
The main pro for this shoe is its durability. I think this shoe should easily go 500 miles.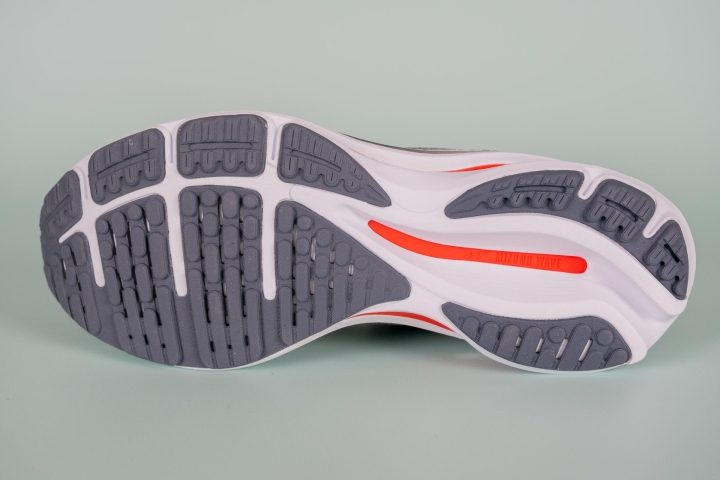 It has a thick outsole at 4.4mm (average is 3.8mm), and it's hard measuring 81HC on the durometer (average is 80), so it should have a long life before wearing down to the midsole.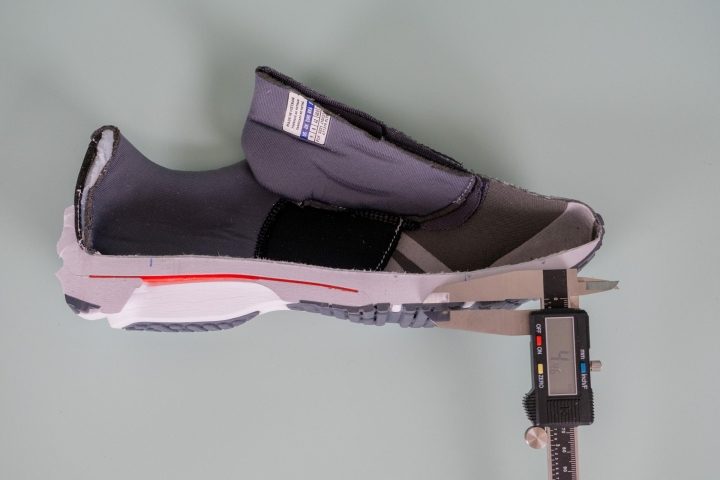 Fine grip
The shoe grips well. Its blown-rubber outsole has tons of flex grooves and siping to ensure the shoe flexes and bites into the surface you're running on.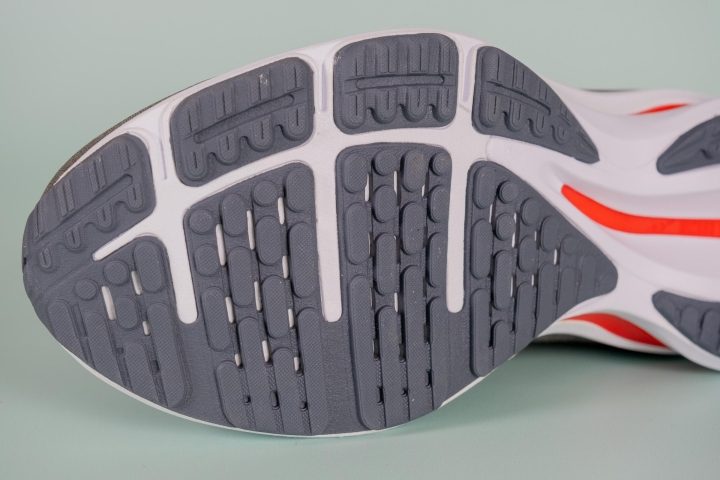 Breathable recycled upper
The Wave Rider is nice and breathable, the thin, recycled upper has a ton of perforations letting heat escape efficiently.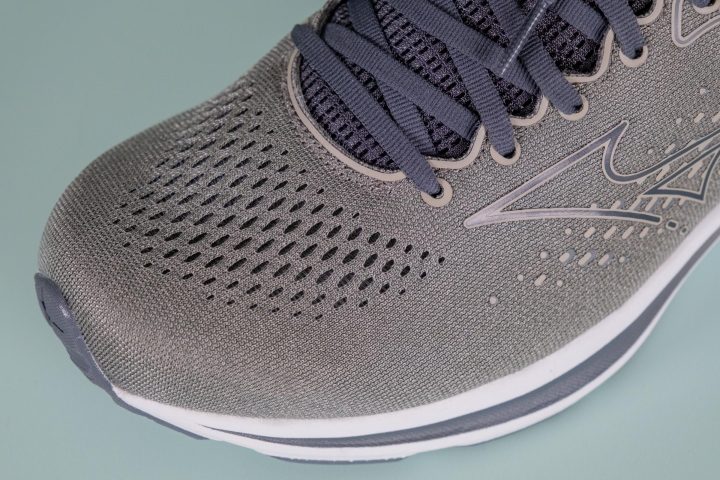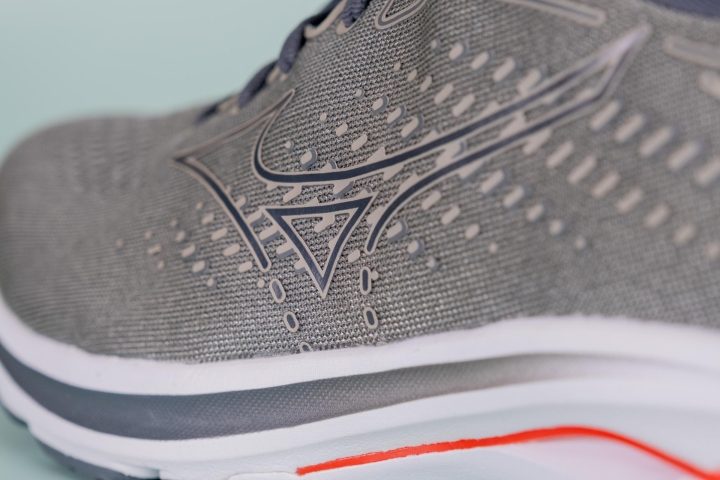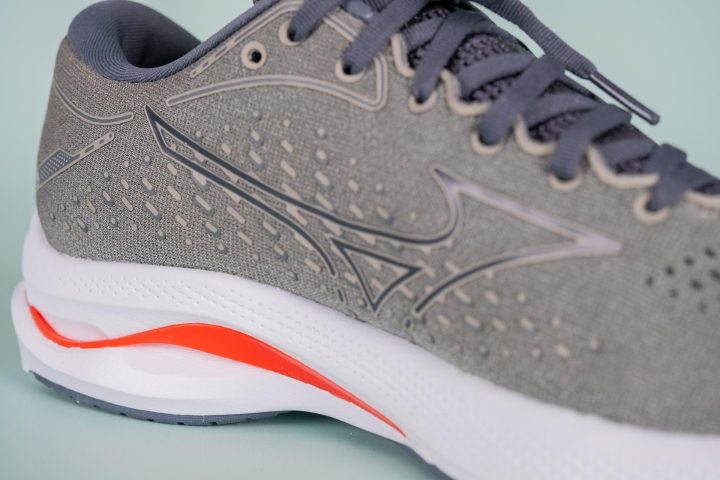 Running at night
There's a small reflective element on the heel that lights up brightly in our tests, so if you find yourself out after dark you should have a bit of visibility.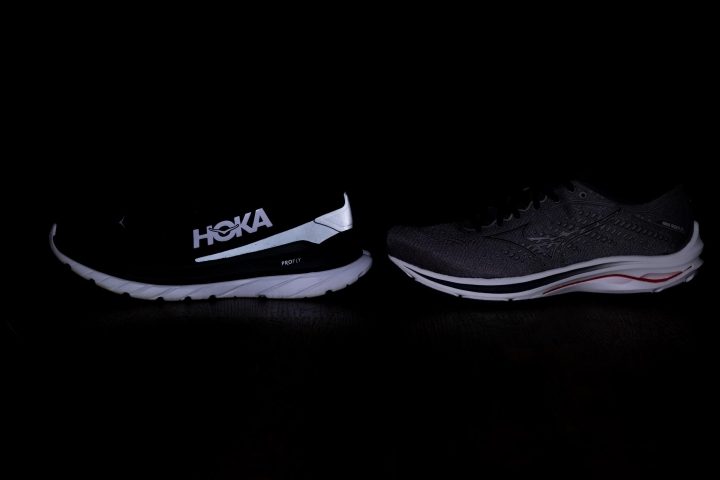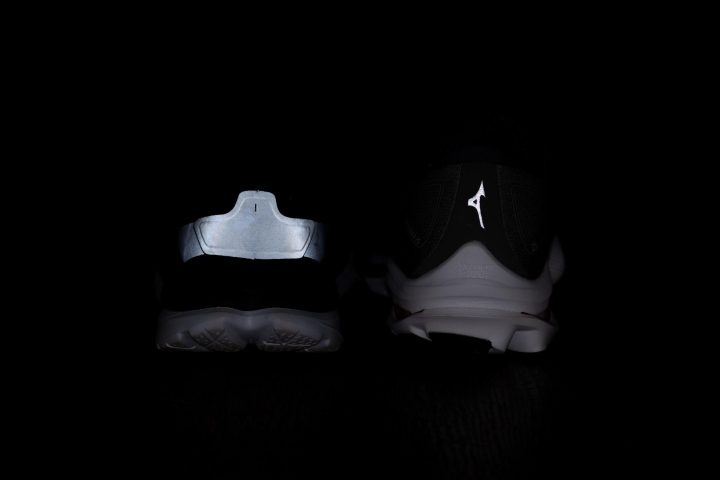 However, there is no reflective element on the side, as you can see compared next to a highly reflective shoe, the Hoka Mach 4.
Conclusion
This shoe feels like a shoe from the early 2000s. That's not a bad thing, it's consistent and does the job without any fanfare. And if you like that classic feel, these may be ideal.
But at $135 I think it's overpriced and there are other shoes out there that have a bit more to offer with a lower price point.
Complete lab-specs overview
Wave Rider 25
Average
Whole shoe

Weight (g)

269

267

Drop (mm)
12.3
8.3
Flexibility of the shoe (N)
24.8


37.5

Flexibility of the shoe (Freezer 20 min) (N)
31.2

47.7

Flexibility of the shoe (% of change)

25.8

40.7

Lace slip test with the knot (N)

22.4

23.2

Longitudinal flexibility (1-5 scale, 5 being the stiffest)

3

3.2

Torsional flexibility (1-5 scale, 5 being the stiffest)

3

3.3

Upper

Thickness - Tongue (mm)

7.8

5.5

Width Upper - Forefoot (mm)

101.3

98.5

Width Upper - Heel (mm)

78.9

76.0

Lace Stretch (1-5 scale, 5 being the most stretchy)

3

2.9
Flexibility of the heel counter (1-5 scale, 5 being the stiffest)
5
3.3
Tongue: gusset type

Both sides (semi)

-

Heel: pull tab

No

-

Midsole

Width Midsole - Forefoot (mm)

111.3

112.8

Width Midsole - Heel (mm)

89.5

89.7

Stack - Forefoot with insole (mm)

26.1

24.6

Stack - Heel with insole (mm)

38.4

32.9

Durometer Midsole Heel (Room temperature) (HA)

21.5

22.2

Outsole

Outsole thickness (Heel) (mm)
4.4

3.8

Lugs Depth (mm)
N/A

3.4

Durometer Outsole Heel (Room temperature) (HC)

81.0

80.0

Insole
Insole Heel Thickness (mm)
5.5

4.3

Insole: removable

Yes