The React Infinity Run Flyknit 3 from Nike is the brand's easy-day running shoe. With a generous cushion, it's comfortable to eat up lots of miles on the pavement. And if you're looking for a lockdown fit that will keep you stable from the first stride to last, this shoe won't disappoint. Overall, get the Nike React Infinity Run Flyknit 3 if you want a solid daily trainer that's perfect for newcomers and seasoned runners alike.
Pros
Snappy toe-off
Comfortable all-day
Stable when legs are tired
Smooth transitions
Comfortable fit
Roomy toe box
Grippy on wet roads and light trails
Also for walking and gym training
Perfect for beginners
Cons
Lacks

responsiveness

A tad heavy
Too expensive
Who should buy the Nike React Infinity Run
Flyknit

3

Cop the Infinity Run Flyknit 3 if you are: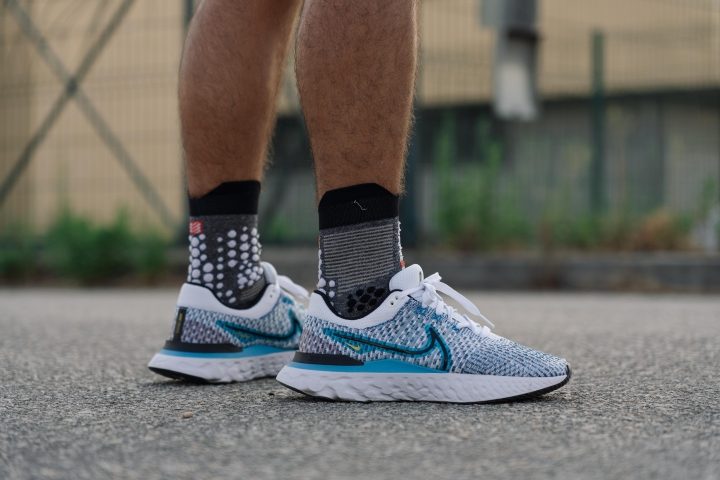 Who should NOT buy it
If you're on a budget, stick with version 2 of the Nike React Infinity Run FK instead. There's not much difference going on, save for the looks and more padding. If you want a shoe from a different collection, the Nike Pegasus 38 is not only cheaper; it also performs similarly for $40 less.
If you want a shoe that "springs to life" and will "baby your legs" altogether, the Nike Invincible Run comes highly recommended. And if it's a lighter alternative you're after, the PUMA Velocity Nitro 2 won't be a letdown.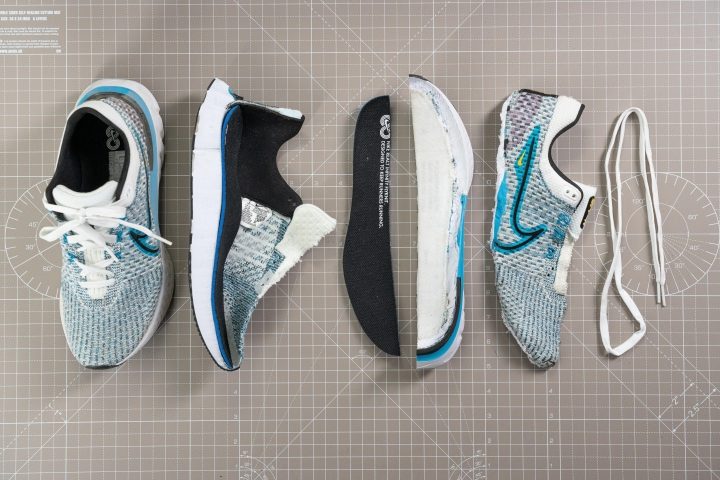 Nike React Infinity Run FK 3 vs. 2
A more supportive fit is the main highlight of the Nike React Infinity Run Flyknit 3. The shoe features a more padded ankle collar and heel.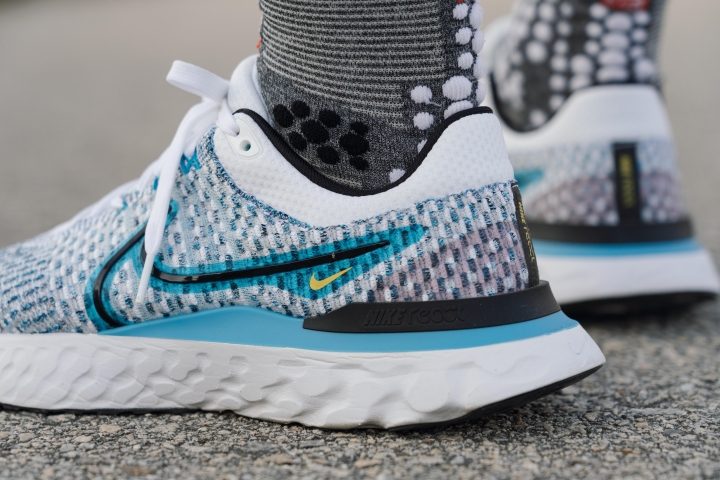 Even more, it has a thicker Flyknit upper and Flywire cables for a better foot hold.
Fact check
We measured the shoe's tongue thickness at 7.9 mm. This is a considerable amount of padding compared to the average 5.9 mm.
Not a shoe for hot days
Because of the thicker tongue and upper, the shoe doesn't let a lot of air pass through. It is noticeably warmer than daily trainers on average.
A seamless ride from the Infinity Run Flyknit 3
Although it's not the lightest daily trainer on the market, multiple runners agree that the shoe doesn't feel "sluggish," thanks to its smooth transitions. Even better, the more they ran on their toes, the nicer and more seamless the transitions became.
Takes care of the feet
Think of the Nike Pegasus but softer. That's the Infinity React Run Flyknit. It's "not overly squishy," but it preserves a good balance of firmness and softness; experts say the biggest thing about it is the level of step-in comfort they get straightaway.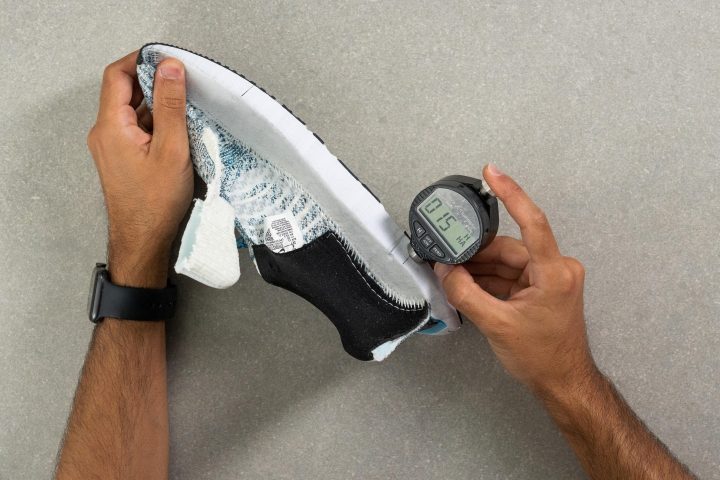 Fact check
Based on our midsole durometer measurements, the sole is much softer than the average: 48% to be exact.
So much so that they have used it for gym training, office, and walking around town, and even for all-day wear. And because it has a generous amount of cushion, heavy runners also find it really comfortable for jogging.
Fact check
While it's not THE most cushioned daily trainer in history, the React Infinity still has a good 30 mm of heel stack underfoot. The average among out lab-tested shoes is 32.7. If you want more, try On Cloudmonster (34.9 mm).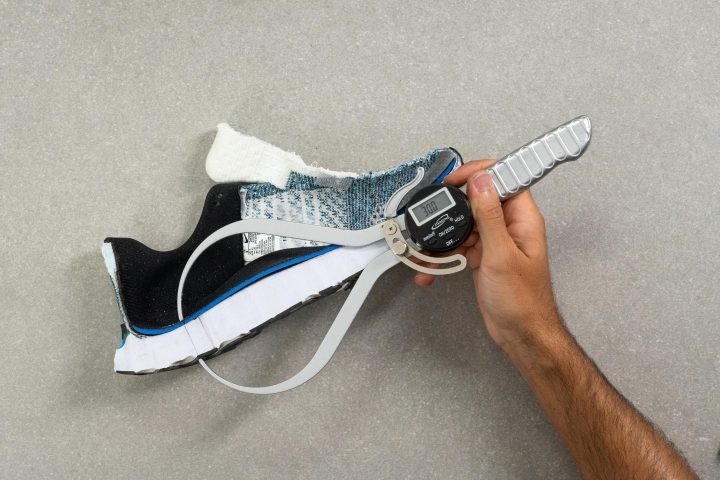 Tips the scales
The shoe's rather bulky weight at 297 grams in US men's 9 (vs. the average daily trainer at 282 grams or 9.9 ounces) has reviewers asking, "when will Nike make a light daily shoe?" They agree that it's:
"quite heavy"
"clunky"
"getting heavier each time"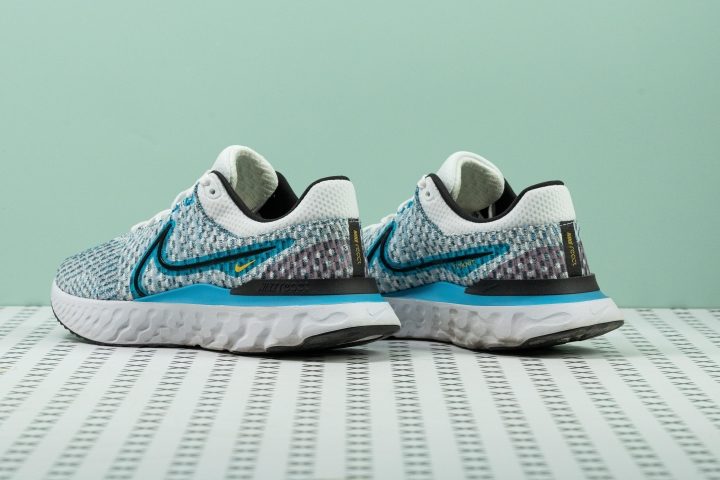 Move
steadily

with the Nike React Infinity Run Flyknit 3

The shoe's firmness paired with its wide base keep a highly stable ride.

Fact check

The shoe's footprint is indeed wider than average in both the forefoot (2.3 mm wider) and in the heel (3.3 mm wider).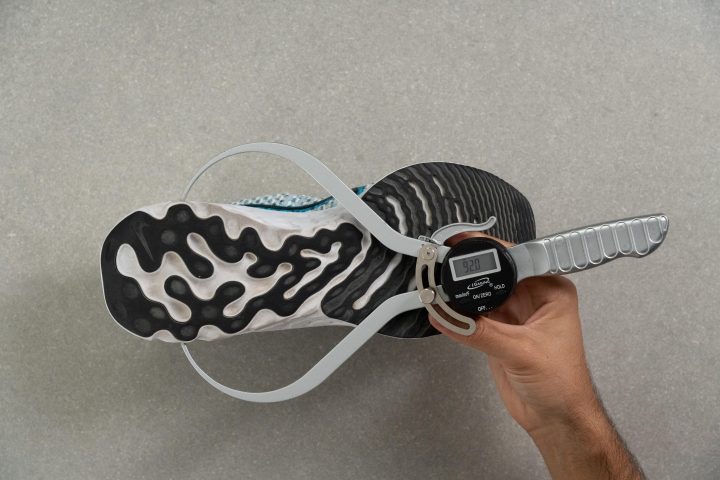 Some even recommend it to help mild overpronators because they find it more stable than most neutral shoes. What's more, it supports tired legs.
Traction that bites
Road runners have NO issues with the shoe's traction. During their testing, they say it sticks well on wet concrete, treadmill, and light trail.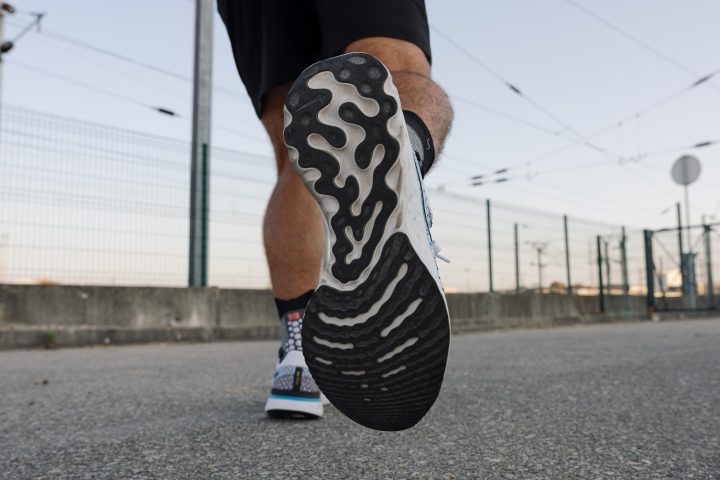 Just the right fit!
Although not as sock-like as the first iteration of the Nike React Infinity Run Flyknit, more than 80% of the critics find the shoe's fit "secure." In the rear, the heel has sufficient padding; no one has suffered from heel slips. Plus, the upper is stretchy; it conforms to the foot.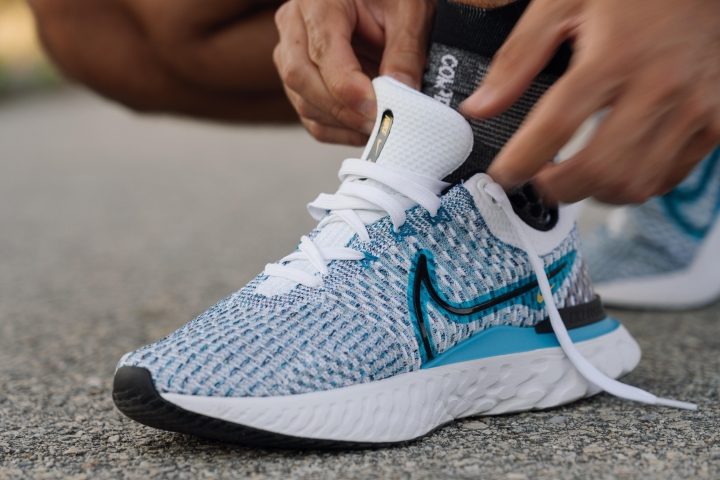 In summary, this shoe's fit remains "unmatched."
More than enough room
Unlike most Nike running shoes, the React Infinity Run FK 3 doesn't have a narrow toe box. It's spacious; "incredible" is how the many describe the comfort they get from it.
Fact check
With 98.6 mm in the widest part of the upper, this Nike shoe is at the average of running shoes (98.5 mm).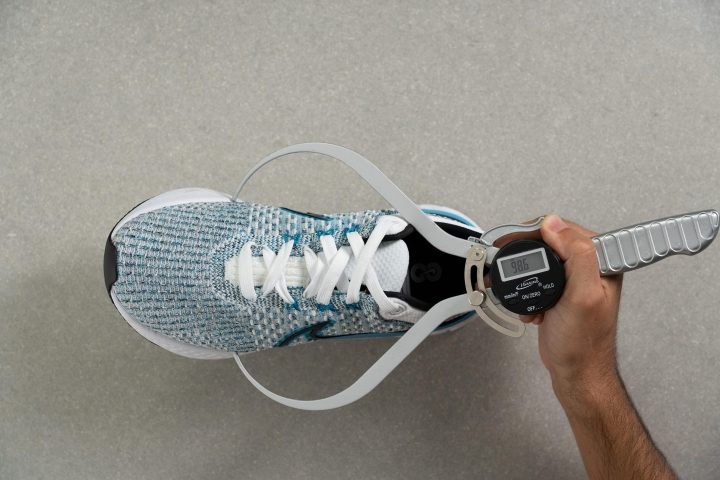 Even more, the upper's pliability helps a lot in bumping up comfort. According to most, even in areas where their feet pushed against the shoe, it never rubbed their toes.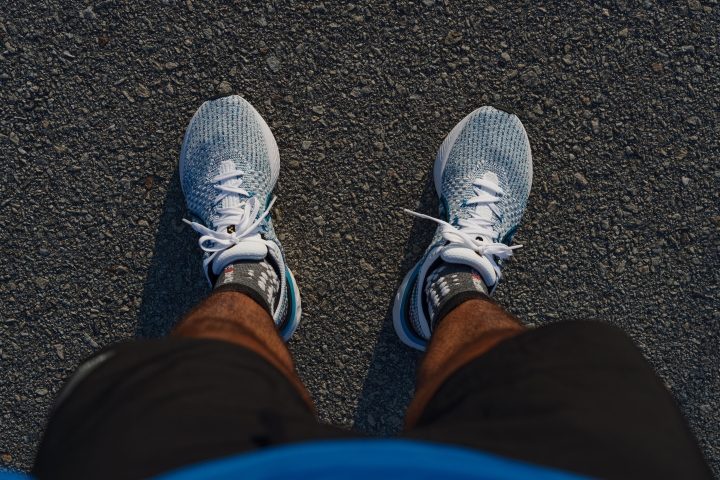 Not your budget-friendly trainer
It's a helluva pricey shoe. At full price, it's a "definite no!" for most runners. Given that it's better than v2 but not as great as the first version, it's really "difficult to justify the price."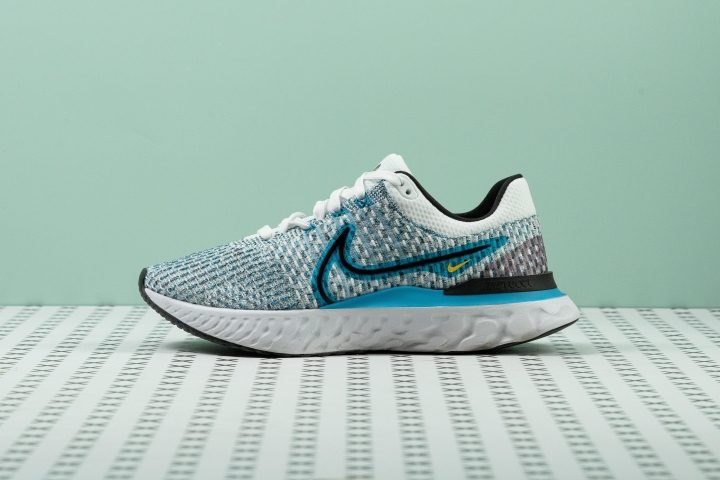 Contrary to other daily running shoes, which cost $119, on average, its $160 price tag is without a doubt a lot of money.
A stunner
It "looks wicked!" Road runners give a "hats off to Nike." This is especially true for the pink and green color combo, which has captured the attention of many reviewers.