The PUMA Velocity Nitro 2 offers a seriously competent and comfortable all-rounder running shoe in a fairly priced package. With a soft, plush midsole, insane grip, and looks to boot, this is claimed one of the best shoes this year, and a gift that keeps giving.
Pros
Excellent cushioning
Perfect all-rounder
Great lockdown
Stable platform
The most versatile running shoe tested!
Excellent outsole
Improved upper comfort
Roomy toebox
Cons
Runs a little long
Poor durability in the upper
PUMA Velocity Nitro 2 review and lab test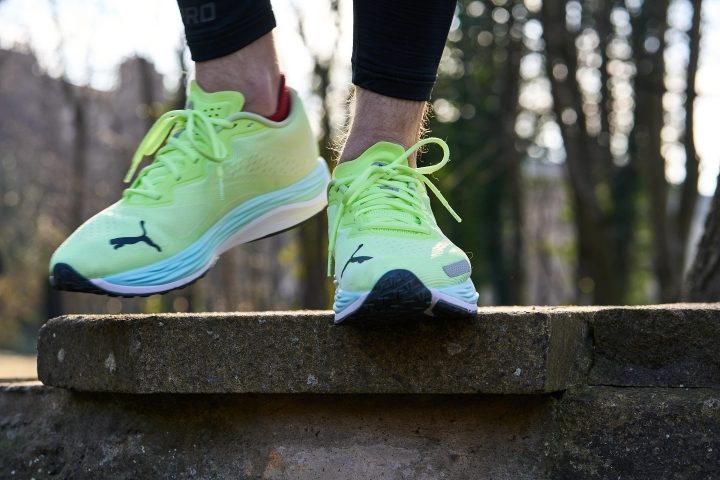 The PUMA Velocity Nitro 2 is a daily runner machine built to take you as far as you want it to. With a plushy, cushioned midsole and excellent outsole, the Nitro 2 looks and feels more the part than its older sibling. There may have been a couple of corners cut in build quality, but aside from that, we love it.
Who the shoe is for
The PUMA Velocity Nitro 2 is a daily runner that's proving PUMA's return to the scene has the stamina to keep it up. The neutral running shoe can take you through your paces for longer miles and might even be the perfect marathon shoe.
Who the PUMA Velocity Nitro 2 is not for
There are better options if you:
Some well-needed updates on the PUMA Velocity Nitro 2
Losing the seemingly unnecessary TPU plastic heel is a huge plus in the Nitro 2. PUMA has shaved a few grams off of the weight of the original Velocity Nitro, but not much. It looks like there's more focus on a more supportive midsole, to sidestep the need for any extra plastic bits.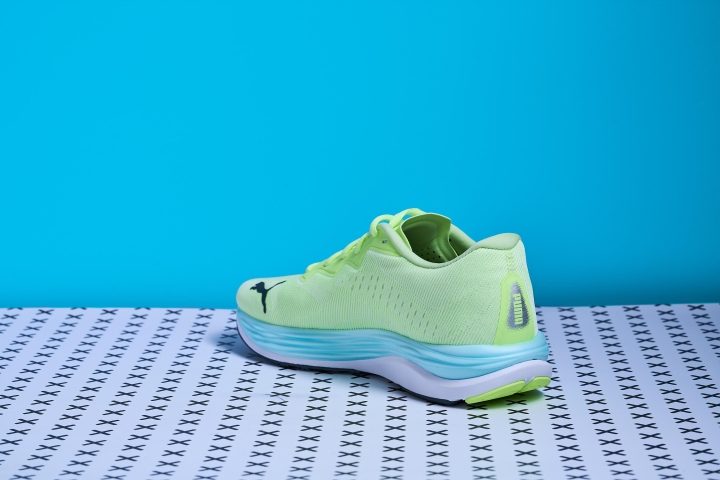 The result is a modern-looking daily runner that feels great underfoot. It still has the height and plushness of the first version, but feels more stable and looks a lot more professional.
The upper is an elastic lightweight engineered mesh that feels a lot lighter and more form-fitting than previously. Aside from that, you can see the family resemblance from the older shoe.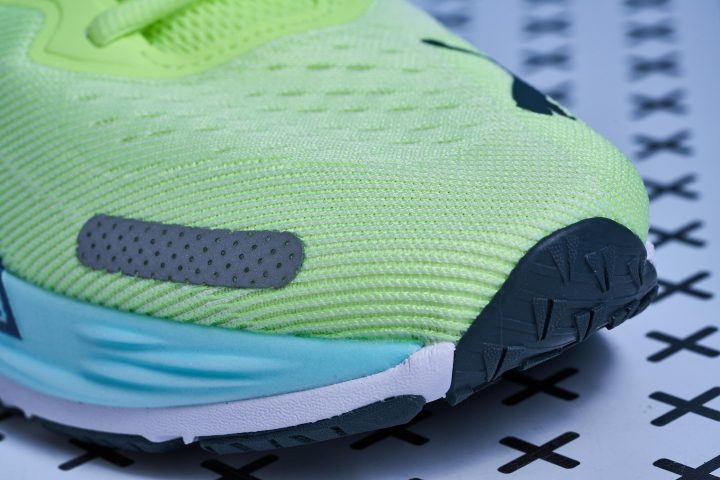 A nice, solid fit in the heel
I don't think I've felt such a well-constructed heel cup before, the shoe runs about a half size long, but if you get a good fit it feels instantly dialed in. With the same Nike Pegasus 38-style lacing, it's really easy to secure the lockdown however you like.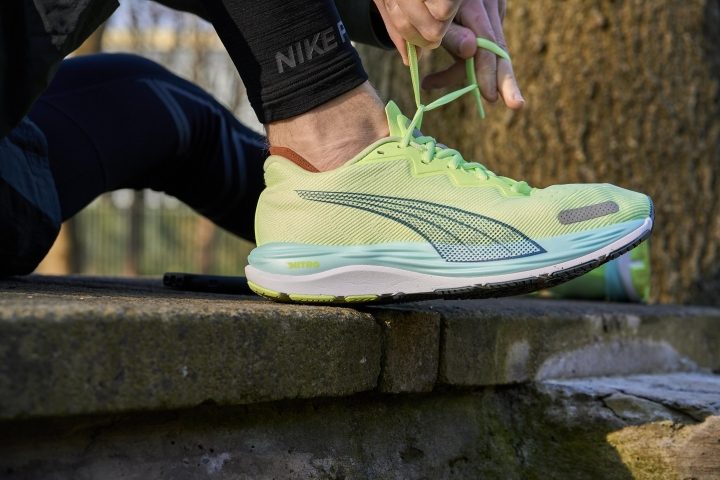 The rest of the shoe wraps around the foot incredibly well, the gusseted tongue gives a soft, comfortable grip to the whole shoe while remaining nice and slim at 4.8mm. The toe box is roomy but doesn't slip around too much.
The PUMA Velocity Nitro 2 comes apart a bit too easily
The updates in the upper are really nice, but I wish they'd stay together more. In our lab testing, we tear apart shoes to see what's inside and how it all pieces together.
The PUMA Velocity Nitro 2 is the easiest shoe I've had to cut apart yet. When it came to deconstructing the upper I could literally do it by hand. I could even take material off of the midsole by hand, which is a really bad sign for durability for me.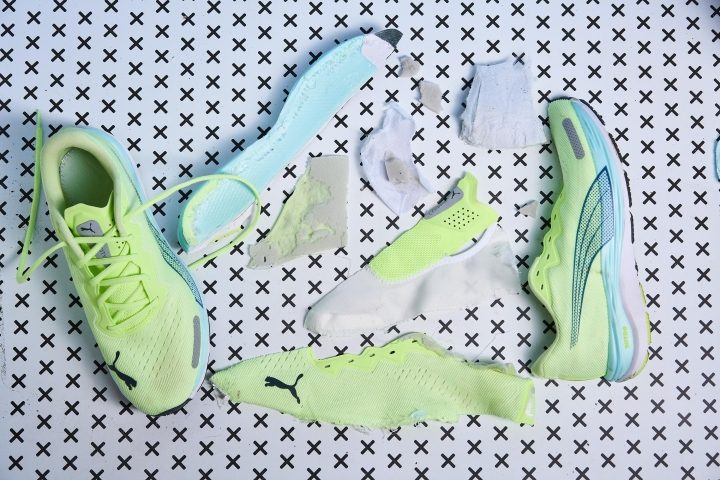 To be honest, I love this shoe but that's a deal-breaker for me, especially at this price point. I'll put it down to PUMA being new on the block (after their hiatus) and they have a few kinks to iron out in their manufacturing. Hopefully someone takes a look at this review and fixes it for next time!
A softer, yet firmer midsole
With a dual-density midsole, PUMA is continuing to try to offer a super-soft ride that can support you over speed.
The Velocity Nitro 2 really delivers here, with a softer midsole durometer of 35.5HA and a harder one of 43.5HA. This means that the area cushioning your foot stays nice and soft, while underneath the shoe keeps shape and ensures a smooth heel-foot strike.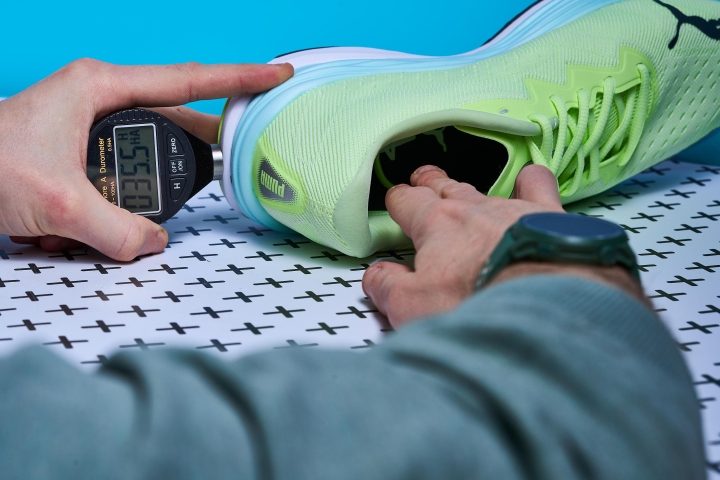 This makes the shoe really responsive and I found it excellent for both slow runs and even up to tempo pace. I took these out for a speed-work run. While I definitely wouldn't rate them against something like the Adidas Adios Pro 2 for speed, it's the most versatile shoe I've run in.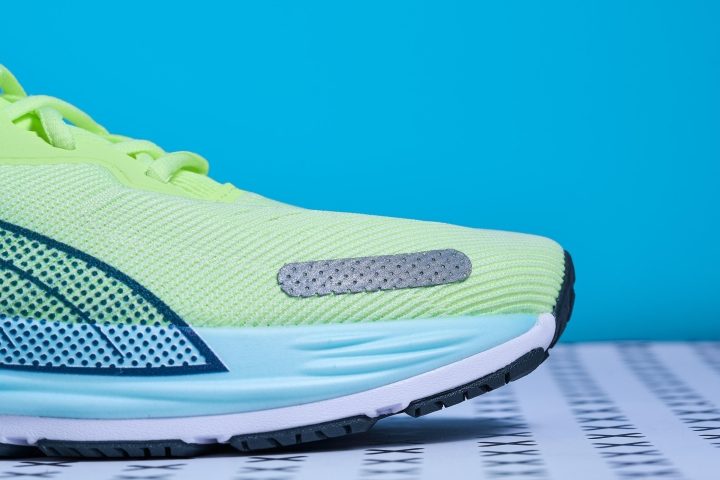 The PUMA Velocity Nitro 2 is really stable
With the dual-density foam throughout the shoe (in previous versions the firmer foam was only in the heel), the ride is really stable across all speeds.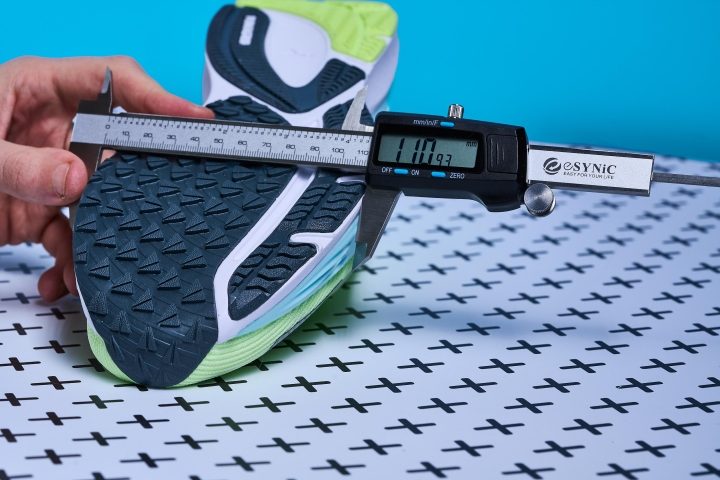 Even though the width of the midsole (110.9mm at the forefoot and 89.3mm at the heel) is below average, I didn't feel any issue with unstable foot strikes at any speed that I ran in these.
Nice and flexy, at the right temperature
One of the factors that I look for when lab testing shoes is their consistency in performance. When it comes to comfort and performance, the flexibility of a shoe is one of the highest contributing factors.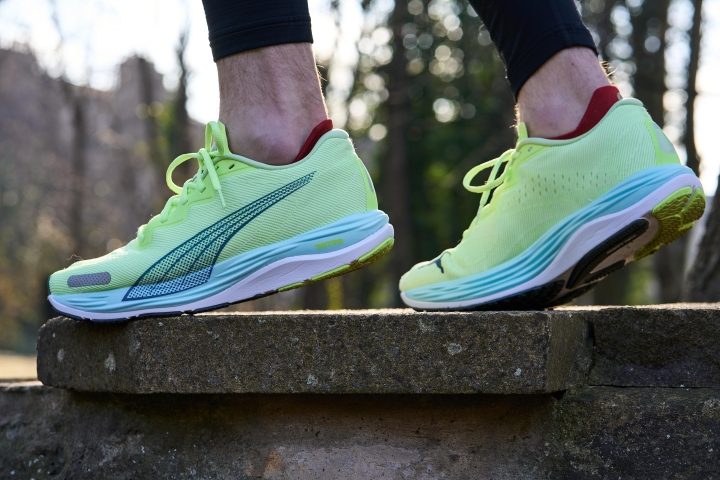 Which makes it important that their designed flexibility stays relatively similar in 20°C and 0°C.
The PUMA Velocity Nitro 2 has a nice flex at room temperature, with a score of 31.2N the Velocity Nitro 2 is a little stiffer than an average recovery run shoe. This will inhibit speed and probably won't change in any future iterations. I'm very happy to lose some speed in return for the sheer amount that this shoe can take on.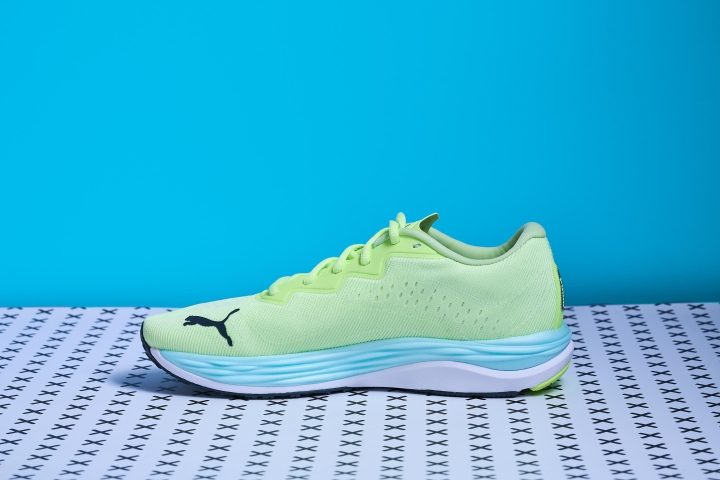 When I tested the shoe in the lab freezer I got an increase in stiffness of 36.2% at 42.5N, which is 5% above average. For me, this is a slight concern. While I don't expect anyone to run at -20°C, I would also like to see that number at around 21% to make the shoe feel the same during any run.
The PUMA Velocity Nitro 2 has all the grip you'd need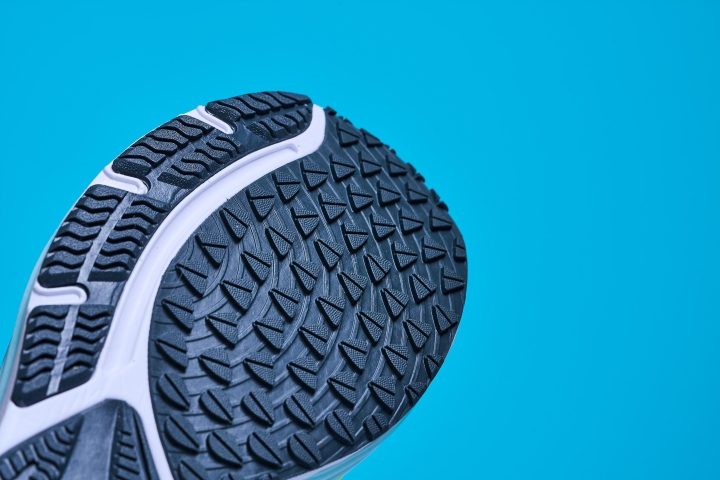 I'm starting to believe that PUMA Grip is one of the best out there. I thought the previous version had some serious outsole, but the Velocity Nitro 2 tops it. With an improved lug design, the PUMA's outsole now resembles the Nike Pegasus 38 as well (I'm not the only one that's pointed out this comparison).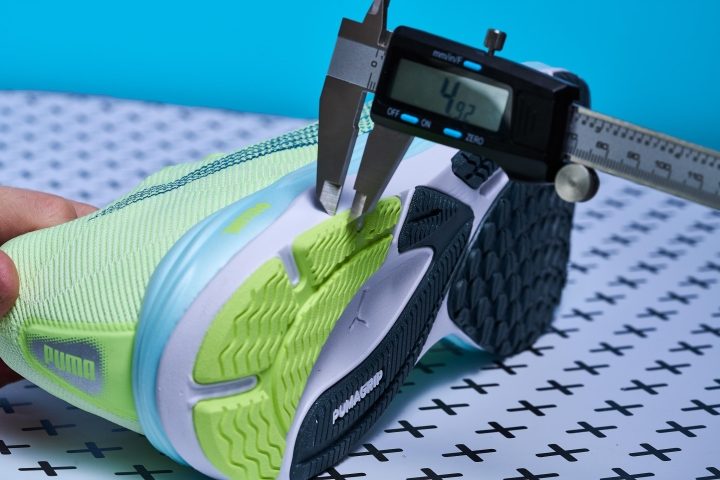 With all those lugs and an outsole thickness of 4.9mm, you can really rely on the grip to carry you on multiple surfaces, even light trails.
Conclusion
Aside from my concerns about the durability of the upper, the PUMA Velocity Nitro 2 is the perfect shoe. I'd recommend it both as a daily runner in a rotation or as a go-to shoe to do it all!
PUMA Velocity Nitro 2
Average
Whole shoe

Weight (g)

279

276

Drop (mm)

10.8

8.9
Flexibility of the shoe (N)

31.2

29.0
Flexibility of the shoe (Freezer 20 min) (N)
42.5

37.7

Flexibility of the shoe (% of change)

36.2

31.5

Lace slip test with the knot (N)
32

23.3

Longitudinal flexibility (1-5 scale, 5 being the stiffest)

2.0

3.2

Torsional flexibility (1-5 scale, 5 being the stiffest)

3.0

3.4

Upper

Thickness - Tongue (mm)
4.8

6.4

Width Upper - Forefoot (mm)

109.1

98.6

Width Upper - Heel (mm)

78.6

82.7

Lace Stretch (1-5 scale, 5 being the most stretchy)
2.0
2.7
Flexibility of the heel counter (1-5 scale, 5 being the stiffest)
3.0
3.0
Tongue: gusset type
Full

-

Heel: pull tab
No

-

Midsole

Width Midsole - Forefoot (mm)
110.9

112.0

Width Midsole - Heel (mm)

89.3

89.2

Stack - Forefoot with insole (mm)

24.6

23.9
Stack - Heel with insole (mm)

35.4

32.7

Durometer Midsole Heel (Room temperature) (HA)

35.5

41.4

Outsole

Outsole thickness (Heel) (mm)
4.9

3.7

Lugs Depth (mm)

2.6

3.3

Durometer Outsole Heel (Room temperature) (HC)
68.5

82.6

Insole
Insole Heel Thickness (mm)

5.4

4.5

Insole: removable
Yes