The Altra Lone Peak 5.0 is a trail shoe that will make you run with confidence! It's sturdy underfoot, supportive, and it's got the right blend of comfort and responsiveness. Throw in any terrain, and this shoe will bite its way through them!
Pros
Great for wide feet
Superb grip (rocks, mud, ice, snow)
Stiff and durable
Sheds mud easily
Great water drainage
Balanced and stable ride
Removable Ortholite insole
Great for road-to-trail transitions
Extremely breathable
Rock plate for technical terrain
Gaiter-friendly
Easy to clean
Cons
No ground feel
Too cold for winter days
Altra Lone Peak 5.0 review and lab test
I loved them! They felt nice and flat, well balanced, wide in the toe box, and confident on any terrain I threw at them. The updated midsole gives this shoe a bit more protection underfoot and a bit more pep without straying too far from their grounded, minimal roots.
This shoe is ideal for trail runners out there that
have wide feet
want a shoe that easily sheds mud and drains water
are forefoot and midfoot strikers looking to go fast.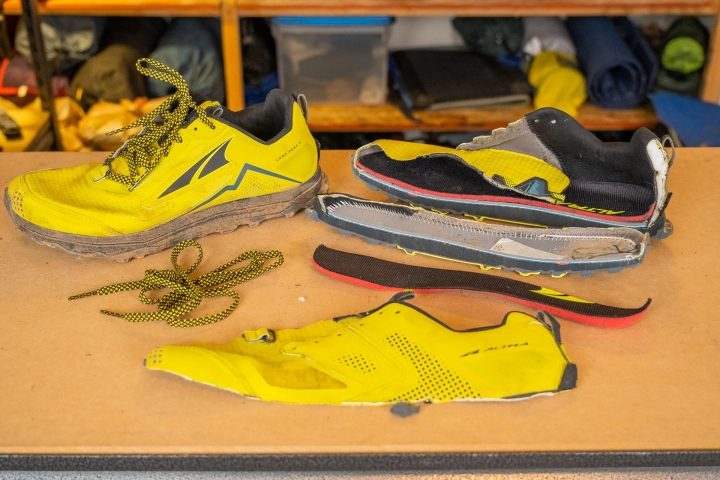 Don't buy this shoe if you want a true minimalist experience as there's less ground feel. Chances are Altra won't give you this at all, so you can have a look at the Merrel Vapor Glove series, Xero trail running shoes, Vibram Five Fingers, Vivobarefoot running shoes.
It's also a big transition for a runner in traditional 8-10mm drop shoes to take, so beware if you want to try the Lone Peak 5, you may need to ease into them.
Lone Peak 5 feels half a size bigger
They feel big. Altra's shoes tend to have wide toe boxes that let your toes splay naturally with every step, which is great. I have a wide foot and like lots of toe room, but they still feel big. I could have done a half size down probably.
However what's interesting is that they don't measure overly long or wide, at 293.4mm they actually fall just a few mm short of the average length for men's size 9, and at 97.3mm wide in the upper forefoot they are not wider than average either, yet they feel roomy on your feet.
Perfect right out of the box
In the Lone Peak 5, I just wanted to keep running. I ended at just over 10 miles because I was enjoying them so much.
I normally take new shoes out for 5 miles for their very first run, which gives me enough time to feel them out, but also get past that 2-3 mile initial break-in. The shoe is surprisingly comfortable.
I wouldn't say they are overly responsive or cushioned, but they are balanced. They feel very sturdy under foot thanks to the low stack (24mm) and zero drop.
There's a bit of arch support in these which feels nice under foot, especially for a zero drop shoe that normally sees a flatter midsole profile.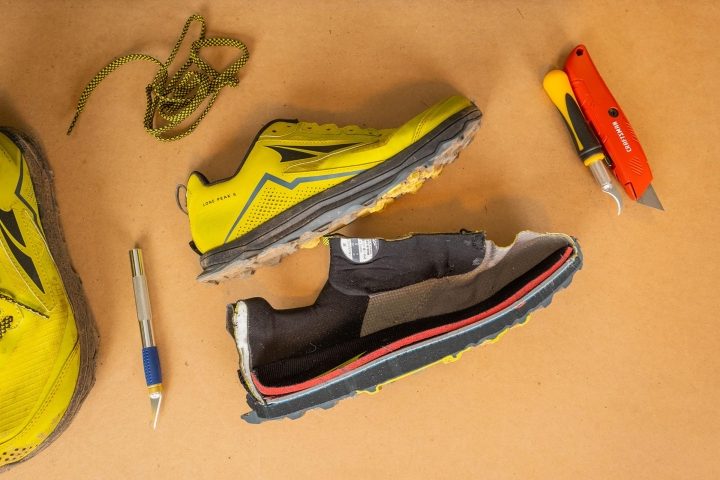 They also have a thick Ortholite insole that comes up nice and high in the heel box, giving added support to secure the heel since overall the heel counter on this shoe is extremely flexible.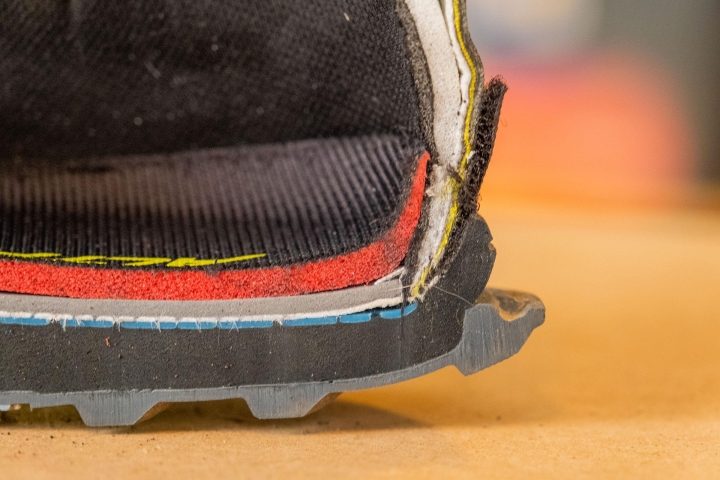 They have enough foam under foot to deter sharp rocks from causing issues, something that more minimalist, and a lot of zero-drop trail shoes, have issues with.
Lone Peak 5 grips onto everything
I've got to say I was impressed with the grip, and the protection underfoot.
I was impressed they did fine everywhere I took them. Granted they were not rockstars at anything, but they worked, and my legs and feet appreciated them.
March in Colorado means freeze-thaw cycles, so I got to test this in the small window where we have mud, ice, snow, and dry trails on every run. I was bouncing from rock to rock at times, none of which made me cringe or fear for my life.
The midsole flexes enough to allow the shoe to bend and mold itself around terrain, ensuring ample surface area connection which led to the confident feeling these shoes inspired.
Great for road-to-trail transitions
Even on the road, going long and slow saw no issues, and when the road ended, they transitioned straight to dirt and mud seamlessly.
Now I wouldn't recommend these as road shoe perse, but in a pinch they work, as the lugs aren't overly tall, and are stiff enough to not bend or wobble on harder packed surfaces.
So breathable they are cold in winter
Ripstop nylon?? I was concerned about the breathability of these: there's not a ton of venting holes and nylon made me think of my tent and not a breathable mesh-like upper.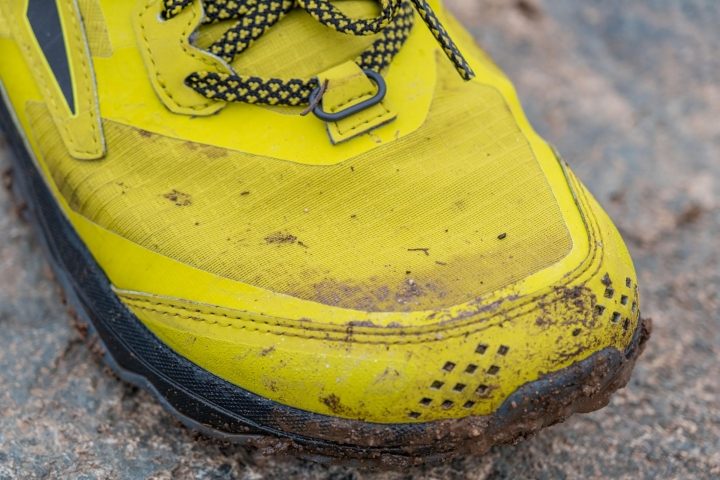 I wasn't really sure what to expect, but they ran nice and cool, even a touch cold in the 40-degree weather we're having.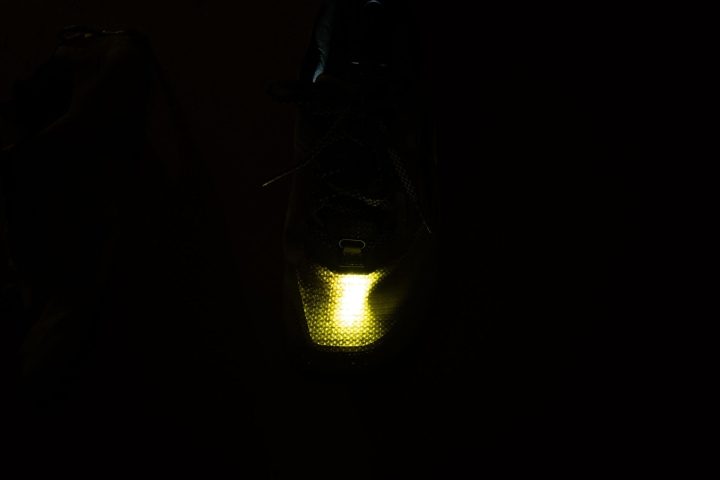 On our "light test", Altra Lone Peak 5.0 performed "worst", letting the least amount of light out: only 12.8LUX, while the average recorded result so far is 125.6LUX. We can thank the nylon upper for this.
Great lacing system fixes the heel slip
This is one shoe that the laces are long enough to use both top holes if you really need to, which I am finding is rare these days.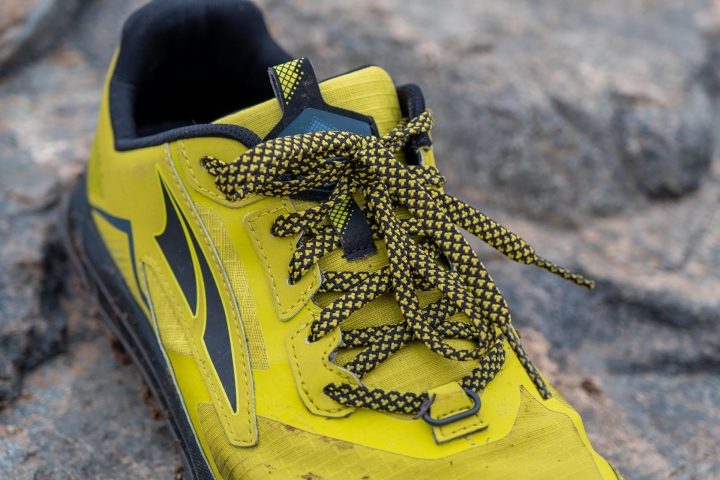 I did have some minor heel slip as well, but by utilizing the second top lace hole I was easily able to solve that problem. Over the midfoot, I felt locked in thanks to the thick 6.7mm laces, and although the toe box is wide, and the shoes felt roomy, they didn't feel sloppy.
However the negative is if you don't need both top holes, the laces do feel a bit long, and at 49'' they are a touch over the average of 46.6''.
You're in for a stable ride
The ride on the Lone Peak 5 is stable. But at over 10.6oz (302g), it's not a super lightweight shoe.
Although the updates to the midsole have given it a bit more cushion, it's still a fairly stiff shoe (25.5N in our flexibility test puts it over the average of 23.8N).
This gives it a bit more response than a lot of other zero-drop runners in this category.
Altra Lone Peak 5 keeps your feet protected
The 5.5mm outsole and added rock plate give it all the protection you need, and the 3.65mm multi-directional lugs grip well on every surface I threw at it, including snow and mud.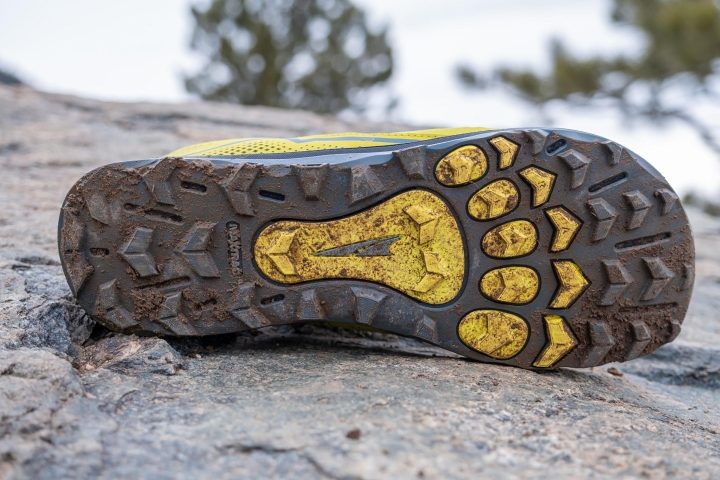 Best for faster runs and forefoot strikers
I didn't get that feeling I had to run on my toes like most zero drop shoes feel, but it wants you to. It performed better once you were going fast and off your heels.
It's not really an ideal walking shoe in my opinion, if you plan to hike or trail walk, I'd suggest something with a bit more drop.
Stiff and durable
This shoe has plenty of dense rubber under foot, and a well-built, if not over-engineered upper (yes this means it could be lighter weight). I believe the midsole and outsole will go the distance.
The outsole has fairly stiff rubber (79HC on the durometer) putting it just below the average outsole durometer of 80.8HC, most of which are hard enough for road abuse.
No soaking, only quick draining in Lone Peak 5
What I did like was they seemed very hydrophobic and I assumed they would be somewhat weather resistant while not layered with stuffy waterproof membranes. What I quickly discovered in reality though was they weren't that weather-resistant. They didn't block water from coming in, but mud and grime easily slip off the material, and the shoes drain quickly thanks to ample drain holes.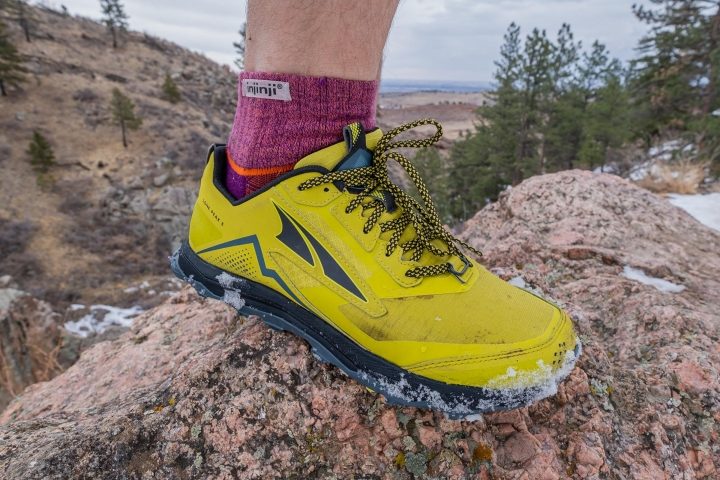 The fabric doesn't soak in water, so although your feet easily get wet, they dry out and the shoes didn't gain weight throughout my wet runs.
Cleaning is a breeze
Thanks to the nylon upper, cleaning is a cinch. A quick spray with the hose and they look good as new.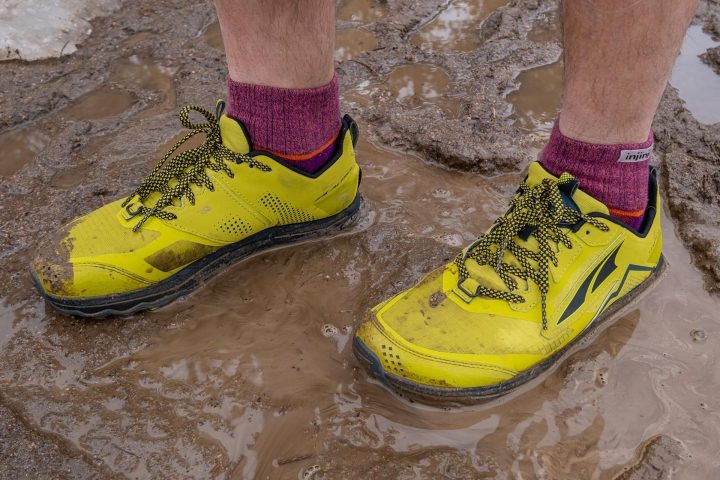 Avoid sharp objects on the run
The upper is an unknown though, the ripstop nylon seems like it could be tougher than your standard engineered mesh upper, but it's faulty thin in place, and cut easily when facing the exacto knife.
If you were to snag it on a sharp branch or rock out on the trails you could slice it. Baring a dramatic cut, I think it will wear nicely and have a decent life.
Gaiter-friendly
Should you need to run in these kinds of conditions, muddy, wet, snowy, they do have gaiter attachments, a metal loop at the bottom of the lacing pattern and a velcro heel tab, nice features for sure!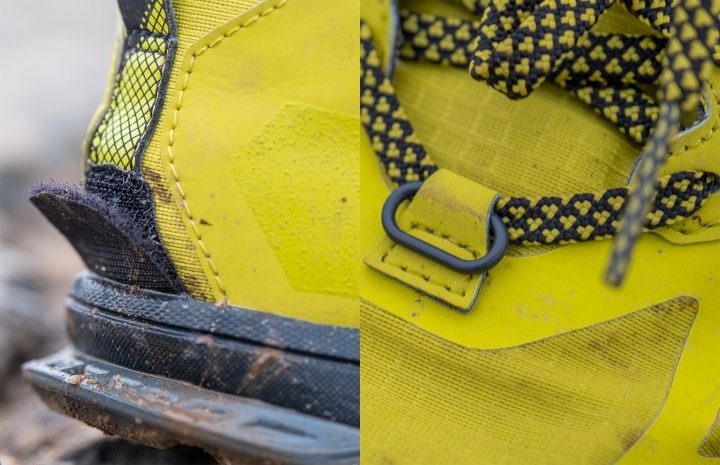 Badass laces (that don't untie easily)
The laces took the most force to untie in our lace slip test. They averaged 73N to get untied, where the average for all the shoes we've tested so far is is 35.7N.
Although they are thick and sturdy, they have a grippy feel to them, and as you tighten them down you can even hear them tighten against themselves, like very fine sandpaper rubbing away a top layer of wood.
Some laces are made from smooth material that feels good in your hands, they tend to slip and slide a bit, whereas these bad boys stay nice and tight, no double knot required!
Also worth mentioning
Under the insole, there's an odd string and tape issue going on. I have no idea what this is for, but it was in both shoes. I guess don't ask, Altra won't tell? Maybe just don't pull on it.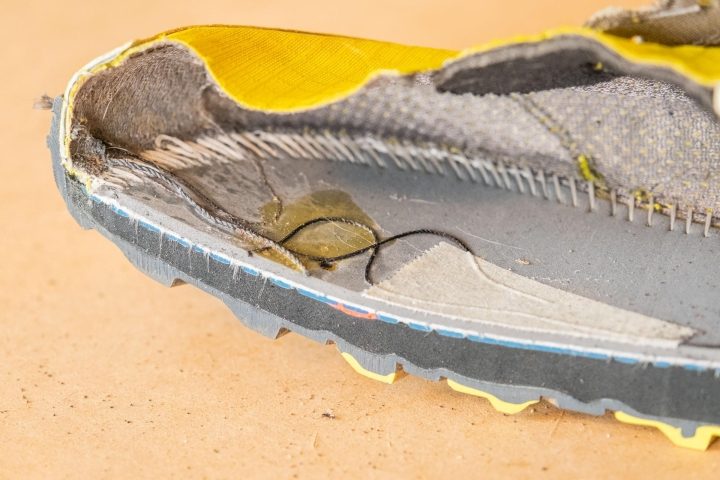 Also, I didn't have any hot spots, but if you need to do some fancy heel-slip lacing, there was a bit of lace bite up near my ankle.
Conclusion
Overall, I am impressed with the Lone Peak 5. I am finally starting to see the benefit of maximalist type shoes, but I've got a soft spot on my heart for the minimalist revolution from a decade ago.
Although that's mostly in the past, it's nice to see shoes like this, with zero drop, low stack, but with enough rock protection to actually be a shoe you can wear on long, steep, technical runs.
Sadly these had to be sawn in half, for science, but I'd be willing to add these back into my rotation if another pair ever found their way to me.