Ah, the Nike Free Run… Calling this a running shoe is a stretch, but there's still a vestige of folks out there in the minimalist fan group that likes the slipper-like feel of Nike's long-running
"Free" lineup
. The 2021 update steers back toward a less bizarre-looking shoe than we saw in 2020 but continues with the ultralight and ultra-flexible design.
Pros
Insane lightness
Glove-like fit
Heel loop
Easy lacing system
Super breathable
True to size
Comfotable as an everyday slipper
Extremely flexible
Cons
Short runs only
Lack of proper outsole
Insole not removable
If you are considering buying these shoes for running you must read on!
First off, I am not a fan. I am just going to come out and say it. I think Nike is way off the mark here with this shoe. I am not a minimalist hater, the opposite actually, my roots in running were in the minimalist camp, but the Free Run 5.0 just doesn't cut it for me.
From the lack of a proper outsole to the narrow fit, and the hideous looks of this all-black slipper, I just hate it.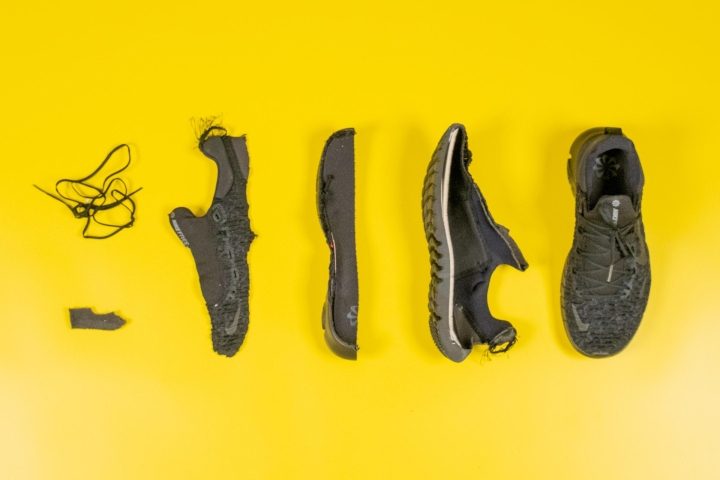 I'm even trying to be objective. There are some highlights, so please continue on down the page!
Who should buy the Nike Free Run 5.0
If you're into cross-training for running the Nike Free Run 5.0 may work for you. They may be ideal for Crossfitters and weightlifters more focused on bulking up than long cardio sessions though.
These are more suited to indoor activity than hitting the pavement, and they are going to take some time to get used to if you are not coming from a minimalist shoe.
In the end, these are short distance (at best) runners for those short sprints between weight sets. They may be ideal for yoga too...
Who should not buy it
Don't buy these shoes if you are a serious runner. Let me rephrase, don't buy these shoes if you are planning on running in them. They can be used for foot strengthening for runners looking to cross-train, but if your plan is to run-train in these steer clear.
Instead, check out:
The Nike Pegasus 38 for a similar style and fit, but with a much more robust and run-designed midsole.
The Nike Epic React Flyknit 2, again it's a sock-like design, a stretchy knit upper, but with a proper midsole for long-distance running.
The Nike ZoomX Invincible Run is a super-plush, bouncy, soft shoe with ample padding and a slipper-like feel.
Runs narrow even with a stretchy upper
I have wide feet, and most Nikes just don't work for me. The Run Free is different because it's so flexible in the upper that it could fit an elephant's foot if needed, but it still feels narrow.
My feet overflow over the edges of the midsole, and I fear that the upper will deteriorate quickly for anyone with caveman feet like myself.
That being said, once on, they are very sock-like and have great lockdown. There's no slip or movement inside the shoe and the Flywire lacing pattern pulls effortlessly to get the right level of containment.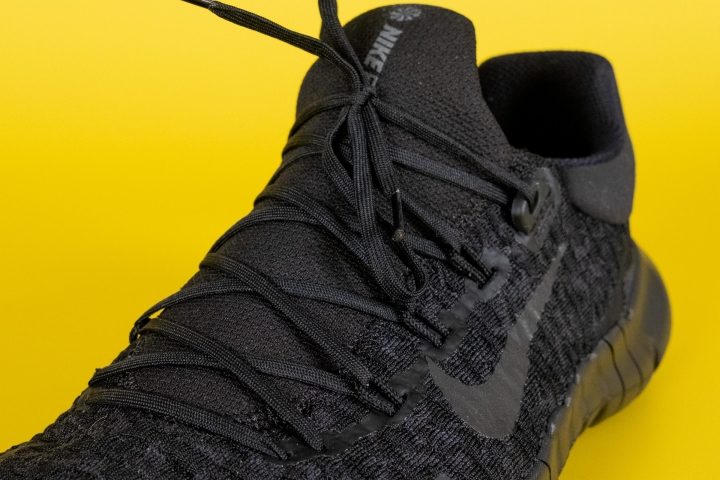 Nike Free Run 5.0 are slipper-like
Comfort is one area Nike crushed it with these shoes. They are literally like slippers on your feet. I love wearing them, in the house, to bed, maybe even to get the paper at the end of the driveway in the morning.
The upper is a super stretchy and breathable mesh, it hugs every nook and cranny of your foot. It honestly feels like a water shoe or a neoprene sock.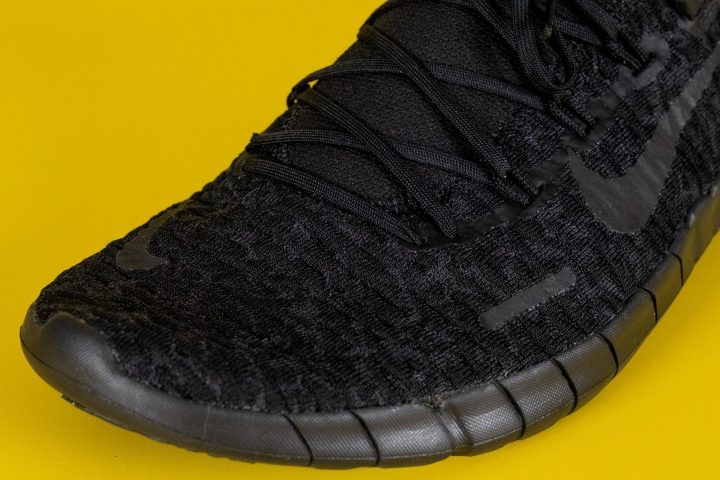 I can't complain here, except when you take them running… So ya a small issue I guess. At that point they feel too shallow in the heel, and like I have no protection or structure for the activity ahead.
The ride of the Free Run 5.0 is disappointing
Their ride isn't terrible, but it's not really meant for long efforts.
The new cushioning is lighter, softer, and more responsive than previous versions, however, and they are a bit bouncy, which makes them feel slightly peppy and responsive.
The thin midsole (15.3mm in the forefoot and 23.4mm in the heel) is actually above average in density at 25.5HA (Average is 21.9HA) giving it that slight feel of responsiveness and protection from sharp objects.
The main downside of the Run Free 5.0 though is its soft nature and endless laser-cut grooves (they score a 1 out of 5 on our flexibility test with 1 being the most flexible both longitudinally and torsionally). The sole flexes so much there's really no toe-off. The shoe is just too flexible and doesn't add anything to make your stride more efficient.
They flex at 9.6N, the average shoe is 37N, and even in cold weather when they stiffen up 47.9%, they still flex at a measly 14.2N.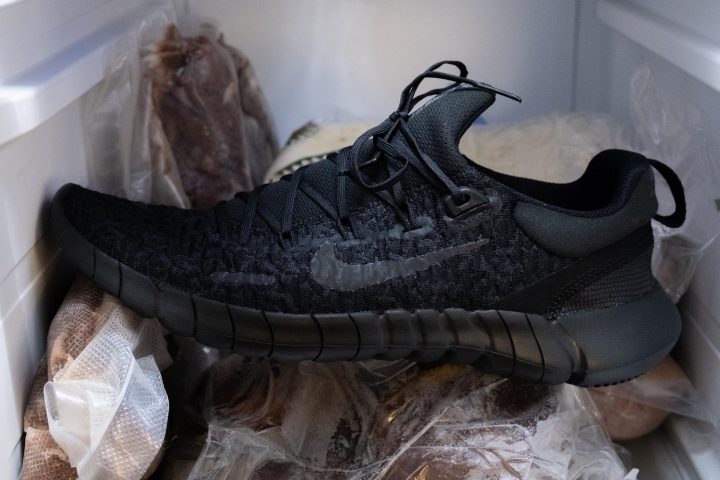 I get it, it's a minimalist shoe, you should use your muscles and bones to create propulsion. This argument is fine, I even believe it, but that's so niche, it feels like selling these shoes as running shoes to the masses is a major mistake.
Lastly, there's a big heel that feels much taller than the measured 8.1mm drop (15.3mm in the forefoot and 23.4mm in the heel). Minimalist shoes should be flat, even 8.1 is too tall, but in reality, they feel like 12mm, which seems to mess with the biomechanics of what this shoe is trying to accomplish.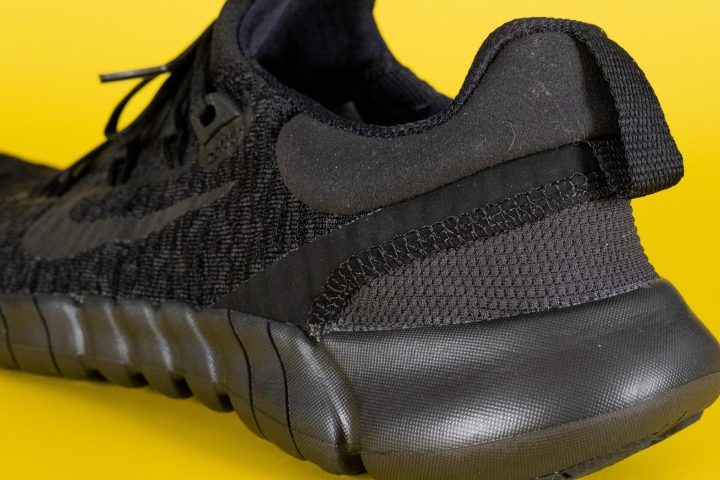 If you are going to make a low to the ground shoe with lots of flex and ground feel, make it all low to the ground…
Lots of ellipsis in this review, hope you get the sentiment.
Break-in slowly
I think your feet will tire quickly in these and you'll need to take it very slow to start.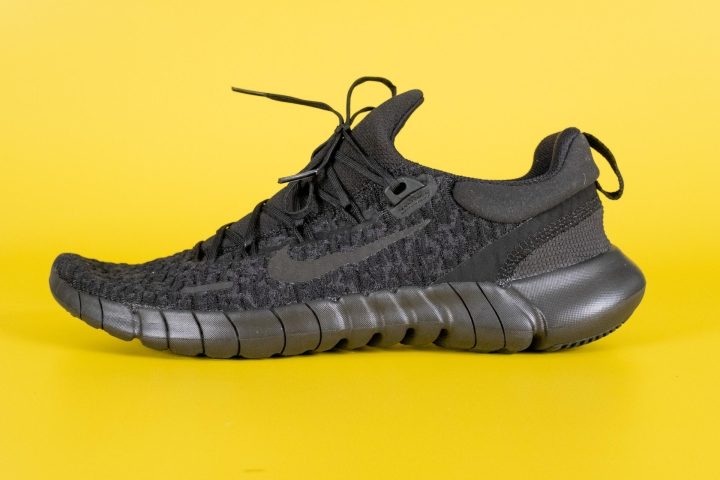 Just like any minimalist shoe, you need to build up the muscles in your feet and legs to run effectively in these, and in the end, this shoe is just not a great partner for long-distance running.
Wow the weight is insane
Insane!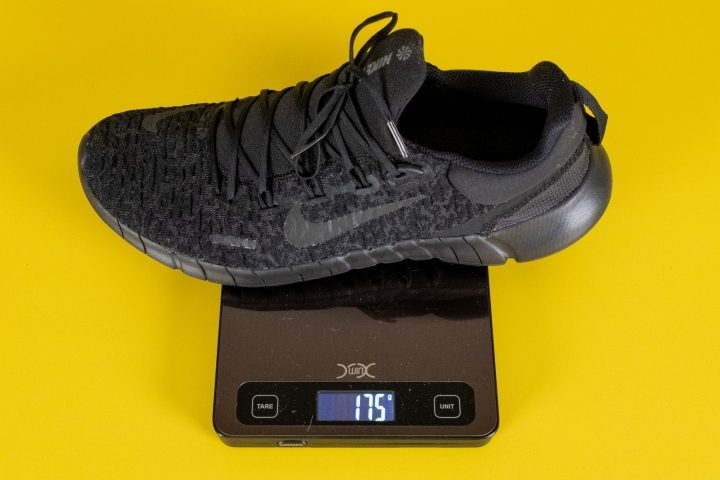 6.2 ounces (175g) is the lightest shoe we have ever put through our lab, but it comes with definite sacrifices.
In the end, it's just too light and isn't a proper running shoe but more of a cross trainer, walker, even just an interesting-looking active sneaker.
Durability seems low
Durability is low on this shoe. There's barely any outsole with just two small patches of firmer rubber on the toe and heel.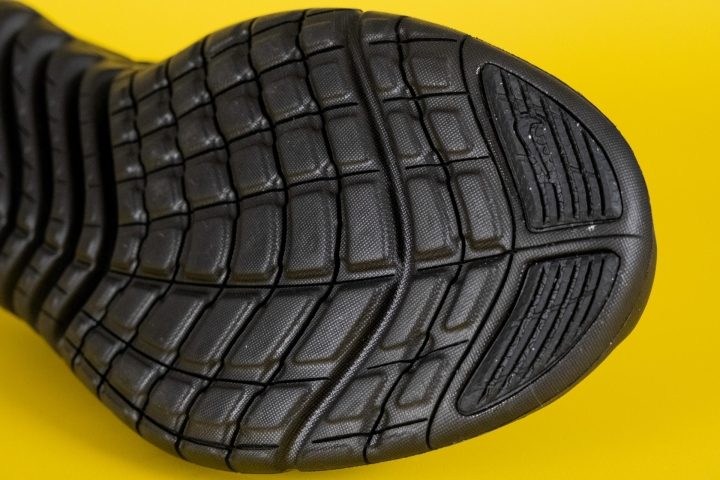 The rest of the outsole is soft, exposed midsole foam which will wear down quickly.
The upper is thin and stretchy and will deteriorate quickly in my opinion. For anyone with wider feet, you may see holes where you're stretching the upper fairly soon after purchase.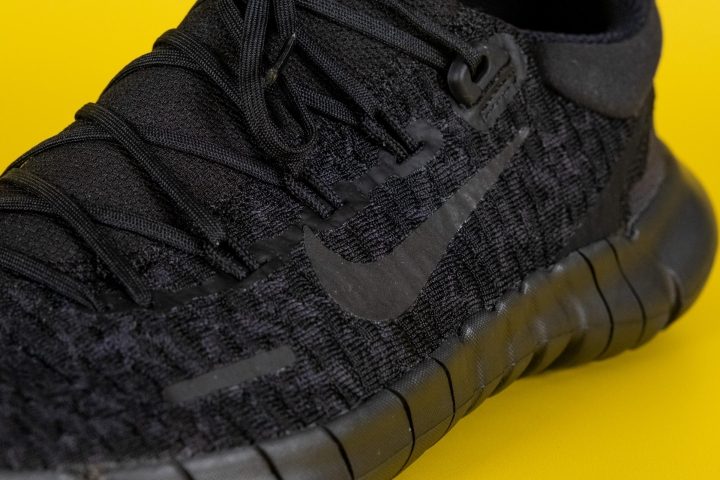 Grip is nonexistent
With so much exposed midsole the grip is lousy. The outsole is 90% exposed EVA foam without any real grip pattern. I think this is mostly an indoor training shoe that is most ideal in the gym and on the treadmill.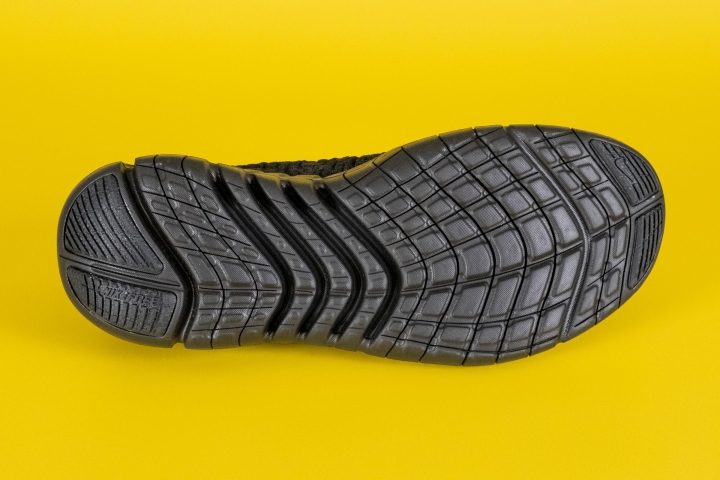 Reflective swoosh on the Run Free 5.0
One nice touch is the reflective elements in the swoosh on the side of the shoe. If you find yourself getting the paper at night, you will be visible to your neighbors.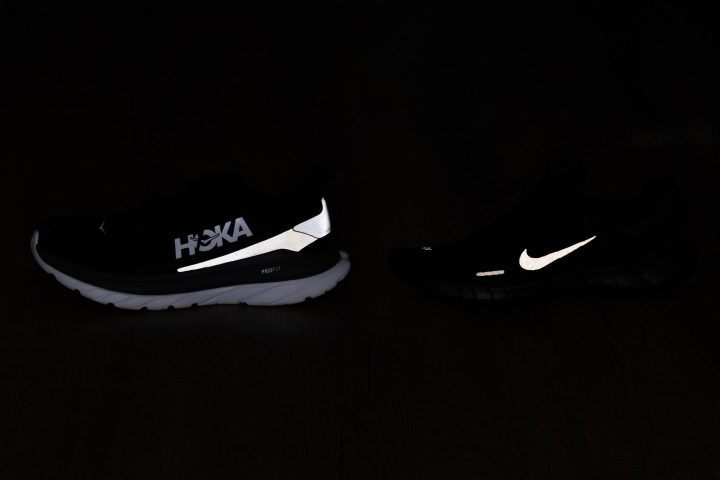 Are these dance shoes
This is one ugly shoe! When these arrived I thought these were my sister's jazz dance shoes from high school. Not for me… But they would look great on a high school stage or in a fashion show in Milan.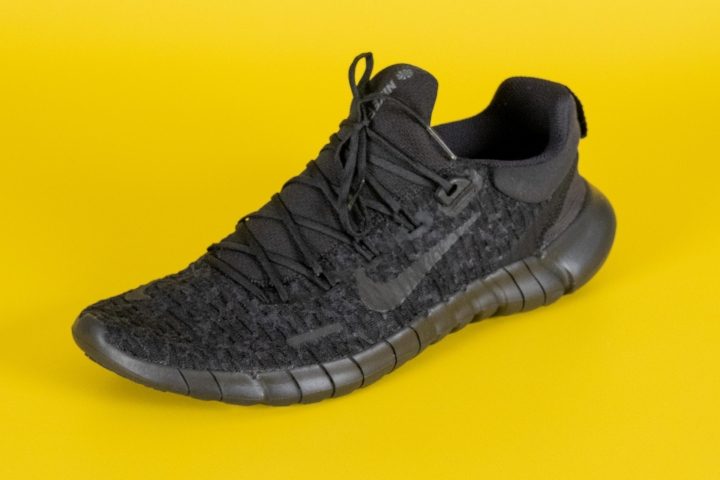 Conclusion
I just don't see where Nike is going with these. There was a lot of tongue-in-cheek humor in this review, but overall I think these are sneakers or cross-trainers at best, but they are not serious running shoes.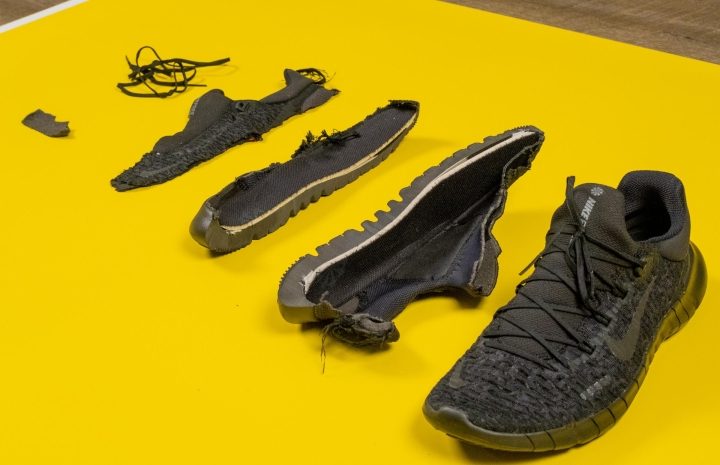 Take caution and go slow to start if you end up buying these despite this review.