10 Best Cushioned Running Shoes (Buyer's Guide)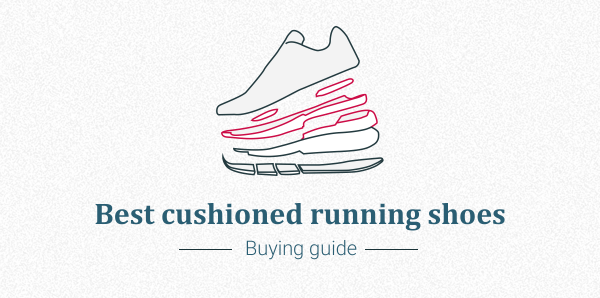 Cushioning is what makes the shoes comfortable, soft, smooth. There are different types of cushioning technologies. These are our expert tips on how to find the best cushioned running shoes.
How we review cushioned running shoes
1,910 experts and 111,997 users left reviews that we gathered and read
Then we've used our CoreScore system to remove spam and weigh experienced experts' reviews more
Only to come up with the collection of more than 400 cushioned running shoes
You can filter or rank them to find your perfect cushioned shoe easily. We always suggest looking at the best-rated cushioned shoes first.
Ranking of the 10 best cushioned running shoes
Based on 4,585,803 user ratings 9,212 expert reviews
Here is a list of all 1526 cushioned running shoes, where you can sort by "best rated" and apply filters.
Popular running shoes aren't the better rated ones
3 tips for buying cushioned shoes
If you're new to running, make sure you go through our expert guide on buying running shoes so you cover all the important (first) steps in the decision-making process.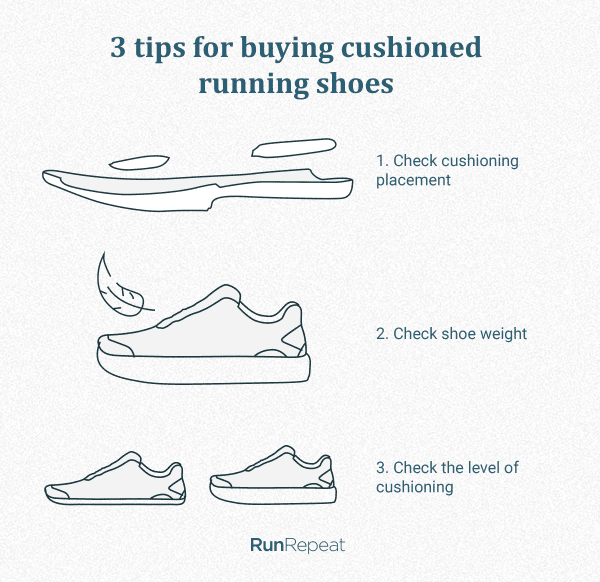 Depending on your foot strike, you should check whether your chosen model has more (or equal amounts of) cushioning in the forefoot or in the heel. You need that pillowy feature exactly where you land on the ground with your feet.
Cushioned shoes come at a price: they tend to weigh more, simply because they have thicker midsoles. If you feel this extra weight during your runs, you can look for lightweight cushioned shoes.
Cushioning level. If you're planning longer runs and need more impact protection, you should look for more cushioning. For an occasional run on non-technical terrain, you don't need to go all maximalist. If you're used to running in low-profile shoes, you might need to go through a transition period to allow your feet to adapt to new cushioning levels.
What to expect from cushioned running shoes
Comfort. And then some more comfort!
You might feel like foamy clouds are the best thing that happened to your feet. Those cushioning layers surely feel comfortable and soft and allow your feet to run without feeling every little terrain detail.
To up the ante, the newest technologies might even help you run faster (like this analysis showed) thanks to their spring-like effects and additions like carbon plates.
However, scientific circles have examined other effects as well:
Running speed
Impact forces
Running economy
Injury & body mass
Midsole technologies explained
Cushioning is defined by the midsole of the shoe: part of the shoe between the upper and the outsole. The most common midsoles in traditional shoes are made of two types of foam: EVA (ethylene vinyl acetate) or PU (polyurethane).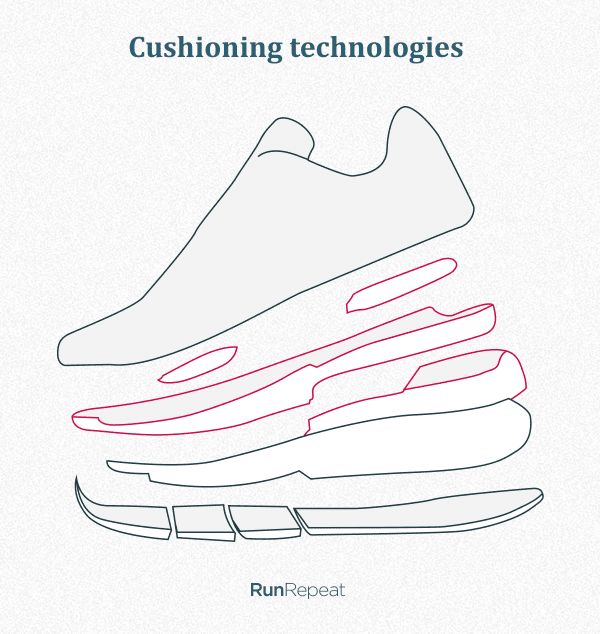 There are different types of midsoles and the biggest differences are seen in the padding positioning, softness/firmness, and energy return. For beginners, it's recommended to find a shoe that's comfortable, and leave other factors for more advanced runs, when the time comes.
Brands tend to develop their own signature materials. That's how new foams have entered the scene. The biggest step was made once the energy return was measured - Nike's cushioning technology allows for up to 85% energy return. Most of these innovative midsoles not only cushion your feet but also offer a spring-like response.
Innovative cushioning technologies
Foam/Technology
Properties
ProFly
Hoka One One created this cushioning system that combines soft foam in the heel and firmer foam in the forefoot. Plush feel plus quick response.
Foam Wave/XPOP
Mizuno's Foam Wave brings additional stability and guides the movement of the foot. XPOP delivers super soft cushioning, high energy return and durability. Adds a bouncy feeling which is appreciated during longer runs.
HyperBurst Foam
Skechers carbonated EVA foam that promises durability and responsiveness.
Gel cushioning
Asics's Gel rearfoot technology reduces impact during heel strike, forefoot Gel technology enhances shock reduction during forward movement. Together they allow for maximum comfort. This cushioning was created for longer distances, stability nad natural run style.
FlyteFoam
Asics has 2 different FlyteFoams to offer: Lyte, which is focused on the heel and retains shape after every run, and Propel, with the purpose of greater spring and toe-off (high-energy return and less drag).
Fresh Foam X
New Balance's signature foam: lightweight and soft.
DNA Loft foam
Brooks's mix of EVA foam, rubber, and air. Mix of comfort, durability, and lightness.
PWRRUN+
Saucony's lightest cushioning technology that puts a spring in your step. Highly flexible so it offers powerful take-offs, fluid transitions and softer landings. Durable and made for long distances.
Zoom
Nike Zoom: more responsiveness, less pronation. Designed for speed and agility. This technology allows tightly stretched fibers to snap back for fast movement and reduced stress on muscles, joints, and tendons.
Zoom Air: Nike's tightly stretched tensile fibers that are knit inside a pressurized Nike Air unit, all with the purpose of snappy responsiveness. Made for more responsive and energetic runs.
ZoomX: magically energetic and the lightest foam created by Nike. It uses cutting-edge engineering which allows for 85% energy return.
Cushioning vs. Shoe Weight
If you decide to go for more cushioning, there's a price to pay: it adds more weight. More weight means you'll run slower and have to work harder to maintain your speed.
For this analysis, we've pulled all cushioned running shoes from our database. Their cushioning level is rated 5-10, 10 being the plushiest. For each grade, we calculated average shoe weight.
To get the sense of what this means, the lightest running shoe in our database is a racing shoe that weighs 76g only (men, for women it's 69g). The heaviest shoes go as far as 680g (with cushioning level of 7).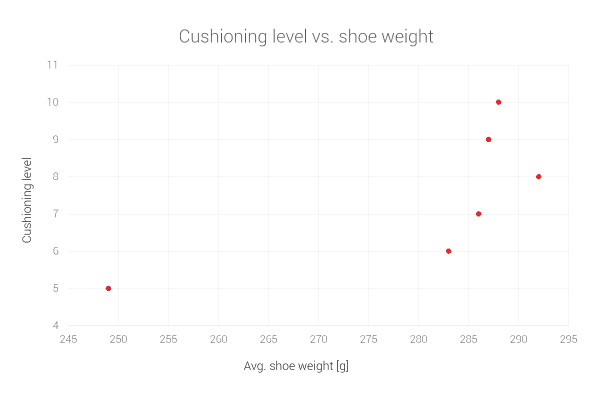 How long does cushioning in running shoes last?
The longevity of running shoes is determined by multiple factors: built-up mileage, shoe materials, your weight, running form, terrain.
Cushioning doesn't last forever and you should consider buying new shoes the moment you:
Start feeling muscle fatigue or pain, especially in your knees, after your average run, or
Feel there's not enough impact-absorption (your feet hurt or start aching on impact).
Your shoes still might look good on the outside, but on the inside, the cushioning layers might be deteriorating. That's why it's important not to focus on visual inspection only.
The best cushioned running shoes in every category
Which cushioned running shoes brand has better reviews?
Other buying guides
Now, are you ready to buy cushioned running shoes?