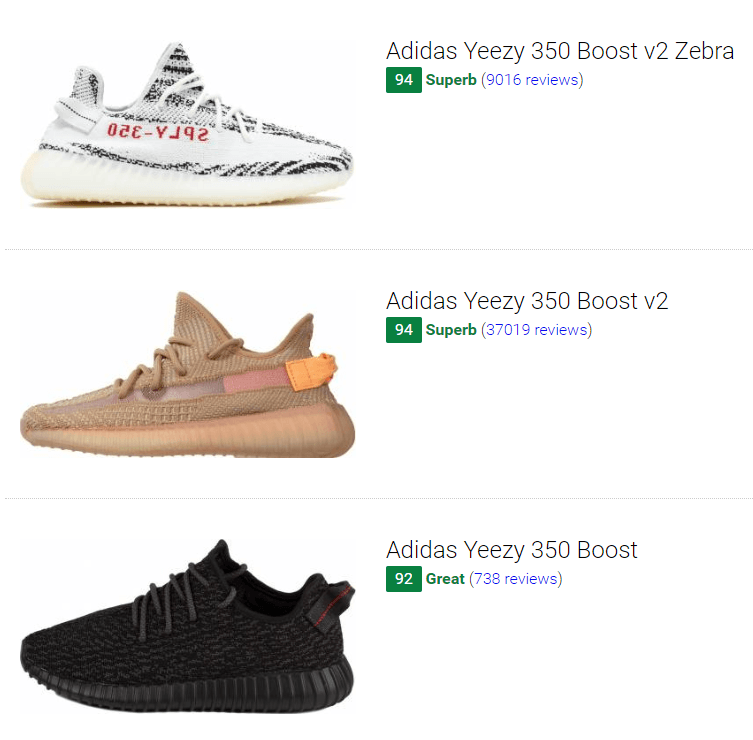 Kanye West is remarkably famous on a global scale and is best known for his music, his taste in fashion and his love for sneakers. He is a superstar in hip-hop and pop culture, so who wouldn't know him? Plus, West is one of the most accomplished sneakerheads among celebrities and is constantly seen wearing select sneakers in all his appearances.
Regarded as the first non-athlete to release his own Nike signature shoe, the Air Yeezy was his line, which debuted in 2009, and was followed by Air Yeezy 2 in 2012. He left Nike and signed with Adidas in 2014. When that news broke out, many were waiting in anticipation of what Adidas and the culture-transcending icon Kanye West, collaboration have to offer.
The Yeezy Line
The Adidas and Kanye West collaboration have become one of the most awaited and most notable collabs ever. With the release of the multi-billion dollar Yeezy Boost sneaker line, it has been considered as one of the most influential lines worldwide.
Created in 2015, the Yeezy Boost line has instantly gained global recognition and has swiftly become recognizable, classic silhouettes that boast of the same high standard of taste and finesse that people have come to expect from his music.
Most sought after Kanye West sneakers
Kanye West's influence on the sneaker game is without a doubt, unparalleled. Being one of the biggest personalities in the world, West is always on the limelight and so are his shoes.
His sneakers are always selling out like hotcakes and are certainly considered as instant classics. The list below are some of his top-ranked kicks that sneakerheads, ladies and gents alike, will definitely agree:
Adidas Yeezy Boost 700
The Adidas Yeezy Boost 700 is one of the sneakers made famous in the Kanye West and Adidas collaboration. This controversial pair debuted at the Yeezy Season 5 fashion show in 2017 and has received a lot of attention because of its unusual retro look since its release.
The upper is wrapped in mesh with plush suede and smooth leather overlays that offer durability and breathability.
At the bottom, the Yeezy Boost 700's chunky midsole adapts the Adidas' revolutionary Boost cushioning for comfort and support.
Its thick Boost midsole sits atop a gum rubber tread outsole.
The Yeezy 700 has been released in a slew of colorways available such as the "Wave Runner", "Utility Black", "Mauve", "Salt" and "Inertia".
Adidas Yeezy Boost 700 V2
Considered as the sequel to the Yeezy 700, the Yeezy Boost 700 V2 still features the same chunkiness of the original but incorporates some subtle updates to its appearance and some tweaks to its upper. In 2018, the shoe was considered to be one of the best.
The lightweight mesh-based upper is combined with the premium leather details that still exudes ample breathability.
These sneakers have the seamless wave-shaped Three Stripe branding on reflective material.
Its wavy and chiseled midsole is also given some updates.
The gum outsole provides a subtle old-school touch.
Several colorways are made available called the "Static", "Wave Runner' and "Geode".
Adidas Yeezy 350 Boost
A low-top sneaker designed by Kanye West that is the second shoe from the collaboration was made available through its release worldwide. The trendsetting and highly fashionable sneaker caused a commotion in the sneaker scene during its release in 2015. Hypebeasts and sneakerheads alike go crazy about the shoes' premium features that make them highly-coveted.
The unique pattern on the stretchy Primeknit upper makes the shoe trendier while providing extreme comfort.
It utilizes a full-length Boost sole that guarantees light-weight cushioning, shock-absorbing properties and energy-release features.
The Yeezy 350 Boost's outsole is patterned after the interior tuning of a tire that gives the shoe more grip and traction.
This version of the 350 Yeezy Boost is made available for men and women, with several colorways released like the "Turtle Dove", "Pirate Black", "Moonrock", and "Oxford Tan".
Adidas Yeezy 350 Boost V2
The Adidas Yeezy 350 Boost v2 is the fifth shoe released in Kanye West's highly talked-about collection. It is considered a remake of the previous Yeezy Boost 350 and features several outer modifications. This shoe is known for its fashion-forward aesthetics and versatility.
Adidas Yeezy 350 Boost V2 is made with a thick, stretchy one-piece Primeknit upper that's breathable and molds to one's foot shape.
The interior caging system below the PK material not only provides a sock-like fit but also gives a structured shape and support.
With a well-cushioned sole, it keeps the shoe lightweight and gives an all-day comfort.
The rubber outsole is translucent, durable and flexible.
A SPLY-350 callout is written across its lateral sides but not all of the Yeezy 350 Boost V2 has them. The written wordmark varies, depending on the colorway.
Some of the colorways released for this version are the "Beluga", "Copper", "Green", "Red", "Oreo", "BRED" and the "Zebra", which are available for the ladies and gentlemen.
Adidas Yeezy 750 Boost
Debuting in 2015, the Adidas Yeezy Boost 750 is the first sneaker released by Kanye West and Adidas. The high-top sneaker is one of the most popular and highly coveted sneakers ever. It sells out rapidly not just because of its popularity and dynamic look but also because of the premium materials used for these sneakers.
The boot-like build showcases an all-suede upper and features a dynamic mid-foot velcro strap for lockdown support.
A perforated vamp and a hidden zipper on the lateral side panels provide easy accessibility.
The Boost-equipped sole gives lasting comfort.
Its outsole is durable and has multi-surface traction.
There are only a couple of colorways for this edition namely "Light brown/Carbon white – Light brown", "Triple Black", "Glow in the Dark" and "Chocolate".
Adidas Yeezy Powerphase Calabasas
In early-mid 2017, a non-Boost sneaker collaboration had the world wide web buzzing with excitement. The '80s inspired Yeezy Powerphase Calabasas are a refreshed offering for the new generation. Its simple silhouette pays homage to the old school which makes it very much popular.
These sneakers feature a soft, off-white buttery leather upper that gives the shoes that vintage vibe that bends and conforms without creasing.
The die-cut EVA midsole is lightweight and comfortable enough even without the Boost technology.
On the bottom of the shoe is its high-abrasion rubber outsole that provides extra grip and is wear-resistance.
The complete look of the shoe is finished off with gold foil branding along the sidewall and features the Adidas logo. Additionally, the Calabasas logo marque sits on the quarter panel of the upper.
This shoe is made available for men and women and has been released in three colorways, the Core Black, Core White, and Gray.
Nike Air Yeezy
Originally released in 2009, the first Nike Air Yeezy was the first collaboration between Kanye and Nike and was impressive in its own right. The line is notably inspired by the Air Tech Challenge II, Jordan III and IV. Many have considered the shoe a design overkill while others think that the infusion of different elements into a unified working unit is considered a genius by others.
The Nike Air Yeezy's upper is crafted from premium leather material for durability.
For maximum breathability, perforations are placed throughout the toebox, midfoot and tongue.
Its suede toe cap embossed with 'Y' print ensures protection against bumps.
The midsole features visible Nike Air units that absorbs impact and offers superb cushioning.
With a high-top profile, this makes for excellent ankle support.
A leather velcro strap is positioned on the midfoot for a lockdown fit and perceptible appeal.
This shoe's outsole is composed of rubber for grip and glows in the dark for a visual appeal.
Frequently asked questions for Kanye's sneaker collection
Kanye West's sneakers are always given a lot of attention due to its futuristic, minimalist, and other times controversial designs.
Why are Kanye West sneakers so expensive?
The renowned Yeezy shoes are made so expensive because of the mere fact that they are only produced with a limited stock of shoes for the potential buyers, making the supply of the shoes limited while it is in demand.
Why do people want Yeezys so badly?
Globally, Yeezys have a cult appeal because Kanye West has extraordinary cult appeal. He can make anything cool, most especially the Yeezys, his popularly desirable sneaker. He's created so much hype when the Yeezys came to life.
Kanye, being his own best brand ambassador, not only keeps the Yeezy propaganda always alive but also by releasing the shoes in extremely limited numbers, that makes people go nuts.
How much do these Yeezy sneakers cost?
In all honesty, these shoes are super expensive! They really cost a lot. With that said. One will be spending $200 for the Yeezy 350s, $220 for the Yeezy 350 V2s, and $350 for the Yeezy 750s. More often than not, the price will also vary based on the colorways these shoes are released.
Where to buy these sneakers from Kanye?
Since these pairs are kind of hard to acquire, one can buy them from a current global stock list for Kanye West x Adidas sneakers that can be found at adidas.com/yeezy. There are also available stocks in selected Adidas physical stores worldwide.
Also, some retailers and resellers have been able to keep stocks so one just has to find them. With perseverance and patience, one can cop the Yeezys.
Do Yeezys go out of style?
Yeezys never, ever go out of style. No matter how many years a Yeezy has been already released, it still is admirable. In fact, these shoes are very hard to get so getting a pair is an impressive achievement.
How to vamp up one's style with the Yeezy casual shoes?
Styling one's ensemble with this pair is super easy since they are fashionable enough. To wear the Yeezys, match them with a graphic T-shirt, one's favorite shirt or anything that goes with tapered jeans or cuffed denim based on one's preference to achieve a casual look.
Alternatively, one can also pair the outfit with jogging pants or leggings. If one prefers to go for a more hip hop style, try wearing it with an oversized solid shirt.
How to keep these Kanye West sneakers in their best condition?
With shoes like the Yeezys, one will really see to it that the kicks are always in perfect shape. Below are some of the ways to keep the Yeezys in mint condition.
One can always spray shoe protectors before the first wear. Lay a clean towel down and spray your fresh-out-the-box kicks with water and stain repellent sprays.
Gently wipe the shoes with a damp cloth after spraying them with the shoe protectors.
Spot clean stubborn stains so that they would not stick on shoes for long.
Allow sneakers to dry fully. Never leave these sneakers in a moist condition.
Alternate the use of one's sneakers. Keep them in rotation to prevent them from getting easily damaged.
Never, ever wash the sneakers in a washing machine. Just hand wash them or use a soft brush to remove stains.
2 best Kanye West sneakers
Adidas Yeezy Boost 700
Adidas Yeezy Boost 700 v2
This shoe has recently been added to RunRepeat. There are still not enough reviews for us to assign it a
CoreScore
.
CoreScore
A score from 1 to 100 that summarizes opinions from users and experts. The average CoreScore is 78.
More...