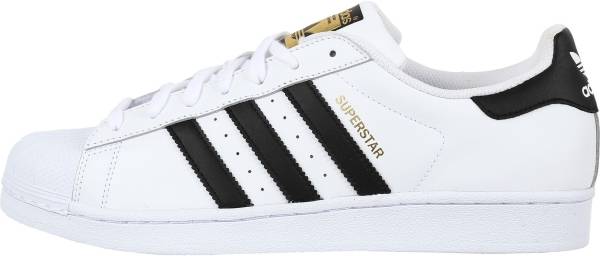 The Adidas Superstar is absolutely an iconic classic loved by many sneaker fans and casual consumers of all ages. It is well-loved for its timeless design that basically goes well with any outfit, not to mention its comfort and affordable price. Overall, the majority are satisfied with this classic. But some note that its quality seems to have declined over the years.
---
Verdict from 100+ user reviews
8 reasons to buy
The majority of the reviewers like that the Adidas Superstar is an iconic and classic shoe that never goes out of style.
Lots of reviewers commend this shoe for being extremely comfortable when worn.
Some claim that the Adidas Superstar shoes are durable.
The affordable price tag of this shoe is a huge plus for numerous purchasers.
A few buyers are pleased that this shoe looks exactly as it is advertised in the photos.
Some wearers are satisfied with the arch support that this shoe provides.
Several users note that they get lots of compliments whenever they wear this shoe.
A number of purchasers like that there is plenty of room in this shoe's toe box.
2 reasons not to buy
Some are not pleased with the minor design tweaks on the reissue version, like the gold "Superstar" branding and the thinner shoelaces.
A few buyers remark that this shoe is stiff at first, but setting the shoelaces a bit loose will do the trick.
Bottom line
The
Adidas Superstar
is absolutely an iconic classic loved by many sneaker fans and casual consumers of all ages. It is well-loved for its timeless design that basically goes well with any outfit, not to mention its comfort and affordable price. Overall, the majority are satisfied with this classic. But some note that its quality seems to have declined over the years.
Best price from 50 shops
We earn affiliate commissions at no extra cost to you when you buy through us.
73% say it's true to size.






Size and fit
The Adidas Superstar is available for both men and women. This shoe allows ankle mobility through its low-cut structure and provides an adjustable fit through its traditional lace closure. There is a central tongue loop tab that helps to keep the tongue in place. Its overall structure provides sufficient hold and support considering its basketball shoe DNA.
Adidas Superstar Style
The Adidas Superstar surely lives up to its "superstar" name. Consistently holding a spot in the most favorite classic sneakers of all-time list, it never goes out of style regardless of fashion trends or generations of wearers. It bears a timeless and clean design in a variety of colorways for both men and women, including but not limited to the Adidas Superstar black, Adidas Superstar rose gold, Adidas Superstar black and white, Adidas Superstar gold, Adidas Superstar green, and Adidas Superstar pink.
How to wear the Adidas Superstar sneakers
One of the most popular shoes in Adidas' catalog of lifestyle kicks, men can style this low-top with skinny jeans or jogger pants to highlight its shape and design, but it nonetheless looks good with any outfit. Similarly, the ladies can rock these with a pair of jeans, dresses, shorts, and skirts.
Black and white Adidas Superstar sneakers are probably the most versatile colorway available for this retro classic. Even a smart casual look is made possible with either of these two colors (or even a combination of both). These kicks keep a neutral look, which can be advantageous when you feel a bit experimental or extra fun by playing with prints, textures, or colors.
Notable Features
One of the features that made the Adidas Superstar shoes truly iconic is its rubber shell toe. For that reason, it earned the nicknames "shell toe," "shell shoes," and "shell tops." Also, it exhibits the "SUPERSTAR" wording alongside the Adidas Three Stripes with zig-zag edging branding on the side panels.
The Adidas Superstar is a true classic – and that is indisputable. With its popularity, it is often being compared with other famed shoes particularly in terms of style and features. Below are brief comparisons between this iconic Three Stripes sneaker and other popular shoe models.
Adidas Superstar vs. Nike Air Force 1
While both the Adidas Superstar and the Nike Air Force 1 are basketball-inspired classics that remain popular among different generations worldwide up to this day, there is a clear picture that differentiates one from the other. Both are versatile and stylish, which are huge factors as to how they've reached their iconic status, but each one carries a distinct look that represents their respective brand's legacy both in sports and sneakers communities. The branding, for one, is a giveaway – the Superstar has its notable signature Three Stripes on the sides while the AF1 flaunts a huge Swoosh and a signature ankle strap for added ankle support (for mid-top and high-top variations). Another easy-to-spot difference is their toe box – the Superstar has its identifier shell toe, while the AF1 has a perforated toe box.
Nike Cortez vs. Adidas Superstar
Another popular classic sneaker from the Swoosh brand is the Nike Cortez. To better understand how it differs from the Adidas Superstar, we have to take into consideration its design roots. Both shoes feature a high-quality leather upper, low-top silhouette, lace-up closure, and herringbone-patterned rubber outsole. While the Superstar originated as a performance basketball shoe, the Cortez initially made a name for itself within the running community (and further gained popularity when it appeared in the blockbuster movie Forrest Gump). With its running shoe DNA, the Cortez today are relatively lighter and flexible than the Superstar.
Adidas NEO Baseline vs. Adidas Superstar
Also from the German sneaker brand, the Adidas Baseline flaunts a façade that unquestionably resembles the classic Superstar shoe. Marketed under the NEO line, it can easily be recognized with its low-top profile inspired by a classic court design and clean synthetic leather upper with a pop of signature Three Stripes branding to the sides, just like the Superstar. However, unlike the Superstar, the Adidas Baseline lacks the signature shell toe, and its Three Stripes do not have serrated edges.
Adidas Superstar vs. Adidas Superstar 2
As discussed above, the Adidas Superstar 2 is simply just a modern reinterpretation of the original Superstar shoes created in 1969. Compared to the original model it is more padded around the collar and tongue, which answers the demand for enhanced comfort and support on foot. Look-wise, there is a bit of or minor design tweaks made in this modernized version. The Superstar text branding to the sides is removed and a Trefoil logo is placed on the tongue.
Adidas Samoa vs. Adidas Superstar
Another Adidas classic sneaker that made a comeback in 2011 as part of the Adidas All Originals campaign alongside the Superstar is the Adidas Samoa. Created in 1977 as a training shoe for indoor soccer, the low-top Three Stripes features a full-grain leather upper with notable suede overlays on the toe box. Like the Superstar, it flaunts a signature and classic serrated Three Stripes brandings to the sides, padded collar, and traditional lace-up closure with a central tongue loop. But what characterized the Samoa most is its rubber toe bumper that can be likened to Adidas Superstar's shell toe.
Adidas Superstar History
There are only a few sneaker models that could easily define a brand. One of these is the Adidas Superstar. For nearly 50 years now, it continues to be one of the best sneakers of all time. Known for its on-point look, signature Three Stripes branding, and of course the iconic shell toe, the basketball-turned-lifestyle shoe (one of the most popular and highly coveted sneakers today, in fact) has a fascinating history to tell not just about the German athletic footwear brand but of the sneakers industry in general as well.
Origins of the Adidas Superstar: From hoops and hip-hop to streets
The road to Adidas Superstar's popularity can be traced back when it initially released in 1969. Based on the Adidas Pro Model shoe, it was the first low-top basketball shoe to feature an upper made of all leather material and a rubber shell toe. These features may not be as technologically advanced as most of the basketball shoes today, but during that time the Superstars were considered as technically sophisticated.
Kareem Abdul-Jabbar, one of the best NBA players during his time, put the Superstar into the spotlight as an on-court shoe during the '70s era. He wore the Superstar during his best games, and eventually, other NBA players followed suit.
The "shell toe" gained more popularity during the '80s particularly on the streets and in the hip-hop scene. Such can be attributed to the American hip-hop trio Run DMC, who were known to be fanatics of the Three Stripes to such a degree that they religiously wore Adidas tracksuits and Superstars to public appearances and concerts. They made a fashion statement by wearing their Superstars without the shoelaces, and the tongue pushed the same way shoes are being worn in prison. They officially signed an endorsement deal with Adidas after their memorable Madison Square Garden concert in which about 40,000 audiences hold their Adidas up in the air upon their request.
The Comeback: Relaunching the Adidas Superstar sneakers
In 2014, Adidas dug deep into its archive and brought back the Adidas Stan Smith sneakers into the modern-day sneaker market. It was a huge success, though, as the brand highly profited from its relaunch.
Since the retro sneaker trend seemed to have favored the Three Stripes brand, another well-known classic made a comeback the year after the celebrated Adidas Stan Smith's relaunched. In time for its 45th anniversary in 2015, following the triumph gained by the Stan Smith in sales and popularity, the Adidas Superstar shoes or otherwise known as the shell toes were relaunched by the Adidas Originals line. Part of the aggressive campaign for the icon are Superstars such as athletes David Beckham and Damian Lillard and artists Pharrell Williams and Rita Ora.
2015 was indeed a big year for the Superstar. Not only did it make a highly successful comeback, but it also created another mark in sneaker history and a huge milestone for Adidas. That year alone, Adidas Originals sold over 15 million pairs of the retro sneaker making it its top-selling sneaker model of the year.
The sneaker label was wise enough to take advantage of the retro sneaker trend, and it knew that it can do a lot more than that. It took the DNA of the Superstar and subjected it to creative works of artists like Pharrell Williams (who came up with a whole collection of the Superstars in 50 different colorways through the Superstar Supercolor Pack), Jeremy Scott (Jeremy Scott x Adidas Originals Superstar "Wings"), and more.
A 'Made in France' edition of the shell-toe was also made available in limited quantities. Since its 2015 rerelease, the icon continuously receives releases including new colorways and different collaborations. In 2016, the Adidas Superstar shoes earned the top spot in the Top 10 Best Shoes in the US in dollar sales.
Popular Renditions of the Superstar
Adidas Superstar 2
The Adidas Superstar 2 is a reinvention of the classic silhouette with a few design tweaks. Unlike the OG model, it has more padding around the collar and tongue for additional in-shoe comfort and support. The Adidas Trefoil logo is added on the tongue, and the "Superstar" branding is removed from the sides. Completing the street-ready package is a full grain leather upper.
Adidas Superstar 80s
Another upgraded rendition of the Run DMC's favorite (and popularized) kicks is the Adidas Superstar 80s. Built to give a more premium feel and aesthetic to the icon, the modern rendition features leather from the inside out. It still sports the signature rubber shell toe, but its Three Stripes side branding has been modified with a felt material.
The Adidas Superstar 80s has also been released in many colorways, variations, and collaborations. These include BAPE x Adidas Originals Superstar 80s 'B Sides,' Run DMC x Adidas Originals 'My Adidas' 25th Anniversary Superstar 80s, Adidas Originals x Jeremy Scott Superstar 80s 'Ripple,' Adidas Superstar 80s DLX, Adidas Superstar 80s CNY, Adidas Superstar 80s Recon, and more.
Adidas Superstar 80s Primeknit
One well-known innovation from the Three Stripes brand is the Primeknit upper technology. It has made its way into countless Adidas Originals sneaker models like the Stan Smith and the Campus, and the iconic Superstar Adidas, inevitably, is not an exception. The Primeknit Superstar initially released in 2015 during the Superstar's 45th-anniversary celebrations in a classic OG-approved black and white colorway.
Although revamped to fit the modern sneaker market, the Adidas Superstar 80s Primeknit shoes remain true to its OG's timeless heritage. The entire upper is of Primeknit construction and sits atop a durable rubber sole unit. The rubber shell toe is still utilized for that authentic and vintage Superstar vibe.
Adidas Superstar Slip-On
The Adidas Superstar Slip-On sneakers made its debut in August 2015 as an Adidas Superstar women's exclusive release. Like other Superstar renditions, this slip-on variation retained the signature rubber shell toe cap, Trefoil-branded tongue, and herringbone-patterned rubber outsole. A different take, however, is the neoprene slip-on upper. It also did away with the typical lace-up closure system and opted for wide elastic bands instead.
In February 2016, Adidas re-released the Superstar Slip-On globally with two new colorways – one in black and another in white, both exclusively in women's sizing only. On February 24, 2017, Adidas and Japanese streetwear label White Mountaineering released a fresh take on the Superstar Slip-On silhouette as part of the Spring/Summer '17 Injection Pack. As made available in three colorways, each shoe featured a Primeknit construction, wide elastic bands, and signature White Mountaineering's geometric design detailing.
Adidas Superstar Foundation
A premium take on the crowd-favorite Superstar shoes has been introduced through the Adidas Superstar Foundation. It gave the nod to the original form of the iconic hoop shoe from the 70s but upgraded with premium materials while keeping the signature design details intact.
The Adidas Superstar Foundation utilizes top-notch full-grain leather upper completed with the famous rubber shell toe cap, trademarked Trefoil branding on the tongue, and "Superstar" text branding alongside the side Three Stripes reinforcement. The durable rubber outsole, moreover, exhibits a herringbone pattern for optimum grip and traction.
Nice to know
Lorde, Kylie Jenner, Gigi Hadid, Dakota Fanning, Emma Roberts, Emma Stone, Kristen Stewart, Rita Ora, and Katie Holmes are some of the celebrities photographed rocking these classic kicks.
A sustainable version of this shoe is also available. Pieces of its upper have at least 50% recycled content.
Rankings
How Adidas Superstar ranks compared to all other shoes
Popularity
The current trend of Adidas Superstar.