The Air Max 90 is a sneaker with a backstory. Everyone has seen it and most love it. If you grew up between 1990 and 2010 you probably wanted a pair. Each pair feels ready to last another 30 years, with breathability to boot. Regardless, Nike renews these year after year offering more and more options to whet any appetite.
Pros
Very durable
Breathable
The stuff of legends and rightly so
Huge amounts of colorways
Great price for a statement shoe
Fits true to size
Quality materials
Easy to clean
Stain resistant
Cons
So stiff it asks for adjustment period
Normal and wide feet find it too narrow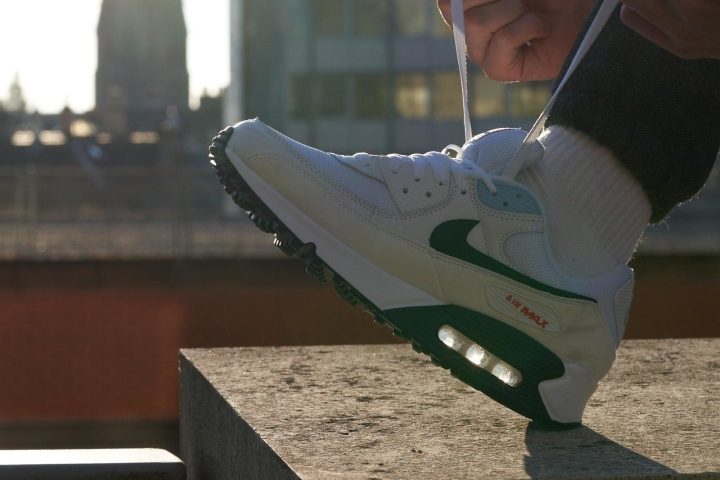 Where to even start with the Nike Air Max 90!? It's a sneaker that's been beaten to death, physically and culturally, and still flies off the shelves. While relevant, the 90s are plagued by the same curse as many prestigious sneakers: they could update the inner and make the whole experience better.
Nike Air Max 90s History is the stuff of legends.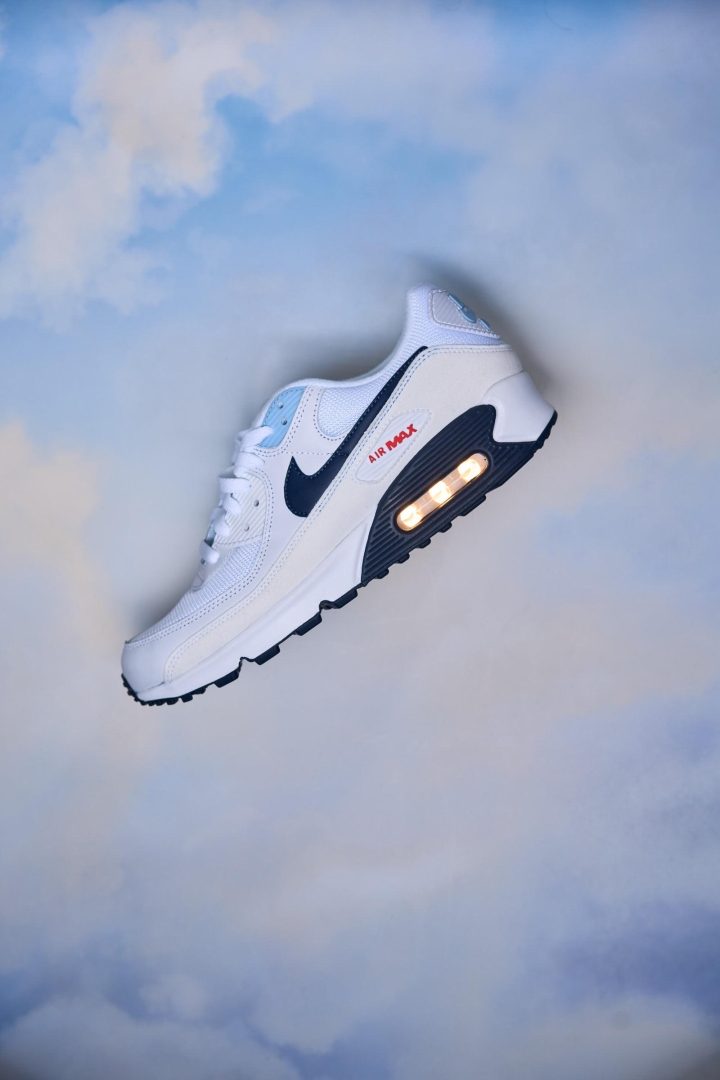 Now over 30 years old, one of the most magical products of the Nike/Tinker Hatfield relationship is still here, in new colorways and collaborations. Three years after the release of the Air Max 1 (the first to show the infamous air pocket) Nike released the 90s, at the time the Air Max III.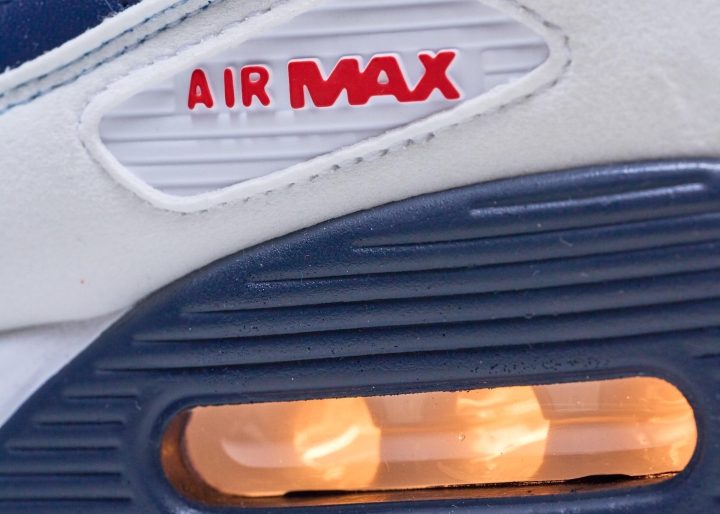 Tinker Hatfield had just been named the Creative Director of Product Design after his success in keeping Michael Jordan (if you don't already know Hatfield is possibly the single greatest reason Nike is the behemoth it is today). The Air Max 90 kept the same runner silhouette and boasted an even bigger air pocket. That style has stayed mostly untouched through to today.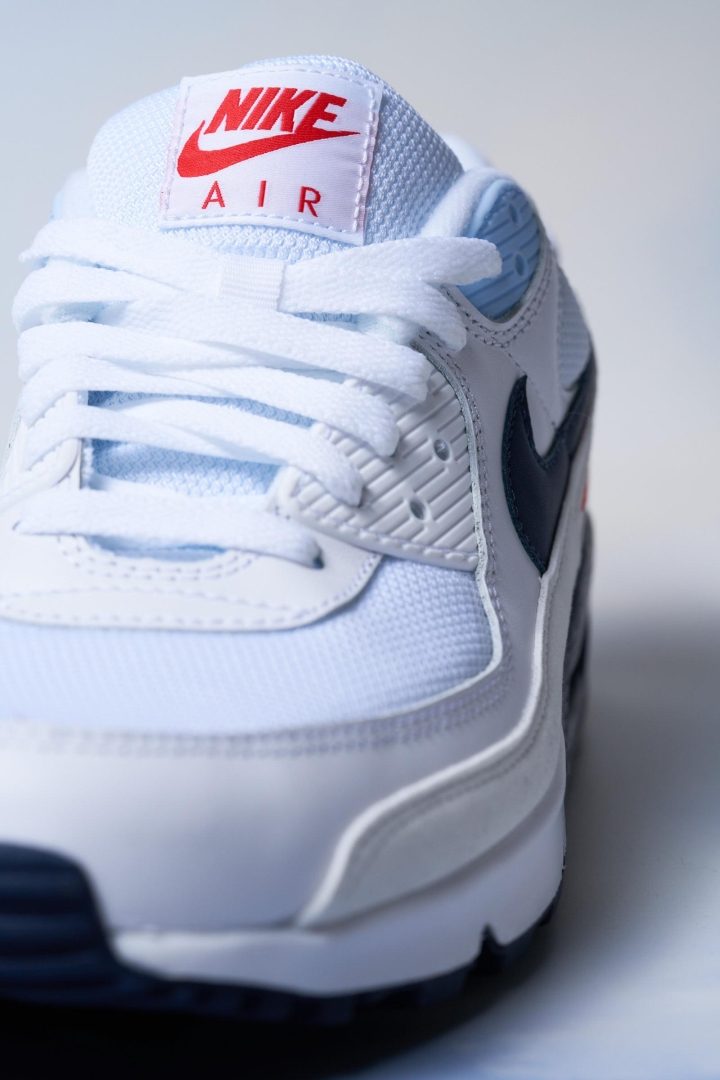 One of the most attractive parts of the Nike Air Max 90 is its price tag. Although $120 (for base versions) pushes the sneaker toward premium territory, it's actually an accessible entry into statement shoes. Yes, it's a statement.
So so so many choices.
Choosing such a well-rounded-looking sneaker can be difficult when there are hundreds of options. The OG Infrared colorway was released last year, which is a beautiful option. Or there are all-white models, matte black, the 'Bacon' collab with DQM is one of the most popular right now.
I gave the White/Psychic Blue colorway a shot, mainly because a white shoe goes with anything, but also I'm loving the muted blues with the sharp red "Air Max" detail. Also having a more monochromatic style helps take away the complexity of the 4 or 5 materials used on the sneaker. The Air Max 90 looks incredible on the feet. It's unmistakable, whatever colorway you choose, with an athletic silhouette, that almost convinces you to run in these (do not run in these).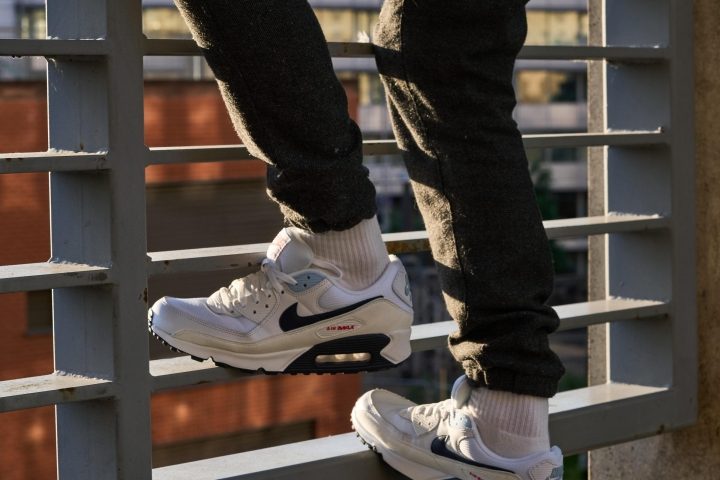 The curse of so many color choices is one of Nike's greatest gifts to consumers, it makes every pair an individual purchase. Along with the Air Max 90s history, the shoe becomes a talking point for anyone interested in sneakers. And, for those who just want a sneaker that looks good, the Air max 90 fits the description there too.
The Nike Air Max 90s promise of comfort is hollow.
Air Max fanboying aside, there is a big problem for me with the shoe. While it fits true to size and sticks to the foot if you use the extra lace holes, the sole is super stiff. This means it doesn't flex like most runner-style sneakers should and takes time to wear in. I've been testing the Air Max 90s for 4 days solid and my feet are still coming out aching. What's more, the fit is narrow, which adds to the pressure put on the foot. I did a bit of digging online and it's a common problem out there.
It's been 31 years since the Air Max 90s were initially released, and if they can do it with the Air Force 1s they can do it here. It even looks like they caught on and are selling retro pairs of Air Max IIIs (the same shoe) with arch supports.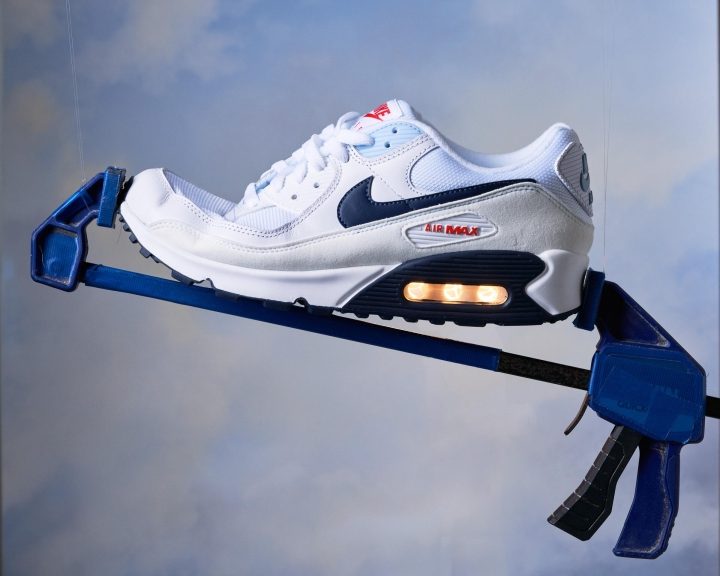 Breathability wins over weatherproofing.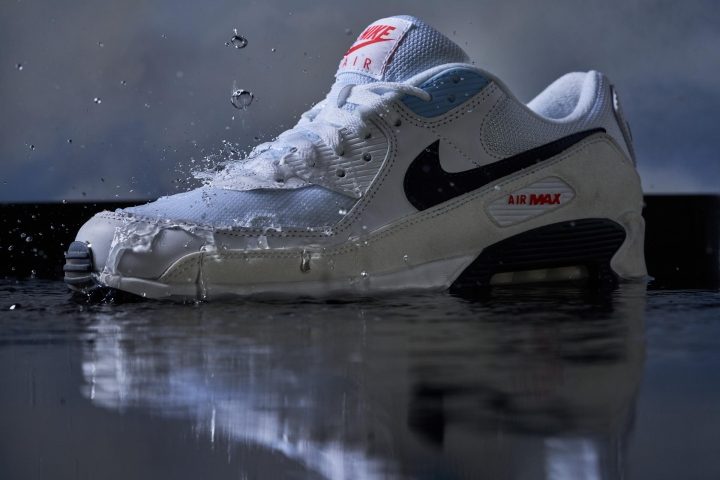 With a mostly-mesh upper, the Nike Air Max 90s chose breathability at the cost of weatherproofing. Any water above the leather side panels is a pretty instant route into the shoe. At least there aren't any leaks in the lower though.
In this colorway though, I'm not wearing the sneakers out in winter anyway, so I'll take breathability. On that note, it's quite airy in there. Even though the shoe is narrow, I didn't find my feet getting hot at all.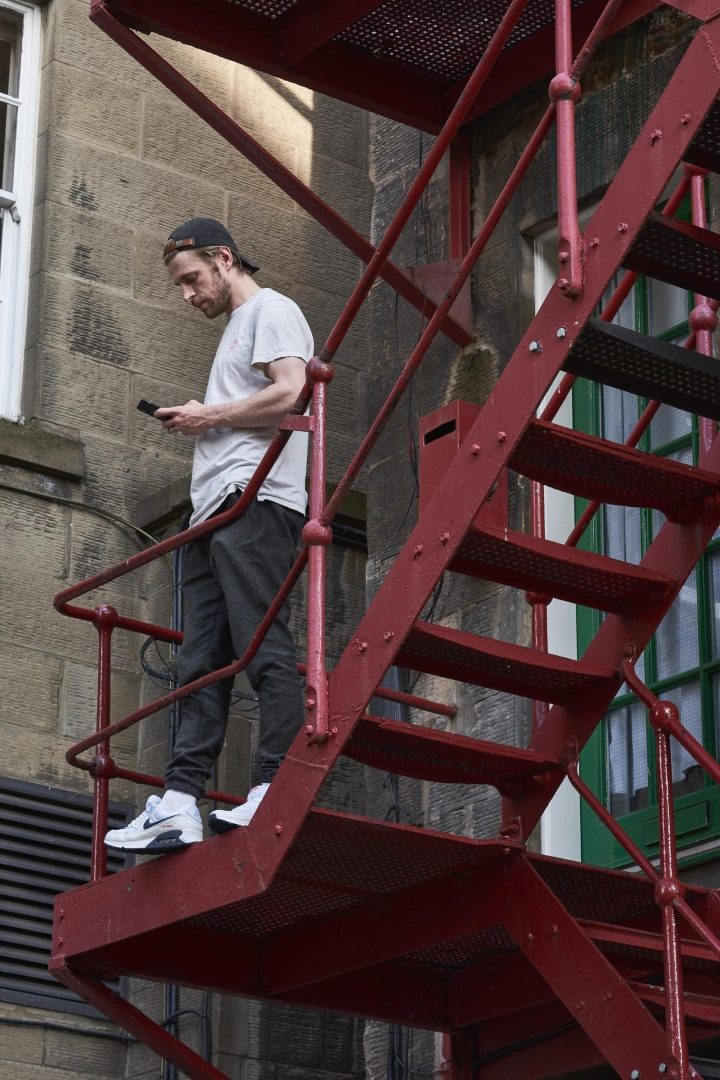 Leave your toothbrush in your bathrooms, the Air Max 90 can handle some stains.
Looking at the sneaker I was immediately worried about the suede detailing. Flashbacks of carrying around a toothbrush and some plastic bags to protect my shoes haunt me. Thankfully both Nike and I have moved on from those days; wet and dry stains both cleaned out of all the materials with regular shoe cleaner.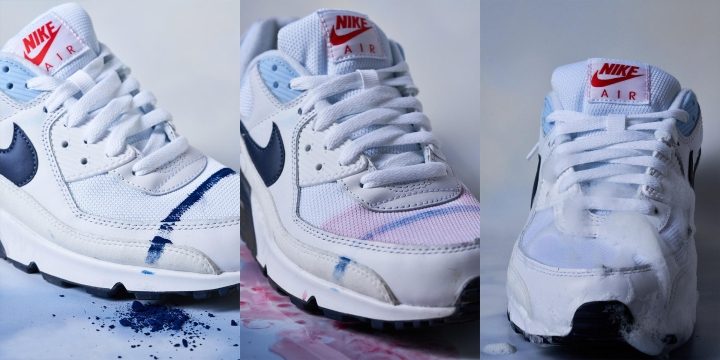 Honestly, this has to be one of my favorite things about the sneaker. With a clear preference for looks over comfort, the fact that the Air Max 90 is not a sponge for stains makes it a worthwhile cause.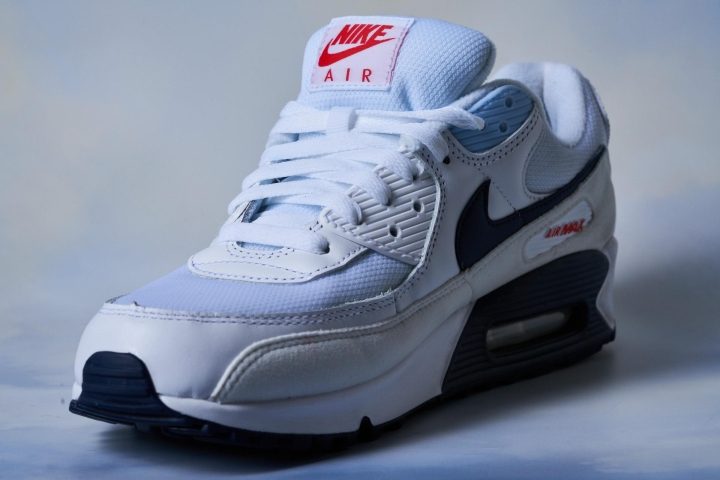 The Air Max 90 is tougher than it looks.
I was surprised again with the construction of the Air Max 90 here. Even if there are some visible seams in the leather, which appears to be veg. tanned, everything held together well.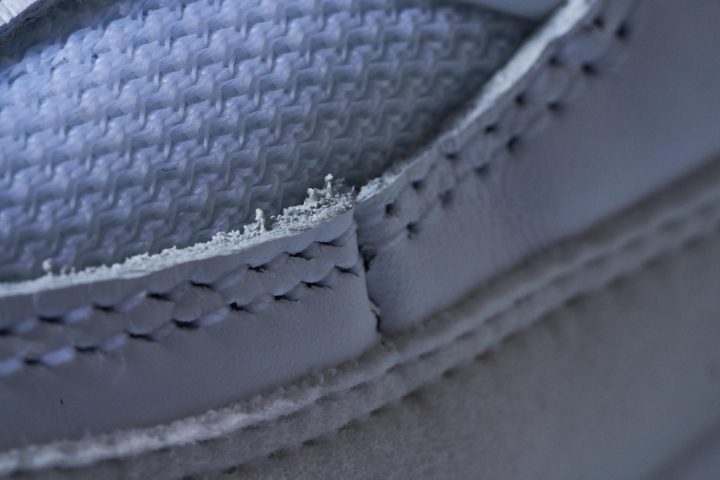 After wearing them for 4 days and going at them with a power drill and a wire brush, only a bit of surface texture came away. I didn't try bursting the air pocket because why would you?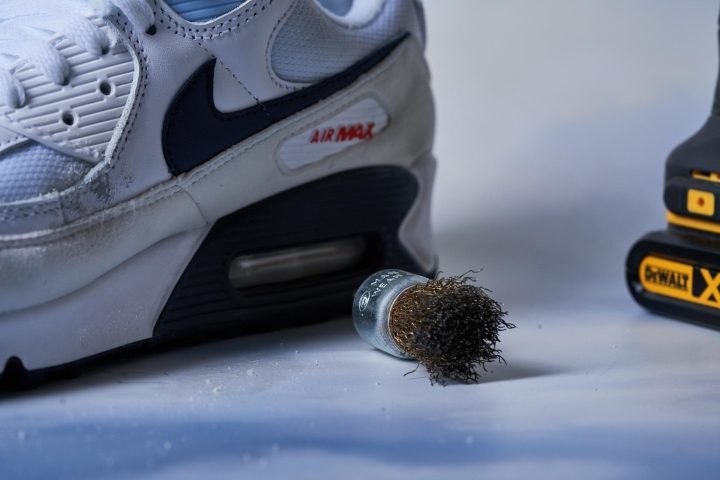 Conclusion
Almost everything in the construction of the Air Max 90 points to it being a shoe worthy of its place in history. Well constructed with quality materials and stain-resistant. Even if you don't love this white, muted colorway there are so many alternatives, it would be hard not to find the right pair. It's not as stand out as the 95s or 97s which, for me, is a good thing. The people who know what you're wearing will appreciate it for what it is, and you should too. My only issue is comfort, it's strange to me that Nike hasn't nailed this one after so long in the game, maybe one day.