Air Max 270 is a sleek, sporty, lightweight lifestyle shoe. With a huge 32mm heel height it's definitely a head-turner. Ultimately, this is a durable shoe that fits in perfectly with the times and at a fair price.
Pros
Lightweight
Instantly comfortable
True to size
Durable
Can be worn without socks
Flexible
Super breathable
Sleek modern looks
Crazy number of colorways
Cons
Heel height might need adjusting to
Not the best for standing all day
The Air Max 270 promises to be one giant leap away from athletics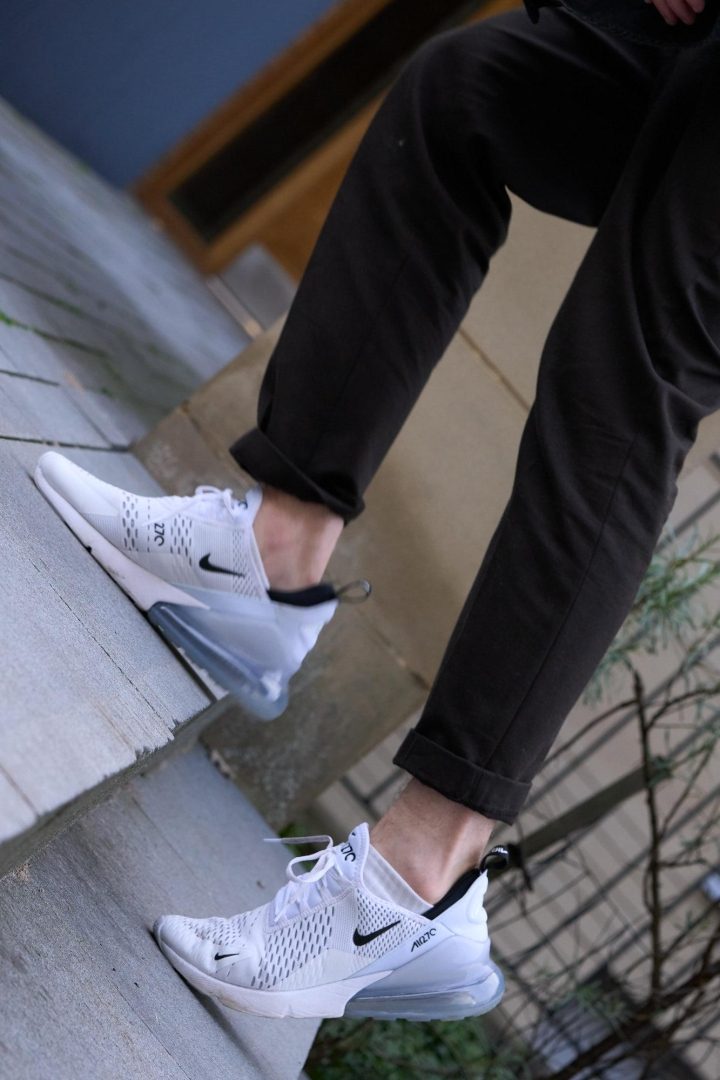 The Nike Air Max 270 represents an apparently significant step towards the future of the Air Max lineup. With a record-breaking heel height, influence from two of Nike's prestigious AM sneakers, and the first Air Max to claim itself as a 100% lifestyle shoe; the 270 makes a lot of promises.
Does it live up to the hype? For me, it's a bit lacking in what I was expecting from a sneaker free from the shackles of runner's needs (not that many of the AM line are actually suitable for runners in today's world).
The Air Max 270 seems to be having an identity crisis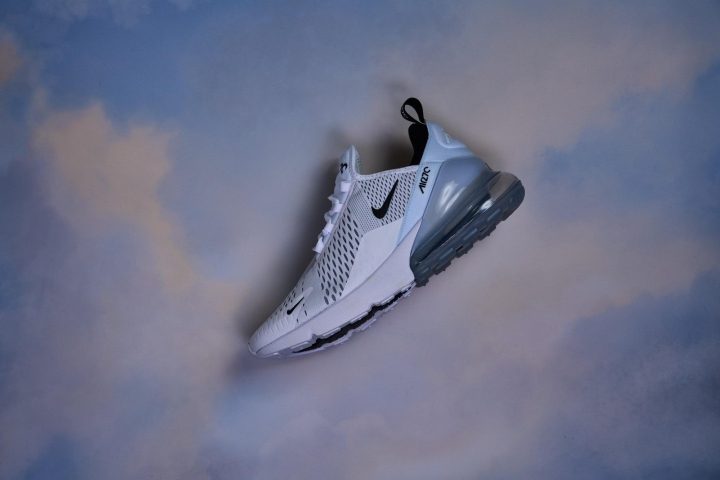 While the heel height is something new, it's nothing too crazy and it maybe gives up on supporting the foot a bit too soon. I nearly went over on my ankle a couple of times getting used to it.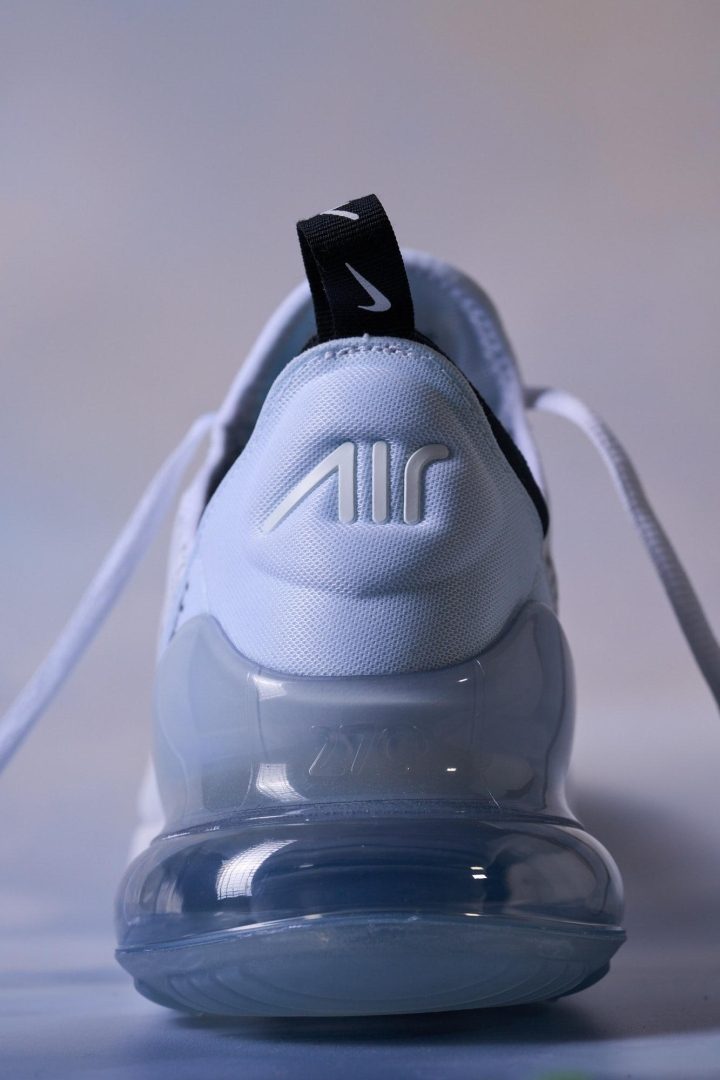 The upper is a neoprene-mesh construction with Nike Hyperfuse overlay to protect it from wear and tear. Again, nothing is too spectacular here. If anything, the directional, athletic strapping in the weave suggests the Air Max isn't facing the reality of a lifestyle shoe.
Since its release in 2017 Nike has pushed more lifestyle-like sneakers like the AM720, so it feels like they found their way in the end. The 270 has a sock-like inner made from neoprene that wraps around the foot and lets you wear them without socks, which adds to the more sport-like feel of them.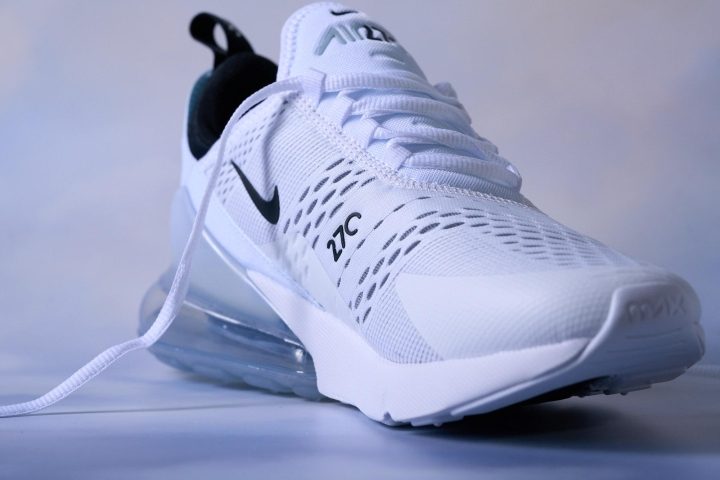 Thankfully, Nike keeps their reputation for making sneakers that fit true to size, because this construction probably wouldn't feel too great if too small.
Super versatile, the Air Max 270 looks like a springboard for greater things to come
That being said, like all Air Max, the 270 is incredibly comfy for shorter periods thanks to its athletic construction. Paired with skinnier joggers or jeans, the 270 balances its chunky airbag with a sleek upper, somehow avoiding the dad-shoe craze going on right now.
The 270 feels like a blank page for Nike, and that may be what they're trying. With historical runaway successes of the AM90 and AM97, we know that they do well on re-releases and collaborations.
My favorite version of the Air Max 270 is the 270 React which merges Nike's new, ultralight and responsive foam with the 270s silhouette. There's also the real-retro 270 Bowfin, an air-bubbled hiking shoe from the 90s.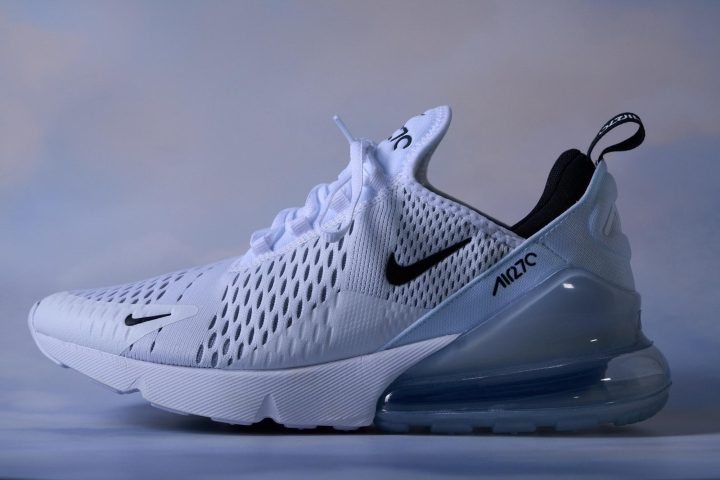 Even without the different releases, the 270 is incredibly versatile. I picked up the all-white colorway because paired with the sleek silhouette, it goes with virtually anything. Nike also released some metallic gradients on the air bubble, but these lean more to the toy-shoe look in my opinion.
Flexible as well, the Air Max 270 gets a bit too soft
As well as being versatile, the Air Max 270 is a super bendy shoe. The foam is pretty flexy and your foot is free to move around. There's a bit of foam under the heel too but this doesn't do much because the air pocket's there.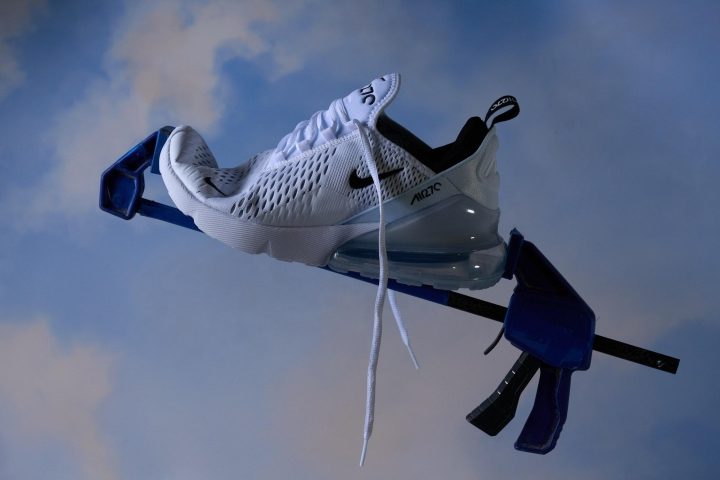 This soft foam could be the 270s downfall; it's not the comfiest shoe to spend an entire day in. This could definitely be a reason Nike chose the 270 for their React Foam mix.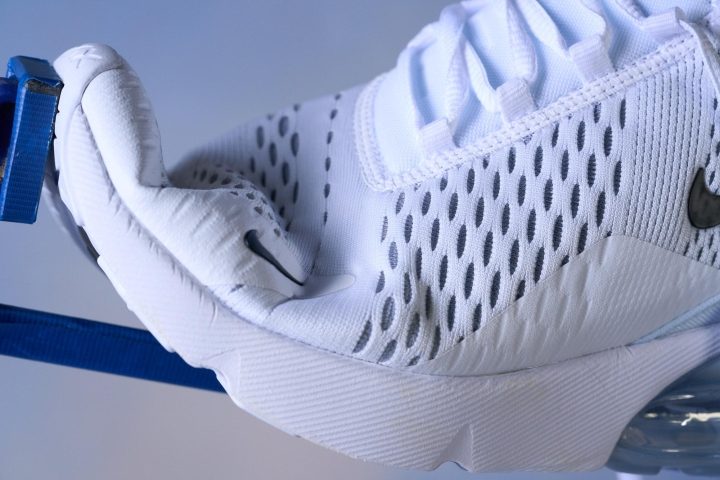 Aside from the discomfort of standing in the sneaker all day, it's a robust offering from Nike. When put up against abrasive testing the upper mesh stayed intact with just a bit of fraying. Like many Air Max, these can take a beating, even if the sleek look wouldn't suit it.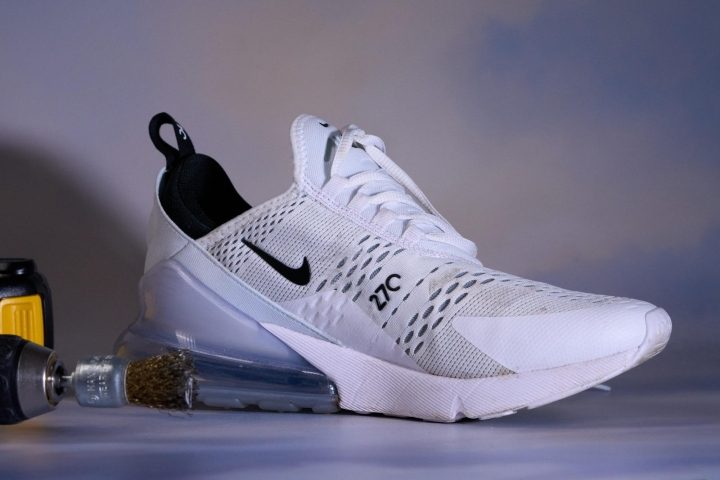 Easy enough to clean, hard to keep dry
With an all-white sneaker, I need to know how easy it's going to be to get out stains: mud, coffee, dust, and probably beer. Luckily, most sneaker cleaners are easily up to the task of getting stains out of the Air Max 270. The mesh is breathable and has a light weave that doesn't soak stains up fully.
A super breathable mesh is always going to mean sacrifices with weatherproofing. The Air Max 270 is probably not your best bet for a winter shoe. Letting in water almost the second it got wet, the upper is not puddle-friendly.
It's beginning to look like the various releases of the 270 are here to sure up the leaks in the original. With another 90s hiking offering in the Air Max Vistascape offering more defense against the elements. It's great to see Nike putting function in line with form, even if it's spread across multiple designs.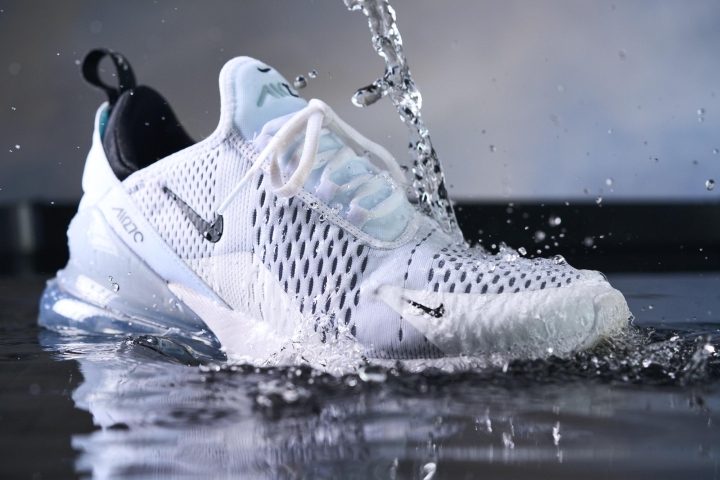 The Air Max 270 doesn't do anything too special, but it does it well
All in all the Air Max 270 isn't quite the groundbreaking shoe that Nike seemed to think it would be on its release. That's okay though because what it offers is the potential to be the beginning of a dynastic line in Air Max's history. Mostly comfy, lightweight, and aesthetically modern, the 270 looks like it's going to be one that sticks.