Overall ranking lists
Timberland categories
If you're planning to go on an adventure, you might want to take a new pair of Timberland hiking shoes with you. Ever since its establishment in 1973, American brand Timberland has been producing quality footwear products for outdoor enthusiasts. In particular, Timberland's low-cut hikers are infused with various technologies and features to keep your feet comfortable and protected. Also, there are various hiking shoes available for men and women at different price points to better suit your specific needs. Take a look below so you can find out what makes Timberland hiking shoes an ideal option for your excursions.
The perks you'll get from the best men's and women's Timberland hiking shoes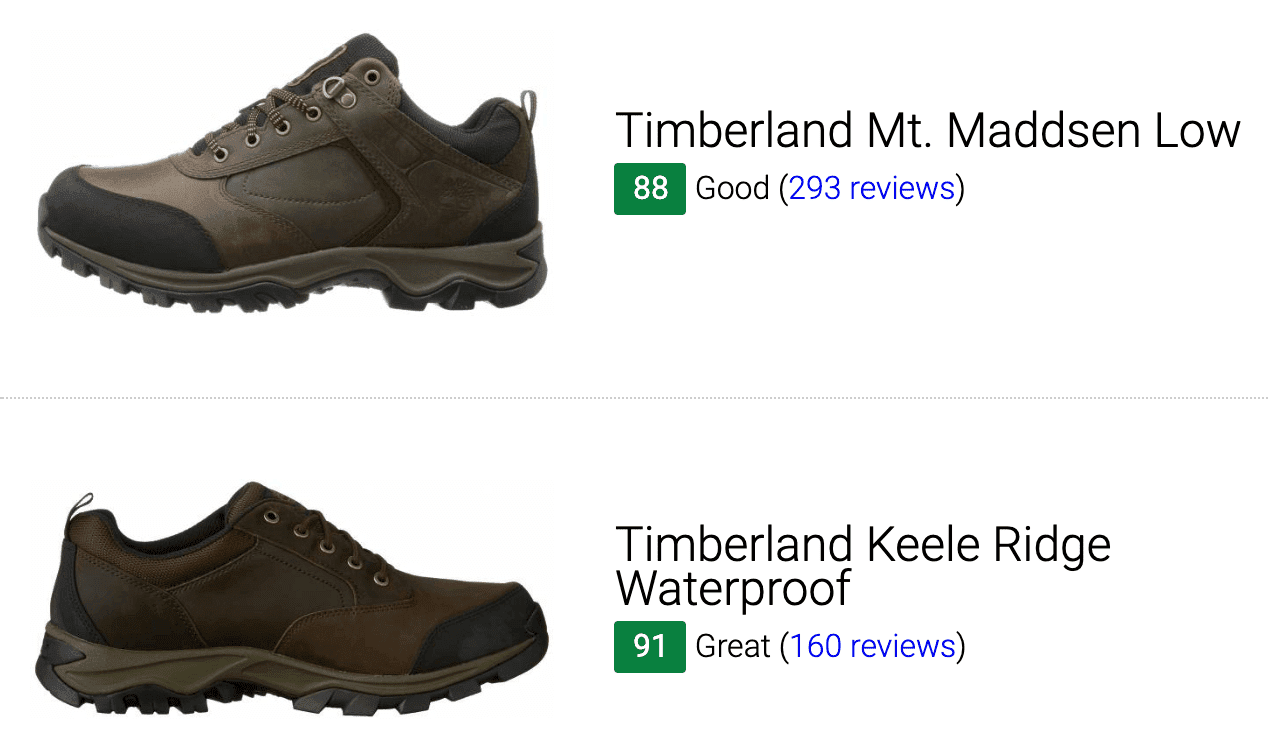 Best Timberland hiking shoes - May 2019
Durability
Low-cut footwear models from this company are built to withstand harsh trail conditions to last longer. High-end Timberland hiking shoes are equipped with full-grain leather uppers while some use a combination of synthetic fabric and mesh panels. Also, the brand's hikers feature durable rubber outsoles that can endure rough terrain. The materials used in these components help toughen these hikers against wear and tear.
Traction
Overcoming all sorts of challenging ground conditions can be tough if your footwear isn't capable enough. Timberland hiking shoes are equipped with outsoles that render traction on uneven terrain and slippery surfaces. Check the profile of this component, and you'll discover an aggressive pattern of lugs which delivers multi-directional grip. Select low-cut footgear models use an outsole with grooves on both ends for enhanced control in downhill and uphill conditions.
Support
Getting the support you need from your hiker is a must when you're going outdoors. Timberland hiking shoes provide this benefit so your every stride will be supported. Some of the brand's finest hikers use midsoles made of ethylene-vinyl acetate (EVA) or polyurethane. The former grants lightweight cushioning while the latter is known for its resiliency to wear and tear. On the inside, you'll find a removable footbed to deliver arch support. It also has cushioning properties to help you stay stable over challenging ground conditions.
Protection
Almost every trail contains a set of challenges that can harm your feet. Timberland hiking shoes are crafted with various technologies to boost its protective qualities. The brand's best low-cut hikers are packed with waterproofing tech to keep water out. This component also prevents your foot from warming up by allowing excess moisture to escape.
Select shoes from Timberland come with uppers reinforced with climbing-grade rubber toe caps. This component helps prevent stubbing when faced with various trail obstacles such as sharp rocks and exposed tree roots. Also, the best Timberland hiking shoes come with an Ortholite footbed to provide protection from odor-causing microbes.
Comfort
Comfort is a key quality you should get from your chosen pair. Timberland hiking shoes are designed to keep your feet comfortable while you're outdoors. Every low-cut hiker from this brand comes with a padded collar and tongue to reduce fatigue on your foot. These products use cushioned insoles which boosts underfoot comfort while you're on the move. Certain Timberland shoes feature an upper with mesh panels to better ventilate your foot during a warm hike. All of these components work as one to maintain a level of comfort for your feet while you're out hiking.
What are the factors I need to consider when getting new Timberland's hiking shoes?
Terrain. Before getting one of the brand's hikers, you need to determine the trails you're planning to tackle. Timberland's low-top footgear models are mostly intended for day hiking trips where there are minimal slopes and wet trail conditions. If you're planning to bring a backpack or your hike is going to exceed a single day, it's best to go with backpacking boots.
Fit. Before getting new Timberland hiking shoes, it's vital to find one that truly fits you. Keep in mind that the brand offers low-top hikers in a range of whole and half sizes. Standard width is the only option for these footwear models as well. You can personally try these shoes in the nearest outdoor gear store or order one from an online retailer. Remember to determine your foot's size and width before finalizing your purchase so you won't end up with an ill-fitting pair.
Price. Finding a suitable hiking shoe can be a struggle, especially if your budget is tight. Timberland offers entry-level and mid-range footwear models that can meet your outdoor demands. It's best to determine the specific features you're going to need in hiker so you won't overspend needlessly.
Foot problems. If you are experiencing foot pain of any kind, it's best to consult with a podiatrist first before getting new Timberland hiking shoes. In doing so, you will avoid the risk of getting injured during a hike.
Notable men's Timberland hiking shoes you can consider
Maddsen Low. This hiking shoe is the low-cut version of the brand's Mt. Maddsen Mid hiking boot. It boasts a full-grain leather upper, Anti-Fatigue technology, and a durable recycled rubber outsole for traction. The gear is also equipped with an internal thermopolyurethane (TPU) shank for added rigidity and stability.
Sadler Pass. The leather and mesh upper of this shoe is lined with a Gore-Tex membrane to keep your foot dry. Its toe cap and heel piece are made of climbing-grade rubber for enhanced durability and protection.
The formula behind the finest Timberland hiking shoes
History
Back in 1952, half of The Abington Shoe Company was purchased by Nathan Swartz. This decision eventually led Swartz to buy all of this company's shares three years later. During the following years, the number of Americans who took up hiking increased. Swartz took notice of this trend and rebranded as The Timberland Company to capitalize on it.
As the years passed, Timberland rose to prominence because of its outdoor footwear products and how the company actively advertised them. They were also among the brands that championed important social causes, such as diversity and the importance of the environment. In addition, the company became more prominent when Hip-Hop and Urban culture incorporated their boots for everyday use. All of these factors helped Timberland's sales to increase during the 90s.
Nowadays, the company's catalog of outdoor footgear and apparel, including various Timberland hiking shoes, can be easily purchased. You can find the brand's low-cut hikers in numerous stores that carry them all around the world or from various online retailers.
Pricing
The brand's line-up of low-cut shoes for hikers is relatively affordable. Entry-level Timberland hiking shoes start at $90 while their premium hikers range from $120 to $130. Cheap hiking shoes from this brand offer several of Timberland's technologies. On the other hand, their finest low-cut offerings are built using premium materials, hence their higher price tag.
Shoe Technologies
Silver-rated Tannery leather. Certain hikers from Timberland use leather components that are tanned by The Leather Working Group, a third-party environmental audit company. Meaning, the production of these leather materials cost less energy and doesn't create a lot of eco-harmful waste.
Ortholite. Select Timberland hiking shoes come with Ortholite footbeds. This component helps enhance arch support and cushioning. It's also made of an ultra-breathable material that cools your foot in warm weather.
Gore-Tex. Some of the best hiking shoes that Timberland offers use a Gore-Tex liner. The surface of this specialized membrane is filled with more than a million pores to keep water out. This same microporous design also allows moisture vapor to pass through to make it breathable.
TimberDry. This is Timberland's proprietary waterproofing technology made of 50% recycled material, making it eco-friendly. A TimberDry membrane lines a hiking shoe's upper to block water and keep the gear breathable.
Anti-Fatigue Technology. This feature is found in select Timberland hiking shoes to help outdoor lovers who spend long hours on the trail. A geometric cone is built into the gear's midsole to grant the user with standing underfoot comfort, energy return, and shock absorption.
AirPath. Certain Timberland hiking shoes use AirPath technology for enhanced breathability. It features a set of perforated vents on the outside as part of a three-part cooling system. These vents are paired with a microfiber fabric material and a perforated footbed to improve ventilation inside the gear.
Aerocore. This specialized midsole is found in some lightweight Timberland hiking shoes. It is made of lightweight polyurethane (PU) for high-rebound cushioning while its rubber outsole can withstand constant ground contact.
Frequently asked questions about Timberland hiking shoes
When should I not use my Timberland hiking shoes?
The company's low-cut footwear products are best used for day hikes. If your trip involves a heavy backpack, harsher trail conditions, and unpredictable weather, you should leave your Timberland hiking shoes at home and go with a pair of backpacking boots. This type of gear offers the protection and performance you need for more demanding terrain.
Using Timberland hiking shoes in cold weather is a recipe for disaster. These aren't designed to provide warmth and deliver traction on slippery icy surfaces. Hiking boots for winter use are more suitable for this environment. They contain layers of insulation to protect your feet from low temperatures. Their outsole units are also engineered to grip on surfaces filled with snow or ice.
Should I wear cotton socks with my Timberland hiking shoes?
Pairing cotton socks with your hiking footwear will be detrimental for your excursion. Cotton absorbs perspiration like a sponge and causes your foot to smell bad. It's better to use socks made of Merino wool with your Timberland hiking shoes. This fabric is known to regulate heat, dry faster, and keep your foot fresh during a hike.
3 best Timberland hiking shoes
Timberland Mt. Maddsen Lite Waterproof
Timberland Keele Ridge Waterproof
Timberland Field Trekker Low
This shoe has recently been added to RunRepeat. There are still not enough reviews for us to assign it a
CoreScore
.
CoreScore
A score from 1 to 100 that summarizes opinions from users and experts. The average CoreScore is 78.
More...