If you're looking for an almost indestructible, waterproof rugged low-cut hiking shoe, then look no further.
Pros
Lightweight
Fits perfectly
Amazing lockdown
Incredible heel cup
Waterproof
Decent traction
Good lacing system
Cons
Lacks breathability
Grip fails in wet conditions
Very firm
Not supportive
Adidas Terrex Swift R2 GTX review and lab test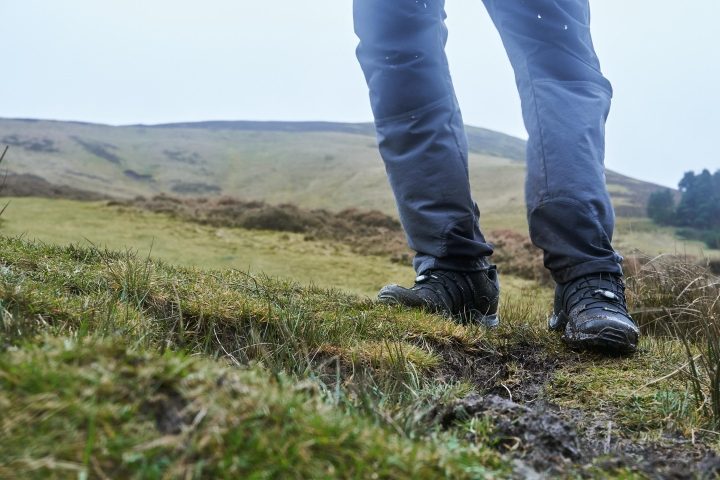 The Adidas Terrex Swift R2 GTX is a burly, tough hiking shoe that looks and feels like it will take you anywhere you want to go. We've got some issues with it, but there's a lot to love in this all-terrain hiking shoe
Who the hiking shoe is for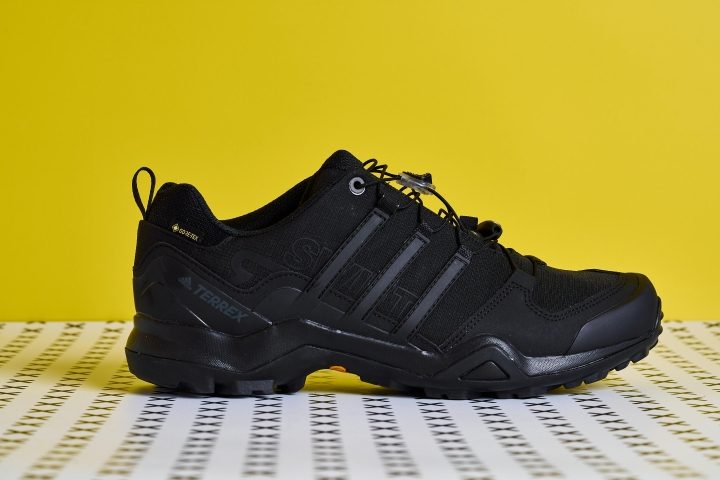 The Adidas Terrex Swift R2 GTX is a high-spec, solid, and waterproof hiking shoe built for the outdoors for years to come. I've never seen such an indestructible synthetic hiking shoe. It has lots of grip, not much weight, and a whole lot of protection
Who the Adidas Terrex Swift R2 GTX is not for
There's probably a better option out there for you if:
The Adidas Terrex Swift R2 GTX is quite light
For some time now, hiking footwear has been getting lighter and lighter, and just when you think 'this is it, something lighter comes out.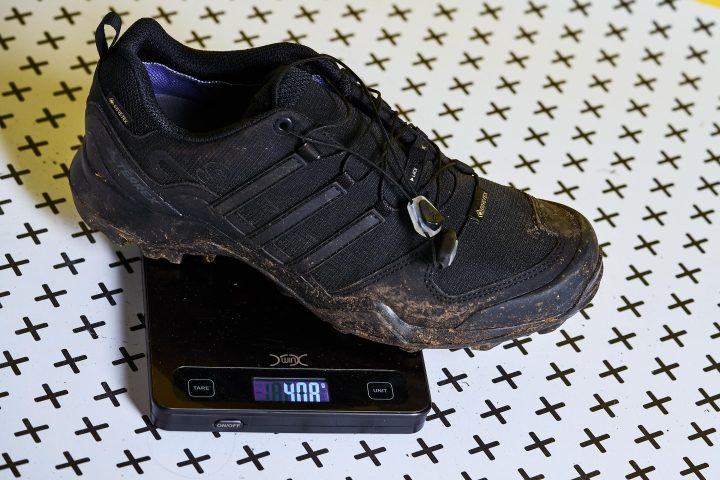 Often these savings in weight are at the cost of durability or protection. This isn't the case with the Terrex and it still weighs a respectable 14.4oz (408g). For a shoe with all the features this has, that's pretty impressive and means it's barely noticeable on hikes.
A rugged shoe from top to bottom
The Adidas Terrex Swift R2 GTX looks hardcore, especially in the all-black colorway that I picked up. To me, nothing really screams comfort here, and I don't think that's the point.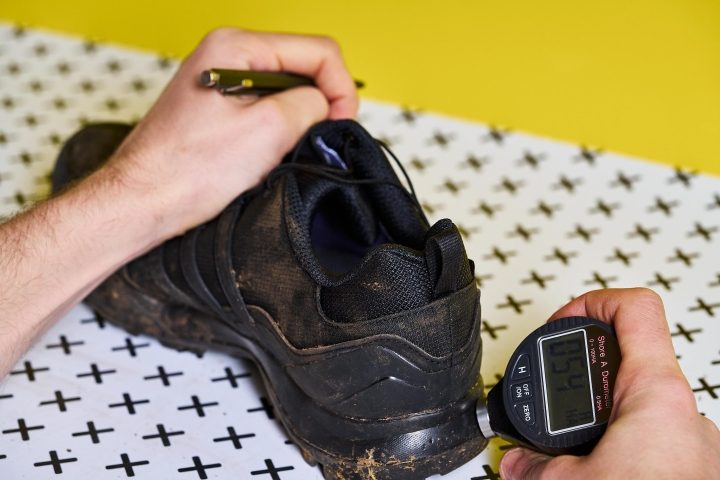 The midsole has a durometer (hardness) of 56.5 HA which is not too far above what you usually get in a hiking shoe. The lack of comfort comes from the hardboard sitting above the midsole. Kind of an extended shank to give rigidity to the whole shoe (more on that later) which is covered with a very slim insole.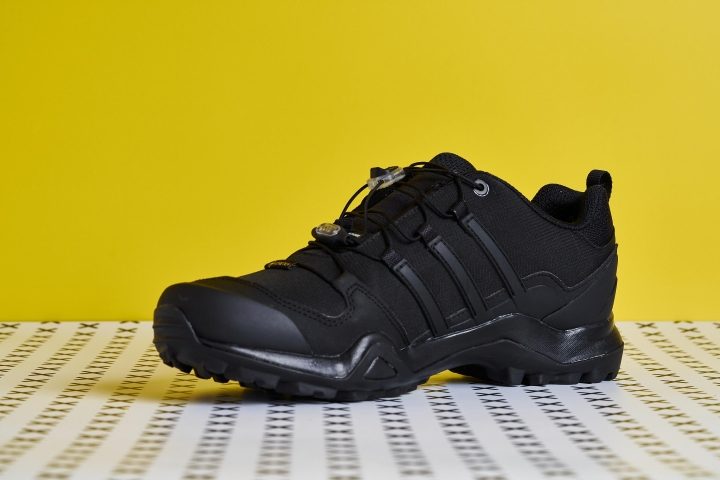 I don't see too much issue here, if anything I prefer a pair of hiking shoes that take some wearing in, and these get a lot comfier once you've put 10 miles or so into them.
Excellent lockdown
I don't think anyone will disagree when I say that Adidas took a lot of inspiration from Salomon when they made their lacing system for the Adidas Terrex Swift R2 GTX. Sure, they'll label it "Speed lacing" but it's Salomon's quick lacing.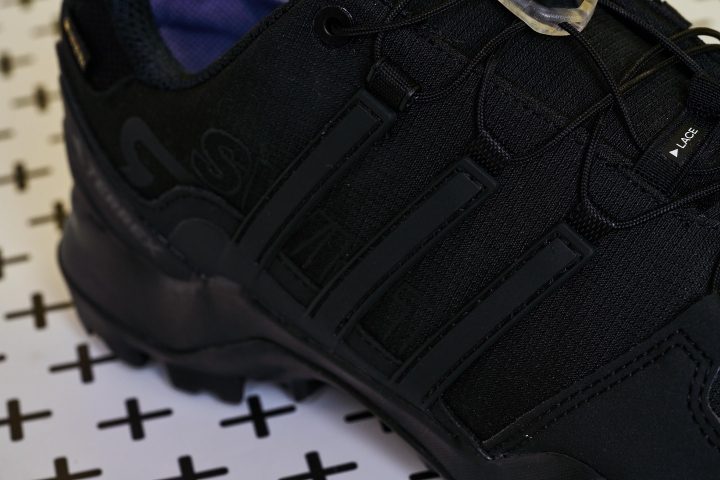 If you're familiar with it you'll know it provides excellent lockdown throughout the forefoot and is incredibly handy to have on any pair of shoes. This is especially true with the Terrex Swift thanks to the thick strapping (made from the Adidas 3-stripe logo) and a truly perfect heel cup.
Once these were on my feet, there was no heel slip and no movement around the forefoot, until I wanted to take them off, which was super-easy.
The Adidas Terrex Swift R2 GTX lack support
Given the excellent lockdown and feel of the shoe, I was genuinely surprised by the lack of stability in the Terrex Swift. Looking closer it becomes a bit more clear what the problem is.
The heel is the same width at the upper as the midsole (both literally 78.9mm wide), meaning that if your ankle isn't supported, there's not much to push your foot back into place.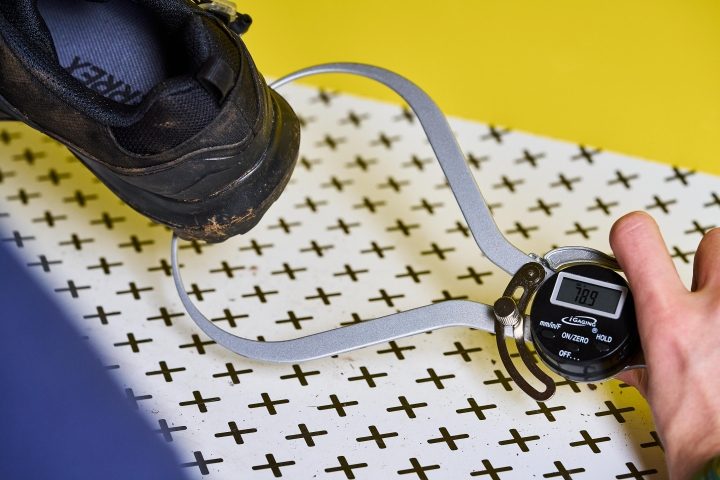 So where is that ankle support? One of the challenges with making a supportive hiking shoe is replacing that ankle support from the collar in a boot. Many manufacturers use lacing, specifically attached to strapping around the heel and ankle to do this.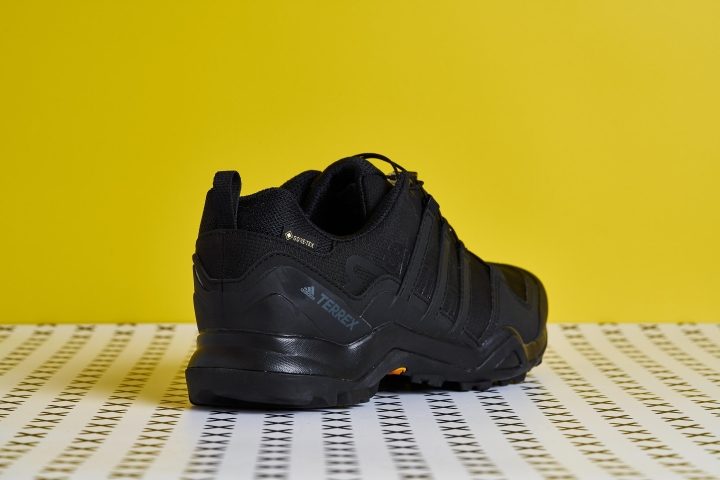 Unfortunately, the majority of the lacing for the Terrex Swift R2 is connected to the midsole in the forefoot. Nothing runs around the heel to pull it in when the laces are tightened.
Pretty good traction
By now it's no secret that the Terrex Swift is a seriously tough shoe, with a Continental outsole that likely purposefully looks like a tire. There's no doubt that this too is durable, and after testing I found very little wear in the lugs.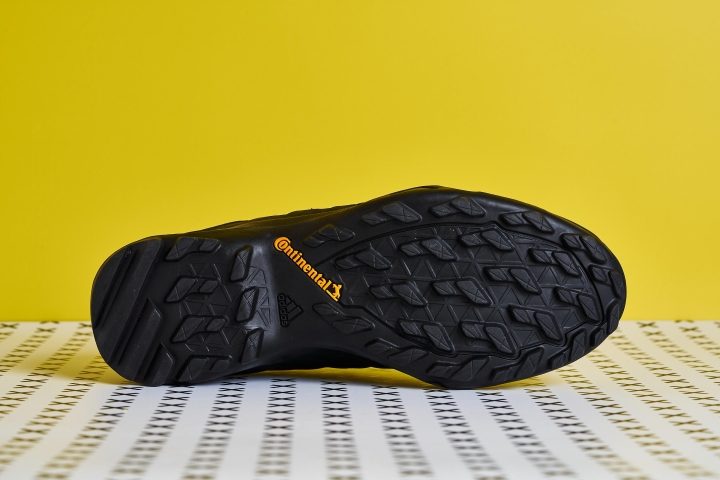 With 35 lugs measuring 7.8mm deep, the Terrex Swift is taking grip seriously. It works really well on most terrain, from wet stone to dry dirt.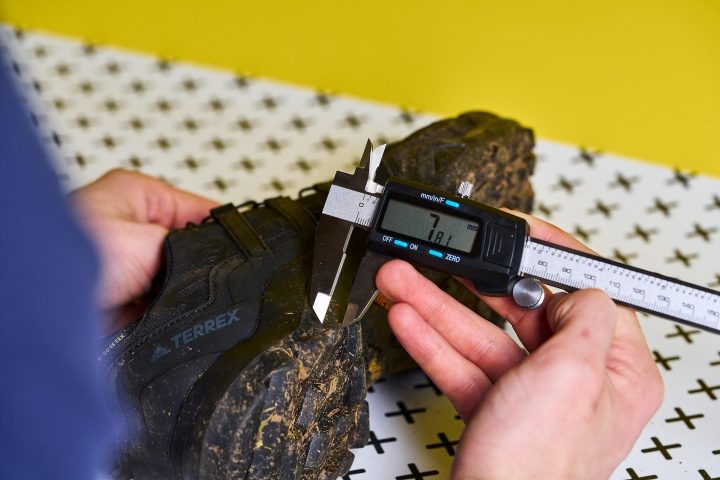 One thing that you do find with hiking shoes with that many lugs, is that they struggle to grip on wetter, softer mud. Usually, you'd want some more spacing between the lugs and a softer outsole to get a strong grip. For everything else, these grab a hold really well.
Excellent waterproofing on the Adidas Terrex Swift R2 GTX
There isn't much to complain about when it comes to testing the weatherproofing of the Terrex Swift R2 GTX. Gore Tex usually works great and is implemented well here. You can completely submerge the shoe up until the ankle and be pretty confident that your socks are coming out dry.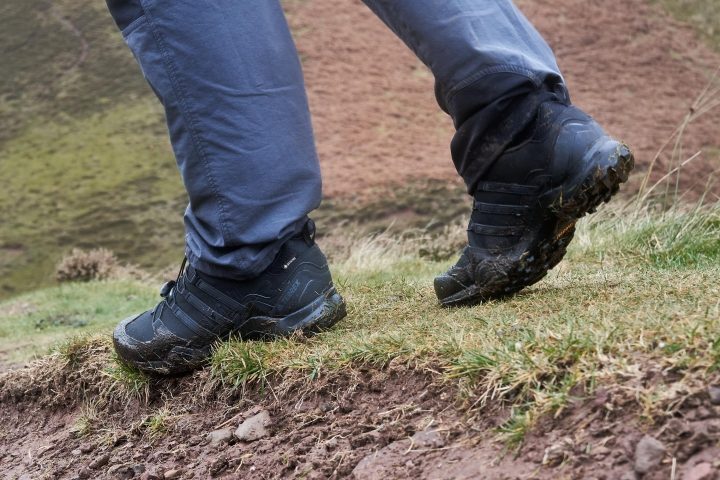 As with any Waterproof Hiking shoe, the limitation is at the ankle. This isn't just with deeper water, but any rain coming from above, or water seeping down your legs from long, wet grass.
A bit warm
Thanks to Gore-Tex while your feet may avoid water, they're likely to get a bit sweaty. For me, in Scotland, this is rarely an issue.
Gore-Tex claims to have excellent breathability in their membranes, but this is not really the case in shoes, where you have foam, mesh, and padding in the way too.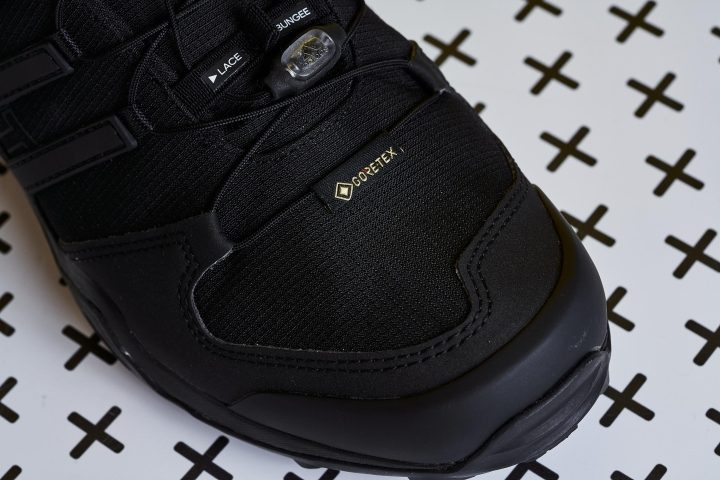 The Terrex Swift R2 doesn't come in an open-mesh version like a lot of GTX hiking shoes, which would both decrease the weight and increase breathability.
Indestructible upper on the Adidas Terrex Swift R2 GTX
The upper of the Terrex Swift is solid ripstop fabric. It's quite stiff and seems really resistant to scratches and cuts. Like the rest of the shoe, it's incredibly durable and I trust it to last a long time.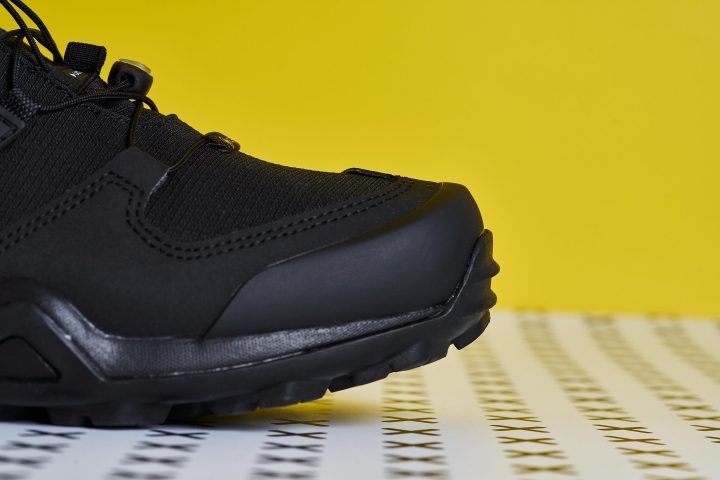 There's a really firm, burly rubber toe cap that keeps your toes safe from any nasty objects.
It's just a bit stiff
When trying to stand out, there's usually a trade-off. With the Terrex Swift R2 GTX, you're given all the protection you could ask for in a hiking shoe. Waterproof, bombproof, tearproof, and as a result, bend-proof.
This is a seriously rigid shoe. Taking a whole 52.4N to bend the shoe to 90°, the Terrex is well above the average. The point where the shoe does bend is just at the toe and I found really uncomfortable, often poking into my foot.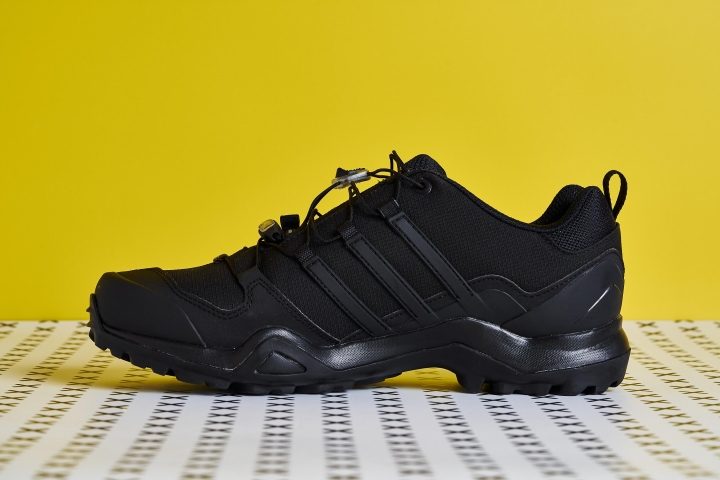 I actually think this is the cause of most of the problems I found in the Terrex, any lack of grip is down to the outsole not bending to provide enough of a surface area. The stability can easily also be down to the lack of flex in the shoe, if your ankle goes one way, the whole shoe follows it. While I love seeing such an indestructible shoe, I would love even more to have a nearly indestructible shoe that I can trust.
Conclusion
The Adidas Terrex Swift R2 GTX splits opinion in the RunRepeat camp. I am seriously impressed by the durability of the shoe, its fit, weight, and waterproofing. For me, the buck stops at stability. Why wear an indestructible shoe that can sprain your ankle?
For people who have really strong ankles you might trust the shoe more, and then it's truly perfect once you've worn it in.
Complete lab-specs overview
Adidas Terrex Swift R2 GTX
Whole shoe

Weight (g)

408

Flexibility of the shoe (N)

52.4

Flexibility of the shoe (Freezer 20 min) (N)

58.2

Flexibility of the shoe (% of change)

11.1

Lace slip test with the knot (N)

NA

Longitudinal flexibility (1-5 scale, 5 being the stiffest)

5.0

Torsional flexibility (1-5 scale, 5 being the stiffest)

5.0

Upper

Thickness - Tongue (mm)

10.75

Width Upper - Forefoot (mm)

100.5

Width Upper - Heel (mm)
78.9
Lace Stretch (1-5 scale, 5 being the most stretchy)

2.0

Flexibility of the heel counter (1-5 scale, 5 being the stiffest)
4.0
Thickness of Heel Counter (mm)
16.66
Toe Guard
Yes
Durometer Toe Guard (Room temperature) (HA)
87.5
Tongue: gusset type

NA

Heel: pull tab

None

Midsole

Width Midsole - Forefoot (mm)

107.4

Width Midsole - Heel (mm)

78.9

Durometer Midsole Heel (Room temperature) (HA)

54.5

Outsole

Outsole thickness (Heel) (mm)

14.19

Lugs Depth (mm)

7.8

Lugs (Amount)
35
Durometer Outsole Heel (Room temperature) (HC)
88.5
Insole
Insole Heel Thickness (mm)

5

Insole: removable

Yes