An exceptional budget-friendly day hiker—this is how we find the Terrex
X4.
Indeed, from its virtually tackle-anything underfoot performance to the way it handles shifting weather, this piece from
Adidas
is a doozy. There's also its initial price of $90, which makes owning one not at all an uphill battle.
Pros
Excellent value for money
Feels like a trail running shoe
Breathable
Water-repellent
Solid grip
Durable for the price
Stable platform
Contains recycled materials
Cons
Lacks toe protection
Flimsy insole
Who should buy the Adidas
Terrex AX4
The Terrex AX4 has all the trappings of a remarkable Adidas hiking shoe but with a sportier flair. Buy it if:
you need an inexpensive hiking shoe that gives excellent value for money
you prefer hiking shoes that look and feel more like trail running shoes
you want a breathable shoe that can also resist drizzles and morning dew
Who should NOT buy the shoe
If you tend to catch rocks a lot and look for more protection in a pair of hiking shoes, consider the Merrell Moab 3 or Salomon X Ultra 4 instead.
And if you want a similar shoe design but in a lighter package, check out the Merrell Moab Speed (60g lighter).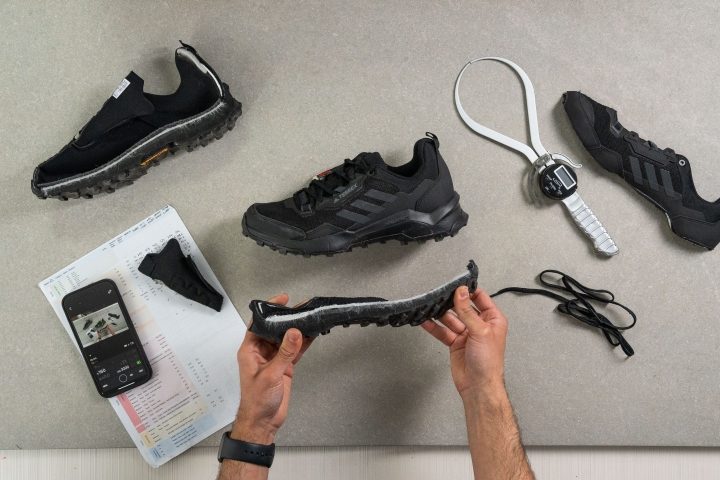 Updates to the Adidas Terrex AX4
We discovered that the fourth iteration in the Terrex AX series comes with improvements over to its predecessor, the Terrex AX3. Here is what has changed:
More overlay coverage. The Adidas Terrex AX4 now comes with mudguards. Their presence delivers extra abrasion protection and more splash resistance.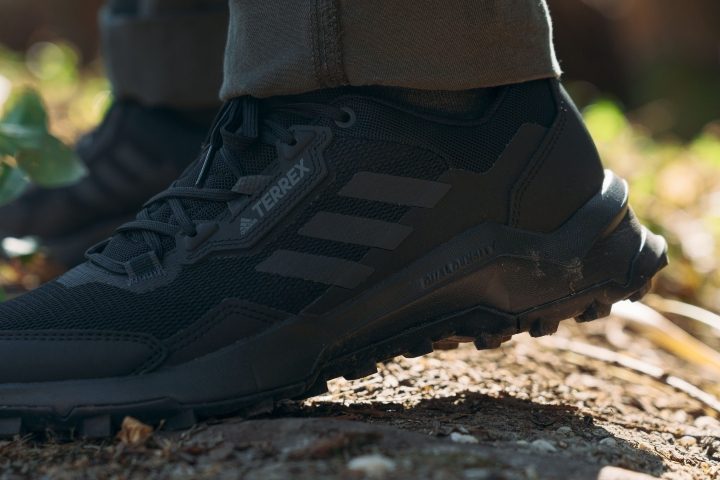 Re-engineered heel brake. The Terrex AX4's heel brake has been redesigned and provides virtually the same level of skid resistance on loose terrain but with better mud-shedding capabilities.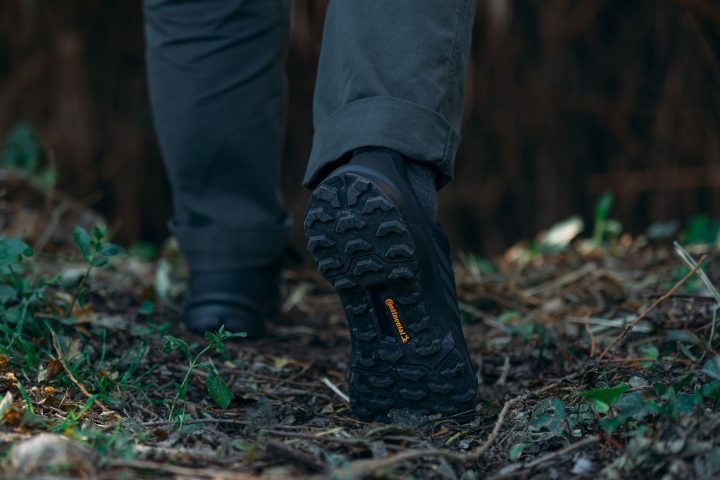 Chevron lugs. Its outsole now comes with chevron lugs. These revamped protrusions grant extra bite on soft-soiled terrain (think gravel and scree, particularly on ascents).
Keeps your feet moisture-free
The Terrex AX4 is great for rainy days, thanks to its water-repellent capacity. We also enjoyed using this Adidas trail shoe during warm weather. We discovered that the kick's mesh upper provides remarkable protection against mild external moisture and dissipates heat buildup well all at the same time.
We further confirmed the shoe's breathability with our smoke-pumping machine test. On a 1-5 scale where 5 is the most breathable, we rated it as 3.
Adidas Terrex AX4 (left) vs. the waterproof Salomon XA Pro 3D GTX (right)
At the same time, the shoe's ventilation pores are not very large either. In the transparency test below, we can see that the light doesn't shine through the fabric. This helps make the Terrex AX4 a little more resistant to light rain and wet grass without compromising its breathability.
The upper dried out surprisingly fast too after we had soaked it in a creek crossing.
Looking at the mesh fabric through the microscope, we found that it is a very tight weave. Softer yarns are embraced with plasticky ones making the fabric more abrasion-resistant.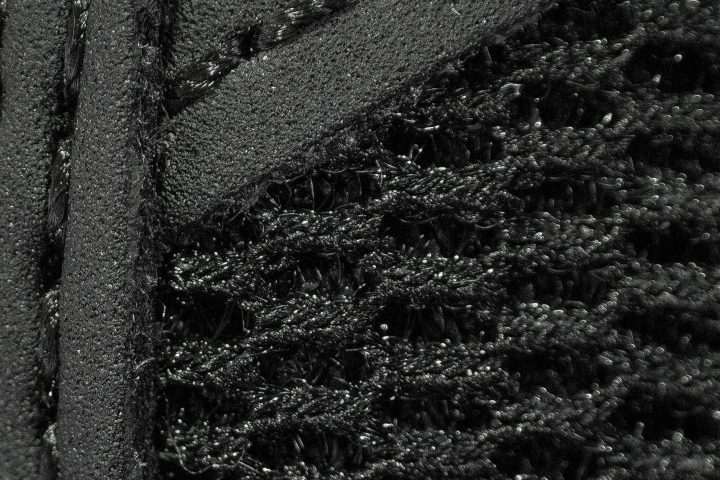 It also helps that the shoe is not so heavily padded inside. Just enough to keep you comfortable without overkill.
Based on our measurements, the tongue is 8.1 mm thick. This is rather moderate compared to the average of 13.3 mm in hiking footwear which in some shoes reaches 22.3 mm!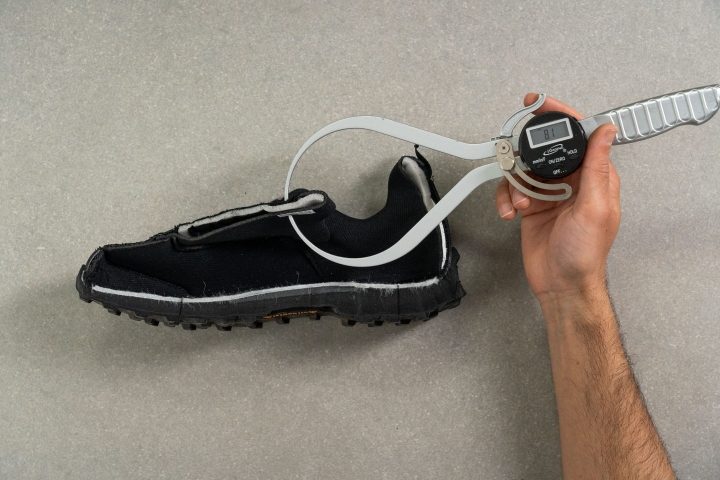 Comfort that persists
We are captivated by the immense comfort delivered by Adidas Terrex AX4.
For long-distance strolls and whole-day travels and hikes, we couldn't be more satisfied. Terrex AX4 has a sufficient amount of cushioning for long hours on the trail.
Using a pair of calipers, we measured the heel stack of this Adidas hiking shoe at 30.6 mm, which is close to the average 32.3 mm of hiking shoes.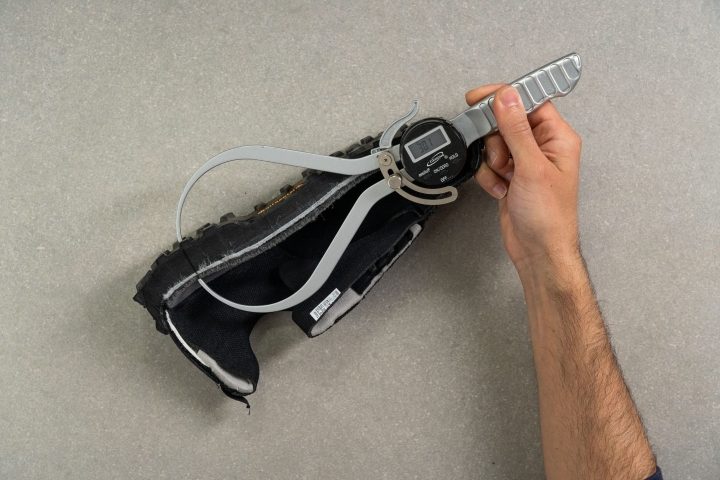 In the forefoot, the stack height turns out to be 20.9 mm - also an average for hiking footwear (20.7 mm). The heel-to-toe difference in the Terrex AX4 is 9.7 mm, lower than the average 11.6 mm. This is one of the reasons why this Adidas silhouette feels more like a trail running shoe (7.5 mm on average).
Disclaimer: We include insole thickness in our stack height measurements.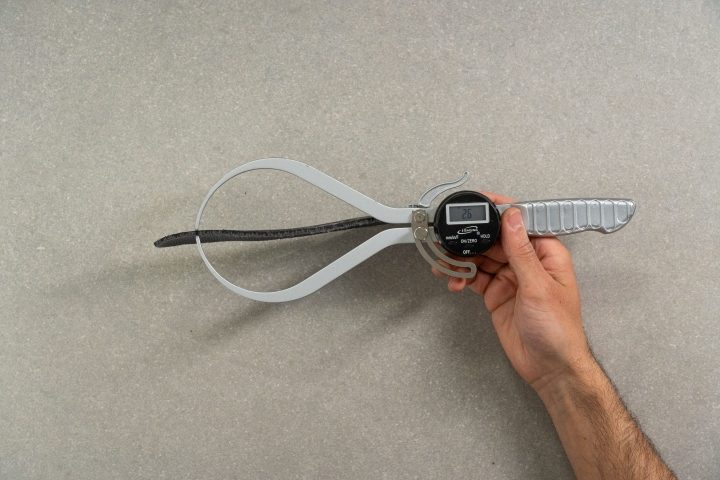 We thought that the insole was the evidence of cost-cutting in the shoe. But the good news is that it is removable and you can easily replace it with any other insole of your choice.
Adidas indeed uses a very thin insole for the Terrex AX4. It is only 2.6 mm in the heel as opposed to the average of 5.3 mm.
As for the cushioning itself, we found it to be moderately firm and protective. It is not Hoka-thick or soft and plush but we found the Terrex AX4 to be doing an excellent job of supporting our feet on long distances as well as protecting them from rock and debris.
Measuring the shoe's foam softness with a durometer, we can confirm that it is firmer than most shoes. It is actually 11% harder than the average, to be specific.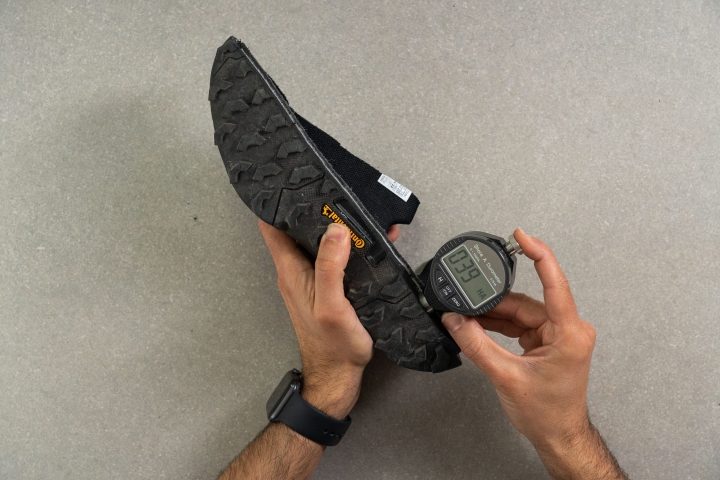 Disclaimer: We take a total of 4 durometer measurements of the open-cut foam and calculate the average. The photo above shows one of the measurements.
We also tested the change in firmness after keeping the shoe in the freezer for 20 minutes which helps to imitate cold-weather conditions. The cushioning got even harder - by 26.3% whereas other foams get about 20% firmer.
Bottom line: do not expect a plush ride from the Adidas Terrex AX4, especially on a chilly day.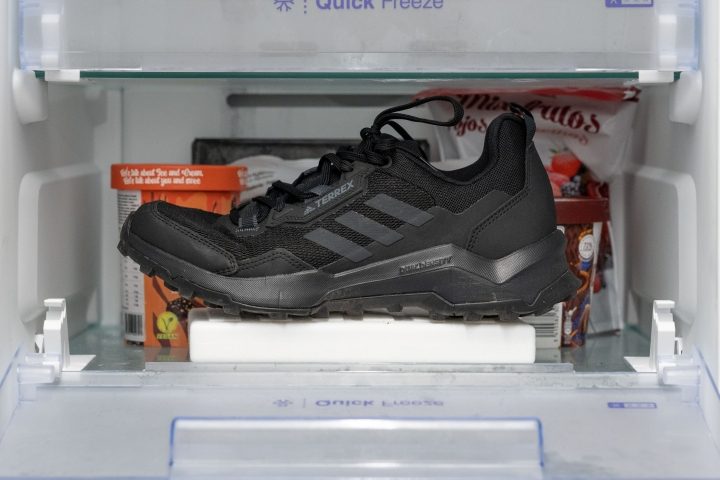 No shaky steps!
Adidas Terrex AX4 proved to be exceptionally stable. For us, wearing the shoe translates to safe steps on rocky terrain.
The shoe's wide platform is a major contributing factor to stability. We measured the widest part of the forefoot to be 111.5 mm (3.8 mm wider than average). In the widest part of its heel, it is 87.9 mm (2.6 mm wider).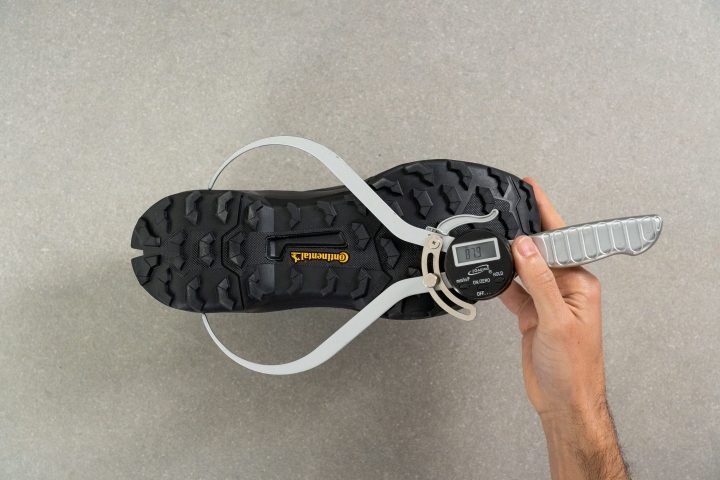 This Adidas shoe also employs a very stiff heel counter to keep the heel securely in place. We gave it 5 out of 5 on this parameter.
It is not a stiff hiker
We have noticed that the Terrex AX4 is a kind of hybrid between a hiking shoe and a trail running shoe. In addition to its rather streamlined and toned-down profile, the shoe also turned out to be rather flexible for a hiker.
In a manual assessment, we rated its longitudinal (forward) flexibility as 3 out of 5 (where 5 is the stiffest). As for torsional flexibility, we gave it 4 out of 5 (a little stiffer).
Our subjective ratings are confirmed by a resistance test. The Terrex AX4 is 25% more flexible than the average for hiking shoes. It is, in fact, closer to trail running shoes in this regard (only 17% stiffer than average).
But do take into account that the Terrex AX4 will get stiffer in low temperatures. After 20 minutes in the freezer, it got 66% stiffer while hiking shoes on average only lose flexibility by 46%.
The Terrex AX4's monster grip
We also adore the Terrex AX4's amazing traction. We never slipped an inch in this hiker, and we were able to walk and run on grass without ever slipping. We also established that it provides a perfect grip on slippery conditions, including muddy inclines and mulchy banks.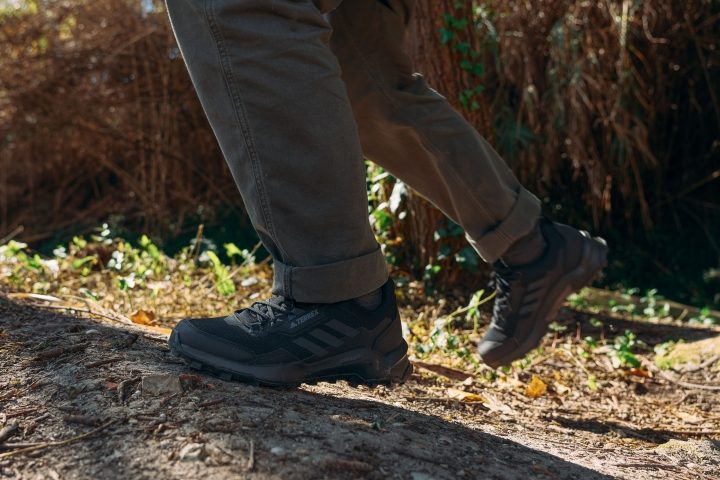 Measuring the shoe's lug depth (3.7 mm), we found that it is only slightly shallower than the average 4.0 mm. And yet, it is still within the range to tackle challenging mud and soft ground stretches.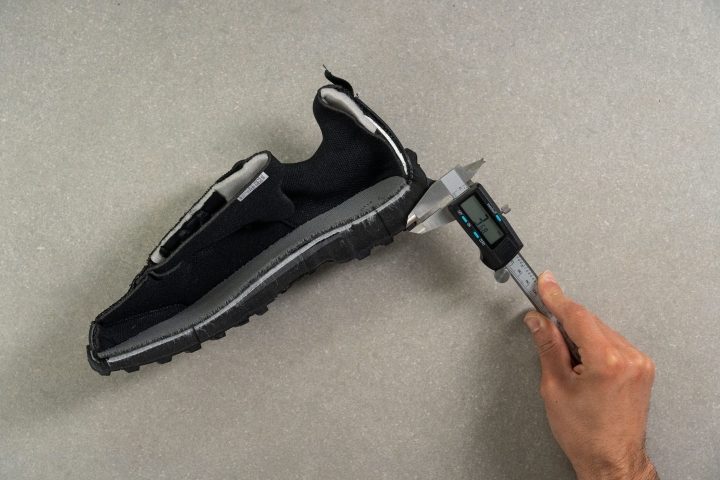 Long life expectancy for a budget shoe
We also witnessed how durable a shoe Terrex AX4 is, considering its price point.
Having checked the shoe's rubber thickness, we found that the outsole on the Terrex AX4 (2.1 mm) is 0.8 thinner than average. So, we cannot claim that it is among the most hard-wearing hiking shoes on the market.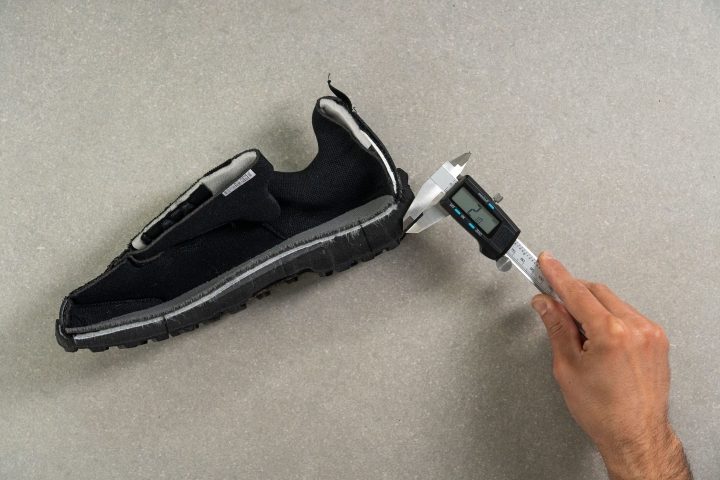 The shoe's rubber compound is also slightly softer than average, which subtracts from the shoe's abrasion resistance as well.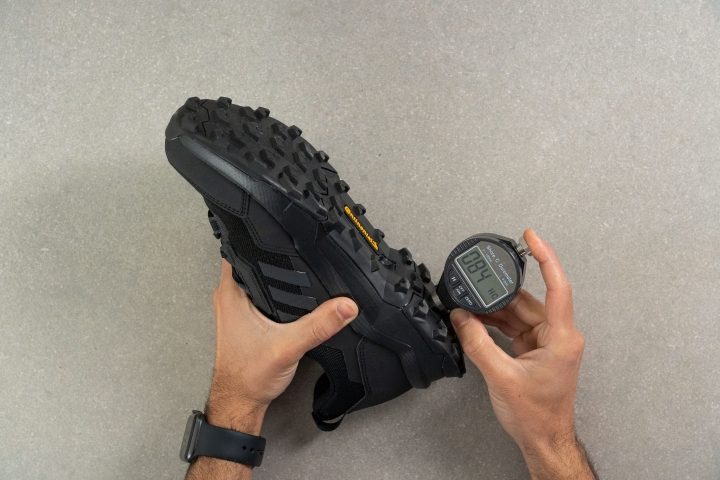 Hike light in the Terrex AX4
At 379 g or 13.4 oz per shoe, the Adidas Terrex AX4 is among the lightest trail shoes in circulation (FYI: in hiking, low-top shoes weighing 450g (15.9 oz) or less are considered light).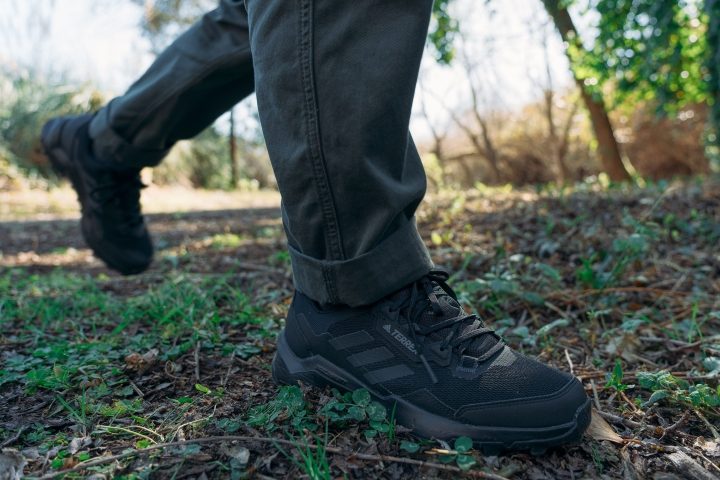 Prepare to size up in the Adidas Terrex AX4
We found the cramped toe space of this shoe a shame, though.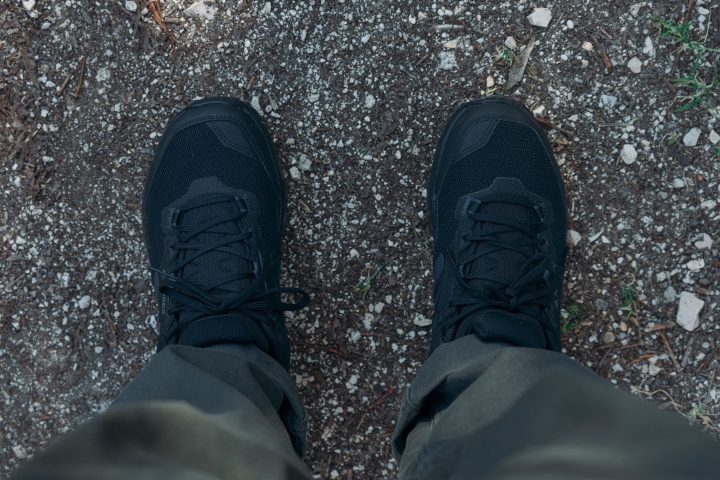 Adidas Terrex AX4 runs small and it is necessary to go at least half a size up.
On a positive note, the shoe's toebox offers plenty of toe space as long as you have the right size length-wise.
In its widest part, the shoe's forefoot is 102.1 mm. This is 3.2 mm wider than the average 98.9 mm among hiking shoes.
This Adidas shoe also does not get as narrow towards the toes as most other hiking shoes do (it remains 15% wider to be exact).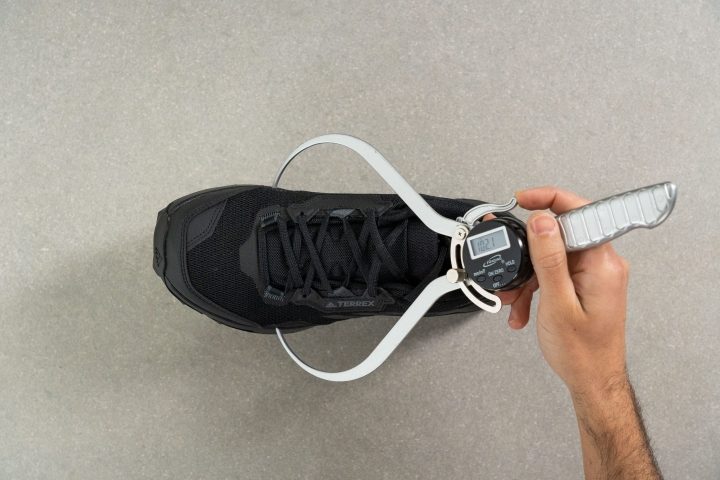 Miraculous price-wise
$90 is the Terrex AX4's manufacturer's suggested retail price (MSRP), making it quite an affordable trail kick. Also, compared with summer hiking shoes (which are NOT pricey by default), the featured hiker is cheaper by $23.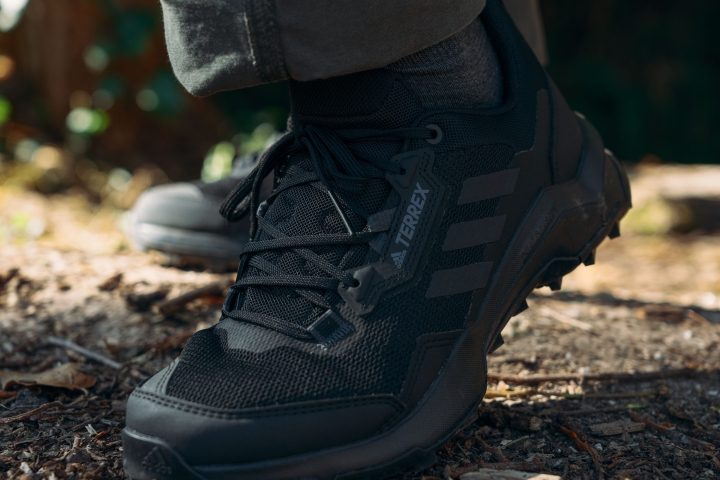 The Terrex AX4 also spells multi-purpose
We also took pleasure in the shoe's versatility. We tried using it at work and other leisure activities, and we can corroborate its usefulness in different aspects.
Even for running, whether on trails or on the road, we adored the pair.
The shoe's sustainable sibling
There is a sustainable AX4 variant, and it's called the Adidas Terrex AX4 Primegreen. It comes with an upper made with 50% recycled materials.
Complete lab-specs overview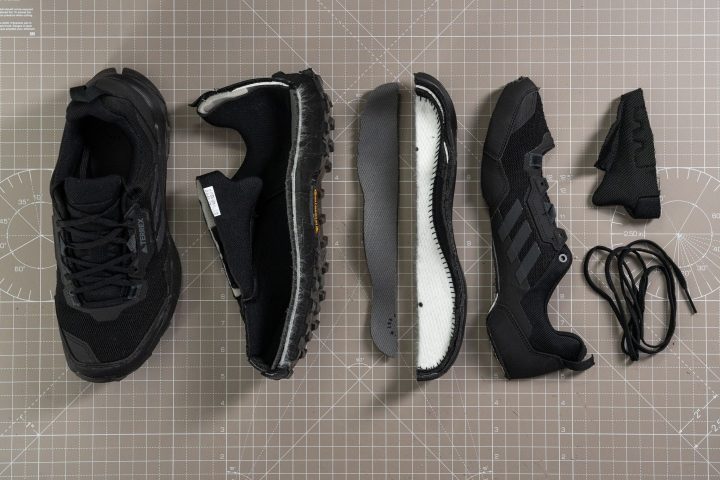 Adidas Terrex AX4
Average
Whole shoe

Weight (g)
357*
385
Drop (mm)
9.7
11.6
Overall Internal Length (mm)
256.6
257.4
Flexibility of the shoe (N)
40.4
50.6
Flexibility of the shoe (Freezer 20 min) (N)
67.1
70.8

Flexibility of the shoe (% of change)

66.2
45.8
Longitudinal flexibility (1-5 scale, 5 being the stiffest)
3
3.8
Torsional flexibility (1-5 scale, 5 being the stiffest)
4
4.0
Upper

Breathability - smoke test (1-5 scale, 5 being the most breathable)
3
2.4
Thickness - Tongue (mm)
8.1
13.3
Width Upper - Forefoot: Widest part (mm)
102.1
98.9
Width Upper - Forefoot: Big toe (mm)
77.6
73.1
Heel counter stiffness (1-5 scale, 5 being the stiffest)
5
3.8
Tongue: gusset type
attached tongue
-
Heel: pull tab
none
-
Midsole

Width Midsole - Forefoot (mm)
111.5
107.7
Width Midsole - Heel (mm)
87.9
85.3
Stack - Forefoot with insole (mm)
20.9
20.7
Stack - Heel with insole (mm)
30.6
32.3
Durometer Midsole Heel (Room temperature) (HA)
39.0
35.1
Durometer Midsole - Heel (Freezer 20 minutes)
49.3
41.6
Durometer Midsole - Heel (% of change) (TEST)
26.3
20.1
Outsole

Outsole thickness (Heel) (mm)
2.1
2.9

Lugs Depth (mm)

3.7
4.0
Durometer Outsole Heel (Room temperature) (HC)
84.0
86.6
Insole
Insole Heel Thickness (mm)
2.6
5.3
Insole: removable
yes
-
*The weight of the Adidas Terrex AX4 was measured in a men's US 8. In a US size 9, this corresponds to 379g per shoe, based on the weight measurements of over 40 sizes.