3 Best Hiking Shoes in 2023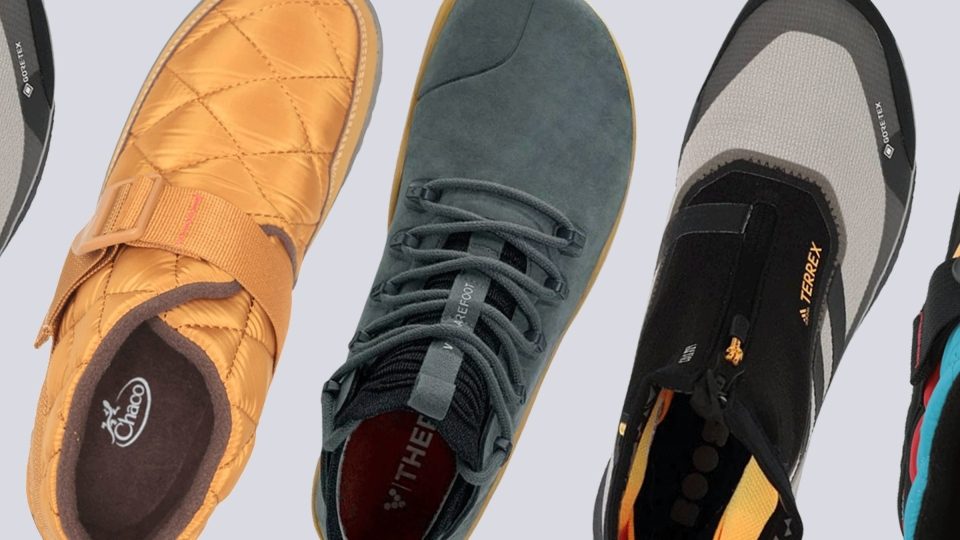 We earn affiliate commissions at no extra cost to you when you buy through us. Why trust us
Whether you're off to the icy trails or just need to protect your feet from the frigid winter weather, we've got great picks that will keep your tootsies warm, cozy, and protected. Built for the winter season, these properly insulated, cold-ready hikers will keep your footing secured on the trails.
After testing each shoe in the field, slipping and sliding on off-road paths and snowy trails, we have selected our best models that will keep you upright and comfortable all winter long. From the Adidas Terrex lineup to Chaco and Vivobarefoot, we offer really solid options to choose from.
To get you started in your search for the right fit, we've rounded up the best winter hiking shoes available out there based on our meticulous testing and investigation. Take a quick look at our top highlights below with their comprehensive reviews.
Best winter hiking shoes overall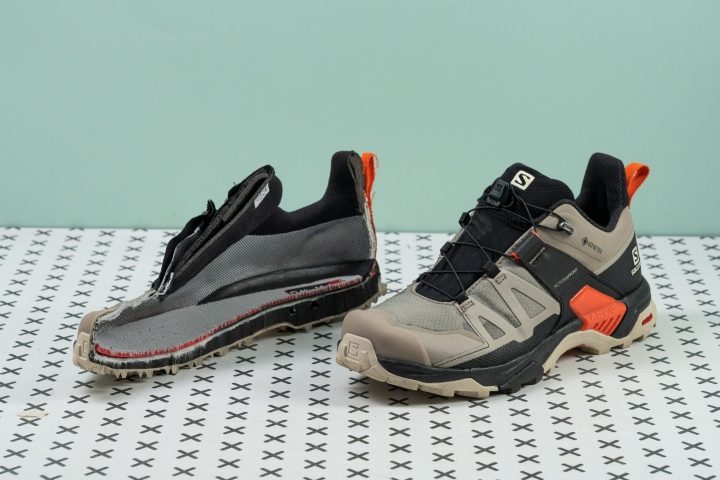 What makes it the best?
In a combination of our extensive lab investigations and test hikes, we found the Salomon X Ultra 4 is the clear choice for the best overall winter hiking shoe. It keeps our feet toasty and dry in all weather, the cushioning is perfect and the enhanced stability keeps us confident on all terrain.
The Gore-Tex lining of this shoe is spot-on, as we found when we stood in a stream to test the waterproofing. Not even a drop of water entered the shoe in shallow water. In the lab, we pumped smoke into the shoe to test for breathability. No smoke passed through the upper at all, so we awarded it the least breathable score of 1/5. We found it great for winter hiking, as it prevented heat escaping too, and kept our feet cozy!
This shoe has found the sweet spot between underfoot protection and ground feel. We measured the softness of the midsole with a durometer, finding it to measure the average of 32.5 HA. Keeping us insulated from the cold ground, we found it was responsive and still comfortable.
We experienced a stable ride in this shoe, and we found we could confidently rock hop and skip over roots. We awarded the heel counter a 5/5 for stiffness (5 being the stiffest), and it keeps our heel snugly supported without feeling too much. Salomon's Active Support System, with its combination of quick laces and a shank in the midsole, gives incredible lockdown and a whole load of confidence on rough trails.
When we tested the shoe for flexibility, we bent it to 90° with a force gauge. We found it to be 31% more flexible than the average for hiking shoes. It is definitely a matter of taste, but we don't recommend it to hikers who prefer a stiffer hiking shoe for their winter adventures.
Pros
Instant comfort
Impeccable waterproofing
Very lightweight
Exceptional grip
Excellent support and lockdown
Stable platform
Roomy toebox
Cons
Quicklace is not for everyone
Too-high collar
Full review of Salomon X Ultra 4 GTX
Winter hiking shoes with the best cushioning




































What makes it the best?
Who wants a comfortable, grippy, warm and dry hiking shoe for winter adventures?! We certainly do. We chose the Hoka Anacapa Low GTX as the best winter hiking shoe with the best cushioning for that reason. Its plush midsole is comfortable and supportive in all weathers, its meaty lugs grip on all terrain and its 5* waterproofing makes it our go-to hiking shoe in for cold, wet winter hikes.
Hoka doesn't settle for anything less that top-notch cushioning, and the Anacapa Low GTX is certainly no exception. In our lab tests, the midsole proved itself 24% softer than average when we tested it with our durometer. Not only that, but after spending 20 minutes in the freezer to simulate winter conditions, we tested it again and it had stiffened only to 27.5 HA. Even in sub-zero temperatures, it's softer than other hiking shoes at room temperature by 10%! We find this an exceptionally comfortable shoe all year round.
We tested this shoe on rocks, gravel, mud, snow and ice, and we were amazed at how well it handles everything. Back in the lab, we measured the lug depth with a caliper. It turns out the Hoka Anacapa Low GTX sports chunky 5 mm lugs, 17% deeper than average. No wonder we felt footsure and secure on our hikes!
The 10/10 waterproofing in this shoe is limited only by the collar height - in every other way it is completely flawless. It withstood 5 minutes standing in water, and our feet stayed completely dry! Our microscope images show how difficult the densely woven upper makes it for water to pass through. We even pumped smoke into the shoe to check how porous the upper is. No smoke seeped out, so we awarded it 1/5 for breathability - the lowest score, which indicates the highest waterproofing ability.
We don't recommend the Hoka Anacapa Low GTX to backpackers due to their lack of ankle support. Alongside their soft midsole, we didn't find they provided us with enough support for carrying a heavy rucksack.
Pros
Mind-blowing cushioning
Podiatrist-approved sole
Excellent grip
Top-notch waterproofing
Lightweight
Out-of-the-box comfort
Roomy toebox
Well-made
Contains recycled materials
Cons
GTX version only
Pricier than average
Weird-looking heel
Full review of Hoka Anacapa Low GTX
Winter hiking shoes with the best stability






































What makes it the best?
On our winter hikes, we look for a stable shoe that keeps us from twisting an ankle, can grip well on frosty or icy surfaces, and remains comfortable in the cold. We found all that - and more! - in the Adidas Terrex Swift R3 GTX, making it our most stable winter hiking shoe.
We put the Adidas Terrex Swift R3 GTX through its paces on the trail and in the lab and we were blown away by its unbeatable stability. The Pro-Moderator technology embedded in the midsole is a force to be reckoned with, and prevents our ankles from rolling. With a firm heel counter rating 4/5 and a very rigid structure rating the stiffest score of 5/5, we felt secure and protected from twists and sprains. Overall, this shoe feels as solid as a boot on our feet, while retaining the freedom of a hiking shoe.
Snowy or muddy surfaces are no match for this shoe. Their 4.4 mm lugs are slightly deeper than the average 4.3 mm, and provide unmatched traction on everything from soft, muddy trails and snow to slippery rocks and asphalt. The rugged Continental outsole wins us over every time with its well-spaced chevron design, which sheds mud and stops us from slipping on loose descents.
With a heel stack 9% higher than average, our landings are superbly comfortable in the Adidas Terrex Swift R3 GTX. We measured the plush midsole at 26 HA, making it 18% softer than average. What makes this such a good choice for winter hikes is that, after 20 minutes in the freezer and retesting with the durometer, the midsole had only become 17% firmer, measuring 30.5 HA, which is around the firmness of most hiking shoes at room temperature. In short, this shoe gives us a plush, comfy ride in all weathers!
We don't recommend this shoe to hikers who prefer a low heel-to-toe drop and natural walking feel. With a heel stack height measuring 36.6 mm and a more flexible forefoot stack of 20.7 mm, the drop is a huge 15.9 mm. Since the average drop in hiking shoes is 12 mm, this may not be suitable for all hikers.
Pros
Boot-like stability
Highly durable and protective
Lightweight for what it offers
Excellent waterproofing
Breathable for a GTX shoe
Generously cushioned
Very secure foothold
Top-notch grip with deep lugs
Cons
Stuffy for summer
Can be too stiff (even stiffer in cold)
Break-in needed
Full review of Adidas Terrex Swift R3 GTX
Comparison of the 3 best hiking shoes
| | | | | |
| --- | --- | --- | --- | --- |
| Best | | | | |
| CoreScore | | | | |
| Users rating | | | | |
| Experts | | | | |
| Best price | | | | |
| Ranking | | | | |
| Popularity | | | | |
| # of colorways | | | | |
Just because it's winter does not mean you have to stop hiking. Winter is one of the most beautiful times of the year to enjoy hiking– so long as you are prepared.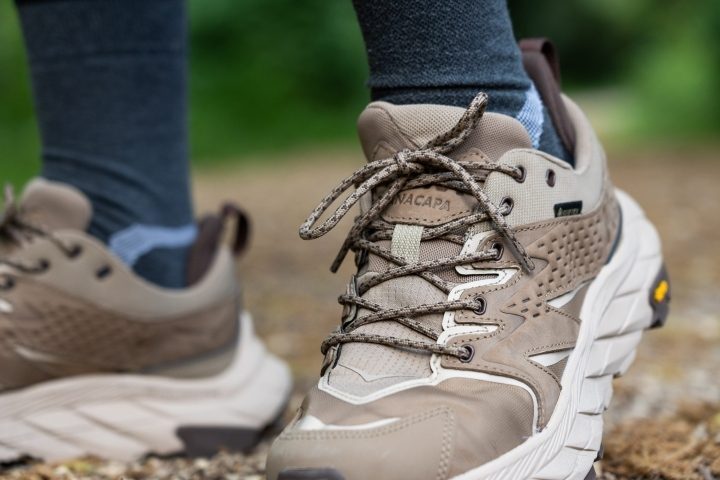 One of the most important ways to ensure you can enjoy the crisp and quiet trails the winter season provides is by equipping yourself with the best winter hiking shoes.
The core concepts of winter hiking shoes
When shopping around for winter hiking shoes, there is a lot to consider– grip, waterproofing, stability, closure systems, lug patterns, sizing, and manufacturer's reputation.
To help you decide, we went ahead and highlighted five core concepts of hiking shoes designed for winter.
Traction on slippery surfaces
Traction on winter hiking shoes makes all the difference. If you cannot reliably walk in your hiking shoes over wet, slippery, and icy terrain, then it won't matter how warm your feet are because you won't be going outside.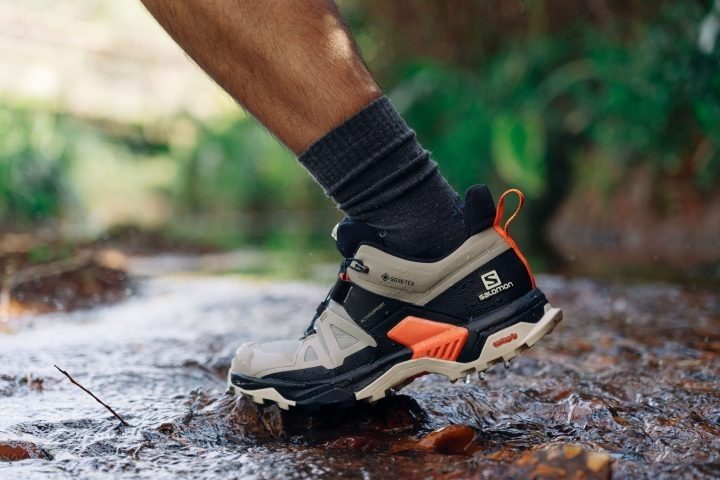 Good traction comes from a combination of deep tread patterns with pronounced lugs and high-quality rubber compounds.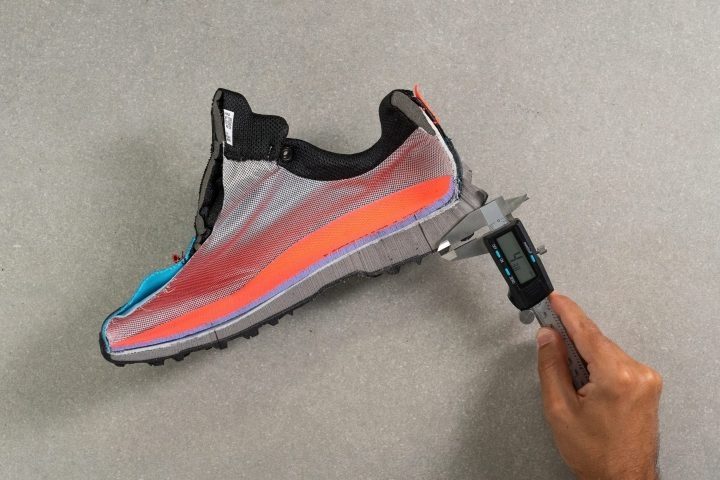 Lug depth matters a lot in winter. Look for at least 4 mm, better 5 mm.
Waterproofing to keep your feet dry
Waterproof shoes can be very important for winter. Waterproof membranes on the shoe's interior prevent moisture from getting inside. The drier, more insulated environment will keep your feet a lot warmer.
See how little air passes through a waterproof GTX hiking shoe
Hiking shoes that are waterproof may sound mandatory. However, waterproofing for winter hiking shoes is only necessary if you expect to experience prolonged exposure to cold and wet weather.
Otherwise, the extra weight and cost, combined with the decrease in breathability, may not be worth it. If the temperatures are not too low and you are wearing thicker socks, a hiking shoe with water-resistant materials may be a better option.
Reinforced toe cap for durability and protection
If you think bashing your toes on a quick descent hurts in warm weather, try doing it with cold toes. That's why toe caps are essential for providing protection to your toes on rough and rocky trails.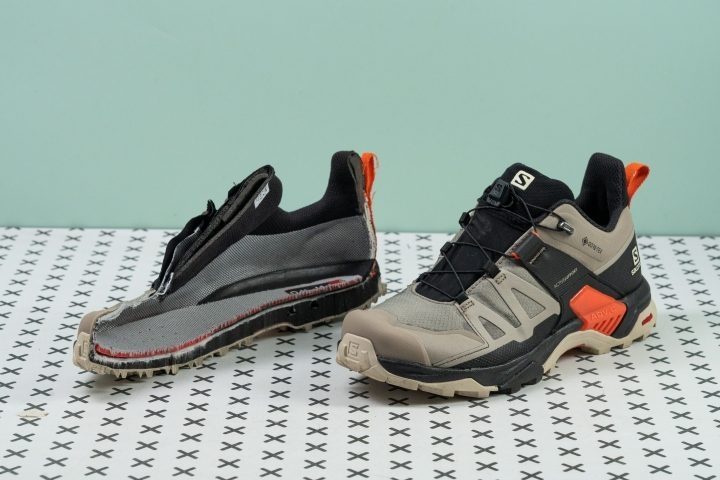 A good example of a reliable toe cap can be found on the Salomon X Ultra 4 GTX
Gusseted tongue to keep out snow
If you are interested in a pair of hiking shoes that don't have a gusseted tongue, then we would recommend straying away.
A gusseted tongue is an updated version of the regular shoe tongue. A gusseted tongue is closed and sewn to the sides of the hiking shoe. This design prevents moisture and debris from sneaking into your shoes through the laces.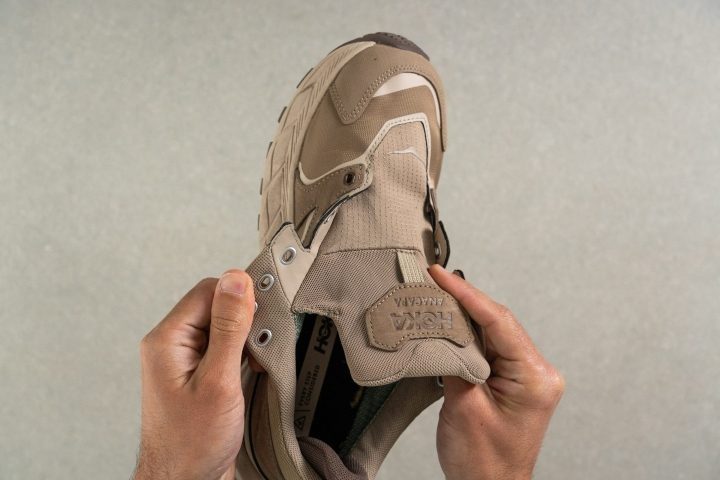 Ideal socks for winter hiking
When it comes to the best socks for winter hiking, there is only one good answer– merino wool. Merino wool comes from Merino sheep that graze in the highlands of Australia and New Zealand.
Since the 12th century, Merino sheep have been prized for their soft and reliable fleece. Since then, Merino wool has been included in spinning technology and fiber treatments to create outstanding fabrics that consistently outperform cotton and other synthetic materials.
Merino wool is well known for its numerous advantages.
It provides excellent insulation for cold weather.
It transports moisture or wicks it away from your feet so it can evaporate.
It is lightweight and keeps its shape.
It's well known for its anti-static and anti-odor properties.
Merino wool socks will come in a variety of shapes. We recommend mid-calf crew socks or quarter-calf anklet socks for hiking shoes and boots.
Wool socks will also come in different thicknesses. Thin and lightweight socks are best for hiking on warmer days or on more accessible trails. Midweight socks are slightly thicker and ideal for more demanding trails and colder temperatures. The thickest socks are best for hard hikes and frigid temperatures.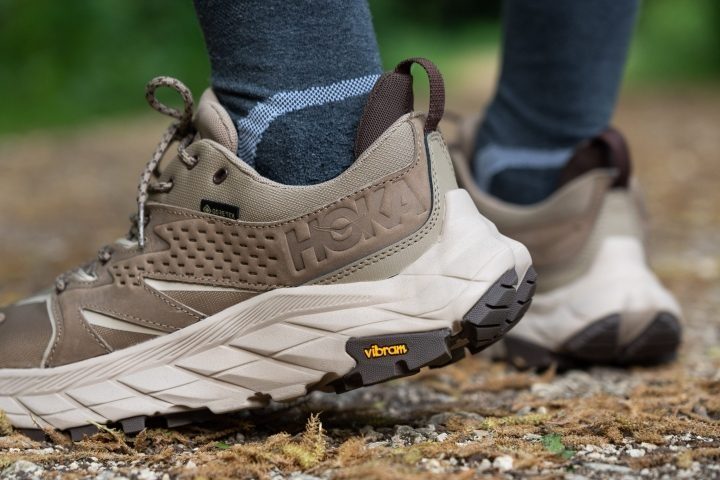 Tips for keeping your feet warm
One of the most important things you can do to keep your feet warm for winter hiking is to invest in the right pair of shoes. That's why you're here, reading this article.
However, there are a couple of other tips we wanted to share with you that might also help keep your feet warm during all your winter adventures.
Use toe warmers
Toe warmers are an effective, lightweight, and economical way to get more warmth inside your hiking shoes. During the winter season, we recommend keeping a few packs of warmers in your car or a go-to hiking backpack, even if you don't plan on using them.
The fallback of toe warmers is that they are only single-use and must be thrown out afterward. Below we have some more sustainable options to keep your feet warm.
Add another insulating liner or insole
If you know your feet get cold often and want to plan ahead, you might consider sizing your hiking shoes big enough to accommodate an additional insulating liner or insole.
Winter liners and insoles are typically made from felt or wool. Winter shoe liners resemble socks that integrate within your hiking shoe. After-market insoles replace the original insoles and provide added warmth and cushion.
Try a pair of gaiters
Gaiters are protective sleeves that attach to your hiking shoe. They protect the lower legs and cover the tops of your shoes. They block dirt, snow, ice, and rain from entering through the laces or around the shoe's cuff.
Gaiters are easy to take on and off. By attaching gaiters to your hiking shoes, you temporarily transform them into hiking boots for the time being. Plus, gaiters can be used on multiple pairs of shoes.
We really like the Adidas Terrex Free Hiker Cold RDY because of the integrated gaiter closure system.
Avoid over-tightening your laces
A common mistake many hikers make is over-tightening their hiking shoes, believing they will keep their feet warmer. However, overtightening your shoes may end up causing you trouble in the end.
Overtightening can reduce blood circulation to your feet if not completely cut off. Poor circulation to the feet will make them colder over time. Overtightening can also prevent heat from escaping and moisture from evaporating from the shoe's interior. This may result in sweaty and uncomfortable feet.
Instead, tighten your laces as loose as possible without sacrificing stability and support.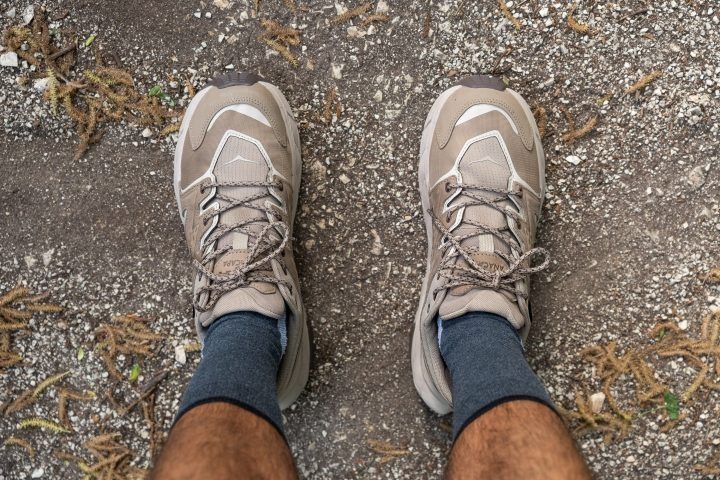 How we test hiking shoes
To make this recommendation, we've thoroughly tested all models in actual winter hiking jaunts, covering 30+ miles for each pair of shoes. We've also checked and analyzed the footwear inside our RunRepeat shoe lab to determine the quality of the materials and technologies used.
Our selection process involves doing these steps:
We invest our time, energy, and our own resources to procure winter hiking shoes. This allows us to remain 100% independent and objective when giving our assessments.
We take each model on real-life winter hiking excursions to personally assess its actual fit, insulation, traction, stability, durability, and support, among others. We test the models further to determine if they can handle moderate to extreme winter conditions.
We collect more information from the test results inside our lab. We even reach a point where we dissect the shoes just so no part is hidden from our scrutiny.