6 Best Hiking Shoes For Women in 2023
We earn affiliate commissions at no extra cost to you when you buy through us. Why trust us
If you are like us, you would prefer to don the ideal pair for your daily excursions in the backcountry. Having tested over 300 stellar hiking shoes for women, we give you top-of-the-line trail kicks that can level up your game out in the wild.
Do you need something agile yet fully capable of hauling a moderately heavy pack? Or maybe a hiker that underscores well-roundedness? What about an ultra-affordable shoe? Whatever you need, we got them all down below.
How we test hiking shoes
At RunRepeat, we know full well that female hikers demand trustworthy and unbiased hiking shoe reviews. To be on top of that, we live by the following:
We buy all women's hiking shoes with our own funds.
We hike in every pair under a variety of outdoor settings, including inclement conditions.
We gather thousands of expert and user reviews and reflect them in ours.
Each hiking shoe then receives a CoreScore — RunRepeat's in-house grading system that helps us define and flesh out the best trail hikers for women.
Comparison of the 6 best hiking shoes for women
| | | | | | | | |
| --- | --- | --- | --- | --- | --- | --- | --- |
| Best | | | | | | | |
| CoreScore | | | | | | | |
| Users rating | | | | | | | |
| Experts | | | | | | | |
| Best price | | | | | | | |
| Ranking | | | | | | | |
| Popularity | | | | | | | |
| # of colorways | | | | | | | |
Historically, hiking shoes were mainly designed with the male hiker in mind. Nowadays, most hiking shoe manufacturers design female versions of their hiking footwear to complement their male counterparts.
In some cases, there are even women-specific hiking shoes that do not have a male counterpart.
Women's hiking shoes vs. boots
The most significant difference between women's hiking shoes and boots is the height. Hiking shoes have a low-ankle design, while boots usually have a high-ankle design.
Hiking boot
Hiking shoe

Veteran hikers herald the high-ankle design of hiking boots for extra support and protection.

The additional coverage is irreplaceable for exceptionally rugged and rocky trails, especially if you are prone to rolling your ankles or hiking with a heavy load on a multi-day effort.

Those of us hiking on more moderate terrain with mellow and intermittent sections of technical terrain do not need all of the support and protection that boots provide.

Average weight (women's)

460 g

315 g
The classic hiking boot characteristics of extra traction and waterproofing are excellent for this type of hiking, but the hiking boots' added weight and bulkiness might be unwarranted. That is where the hiking shoes shine.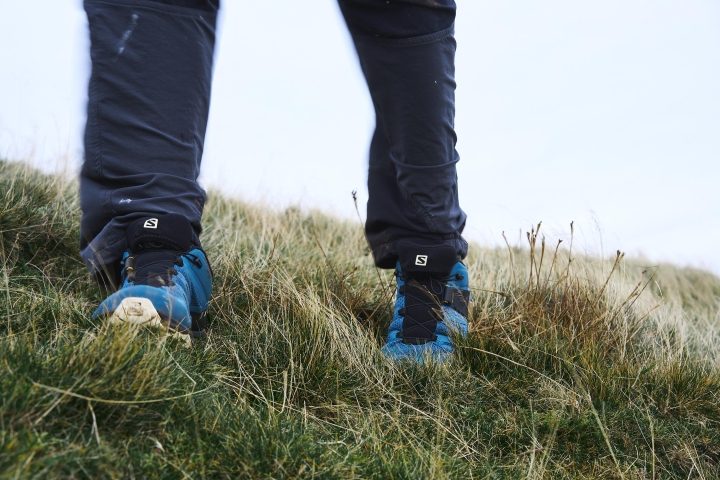 These days brands like Merrell, Salomon, and Adidas, among others, offer technical hiking shoes for women that help you move confidently uphill and downhill over dirt, gravel, rock, sand, and other terrain types without the bulkiness of boots.
In the past decades, hiking footwear has been trending towards lighter-weight materials and designs. Hiking shoes exemplify this new trend–they are designed to get many of the qualities of hiking boots without the extra weight. Gone are the days of big and bulky leather boots.
What sets women-specific hiking shoes apart from men's
Women-oriented last
Generally, women-specific hiking shoes are designed to accommodate higher arches and narrower heels. They have less volume in the toe box and heel cup to accommodate the smaller, slimmer female foot.
Lighter weight
Women's hiking shoes typically weigh less than men's shoes.
Different colorways
Lastly, women's hiking shoes boast different colorways than their male counterparts.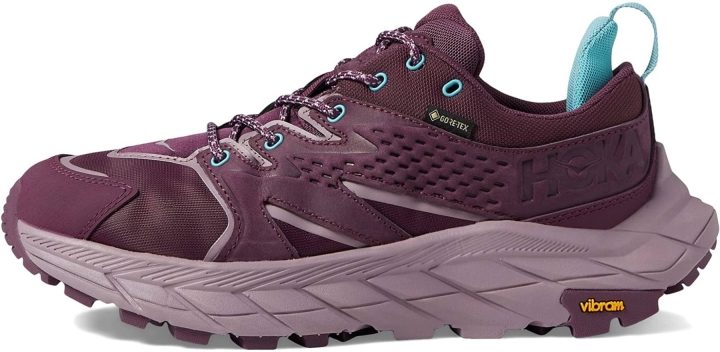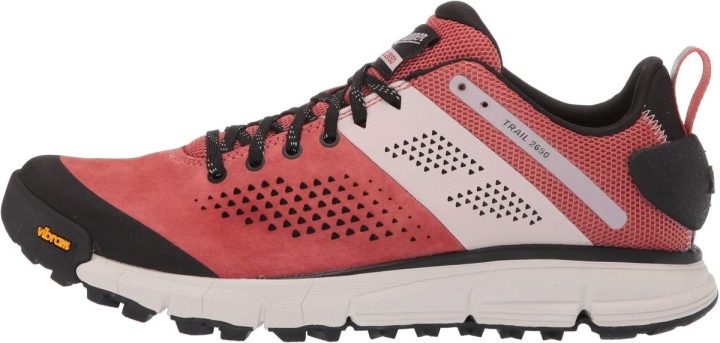 Converting women's size to men's
However, it is essential to note that some women might be better off wearing a men's model. This is particularly true for women with higher-volume feet.
To get the right size, go down 1.5 US size from your regular boot size. Example:
| | |
| --- | --- |
| Men's | Women's |
| US 5.5 | US 7 |
| US 6.5 | US 8 |
Waterproofing isn't only for hiking boots
It is inaccurate to think that to get waterproof trail shoes, you need to invest in hiking boots. In the past, before the conception of hiking shoes, this may have been true when the only other option would be to go hiking in tennis shoes or sneakers. However, modern women's hiking shoes now boast waterproof materials just like boots.
With that said, however, it is essential to consider how much water you intend to deal with before investing in a pair of shoes.
Waterproof hiking boots
Waterproof hiking shoes
Breathable hiking shoes

If you are preparing for a multi-day trip with the potential for multiple water crossings, then hiking boots are the preferred footwear. The same could be said if your local climate and hiking terrain gets a lot of precipitation.

See our selection of the best waterproof hiking boots for women.

If you like dry feet when dodging the occasional storm and not-too-deep puddles, there is no better option than a waterproof shoe.

See our list of the best waterproof hiking shoes for women.

And, of course, if you are a fair-weather hiker (there's no shame in that) or if your local climate is arid and does not experience a lot of annual precipitation, waterproofing may not be unnecessary for your hiking footwear in the first place. Waterproof hiking shoes may even inhibit your comfort in dry environments because their waterproof materials are notoriously less breathable.

See our catalog of the best breathable hiking shoes for women.
Gore-Tex is one of the most effective and popular waterproofing membranes used on top-rated hiking footwear. Learn more in our guide on Gore-Tex hiking shoes.
Reapplying the waterproofing on women's hiking shoes
As you can imagine, when hiking shoes are brand-new, the waterproof layer functions very well.
However, unfortunately, the waterproofing on your shoes may degrade over time. Regular wear and tear and exposure to grime, dirt, insect repellent, detergents, and other materials can reduce its lifespan.
Once water no longer beads and runs off your shoes, it's time to reapply a durable water repellent (DWR). A DWR is an ultra-thin water-repellent polymer applied to the exterior materials of the upper of your hiking shoe.
We will not tell you which specific DWR to apply in this article. However, we will make a necessary recommendation– only use DWR treatments recommended by the shoe manufacturer and always double-check the manufacturer's care instructions.
Restoring the DWR on your hiking shoes will help ensure your feet stay dry, comfortable, and more protected.
Lacing types in hiking shoes for women
The lacing design and closure system of hiking shoes is vitally important. They play integral roles in the shoe's fit, comfort, and performance.
For example, if a shoe's lacing design or closure system needs to be better designed, you may constantly make adjustments while on the trail. Or worse, you might end up with hot spots and blisters from your foot swimming around the interior of the hiking shoe.
When dealing with lacing or closure system issues, stopping and identifying the problem before injuring yourself is essential. Once you've identified what might be wrong, hopefully, it's a quick fix. Otherwise, you may need to move on to better-fitting shoes.
Here are some tricks you can try to troubleshoot the problem.
Try replacing the laces.
Switch out the socks you have been wearing.
Lace your shoes with a "runner's loop" or one of these lacing techniques depending on the problem you are experiencing.
What's up with single-pull lace designs?
Most of the women's hiking shoes we've reviewed in this article have a standard lacing system. The laces run from the front of the shoe, crisscrossing on their way to the eyelets located at the top of the shoe by the tongue.
Suppose you have finicky feet or specific standards for how you like your hiking shoes to fit. In that case, you will enjoy the traditional lace design and closure system because it allows you to customize how the shoe fits every time.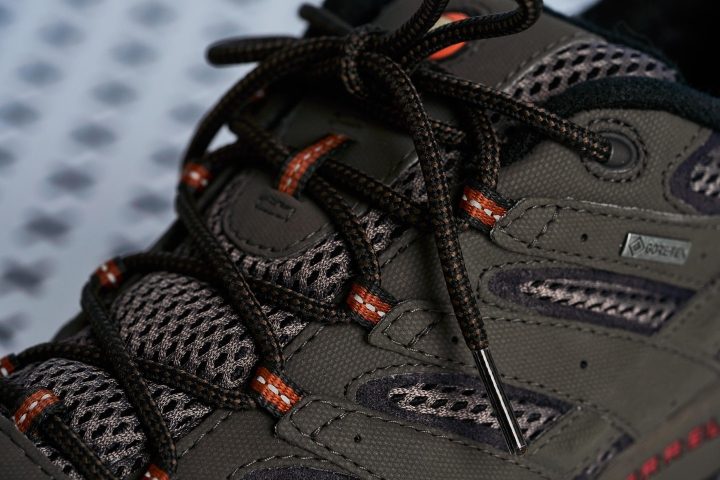 However, what about the single-pull closure system such as the Salomon Quicklace?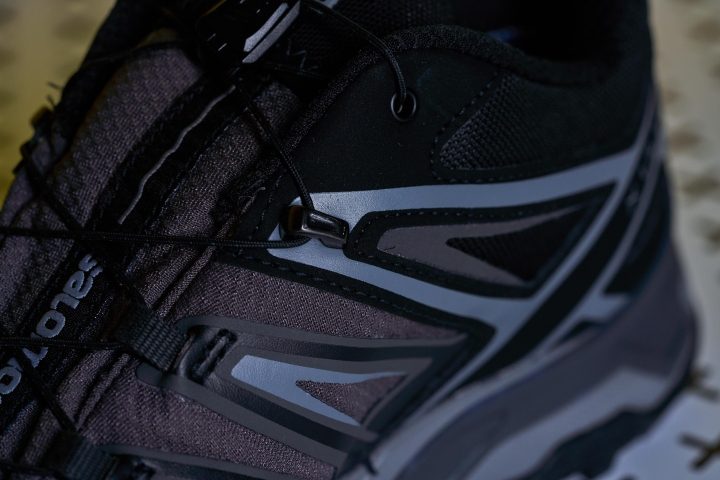 Single-pull closure systems were designed with convenience in mind. With a few quick tugs on the lower laces or arms of the shoe, you can then pull tautly on the remaining single shoelace and tighten everything at once. For some shoes, like the Salomon X Ultra 4 GTX, you can tuck the excess laces into a shoelace pocket on top of the tongue.
When designed correctly, single-pull closure systems secure your foot and create a uniform fit around your foot without getting into the weeds of micro-adjusting each lace. This is perfect for those who like to lace up quickly and get moving.
Frequently asked questions about women's hiking shoes
Can I wear my hiking shoes on the pavement?
Yes, you can wear your hiking shoes on the pavement. This makes the hiking shoe ideal for getting to and from the trailhead, running errands after a hike, or going to the bar for happy hour after a long day in the mountains.
However, the outsoles of your hiking shoes will wear out faster if you consistently wear them on the pavement. For that reason, if you can help it, try not to wear your hiking shoes on dog walks around the neighborhood.
Save traction for the trails.
What socks are best for women's hiking shoes?
Choosing the right socks to wear with your hiking shoes could be a full-length article.
However, ankle-height or crew socks are your best bet for hiking shoes. The material you choose and the thickness of the sock will depend on the local climate and your cushioning preferences. That said, wool is the most popular fabric for hiking socks.
Do shoes really breathe?
Yes, believe it or not, shoes do breathe. Therefore, the breathability of a shoe, or lack thereof, should be an item you consider when investing in hiking shoes.
The breathability of a shoe is affected chiefly by the materials used to construct the upper part of the shoe. The type of upper material a shoe is constructed with is also directly correlated to the shoe's intended longevity (durability) and waterproofing.
Woven synthetic nylon and mesh are typically considered the most breathable. On the other side of the spectrum, leather materials and Gore-Tex are considered less breathable.
Breathability is crucial if you know your feet run hot. Breathability is also important to consider along with the climate. If you know the climate you enjoy hiking in or plan to hike in will be hot and arid, breathable shoes will improve your comfort. However, you don't need to worry about breathability if you are gearing up for wet or cold weather.
How long will it take to break in my new women's hiking shoes?
If you are investing in hiking shoes to prepare for a big trip or a new hobby, properly breaking in your shoes will be vitally important.
To properly break in your shoes, we recommend spending at least two weeks (if not longer) wearing your hiking shoes to help break them in. We recommend wearing them around the house for prolonged periods. This will help you break in the shoes without dirtying or damaging them, just in case you want to return them.
Breaking in your shoes for at least two weeks will soften them up and ensure they have time to conform to your feet. Plus, if you run into any issues with hot spots, you can address the problem before you treat an injury while you are on the trail and miles deep in the backcountry.