7 Best Hiking Boots in 2023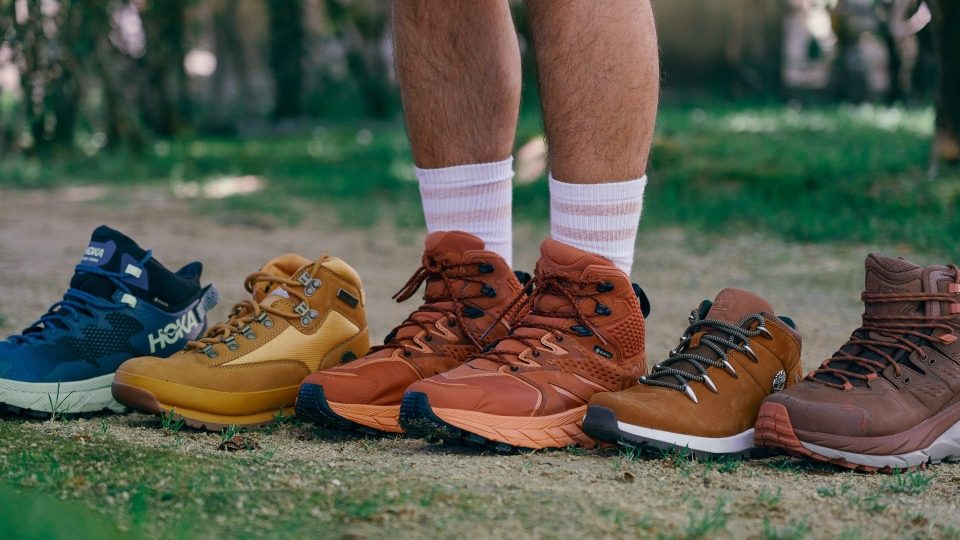 We earn affiliate commissions at no extra cost to you when you buy through us. Why trust us
Confused about what to buy after seeing the hundreds of boots available online? Well, worry not. Whether you're a beginner hiker planning to go on a nature walk or an experienced backpacker looking for a new pair of kicks, our list of best hiking boots and the detailed guide are here to help make your boot hunting experience a breeze.
Having tested over 80 pairs of hiking boots, we know what makes the best one. Whether you're looking for a heavy-duty trailblazer or a lighter option for some speedy hikes, we have selected our top picks in five different categories.
How we test hiking boots
RunRepeat aims to help boot shoppers find the right hiking boot without going through the hassle of checking thousands of user opinions and hundreds of retailer sites. When it comes to reviews, we offer one of the largest databases. Here's a quick overview:
Choose from over 400 hiking boots
We have analyzed reviews from 900+ experts and 110,000+ users
If you're a numbers-kind-of-guy or gal, we already did the statistics for you and calculated the ratings for each shoe. Our CoreScore (which is a rating from 0-100) will help you easily gauge how liked the shoe is by our experts and its users.
Comparison of the 7 best hiking boots
| | | | | | | | | |
| --- | --- | --- | --- | --- | --- | --- | --- | --- |
| Best | | | | | | | | |
| CoreScore | | | | | | | | |
| Users rating | | | | | | | | |
| Experts | | | | | | | | |
| Best price | | | | | | | | |
| Ranking | | | | | | | | |
| Popularity | | | | | | | | |
| # of colorways | | | | | | | | |
Hiking boots: are they necessary?
There's probably a time when you've thought of wearing your reliable beaters, Dr. Martens or flip-flops for hiking. Since it's just a walk up the mountains, your everyday Chucks might just be able to survive the beating. The question is: would your feet make it?
If you're the type who has strong ankles and likes to travel light, then your trail runners or sandals might just make it. Keep in mind though, that however strong you think your feet are, there are hiking adventures that will require you to wear non-slip hiking boots. Checking the mountain's hiking rules is always a good idea to avoid any unnecessary hassle on your part.
Hiking boots vs hiking shoes and other footwear
Generally, when hiking, your footwear needs to be grippy, stable, supportive, and protective. While hiking boots offer these benefits, we're not saying that it's always an ideal option.
In case you're wondering what hiking boots have that trail runners, hiking shoes, and whatnots don't, here's a side-by-side comparison.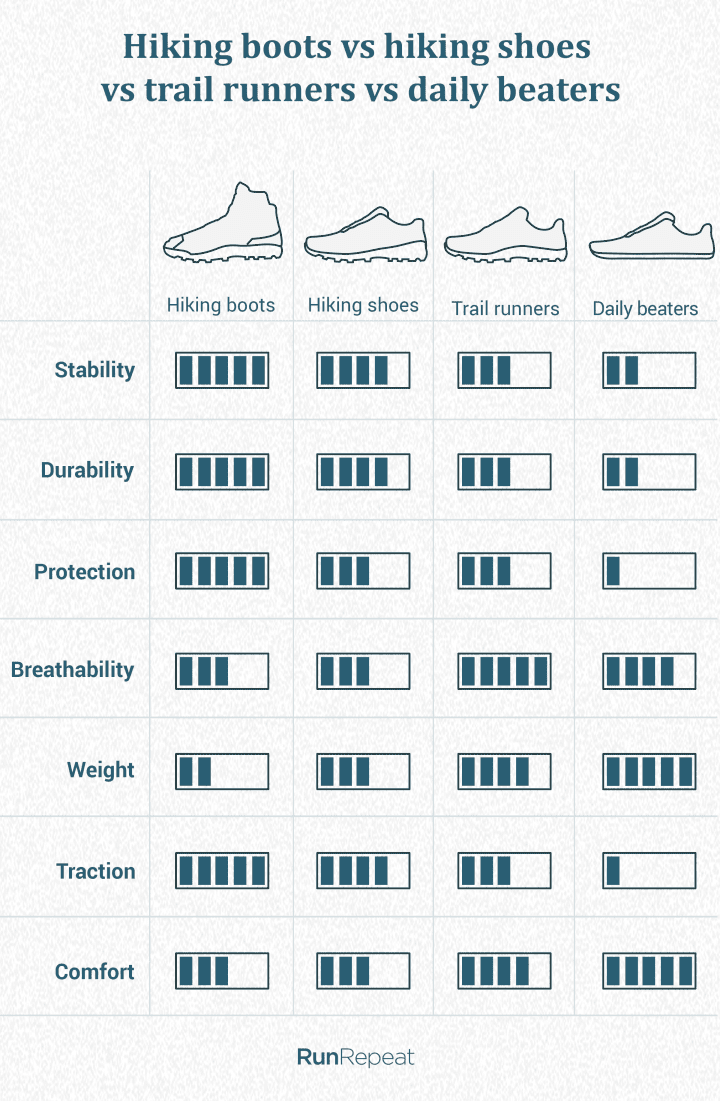 NOTE: The ratings are based on how each type of footwear performs in general. This does not, however, apply to each model that exists. The ratings will vary depending on the make and model of the shoes.
Types of hiking boots (based on your hiking plans)
Before you finally click on that buy button, have you considered checking the difficulty level of your upcoming hike? Hiking trails have levels of difficulties and include a variety of terrains. Knowing the elevation and distance of a hike (plus the weather condition on that day) will help you figure out the right footwear to wear.
When it comes to difficulty, trails can be rated from easy to very strenuous. Below, you'll find the various difficulty levels of trails as defined by the National Park Service (NPS). As a bonus, we also added the types of boots that will work best for each difficulty level.
NOTE: The weather condition or season will definitely affect your choice. Hiking during the summer will require you to wear breathable kicks. On the one hand, insulated hiking shoes are recommended for winter hiking.
Hiking boot anatomy and why it matters
The construction of a hiking boot plays an important role in the footgear's performance. You need to determine the kind of hike you're planning to take so you can choose the appropriate boot configuration.
Here are the major parts of a boot, common materials used, and their key benefits as well as their flaws.
Common Materials Used
Key Benefits
Could-be-betters

Upper

Leather (Suede/ Nubuck/ Full-grain)
- Durable (material can last for years)
- Stable and supportive
- Comfortable overtime (this material most often molds to the shape of the foot over time giving hikers a customized fit)
- Feels warm (making it perfect for cold-weather conditions)
- Naturally capable of repelling water
-Takes a long time to break-in
-Full-grain leather boots are heavy on the feet
-Less breathable
Synthetic Mesh/Nylon
-Breathable
-Dries quickly
-Weighs less
-A more affordable option
-Feels softer out of the box
-Prone to wear and tear
-Provides limited support and stability
-Tends to absorb water

Midsole

EVA
-Soft to mildly stiff cushioning underfoot
-Much more flexible
-Lightweight
-Less supportive
-Tends to compress over time
PU
-Supportive (helps when carrying a heavy pack)
-Durable
-Feels stiff out of the box
-Weighs more
Nice to know: Some boots are made with shanks or plates placed in between the midsole and outsole improving the boot's stability. This equates to less foot-fatigue. The plates also prevent bruising underfoot caused by sharp rocks.

Outsole

Soft rubber
-Stickier
-Flexible
-Lighter
-Best used when scrambling in rocky terrain
-Mediocre performance on muddy trails
Hard Rubber
-Durable
-Stable
-More protective
-Lacks flexibility
-Feels heavy underfoot
-Less traction on sleek surfaces like wet rocks
Nice to know: Deeper outsole lugs offer better grip on muddy terrain and shed debris with ease
Waterproofing in hiking boots
Some of the things you will encounter when hiking or backpacking are rivers, streams, and muddy trails. Enter waterproof boots, or should I say water-repellent boots, or maybe water-resistant boots - now you're at a loss. Don't fret though. We're here to help you decode those confusing labels.
Water-resistant
Water-repellent
Waterproof
General characteristics
a tightly woven fabric that is naturally capable of resisting water upon contact
fabric treated with durable water-repellent (DWR) or hydrophobic chemicals
-fabric treated with DWR
-have waterproofing membranes like Gore-Tex and OutDry
-have seam-sealed construction for extra protection
Water protection level
low water protection
moderate water protection
high water protection
Water pressure resistance
0-5000 mm (no pressure or moisture)
6000-10000 mm (light pressure)
10000-20000 mm (high to very high pressure)
Weather conditions best used in
light rain shower and dry snow
light rain and average snow
moderate to heavy rain and average to wet snow
Take note, however, that when a shoe is waterproof, its breathability decreases due to the added layers (regardless if it's made with the popular Gore-Tex or other waterproofing membranes out there). It would also feel heavier compared to water-resistant and water-repellent hikers.
So, if you value breathability and weight and you plan to take an adventure in the hot tropics, consider non-waterproof boots that are quick-drying. If you have to go with regular boots, you can always turn these into water-repellent ones by using waterproofing sprays that cost around $5 to $25.
Other important features in hiking boots
Yes, there are other things worth considering when out boot hunting. Here are just a few of them: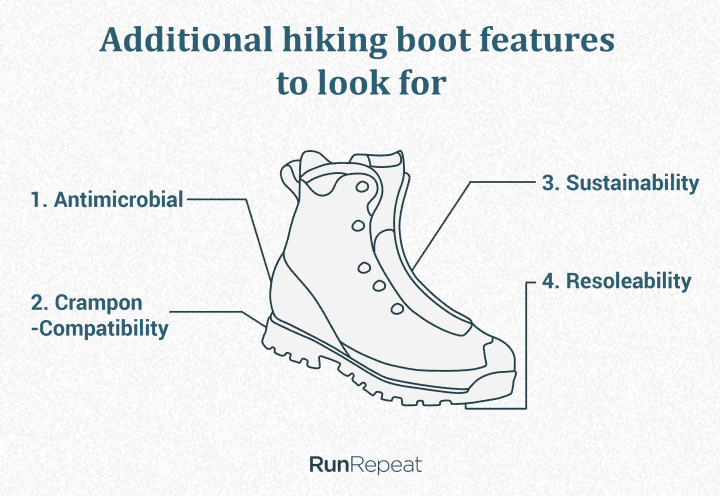 How to know that you have the right fit in hiking boots
When fitting hiking boots, it is vital to ensure the fit is snug (not too loose, not too tight). How? Try these methods out.
Go shoe shopping late in the day. Your feet tend to swell after a day full of activities. It happens too when you are hiking, so to get the best fit, try your boots in the afternoon.
Try it on, lace it up, feel your toes, and check for pressure points. Slide your foot inside and push it forward as far as it goes inside the boots. Once settled, feel your toes. There should be a thumb's width space between the end of the boot and your toes. Check as well if your feet move from side to side. If it does, then the boots are too wide. It should be comfortable, non-constricting, and snug.
Make sure to try the boots while wearing your hiking socks. Bring the socks that you intend to wear with the hiking boots you are going to purchase. Do not use cotton fabric as it does not offer any insulation and retains moisture. It can leave you with cold feet on the terrain. Wool or synthetic is a better choice of material for socks.
Take your orthotics or preferred insoles with you. Consumers are often not satisfied with the default insole of the hiking boots. Do not fret if the volume is too high or too low for you. Remember that brands manufacture their boots for hiking using different lasts and this can affect how your feet fill the boots' volume. If it did not work with your insoles, try another pair of hiking boots.
Walk up and down the ramp. This tests the snugness of the boots. When you go up the board, observe for any heel lift or constraint on the collar. When you go down, observe if your toes jam the front of the boots. If your heel rises more than a quarter of an inch or if your toes hit the front, try adjusting the laces or sizing up.
Before your trip, make sure to break your boots in. Every boot, especially the heavy, leather hikers, requires a different break-in time. Start small by wearing it inside your house with your preferred socks (it might look awkward but your feet will surely thank you in the end). From there, gradually increase your miles.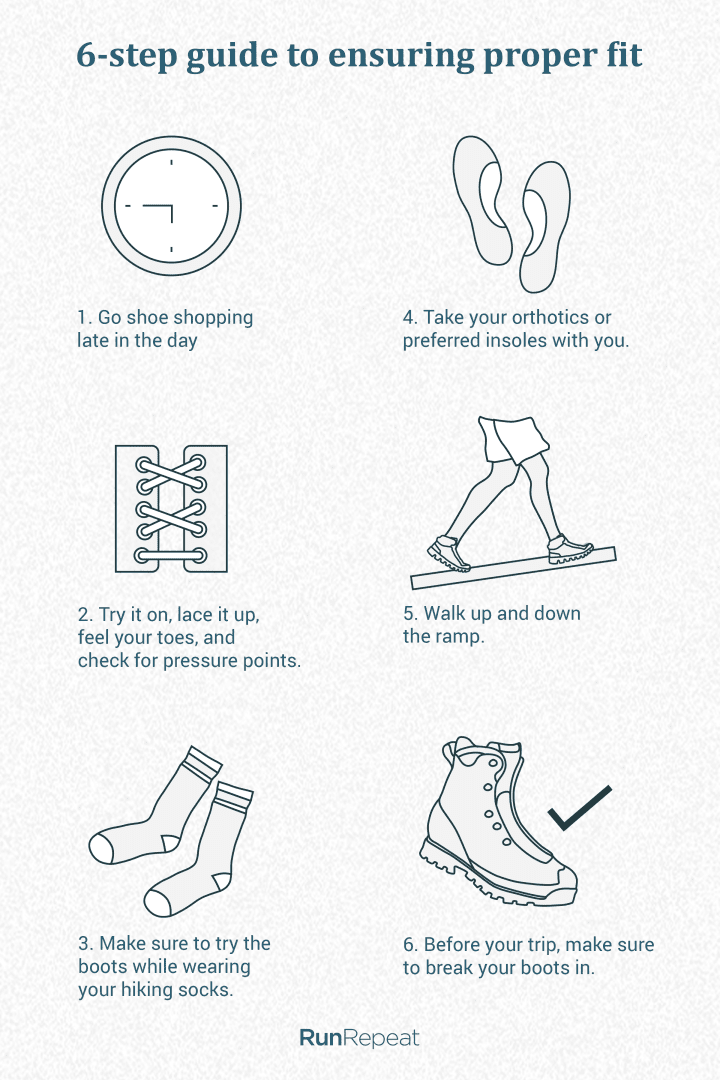 Common hiking boot problems and remedies
While the best hiking boots offer the support, durability, and protection you need to hike that difficult terrain, we can't deny how heavy and uncomfortable boots are after wearing it for some time. But you don't have to feel disheartened. Here's a list of common hiking boot fails and their remedies.
Problem
Symptoms
Cause
Remedy
Numbness
starts with painful pressure in the instep which later on turns to numbness
laces are tied to tight due to too much interior volume
-attach adhesive back felt pads to the inside of the boot's tongue to cushion your instep.
NOTE: If symptoms persist, seek the help of a podiatrist
Black toenails
discoloration of toenails
-toenails are too long
-ill-fitting heel cups (feet and slide forward when going downhill causing the toes \to hit the front o the shoe)
-low toe boxes that push down on the top of the toenails
-clip your toenails
-tie laces snugly to lock your heel in place
Blisters
fluid-filled bubbles found usually on the heel or the top of the toes
heat and friction caused by heel slippage (wide heel cups or boots are too long)
-wear wool or synthetic socks that wick away moisture
-choose boots made of breathable materials like mesh
-tighten the laces on the top of your foot until you achieve a snug fit
-try on aftermarket insoles or custom orthotics to improve the boot's fit
-keep a bottle of Vaseline (or other brands of petroleum jelly) in your pack - it's cheap and it treats blisters like a charm.
As you can see above, most problems can be quickly fixed by adjusting the laces. Here are two lacing techniques that can help remedy blisters and toenail issues when out and about.