10 Best Backpacking Shoes in 2021
Where the trail turns for the worse, but mobility is still high on your hiking preference list, turn to backpacking shoes.
After testing 15+ trekking kicks, we have chosen our top picks in several categories. Do you need a hiker that excels on and off the trail? Maybe something quite light to give you enough agility on your way? Or perhaps a backpacking shoe that dances to the tune of your humble budget? Check out our recommendations below.
Overview of this guide
How we wind up with the best backpacking shoes
We gather fact-checked data and put backpacking shoes through a series of tests to come up with honest reviews. The details of our approach are as follows:
We buy every pair of hiking shoes with our own money.
We spend days trekking on a variety of terrain in both dry and wet conditions to test each kick.
To make our backpacking shoe reviews more comprehensive, we gather, analyze, and include hundreds of opinions from experts and regular patrons alike.
These elements lead to a CoreScore. We use this proprietary grading system to make this list of backpacking top picks possible.
Best overall
Having gone through dozen-plus exceptional backpacking shoes, we can't deny our strong and absolute admiration for the Salewa Mountain Trainer 2 GTX!
At first glance, this remarkable trekking shoe might not strike you as splendidly comfy. But you have to look past its simplistic design and try for yourself the plushness of its interior. From its nicely hugging heel to its snug-but-not-tight toe box, the shoe simply knocked our socks off with pampering goodness!
But does the Mountain Trainer 2 GTX have the stickiness to match, you ask? Yup, and it's quite a doozy. Here's the thing: Gloopy terrain posed no threat to us in this Salewa gem, and rocky hills didn't cause us to lose our footing.
We also liked its lace-to-toe design, making the Mountain Trainer 2 GTX functioning almost like an approach shoe. So with that, we used it for some light climbing and scrambling. The result? Fantastic!
Now, we want to be bold by saying that the Mountain Trainer 2 GTX will last for a long time. After our week-long adventure, the shoe's upper came out almost unscathed. Its outsole and its lugs also didn't get beaten up much!
See our full review and facts
Best lightweight
Here it is, the epitome of nimble steps—the Mountain Trainer Lite GTX!
True to its name, the Mountain Trainer Lite GTX, at no more than 450 g per shoe, will not weigh you down on your multi-day trips. Working in tandem with its lightness is the hiker's springy sole unit, which helped us pull off bigger strides without getting tired feet.
As for comfort, we got tons of it in the Mountain Trainer Lite GTX on day one. During this easy climb, where we had to scramble, we felt no pinching around the heel. Hotspots were absent in the entire journey, too.
Now the lugs on its outsole stole the show for us! Their toothiness served their purpose well in that we got anchored feet through rocks and scree, as well as on mud and other slippery surfaces. We recommend the Mountain Trainer Lite GTX, too, for going downhill, thanks to its amazing heel brake!
Bad weather should not intimidate you in the Mountain Trainer Lite GTX. We say this because our time with it translated to dry feet through streams and creeks. Our submersion test, which involved no more than 3 inches of water in 5 minutes, Was a success, too.
So, yeah, if you want to go fast and agile all while carrying a pack, the Mountain Trainer Lite GTX is the ace you've been looking for!
See our full review and facts
Best budget shoe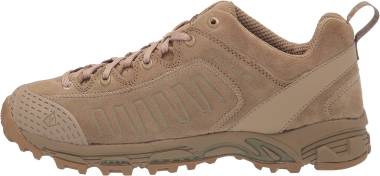 6 colorways available
Top pick
Out of the 15+ incredible backpacking shoes that graced our hiking feet, we just have to give the Juxt the top spot for affordability! Case in point: This Vasque must-buy has a measly $110 MSRP. Unbeatable, if you ask us!
About performance, the Vasque Juxt knocked it out of the park for us in terms of stability. Its platform underfoot was simply magical in the sense that it kept our feet level on rubbly and uneven terrain. On roots, the amount of balance the Juxt gave us was quite reassuring, too.
Switching our attention to comfort, the Juxt felt wonderful right out of the box. We never felt any rubbing around our ankles, thanks to its lightly padded collar. We've nothing to report about bunching (around the instep) and bruises, either. Yes, the Juxt is a total comfort machine!
Taking comfort to the next level is the Juxt's fantastic breathability. Sweat-free was the exact experience we had in this piece, which is why we highly recommend it for extended outings in the summer.
And last but not least, the Vasque Juxt is light. Per pair, it weighs no more than 850 g. Grab one now!
See our full review and facts
Other buying guides