10 Best Waterproof Hiking Boots (Buyer's Guide)
The best waterproof hiking boot (based on brand's ads, etc) is not necessarily the one you need. To help you pick the right one, we have here a list of bests based on both users' and experts' opinions. Not only that, but our expert tips are also here to guide you in your boot shopping.
How we review waterproof hiking boots
RunRepeat gathers, collects, and analyzes data from hundreds of retailers and experts, as well as thousands of users. We do all this so that you can shop conveniently in the comfort of your own home and provide you the following:
300+ boots from various brands in one list
An easy-to-read summary of all the boot's pros and cons gathered from reviews from 110.000+ users and 900+ experts
A CoreScore is given to each boot to easily gauge the likability of the shoe based on what users and experts say.
Ranking of the 10 best waterproof hiking boots
Based on 674,373 user ratings 1,211 expert reviews
Here is a list of all 343 waterproof hiking boots, where you can sort by "best rated" and apply filters.
Popular hiking boots aren't the better rated ones
The best waterproof hiking boots: Are they REALLY waterproof?
Reality check: There is no such thing as a hiking boot that can completely block water.
Yes, the best waterproof boots are more than enough to protect your feet from various wet conditions such as rain, sleet, snow, or bodies of water encountered along the trail. However, your feet aren't totally shielded from water. Here are ways water can enter your waterproof hikers:
During pouring rain, water will trickle down into your boots no matter how tight you lace it up. Quick fix: Wear gaiters or waterproof pants over the shoes
Water will enter through the boot's opening if you completely submerge your boot in a stream or lake.
The waterproofing feature of your boots does not last forever and deteriorates over time (the well-liked Gore-Tex included).
The difference between waterproof, water-repellent, and water-resistant boots
You want boots that can protect your feet from water but then you encounter terms like waterproof, water-resistant, water-repellent. Is there a difference?
The answer is YES. To help you understand each one, here's a quick rundown of their differences.
Water-resistant
Water-repellent
Waterproof
General characteristics
a tightly woven fabric that is naturally capable of resisting water upon contact
fabric treated with durable water-repellent (DWR) or hydrophobic chemicals
-fabric treated with DWR
-have waterproofing membranes like Gore-Tex and OutDry
-have seam-sealed construction for extra protection
Water protection level
low water protection
moderate water protection
high water protection
Water pressure resistance
0-5000 mm (no pressure or moisture)
6000-10000 mm (light pressure)
10000-20000 mm (high to very high pressure)
Weather conditions best used in
light rain shower and dry snow
light rain and average snow
moderate to heavy rain and average to wet snow
Disadvantages of wearing waterproof hiking boots
When it comes to repelling water, waterproof boots indeed stand out. However, the high degree of water protection and the versatility that these shoes offer come with a price.
Apart from having a higher price tag, here are other traits that make waterproof hiking boots inferior when compared to non-waterproof boots or even water-resistant and water-repellent boots.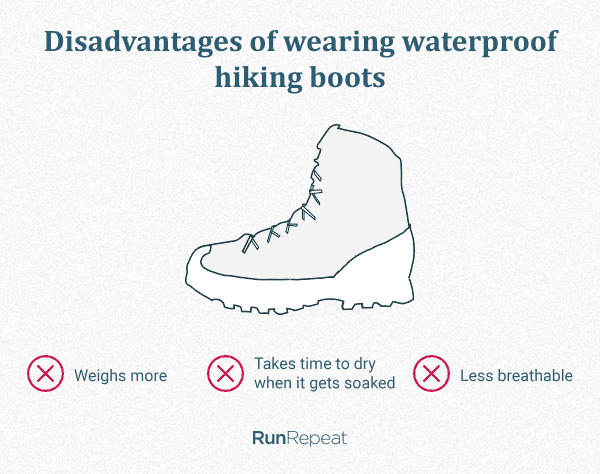 Best time to use/not to use waterproof boots
Considering all its pros and cons, we can say that waterproof boots are not your all-around-type of footwear for hiking. Yes, it is versatile as it can adapt to various terrains and weather conditions but it has its limits. You'll find below which activities, climates, and terrains waterproof hiking boots are best used/not used in:
Pro tip: If you prefer to go fast and light, then lightweight hikers will be your ideal choice. Quick-drying and breathable shoes like those made for water hiking are worth considering if your adventure entails a lot of river crossing. Trail-centric sandals may also be up your alley especially if your planning to traverse the desert trails in Utah or California.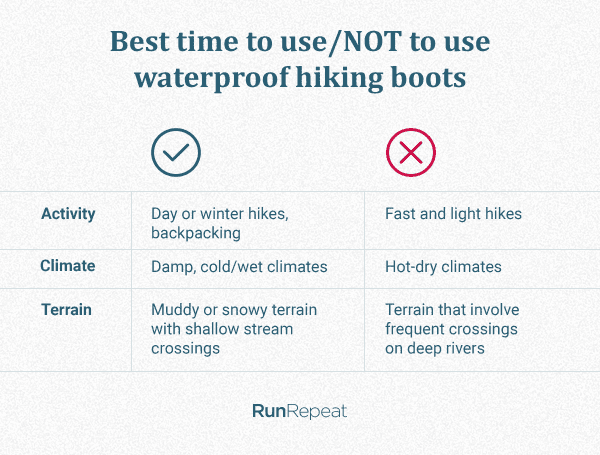 What is Gore-Tex?
Gore-Tex is undoubtedly the oldest and most popular when it comes to waterproofing tech. Gore-Tex membranes contain small pores that stop the entry of water droplets while allowing moisture to escape.
Compared to other technologies like Merrell's M-Select Dry, Columbia's OutDry, and Keen's Keen.Dry, Gore-Tex is said to be the most effective. You will also find this used by sought-after brands like Salomon and Merrell. However, this will cost more than those made with brand-exclusive waterproofing membranes.
Bonus Topic: 4-step guide to waterproofing your boots
Want waterproof boots but your budget doesn't allow it (even after checking out the cheapest waterproof boots)? Or maybe you'd rather go with your regular boots but you're worried about getting your feet wet? Don't fret. You can actually turn these into water-repellent ones using waterproofing treatments or sprays.
Take note, however, that smearing waterproof treatment solutions on a boot can decrease its breathability. It does not also last long. But, if you're just planning to go on a day hike then consider this a great alternative.
Choose the right waterproofing treatment. When choosing a treatment, make sure to read the labels carefully. There are treatments designed specifically for fabric, leather, nubuck, and suede boots. Also, check your boots' care instructions. Some discourage the use of wax-, oil-, and grease-based treatments because of its negative effects on the shoe's breathability.
Clean your boots thoroughly. To ensure full coverage, your boots should be dirt- and muck-free. That's why it's ideal to apply the treatment after cleaning the boots.
Prior to cleaning, remove the laces. You can use a soft brush and cleaner to scrub off the mud and dirt. Ensure to clean every nook and cranny including the folds of the tongue. After that, rinse well.
Read and follow the waterproofing product's application instructions. Some treatments will ask you to apply the treatment when the boots are dry. Others will require the boots to be fully soaked in water. To ensure a successful waterproofing treatment, following the instructions is a must.
Dry the boots in a well-ventilated area. Leave your boots to dry in an airy area with low humidity. For quick drying, you can use a fan or stuff old newspapers into the boots. Don't forget to replace the wet paper inside with dry ones.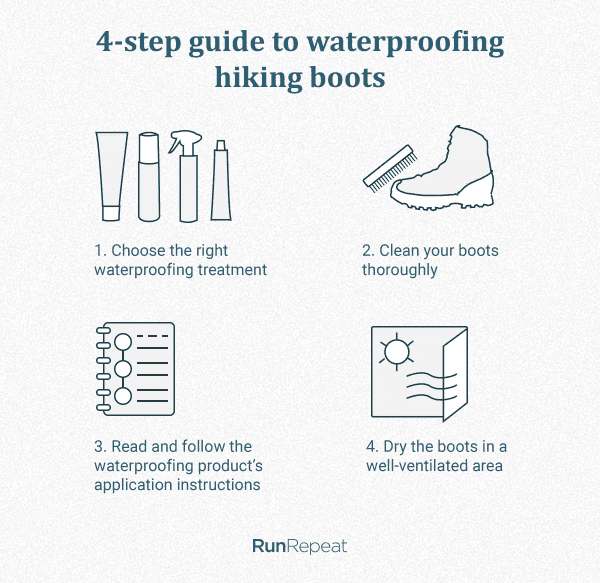 The best waterproof hiking boots in every category
Which waterproof hiking boots brand has better reviews?
Other buying guides
Now, are you ready to buy waterproof hiking boots?