UGG casual shoes
UGG is highly popular for its wealth of fuzzy sheepskin boots. Those Eskimo-style shoes that began making trails from the surfing districts of California in 1978 to the fashion hubs of New York, Milan Paris, and London in the more recent times.
These boots, propagated by UGG founder and Aussie surfer Brian Smith, were initially intended to provide warmth for the surfers' feet until it found solid grip on the runways to the streets. The brand has become a mainstay in streetwear fashion as it is highly supported by average style-savvy American spenders as well as celebrities and top models, the likes of Rihanna, Sarah Jessica Parker, Gigi Hadid, Kendall Jenner, Selena Gomez, to name just a few.
Eventually, UGG explored other footwear styles and transitioned from the classic and fashion high-tops to lifestyle sneakers. These year-round profiles that come in different collar heights are crafted with contoured silhouettes and impact-absorbing soles. Some are in a lightweight format combining athleisure look in premium craftsmanship.
Highly popular UGG sneakers in women's sizing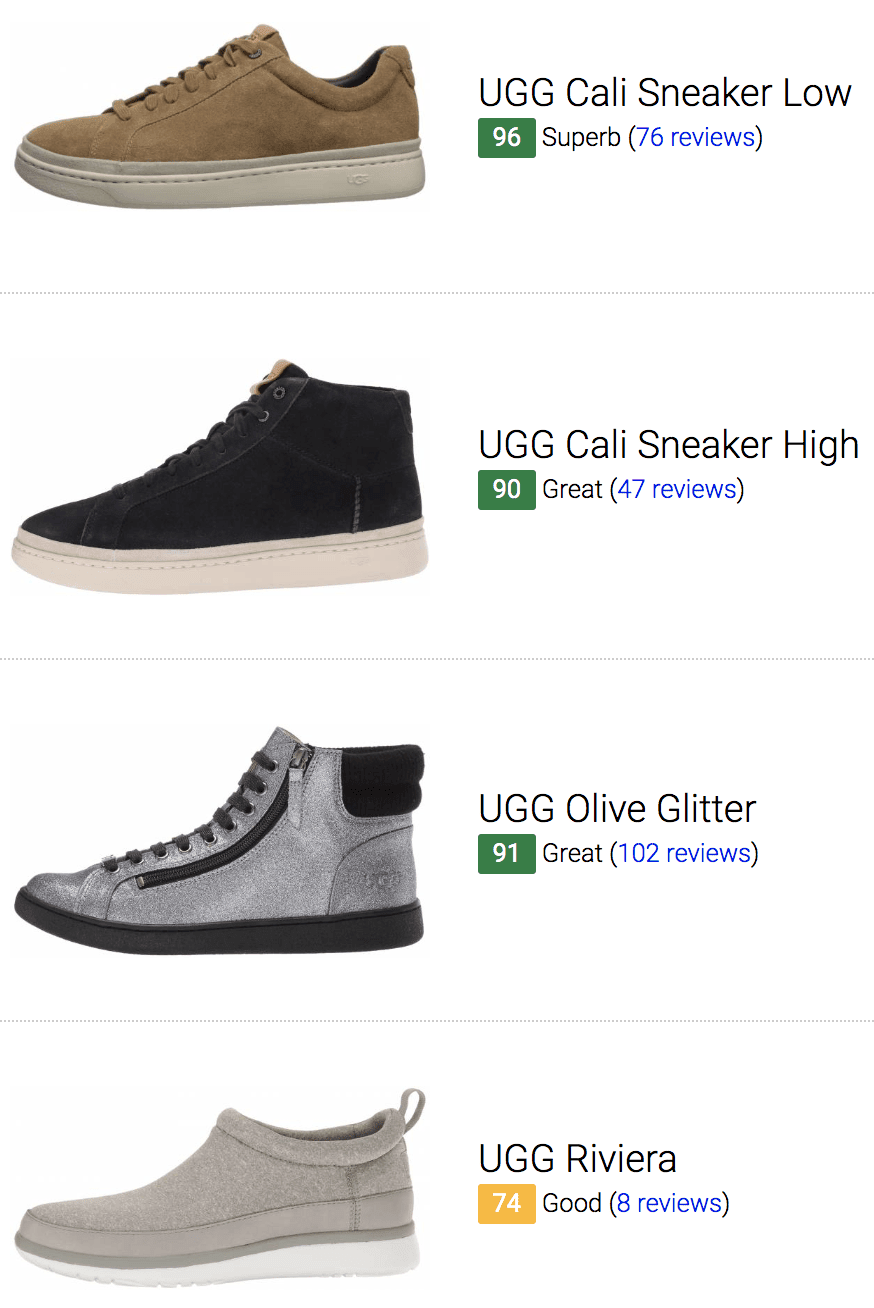 We have enlisted some of the most wanted UGG shoes precisely designed for the female wearers and bunched them up according to three types of collar heights or cuts: low, mid, and high.
Low-Top
UGG Blake
UGG Blake sneakers echo the brand's knack for fabricating high-quality lifestyle footwear even with the most simple makeup. Specifically designed for the women's feet, the UGG Blake lace-up kicks are the type of sneakers you can sport with any cut of jeans, from fitted to loose. These also go pretty well with different lengths of skirts.
Quick facts:
Wrapped with leather on the upper and edges of the midsoles.
Feature plush leather linings and lightly cushioned EVA foam insoles.
The crepe-like rubber outsole keeps the feet stable on smooth surfaces.
Offered in monotone shades such as black, white, or dusk.
Available in women's sizes from 5 to12 in medium width.
A pair is moderately priced at $130.
UGG Victoria
The sporty Victoria shoes are crafted for the ladies. The smooth and supple suede covers have diagonal perforations that permit the skin to breathe naturally for that all-day casual styling. Its sporty façade is given a graceful look with the use of satin laces. These athleisure shoes address the desire of female users to appear chic and fab with their favorite jogger pants and tank tops, dry-fit tees and leggings, shirts and capris, and so on.
Some of the key features:
One of its comfort components is the cushioned enerG Comfort System with arch support.
The feet stay fresh with its anti-microbial removable insole.
The padded collar is made of poly spandex knit material.
Keeping these UGG kicks ultra-breathable is the extra sheet of open-cell PU foam.
Women shoppers may pick a colorway that's particularly feminine such as the quartz or the neutral ones like pencil lead and black.
These UGG shoes for women are pretty costly at $130 a pair.
UGG Tye Sneaker
Highly-rated UGG Tye Sneakers are buffed-up with a minimalist silhouette that features beautiful and soft nubuck leather. UGG played up with its technologies in devising this shoe by debossing some segments on the cover for added texture and style, making this profile supremely lightweight. Its sleek style pairs well with athletic jackets and leggings, crop tops and joggers, or quick-drying separates.
Some of the UGG Tye sneaker specifics:
These so-called deconstructed styles are surprisingly lightweight.
Its polyurethane insole is lined with leather.
Underneath is made of ultra-durable Treadlite.
The color options are black, charcoal, soft ochre, seal (light grey), coconut milk (cream), quartz, deep river (dark blue), port (maroon), slate, navy, chili pepper, chestnut.
Another iteration is the Tye Stardust Sneaker in silver and gold metallic.
This modernized shoe demands a quite costly tag of $140.
UGG Alix
Old-fashioned, low-top leather shoes are given a modern twist using Velcro hook and loop closure. This adjustable, hassle-free feature allows you to achieve your preferred fit without getting tangled with long laces. Plus, the overall streetwear-inspired Alix from UGG makes it convenient to slip on with heaps of daily attire whether for a casual business function, school use, traveling, or weekend shopping.
Significant pointers about these kicks:
Feature three adjustable Velcro straps for customized fitting.
The combination of a superbly shock absorbing PORON cushioning and EVA inlay sole offers long-lasting comfort.
Full-grain leather takes up the entire upper.
The accurately contoured rubber outsole is made flexible for granting all-day comfort.
Alix sneakers can be purchased in women's sizes from 5 to 12 in medium width.
Considered as one of the affordably priced fashion sneakers by UGG, the Alix's are valued at $120.
You can go on with your throwback look with black or white Alix shoes.
UGG Blake Fur
Contemporary sneakers for women have evolved from downright classic to outlandishly fashion-forward. For the traditional Blake sneakers, UGG added fur on top to give these an extra punch of style. Put a dash of funkiness to your usual garb by throwing these Blake frou-frou shoes with plainly colored dresses, slim-fitting pants, or mini to maxi skirts.
Other quick facts:
These UGG Blake Fur shoes by UGG are coated with soft suede.
A plush sheepskin lining offers superior next-to-skin feel.
You can choose between black or chestnut colorways for these UGG sneakers in women's sizing.
The sizes are from 5 to 12 in medium width.
You need to shell out a little more for these than the other Blake designs as it is valued at $140 price tag.
UGG Feliz
If you are mostly on-the-go and give priority to the current trends, the UGG Feliz slip-on sneakers can be your next best friend. You don't need to overdo your casual ensemble to achieve a head-turning look with these lace-free UGG shoes for women. You can have that elevated allure by directly tying these up with body-hugging jeans, stretch leggings, dress pants, flowy square pants, or trim culottes.
Notable details:
Has an elastic gore on top that offers a secure and lockdown fit.
Superbly lightweight.
The upper is draped with satin that's 40% silk and 60% cotton.
It features the UGG's proprietary Treadlite outsole.
You can grab these UGG sneakers in women's sizing from 5 to 11 US, and in shades of blush and black.
It is priced slightly higher than the average UGG sneakers at $140.
UGG Milo Sneaker
The mixture of suede and felt on the upper gives these conventionally designed low-top laced sneakers for the ladies a naturally appealing look. You can expect these to be handy all year round as its long-enduring makeup is suitable for different seasons. Equipped with the bare essentials, these Milo kicks are appropriate with strings of daily wear like twill and denim pants, dressy leggings, slacks and suit pants.
Other information:
Two-toned laces accentuate these UGG shoes for women.
The heel has felt accent and debossed UGG branding.
It has breathable leather linings.
Its PORON cushioning system isn't only receptive to impact but protects the feet from getting too sweaty.
You don't have to pay through the nose as it comes with a wallet-friendly price of $110.
These colorway options for these UGG shoes are black, charcoal, fawn, and white.
Some variations are the UGG Milo Metallic Rose Gold and UGG Milo Metallic Silver, made of brassy crinkle leather and sparkly laces.
UGG Riviera
UGG keeps it simple with the UGG Riviera. These are laceless, slip-on kicks without the frills and frou-frous, but carry the essentials you need when you're off for a relaxing escapade or as you get busied with multi-activities in a day. Modestly presented with a smart, casual makeup, the UGG Riviera shoes are something you can slip with just about any spur-of-the-moment casual, laidback garb you can snatch from your closet.
Added niceties about UGG Rivera's:
Stretchy and well-ventilated heathered fabrics are draped on top which make these fitting for summer and spring.
The cushioned, removable insoles grant optimum comfort and can be replaced with custom inserts.
The heel height is around 0.5 inches.
These UGG sneakers for women have built-in arch supports which make them suitable for flat-footed
Suitable for those who are always pinching pennies as these have much to offer even if it's priced at $120.
The color selections for these hassle-free UGG slip-on shoes are pencil lead and black.
UGG Sidney Sneaker
The sublimely light UGG Sidney sneakers are wrapped with knitted fabrics that allow the feet to breathe. Naturally sleek and good-looking, these UGG Sidney shoes do not compromise on wearability as you can effortlessly merge these with jeans, trousers, capris, leggings, shorts, midi and even maxi dresses.
More tidbits about the Sidney sneakers:
These unlined sneakers are made of stretch collars that fit around your ankles like gloves.
These have leather-lined PORON cushioning and EVA insoles in 3mm-thick grant heel-to-toe shock absorption.
Long-enduring leather welt runs along the perimeter of the shoe.
UGG Sidney sneakers colorways are black, light grey, and coconut milk.
You don't need to shell out a hefty sum for its affordable rate of $120.
Mid-Top
UGG Neutra Sneaker
Charmingly deviating from the usual casual slip-on styles are the Neutra Sneakers, suitable for everyday street styling. These new UGG shoes in mid-top neoprene form with chunky soles are UGG's responses to the high demand on athleisure fashion, which are offered in sock-like structure. You can park your wedges in place of these to give those feet a comfy treat, and turn up with a form-fitting dress or sporty clothes.
Additional details on these UGG slip-on shoes:
An oversized UGG graphic runs across the stretchy gore on top.
Also called the Neutra Neoprene Sneakers, these kicks have comfortable 15mm-thick insoles made of EVA and performance foams.
The premium outsole is made of Treadlite.
The colorways available for this style are charcoal, black, coconut milk, antelope, suntan.
Get that runway vibe for a reasonable cost of $100.
High-Top
UGG Olive Sneaker
Old-school leather high-top shoes will perpetually be on-trend, more so these are made of durable and flexible premium material, such as the UGG Olive Sneakers. Most of the traditional features are present in these kicks including lace-up front with metal eyelets, padded heel, and leather lining. What sets these apart from other full-grain vintage profiles is the addition of side zipper with lace clip and leather pull tab.
Additional information:
You can get the benefit of excellent comfort with its cushioned PORON and EVA outsole.
The rubber outsole comes with a sidewall stitch detail.
The colors offered for these UGG shoes are black and white.
Suede variations of this come in charcoal (grey) and fawn (tan).
These UGG sneakers are accessible in women's sizes from 5 to 12 US and have 4-inch shaft height.
You don't need to break the bank as these UGG shoes are valued at a nominal rate of $120.
UGG Olive Glitter
UGG spun the basketball-inspired high-top shoes from the past into sparkly, street-ready silhouettes for the ladies. UGG cranked up the old style by affixing zipper on the lateral side. The shimmery Olive Glitter, with metallic laces and UGG hardware, instantly pulls up your usual daily ensemble, which makes it appropriate for daytime and nighttime styling.
Other significant factors:
Apart from its glittery textile upper.
The heel is protected with ribbed, padded collar.
Its PORON shock-absorbing unit doesn't break down quickly, thereby granting comfort through repeated use.
Its molded rubber outsole keeps the feet stable.
The UGG Olive shoes come in gunmetal (silvery metal)and shimmery pink
These ultra-stylish pairs can be bought for a song with its $120 price tag.
UGG Shoes in men's sizing
We've gathered some of the top-selling men's UGG sneakers, which come in low-top and high-top selections.
Low-Top
UGG Cali Sneaker Low
The straightforward design of the low-top UGG Cali sneakers is reminiscent of the vintage skate shoes that proliferated in California in the 1970s. Today, these styles are deemed classic as its lace-up shape goes with a full gamut of clothing. It employs the California construction introduced by UGG where the interior is coated with breathable lamb leather. The suede setup gives a simple pair of Henley tees and pin-rolled denim a polished look. For throwback flair, you can have these with ribbed or corduroy pants.
Other important points:
The feet stay fresh inside with its moisture-wicking inlay sole.
The Treadlite by UGG outsole offers good ground contact.
These UGG shoes for men are accessible in shades of chestnut, antelope, and seal.
With its well-assembled and neatly constructed suede body, consumers regard these as good value for the money that's priced $120 per pair.
UGG Trigo
Trigo sneakers are examples of how UGG managed to combine athleisure with impressive craftsmanship. Supple leather with suede detailing are the main elements that comprise the uppers. Everything on top rests on a cushioned sole, supported by flexible Treadlite which deliver premium comfort as you pick up the pace. You can go beating any day's deadline, switching between errands and work, or go indulging over leisurely trips with these UGG shoes for men and a pair of cargo with garter hem, pin-rolled jeans, or jogger pants.
More fine points about these UGG men's shoes:
Leather and poly spandex are the materials used for the upper.
Flat wax cotton laces complement the fascinatingly styled lace-up front.
For comfort, these sneakers feature removable footbeds made of energy Comfort System.
The color options are black, cordovan (maroon), pencil lead, tango (red), and navy.
You can seize this finely crafted sneaker at $160 which is worth its salt.
High-Top
UGG Cali Sneaker High
UGG Cali High sneakers embody the relaxed and casual spirit of West Coast lifestyle presented in a comfy and supportive structure. These UGG men's shoes are created with traditional lace-up front and lined with perforated lamb leather for a superbly lightweight build. You can choose between its leather and suede variations to give you that refined look whether you don these with twill, wool, or canvas pants or go for the usual denim bottoms.
Extra noteworthy factors about these men's UGG sneakers:
Come with breathable, removable energy Comfort System with built-in arch support.
An extra layer of open-cell PU foam keeps the interior breathable and microbes-free.
The outsoles are composed of the proprietary Treadlite by UGG that provides excellent
These UGG sneakers for the men's are made in black, navy, and parchment (beige) colorways.
The Cali High sneakers are reasonably marketed at a premium amount of $170.
These UGG men's shoes are obtainable in sizes from 7 to 15 US, in medium width.
Frequently Asked Questions
1. UGG shoes are generally associated with sheepskin. What is sheepskin?
If leather is the treated hide of a cow, sheepskin is the treated hide of a sheep. UGG is not involved in raising and breeding sheep, but they do have suppliers where they purchase the highest grade of sheepskin that complies with strict animal welfare policy. Most of the sheepskin materials are sourced from Australia, US, Ireland, UK, and Spain. Grade-A sheepskin is usually soft, breathable, and moisture wicking.
2. Where to buy UGG shoes?
There are several UGG outlets dotted across the USA specifically in San Francisco, Milpitas, Goleta, Camarillo, and Los Angeles, California; Waipahu and Honolulu, Hawaii; Tulalip, Washington. There are also some in Canada, specifically in Vancouver, Richmond, Edmonton, Livermore, Ventura, and Glendale. Among its authorized retailers are Dillard's and Nordstrom.
3. Aside from physical stores, where else can I buy UGG sneakers?
You may also purchase your next pair of UGG sneakers from online retailers such as Amazon, eBay, Neiman Marcus Nordstrom Rack, Schuh, Zappos, or through this site.
4. How much are UGG lifestyle shoes?
$100 to $120 – UGG sneakers within this price range are not denied of premium materials and optimum comfort which is why these are considered great value for money.
Examples:
UGG Cali Sneaker
UGG Freamon HyperWeave Chukka
UGG Neutra Sneaker
UGG Milo Sneaker
UGG Alix
UGG Cali Sneaker Low
UGG Olive Sneaker
UGG Riviera
UGG Sidney Sneaker
$130 to $150 - You need to shell out more money for UGG shoes under this scope as they are slightly expensive. The good news is, these are primarily crafted with cutting-edge technologies combined with head-turning styling.
Examples:
UGG Blake
UGG Victoria
UGG Blake Fur
UGG Tye Sneaker
UGG Feliz
UGG Hepner HyperWeave
UGG Jaida Glitter
UGG Starlyn Sneaker
$160 to $200 – UGG sneakers that fall under this range are well equipped with high-quality materials, sneakers ace tech features that grant comfort and cushioning, and ultra-chic detailing from cover to the sole.
Examples:
UGG Trigo
UGG Cali Sneaker High
UGG Cali Sneaker High II Spill Seam
UGG Antoine Fur
5. Where to buy UGG sneakers with a zipper?
UGG casual shoes designed with zippers such as the ankle-high UGG Olive varieties in premium leather, suede, glitter, and metallic are available in several online shops such as Amazon, Zappos, 6pm, Nordstrom, Dillards, Shoes. Or you may check out the sizing availability of UGG Olive Sneaker and Olive Sneaker Glitter through this site. Our site contains summaries of reviews from other consumers which might be helpful in your decision-making.
6. How do UGG shoes fit?
UGG sneakers are generally well-padded and crafted with a removable PORON cushioning inlay sole which can be replaced by customized orthotics. In general, UGG sneakers for women are fabricated with standard medium width and fitted relatively true-to-size. However, there are those that are unlined like the Tye Sneakers that tend to be quite roomy. Typically, consumers would opt to size down in half for these types of sneakers.
The brand doesn't offer wide or narrow widths. To obtain a men's UGG sneaker in women's size, you need to add two to your usual size. Likewise, the UGG shoes for men are fitted rightly. Ladies may seize pairs of men's UGG sneakers by going two sizes down their typical shoe length.
7. How to wear UGG casual sneakers?
UGG shoes for women's and men's designed with the customary low-top and lace-up front may be dressed up or down, which you can merge with pin-rolled jeans and cargos. The neutral shades give you more flexibility than the colored ones as you can swing it with casual work clothes to fancy dinner affairs.
Hassle-free UGG slip-on sneakers in low- to mid-top varieties may be worn with your favorite sets of athletic wear like quick-drying separates, yoga pants, performance tights, tracksuits, tennis skirts, and fitness dresses. For a laidback look, you can pair these with capris or tapered pants.
High-top UGG sneakers tend to borrow designs from classic ball shoes with the typical lace-up closure. These sneakers are made from leather and suede to sparkly metallic interpretations. Depending on the shade, these generally go well with straight cut or fitted pants. You can go bold and experimental with the glittery ones, by strapping them up with cotton, chambray, twill, or tulle skirts.
8. How to clean UGG casual shoes?
Most of its products are made of leather which can be damaged by water. Thus, it is not advisable to machine wash UGG sneakers. For the softer types of leather like Nubuck, it is recommended to use leather cleaner to tidy them up.
The brand offers UGG Leather Balm that shields the leather cover against dirt, stains and scuffing, plus it helps restore the natural moisture of these sneakers. To keep the insoles deodorized, fresh, and clean, you may spray them on with UGG Shoe Renew, wipe the residue, and leave them to air dry before wearing.
9. What are the commonly used materials for UGG casual sneakers?
The upper of UGG shoes are usually composed of leather, suede, neoprene, or knitted textile. Although sheepskin is the standard material for UGG shoes, the brand incorporates this to sneakers for added accent and allure. The same goes with fur which is seen in some low-top and high-top UGG shoes for women like the UGG Blake Fur and UGG Antoine Fur.
10. What are the common technologies included in most UGG shoes?
Below are some of the technologies and signature method in crafting UGG shoes:
HyperWeave
Some of the new UGG sneakers employ the HyperWeave technique, which is the brand's response to the knit sneaker craze. This single-layer, seamless knit feature incorporates flexible nylon and cushy cotton. It provides remarkable ventilation for the feet and also keeps the overall weight of the shoe down.
enerG Comfort System
This cutting-edge bi-layer feature is used for the insoles. The top layer is made of open-cell foam that breathes, wicks moisture, and shields the shoe from microbes. The bottom layer is formed of polyurethane micro pods for superior cushioning and enhanced flexibility.
Treadlite by UGG. This proprietary unit makes up the outsole of most UGG sneakers which are amazingly lightweight. Made of a cushioning foam compound, this system enhances flexibility and traction without compromising on quality and durability.
California Construction
This meticulous technique gives the nod to the relaxed and carefree culture of UGG's birthplace, which is California. It requires precise cutting and stitching of the shoe upper, leather wrap, as well as the insole. Employing this process cuts down much weight from the shoe, thus producing lightweight and flexible UGG sneakers. UGG sneakers
3 best UGG sneakers
UGG Cali Sneaker High
UGG Cali Sneaker Low
UGG Hepner Woven
This shoe has recently been added to RunRepeat. There are still not enough reviews for us to assign it a
CoreScore
.
CoreScore
A score from 1 to 100 that summarizes opinions from users and experts. The average CoreScore is 78.
More...