Vans Old Skools have soared from subculture staple to mainstream fame repeatedly over the years. It's easy to see why. With a classic, versatile silhouette, brand recognition, and a comfortable, breathable upper, who could resist having a pair in their wardrobe? While the canvas/rubber construction might not be the most durable and can collect stains easily, the Vans Old Skool still looks amazing when beaten and worn.
Pros
A classic silhouette deserving of any wardrobe
Easy to wear in
Super comfortable
Fits true to size
Incredibly breathable thanks to the all-canvas upper
Clean aesthetics
Very durable outsole
Brakes well on the board
Cons
Not very durable in comparison to other modern skate shoes
Collect stains easily
A mainstream classic sneaker with some room to grow
From their coincidental adoption by skateboarding subculture to social media infamy (Damn Daniel!), Vans have held an irrefutable position in almost everyone's wardrobe.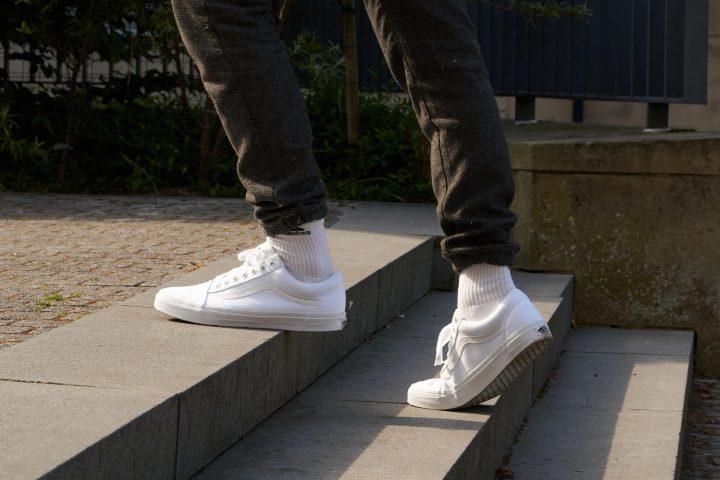 The Vans Old Skools are a staple in any lineup; unmistakably an 'Off the Wall' canvas creation, but with more robust ankle support they lean toward a traditional sneaker silhouette.
Loved for their clean aesthetics, stability, and comfort, the Vans Old Skools have been around for a while. Vans started out as a bespoke deck shoe for locals of California in 1966 but quickly became a hero of LA's skateboarding subculture. Vans pivoted away from mown grass tennis courts and cocktail evenings and by 1977 enlisted legendary skaters Tony Alva and Stacey Peralta to design the Old Skool.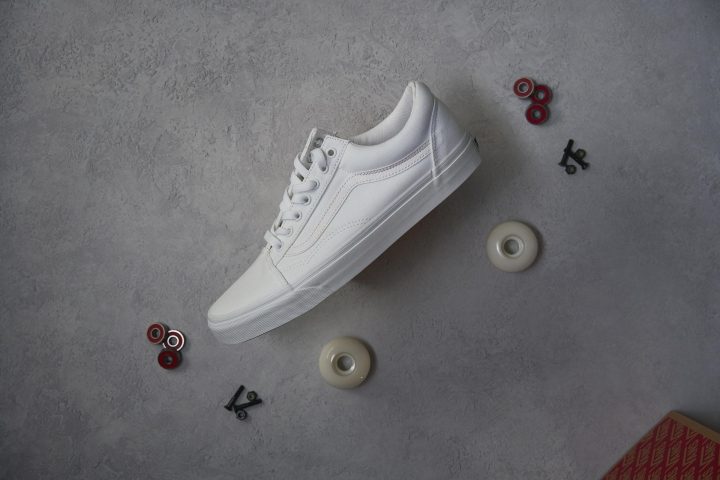 It's likely this versatility that's kept the Old Skools relevant today, for skateboarders and pedestrians alike.
A skate shoe for every look
I picked up the all-white colorway, opting for a pair that will go with anything and (hopefully) will look great once beat up.
I was worried that the tell-tale jazz stripe wouldn't show up against all white, but the texture of the leather detailing gives it nice depth against the stitched canvas paneling. The rest of the appearance is as expected.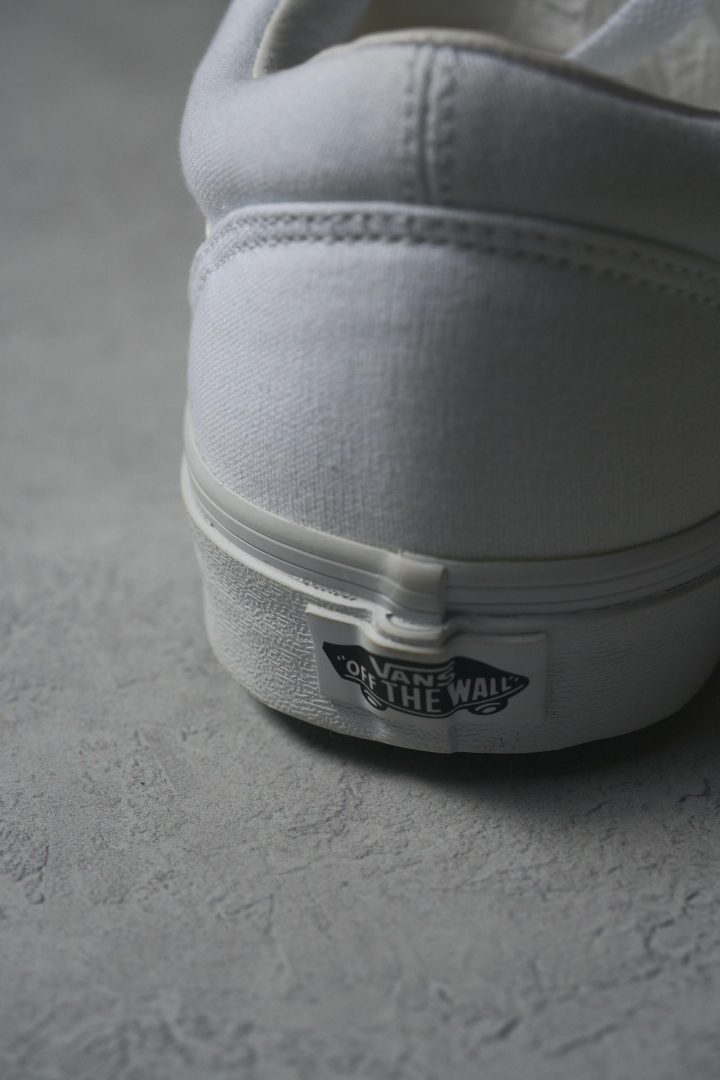 The rubber sole detailing cements the sneaker as a skate shoe and, if you forget, the "Off the Wall" logo stays at the back, seemingly holding the sole together.
The style might last forever but the shoes lack durability
That does bring me to some of the drawbacks of the sneaker. The Old Skools have held onto the slightly rushed construction with overlapping joints that stand stark against the otherwise neat stitching. When bent you can see the fabric and rubber compete against each other.
From experience with Vans as a skate shoe, this is often where you'll start to see the first signs of wear. For their price point, I wasn't expecting the Old Skool to last too well, and for many, these sneakers are easy to replace when the time comes.
That being said, the canvas upper even held up well against a relatively intense testing session with a saw drill. Overall, however, it's 2021 and I'd love to see some more longevity and sustainability from a company that clearly knows how to make a pair of shoes.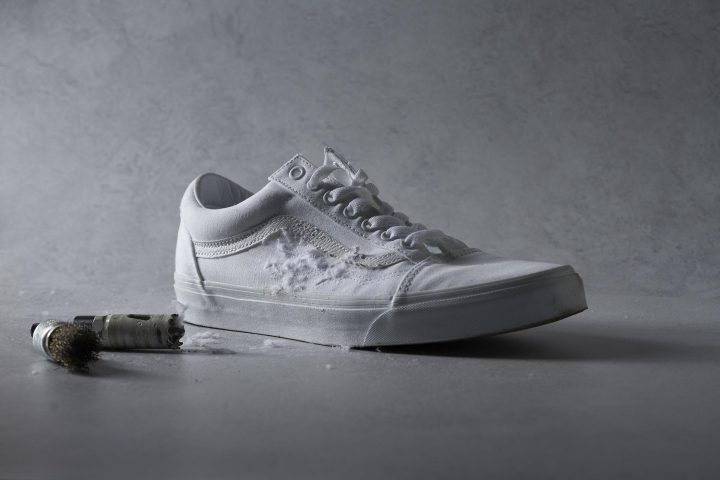 Hopefully, the Old Skool Pros will fit the bill.
Vans Old Skool was made with tarmac in mind
Another saving grace is the sturdiness of the rubber sole. Withstanding constant beatings from the tarmac, this part at least is built like a tank, and still surprises me how instantly comfy the shoe can be.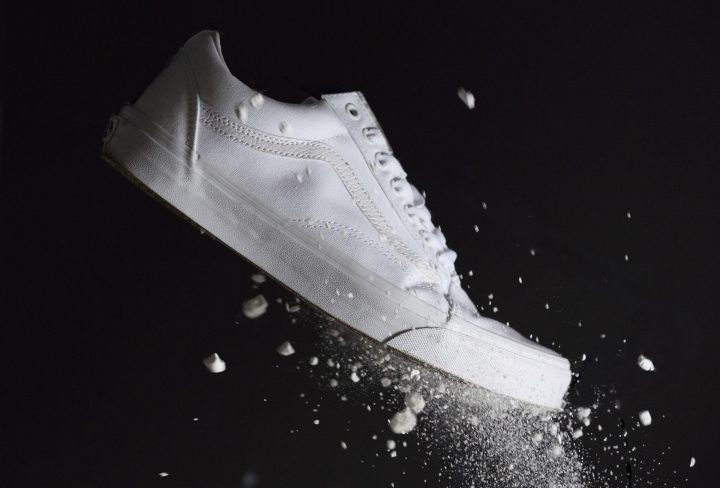 The Vans Old Skool is a comfy minimalist sneaker that fits true to size and takes a short amount of time to wear in thanks to the canvas construction. On a board they're responsive and brake well, off the board they're an easy, casual addition to most outfits.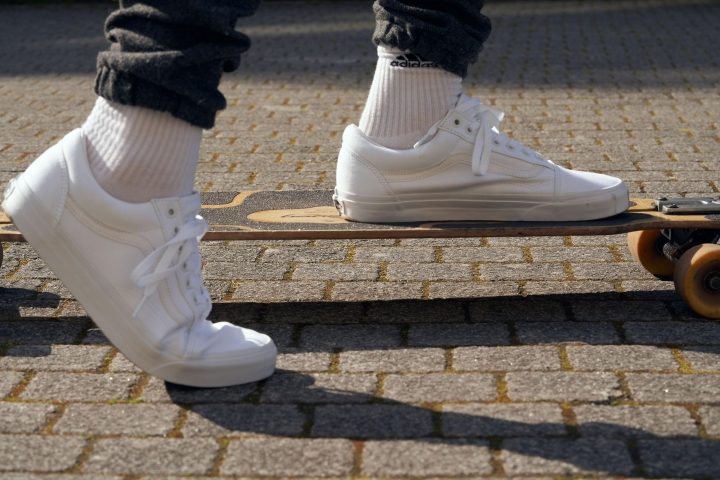 Simply breathable
Perhaps one of the greatest characteristics of the Vans Old Skool (and most of the Vans line up) is their breathability.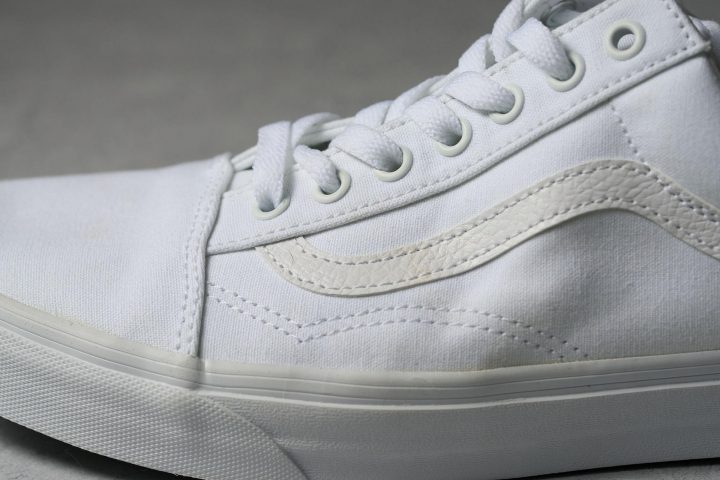 It's this that made it so attractive to the skaters of the 60s and 70s, transitioning from riding barefoot. Forget the multiple layers of mesh or venting in modern sneakers, there's no secret to the ease at which air passes through the canvas upper of the shoes.
The downside of this is they're definitely not a go-to winter shoe, and any water coming in above the rubber line is going to get your feet wet.
Vans Old Skool is a stain magnet
The white is obviously a stain magnet, the canvas is easy to care for when it comes to dry stains, I found that anything wet sinks in quickly, and even proper shoe cleaning products won't get you back to where they started.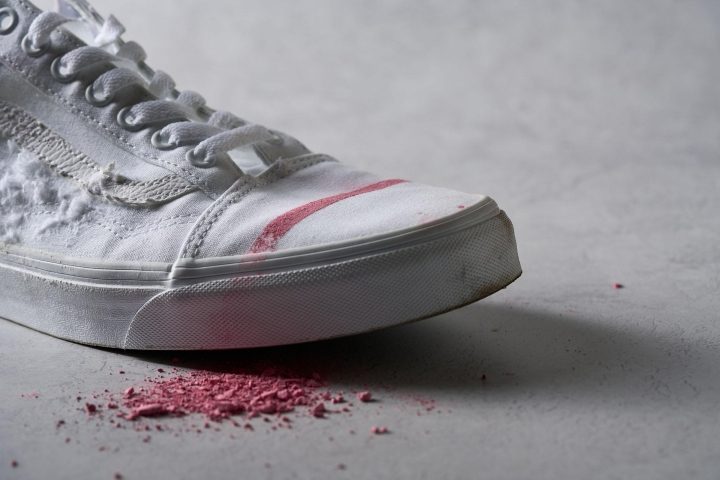 If you're thinking of keeping these looking fresh, you're in for a couple of moments of panic at least.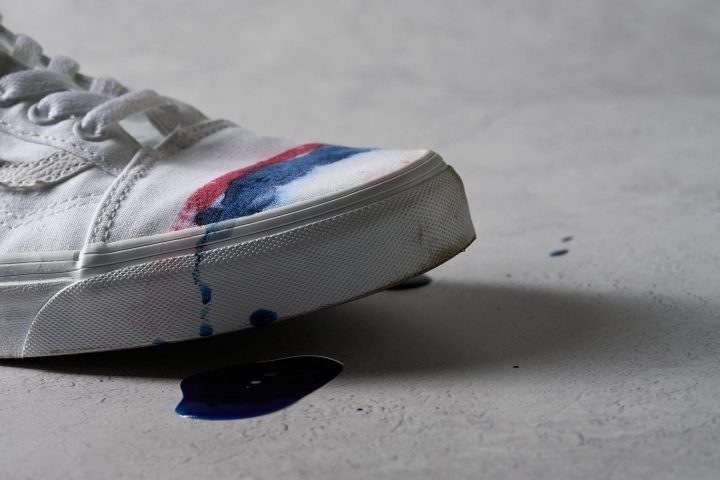 The good news is they look awesome once beaten up and worn properly.
Conclusion
All in all, the Vans Old Skools are a no-frills skate shoe that works just as well as a casual base for any look. Just don't expect to hold onto the same pair for years, although I think we always knew that.