Merrell Sneakers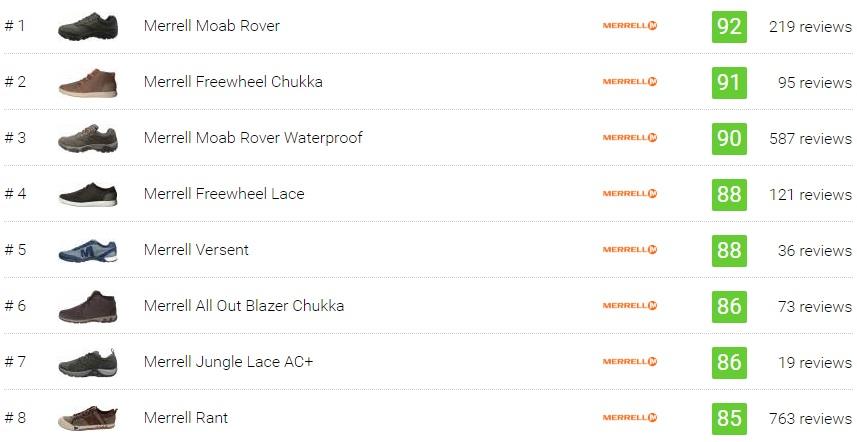 Sneakers, otherwise referred to as lifestyle shoes or casual kicks, play a huge role in the footwear industry or the general market even. Their sales drive up a large percentage of the market, and they continue to be ubiquitous from one generation to the next because of their comfort, versatility, and functionality. For so long, they have been relevant in the fashion and sports scene, and go-to shoes of choice by many.
Brands like Nike, Adidas, Saucony, Under Armour, Puma, Reebok, and Asics started out in the sports scene before being known for their top-selling and popular casual kicks that are prevalent today. Merrell is somehow different, though. It started as a company producing performance hiking boots for outdoor enthusiasts. Despite its success in the outdoor footwear products for years, Merrell further broadens its product line to include casual shoes like Merrell sneakers, through its Aftersport Category, for men, women, and kids. By doing so, the brand has been able to cater to a broader market and, at the same time, further increase sales and consumer awareness of its products.
Classification of Merrell Lifestyle Shoes
Sneakers, in general, can be classified into three types based on their profile or cut. They can either be low-tops, mid-tops, and high-tops. And as with any other sneakers regardless of brand, the same classification applies to Merrell sneakers. Below is a quick guide differentiating these classifications:
Low-top
Merrell sneakers under this classification have collars that fall below the ankle. These sneakers are typically lightweight and offer ankle mobility. They are also relatively cheaper than mid-top sneakers or high-tops since they require less amount of materials. Because they are lightweight and versatile, low-top sneakers are the ideal go-to shoes for many for everyday use and for traveling since they are easy to pack.
A huge chunk of low-top sneakers on the market today are only limited to casual use and not necessarily built to withstand extreme activities, but Merrell sneakers are distinctive. Most of the low-top Merrell sneakers are designed not only for casual uses; they typically feature the brand's top-of-the-line technologies that make them suitable even for outdoor activities such as hiking, cycling, walking, or trail running.
Several Merrell sneakers that fall under this category are the Merrell Moab Rover, Merrell Versent, Merrell Rant, Merrell Solo AC+, and Merrell Bask Sol.
Mid-top
Merrell sneakers such as the Merrell All Out Blazer Chukka and the Merrell Traveler Field Mid are just some examples that are categorized under the mid-top classification. These Merrell sneakers have their collars fall just a little above the ankle with added ankle support and foot coverage. Some mid-top Merrell sneakers also feature a pull tab on the heel for easy on/off wearing.
What also makes mid-top Merrell sneakers more desirable for the consumers is that the mid-cut construction provides additional protection from dirt and debris.
High-top
When it comes to high-top sneakers, Merrell has a scant share since most of high-top Merrell shoes are made for outdoor activities like hiking, and not ideal for casual use. High-top sneakers, in general, provide maximum ankle support and foot protection. They also tend to be heavier, depending on the material.
Merrell sneakers can further be classified based on their type of closure. They can either have a slip-on or a lace-up kind. More details on these classifications are summarized below.
Lace-up
The majority of Merrell sneakers has a lace-up closure type with either rope-like laces or flat laces. One advantage of lace-up closure over slip-on is that they allow the wearers to adjust the way the shoe fits on their feet for a more comfortable fit depending on their preference.
The lace-up closure further allows flexibility in, well, lacing the shoe. There are several shoe lacing techniques with different functions, which could all be used in lace-up Merrell sneakers. We put up a guide on the Top 12 Running Shoe Lacing Techniques here, which can also be used in sneakers in general including Merrell sneakers.
Another advantage of this type of closure is that the shoelaces are removable and replaceable that they can easily be washed or cleaned, or even replaced with a new pair in different color or material.
Slip-on
Slip-on Merrell sneakers also have their fair share of advantages. This kind of sneakers lacks laces and straps and are typically low-tops. Because of this, they can easily be worn in seconds without the hassle of tying up any shoelaces. Further, slip-on sneakers, in general, are more casual-looking and minimal in design and construction. These characteristics make them versatile style-wise and at the same time functional.
One thing to note about slip-on Merrell sneakers is that they can easily be distinguished from afar when mixed with other slip-on sneakers from different brands. Most slip-on Merrell sneakers still bear the signature Merrell aesthetics – chunky, outdoorsy, simple, and dull-colored (typically earth tone).
Popular and Best-Selling Merrell Sneakers
To help you get to know Merrell better as a brand, its lineup of sneakers, and its relevance in the sneaker industry, we summarize below some models that helped put it on the sneaker market map.
Merrell Jungle Moc

The Merrell Jungle Moc is a low-top, slip-on sneaker with a pig suede leather upper. Constructed with comfort in mind, it is one of those versatile kicks that would look just as great around a campsite as it is in a pub.
It also features a list of Merrell technologies such as the M Select FRESH (insole), Merrell air cushion, and the M Select GRIP (outsole).
It is available in men's and women's sizing and several colorway options.
The Jungle Moc is the shoe that helped Merrell make history. It was the first shoe of the brand that introduced its new Aftersport category of casual shoes.

Merrell Jungle Moc AC+

One of the many iterations of one of Merrell's popular sneakers is the Merrell Jungle Moc AC+. Basically a lace-up version of the Jungle Moc, it mimics the majority of the features of the original silhouette except for the slip-on construction which was replaced by a lace-up closure.

Merrell Rant

The Merrell Rant is a low-top sneaker with a combination of canvas and full-grain leather on the upper. It also has a removable EVA footbed.
This Merrell sneaker features the M Select FRESH technology, which helps keep the feet dry and smell fresh, and the M Select GRIP technology for durable traction.
With an outdoor-inspired aesthetics, the Merrell Rant brings outdoor versatility fit for the urban environment.
Merrell Rant variations include the Merrell Rant Edge and the Merrell Rant Discovery Lace Canvas.

Merrell Freewheel Lace

A bit different from the usual athletic-looking sneakers, the Merrell Freewheel Lace is inspired by the classic oxfords with a pig suede upper that only adds a premium touch to its impressive flair.
Designed for cycling, it features a CycleTread outsole, and the M Select GRIP technology for excellent traction on any surface, but with minimal cushioning.
It is available in several colorways and both men's and women's sizing in standard width.

Merrell Moab Rover

Constructed with versatility and functionality in mind to suit different kinds of outdoor and urban adventures, the Merrell Moab Rover boasts an always-on-the-go exterior suited not only for hiking activities but also for casual events or day-to-day happenings.
It has a silhouette based on one of the brand's popular hiking shoes, the Merrell Moab, but more casual-looking with its full-grain leather.
It is a men's shoe available in standard and wide width sizes.
The Moab Rover has a waterproof version called the Merrell Moab Rover Waterproof that utilizes the M Select Dry technology as an added feature.
Merrell Technologies
M Select FRESH
What is it?
Merrell's M Select Fresh is an insole technology used in several Merrell shoes, including sneakers and outdoor hiking shoes, that allows the feet to breathe and avoid odor-causing bacteria.
How does it work?
The M Select Fresh helps keep the feet smell and feel fresh by naturally eliminating sweat and its odor-causing bacteria through the reactive microbes that perspiration on contact with natural enzymes.
Sample Merrell sneakers that feature this technology:
Merrell Parkway Emboss Lace, Merrell Around Town Lace Air, Merrell Burnt Rock, Merrell Berner Shift Lace
M Select MOVE
What is it?
The M Select MOVE is another insole technology utilized in a wide range of Merrell footwear products such as hiking shoes, trail running shoes, boots, and casual shoes or sneakers. It is typically used along with the M Select FRESH technology for natural flex cushioning.
How does it work?
This technology is a foot frame designed to follow the foot's natural flex. It also integrates Return Foam cushioning for contoured support, which allows flexible foot movement without sacrificing stability and optimum comfort.
Sample Merrell sneakers that feature this technology:
Merrell Around Town Lace Air, Merrell Berner Shift Lace
M Select GRIP
What is it?
The M Select GRIP is an outsole technology that delivers durability and optimum grip and traction on wet or dry surfaces or terrains of any kind.
How does it work?
Merrell sneakers with M Select GRIP outsole feature specialized lugs that releases dirt and debris, which result in the durable traction that delivers. These lugs also provide stability on any surface, in both wet and dry conditions.
Sample Merrell sneakers that feature this technology:
Merrell Jungle Moc Waterproof, Merrell Jungle Moc Nubuck, Merrell Civet Zip, Merrell Freewheel Lace, Merrell Berner Shift Lace, Merrell Burnt Rock
Vibram
What is it?
Vibram is an Italian company that partnered up with Merrell for highly-durable and highly slip-resistant rubber outsoles, called Vibram soles, for the latter's footwear products. This type of sole was first used on mountaineering boots.
How does it work?
Numerous Merrell sneakers utilize Vibram soles. Although there are now several kinds of Vibram soles, they are generally engineered to withstand abrasions and slippery surfaces on outdoor settings through the durable and superior construction of the rubber outsole.
Sample Merrell sneakers that feature this technology:
Merrell Moab Adventure Lace, Merrell Parkway Emboss Lace, Merrell Annex Trak Low, Merrell Annex Trak Moc
M Select DRY
What is it?
The M Select DRY is a waterproofing technology used in Merrell apparel and footwear products, including Merrell sneakers.
How does it work?
This technology utilizes a lightweight, waterproof layer that releases internal moisture and at the same time blocks wind and precipitation.
Sample Merrell sneakers that feature this technology:
Merrell Moab Rover Waterproof, Merrell Coldpack Ice+ Waterproof, Merrell Moab Adventure Lace Waterproof, Merrell Jungle Moc Nubuck Waterproof, Merrell Jungle Moc Waterproof.
Air Cushion
What is it?
Air Cushion is a Merrell-exclusive cushioning technology utilized in the heel of Merrell shoes.
How does it work?
The Air Cushion is featured on the heel of Merrell footwear, including Merrell sneakers, for shock absorption and added stability.
Sample Merrell sneakers that feature this technology:
Merrell Freewheel Lace, Merrell Berner Shift Lace
Merrell Shoes Fit and Sizing Guide
Sneakers, in general, vary in fit in size from one brand to another. Often, sneakers of the same brand still show discrepancies regarding size and fit depending on several factors such as the shoe's overall profile, its utilized materials and technologies, or its design origin and construction. These are primarily the reasons why we read contrasting and inconsistent reviews from purchasers on how a specific shoe model fits their feet.
The key to finding the perfect fit for your Merrell shoes, of course, is to try on a pair first before buying. But since that is actually not possible when you are purchasing a pair online, your best option then is to relay on noteworthy and reliable shoe reviews and read fit and sizing guides about the specific Merrell sneaker model you are eyeing. RunRepeat is one of your trustworthy sources of such information - each sneaker model, including Merrell sneakers, on the site is provided with fit and sizing guide and a comprehensive summary of how that specific sneaker fits for the majority of its purchasers.
To give you a gist of the fit and sizing of men's Merrell shoes and women's Merrell shoes, we compiled below some useful information:
Merrell sneakers are typically true to size, which means that they fit right out of the box. You don't have to size up or down from your usual shoe size.
Merrell sneakers are available in both men's and women's sizing. Men's sizing is offered from US 7 to 15, while women's are from US 5 to 11. Both have half sizes for most of the sneaker models. However, there are sneaker models that are exclusive only to men's sizing like the Merrell Annex Trak Low. Likewise, there are also shoe models that are women-exclusive.
The standard or medium width of Merrell footwear, including Merrell sneakers, is a D in men's sizing and a B in women's sizing.
Wide width sizes are also made available for some sneakers, which are size EE for men and D for women.
Frequently Asked Questions (FAQs)
What are the key features of Merrell sneakers?
Most, if not all, of Merrell sneakers available in the market are based on the brand's hiking shoes and redesigned to fit not just the outdoors, but also the casual settings. Most Merrell sneakers are engineered to endure light outdoor activities and, at the same time, feature a sleek design that would fit any urban adventure.
One striking feature that can be seen on most Merrell shoes is their rubber outsoles with deep lugs for durable and excellent traction on any surface or terrain. Often, these outsoles are equipped with either the M Select Grip or the Vibram technologies.
Another is the overall built on the upper of the shoes. Merrell is known for producing high-performance footwear, and this is reflected even in their sneakers. Though designed for casual use, Merrell sneakers feature durable and comfortable upper materials such as pig suede, nubuck, or full-grain leather that can withstand the wear and tear of the urban jungle and light outdoor activities.
However, with its expanding lineup of casual shoes, Merrell geared towards the use of diverse materials in their equally diverse shoe designs. Presently, mesh and canvas are visible as well on a variety of Merrell casual sneakers. These kinds of sneakers are often significantly lighter in weight and are more breathable than their leather and suede counterparts.
How do the materials affect the fit of Merrell shoes?
Finding a pair of sneakers that perfectly fits your feet is a crucial task. There are instances that you think you have already found your right shoe size on your first purchase, but when you get another pair of shoes in the same size as the first one, the fit will turn out to be somehow different. Such is caused by several factors as discussed above and one of which is the materials.
Merrell shoes, as earlier mentioned, feature either suede, nubuck, full-grain leather, canvas, mesh, or a combination of any of these as its upper material. Each of these, in a way, affects the shoe's overall fit.
Merrell sneakers made of leather, nubuck, and suede are more durable than their mesh and canvas equivalents. They fit tighter at first, but it is important to note that they stretch and get better over time. Mesh and canvas sneakers, on the other hand, give a flexible fit from the moment you put them on.
Merrell also recently joined the knitted upper trend in sneakers. Merrell sneakers with this type of material conform to the foot's shape and provide a sock-like fit to the wearer.
Can Merrell sneakers be worn for outdoor activities such as hiking and cycling?
It still depends on the sneaker model, but most Merrell sneakers are equipped with the brand's top-notch technologies that make them suitable to withstand light outdoor activities.
How do I know if my Merrell shoe is not fake?
There are several hints to look for to check the authenticity of your Merrell kicks. Below are some helpful pieces of information.
Check the shoe box. Brand new, authentic Merrel shoes are sold with a sturdy and quality boxes. The boxes' color and style vary depending on the shoe model and the production year. The brand's logo is printed on the lid and side. Check for any errors in the logo and texts, including the box label detailing the necessary information about the shoe. Also, see if the model numbers reflected on the box match those that are on the label inside the shoe.
Check the logos or brandings on the shoe, including those printed on the insoles. Any error even a single, minor detail is a red flag.
Inspect the quality of the sole. Merrell sneakers are of excellent quality and feature either the Vibram soles or the M Select Grip technology for better traction.
Most Merrell shoes have a flexible sole. You can bend the toe and heel to verify this on your pair.
Consider the price. If your Merrell sneaker is way too low compared to its regular and discounted prices, then there is a significant chance that it might be a counterfeit shoe.
How much are Merrell shoes?
Merrell sneakers vary in pricing depending on style, construction, materials, and technologies. They can be bought for as low as $69.99 and as high as $140.
Those belonging to the lower price point are typically low-tops with minimal design. However, this does not mean that they are inferior quality-wise than the expensive ones. They are relatively cheaper because they utilize a less amount of materials and their production costs are also lower compared to the high-end models.
On a different note, Merrell shoes that lean towards the expensive side are typically mid-tops with extra reinforcements for stability, durability, and support. They also often feature Merrell's frontrunner technologies like the M Select Dry for waterproofing.
What should I consider when buying casual Merrell shoes?
Like buying any footwear type from different shoe brands, there are factors to consider when choosing the best Merrell sneakers for you. Of course, it all boils down to your personal preference or choice, but we collated some points below to help you decide.
Unlike with other sneaker brands, the style of Merrell sneakers is not as extreme and diverse. Sneakers with over-the-top details, such as excessive straps, loud prints, metallic texture, or hybrids are a rare find in Merrell brand.
In a nutshell, Merrell sneakers often stay true to its outdoor footwear roots as reflected in most sneaker models' façade and aesthetics. They are typically outdoor-inspired but fit for the urban jungle and day-to-day functions. However, recently, there are Merrell sneakers that appear to look somehow different from the typical Merrells – with a knitted upper, minimal, and not bulky-looking.
Another consideration to look into is the Merrell sneakers' price point and your budget. As discussed above, Merrell sneakers range from about $70 to $140 depending on the shoe model and the technologies they utilize.
Sizing, Fit, and Comfort. As mentioned earlier, finding your perfect fit for your Merrell sneakers is crucial as it would dictate the level of comfort that your feet can get. See the Merrell Sneakers Fit and Sizing Guide section above for detailed information.
How popular are Merrell sneakers?
Merrell needs no introduction as a brand. It has been one of the top players in the footwear industry for over three decades already and one of the best in the outdoor shoes category. It is known best for high-quality hiking shoes.
The same thing cannot be said for Merrell shoes, though. Since the brand is popular for its hiking shoes, a large part of the shoe market and the general consumers are not mindful of the brand's sneakers lineup. Often, purchasers rely on other giant shoe brands like Nike and Adidas for sneakers and casual footwear, and only a few appreciate the style of Merrell sneakers. However, Merrell recognized this issue and started doing projects that raise the consumers' awareness of the brand.
How do I clean my Merrell kicks?
Cleaning your Merrell shoes on a regular basis is one way to take good care of your kicks. Regularly brush away any dirt on the surface using a soft brush to avoid damages on the upper part of the shoes. Should washing be needed, make sure to use mild soap and warm water, and rinse all soap off. After washing, dry the shoes thoroughly at room temperature including the insoles and laces. Remember not to expose them to high temperatures or direct heat to retain its quality.
Are Merrell sneakers available in toddler and kid sizing?
Yes. Merrell sneakers are also offered kid sizing in three different size groups: Newborn sizing (from newborn to 9-12 months), Little Kid sizing (US size 3.5 to 10) and Big Kid sizing (US size 10.5 and up). Width sizes also vary for some shoe models.
Who owns the Merrell brand?
Merrell is currently owned by the Wolverine Worldwide, Inc., a large footwear corporation that also owns several shoe brands like Hush Puppies, Keds, Sperry Top-Sider, and Saucony. Wolverine Worldwide acquired Merrell in 1997 from Karhu.
Merrell History
The Merrell brand has established and proven its position in the footwear industry as a brand that specializes in high-quality footwear fit for outdoor adventures. Because of this, the name "Merrell" has become almost always synonymous with "outdoor shoes" and "hiking boots." But how did it begin?
It all began with Randy Merrell, a custom bootmaker that started making custom boots at $500 a pair.
Randy Merrell's primary expertise was on cowboy boots, but his interests in backpacking and hiking eventually turned his craft's focus on hiking boots. During that time, the only available backpacking and hiking boots in the United States were all imported from Europe and not fit for a Northern American's foot. They were heavy and stiff, and their profile suits a European's foot.
From that, Randy Merrell made a much lighter and flexible version of backpacking and hiking boots with his cowboy boots as the basis for the fit. He called these the M1 or the Model 1. These boots have a roomy toe box, precise instep, and a snug heel, and most importantly designed to fit the Northern Americans' feet and take on North American mountains and canyons.
As a way to introduce the M1 in the hiking boot market, Randy joined Backpacker Magazine's Grand Canyon outing with 11 other readers. That trip opened a door of opportunities for Merrell. Three members of that group ordered boots from him, and one of them was Bill Kemsley, the magazine's founding editor. Merrell's exquisite work of art slowly gained recognition and eventually dubbed as "the most comfortable and functional boots in North America" by the Backpacker Magazine. From then on, the rest is history.
In 1981, Randy Merrell partnered up with two former ski company executives, Clark Matis and John Schweizer, and formed the Merrell Boot Company to produce more affordable but high-performance hiking boots for a broader market. But it took two years for the company to launch its first product to the market.
Five years after the company was established, Randy Merrell decided to leave the corporate world and went back to making custom boots (and custom orthotics) through his own small-scale business called as the Merrell Foot Lab. Despite this, the Merrell brand retained its name, went forward, and even further reached the global market with its product being sold to over 22 countries by 1992.
For over three decades, the Merrell brand had a fair share of its ups and downs, but it was able to reach a certain point of success in the footwear industry, particularly in the outdoor footwear market. At present, Merrell offers clothing, footwear, and accessories that are fit for work, hiking, casual, or tactical uses. It is currently owned by the footwear corporation Wolverine Worldwide along with other renowned footwear brands with the likes of Keds, Sperry, Hush Puppies, and Saucony.
Merrell Fun Facts!
Back in 1992, Merrell was run by only 38 employees that took part in the designing, testing, and promoting of Merrell products on a global scale.
Vibram soles were first seen on Merrell shoes in 1995.
The Aftersport category of Merrell footwear was launched in 1998. The first in the lineup was the Merrell Jungle Moc, which is still in production up to this day and has received several iterations including the waterproof version.
Merrell shoes are also available in kids sizing through the Merrell Kids line, which was introduced in 1999.
It was not until 2006 that Merrell launched its apparel line for men and women.
In 2011, Merrell and Vibram developed the Barefoot Collection for men, women, and kids. It is comprised of shoes that are low-profile, 0mm heel drop.
On its 30th Anniversary in 2011, Merrell launched the Origins Collection, which was a tribute to the brand's original roots. Silhouettes from 1981 such as the Wilderness, Eagle, and Solo were reintroduced featuring the brand's latest and top-notch technologies.
15 best Merrell sneakers
Merrell Jungle Moc
Merrell Jungle Moc Nubuck
Merrell Burnt Rock
Merrell Freewheel Lace
Merrell Moab Adventure Lace
Merrell Moab Rover
Merrell 1Six8 Mesh
Merrell 1Six8 Lace
Merrell Annex Trak Low
Merrell Jungle Moc Waterproof
Merrell Burnt Rock Travel Suede
Merrell Jungle Lace AC+
Merrell Moab Adventure Mid Waterproof
Merrell Wilderness AC+
Merrell Rant
This shoe has recently been added to RunRepeat. There are still not enough reviews for us to assign it a
CoreScore
.
CoreScore
A score from 1 to 100 that summarizes opinions from users and experts. The average CoreScore is 78.
More...