Spending for a killer pair of designer shoe is the common guilty pleasure of any extremely devoted sneaker lover.
One brand that's causing them to break the bank for such an obsession is Gucci. Why not? This must-own, luxurious fashion label is known for its top-notch quality and rich heritage that it has become a perennial choice of extremely fashion-savvy consumers.
Gucci's masterful creations of finely crafted leather accessories, knitwear, equestrian-inspired bags, refined footwear, and intricate clothing have been winning the hearts of men and women with discriminating taste in fashion since way back 1921. It was such period when wool cassimere and elaborately embroidered silk Georgette crepes were regarded the trendiest.
Today, skyscraping stilettos are becoming a taboo with the arrival of the athleisure fashion, while signature labels like Gucci are touching the most mundane casual sneaker, magically spinning it with high-street fashion flair. This modern spin by Gucci has been strongly influencing a new breed of patrons which is why more and more consumers are enticed to its novelty sneakers made with highly ornate aesthetics.
Reasons why Gucci sneakers are justifiable expenditures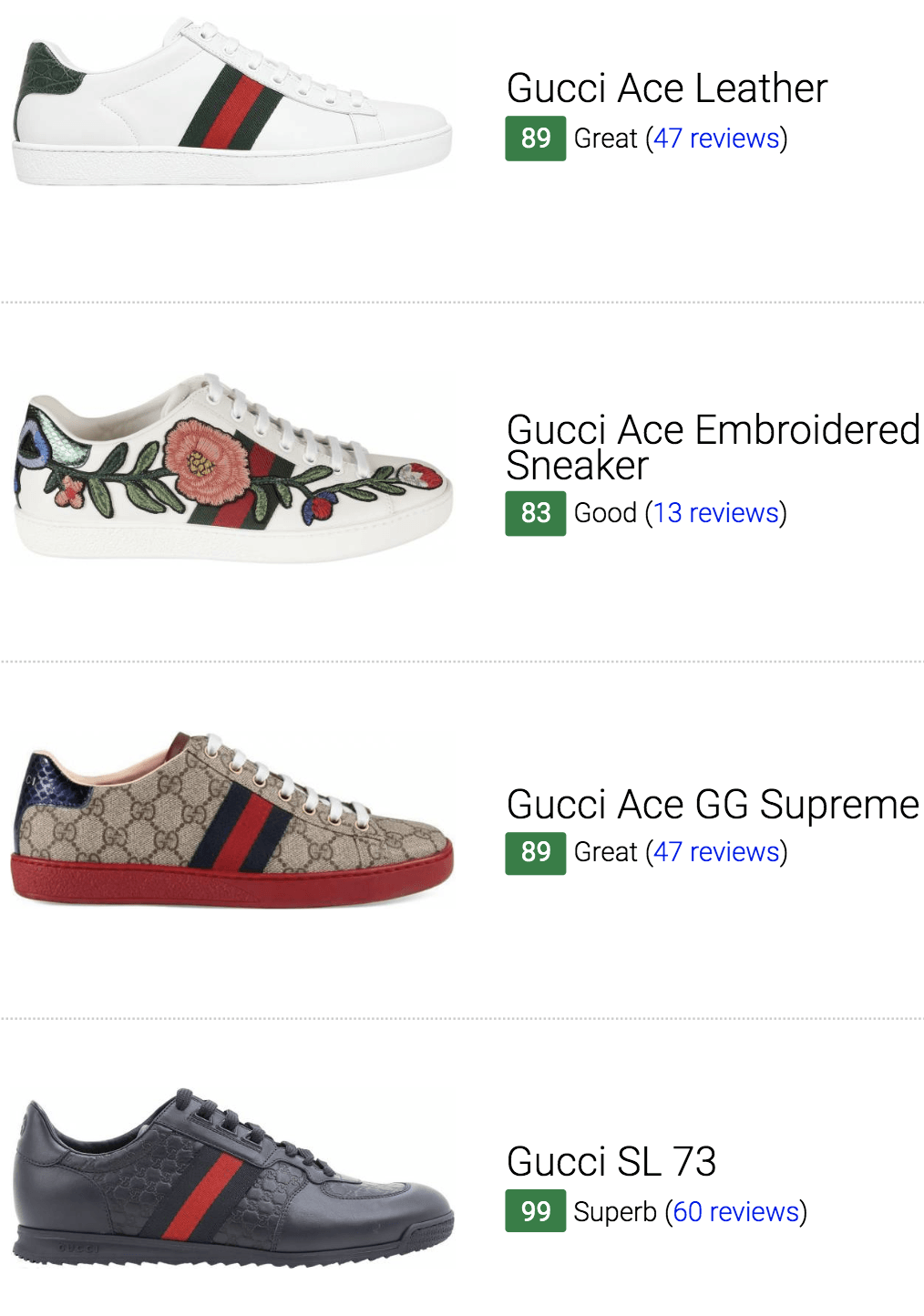 Are you meaning to splurge and save up on a pair of Gucci sneaker yet haven't decided which style, color, or cut? Tossing whether to get an Ace GG Supreme sneaker or an Ace embroidered one? Or have you been contemplating on buying that sparkly Falacer glitter sneaker but the thought of visiting the actual store is somewhat intimidating?
Allow us to guide you on your next, or first, Gucci sneaker purchase. Here are some of the reasons why Gucci shoes are worth your hard-earned savings.
1. Quality is incontestable.
What makes Gucci sneakers so unique is the fact that these are well-crafted and especially made by hand. Best Gucci Sneakers - June 2018
If you look closely at its seams particularly on the embroidered artwork, not a single thread is undone. The grosgrain trimmings in most of its Falacer designs are accurately assembled. The embellishments are not haphazardly shaped so that when these are attached to the shoe, one can quickly note its perfect harmony.
2. Life of the shoe isn't short-lived.
Sneakers are subject to wear and tear no matter how meticulously these are constructed as they carry the entire body's weight and subjected to harsh environmental elements. However, signature brands like Gucci aim to provide the finest quality goods to its consumers which are not only stunning but long-lasting.
Known since its inception as producer of high-quality leather products, Gucci continues its tradition in catering its patrons premium leather items, which includes sneaker products. The façade will get marks of wear such as creases, but this would typically appear after an extended period of use.
3. Designs are one-of-a-kind.
Gucci's sneaker designs, whether with traditional lace-up front or slip-on feature, definitely make a statement. And its attractive colors, patterns, and textures are unlikely to be missed as they quickly stand out.
The boundless creativity of this signature brand is seen in its intricate needlework made of bold colors that are easily identifiable miles away. These highly notable embroideries are Gucci's trademark bee, insects, snakes, cats, arrows, flowers, to name a few. The idea of more is more is also depicted in its finely assembled ornaments applied with glass pearl, gold-toned studs, and multi-colored crystals, bows. Even its slip-on platform sneaker, with a three-inch elevation, is screaming for attention.
4. High-couture with comfort.
As with any footwear, comfort isn't an added benefit but a vital component. It is even wiser to consider comfort, especially when purchasing a sneaker that costs a fortune. Gucci, a brand that has bent down to understand the needs of the feet, has been producing sneakers with a liberal amount of cushioning, so the feet stay comfortable for extended hours. Its leather sneaker designs might need adequate break-in time before you can enjoy its full benefits.
5. It comes with a rich heritage.
Gucci's classic sneakers are a testament to the brand's rich heritage which is a reflection of high-quality artistry tradition introduced by its Italian founder Guccio Gucci since the beginning. The vintage appeal of its leather and canvas sneakers with Guccissima pattern delivers a classic flair which makes the designs wearable season after season.
What are the popular designs of Gucci shoes?
Gucci resurrected its
tennis classics
from the 1980s and plunged into the world of lifestyle sneakers offering a broad spectrum of designs. From timeless black and white selections, this fashion house dove into complex design concepts using embroidered patterns featuring bees, snakes, cat, flames, lightning bolts; excessively detailed ornaments utilizing crystals, studs, glitter; and entirely elegant floral prints.
On the opposite end of its style spectrum, Gucci creates a pre-distressed looking sneaker pushing boundaries of traditional elite casual wear. Here is a rundown of Gucci's sneakers that's been causing a wave in high-street fashion.
1. Gucci Ace Sneakers
These much-favored sneakers are available with a play of embroidered novelty patches that catch the attention of any age group. These patches have metal snaps at the back that give you the option to embellish your sneaker or not. The brand also came up with different designs of interchangeable leather patches that give you the freedom to customize your sneaker.
Mostly seen covered in pure leather, leather with lace, canvas, and lurex jacquard, these kicks are obtainable in both women's and men's sizes. It is also the first collection that carries a black python metallic skin accent on the heel.
Style: Gucci Ace Sneakers gives you an illustration of what high fashion looks like when wedded with casual, relaxed street vibe. If you're one of the style-savvy sneaker fanatics who is drawn to floral accents, the Ace sneaker might be that look you would crave for. This sneaker creates a warm harmony with tapered pants, capris, minis, and shorts, whether you prefer toned down pastel or mono shades or extraordinarily bold and solid hues.
Variations:
Ace Glitter
,
Ace Sneaker with Removable Patches
,
Ace Sneaker with Crystals
, Ace Lurex Jacquard Sneaker,
Ace Leather
,
Ace Leather Embroidered
,
Ace Studded
,
Gucci Flora Snake Sneaker
,
Ace Kingsnake Print
,
Ace Metallic
,
Ace Sneaker with Flames
,
Ace Signature
.
2. Gucci Falacer
Gucci Falacer sneakers are retro-styled low-top designs that appear like extravagant dress shoes with Sylvie Web ribbon design cascading on the side panels towards the heel. The heel patch displays a distinctive embroidered bee against contrasting metallic leather. The styles for men come in traditional shoelaces, while some of those made for women come in ribbon laces with plastic aglets.
Just like the Ace sneakers, the Gucci Falacer are available in both genders in different upper materials such as full-grain leather, patent leather, glitter, lurex, as well as embellishments like crystal and metallic bee appliques.
Style: If you're aiming for that new vibe, glitter, and glow or want a look that will make you noticeable in the crowd, then the bold colors and textures on the Falacer might suit your preference. The strong appeal of the Falacer shoes punctuates any style of clothing. The lace and patent leather variations might be the styles you might want to pair up with your next high-end event.
Variations: Guccy Falacer Sneaker, Falacer Gucci Invite Sneaker, Falacer Patent Leather Sneaker with Web, Falacer with Glitter Sylvie Web, Falacer Lurex GG Sneaker with Web
3. Gucci Signature Leather
Gucci Signature Leather sneakers utilize the embossed Guccissima leather panels, a trademark design by the fashion powerhouse. The heat pressed Gucci monograms commonly appear on the forefoot, quarter, and heel.
Sneakers with the proprietary leather surface come in monochromatic hues with red and green web on the side panels. These designs appear in low- and high-top versions. Everything on the upper rests on a rubber sole with Gucci signature on the side.
Style: The signature leather varieties of sneaker by Gucci offer a timeless look. The low-top versions can be slipped on with a wide assortment of clothing, for corporate affairs, business trips, when traveling from city to city for work-related conferences, and conventions. Some of these are also the type of designs that look ultrachic when paired with tailored suits, fleece coats, or leather trench.
Variations:
Gucci SL 73 Sneaker
, Gucci Leather Sneaker with Web, Ace Gucci Signature Sneaker, Gucci Signature High-Top
4. Gucci Slip-On
Aside from the conventional lace-up designs, Gucci shoes also have slip-on selections which are obtainable in either high-quality canvas or debossed Guccissima leather and paired with a rubber outsole. If you value the extra height of sky-high sneakers, you might want to contemplate on the three-inch platform slip-on designs which are dressed with uppers made of satin and lace overlays.
Style: If you're aiming to give your ensemble a hint of opulence and want to go laceless which you can sport effortlessly, then these slip-ons might be appropriate for your needs. The classic GG Supreme and leather options come with a two-inch rubber sole height. These are the type of shoes that allows you to be on the go, while it takes charge of keeping your feet secure and comfortable.
For a dressier look without the need for wedges, platforms, or heels, the Ace Lace option that comes with an oversized bow and crystal buckle is ready for your taking. It can be your wedding reception footwear, a stylish match for your debut dress, or a classy contrast to your cocktail dress.
Variations: Gucci Signature Slip-On, Gucci Dublin Leather Skate Shoes, Gucci GG Supreme Slip-On Canvas, Gucci GG Supreme Angry Cat Dublin Slip-On Canvas, Gucci GG Supreme Snake Dublin Slip-On Canvas, Gucci Slip-On Sneaker with Bees, Lace Platform Sneaker, Ace Lace Sneaker
5. Gucci 1984 Sneakers
Apparently according to fashion connoisseurs, if there is one shoe that ignited the phenomenon on opulent sneakers, it's the classic white Gucci tennis model from 1984. The brand brought back this style on its 30th anniversary last 2014 with a commemorative version that displays an embossed
"1984"
inscription on the heel and stitching on the inlay sole.
The resurrected version appeared in original all-white colorway, black, and white and green. Unlike the 1980s court player which was made in entirely leather cover, the remake is dressed in quilted nylon fabric on the vamp and quarter panels.
Like with most Gucci sneakers, the Tennis
'84
Sneaker comes with two sets of shoelaces. The default pair is made of vintage red and green while the extra set is in off-white. It mimics Reebok's S. Carter sneaker since apparently the original Gucci 1984 tennis classic was the inspiration of rapper Jay Z when he formulated the Reebok kick.
Style: The predominantly leather coverage of the Gucci 1984 sneaker gives an elegant spark which makes it appropriate for awarding ceremonies such as golden tee events, high tea parties, and leisure trips. The dark monochromatic exterior integrates well with equally dark trousers while the white options complement colored pants, chinos, and denim.
6. Gucci Rhyton
Who says that elite fashion is all about being prim, polished, and sophisticated? Definitely not Gucci, a brand that deliberately came up with a grimy looking sneaker to include on its roster of elite wear. Called, Rhyton, this dingy, scuffed shoe is expected to go with clean track pants and joggers.
The Rhyton resembles a typical athletic shoe with a chunky midsole and an outsole made of deep grooves at the front. Its retro-inspired robust body is made of overlapping layers of ivory leather. The leather lining inside the shoe offers a premium feel to it.
This grime-tinted sneaker comes in two designs. One variation displays a multicolored logo with lettering on the side, while the other iteration has a distressed design which comes in plain ivory leather. The latter has simulated marks of wear and blemishes on the entire shoe and laces – a high-end beater that doesn't need actual battering.
Style: Are you the type who rubs elbows with socialites for high-end events, an event organizer of elegant affairs such as weddings, debuts, runway shows, or concerts? One who's always on your feet most of the time, and needs a pair of shoe that's fashionable and functional? The Gucci Rhyton could possibly be that style and form that fits you. Its opulent laidback athleisure look goes well with flashy or avant-garde outfits.
7. Gucci GG Supreme
This luxury brand's tonal-beige GG canvas remains to be prevalent to this day. It is crafted from coated microfiber textile with woven GG monogram. Formerly seen only in Gucci luggage and travel bags with contrasting red and green web or coffee-brown trimming, this pattern has eventually migrated into its boots, sandals, wedges, flip flops, slippers, and ultimately to its sneaker design in slip-on or lace-up compositions.
The brand modified its original canvas design by introducing the GG Supreme which is more eco-friendly than the previous composition that's coated with liquid-plastic. This softer edition is still made with hard-wearing fabric so you can expect to sport this shoe for a long time.
Style: The GG Supreme selections are the most classic offering in the Gucci sneaker lineup. The 1970s vintage appeal of these sneakers, particularly the Ace and slip-on versions, punctuated by the red and green webbing details are suitable for fitted trousers, leggings, skirts, and dresses. The high-top profile is ideal for tailored trousers, denim, tapered pants.
Variations: Gucci GG Supreme High Top, Gucci GG Supreme Slip-On with Pearl Bow, Ace GG Supreme Sneaker
8. Gucci Metallic Leather
From its metallic leather horsebit loafers, Gucci puts back such kind of glossy covering this time on sneakers. The metallic leather feature come in blinding yellow shimmer that resembles a 24karat gold and red-blue-silver combo. Sneakers with metallic cover come in several styles such as a lace-up front on a towering rainbow-colored platform and high-tops with 10mm rubber outsole.
Style: If you want to make a bold statement and need the extra boost in styling for special events, then the shimmery metallic leather slip-on and high-top sneakers may be the footwear that suits you. These suitably fit high-end al fresco dressy occasions, gala events, cocktails parties, highly exclusive product launches, fashion events, or intimate gatherings,
Variations: Gucci Metallic Leather High Top, Gucci Metallic Leather Slip-On
Gucci Casual Shoe Collaborations
Below are the official collaborative sneaker projects initiated by the fashion powerhouse.
1. Unskilled Worker Ace Sneaker
A special version of the Ace sneaker called the Unskilled Worker Ace Sneaker is exclusively available online. This shoe is a collaborative work between the Italian fashion brand and London-based artist, Helen Downie. Her Instagram account titled,
"Unskilled
Worker," got the attention of Gucci's Creative Director Alessandro Michele
(2015
-present)
and her colorful portraits were made into wearable art using the Ace sneaker as a canvas.
2. GucciGhost Sneaker
Gucci sneakers are built from a diverse range of influences, from exotic animals to English subcultures. Through a partnership with Brooklyn-graffiti artist Trouble Andrew, the brand welcomed the concept of scribbled street art as inspiration for the GucciGhost Sneaker. Utilizing blue leather, this sneaker came in slip-on, low-top and, high-top versions. It is built with a round toe, leather lining, and branded insole. Everything on the upper rests on a flat rubber outsole.
3. Adidas NMD_R1 x Gucci
Two titans in sporting goods and fashion merged in producing a sneaker that's not only ultra-comfortable but highly fashionable too.
Adidas
brings its much-adored Boost technology to the table, a midsole property that offers an unquestionable responsive ride, while Gucci blends in its strong heritage. Their union led to the production of the sock-like
Adidas NMD_R1 x Gucci
, a sneaker that offers contemporary luxury using breathable and stretchable Primeknit covering for the entire upper.
Price Ranges of Gucci sneakers
Designer shoes can be your best accessory next to your luxurious handbags. Of the many styles available, the classic ones are the most worthy expenditures since these would typically be useful season after season. Buying an expensive shoe will save you fortunes from purchasing cheaper ones more often since a good quality shoe tends to last longer. Below are the price brackets of Gucci shoes and an overview of what you can get out of such values.
Over $500 to $700
Gucci sneakers within this price range are mostly under the Ace collection, made of leather or canvas, embellished with inlaid stars or intricate embroideries either crafted as part of the shoe design or using appliques.
Those who are enamored with vintage-inspired designs and are usually on-the-go might find a suitable model within this price bracket, which goes well with tapered jeans, capris, leggings, cropped shorts, and dresses. These type of sneakers may be useful at school, work, for relaxed and casual affairs such going for a lunch date with friends, shopping on the high street, and going for a leisure trip.
Examples: Ace Guccissima Leather Lace-Up Sneaker, Ace GG Supreme Sneaker, Ace Leather Sneaker, Ace Embroidered Sneaker, Falacer Lurex GG sneaker with Web, Lurex GG with Silver Metallic Leather.
$730 to $830
Gucci sneakers that fall into this category have uppers made of leather, embellished with intricate embroideries, covered with lurex jacquard fabric, or dressed with retro-inspired GG comic print. Other adornments within this scope are wool, bow attachments with crystal detailing.
Examples: Ace Embroidered Sneaker, Ace Sneaker with Removable Patches, Ace Sneaker with Bees and Stars, Ace Sneaker with Wool, Ace Lurex Jacquard, Ace Lace Sneaker, Rhyton Gucci Logo Sneaker, Ace Sneaker with GG Print.
$890 to $1000
Highly fashionable three-inch elevated slip-on sneakers with lace covering are among the many designs within this price group. Gucci sneakers with glittery cover and patent leather are within this class too, as well as Ace sneakers with removable patches adorned with multicolored crystals and black beads.
Examples: Leather Platform Sneaker, Falacer Gucci Invite Print, Gucci Falacer Patent Leather, Gucci Falacer Sneaker Metallic, Ace Embroidered Sneaker with Crystal, Falacer Patent Leather Sneaker with Web, Falacer Sneaker with Glitter
$1100 to $1200
Gucci sneakers within the top-tier price range consist of low-top Ace sneakers with detachable appliques, crafted with either intricate crystal arrangement or glass pearl and gold-toned studs. The high-top leather sneaker with more than one interchangeable embroidered patch also demands a higher price than other Ace variations.
Examples:
Ace High-Top with Removable Patches, Falacer Glitter Sneaker with Web, Ace Sneaker with Removable Patches.
What are the commonly used designs and patterns in crafting Gucci fashion shoes?
Gucci's rich and solid heritage talks about its mastery in leather and fabrics. In its quest for authenticity, it has created trademark designs which are seen in most of its products including sneakers, beautifully fused with colors, cuts, and textures. Here are some of such distinctive Gucci prints which are instantly recognizable representation of class, luxury, and leisure.
1. Gucci Diamante
Guccio Gucci concentrated on luxury leather luggage production when he was trying to build the brand in the 1920s until he has expanded his collection adding handbags and shoes a decade later. When war came, leather became a scarce resource. Thus, Gucci diverted to using canvas, a kind of fabric that is still seen in Gucci products today including sneakers. In the mid-1930s a diamond pattern was woven on the hemp fabric which was then used in creating luggage. This became Gucci's first recognizable print.
2. Gucci Vintage Web
The Gucci red and green strip of fabric was conceptualized and used in the 1950s, a nod to the fashion brand's equestrian heritage. This belt was derived from the canvas saddle girth which is also referred to as a
"web."
Since it was first installed on Gucci's products, this became a signature image of the brand. This is commonly seen on the midfoot and pull tabs of Gucci sneakers, particularly in the Ace Embroidered Sneaker and GucciGhost Slip-On Sneaker.
3. Gucci GG Canvas
The double G monogram is an updated version of the Gucci Diamante. It was initially crafted in the mid-1960s on hard-wearing sand-colored canvas, which represents Guccio Gucci's initials. Since that time, such emblem became one of the highly familiar prints of the brand used in its assortment of bags and recently in sneakers.
This iconic design stands out and easily identifiable with the Gucci label. The Gucci GG Canvas is used as upper materials for sneakers, such as those seen in Ace GG Supreme Sneaker and GG Supreme Slip-On Sneaker.
4. Gucci Guccissima
The Guccissima pattern is a modified version of the GG Canvas graphic which features interlocking double G logo on embossed leather. This design was conceptualized by former Gucci Creative Director Frida Giannini back in 2006.
5. Gucci Microguccissima
As its name implies, Gucci Microguccissima is a tighter version of the Guccissima pattern. Like the broader pattern, the Microguccissima is predominantly used in Gucci's products.
5. Appliques
Appliques or patches are those removable and interchangeable leather attachments seen in some of the Ace Sneakers which come with metal snaps at the back. Each applique is sold as an individual piece. Among the available designs are embroidered animal icons, crystal rainbow, whimsical bow motif, crystal bow, flower, snowflake, crystal embroidered eye. The prices of these intricate attachments vary depending on the complexity of its crystal detailing.
How to determine authentic vs. counterfeit Gucci sneakers?
1. Compare the price.
Replicas or imitations of authentic Gucci sneakers are considered counterfeit goods. Simply put, these sneakers are not manufactured by Gucci and are made to mislead consumers that these are indeed genuine items.
Prices which are way below the expected cost of a particular Gucci sneaker should give you a fair warning that the article might be a counterfeit. Most of the fake goods have poor quality, easily identifiable with undone stitching, visible adhesives, and offset patterns.
2. Inspect the serial number printed on the lining.
If you see an 8-digit serial number printed on the leather, this should alert you that such sneaker is not a genuine one. Original Gucci sneakers have its serial number hidden inside the shoe stamped just beside the shoe size. The inscription
"Gucci
Made in Italy" is also displayed on the heel of the shoe lining.
3. Check the markings on the sole.
Typically, an authentic Gucci sneaker has the words
"Gucci
Made in Italy" embossed on the outsole, while the shoe size with the same kind of carving is placed on the tip of the heel. The shoe size is not stamped or in sticker form.
4. Examine the packaging and shoe bag.
The older Gucci shoe boxes come with a debossed Guccissima pattern while the more recent ones are assembled with an off-white cover and black trimming. Gucci sneakers bought from its boutiques have boxes with clean sides and free from any stickers containing shoe details, such as the name of the shoe, colorway, shoe size, barcode, and the rest, while those bought from retailers could potentially have such detailing. The off-white version has a white flap that hangs on the side which includes the said specifications.
The dust bags of authentic Gucci shoes are in brown with the double G branding printed on it and white with a
"GUCCI"
embroidered patch. The white one is narrow, long, and made of silky fabric, while its fake copy is cut almost in square form and made of cotton fabric. Both brown and white ones are well sewn, without any visible loose threads for a clean look.
5. Assess the seams.
Gucci has been known for its keen attention to details. Its shoes are hand sewn, and the stitching is usually camouflaged with the design. Fake designs are commonly mass produced that you can expect substandard quality mainly on how the shoes are stitched and glued, whereas, an authentic Gucci sneaker have precise stitching patterns.
Tidbits about Gucci
Gucci, with a value of $12.7 billion and sales of $4.7 billion as of 2017, is considered the 44th out of the 100 most valuable brands globally, ranked by the Forbes Magazine. Such list is capped by technology top dogs like Apple, Google, and Microsoft. The top-ranking luxury label snagging the 14th place is BMW, while the leading brand in high-end fashion category is Louis Vuitton at 19th place.
Gucci has gone viral. This extremely fashionable brand is a mainstay in Milan Fashion Week. Since 2016, Gucci has been entirely aggressive with its campaigns, pushing boundaries of luxury fashion by tapping different facets of lifestyle, from classy, flamboyant, hippy, to casual and utterly laidback.
Gucci is actively involved with its social media campaigns which include Facebook, Twitter, Instagram, YouTube, Pinterest, Google+, and Snapchat.
Before the Gucci sneakers with embroidered motifs gained popularity, the brand was famous for its full-shoe, backless, fur-trimmed, horsebit-laden loafers, which are considered as the universal icon of comfortable, refined lifestyle.
Gucci is one of the opulent fashion houses under the global leader in luxury apparel and accessories, Kering S. A. Other brands under the same umbrella, controlled by French billionaire Francois Pinault, are Saint Laurent, Bottega Veneta, Alexander McQueen, Balenciaga, Brioni, Christopher Kane, Stella McCartney, among others. Kering is also the developing some of the lifestyle brands which includes Puma.
The first Italian boutique which opened in the US that caters luxury goods is Gucci. That was in 1953 the same year that its founder Guccio Gucci passed away leaving the clothing and accessory enterprise to his four sons Aldo, Vasco, Rodolfo, and Ugo Gucci.
This well-loved fashion brand was formulated in 1921 by its founder Guccio Gucci in the Italian city of Florence. There he opened a small luggage store which already employed his propensity towards fine grade craftsmanship.
At a young age of 17, Guccio, a son of an Italian merchant, traveled to Paris and London and landed as a maître d' at the Savoy Hotel. His experience at the hotel opened his sensibilities to luxurious leather goods, a kind of merchandise he will be involved in the subsequent years.
Guccio who was a fledgling entrepreneur in his teens started to vend saddlebags when he came back to Florence from his stint at the London hotel.
During the 1960s Gucci bags and accessories were so famous and had won the hearts of prominent names, such as Jackie Kennedy, Grace Kelly, Liz Taylor, Peter Sellers, and Samuel Beckett.
The most recognizable double G interlocking emblem was created by Guccio Gucci which was first seen in the mid-1960s.
FAQs on Gucci Lifestyle Kicks
Are Gucci sneakers unisex?
Most of the sneakers under the Ace and Falacer collections are available in men's and women's sizes. There are specific colors, though, which are exclusive either for women's or men's. The leather high-top variations with lace detailing are obtainable in women's sizes. This laceless, slip-on sneaker with a bootie construction is designed with a raised tongue and heel, dramatically revealing the ankles.
On the other hand, the Ace high-top sneaker, whether in plain leather or embellished with either wool or detachable patches are made for the men's feet. Unlike the feminine high-top counterpart, these men's shoes have elevated upper that hugs the entire ankle area.
How do Gucci shoes fit?
Gucci sneakers tend to run big and going a half size or full-size down would give you the desired fit you need. The leather versions need some break-in time, but since it's made of premium quality, it will stretch comfortably offering enough room for the toes to splay, while preventing the sides of the foot from distress.
How do I know my size?
Gucci has its own sizing guide for sneakers. Although the values of its sneaker sizes are half size lower than other Gucci shoes, all its shoes have the same US shoe size. For instance, if your usual shoe size with Gucci loafer is 34, you may obtain size 4 US, which is equivalent to size 33.5 in Gucci sneakers. For our site, we offer sizes in US values.
How long will my leather Gucci shoes last?
Gucci sneakers are constructed to last for a long time. The leather made uppers are almost foolproof scratch resistant and soft. The blemishes and blots after wearing the sneakers can be rubbed off for the most part. The rubber sole makes the shoe comfortable.
How do I clean and preserve my Gucci leather sneakers?
Gucci leather sneakers cost a fortune, so you want these to last for a protracted time.
Remove the shoelaces and submerge them in warm water with detergent.
Brush off remaining dirt between the crevices on the upper, in between eyelets, and the outsole.
Combine warm water and a few drops of laundry detergent, and use a soft, non-abrasive cloth to clean the soiled areas.
Wipe the residue and allow the shoe to air dry.
Rinse the shoelaces and hang to dry. You may put tissue inside the shoe to speed up the drying process.
Put back the laces and insert wooden shoe tree to preserve its shape.
Spray your shoes with water resistant spray protector.
Gucci shoes come with individual shoe bags. Store your clean shoes inside the shoe bags and keep them inside the box.
How do I clean my sneaker with a glittery cover?
Remove any embellishments and wipe your shoes with a soft cloth.
Mix cold water and laundry detergent and pour into a bowl.
Brush your shoe using a soft shoe brush.
Wipe off any soapy residue and allow your shoes to dry out away from direct sunlight.
Put paper towels inside to hasten the drying process.
Once dried entirely, store in individual shoe bags and keep it inside the box and into your shoe closet.
What is the symbol displayed on the outsole?
The coat of arms emblem at the bottom of the shoe is Gucci's crest which displays a shield and an armored knight surrounded by a ribbon.
Is it true that Gucci discontinued using fur materials in its products?
Beginning with its Spring/Summer collection, Gucci ceased to produce and promote any fur fibers, raw and unprocessed state, including pelt of an animal such as mink, fox, rabbit
(except
angora), kangaroo, karakul lamb, raccoon dog slaughtered for its fur. This is part of the brand's advocacy as a member of the Fur Free Retailer coalition.
Where are Gucci sneakers manufactured?
All Gucci sneakers are made in Italy. Gucci sneakers are manufactured with top-notch materials, designs, and workmanship. One of the reasons why this brand remains to be world's coveted luxury signature label is the fact that it has maintained its tradition in producing its own products, except for timepieces which are made in Switzerland and fragrances made in EU.
Where is Gucci's main office located?
Gucci's headquarters is located in Florence, Italy. It operates around 278 directly operated boutiques around the world as of September 2009. It wholesales its merchandises through franchisees and upscale department stores.
14 best Gucci sneakers
Gucci SL 73
Gucci Ace Leather
Gucci Ace GG Supreme
Gucci Ace Embroidered Sneaker
Gucci Rhyton Leather
Gucci Ace Kingsnake Print
Gucci Rhyton Gucci Logo
Gucci Ace Sneaker with Removable Patches
Gucci Ace High Top with Removable Patches
Gucci Signature High Top
Gucci Ace Sneaker with Flames
Gucci Ace Signature
Gucci Ace Leather Embroidered
Gucci Screener Leather
This shoe has recently been added to RunRepeat. There are still not enough reviews for us to assign it a
CoreScore
.
CoreScore
A score from 1 to 100 that summarizes opinions from users and experts. The average CoreScore is 78.
More...