Overall ranking lists
Ecco categories
Go out and grab a pair of Ecco hiking shoes. This Denmark-based company has got you covered with their offerings that are handcrafted to deliver lasting durability, utmost comfort and outstanding fit. The Danish design of their footwear uses cutting-edge technology combined with modern principles which creates remarkable products.
What to expect from Ecco hiking shoes for men and women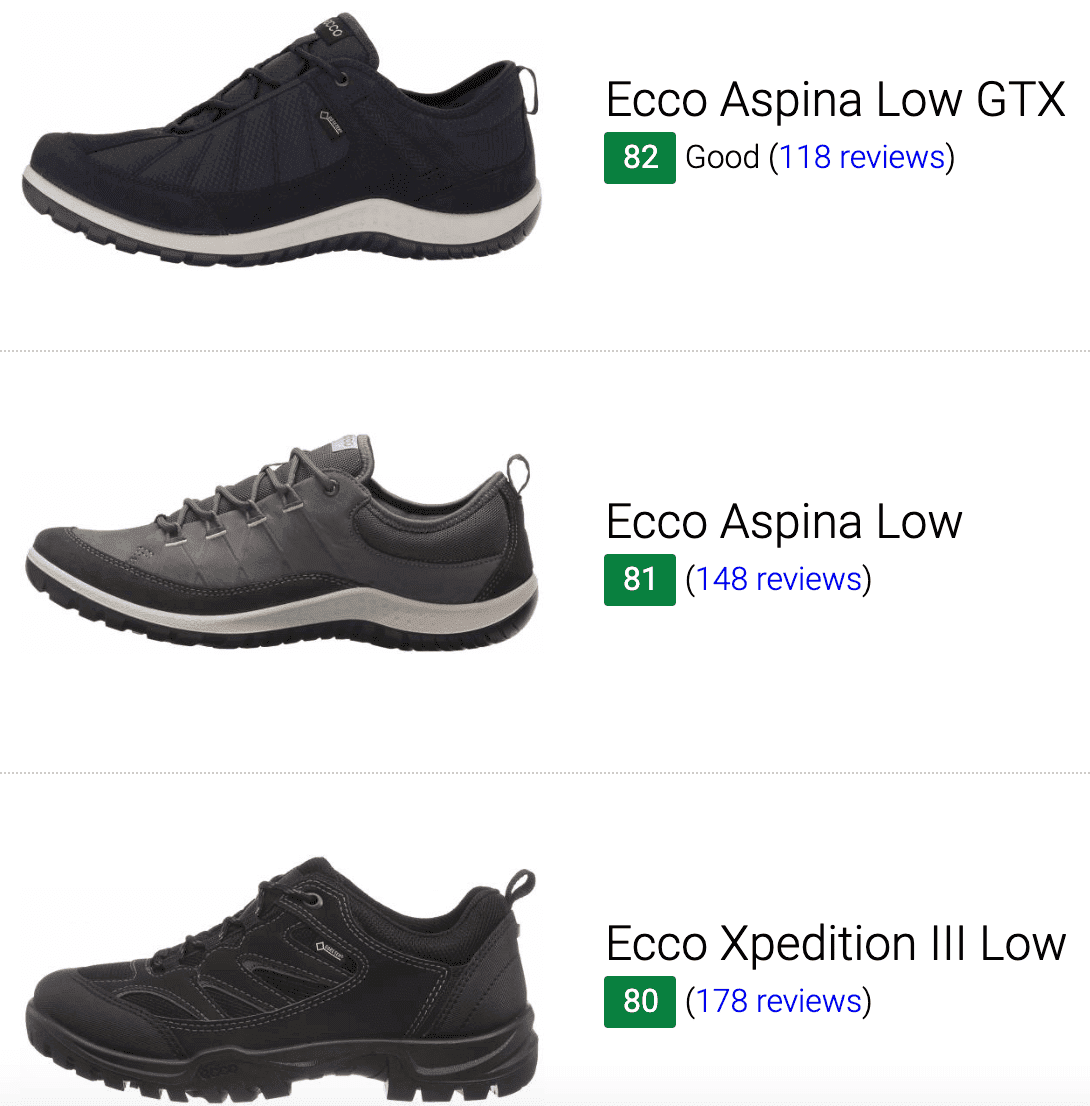 Best Ecco hiking shoes - May 2019
Quality craftsmanship
With the brand's designers respect for heritage, they ensure that every pair made reflects quality craftsmanship. The yak leather used in a number of Ecco hiking shoes is crafted in their own tanneries to ensure that it will be able to withstand the test of time. You will also be treated to the luxurious feel of the materials used in each of their creation. The engineers use a one-piece construction method (without glue or any stitching) to grant lasting durability for different outdoor activities.
Superb comfort
It is imperative that you enjoy wearing your low-cut hiking shoes once you set out on that trail. With Ecco products, you can get the comfiness you need on and off the trails. The advanced construction techniques used in their footwear products aim to deliver long-lasting comfort. With the brand's Freedom Fit, there is no need for a break-in period.
Ultimate support
Ecco has put importance on the support that will carry and cradle you in every adventure. One of their latest innovations is the Receptor technology which mirrors human motion and enhances stability. It also helps alleviate fatigue even after a long, strenuous hike.
Protective build
Ecco men's and women's hiking shoes are designed with leather overlays on areas that are more prone to scuff and abrasions. They are built able to withstand the extreme outdoors. Some of their models carry a waterproof liner which prevents your foot from getting soaked during wet encounters.
Notable technologies used in men's and women's Ecco hiking shoes
Receptor technology
The Receptor technology is a platform developed to provide its users with a smooth and comfortable stride during these phases:
First, upon heel strike, the rounded heel of Ecco hiking shoes guides the foot to a 20-degree angle contact.
Second, during transition, an integrated internal midfoot shank assists, supports and improves comfort.
Lastly, the Dual Flex Grooves (visible on the outsole) yields an efficient push-off.
On the other hand, a couple of the brand's lightweight hikers come with the Receptor Lite. This feature uses the same technology, but it is engineered with a slimmer shank. This configuration shaves off weight and enhances underfoot flexibility.
Hydromax
The brand's very own Hydromax is responsible for making the shoe water-repellent. This treatment also helps keep a supple, breathable and resilient exterior. It is made of a combination of paraffin and silicone base which is added into the leather during the re-tanning process. It creates a barrier which provides weather protection. Ecco's product specialists have further developed this treatment to enable them to apply it in shoes with a textile upper.
Ecco Comfort Fiber System (ECFS)
This feature is mainly responsible for maintaining good foot health and a cozy interior feel. The Ecco Comfort Fiber System or ECFS is the bottom layer of Ecco's insoles. The top layer is sometimes made of leather or a leather and textile combo. The open-cell construction of the ECFS gives the inlay (or footbed) a "pump" effect which enables it to optimize air circulation. It also takes care of in-shoe freshness, thanks to its antibacterial property which neutralizes odor-inducing elements present in sweat. Its anatomical design enables it to dissipate shock from ground impacts.
Gore-Tex
Many hiking shoes from Ecco are sealed off from water intrusions, thanks to the incorporation of a Gore-Tex laminate. This third-party technology will help keep your feet dry and comfy. Its membrane also allows moisture from the inside to escape.
Frequently asked questions
I need replacement laces for my Ecco hiking shoe. Where can I get one?
The brand can only send you replacement laces as they do not stock the original laces that come with your hiking shoe. They also recommend checking out some outdoor retailers who sell laces.
How can I be sure that my Ecco hiking shoes are authentic?
Ecco seeks its customers to be aware of websites offering counterfeit products. Their website lists numerous internet sites that interested buyers should avoid when they are purchasing online. Below are some of the things you should consider when ordering online.
Confirm if it provides sufficient contact details.
Ensure that the site is secured.
Observe if the links on the site are working properly.
Assess if the products are sold in peculiar prices (example: $273.33)
Check if the web address contains the words cheap, discount, etc.
2 best Ecco hiking shoes
Ecco Terracruise LT Outdoor
Ecco Espinho GTX
This shoe has recently been added to RunRepeat. There are still not enough reviews for us to assign it a
CoreScore
.
CoreScore
A score from 1 to 100 that summarizes opinions from users and experts. The average CoreScore is 78.
More...