Balenciaga sneakers
Changes in the behavior of the consumers have turned the luxury sectors to face structural revolutions to suit the preference of the modern clients. The popularity of classic hot items has plunged in favor of casual pieces that lie between traditional style and leisurewear with informality without sacrificing the elegant vibe. Thus, a significant number of luxury brands needed to adapt to the progressive desertion of formal, classic, and luxurious items because of the increase in the acceptance of casual, relaxed, laidback fashion.
This trend was started by the luxury denim market which has long been integrated into the collections of luxury brands. The footwear products, later on, felt the impact and followed suit in the luxury-casual trend. There was a spike in numbers of consumers that were willing to shell out $500 for a pair of footwear.
Sneakers were once tagged as an unimportant facet of fashion and ignored by many high-end brands. The sneakers, which were once used exclusively within the four corners of the gym and courts, were able to cross the streets as the key item in one's overall ensemble. Sneaker enthusiasts were able to create a global movement for sports-casual apparel that gave rise to the Athleisure industry which is a hybrid of sports and fashion, comfort, and style.
The popularity of Athleisure has forced some brands, including the luxury ones, to create their take of trainers fused with comfort. Unlike the sports performance footwear, luxury sneakers are engineered with the traditional methods and designs with luxurious materials and fabrics, such as leather or suede.
Balenciaga history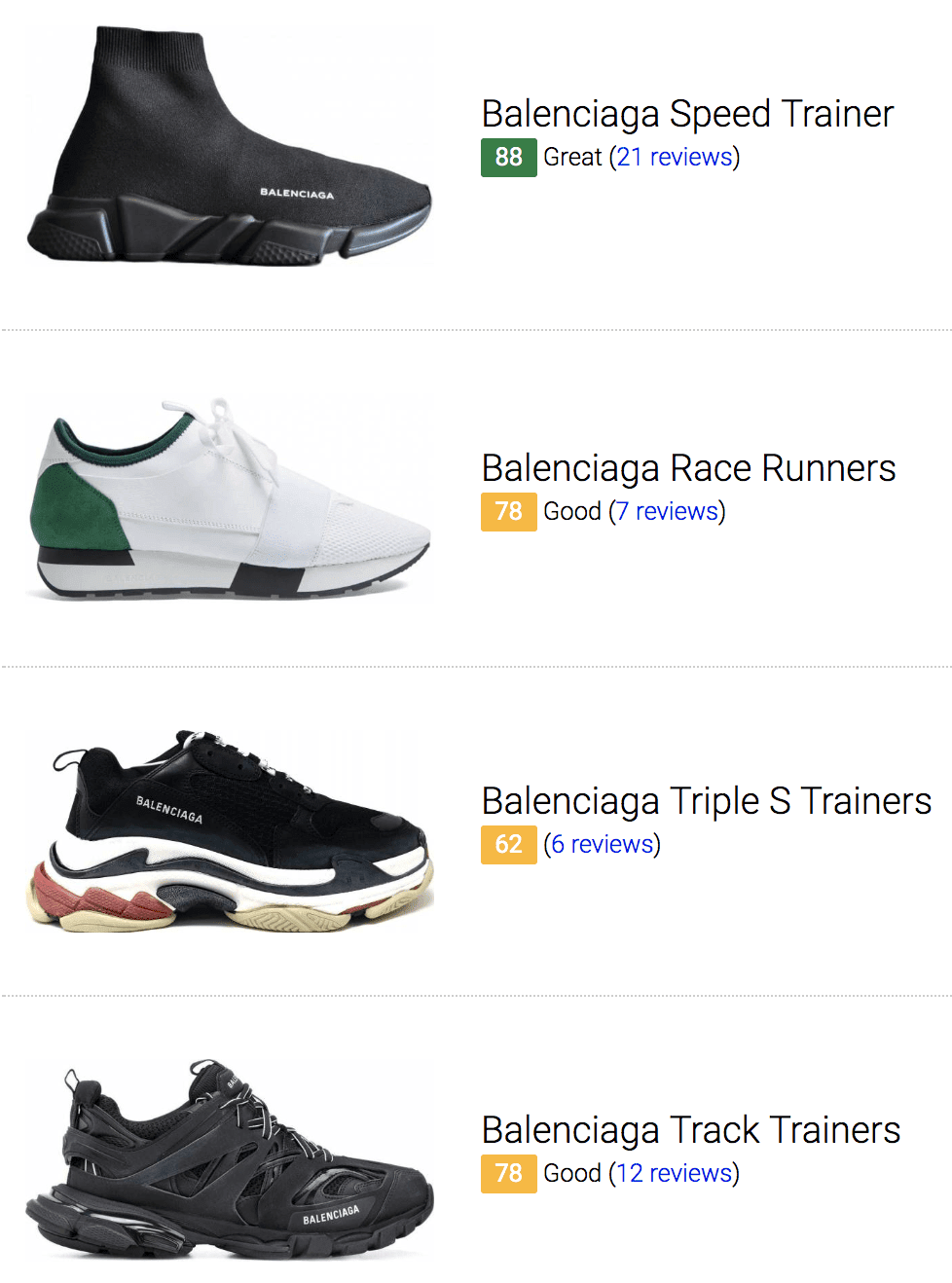 Balenciaga was founded by Cristobal Balenciaga, a Spanish-born designer in 1917. The brand was established in 1937 that offers modern and elegant concepts with a high level of craftsmanship with innovative materials. Cristobal is known for his rigid and inflexible standards and was referred by another famous couturier Christian Dior as "The Master of Us All."
The avant-garde pieces of the Balenciaga delineate the luxurious fashion and predict the future of RTW style. Several known designers had a chance of working for the house of Balenciaga and later on, founded their couture outfits, like Andre Courreges, Oscar dela Rente, and Hubert Givenchy.
Balenciaga launched their venture in producing athletic pieces in 1992 when they created pieces for the Summer Olympic Games for the French team. This significant event was under the leadership of Nicolas Ghesquiere and was replaced by Alexander Wang in 2012, famous for his signature Athleisure pieces. Under Wang's headship, Balenciaga continued unveiling high fashion pieces with the athletic vibe, thus bringing the Athleisure into the mainstream.
In 2015, Demna Gvasalia was appointed as the Artistic Director of the Balenciaga under the ownership of the Kering Group. He upheld the vision of Balenciaga by exhibiting mastery in skills and delivering flawless collections. The brand now offers ready to wear clothes, handbag, accessories, eye wears, fragrance, and now it continues to dominate the fashion world by its conspicuous exceptional Balenciaga sneakers.
Popular Balenciaga sneakers
Balenciaga Speed Trainers
In recent years, Sock sneakers have invaded the fashion world, in which the mass market has begun creating their versions of stretchy knit upper with sock-like fit and rubber sole. Sock sneakers comfortably hug and conform one's foot without constricting it too much delivering comfort that is unparalleled to any sneakers.
Among the sock sneakers found in the market, the most popular and expensive is from the impressive line of Balenciaga sneakers. The Balenciaga Speed Trainers debuted in the market in 2016 which deliberately accentuated the likeness to high socks affixed on durable rubber sole. It was heavily endorsed and used by the Kardashians, Gucci Maine, Bryson Tiller, and Hailey Baldwin. This simple sneaker is currently being sold from the price range of $750 to $795 depending on the version.
Balenciaga Speed Trainers are made of breathable Italian cotton with grosgrain trimmed edges, round toe, with heel pull tab, resting atop a white wedge rubber sole. Balenciaga logo at printed on the lateral upper and engraved at the rear. This shoe comes in various designs and colorways to provide better options to its consumers. This shoe has taken the market by storm with its unique silhouette and flawlessly turned as a must-have kick in few fashion weeks.
Variations:
Balenciaga Low Speed displays low-top profile of the renowned Balenciaga Speed Trainer.
Balenciaga Speed Lace Up true to its name, this shoe features a traditional lace-up securing system for better support, stability, and added secure fit.
Balenciaga Mid Speed is the mid-top version of the sock-like Balenciaga sneaker.
Balenciaga High Speed showcases high-cut silhouette that delivers better ankle support and protection.
Balenciaga Logo Speed features the upper speckled with Balenciaga logo all over the upper.
While many found this sneaker impractical and not worth the hundred-dollar price tag, some middle and low-end fashion retailers copied and introduced a pair that appears like the Balenciaga Speed Trainer that costs less of the original Balenciaga price. Some sneakers that resemble the Balenciaga Speed Trainers are:
Dior Homme B21 Sneakers ($682)
Givenchy Sock Style ($550)
Acne Studios Tristan Runner AS ($510)
Neil Barrett Sock Style High Top ($449)
Gosha Rubchinskiy x Adidas Football ACE 16+ SUPER Sneaker ($282)
NDG Studio triple Black Sock Sneakers ($270)
Adidas NMD_CS1 Parley Primeknit ($220)
Camper Lab Helix Sneakers ($210)
Adidas Crazy 1 ADV Sock Primeknit ($140)
Zara Black High-Top ($90)
Bershka Sock High Top ($66)
How to wear the Balenciaga Speed Trainers
Styling the Balenciaga Speed Trainers or any other sock sneakers is a wieldy task because of its modern, simple, and straightforward look. Its hyper-sleek profile above the striking rubber sole can easily be matched up with any laidback rigout. This shoe displays versatility that can be worn in any occasions, like going to work, hitting the gym, or strutting in the city pavements. Googling out for style inspirations, there are endless recommendations on how to wear the Balenciaga Speed Trainers.
The Speed Trainers comes in solid, monochromatic knitted upper. Pairing this with simple, solid-colored ensemble will surely make this stand-out. Thus, it is advised to avoid multi-colored or patterned outfit to keep the contrast at a minimum. Some fashionistas also recommend sporting this with their joggers or gym-ready pants to give this sleek, pricey sneaker its well-deserved exposure.
For a more striking look, some suggest donning this with straight blue jeans paired with a motorcycle jacket for the hottest trend 'dad-style' look. Black jeans can also go well with this modern 'snocker,' and any relaxed-fit trouser rolled up above the ankle for a very 2018 look.
How to spot genuine Balenciaga speed trainers versus counterfeit
Unlike the authentic pair, counterfeit Balenciaga sneakers have poor quality and lack premium details and craftsmanship. Here are some tips for spotting fake Balenciaga Speed Trainer:
Authentic Balenciaga Speed Trainers have a smooth and un-creased box while the counterfeit has crumpled box with uneven

'BALENCIAGA'

label on the box.
The dust bag of the original pair has crispier and cleaner typescript finishing while the fake one has wrinkly dust bag and the logo print is not polished.
The receipt envelope of the original item is long and clean. The details are neat and spotless, unlike the fake one which contains a small envelope and inserted with an unpolished piece of paper.
The polybag of the authentic pair has a rectangular print with texts unlike the fake one with nothing printed on the polybag.
The stitching on the heel is finer and more refined and straight compared to the fake with off-center, unequal stitching.
The toebox is straight unlike the fake one which curves up.
The authentic

'Balenciaga'

imprint on the upper is thin and spaced out, while the fake has thick, and the letters are closed to each other.
Balenciaga Triple S
The Triple S from Balenciaga or the 'Daddy Shoes' has been labeled as one of the favorites among the arsenal of extraordinary Balenciaga sneakers. This model steered the fashion trend to clunky, ugly monstrosities that resemble the fashion trend in the 80s and the 90s. This shoe is the take of Balenciaga on dad sneakers that made them one of the hottest in the sneaker games right now.
This shoe delivers "ugly but pretty" vibe which landed the stores in the last quarter of 2017. Balenciaga took the concept of ugly sneakers seriously that looks like worn out running sneakers with hiking-inspired laces. The striking bulky sole delivers three-layered rubber design that creates a 2-inch platform at the heel and extended beyond the pull tab for at least an inch for the chunky profile. The stout that appears to be stacked soles were molded from running, basketball and track sneakers thus dubbing it as Triple S or three layers of soles.
Aside from the clunky look, this shoe has a pre-dirty appearance to make it intentionally ugly which, surprisingly, creates a massive statement on the internet. This shoe has been making a large round on social media of sneakerheads, fashionistas, and many other celebrities. While its price tag is close to someone's monthly rent, this shoe is hardly obtainable as it is available only in limited retailers and restricted number.
Because of well-publicized hype, many buyers and collectors purchased this very expensive kick because of its fresh silhouette with exciting colorways. For many buyers, its price sky high price is justifiable because of the excellent craftsmanship and high-quality materials used sealed by a premium high-end brand.
How to style the Balenciaga Triple S
The Balenciaga Triple S has been tagged as the most hyped sneaker in 2017, and it's rightful to style this in a legit neck-breaking manner, which only a few dared to do. Some might love them, while some detest its bizarre look. But one thing is indisputable; the Balenciaga Triple S is a real noteworthy pair. While several had dubbed this as an orthopedic nightmare, this thick, bulky, and sometimes called monstrous kick has been seen by the fashion world as cool and stylish.
People who are not used to wearing chunky kicks might feel overwhelmed wearing this kick for the first time. This off-looking sneaker can best be paired with wide-leg trousers to cover a portion of this sneaker and not make them look too aggressive. Also, some suggest pairing this with straight-cut denim jeans with oversized hoodies, tees, or button-down for a 'dad-style' vibe. Meanwhile, some suggest sporting this with tapered jeans or jogger pants or a pair of relaxed rolled up trousers for the authentic laidback look and to give this plush pair its richly deserved limelight.
Meanwhile, some recommend sporting this with muted attire as to avoid looking so trying hard in drawing too much attention from the on-lookers. Most sport this with a black ensemble and accessorize as little or to nothing as possible as to attract more interest the this striking Balenciaga sneaker. Long, monochromatic black, draped clothing looks best with this eye-catching pair.
How to spot Genuine Balenciaga Triple S versus counterfeit
The authentic Balenciaga logo is stitched individually and separately. Also, each letter is closed to each other, unlike the counterfeit in which letters are connected with each other with stitching, and the letters are sparsely placed.
The mesh on the upper has high gauze density with oval edge soft, leather toecap. On the other hand, fake one has bigger and lower gauze density mesh, and the toecap has defined edge.
Checking the insole, the first batch of the original pair released in the market has the

'Balenciaga'

logo with the shoe size and the

'Made

in Italy' marking. Meanwhile, the newer pairs of Triple S in the market has

'Made

in China' tag on the tongue and no more

'Made

in Italy' sticker on the insole. However, the fake one, only the word

'Balenciaga'

is imprinted on the sole.
On the authentic pair, the oval heel mesh has azure color while the fake one has bow-shaped deep-blue colored mesh.
The

'Triple

S' marking found on the flap looks more refined, less plasticky, and light gray, while the counterfeit looks glossier and has silver or black background.
The rubber sole has a deeper impression of the

'Balenciaga'

logo compared to the fake one.
The

'Balenciaga'

logo at the heel is sharp and more precise in the authentic pair.
Balenciaga Arena
Another signature kick in the Balenciaga sneakers line is the Balenciaga Arena. This shoe was inspired by hiking footwear and famous for its creased leather upper which was launched in 2010. Its unmatched quality and superb aesthetics have gone a long way and seamlessly created a cult-like following.
The Arena silhouette was released in low and high top versions. The Arena Low has a classic look with creased leather upper with the tonal sole and affixed oversized tongue frame. This unisex sneaker has the unique lace-locks closure system with polished D-ring eyelets to add luxurious appeal. Also, its removable insole adds comfort and are available in various colorways. The Balenciaga Arena Low appears to be more versatile and more comfortable with style because of its unusual look and feel compared to the other silhouettes.
Meanwhile, the Balenciaga Arena High displays mid-top silhouette while staying faithful to the classic and plush vibe of the Arena profile. It has flexible lamb leather with a sporty vibe that will surely catch the eyes of many onlookers. This high-quality sneaker with premium yet simple details has been re-updated with modernized design to reach various consumers further.
Balenciaga is into the action of releasing footwear variations to deliver to various preferences of different consumers. Some of the varieties of the Balenciaga Arena High are:
Balenciaga Arena Logo-Jacquard High-Top that features the striped jacquard peppered with Balenciaga logo all throughout the black leather upper. It showcases the bulky rubber midsole with criss-cross lacing system anchored to the metallic D-Ring. The single metal tab finishing with the guilloche details adds plush vibe to this extravagant sneaker.
Balenciaga Arena Gradient Pack is available in two colorways crafted with gradient premium upper that sits atop a grippy, thick rubber sole. This variation comes in two colorways - Scarlet to Bordeaux and the Ash to the Charcoal gradient.
The Balenciaga Arena Suede High-Top displays the authentic Arena profile but dressed with silky, smooth suede upper rested over a hard, chunky, and durable rubber sole.
How to spot Genuine Balenciaga Arena versus counterfeit
The Balenciaga Arena silhouette is made of very creased lambskin upper while the counterfeit usually made of regular calfskin upper that is nearly creased throughout.
The lace lock and the spaces between the lace locks are equally distributed, unlike the fake one which are unevenly placed.
The fake one has less to no crease on the toebox and heel pull tab while the authentic pair displays highly creased toebox and heel tab.
The shape of the back heel is straighter compared to the fake one which is slightly bowed.
The

'Balenciaga

Paris' is debossed on the leather insole of the authentic while the fake one has various versions of insole markings.
The inner tongue of the authentic one is made of calfskin while the fake is made of low-end leather material.
How to style the Balenciaga Arena
The Balenciaga Arena and its variations display basic sneaker silhouette but amped with luxurious details to deliver plush vibe. These Balenciaga sneakers feature casual street look with smart casual elements and can be worn with any laidback and even semi-casual attire.
To style these, some pair this with tailored trousers, skinny jeans, rolled up chinos and even with tattered loose jeans. To further refine the overall street fashion look, some don these Balenciaga sneakers with crisp basic tees, polo shirts, and button-down polo. Some accessorize their look with a tie or a blazer. Dressing up and down is effortless with the Balenciaga Arena silhouette.
Balenciaga Race Runners
One more addition to the line of luxurious Balenciaga sneakers is the well-accepted and expensive Race Runners. This model was considered one of the signature models of the Balenciaga sneakers line. This shoe displays a luxurious sports-inspired outline crafted with panels of smooth calf leather, sock-like fabrics, breathable mesh toe, elastic strap, and finished with supportive rubber sole. It comes in various colorways and offered in both men's and women's sizing.
This model displays minimal branding and has gained cult-like followers after its release in 2016. Several have applauded the head-turning silhouette with minimal style yet chic look apt for buyers who want to splurge on a trustworthy kick and forget about its sky-rocket price. This shoe makes its wearers leave a statement without appearing too ostentatious. Just like the other favorite Balenciaga sneakers, many brands have tried re-creating this glamorous yet straightforward kick, but nothing beats the unparalleled quality and craftsmanship of this original silhouette.
How to style Balenciaga Race Runners
The Balenciaga Race Runner looks perfect when paired with tracksuit pants. This low-top Balenciaga sneaker gives a fashionable edge with sporty profile and vibe. Most users wear this with any casual ensemble like running gear or any gym gear on the weekdays, or loose or skinny denim or cuffed chinos during the weekend night out.
Balenciaga Logo Leather
Two Balenciaga sneakers were launched that feature leather upper with the logo all over to promote the revamped logo of Balenciaga courtesy of their new head Gvasalia.
The Balenciaga Logo Leather Slip-On is an easy to wear sneaker embellished with embossed metallic Balenciaga logo all over the supple, leather upper. It sits on top of tonal rubber sole that delivers superb grip and support. The elastic side panels ease the slip-on feature that will let its wearer move out of the door quickly. Like all the Balenciaga merchandises, this shoe is found at the costly price point of $550.
Meanwhile, the Balenciaga Logo Leather Lace Up iteration has lace-up closure with Balenciaga print all over the upper. This shoe is crafted with pure tonal leather and ample cushioning on the tongue and collar for superb comfort and support.
Balenciaga Match Trainers
The popularity of tennis-inspired sneakers has reached the grounds of the Balenciaga creative pool. The extravagant brand launched the worn-out looking Balenciaga Match Trainers that appears like an overused tennis kick. It is made of calf-skin leather upper embroidered with BB monogram and the retro-inspired green trims on its midsole.
This low-top shoe displays minimalist design and with printed faded graffiti on the rubber sole. If both paired are placed side by side, the entire logo of Balenciaga can be seen, which is the signature tag of the Creative Director Gvasalia.
Balenciaga also launched the high-top variation of the Match Trainers that delivers cool and iconic details with the famous Balenciaga graffiti on the sole. This round-toe tennis-inspired sneaker has a lace-up fastening system, with grippy, flat rubber sole.
How to Style Balenciaga Match Trainers
The two variations of Match Trainers Balenciaga sneakers feature tennis-inspired silhouette which started the revolution of sneakers of the current days. While these kicks feature simple, straightforward silhouette, Balenciaga added some distinct features which will complement one's style. Slim or rolled-up trousers with crisp tees and finished off with casual outerwear such as bomber jacket can be matched with this kick. Some wearers opted to pair this with a colorful ensemble to match the pre-dirt style of this sneaker.
Balenciaga Calf Leather High-Top
The Balenciaga sneakers line took the notch higher by releasing another expensive sneaker with the opulent elastic high top. The calf leather has been incorporated with a plastic band across the front for added style. It has a sock-like fit for added comfort and support with thick midsole for durability and flair.
Balenciaga Neoprene High-Top
For the Fall/Winter 2015 collection, Balenciaga launched the Neoprene High-Top which features a neoprene sock-like in ankle-height profile. With a price point of $795, many have loved the technical and up-to-date look made of mixed of many kinds of textiles, such as leather, neoprene, and mesh. The brand added some Velcro fastening system with metal eyelet finishing. This high-top Balenciaga sneaker was based on the low-top popularly known as the Balenciaga Race Runner.
Balenciaga Panelled Sneaker
The Balenciaga Panelled Sneaker displays a tasteful and refined aesthetics that is made with textured and vibrant colorways that will convey an energetic statement from its wearer. This sports-inspired Balenciaga sneaker is offered in the market at an exorbitant price point of $545.
Another variation is the Balenciaga Panelled High-Top Sneaker which turned instant famous when seen worn by internet celebrity and makeup mogul Kylie Jenner at the courtside while watching NBA game in Houston. This Balenciaga sneaker retails at $795 online features high-cut profile with panels of various leather, textures and striking novel lacing system.
Balenciaga Lurex Slip-On
To add a sparkling element to the extraordinary Balenciaga sneakers lineage, the brand introduced the sparkling model called the Lurex Slip-On. Its upper is made of viscose and silk placed atop a thick, white rubber sole. Elastic bands can be found under the tongue for an easy to slip on and off design. With a price point of $495, this shoe will surely add glimmer in everybody's eyes.
Balenciaga Printed Canvas Sneaker
This low-top sneaker offers bold prints on its canvas upper to furnish an eye-catching chic kick. Similar to the other Balenciaga sneakers, this shoe has the big-ticketed price of $535.
Another version of this is the Balenciaga Printed Canvas High-Top that showcases an edgy look. It features the classic silhouette with the unique design printed on canvas upper for modernized, urban street style look. This round-toe kick has lace-up closure rested on durable rubber sole.
How to Style Balenciaga Printed Canvas Sneaker
This loud and printed sneaker is not for faint-hearted wearers who prefer being unnoticed. This high-end kick suits casual look, especially when paired with slim denim or cuffed denim with a t-shirt and open plaid polo. Meanwhile, you can also wear this in Parisian style such as drapey blazers and singlets for a more edgy look. Black denim with loose fit t-shirt also works with this sneaker.
Balenciaga Collaborations
To reach a broader range of consumers, Balenciaga teamed up with other footwear brand and retailers to add unique and exclusive pieces to the glitzy line of Balenciaga sneakers.
Balenciaga x Mr. Porter
Online retailer Mr. Porter teamed up with Balenciaga to come up with exclusive items. Gvasalia wanted to reach the youth culture, thus resorted to collaborating with one of the leading sources of elegant pieces online. Their unique partnership launched a gray variation of the sought-after Speed Trainers and inserted with memory insole for a comfier ride.
Another exclusive piece conceived from this partnership is the Balenciaga Triple S Neon Green colorway launched in 2018. With its price point of $1432, this piece was included in the Highsnobiety list of Most Expensive Sneakers of First Quarter of 2018.
Balenciaga x Crocs
This partnership was unveiled in October 2017 in the Paris Fashion Week. This shoe came in platform profile with round-toe and designed with bright pins. Although this design was not well-embraced by some critics and even Balenciaga fanatics, some still appreciated it for its uniqueness. This collaboration comes in various colorways and can be customized using pins that can be fixed on perforated rubber foam upper.
Balenciaga x Colette
Balenciaga and Colette, one of the biggest fashion retailers in Paris, teamed up in Summer of 2017 to unveil exclusive pieces, like sleeping masks, mugs, campaign hoodies, and the famous Speed Trainers. The Speed Trainer displays all red knit, logo-laden upper that will inevitably break some neck on the streets and for the luxury-items fans.
Balenciaga x Dove Street Market
This partnership formulated a unique, tamer colorway of the renowned Balenciaga Triple S silhouette. It has cream, white, and off-white color combination on the upper highlighted with eye-catching yellow.
Balenciaga x SSENSE
Another retailer had a chance to introduce their exclusive colorway of the Triple S silhouette. Balenciaga x SSENSE released the blue-yellow colorway while staying faithful to the features and elements of the famous Triple S.
Few Facts about Balenciaga
Cristobal Balenciaga, the founder, is described as a painfully shy person and has granted only one full interview in his lifetime. The meeting was conducted in 1971 by Prudence Glyn of The Time Magazine.
When Cristobal Balenciaga died, his loyal client Countess Mona Bismarck locked up in her room and mourned for three days.
Coco Chanel described Balenciaga as a

'True

Couturier.' He said all the others are just draftsmen while Balenciaga can do the cutting, assembling, and sewing using his own hands.
Balenciaga was tagged

'The

Master' and

'The

King of Haute Couture' by his co-designers.
Balenciaga mentored some of the current renowned designers such as Hubert de Givenchy, Oscar dela Renta, Andre Courrenges, Pierre Cardin to name a few. Balenciaga was so generous that he even shared his clients and dressmakers after he closed his fashion house in 1968.
Balenciaga brand replaced Gucci as the world's hottest brand in 2017, ranked by the fashion website Business of Fashion and Lyst.
In the year 1956, Balenciaga and Givenchy restricted the press from viewing their collections for approximately a month because they wanted to avoid the copying and production of mass counterfeits.
The current Creative Director of the Balenciaga, Demna Gvasalia, was dubbed as the

"emerging

force in current's creative world." He used to work at Maison Martin Margiela and Louis Vuitton and currently works as the head designer of the brand he founded in 2009 called the Vetements. His first creation under the Balenciaga was launched in March 2016 during the Paris Fashion Week.
Two of Balenciaga sneakers were included in the most expensive sneakers in the first quarter of 2018.
Balenciaga bags were not created by its namesake founder, thus cannot be tagged as

'vintage.'

The bags were made as accessories on the runway under the leadership of Ghesquiere in 2000 and unexpectedly found demands from various consumers.
Balenciaga brand designed the uniforms and dressed up the flight attendants of Air France in 1968.
Frequently Asked Questions
Are Balenciaga shoes unisex?
Balenciaga sneakers are available for both gender's sizing. It comes in European sizes, which is equivalent to men's sizing of 6 to 15 US and women's sizing of 5 to 12 US.
How do Balenciaga sneakers fit?
Balenciaga sneakers generally run true to size. Thus most suggest that buyers must grab their regular size. However, the Balenciaga Arena was considered big by the manufacturer, therefore advised to take a half or full size down the buyer's regular size.
How long will my Balenciaga casual shoes last?
Like any other shoes, sneakers' life depends on the how often and where the owner uses her/his pair of sneakers. Another point is how the users follow the care instructions provided by the brand. The Balenciaga sneakers are made of the durable premium material on the upper and used a cupsole construction stitched to the upper. These soles will eventually wear out and need repair. Thus, it is recommended to use the Balenciaga sneakers with utmost care to extend its life.
How to wear Balenciaga shoes?
Wearing high-end fashionable sneaker can be tricky. Balenciaga sneakers are considered high-fashion footwear that has loud designs and deemed to be noticed. Some of the models may resemble the basic sneakers, but still, have hefty prices because of their premium materials and the craftsmanship executed. Hence, most buyers won't consider taking these sneakers to music festivals or other activities that are rigorous and unsafe for the shoe.
One may opt to sport their neutral colored trainers with suit apt for important client meeting for a modernized cutting edge look. Sometimes, a basic ensemble consisting of basic tees and rolled up jeans or cropped chinos are enough to show off one's luxury sneakers.
But whatever the price of one's sneaker is, there are some necessary things to bear in mind when styling a pair of sneakers:
Buy sneakers that suit one's style. It is always better to purchase pieces that will satisfy the buyer's style than ever to follow the crowd for the trend. It will save the buyer a lot of time and money because it will quickly complement whatever wardrobe he/she have in their closet.
While sneakers are versatile, it is always advisable to wear them to the right occasions. Don't go too casual especially on some occasions that need dressy shoes.
Keep sneakers clean to extend their lifespan and at the same time to retain their stylish and voguish look. Proper sneaker maintenance must be followed like washing the laces, brushing the outsole, using sneaker spray that works as a shield, and eliminating the odor.
How to take care of Balenciaga sneakers?
Luxurious sneakers need extra TLC just as your other Oxfords or footwear. Dirt must be brushed off as early as possible. Owners must regularly wipe off leather upper with appropriate cleaners or brush suede gently with pony hair and add suitable quality protectant. There are particular recommendations on keeping the Balenciaga sneakers in spic and span condition:
In cleaning the Balenciaga sneakers, always remove the laces first and give it a warm, soapy bath to remove all the dirt.
Owners may also use Magic Eraser on the sole to make it clean or wipe the dust off using a damp cloth. For hard to clean surfaces, a reliable brush can be used.
For Balenciaga sneakers with canvas upper, a paste of dirt remover or DIY baking soda and hydrogen peroxide may be applied on the canvas and let it sit for a while. The paste will dry up and can be removed with a crumpled paper towel.
Some Balenciaga sneakers have been treated to deliver soft leather upper with distinct vintage or crumpled features. Buyers may opt to use preventive care like stain and water repellent sprays or cream the night before you plan to use your Balenciaga sneakers.
For the leather Balenciaga sneakers, it is advised to clean it with dry flannel cloth and store them in their dust bags.
Where are Balenciaga shoes manufactured?
Most of the Balenciaga sneakers and all of their footwear like sandals, loafers, boots, and pumps are made in Europe, specifically in Italy and in Spain. Also, Balenciaga recently revealed that their most sought-after model the Balenciaga Triple S is currently manufactured in China because of their capability to produce lighter sole suited for the multi-layered Triple S silhouette.
Are the Balenciaga Triple S
'Made

in China' fake?

Recently, the Balenciaga Triple S has the 'Made in China' tag on the tongue and lacks the 'Made in Italy' marking on the insole. The Balenciaga team has made a clarification that these sneakers are considered authentic. The brand just decided to move the production to China because of the workforce, lower costs of labor and shipping, and Chinese's capacity to create a lighter sneaker. Despite the shift, the brand kept the hefty price tag of this Balenciaga sneaker.
What is the price range of Balenciaga sneakers?
The price of Balenciaga footwear varies depending on the kind of footwear. The Balenciaga sneakers price range is $595 to $795, loafers have a price range of $750 to $895, and men's sandals cost $595 to $650. Meanwhile, ladies' shoes are pricier compared to the men's. The price range of pumps is from $795 to $2050, boots cost $950 to $2850, ladies' sandals and flats cost $595 to $995, and the new collaboration with Crocs, the wedges, have a price range of $495 to $895.
Where to buy Balenciaga online?
Aside from Balenciaga's official website, there are many retailers of Balenciaga sneakers found online. Some of the trusted retailers online are Nordstrom, SSENSE, Macy's, Lyst, Net-A-Porter, Colette, Amazon, MyTheresa, Grailed, and many other retailers.
Who is Balenciaga?
Cristobal Balenciaga, the founder of the Balenciaga luxury fashion brand, was born in Getaria, north of Spain on January 21, 1895. He got his knack in creating and designing clothes from his mother who is a seamstress and worked as her apprentice when he was 12 years old. He was one of few couturiers in the fashion history who could design, cut, and sew by his own hands which reflects his mastery of the art.
He opened his boutiques in Madrid, Barcelona, and San Sebastian but was forced to close it during the Spanish Civil War. When he moved to Paris after the wars, his was able to exhibit his full scale of inventiveness and created a transformed silhouette - broader shoulders, thinner waist. At the age of 74, he decided to close his fashion houses in Paris, Barcelona, and Madrid in 1968. He died in Spain on March 23, 1972.
Why are Balenciaga sneakers so expensive?
Balenciaga is considered a couture brand and has an empire of premier products sold around the world. This high-end brand has secured its spot in the pret-a-porter line and buyers not just purchasing the quality, but paying for the marketing. Some people are willing to pay a fortune for luxurious items to be included in their closet.
Why buy Balenciaga shoes?
Balenciaga has established a reputation for engineering products with utmost quality. Their sneakers are made of premium materials with most exceptional craftsmanship to maintain the highest level of quality. Most of the Balenciaga products are hand-sewn which boosts the essence of high-quality look and feel.
How to pronounce
'Balenciaga'?
Since the founder of the Balenciaga was born in Spain, the Spanish pronunciation is bah-len-thi-AA-guh, in which the 'thi' is uttered as in the word 'thin' and 'aa' as in the word 'father.' However, the company also prefers the English pronunciation bah-len-see-AA-guh in which 'si' is articulated as in the word 'sit.'
7 best Balenciaga sneakers
Balenciaga Speed Trainer
Balenciaga Triple S Trainers
Balenciaga Speed Lace-Up Knit
Balenciaga Arena High
Balenciaga Track Trainers
Balenciaga Race Runners
Balenciaga Arena Low
This shoe has recently been added to RunRepeat. There are still not enough reviews for us to assign it a
CoreScore
.
CoreScore
A score from 1 to 100 that summarizes opinions from users and experts. The average CoreScore is 78.
More...