Overall ranking lists
Ecco categories
Before heading out on your next adventure, you might want to check out Ecco hiking boots. It's built with an emphasis on ruggedness and comfort. The features found in this hiker are engineered to keep your foot safe from various trail obstacles while providing it with sufficient support and grip. Its construction is also meant to withstand harsh conditions so this gear can last long. With all of these qualities coming together in a pair of Ecco hiking boots, you're bound to perform better during your excursion.
Qualities of the best Ecco hiking boots for women and men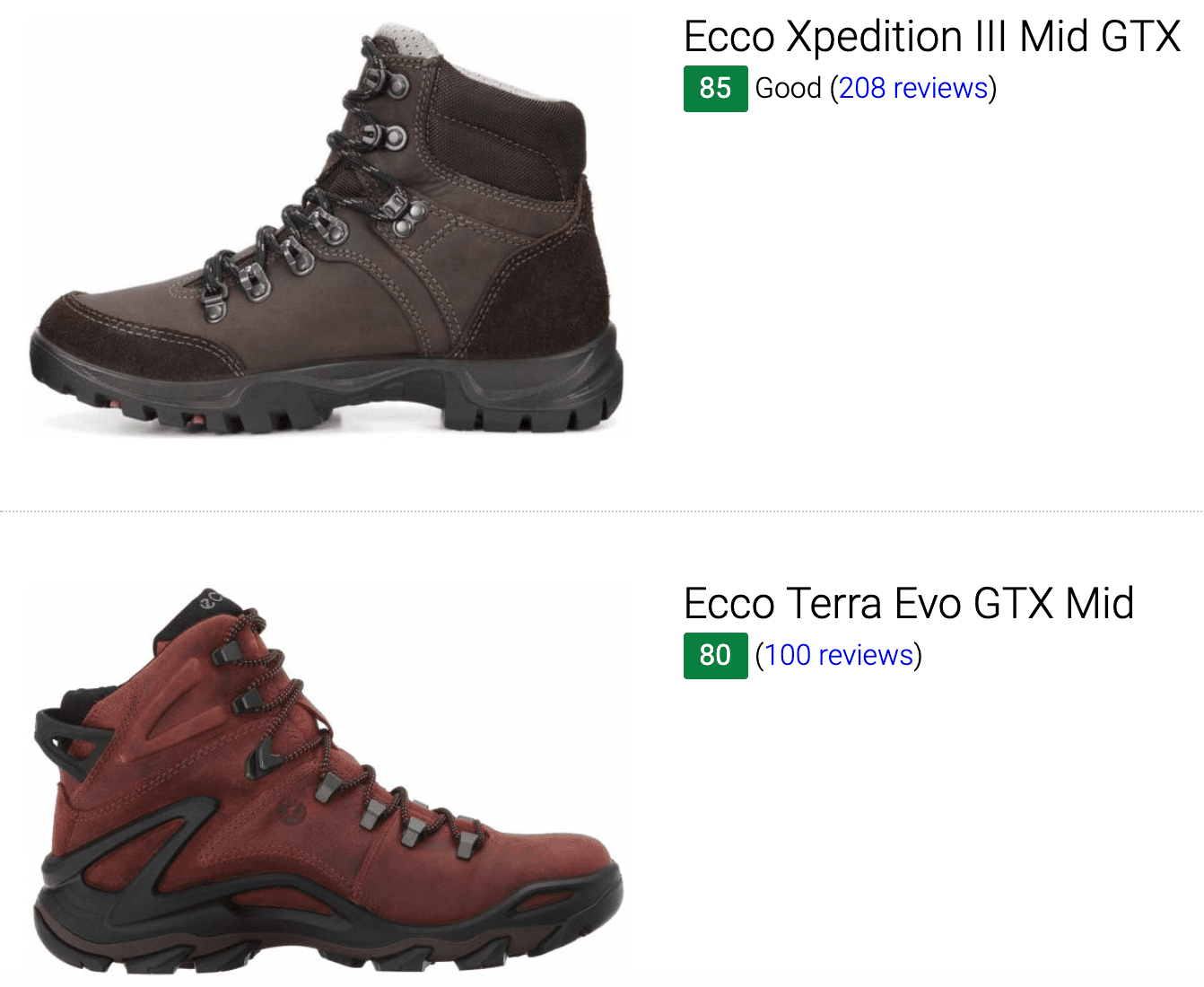 Best Ecco hiking boots - August 2019
Traction
Staying on top of various types of terrain won't be possible if your footing isn't secure. Ecco hiking boots use sturdy outsoles that provide the grip you need for your trip. Multi-directional lugs dominate the surface of these outsoles to render traction on uneven ground conditions and slippery surfaces. Some of the brand's hikers use an outsole with a heel brake in its design for improved descent control. Also, self-cleaning treads are incorporated into this component to optimize traction by shedding dirt and debris.
Comfort
The brand's hiking boots are crafted to keep your feet comfortable while you're out and about. Some of the company's footwear models are built using lightweight materials to help you move faster on the trail. Select Ecco hiking boots are equipped with breathable insoles that enhance underfoot comfort. Moreover, the gear's collar and tongue are padded to relieve pressure from your foot
Support
Carrying a backpack while overcoming various ground conditions can be dangerous if you suddenly twist your ankle. Ecco hiking boots are engineered to provide your feet with the support they need on the trail. These hikers come with a midsole made either of ethylene-vinyl acetate (EVA) or polyurethane (PU). The former grants lightweight cushioning while the latter is more resilient to wear and tear. Some footgear products are equipped with a shank for an increase in rigidity and stability. In addition, a removable footbed found in these boots adds arch support and cushioning.
Durability
Ecco hiking boots are built using sturdy materials to make them last long against harsh outdoor conditions. Some of the brand's best hikers feature various leather variants, such as full-grain, nubuck, and yak. These materials are known to be resistant to wear and constant exposure to the elements. Moreover, most of Ecco's boots come with durable sole components that can handle rough terrain without experiencing a drop in performance.
Protection
Safety should always be a priority whenever you go out for a hike. The best hiking boots from Ecco are packed with various technologies that protect your feet from harm. Foremost among these features is a waterproof liner embedded within the gear's upper. This membrane prevents water from getting inside the boot while keeping it breathable. Along with a waterproof liner, certain Ecco leather hiking boots feature an upper treated with a water-repellent solution to enhance its resistance against wet trail conditions.
Prominent technologies used in Ecco hiking boots
Comfort Fibre System. Select Ecco hiking boots come with Comfort Fibre System technology. This patented footbed feature is geared towards improving breathability inside the gear for a more comfortable feel.
Hydromax. This technology is applied to the brand's leather hiking boots to make them more resistant to water. The Hydromax solution also allows the leather upper to remain soft and flexible.
Phorene. The company's proprietary polyurethane midsole is designed to be lighter while providing rebound and responsive cushioning.
Gore-Tex. Some of the brand's best hiking boots are equipped with a Gore-Tex liner. The surface of this membrane is filled with more than a million pores which hinder water from being absorbed. These pores are also engineered to allow excess moisture to escape, making it breathable.
Fluidform. This technology uses a direct injection process to transform fluid materials into an anatomical last. The result is a more comfortable base for some of the brand's footgear products.
Biom Natural Motion.Certain Ecco hiking boots are equipped with Biom Natural Motion technology. This feature helps reduce impact, boost comfort while guiding your foot to move naturally.
Receptor. Ecco's Receptor technology is embedded within the boot's sole component. It grants an improvement in stability, support, and cushioning to your foot.
Yak Leather. Several Ecco hikers use an upper made of Yak leather. This material attributes its strength to a combination of compact woven collagen fiber and closed fine grain, making it more breathable and resistant to abrasion.
Frequently asked questions about Ecco hiking boots
What is the warranty coverage of my new Ecco hiking boots?
Ecco offers a one-year limited warranty whenever you purchase their products, including a new pair of hiking boots. In some cases, the gear you brought may come with one or several defects. If you received a defective item, you should send it back to the company for a replacement. Ecco will take three to four weeks to inspect your claim. Once the process is completed, you will receive a credit voucher that can be used to purchase new Ecco hiking boots.
Can I use my Ecco hiking boots during the winter?
Setting your hike in a snowy terrain can be a disaster if your gear isn't insulated. Ecco's hiking boots don't possess this vital quality. If you go ahead and wear these products in cold weather, you might end up with frozen feet. The wisest course of action is to invest in winter hiking boots for places with low temperatures. This type of footwear has sufficient layers of insulation and its sole is engineered for a cold environment.
2 best Ecco hiking boots
Ecco Roxton
Ecco Exostrike Hydromax
This shoe has recently been added to RunRepeat. There are still not enough reviews for us to assign it a
CoreScore
.
CoreScore
A score from 1 to 100 that summarizes opinions from users and experts. The average CoreScore is 78.
More...