6 Best Leather Hiking Boots in 2023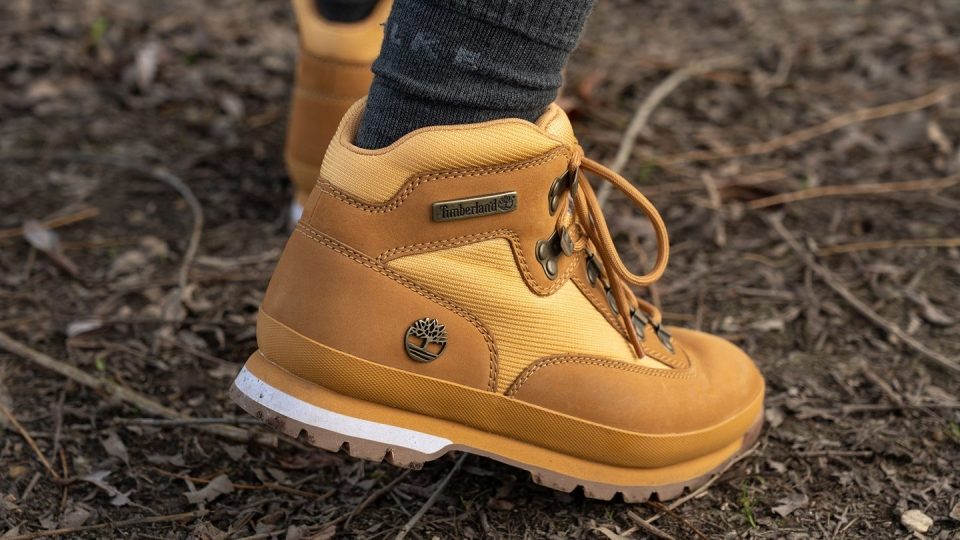 We earn affiliate commissions at no extra cost to you when you buy through us. Why trust us
There is just something special about experiencing the great outdoors in a pair of leather hiking boots. These hikers are naturally tough, and their grounded design makes mixing and matching—to complete your backcountry outfit—an easy feat.
We've subjected leather hiking boots to laborious testing for your convenience. We didn't stint on time, money, and other resources in verifying the assertions of the brands, as well as their promoters.
Are you in need of a smashing all-rounder? Maybe you're into a lightweight pair? Or perhaps something powerful for pack adventures? Whichever it is, if it's leather, you're in the right place.
Comparison of the 6 best leather hiking boots
| | | | | | | | |
| --- | --- | --- | --- | --- | --- | --- | --- |
| Best | | | | | | | |
| CoreScore | | | | | | | |
| Users rating | | | | | | | |
| Experts | | | | | | | |
| Best price | | | | | | | |
| Ranking | | | | | | | |
| Popularity | | | | | | | |
| # of colorways | | | | | | | |
How to choose leather hiking boots
There's a reason why the classics are the classics. They're things that have been used and loved for generations, with a story behind every scuff and mark, and hiking boots are no different.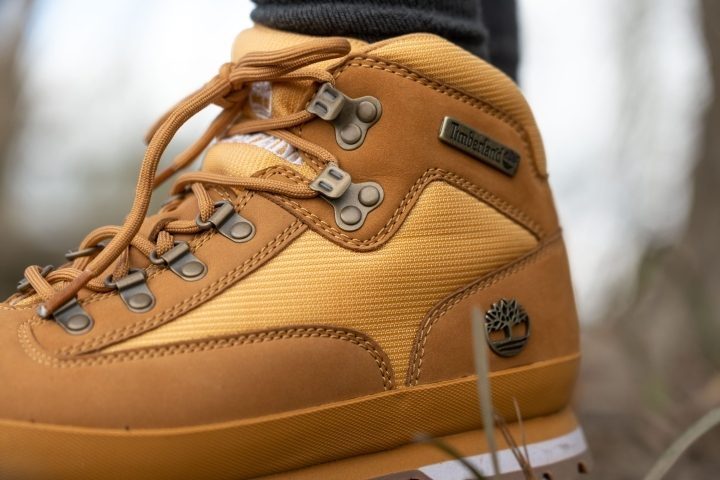 Leather hiking boots have been around for as long as people have been hiking, they're durable and reliable, and here we take a look at how to find the best leather hiking boots to suit your needs.
Different types of leather used for hiking boots
Full-grain leather hiking boots for durability
Think of full-grain leather as heavy-duty leather. It's the robust and strong choice for leather hiking boots that'll let you explore more and push yourself further.
Full-grain leather goes under the least amount of processing, which helps make it incredibly durable and resistant to damage. These boots also have a great level of water resistance that can be improved with additional oils and treatments.
Nubuck leather hiking boots for breathability
Nubuck is a type of leather that we get from cows and is buffed to give a slight texture during the manufacturing process. It can sometimes look similar to suede.
One of the key benefits that Nubuck has when it comes to leather hiking boots, is its breathability, although that does come with the downside of it not being as waterproof as full-grain leather. That's why you're more likely to find nubuck used on hiking boots that are to be used in mainly dry conditions.
Pros of leather hiking boots
Go into any outdoor shop in the world and you're guaranteed to see leather hiking boots on display. That's because there are so many benefits of using this natural material.
Here we take a look at the pros of leather hiking boots:
High levels of durability
Tried and tested materials
Naturally waterproof
Naturally breathable
High levels of durability
The best leather hiking boots are very durable. They can be worn in every condition imaginable from hikes along desert trails to expeditions in sub-zero climates and with the right maintenance, will last for years.
Leather can also take a lot of abuse and still remain in excellent condition. While rocks and branches can scuff your boot uppers, they're unlike to penetrate and seriously damage a material as strong as leather.
Durability test: Nubuck vs. Synthetics
Tried and tested materials
Leather hiking boots have been around for generations, being refined and improved upon every year to the point that they're now able to take on any situation. Whereas boots made with synthetic materials are much newer and don't have the heritage that leather hiking boots do.
In some cases, you get a mix of materials that takes the best of both worlds.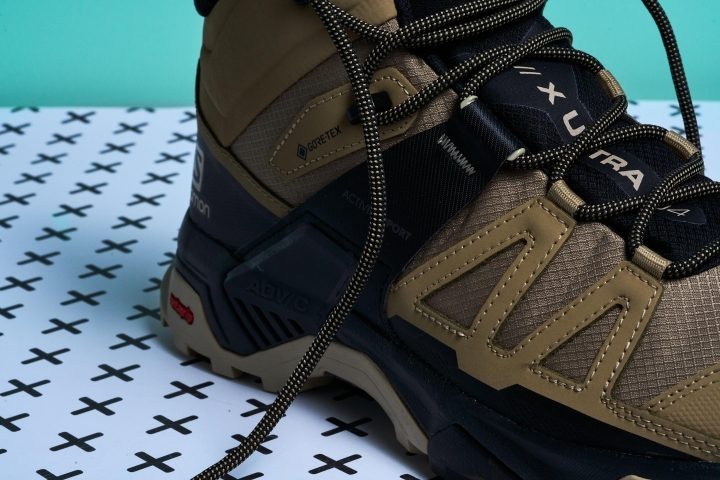 Naturally waterproof
Being naturally waterproof, leather hiking boots are predictably reliable in wet and damp conditions. This can even be improved by taking good care of them and using a waterproof treatment that helps keep water out in very wet conditions.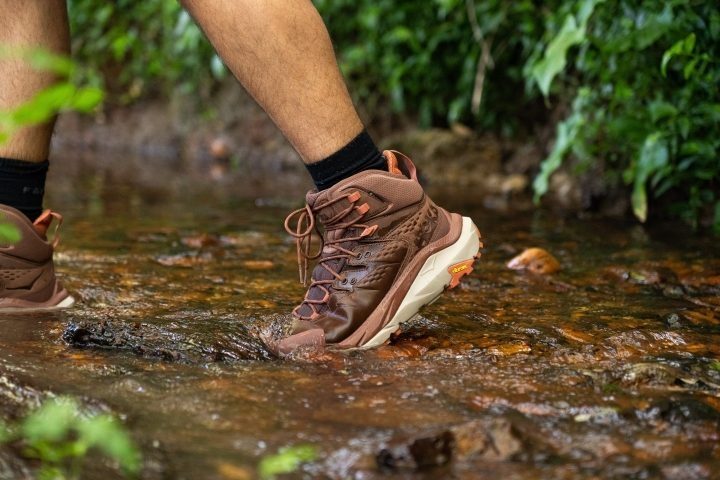 Naturally breathable
One benefit of leather hiking boots that's often forgotten is that they are naturally breathable. This is one of the most important features when it comes to buying new boots. If your boots aren't breathable then moisture from your feet can't escape which causes discomfort and can even lead to blisters.
Cons of leather hiking boots
Although leather has many advantages, it does have a few downsides as well that you should be aware of.
These include:
Animal cruelty
Often heavier than synthetic boots
Longer break-in periods
Leather boots can be expensive
Animal cruelty
One aspect that some people don't like about leather products, in general, is that they are made with animal skin. Even if the farms treat the animals very well and let them live long, happy lives, some people prefer to not use animal products wherever possible.
Often heavier than synthetic boots
Given the choice, hikers prefer to have a lighter boot over a heavier one. You can feel each and every gram when you spend hours at a time out on the trail, but all the benefits mentioned above come at a weight penalty. It's important to weigh up which additional features you need and not lug around ones that you don't want.
Longer break-in periods
As leather is a stiff material that provides support, it can also take a bit longer to break them in than a pair of synthetic boots. Once you do though, your boots will be much more comfortable having adapted to your foot.
Leather boots can be expensive
Like any piece of outdoor equipment, there are various price points for almost all budgets, but the best leather hiking boots are often more expensive than non-leather boots. Using premium materials to hand-make a pair of boots is always going to be more pricey than mass-produced boots using cheap, synthetic materials.
Average price
Leather hiking boots
Synthetic hiking boots
$205
$170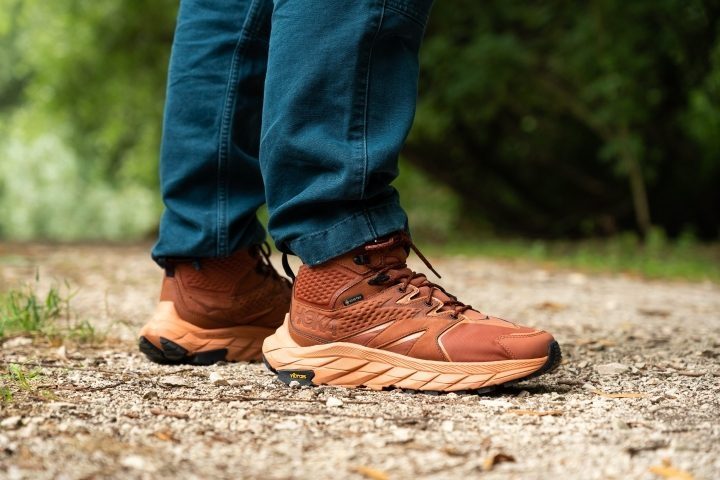 Modern technology in leather hiking boots
Leather hiking boots are already a brilliantly stable and durable tool, but they've been improved with the help of modern technologies.
Gore-Tex for waterproofness
You'll find Gore-tex in most of the best leather hiking boots on the market. This waterproof membrane is a liner that blocks out water yet allows moisture to escape from the boot. It's a proprietary technology that boot manufacturers can add to their boots, but it often significantly increases the price.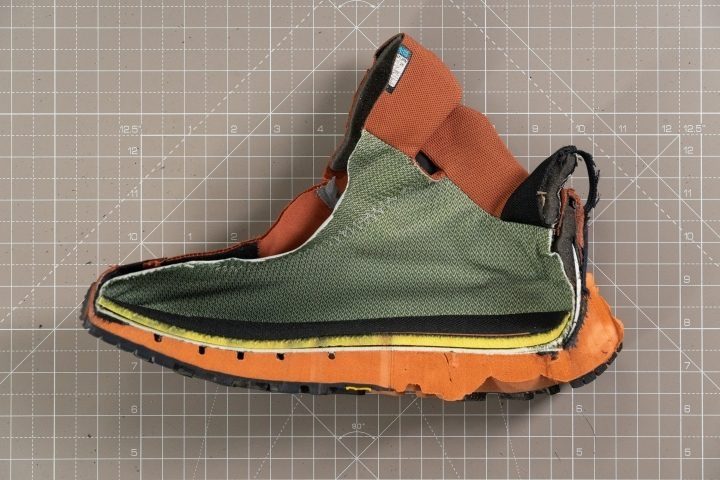 Vibram soles for comfort
Hiking boots are put through some serious abuse. For days on end, they're stamped into rough terrain with each step. These vibrations usually pass through the sole and up into your foot, causing pain and discomfort.
Vibram is another proprietary technology that manufacturers can choose to use in their boots. Not only is it a durable sole material, but it's also great at absorbing vibrations that cause discomfort.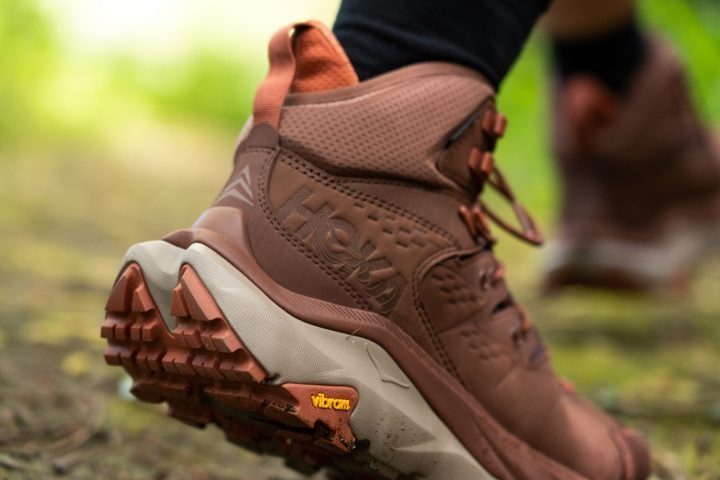 Are leather boots better than synthetic hiking boots?
Unfortunately, there's no clear answer to this question. It all depends on your preferences and how you'll be using your boots. The best thing we can do is to gather as much information as possible, educate ourselves on the benefits and drawbacks of both, and make an educated decision.
How to break in leather hiking boots
Breaking in your boots is one of the least enjoyable parts of hiking, but there are six things you can do to make this as painless as possible.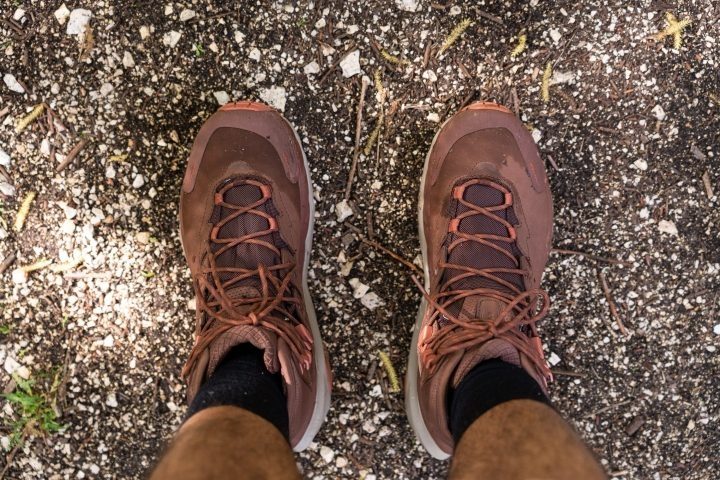 1. Buy boots that fit you properly
Before you even start thinking about breaking your boots in, you have to make sure that your boots are a good fit. If they're too big or too small, no amount of breaking them in will make them comfortable.
2. Wear your boots around your house
Now that you've got a pair of leather hiking boots that fit you, you can start breaking them in by wearing them around the house. Put them on for a few minutes at a time and work your way up until you're comfortable wearing them around the house all day. This gives you the chance to take them off if they're hurting you in the comfort of your own house, rather than being in the middle of nowhere on a trail.
3. Treat the leather
When you first get your boots, the leather will be pretty stiff and uncomfortable. We can help soften the uppers by using a wax, making them more comfortable before you've even hiked in them.
4. Wear proper hiking socks
Hiking socks are thicker, softer, and more durable than normal socks and this can make all the difference when breaking in your boots. It's likely that your feet will blister to some degree, but hiking socks can reduce this, letting you spend more time in your new leather hiking boots.
5. Go on a short hike
Now that you've done all that you can do in your house, it's time to get outside and finish off the breaking in period. Plan a short hike on a route that you know well. This will let you identify any pressure or pain points with your boots and will soften up the leather as well.
6. Go on longer hikes
Now that you're comfortably hiking short trails in your new boots, it's time to go on a longer hike to make sure that your boots are fully broken in. You may feel some slight discomfort still, but this should ease up as you clock up the miles until your boots are fully broken in.
How did we get here - the history of leather hiking boots
Leather has been the go-to material for boots ever since the Middle Ages. Even back then the benefits of leather were clear, the durability and resistance to the elements allowed people to cover much larger distances in comfort when compared to the traditional shoe of the day.
As the centuries rolled by, the reality of modern leather hiking boots became closer. World Wars brought more technological advancements and soon boots had rugged soles and used hobnails to increase useability and comfort.
Taking us into the modern day, as hiking became a hugely popular pastime, boot brands developed new techniques and materials to create leather hiking boots that allow us to explore extreme terrain in the most severe conditions. Combining the traditional benefits of leather with Gore-tex linings, stiff yet light midsoles, and Vibram soles has given us some of the best hiking boots that have ever existed.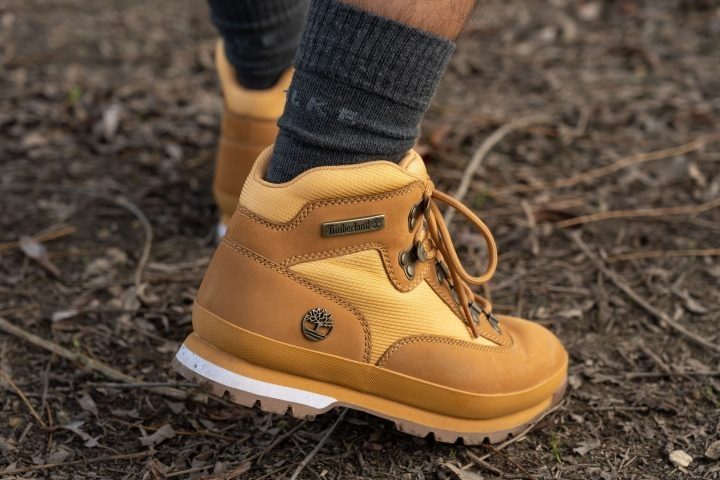 Leather hiking boots FAQ
Do leather hiking boots stretch?
Leather is a natural material that starts off quite stiff but once broken in, it can stretch and better fit your foot. But be aware that this stretching is quite minimal and won't fix your problems if you've bought boots that don't fit you properly.
Are all leather hiking boots waterproof?
Leather is a water-resistant material, but that doesn't mean that all leather hiking boots are waterproof. The material used for the upper of your boots has a big say in its performance, but there are other elements, like boot construction, liners, and leather treatments also play a big part too.
Can leather hiking boots be repaired?
Most leather hiking boots can be repaired, depending on the severity of the damage of course. Old, tired leather can be revived with waxes, sprays, and treatments, while some leather hiking boots can be resoled.
How to maintain leather hiking boots?
Regularly maintaining your hiking boots is the best way of extending their lifespan and ensuring comfort on every hike. Here are four easy steps to follow.
Clean and dry your hiking boots
This might seem like an obvious one, but cleaning and drying your boots after each hike is a great way to keep them in top condition.
Brush off any loose dirt from the uppers and gravel that may have lodged itself in the lugs of your soles, and use a damp cloth to brush off any stubborn stains.
Once this is done, leave your boots to dry naturally. Stuffing your boots with newspapers can help speed up this process.
Lubricate your uppers
Leather is a natural product that can degrade over time unless cared for properly. Hikers recommend that you treat your boots with lubricant to keep the material supple and keep you comfortable out on the trail.
Natural lubricants like wax are some of the most popular on the market as they can breathe a new lease of life into the most tired of leather hiking boots.
Re-waterproof your boots
As we mentioned earlier in this article, leather is water-resistant, not waterproof, so depending on how wet the trail is, you can expect some moisture to seep through. But we can boost this level of water resistance by using specifically designed sprays and treatments that help keep moisture out.
Store your boots properly
If you live in a region with cold or wet winters, it's unlikely you'll be hiking in the same pair of boots all year long, so how you store your boots when you're not using them is very important.
Keep them in a dry, cool place, out of direct sunlight as this can dry out the leather and significantly decrease its lifespan.
How we test hiking boots
This selection of top-of-the-line leather hikers is a product of dedication and passion. Here's our approach:
We buy leather hiking boots using our own funds. This way, we can be as objective and straightforward with our reviews as possible.
Each leather kick goes through a series of tests. In every pair, we hike on various terrain for days, come rain or shine.
We collect and analyze data by carrying out different sets of tests in our lab. We also tear apart the shoes to clearly view the sandwich of components inside, especially the cushioning system.