The Danner Mountain 600 is great for long weekends on lighter trails. As long as you don't go wild on technical terrain, the grip will not disappoint you! Comfort is superb and the boot feels lightweight, which is why it's great even for casual days. It looks that good.
Pros
Supportive
Very comfortable, like a running shoe
Oustanding grip
Durable
Feels light
Great out of the box
Waterproof
Awesome for casual use
Cons
Debris gets into the boot
Not for technical hiking
Danner Mountain 600 review
Like many others, I discovered the Danner brand - thanks to the movie Wild starring Reese Witherspoon. She does not wear the Mountain 600 but nonetheless sports a pair of Danner boots with classic styling.
Two years ago, in my local store, I was in search of a pair of relatively lightweight boots to get me through a New Hampshire winter. I tried on several pairs, yet the Danner Mountain 600s were by far the most comfortable.
The Danner Mountain 600 boasts lightweight cushion and durable traction with a Vibram Fuga outsole.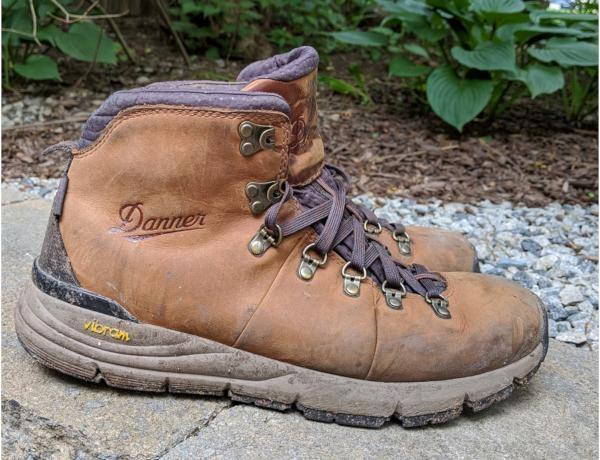 They did not seem to require any breaking-in and felt like a beefed-up running shoe. I bought half a size down from my typical running shoe size, which has worked out well.
I did not plan to use them for much hiking but thanks to their comfort, I've recently taken them on several hikes in the White Mountains of New Hampshire and am impressed by their durability, traction, and waterproofness on the trails.
Comfort
As mentioned earlier, the Danner Mountain 600 nearly matches the comfort of a running shoe like the Brooks Ghost. The sole feels soft yet supportive.
With other hiking boots I have tried in the past, I never was quite satisfied with their comfort. Often, I finished hikes with blisters at the back of my heels or on the sides of my ankles.
After each 10+ mile hike, my legs felt stable and fresh, thanks to the break-in free fit and Vibram SPE midsole.
In the Danner Mountain 600, I have felt fresh after hiking rocky mountains, 4,000 ft high for 10+ miles. However, there's one minor gripe with regard to the ankle fit.
It seems to splay out a decent amount from my ankle which leads to debris getting into the boot. This can be quite annoying if it's a rock or sharp stick that requires me to periodically remove and shake out the boot.
Performance of the Mountain 600
In the White Mountains during the spring, it's common to have a bit of mud and snowfall at elevation. This becomes especially daunting when several trails are covered in boulders.
With that said, the Danner Mountain 600 has performed quite well (thanks to the Vibram outsole). The outsole grips well on wet and dry rock, but there have been moments where I've had minor slips.
These all happened on damp branches and tree roots, so perhaps Danner/Vibram could have added a bit more tread to handle such trail conditions, but it's still minor in comparison to the boot's overall capabilities.
The Vibram outsole performed outstandingly on all conditions apart from wet roots and branches.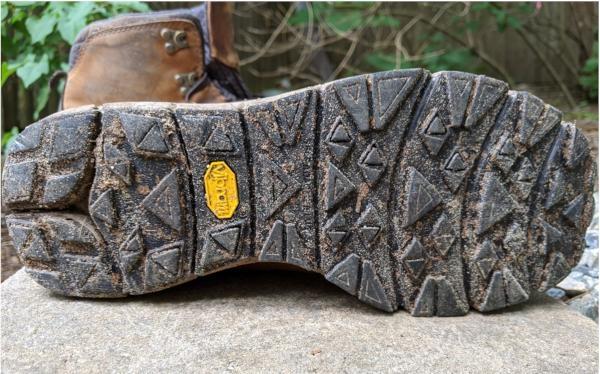 The boot's upper has worked well in river beds and streams, with no water seeping in.
Furthermore, the Danner Mountain 600's class styling makes this boot a smart choice for casual use during the winter months. The Danner Dry waterproofing keeps out the snow and slush, while the less rugged outsole and simple design pairs well with jeans.
Durability is impressive
The leather on my "rich brown" pair of Danners has faded quite a bit in comparison to how they were brand new. However, I admit, I also have not done a good job at maintaining them.
They could use a bit of conditioning, which can be found for relatively cheap on Danner's website. Before this review, I looked at a couple of customer reviews online and some purchasers found that the seam along the sides of the boots split open.
I wonder if it could be the wide feet or an improper fit. Good thing my size is regular width, and I have not had that issue after about 200 miles.
The outsole has held up well with minimal signs of wear and I expect to get many more miles out of the boots in the months to come.
I saw some customers post images of the outer seams on the Danner Mountain 600 breaking, but as you can see, mine are still holding strong.