Verdict from 24 experts and 100+ user reviews
8 reasons to buy
A large number of people praise the Danner Mountain 600 for its amazing comfort.
It virtually requires zero break-in time, according to a considerable number of reviewers.
Hordes of users—both men and women—commend the Mountain 600's durability.
A good number of owners mention that they are satisfied with how the Mountain 600 fits them well.
A high percentage of hikers like the boot for being very lightweight. Many of these hikers are women.
Expert reviewers pretty much love its flexibility, with one even likening it to a trail running shoe.
Several users and experts give props to the boot's Vibram Megagrip outsole for sporting amazing traction, especially on slippery surfaces and wet terrain.
The spacious toe box of the Danner Mountain 600 pleases more than a handful of online buyers.
3 reasons not to buy
Many owners dislike the Danner Mountain 600's tongue. Although gusseted, it apparently isn't as waterproof as the entire upper.
The stock insole of the Mountain 600 from Danner receives disapproval from less than a handful. They declare that it offered no cushioning and support at all.
A very small percentage of wearers complain about the boot's lack of breathability.
Bottom line
An aesthetically pleasing hiking boot that has top-notch comfort, virtually zero break-in time, and impressive durability is the Danner Mountain 600. This boot is very lightweight and has a truly satisfying fit. It's also much-praised for its amazing traction.
The shoe, however, isn't completely waterproof, due largely to the gusseted tongue's suspicious design. With all that said, the boot's generous list of benefits can still bring hikers to more miles on tamed, established trails.
Tip: see the best hiking boots.
Our reviews
Like many others, I discovered the Danner brand - thanks to the movie Wild starring Reese Witherspoon. She does not wear the Mountain 600 but nonetheless sports a pair of Danner boots with classic styling.
Two years ago, in my local store, I was in search of a pair of relatively lightweight boots to get me through a New Hampshire winter. I tried on several pairs, yet the Danner Mountain 600s were by far the most comfortable.
The Danner Mountain 600 boasts lightweight cushion and durable traction with a Vibram Fuga outsole.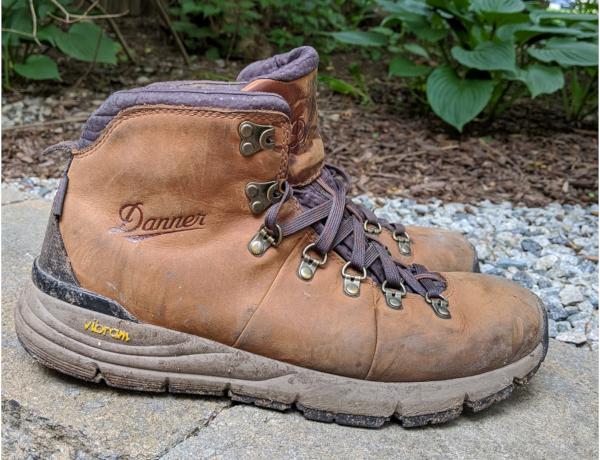 They did not seem to require any breaking-in and felt like a beefed-up running shoe. I bought half a size down from my typical running shoe size, which has worked out well.
I did not plan to use them for much hiking but thanks to their comfort, I've recently taken them on several hikes in the White Mountains of New Hampshire and am impressed by their durability, traction, and waterproofness on the trails.
Comfort
As mentioned earlier, the Danner Mountain 600 nearly matches the comfort of a running shoe like the Brooks Ghost. The sole feels soft yet supportive.
With other hiking boots I have tried in the past, I never was quite satisfied with their comfort. Often, I finished hikes with blisters at the back of my heels or on the sides of my ankles.
After each 10+ mile hike, my legs felt stable and fresh, thanks to the break-in free fit and Vibram SPE midsole.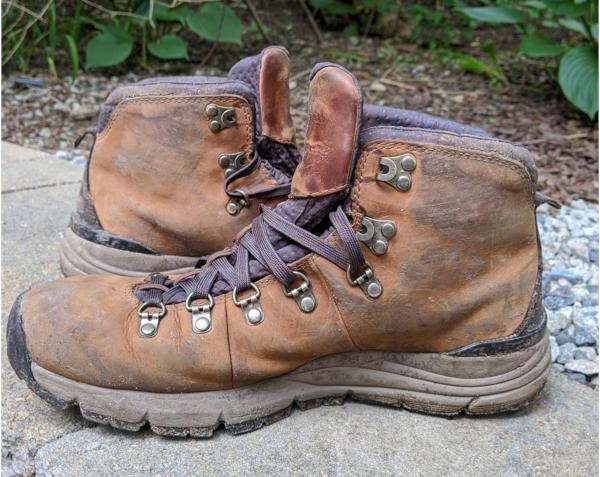 In the Danner Mountain 600, I have felt fresh after hiking rocky mountains, 4,000 ft high for 10+ miles. However, there's one minor gripe with regard to the ankle fit.
It seems to splay out a decent amount from my ankle which leads to debris getting into the boot. This can be quite annoying if it's a rock or sharp stick that requires me to periodically remove and shake out the boot.
Performance
In the White Mountains during the spring, it's common to have a bit of mud and snowfall at elevation. This becomes especially daunting when several trails are covered in boulders.
With that said, the Danner Mountain 600 has performed quite well (thanks to the Vibram outsole). The outsole grips well on wet and dry rock, but there have been moments where I've had minor slips.
These all happened on damp branches and tree roots, so perhaps Danner/Vibram could have added a bit more tread to handle such trail conditions, but it's still minor in comparison to the boot's overall capabilities.
The Vibram outsole performed outstandingly on all conditions apart from wet roots and branches.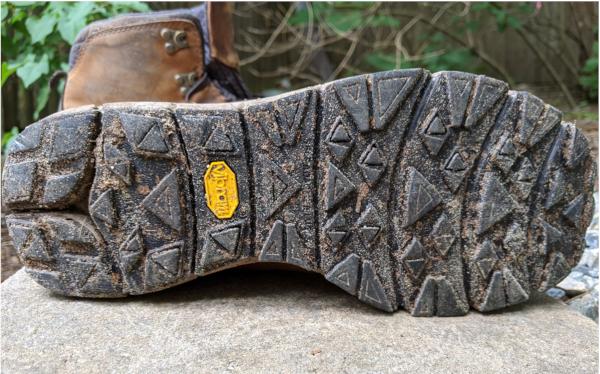 The boot's upper has worked well in river beds and streams, with no water seeping in.
Furthermore, the Danner Mountain 600's class styling makes this boot a smart choice for casual use during the winter months. The Danner Dry waterproofing keeps out the snow and slush, while the less rugged outsole and simple design pairs well with jeans.
Durability
The leather on my "rich brown" pair of Danners has faded quite a bit in comparison to how they were brand new. However, I admit, I also have not done a good job at maintaining them.
They could use a bit of conditioning, which can be found for relatively cheap on Danner's website. Before this review, I looked at a couple of customer reviews online and some purchasers found that the seam along the sides of the boots split open.
I wonder if it could be the wide feet or an improper fit. Good thing my size is regular width, and I have not had that issue after about 200 miles.
The outsole has held up well with minimal signs of wear and I expect to get many more miles out of the boots in the months to come.
I saw some customers post images of the outer seams on the Danner Mountain 600 breaking, but as you can see, mine are still holding strong.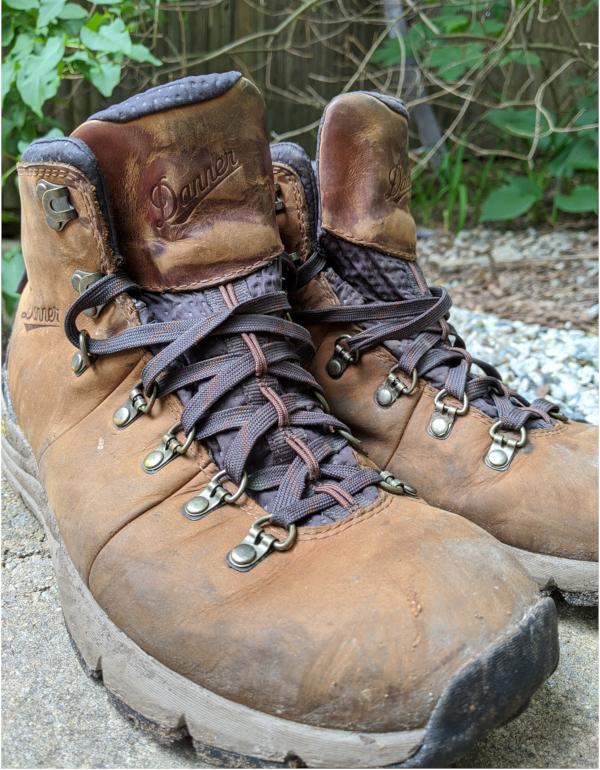 Conclusion
The Danner Mountain 600 is not the most technical hiker, but it performs very well on long weekends in a variety of spring conditions.
It has adequate cushioning and feels lightweight compared to other boots that work well as a casual late fall/winter boot. I plan to wear these for the next couple of years and once they have finally had it, I will certainly buy them again.
Good to know
The Mountain 600 is part of Danner's Performance Heritage category which combines lightness and classic styling in one package. It is a 4.5-inch high, mid-cut boot that's specifically designed for hiking on rough terrain. The upper, whether suede or full-grain leather, keeps water at bay thanks to Danner Dry—Danner's proprietary waterproofing technology.
The boot sports a gusseted tongue with ample, cushy padding. It keeps the interior free of debris and makes traversing sandy surfaces and scree slopes much more manageable. The moisture-wicking ankle collar is also padded which adds to the boot's comfort and debris resistance. There's also an Achilles notch on the back for better movability.
Its hardy yet springy Vibram Specialized Polymer Elastomer or SPE midsole gives comfort and stability. It is created from a mix of synthetic natural rubber and EVA. It takes care of the cushioning without weighing the user's foot down.
The Vibram Fuga outsole (made of Megagrip compound) works with the boot's midsole to obtain a balance between traction and flexibility. It has self-adaptive lugs and flex lines which optimizes performance on rocky trails.
The Mountain 600 is a boot for male and female day hikers. Danner used the DPDX last in shaping the interior of the Mountain 600. It grants the boot a roomy interior while still possessing a sleek overall profile. Danner recommends getting a half size down to get the best fit as this gear runs a tad large. On the other hand, the systematic placement of the riveted D-rings also allows for the even distribution of lace pressure, which adds to the boot's overall snug fit.
With a Vibram Fuga outsole that uses the Megagrip tech (a type of compound designed for slippery grounds), the Mountain 600 delivers traction on a range of surfaces. The triangular, self-adaptive lugs are placed and positioned on the outsole in such a way that grip is sustained from virtually all directions. There are shallow ridges horizontally lining the outer sole that make the boot extra flexible during ground contact and transitions.
This grippy outsole is a one-piece rubber construction that extends all the way to the tip of the upper's front, conveniently covering the sturdy midsole as well. This extension also acts as a protective toe bumper.
The Vibram SPE midsole is made with a combination of ethylene-vinyl acetate (EVA) and synthetic natural rubber. Its overall design is primarily built around comfort, durability, and flexibility. It runs thick for an extra layer of cushioning which also grants weight support and shock absorption. The outsole's flex ridges also extend to the midsole which not only increases the boot's pliability, but also gives the midsole-outsole form a sawtooth look.
Working in conjunction with the midsole to provide foot comfort is a removable Ortholite footbed. This default insole has basic cushioning features which include a slightly contoured heel rest for added stability. Aside from providing comfort, it also helps maintain the freshness inside the boot.
The boot features a nylon shank. It is a lightweight and flexible material that allows the wearer to move easily. It bends enough to follow the natural movement of the foot.
The Danner Mountain 600 hiking boots come in two variants of the upper. One is in suede and the other one is made of full-grain leather. Both are constructed with minimal seams and the materials used give its upper an overall stylish design.
It sports the brand-owned Danner Dry, a waterproof barrier which protects the foot against water intrusions and allows moisture to escape. Its ankle collar and gusseted tongue have enough padding which makes it comfortable to wear.
In place of lace holes are D-rings and hook eyelets that make lacing more convenient. There are also lace holders stitched vertically along the tongue that further strap in and secure the laces.
-The Danner Mountain 600 was used as the foundation for the Timber 600—a limited edition product created by Danner in collaboration with Portland Timbers (an American soccer team). Danner markets it as a boot that can be used for hiking the toughest trails and cheering for the Timbers during a rainy-day match.
-The black (men's) and saddle tan (men's and women's) colorways come with an extra lace of an alternative color.
Rankings
How Danner Mountain 600 ranks compared to all other shoes
Popularity
The current trend of Danner Mountain 600.