7 Best Lightweight Hiking Boots in 2023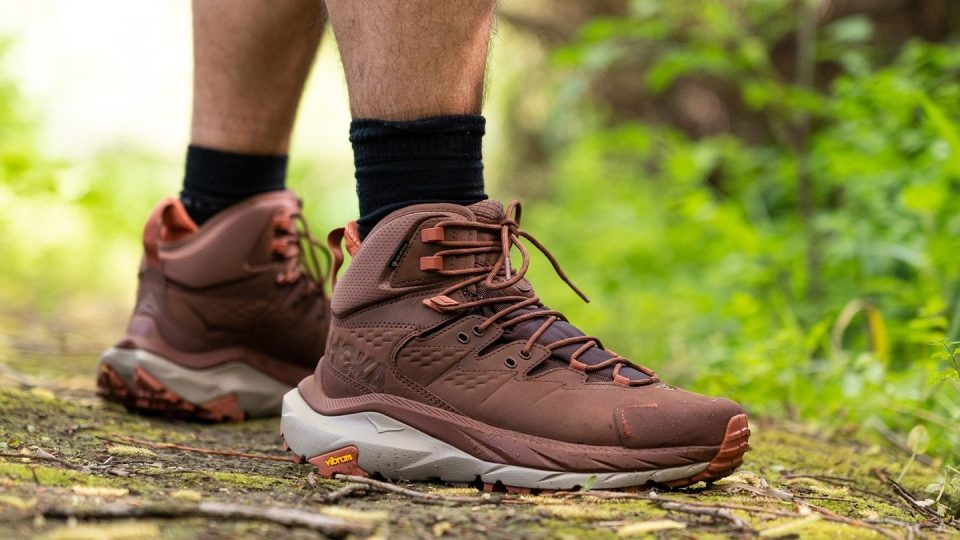 We earn affiliate commissions at no extra cost to you when you buy through us. Why trust us
Traditional hiking boots are clunky and heavy. Sure, they are made for more demanding conditions and terrains, but that doesn't mean we need them all the time. Enters lightweight hiking boots. Something to go easier on our feet! We made this guide to showcase the best lightweight hiking boots and explain what makes them so special.
We have tested and reviewed 80+ pairs of boots to help you get the right one for your needs. Whether it is a more rugged one that you need for multi-day backpacking or a more urban-ready style, we've got a top pick for different categories.
Comparison of the 7 best lightweight hiking boots
| | | | | | | | | |
| --- | --- | --- | --- | --- | --- | --- | --- | --- |
| Best | | | | | | | | |
| CoreScore | | | | | | | | |
| Users rating | | | | | | | | |
| Experts | | | | | | | | |
| Best price | | | | | | | | |
| Ranking | | | | | | | | |
| Popularity | | | | | | | | |
| # of colorways | | | | | | | | |
4 features of lightweight hiking boots
We've covered hiking boots in great detail in our guide for buying the best hiking boots. Here, we'll focus on what makes lightweight hiking boots different: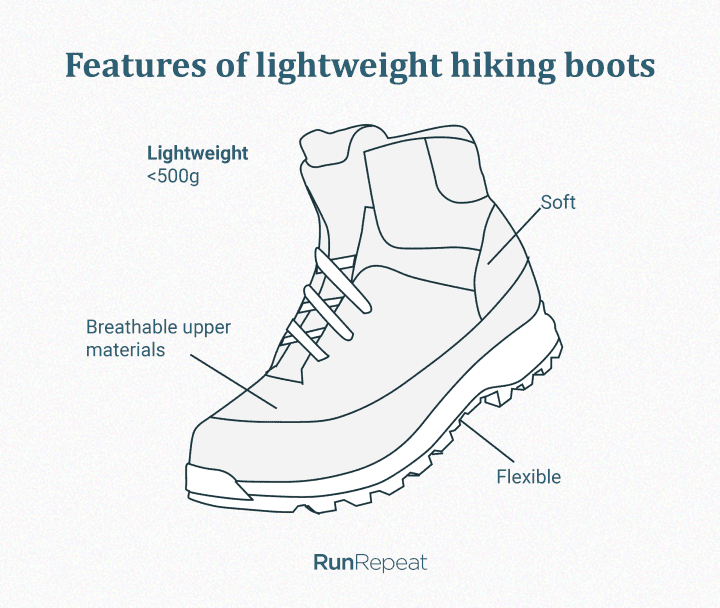 Lightweight: at RunRepeat, all lightweight hiking boots weigh less than 500g.
Breathable upper materials: synthetic materials, suede, mesh.
Soft: these shoes have a shorter break-in period because they aren't as rigid as traditional hiking boots. Your feet have a greater degree of freedom in them.
Flexibility: you'll notice you're more agile in these shoes when covering uneven terrain. Less stiff rubber sole allows them to bend, which is impossible to do in traditional hiking boots.
Lightweight hiking boots can be found both in mid-cut and high-cut versions.
Hiking boots weight comparison
This average difference of 242g is what makes lightweight hiking shoes so special!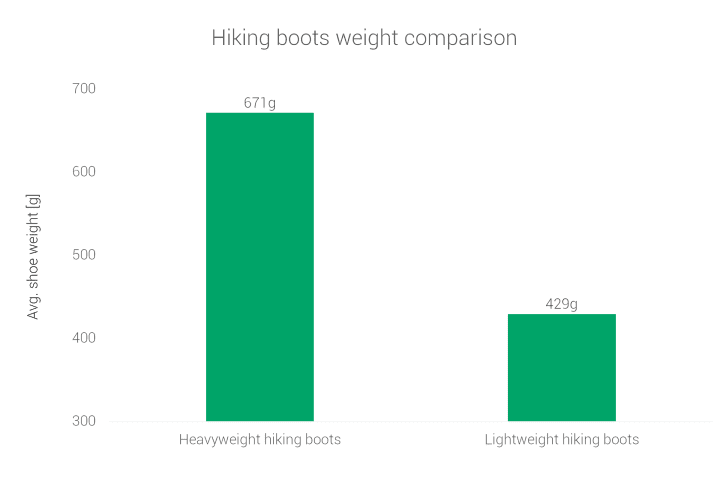 Steps for finding your perfect fit
There are a few important steps to follow when it comes to trying on and buying hiking boots.
These 6 steps will guide you through the process of trying out the hiking shoes.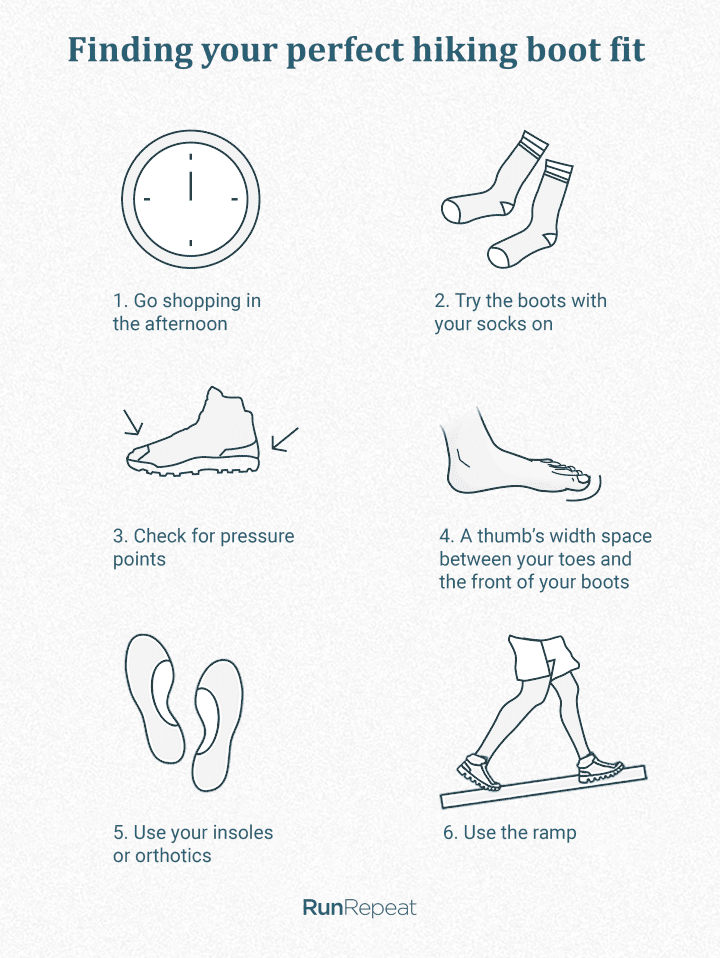 Go shopping in the afternoon, so feet are swollen at least a bit. Swelling happens anyway when hiking, so it makes sense.
Try the boots with your hiking socks on. Bring the socks that you plan to wear with your hikers when shoe shopping. Avoid using cotton, but choose wool or synthetic socks.
Try it on, lace it up, and check for pressure points. You don't want any part of your shoe to feel loose!
There should be a thumb's width space between your toes and the front of your boots.
If you're wearing special insoles or orthotics, take them with you and insert them into the boots when trying them on.
Use the ramp! All hiking/outdoor stores have it. Walk up and down. This tests the boot's snugness. When you go up the board, observe for any heel lift. When you go down, check if your toes hit the front of the shoes. If your heel rises more than a quarter of an inch, try adjusting the laces. If your toes hit the front, try sizing up.
When you've made the purchase, make sure you break in your boots before your adventure.
When you should (not) wear lightweight hiking boots
To make them lightweight, some hiking boot features had to be omitted or reduced to a certain level. This is what defines when and where you should (not) wear the lightweight hiking boots:
Lightweight hiking boots: when (not) to wear them

Yes

No

Short hikes, a day or a few days long

Mountaineering and heavy backpacking, especially at high altitudes

Lower-attitude adventures, as they don't include severe weather conditions

Difficult weather conditions - they are more breathable and, therefore, less able to endure great amounts of snow and rain

Warmer and dry weather, high breathability won't keep your feet as warm

Cold weather - traditional hiking boots will keep your feet warmer than the lightweight ones

Easy hikes, on terrain that is not too demanding; for technical parts, it's best to have stiff boots with rigid soles

Hikes where you need to use spikes (crampons): for this, you need to check if your shoes are compatible with crampons and graded for that use. Most lightweight shoes would fall on both tests - their soles can't have crampons attached to them and they are not rigid enough.
If you insist on light hiking shoes, but know there will be some rain - check our lightweight waterproof hiking boot collection. This feature can be a day-saver!
How we test hiking boots
We review lightweight hiking boots by being methodical and nitpicky. The process we go through is enumerated below:
We shop for all the hiking boots we test by swiping our own cards. To speak plainly, we don't take part in any sponsorships because we want to be as objective as we can be during our review and testing.
We wear test the boots. We take them on our hikes and expose them to different terrains. We even cross water sources during our treks. We like to deliver our own actual experiences rather than blindly trusting what the brands say.
We perform different tests in our lab that quantifies 30+ parameters. We also split the shoes in half and cut them into pieces to have various frames of reference in investigating them.