5 Best Snow Hiking Boots in 2023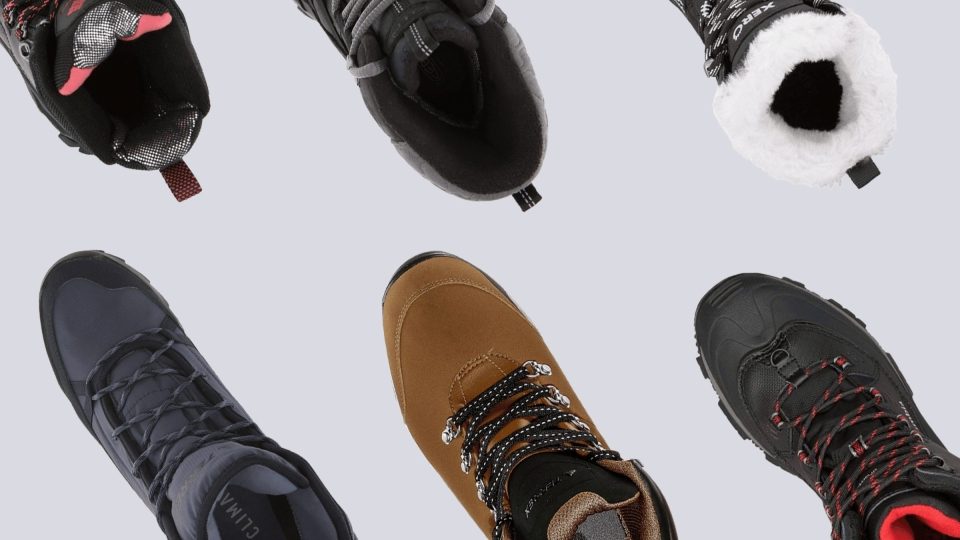 We earn affiliate commissions at no extra cost to you when you buy through us. Why trust us
Hiking in the snow is a quite beautiful, calming experience. But as the landscape transformed into a cold and slippery yet still magical wonderland, you need to protect your feet with comfortable footwear with reliable traction and insulation.
After sliding, slipping, and trudging through snowy roads and icy trails, we, a team of wear testers, chose our best picks of the most dependable snow hiking boots based on our real-life experiences and impressions. We stand by our choices as these shoes have kept our feet dry, and comfortable and upright throughout the entire journey.
We've done the legwork and reviewed all the shoes very carefully. Check out our top highlights in various categories depending on your style and preferences.
Comparison of the 5 best snow hiking boots
| | | | | | | |
| --- | --- | --- | --- | --- | --- | --- |
| Best | | | | | | |
| CoreScore | | | | | | |
| Users rating | | | | | | |
| Experts | | | | | | |
| Best price | | | | | | |
| Ranking | | | | | | |
| Popularity | | | | | | |
| # of colorways | | | | | | |
Nothing ruins a winter hike quite like getting wet and cold feet. It can turn a great day out into a miserable experience in just a few moments. Even if you live in a part of the world where it doesn't snow too much in winter, it's still worthwhile to consider buying a pair of the best snow hiking boots possible.
And if you do live in a very cold region, these should definitely be part of your setup. Let's take a look at why they'll become one of your favorite pieces of kit.
What is a snow hiking boot?
Snow hiking boots are specially designed footwear that provide extra protection from the snow and cold while hiking in winter.
Why should you consider buying a snow hiking boot?
Snow hiking boots are made specifically for the cold, so when the mercury drops, these boots perform in a number of ways, mainly:
Warmth
Waterproofing
Traction
Protection
Durability
Versatility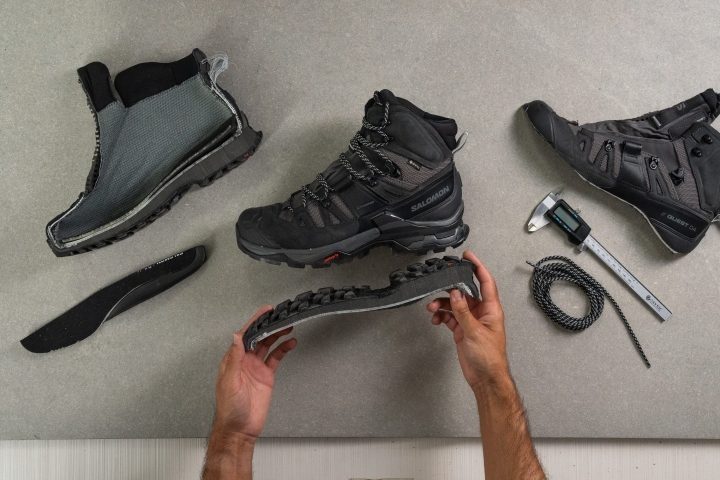 Warmth - stay warmer for longer
Snow hiking boots are designed with various levels of insulation to keep your feet warm in cold temperatures, which is key for hiking in wintery and icy conditions. Much more info on this is below.
Waterproofing - dry feet are warmer than wet ones
Boots made for winter are often waterproof or water-resistant, which is important for keeping your feet dry and comfortable during hikes in wet or snowy conditions. We'll also discuss this in more detail below.
Traction - find grip on icy trails
Get better traction on slippery or uneven terrain than regular hiking boots or shoes with snow hiking boots, thanks to their specialized soles and tread patterns.
Protection - keep debris out
Winter hiking boots offer extra protection for your feet and ankles, with features like higher ankle support, thicker soles, and reinforced toe caps. Higher cuffs are also great at keeping snow out.
Durability - made for tough conditions
Withstand harsh weather conditions and rough terrain in a pair of boots designed for the colder month, making them more durable than regular hiking boots or shoes.
Versatility - can be used throughout winter
You can easily use your snow hiking boots for other outdoor winter activities, like snowshoeing or winter camping.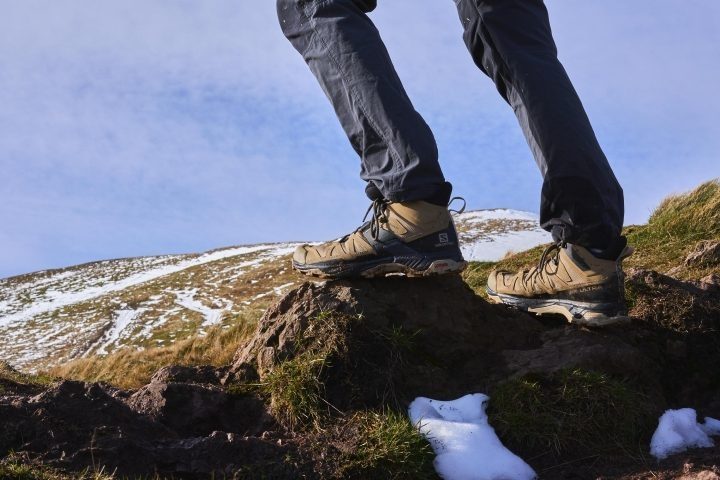 What types of insulation are out there?
Not all insulated snow boots are created equal. Some are designed to be a lightweight option in chilly climates and others are made to keep you warm in the most extreme situations. Different materials provide different levels of warmth, breathability, and moisture management, so it's important to find the best one for you.
Synthetic insulators
Synthetic insulators are incredibly popular and are made from polymers and can be very lightweight yet breathable. It is often used in the form of hollow fibres that trap heat, keeping your feet warm even in below-freezing temperatures. Some synthetic fibres are high-end and perform extremely well, while other budget options can be a good choice in slightly warmer winters.
Primaloft
Primaloft is a synthetic fibre that is designed to be highly water resistant and breathable. It is lightweight and can provide excellent insulation even in damp conditions, something that most natural fibres struggle to do.
Thinsulate
Thinsulate is a synthetic insulation that uses microscopic fibres to trap heat and keep your feet warm. It is lightweight, breathable, and can be used in both wet and dry conditions.
Down insulation
Down is the lightest, most compressible type of insulation available for snow hiking boots. It's a natural material made from small feathers and offers superior warmth retention and breathability compared to other materials.
Merino wool
Merino wool is known for its softness, moisture wicking properties, and warmth retention capabilities. You're unlikely to find boots that use it as the main insulator, but instead, it's often used as an inner lining in winter hiking boots to keep your feet warm and dry.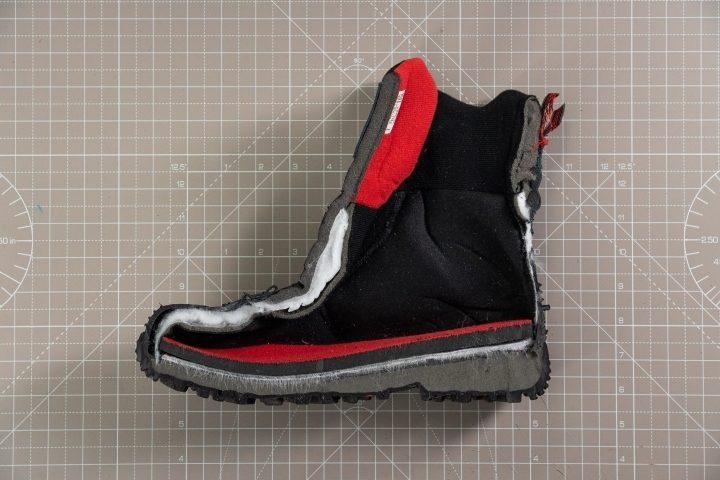 Example of a 200g insulation boot (Columbia Bugaboot III)
What are the benefits of insulation?
So is all this thinking around insulation worth the effort? Even if you spend most of your time running about town during winter rather than on the trails, you should still give plenty of consideration to insulation.
Here's why:
Keeps feet warm in snowy conditions
Prevents heat from escaping from the footbed
Provides additional cushioning for comfort
Keeps feet warm in snowy conditions
Insulation is designed to trap air and create an insulating barrier between the cold outside and the warm environment inside your boots. This layer of insulation helps keep your feet warm by reflecting heat back towards you, whilst trapping any warmth generated from an activity like walking or running.
Prevents heat from escaping from the footbed
The insulation also acts as an additional layer between the snowy environment and your feet, trapping heat generated from hiking and preventing it from escaping. This is very important in very cold conditions.
Provides additional cushioning for comfort
Lastly, insulation offers an additional layer of cushioning to protect and support your feet. This is especially important when you're on the trails for extended periods of time and need extra comfort and support. The added cushioning will reduce fatigue and help keep your feet comfortable all day long.
Waterproof hiking boots for snow
Waterproof hiking boots are designed to be completely waterproof, meaning they will keep your feet dry even in standing water or deep snow. Water-resistant hiking boots on the other hand provide a level of protection from moisture and mud but will not be able to withstand being submerged in water and snow for a prolonged period of time.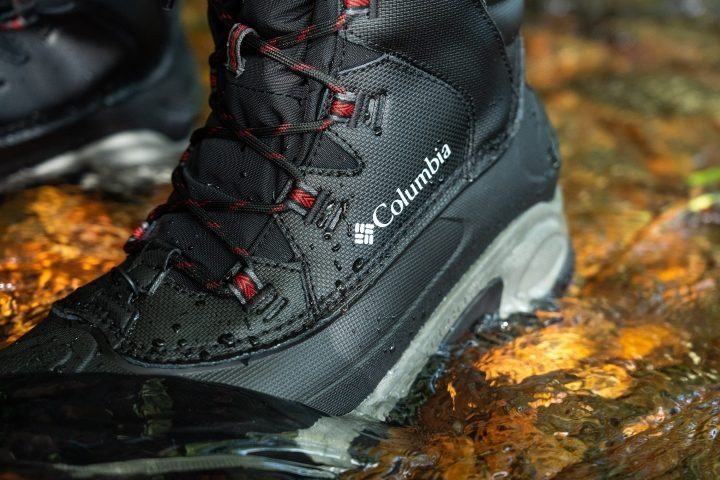 The benefits of wearing waterproof hiking boots in winter
As well as doing what they say they'll do, waterproof hiking boots also have a few other advantages that you mightn't consider right away.
They protect from water and moisture
The most obvious benefit of wearing waterproof hiking boots is that they provide protection from snow and moisture. The combination of materials used in their construction helps to keep your feet dry even in the wettest of environments. This can help to prevent discomfort and coldness while out on the trail.
Difference in permeability between a waterproof and non-waterproof hiking boot
They're built for slippery conditions
The best snow hiking boots often have an aggressive tread pattern that helps to provide extra grip on slippery surfaces. This is especially helpful when trekking over wet rocks or muddy terrain as it will give you the extra stability you need to keep your footing secure. Waterproof hiking boots are all about keeping you safe, happy, and moving out on the trails.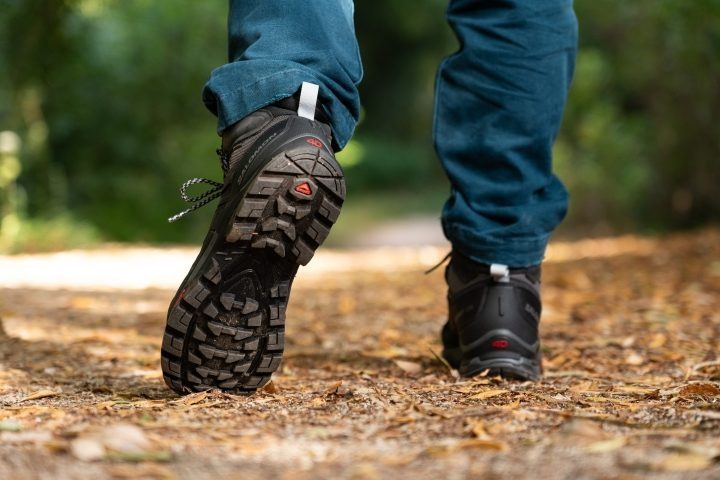 They support your feet
Another great benefit of waterproof hiking boots is that they often come with some premium features. Many have extra cushioning and support for added comfort on longer hikes. Layers of foam and well-built midsoles help to absorb shocks from the terrain, providing much-needed support for your feet over long distances and rugged trails.
Understanding the waterproof rating system
The waterproof rating system evaluates how well a material can resist water penetration. It's often used to assess the effectiveness of waterproofing materials in outdoor gear, including hiking equipment like jackets, tents, and most importantly for us, hiking boots. The waterproof rating is usually measured in millimeters (mm).
How the waterproof rating is measured
The waterproof rating of a material refers to how much water it can endure before leaking. A rating of 10,000 mm means the material can withstand a 10,000 mm tall column of water. The higher the rating, the better the material's water-resistant properties. Hikers need to be aware of this when selecting appropriate gear depending on the weather conditions.
What waterproof rating is the best?
The different levels of waterproof rating refer to the amount of water pressure a material can withstand before it starts to leak. Generally, waterproof ratings can be classified as low, medium, or high.
| | | |
| --- | --- | --- |
| Waterproof Rating | Water Pressure Resistance | Best Suited for Weather Conditions |
| Low (3,000-5,000 mm) | Light rain, drizzle, or mist | Dry conditions with rare rainfall |
| Medium (5,000-10,000 mm) | Moderate rain or light snowfall | Moderate to heavy rain or light snowfall |
| High (Above 10,000 mm) | Heavy rain, snowfall, or river crossings | Wet or snowy weather conditions |
Do I always need the highest waterproof rating possible?
Hikers need to know waterproof ratings in order to choose gear that suits the weather. In wet or snowy weather, it's important to have gear with a high waterproof rating to keep things dry and warm. If a hiker plans to hike in heavy rain or snow, they should wear boots with a high waterproof rating. However, if they are hiking in dry or hot conditions, a lower waterproof rating should be fine.
Plan for changing weather on longer hikes
When choosing waterproof gear, keep in mind the type of hiking you plan to do. In areas with lots of snowfall, it's best to play it safe and choose gear with a higher waterproof rating. If the hiking trip is going to last for an extended period of time, gear with a higher waterproof rating may be necessary due to the risk of being out in changing weather.
How we test hiking boots
To come up with our fair and objective rankings, we get our hands on 30+ of the best snow hiking boots and examine them right away! Our favorite part is when we do our real-life hikes in our local trails and other challenging locations.
Here are exactly the things we do:
We use our own money to procure snow hiking boots from various brands. This keeps our reviews 100% independent.
After hiking at least 30 miles on each boot, we evaluate its fit, protective features, stability, durability, insulation, outsole traction, and overall performance across all kinds of trails and terrain. We also check all parameters of the boots, particularly their reliability and comfort level during the most challenging part of the outdoor adventure.
We get more data from the tests we perform in our lab. We even slice the shoes into pieces to see everything inside.
One of the things we investigate is how a shoe reacts to cold weather. We take the midsole hardness and shoe flexibility using our durometer and digital force gauge. Following that, we emulate a chilly condition by sticking the shoe inside our refrigerator for 20 minutes. After that, we measure the said properties again and we compare how much the shoe firms and stiffens up. Through this, we are able to determine if a shoe is great for snowy settings or not.