7 Best Winter Hiking Boots in 2023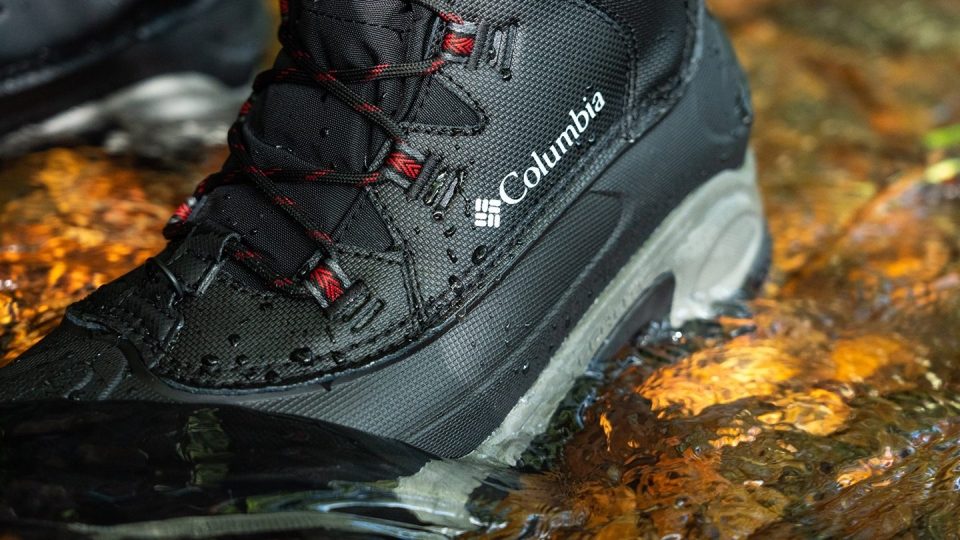 We earn affiliate commissions at no extra cost to you when you buy through us. Why trust us
No one wants cold feet while winter hiking. So, if you want to keep your tootsies warm and cozy on your next chilly hiking escapade, check out our list of best winter hiking boots.
We have reviewed and tested 20+ pairs to let you know our top picks for winter hiking. Whether you want the warmest, the lightest, the most comfortable, or all-in-one boot, we've selected the best option in each category.
On top of that, we also included the need-to-know facts and tips on winter boots in the guide section.
Comparison of the 7 best winter hiking boots
| | | | | | | | | |
| --- | --- | --- | --- | --- | --- | --- | --- | --- |
| Best | | | | | | | | |
| CoreScore | | | | | | | | |
| Users rating | | | | | | | | |
| Experts | | | | | | | | |
| Best price | | | | | | | | |
| Ranking | | | | | | | | |
| Popularity | | | | | | | | |
| # of colorways | | | | | | | | |
Don't let a spell of chilly weather keep you inside for months on end. A pair of warm and steady hiking boots made specifically for winter lets you get outside even when the snow comes and keeps you off your favorite trails. Here's what you need to know when looking for the best winter hiking boots.
What are winter hiking boots?
There are two main categories of boots to consider when thinking about hiking in the snow.
Mountaineering boots for extreme conditions
Firstly there are mountaineering boots which are a great choice for people who are looking to summit snowy mountaintops and plan routes up the biggest mountains in the world.
Insulated hiking boots for cold weather
The other type is insulated hiking boots. This is the type that we'll look at in this article. On a very basic level, they're essentially regular hiking boots with added insulation for colder temps, but with a few other smart, winter-specific decisions made.
3 reasons to get winter hiking boots
As the name suggests, winter boots are ideally used in cool to freezing temperatures. It's pointless to wear these in humid, warm, and tropical settings, where a pair of breathable, lightweight hiking boots reign supreme.
Outdoor excursions in a cold environment are more challenging than you think. It's important to prepare yourself (including your feet) for low temperatures and trails with slippery surfaces. Winter hiking boots are made specially to handle these types of conditions by providing you with the following:
Possible consequences of NOT using winter hiking boots
Using hiking boots that fail to provide the protection needed for wintry conditions can lead to severe end results. Here are a few:
A nasty case of frostbite. This winter-related injury refers to the freezing of the skin and the muscle tissues underneath it. This causes pain and discomfort that makes moving around impossible.
Blisters. Boots that trap moisture, more often than not, generate friction causing the build-up of serum filled bubbles on the skin, commonly known as blisters.
Hypothermia. Prolonged exposure to the cold can lead to a sudden drop to the body's temperature. It can range from mild to severe, with symptoms that include shivering, fatigue, nausea, weak pulse rate, coma, and even death.
Key features of winter hiking boots
So now you know what winter hiking is all about and why you should consider doing it, but what exactly do you need to look for when trying to find the best winter hiking boots?
We think there are five key things you need to look out for:
High amounts of insulation
Reliable waterproofing
Grip in icy conditions
Adaptable for use in different scenarios
High amounts of insulation
This is the big one. Your winter boot-buying experience likely hinges on buying a boot with the right insulation for you. This part of the process is like Goldilocks and the Three Bears. If you don't have enough insulation, you'll be too cold, and if you have too much insulation you risk overheating. It's vital that you get the balance correct.
What level of insulation is needed?
Insulated boots are widely available with either 200-gram or 400-gram levels of insulation, which refers to how warm they are. 200-gram boots are good from 20°F, while 400-gram boots will keep you warm to -40°F. There are boots out there with 800-gram of insulation, but you'll find them in mountaineering boots rather than hiking boots.
200-gram or 400-gram?
If you're planning short hikes in cold weather rather than day-long epics and if the temperatures don't get extremely cold, then 200-gram insulation would be a good choice. However, if you find yourself spending multiple hours out in the cold where the temperatures plummet well below freezing, then 400-gram is likely the best choice for you.
Insulation with Thinsulate
Nowadays, hiking boots are insulated with synthetic materials, with the most popular of these being Thinsulate. Thinsulate is a thermal fiber that is compact and thin, and most importantly, doesn't lose its ability to insulate when it gets wet.
Reliable waterproofing
If you're not dry on the trail during winter, then there's no way you can keep warm. Staying dry is a huge part of staying warm, so it's no surprise at all that the best winter hiking boots are waterproof.
Natural waterproofing
Leather has been used as uppers on hiking boots since they were first created, due in part to leather being a naturally waterproof material. That's why you'll see manufacturers choosing full-grain leather to make dependable and reliable waterproof hiking boots. Leather does have the ability to wet out though. This is when leather reaches saturation point and is no longer able to keep moisture away from your foot.
Synthetic waterproofing
The draws backs of leather led to the creation of man-made, or synthetic, waterproofing materials with the most popular of these being Gore-Tex. Gore-Tex is a layer of material with tiny holes in it that allows moisture to escape from the wearer's body but prevents water from passing through. It's more dependable in very wet conditions than leather but isn't as breathable as the natural material.
Grip in icy conditions
If you've ever experienced sub-zero conditions, you'll know that ice goes hand in hand with snow. That's why a lot of winter boots are designed to have grippier soles with deeper lugs. These deep lugs give you a better grip on uneven terrain and the tackier soles are able to latch onto the trail surface as well as possible.
Adaptable for use in different scenarios
Some of the best winter hiking boots out there are adaptable to their conditions. Mountaineering boots are compatible with crampons (additional grip systems that attach to your boots) letting you hike in very challenging conditions, and you'll find this feature on some winter hiking boots as well.
If your winter hiking boots aren't crampon-compatible, you can add another layer of grip by snapping on a pair of spikes. These aren't as dependable as crampons, but they do work with any pair of boots.
What are the differences between winter hiking boots and hiking boots?
The key difference between winter hiking boots and regular hiking boots, sometimes called three-season hiking boots, is the levels of insulation.
Three-season boots are great all-rounders
Consider where and when you use your three-season boots. They're specifically designed to be decent all-rounders that perform in warm, dry conditions and also colder, damper conditions. Generally speaking, they do a pretty good job in these conditions, but it's when the temperatures drop below freezing that these boots come up short.
Winter hiking boots thrive in cold conditions
Simply put, it's very likely that you'll be cold and uncomfortable wearing regular hiking boots in the snow and if conditions get extremely cold, you'll be taking an unnecessary risk with boots that aren't properly insulated. Winter hiking boots are commonly insulated with either 200, 400, or 800-gram insulation. We touched on the lower levels of insulation earlier on in this article and how they're suited to different conditions.
What are the differences between winter hiking boots and mountaineering boots?
There are two main differences between winter hiking boots and mountaineering boots.
Different insulation for different situations
The first of these is insulation. Mountaineering boots are made for extreme conditions where hikers are in freezing conditions for hours, or even days, on end. That's why mountaineering boots tend to have 800-gram insulation rather than the 200 or 400-gram usually found in winter hiking boots.
Decide what crampons you'll need
The second of these differences is sole stiffness. If you're buying a mountaineering boot, it's very likely that you'll need crampons at some stage too. That's why mountaineering boots have very stiff mid-soles that provide a solid platform in snowy conditions.
With winter hiking boots, the expectation is that you may need crampons at some point, but it's not necessarily a given. That's why the mid-soles on winter hiking boots are more flexible to make them more comfortable on the trail.
What is winter hiking?
First things first. What exactly is winter hiking? Without sounding too obvious, it's hiking that takes place in wintery conditions. Think temperatures around or below freezing, snowy surrounds, and the possibility of ice on the trail. It's a way of extending your hiking season and enjoying a new discipline of hiking at the same time.
The benefits of winter hiking
So why even consider swapping cozy days by the fireplace bundled up with a good book for snow-covered trails and rosy cheeks? There are four main reasons why people go winter hiking:
Maintain a good level of base miles
Hike on quieter trails
See new scenery
Improve your technical hiking skills
Maintain a good level of base miles
Serious hikers and people wanting to take their hiking to the next level need to build up their base level of fitness and get as many miles under their belts as possible. If you're locked up for months on end, this can be very tricky to do.
Hike on quieter trails
The trailhead can be a very busy place during summer. Everyone from weekend warriors to tourists, and serious hikers share these spaces and they can become very busy and sometimes even overcrowded. Winter hiking thins this herd a lot, leaving some of the most beautiful trails in the world peaceful and serene.
See new scenery
There's something truly special about being outside in the snow. Even the most familiar of scenes are completely transformed by a coating of snow, landscapes become quieter, mountains glisten in the sunlight and the trails feel completely different.
Improve your technical hiking skills
Thinking about taking your first steps into the world of more technical hiking or fancy upping your skills? Then winter hiking could be a great place to start. The trickier terrain and conditions make you consider each foot placement and how to adapt to more challenging situations.
Frequently asked questions about winter hiking boots
Winter hiking boots are a category of boots with a number of nuances that separate them from the rest. Here are a few more things to consider when shopping for the best winter hiking boots.
Do you need winter hiking boots?
This completely depends on you and your conditions. If you're in a region that experiences very cold winters and you want to keep hiking, then you should definitely consider getting a pair of winter hiking boots.
But if your winters aren't that harsh and if the cold doesn't make you uncomfortable on the trail, then you might be fine with a regular pair of hiking boots. It's a personal preference and one that might change once you try a pair - I know mine did.
How should winter hiking boots fit?
Winter hiking boots have an insulated liner, so you should size up, right? Not quite. Synthetic liners are quite thin and don't take up much room so you're safe to stick with your normal size. Much like other hiking boots, they should fit snugly in all areas, but not feel tight or cause any pain.
Can you wear winter hiking boots in summer?
You can definitely wear winter hiking boots in summer, but you probably won't want to. Essentially winter hiking boots are regular hiking boots with proper insulation, so while they'll perform like regular hiking boots on the trail, you'll run the risk of getting too hot.
How we test hiking boots
We believe that each hiking boot is deserving of our complete and utter attention to make sure that all of them are equally scrutinized with no shoes left behind. In relation to equality, we preserve our fairness in sharing our views and opinions by acquiring all the hiking boots using our hard-earned money.
After getting our hands on the boots, we wear them on real treks and hikes on various trails and mountains while tackling obstacles and different conditions. We invest a significant period of time in each of them to widely gain experiences and observations that can help us conclude the advantages and drawbacks of the shoes.
We make sure that our conclusions are backed by science. We explore more about the shoes inside our lab by measuring their different parameters using our tools and machines. One thing we investigate is how much a winter hiking boot stiffens up when subjected to cold temperatures. We stick the boots in our freezer for 20 minutes and we use our digital force gauge to acquire the before and after force resistance to bending, which is inversely proportional to flexibility. We then compare the values to each other and compute how much the value changes from room temperature to freezing.
Finally, we cut the shoes in half to reveal everything inside them.