Cole Haan sneakers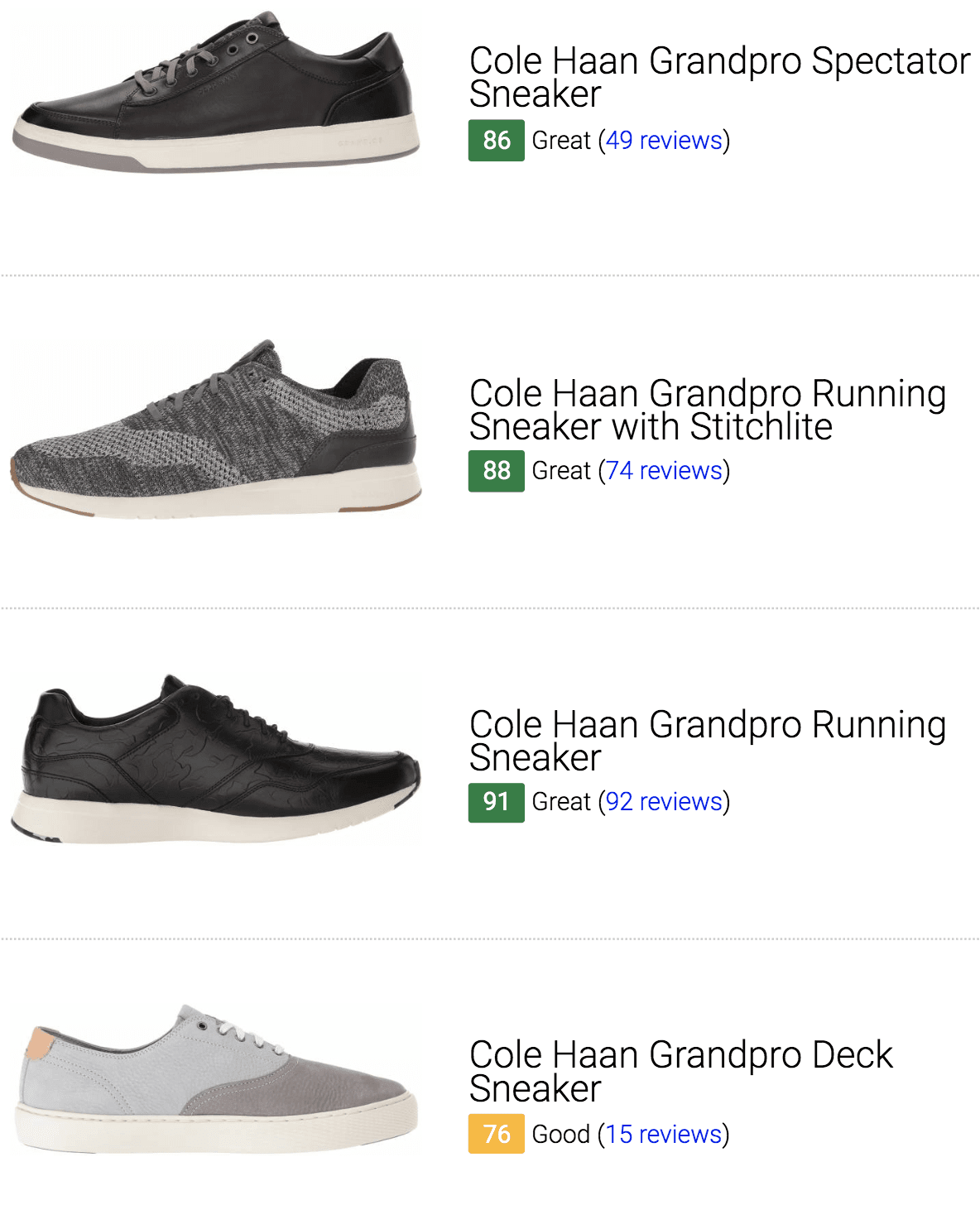 Cole Haan has been known for its simple and sophisticated designs since the company's founding in 1928. From the beginning, form and function have both been a priority when it comes to the label's kicks. As a result, the brand developed a reputation for high-quality, comfortable, and stylish footwear.
Indeed, the label became known for its luxurious designs, but without the sky-high price tags of luxury brand shoes. What Cole Haan sneakers have really become known for is their balance of good modern looks and classic inspirations, along with practical and innovative designs.
For its lifestyle category, Cole Haan has produced timeless models that have become daily essentials for both men and women. To know which ones are particularly noteworthy, read on below.
Cole Haan shoes that are considered the best
Cole Haan offers a wide range of footwear for men and women, including dress shoes for formal events. For its sneaker division, the brand has delivered many daily essentials that people have raved about for their looks and comfort. Below, you'll find the best Cole Haan sneakers, grouped by category.
Popular Cole Haan Women's Shoes
Although the company started as a menswear label, it didn't take long for the brand to begin producing women's Cole Haan shoes. The following are some of the brand's footwear offerings for women, including information about their key features and more.
Cole Haan Grandpro Tennis Sneakers
Getting rid of anything unnecessary was the simple approach that gave birth to the Grandpro Tennis Sneakers. The result is an ultra-lightweight shoe that is ergonomic, flexible, and well-cushioned – the signature qualities of the brand's Grand.OS technology.
With a traditional court sneaker look, these Cole Haan sneakers from the women's category could be paired with any sporty get-up. Tracksuits, joggers, and leggings show off its simple and slim profile. Its smooth leather upper lends it an elegant and preppy touch, ideal for any day's casual outfit.
Key features:
This shoe is priced at a $130-$150 range. It depends upon the design or colorway.
Neutral colors such as Optic White-Optic White and Black-Optic White are offered.
There are also metallic options such as Black-Argento Camo-Optic White and Natural Gold Camo-Optic White.
A special floral appliqued edition comes in such colorways as Brazilian Sand-Optic White and Optic White-Argento Specchio.
Women's 5-11 sizes were issued, with options for narrow, medium and wide widths.
This model also comes in men's sizes, with such dependable colorways as Black-British Tan and White.
Cole Haan StudioGrand Knit Sneaker
The low-top StudioGrand Knit Sneaker offers seemingly custom-made comfort. It has a graphic knitted upper, and smooth side paneling made up of leather. Like many Cole Haan sneakers, this model features Grand.OS technology in the form of its fit sock. It's also used in its full rubber outsole.
These Cole Haan women's shoes could be styled with sporty clothes such as tank tops, leggings, joggers, and track pants. The model also has a low-profile vibe that makes it suitable for a wide range of casual outfits, especially jeans, shorts, and skirts.
Key features:
The thinned-out sole delivers adaptive flexibility.
This shoe is fully lined and has a fully padded sock lining for an ultra-comfortable fit.
The sneaker has an expensive price tag of $200.
Its unique color options are Black-White Ocelot, Marine Blue-Ultra Marine Knit, and Rainy Day-Silver Sconce Knit.
Women's sizes ranging from 5-11 in medium or wide fit are available.
Cole Haan Grandpro Running Sneaker LX
Lightweight and updated with extra height, the Grandpro Running Sneaker has advanced cushioning and traction. It enables the wearer to go anywhere. Additionally, it's strikingly feminine and practical, featuring a subtle elegance on its leather and nubuck upper.
These women's Cole Haan shoes have satin accents and metallic details, making the shoe pop with utter sophistication. A lightweight, breathable, and flexible feel is provided by the perforated panels. The sneaker's sporty design should make it suitable for wearing with both athleisure and casual outfits.
Key features:
Ultimate comfort is delivered by the fully lined footbed, which is infused with Grand.ØS technology.
The dual-density midsole provides comfort and targeted supportual-density midsole.
This sneaker has a full rubber outsole incorporated with a 20mm micro wedge, offering a smooth heel-to-toe transition and durability.
It retails at a price of $150.
Its metallic color options include Argento Leather-Vapor Gray Suede and Peach Blush-Rose Gold-Optic White.
Women's sizes are offered from 5-11, with a choice between medium or wide width.
Cole Haan Studiogrand Knit Cross Strap Sneaker
The classic Studiogrand Knit was updated with the Studiogrand Knit Cross Strap. These Cole Haan sneakers from the women's division have a low-profile vibe and clean design. A crisscrossing elastic design provides a unique take on the timeless sporty shoe. Like plenty of Cole Haan sneakers, this model features the Grand.OS comfort system.
Its knit upper provides classic elegance, along with its suede and leather detailing. This shoe could be worn with a variety of athleisure outfits, especially joggers and leggings that show off its slim profile. Casual get-ups consisting of jeans, shorts, skirts, and dresses could also be paired with these Cole Haan women's shoes.
Key features:
This model is fully lined. It also has a fully padded sock lining that delivers ultimate comfort.
Its outsole is made entirely of rubber, which conceals the Grand OS technology.
It's expensively priced at $180.
Women can choose among three neutral and bold colorways: Rockridge-Pumice Stone, Black-White, and Plum-Black.
It comes in medium width, in women's sizes 5-11.
Notable Cole Haan Men's Shoes
Men's Cole Haan shoes come in a variety of options that combine a low-profile vibe and simple design with innovative features and comfort. The following selections showcase the brand's noteworthy offerings for casual and day-to-day use.
Cole Haan Grandpro Deck Slip-On Sneaker
This sneaker is among the bestsellers from the Cole Haan men's shoes' category. This shoe was built to redefine comfort while providing a stylish and street-ready appeal. The retro skateboard-designed Grandpro Deck Slip-On delivers plenty of styling options for an off-duty flair. Its low-profile vibe could also be dressed up for the office or any occasion.
Made with a soft nubuck upper and an EVA midsole, this model offers a luxurious feel. The functionality of these Cole Haan slip-on sneakers should appeal to individuals who are always on-the-go. They offer convenience, looks, and comfort all in equal measure, a trademark quality of Cole Haan sneakers.
Key features:
This shoe uses the brand's Grand.OS technology for a lightweight, breathable, and flexible fit.
It also has an extra layer of memory foam in the heel and forefoot for a first-rate cushioning.
Rubber pods in the outsole deliver extra-strong traction for any day.
It comes at an average price of $130.
Two neutral colorways are available: Chalk Tumbled Leather and Marine Blue Nubuck.
Men's 7-16 in medium and wide widths options are offered.
Cole Haan Grandpro Deck Sneaker
Featuring a nubuck upper with detailing made up of leather trim, the Grandpro Deck embodies the best of Cole Haan sneakers. It showcases a classic skate shoe style on the outside while balancing it off with a technical construction on the inside. The result is a lightweight and functional model that can be worn for everyday activities.
Wearers have favored athleisure outfits when it comes to styling these men's Cole Haan shoes, delivering a sporty casual vibe. Sweatshirts and sweatpants, joggers, or track pants will emphasize the shoe's skate-inspired design. It could also be dressed with many casual outfits for any laidback day.
Key features:
It has a Grand.OS anatomical footbed that offers superior cushioning, along with a breathable and flexible feel.
An extra-cushy ride is delivered by the additional layer of memory foam around the heel and forefoot.
For traction, this sneaker sports a rubber heel pod.
It has a slightly expensive price point of $130.
Men can choose among the several neutral colorways offered for this model, including Caviar Nubuck and Brown Leather.
Medium and wide widths are available for this shoe, which comes in men's 7-15.
Cole Haan Grandpro Running Sneaker
A supremely lightweight construction is featured on the Grandpro Running Sneaker from Cole Haan. It also boasts an old-school cool factor on account of its heritage running-inspired design. The vintage leather and suede used on this shoe offer a smart appeal that can be transitioned for weekend style.
It has a classic running sneaker silhouette that would pair well with any athleisure outfit, including joggers and tracksuits along with sweaters or t-shirts. For a more dressed-up appeal, these men's Cole Haan shoes could also be worn with slacks, jeans or chinos, complete with crisp button-down shirts.
Key features:
All-day comfort and traction are delivered by the gripped rubber soles that feature Grand.OS technology.
Its fully lined footbed offers an ultra-comfortable feel.
The single density midsole provides premium comfort and support in key areas.
This model has a price range of $150-$170, depending on the colorway.
The colorway selection includes Black Leather, Marine Blue, and Black-Black.
Sizes are in men's 7-16, available in both medium and wide widths.
Cole Haan Grandpro Running Sneaker with Stitchlite
This updated model of the Grandpro Running Sneaker offers up the retro flair of the original. Its twist comes in the form of state-of-the-art stitching. It also has advanced features that deliver a lightweight and breathable feel. Like many Cole Haan sneakers, it offers Grand.OS comfort and grip with each step.
With its heritage running silhouette, this shoe could be worn with sporty outfits. Its modern look also makes it appropriate for pairing with casual attire such as shorts or jeans and t-shirts. These Cole Haan sneakers from the men's category have a chic appeal that makes it as versatile as it is stylish.
Key features:
This model's Stitchlite knit upper provides an unrivaled flexible, breathable, and lightweight fit.
Its leather footbed delivers comfort and ventilation.
It has an EVA outsole and rubber pods on the forefoot and heel for traction.
At $140, this shoe is slightly expensive.
Shoe lovers can choose among the colorways of this sneaker, which include Deep Forest, Lambs Wool Knit, and Navy Peony-Morel Knit.
Wide and medium widths are offered, ranging from 7-16 in men's sizes.
Cole Haan Grandpro Spectator Sneaker
Made with premium, hand-stained leather material, the Grandpro Spectator Sneaker offers a supremely lightweight feel. It's made to be an elegant take on a classic court shoe. As such, it is enhanced with gripped rubber soles that feature Grand.OS technology for day-long comfort.
These Cole Haan sneakers from the men's division have a low-profile vibe that makes them suitable for any occasion. Casual outfits such as jeans, shorts, and pants showcase the shoe's sophisticated touch. Pullovers, bomber jackets, and polo shirts will emphasize its street-ready yet preppy flair.
Key features:
The footbed is fully lined with Grand.ØS technology for an ultra-comfortable fit.
A mix of premium support and comfort are delivered by the single density midsole.
The full rubber outsole ensures durability from heel to toe.
It was released at a premium price point of $170.
Its elegant color selections are Woodbury Handstain, Magnet Handstain, and Navy Handstain.
Men's sizes from 7-16 in medium or wide widths were issued for this sneaker.
Cole Haan Grandpro Trail Sneaker
The lightweight and well-cushioned Grandpro Trail Sneaker offers a versatile style. Its upper is made up of nylon and suede, offering elegance and a modern touch in equal parts.
For a throwback look, these kicks could be paired with light wash denim jeans or shorts, complete with a baggy pullover. It could also be dressed up with a business jacket and a pair of slacks for the office or any function. Athleisure wear would also be suitable for these low-key sporty Cole Haan men's shoes.
Key features:
It has a removable, textile-covered footbed that delivers a breathable and comfortable ride.
Durability and excellent traction across different terrains are guaranteed by the rubber outsole.
The injection-molded EVA midsole ensures a responsive feel.
It's an expensive shoe at its price of $160.
Buyers can consider the color selections Caviar, Marine Blue, and Optic White-Pumice Stone for this model.
Men's 7-15 in medium and wide options were released for this sneaker.
Where to find Cole Haan shoes outlets
There are many Cole Haan shoes' outlets all over the world where one could purchase a pair of the brand's kicks. These brick-and-mortar shops offer a wide range of sneakers and dress shoes, ideal for the modern man and woman. Apart from that, these stores could also be excellent grounds for spotting Cole Haan shoes on sale.
In the United States alone, the label has 106 stores, from California to Maine.
In Europe, the brand has a store in Ukraine.
Cole Haan sneakers' shops could be found in South America in Mexico, Paraguay, Guatemala, Colombia, Panama, and Peru.
The company also has stores in the Middle East in Saudi Arabia, Turkey, Qatar, the United Arab Emirates, and Kuwait.
In Asia, the brand has retail shops in Malaysia, Indonesia, Hong Kong, the Philippines, and Mongolia.
The Western Pacific island of Guam also has a Cole Haan outlet.
A brief history about the Cole Haan brand
With its long history in the footwear business, it's no wonder why Cole Haan has a touch of timelessness. The brand also makes it a point to take inspiration from classic styles to create modern staples for men and women. Throughout its run, the company has had its share of changes and milestones.
To know more about Cole Haan, here are some interesting facts about the brand.
In 1928, Cole Haan was established in Chicago as a pure menswear brand.
The name is a combination of the last names of Trafton Cole and Eddie Haan, who founded the company.
The pair focused on making high-class men's dress shoes, which were aimed for working-class men in the Manhattan or Wall Street scene.
During the 1930s Great Depression, the company was able to survive in whole, unlike many other businesses. It made people respect the brand.
In 1975, the brand was sold to George Denney and his partners.
Over the next decade, the new owners built upon the success of the founders. They were able to transform Cole Haan into a top footwear brand in the U.S.
In 1988, Nike bought the company for $80 million, with a goal of broadening its product catalog beyond just sneakers.
With Cole Haan, Nike created a golf shoe which had removable spikes, which was considered a hit.
Nike sold Cole Haan in 2012 to Apax Partners, a private equity firm, to focus on Nike itself and other complementary brands.
Today, the Cole Haan headquarters are in Greenland, New Hampshire.
Aside from Cole Haan sneakers, the company sells dress shoes for men and women, along with handbags, sunglasses, gloves, hats, scarves, outerwear, belts, and hosiery.
Frequently Asked Questions
Where are Cole Haan shoes made?
Cole Haan footwear is produced in high-class factories worldwide. The company maintains a high level of craftsmanship in its items, using first-rate materials. Many products are handcrafted to incorporate traditional artisan techniques. Cole Haan sneakers and their materials are made in the United States, Brazil, Italy, China, India, and Vietnam.
How does Cole Haan footwear fit?
For many wearers, Cole Haan sneakers fit true to size. However, it would depend on the user's preference, comfort, and type of foot. The brand offers narrow, medium, and wide options to accommodate different kinds of feet. Sizes usually run in men's 7-16 and women's 5-11.
Where could one be able to buy Cole Haan shoes?
There are plenty of Cole Haan shoes' outlets across the United States and other countries. One could also go to the brand's online store, which is an ideal place for finding Cole Haan shoes on sale. More options include such online retailers as Amazon, Zappos, 6 pm, Nordstrom, and many more.
Are Cole Haan sneakers considered luxury brand items?
Owing to its high price range compared to other sneaker companies, Cole Haan is often thought to be a luxury-leaning brand. The company also has a sophisticated image because of its catalog of dress shoes. However, the label is not as exclusive and expensive as other footwear brands such as Gucci and Balenciaga, and thus could not be considered a luxury brand.
Who sells Cole Haan shoes?
Apart from physical stores and online offerings, Cole Haan sneakers could also be sold by individuals. This is usually done on online reseller websites such as eBay and other similar places.
What are the materials commonly used in Cole Haan kicks?
Cole Haan is known for using sturdy materials for the uppers of its shoes. These are usually made up of nubuck or leather. The use of such materials lends a sophisticated flair and additional durability, like in the highly popular Cole Haan slip-on sneakers. Other materials that could be used include suede, knit, and nylon.
How much are Cole Haan shoes?
Cole Haan sneakers have a price range of $130 up to $200. At times, different colorways of the same model could cost more due to their popularity. With this type of price range, the brand is deemed to be not as budget-friendly as other footwear labels. However, the company still has averagely priced kicks on offer.
What are the technologies used on Cole Haan footwear?
As a sneaker brand, Cole Haan isn't as technologically advanced as its former parent company, Nike. In the past, the label had incorporated Nike's comfort technology into its traditional dress shoes. When it changed ownership, Cole Haan began to experiment with home-grown technology, such as Stitchlite and Grand.OS.
Stitchlite. This is Cole Haan's very own knit technology. It uses an advanced method of stitching to offer unparalleled breathability, flexibility, and lightweight construction.
OS. The brand describes this innovation as a modern operating system that offers the ultimate comfort for the foot. Among many other qualities, it delivers energy return and an ergonomic design.
How does one properly clean Cole Haan sneakers?
Cole Haan has a variety of products on offer for cleaning sneakers. Different ways of cleaning are required for different types of shoe materials.
For kicks with suede uppers, a suede cleaner bar and brush are essential for getting rid of dust or dirt. The bar is rubbed on the area, and the brush is used to wipe away the stain or any remnants.
Cole Haan leather sneakers need to be wiped gently with a cloth dipped in warm water. A special cleaning liquid could also be used.
Shoes with fabric or knit uppers would have to be cleaned with cool water and mild soap, which is applied gently using a microfiber cloth. A soft brush would also be needed for scrubbing away stubborn stains.
Do Cole Haan kicks adhere to ethical standards?
Cole Haan has a Supply Chain Disclosure on its website. In it, consumers are informed about the company's efforts to eradicate any form of forced labor from its supply chains. According to the brand, they perform internal and external audits to ensure that such a practice is avoided.
Besides, the company has stopped using exotic animal skins or fur for the construction and design of shoes. The brand also has options for Cole Haan faux leather sneakers, along with other efforts for sustainability.
8 best Cole Haan sneakers
Cole Haan GrandPro Turf Sneaker
Cole Haan Grandpro Running Sneaker
Cole Haan Grandpro Spectator Sneaker
Cole Haan Grandpro Running Sneaker with Stitchlite
Cole Haan Grandpro Deck Slip-On Sneaker
Cole Haan Grandpro Deck Sneaker
Cole Haan ZEROGRAND Rugged Chukka
Cole Haan Grandpro Trail Sneaker
This shoe has recently been added to RunRepeat. There are still not enough reviews for us to assign it a
CoreScore
.
CoreScore
A score from 1 to 100 that summarizes opinions from users and experts. The average CoreScore is 78.
More...