Our reviews
Last summer, I grabbed my first pair of Nike trail runners: Nike Air Zoom Terra Kiger 4. I didn't come in with very high expectations, but, boy, was I wrong. Very wrong.
The Nike Kiger 4 was my absolute favorite trail running shoe up to that point, and I put hundreds of miles on them very quickly. They're actually still in my rotation, though with how many miles I've logged on them they probably shouldn't be.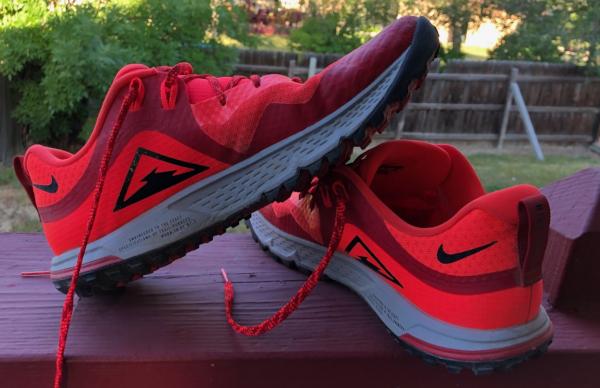 Having loved the Kiger 4, I figured I'd give the Nike Air Zoom Wildhorse 5 a try. From my perspective, they seemed to be a more beefed-up version of the Kigers with more significant cushion and heel-to-toe drop for longer outings.
Since I've been hitting some longer miles on the weekends in the Rocky Mountains, I thought the Wildhorse 5 would be the perfect long-distance solution.
As of writing this review, I've used the Wildhorse 5 to cover 75+ miles (10,000+ ft of elevation gain/loss) on primarily Boulder County and Rocky Mountain National Park trails. It's been a dry month, so I haven't experimented with the shoe in muddy conditions yet, but it has had a shot at some rather slick portions of some damp trails.
Yeah, I'm gonna' take my Wildhorse 5s to the Rocky Mountains. I'm gonna' run 'til I can't no more...
Without further ado, here are my experiences and review of the Nike Wildhorse 5.
First impressions
After unboxing the Wildhorse 5 (beautiful looking shoe in my opinion), I was stoked to give them a try. I took them to local Lake McIntosh for a quick 4-mile run. At first, the shoe felt stiff.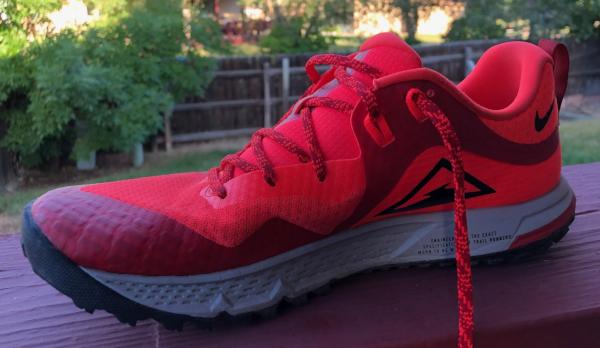 More stiff than most new trail runners, but after getting 10+ miles in them, they finally started to break in and feel right.
Surprisingly, I had the same experience with the responsiveness. At first, I felt like my feet were just slamming into the ground, and it wasn't until I hit double-digit mileage that I begin to feel some energy return from each step.
It should be noted, also, that I hit a 12-month PR (still recovering from injuries) in these shoes the first week without any extra input, so that was a huge confidence boost in the Wildhorse.
Honestly, my first impressions with the shoe weren't great. I was regretting buying them over the Kiger 5s. But after a full week of breaking them in, I finally began to experience the true Wildhorse that everyone else was raving about.
TLTR? Here's the Quick Pros and Cons
After 75+ miles, here are the pros and cons of the Wildhorse 5. I'll go into greater detail in the review, but if you have places to be and runs to run, here's the quick and easy:
Pros
Cheap: I bought these shoes at a wonderful $88, and that's fantastic for any trail running shoe. Granted, these were discounted from the original selling price, but the Wildhorse's selling price started and is still far below the Kiger 5s, which is a huge plus for me.
Durability: After 75+ miles in this shoe, it's showing very little signs of wear and tear. The upper and outsole of the shoe still look pristine, so I imagine I have hundreds of miles left in the shoe. The cushion does seem to be collapsing a bit faster than the outside appearance of the shoe, but it's not at an alarming rate.
Roomy Toe-Box: Lots of room for your feet to breathe and splay naturally. I never find myself in a hurry to get out of the shoes and back to my slides.
Padded Tongue: This is a pro and a con. Honestly, it feels good to have the cushioned tongue hugging the top of my foot, but sometimes it causes the foot to feel constrained and like I need to loosen the laces. Win-loss.
Light: This shoe is heavier than the Kigers, but I've been surprisingly satisfied with the light feel. At just about 10.6 ounces, it's still a relatively lighter trail shoe.
Cons
Poor Heel Fit: The shoe feels snug all around except for in the heel pocket. I have to lace up the shoes a bit too tight if I want my foot to sit securely in the heel pocket, which I'm not a big fan of. When I'm bombing hills, it sometimes feels like my heel is flapping along without the security I'd prefer.
Grip: On dirt trails and crush rock, these shoes hold up no problem, but I've found they're not quite as grippy when I'm doing some class 2, class 3 scrambling. And if it's wet, the grip gets detrimentally worse.
Cushion Fails Quickly: I was planning on using this shoe for my longer runs, but I've found the cushion collapses a bit prematurely. Miles 3-5 feel fantastic, but then the shoes seem to lose most responsiveness after that. I usually rotate shoes to give each pair a 48-hour break, so when I return to the Wildhorse 5 a couple of days later, the cushion is there, but it just doesn't seem to last as much as I'd prefer.
Outsole
The protection provided by the rock plate is excellent, as I've yet to feel anything from the jagged rocks I frequently encounter.
The grip, however, leaves me wanting much more. The lug pattern reminded me of the Kiger 4 (which provided fantastic grip), but I was unfortunately surprised to find it didn't perform as I'd hoped.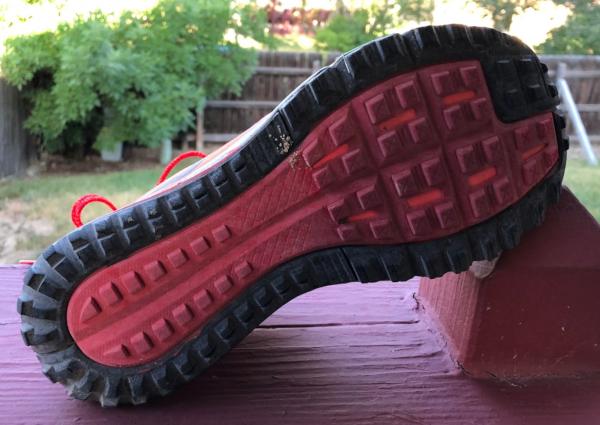 I don't feel as confident as I would like to when bombing down steep trails or scrambling over rocks. And if I'm trying to hop between wet rocks while crossing a stream, I find myself very uncomfortable.
Cushioning
The cushioning was the primary reason I opted for the Wildhorse 5 over the Kigers, yet it didn't deliver as I'd hoped.
Sure, when you slip them on, you feel the extra cushioning padding your foot all around, but it just doesn't hold up to the beating from the trails.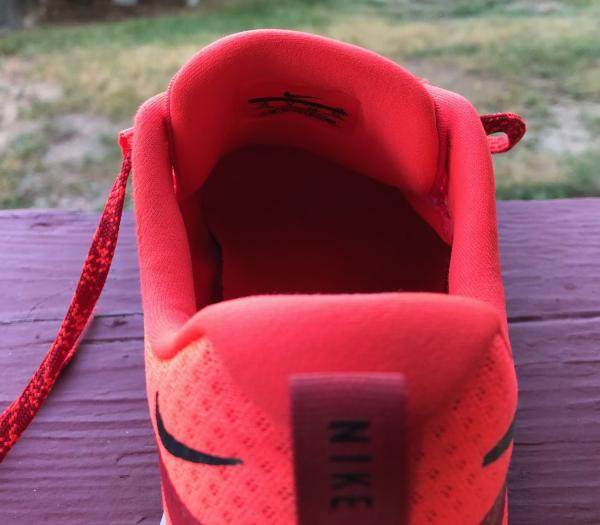 After a few miles, the cushioning seems to fall behind the Kigers. The extreme cushioning of the tongue is a pro and con for me. Sometimes it makes the most feel extra secure, but other times it causes the foot to be constrained.
Upper
Really happy with the upper. The shoe feels snug and great (except for the heel), and I love the welded overlays for support, fit, and protection.
Not a whole lot of breathability and poor drainage, but besides that, couldn't ask for more from the upper.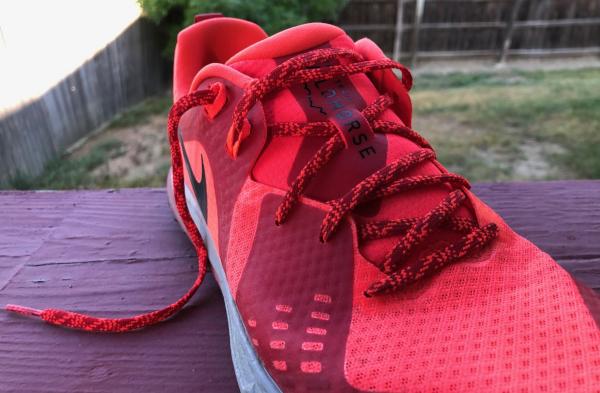 Quality
All-in-all, while the Wildhorse 5 doesn't check all my boxes, I can't deny it's a high-quality shoe. From the upper to the laces to the outsole, everything feels well-made and durable.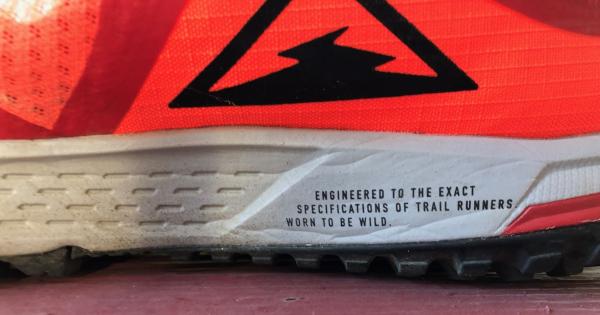 Final thoughts
Reading this review, it may seem like I had more negative things to say, but overall, I like the Wildhorse 5. It just didn't deliver on the points I was hoping it would.
For the beginning trail runner looking for a shoe to handle a variety of terrains and distances, I'd say this is a go-to trainer. I wouldn't recommend it for any ultraraces, though, since I feel like the cushioning just doesn't perform as long as it should.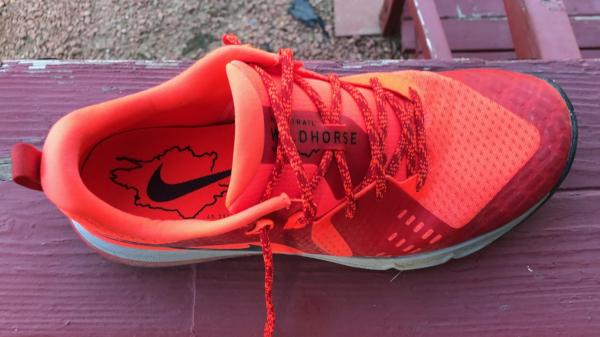 For now, I'm going to take my Wildhorse 5s to the Old Town Road and keeping running.
They have hundreds of miles left in them, and while they might not be my go-to, they're going to fit nicely into my weekly rotation for shorter, slower training runs.
In a nutshell: This is a good, but not a great all-around trail shoe. For most trails, the traction is adequate except for wet rock and loose scree-especially going downhill. It's not an expensive shoe and is very easy to find in running stores, sport goods stores and on-line.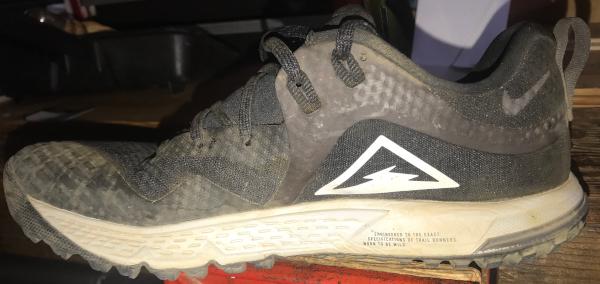 Frustrated with the narrow and uncomfortable Salomon trail shoe line, in 2019, I went in search of the running shoe version of the Unicorn.
I looked for a trail shoe that is comfortable, has excellent traction, a rock plate, doesn't heat in the summer or fill with water in wet conditions. So, off to the YouTube reviews, running magazines promos, and internet I went.
Unlike the bad old days, there are many options for trail shoes these days and going to my local running shop was a dizzying experience. I tried on the Hoka One One Speedgoat 3's, several models of Altras and other brands.
Still, the only shoe that felt comfortable in the toes and had just enough cushioning was the Nike Wildhorse and Kiger 5's. The difference for me was the rock plate.
I needed protection on the technical trails that I like to run on, and I have an allergic reaction to bruises on the bottom of my feet.

I chose the Wildhorse 5. My only concern was the lugs on the Wildhorse 5 were advertised as 4mm. Still, at $110 out the door, I took the chance.
Would I buy it again
Maybe, although there are plenty of other shoes available with better traction. On moderate trails, the Wildhorse 5 works very well. Comfortable and nimble so that these kinds of runs can be a joy.
I wore these on the smooth singletrack in Joaquin Miller Park in Oakland, California, and the feeling was sublime. But, when I wore them on steep downhills with loose scree, the feeling was close to terror.
In my opinion, had Nike put on 5mm lugs, the Wildhorse 5 would have been the best trail shoe of 2019.
Primary use
I've worn this shoe mostly on the trails of Mt. Diablo, Clayton CA. These trails are mostly single track on steep terrain with loose rocky soil, with some technical sections, few switchbacks.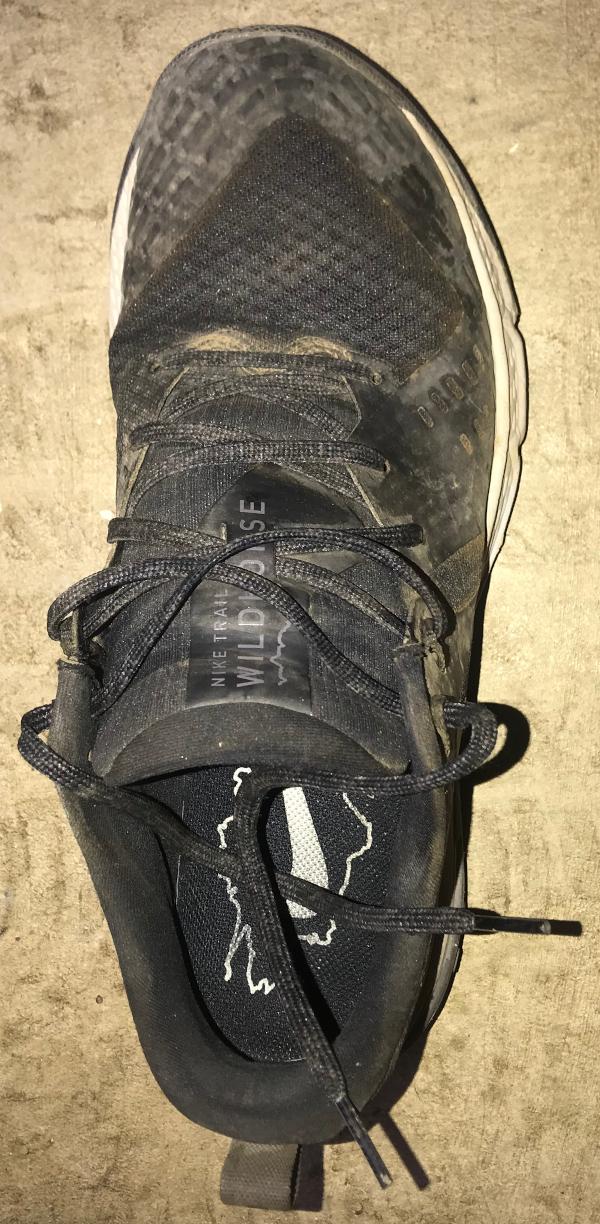 As a result, I wear these on days when I am running trails that don't include steep downhills.
Specs
8mm drop
4mm lugs
Weight for size 8.5: 9.7 ounces
Strengths
Wildhorse 5 provides comfort. The rock plate works very well under the forefoot while the midsole provides plenty of cushioning. The midsole of the forefoot supplied good cushioning as did the heel. Post-run, my legs did not feel beat up.
It was nimble on technical sections—never felt clumsy or heavy. On smooth level singletrack, this shoe excelled, providing a feel similar to the shoes I use for tempo runs.
It is versatile as it can run on almost any trail. If you can only buy one shoe, this will work.
The lugs worked very well for climbing the steeps, and the shoe is flexible, so I could lift my heel to get even more traction.
It is inexpensive. On average, it costs $40–$50 less than other trail shoes.
Weaknesses
The 4mm lugs not enough traction on loose scree downhills—a lot of slipping and sliding. The first time I went down a steep downhill section on Mt. Diablo, I was white-knuckling it all the way down.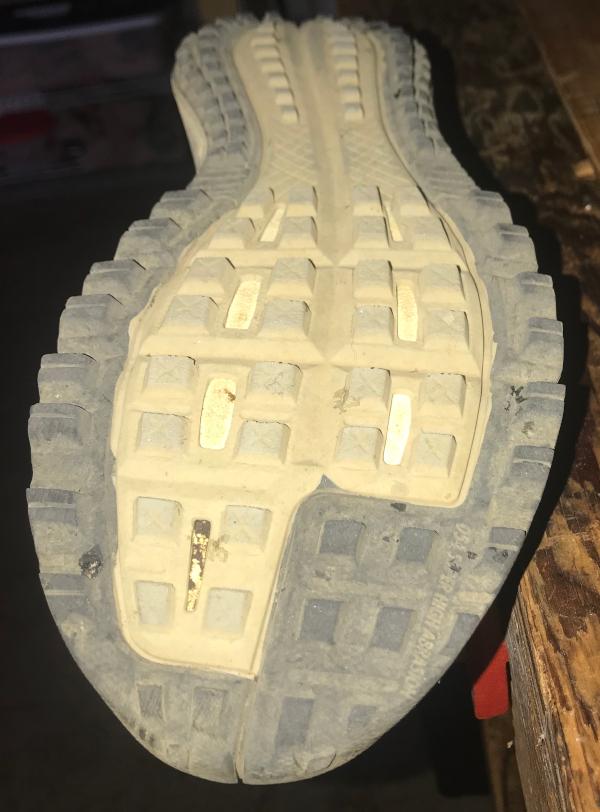 It was closer to skiing than running, and I wasn't trying to run fast. During a race, the results could have been a severe crash and burn. I need a shoe I can trust when I am bombing downhill sections of a trail.
Lastly, traction is non-existent on wet rocks, so be careful on those creek crossings.
When I picked up my first pair of Nike trail shoes a few years ago I was skeptical. They were the Kiger 2 and I wasn't sure if Nike could put out a quality trail shoe. Being that they were at the outlet I figured I could give them a shot. I was pleasantly surprised and have become a believer in Nike Trail since.
With that being said, last year I put a lot of miles on a pair of Wildhorse 4's and once I was through I immediately purchased the Wildhorse 5. I loved the 4's and was curious to see if or how they could improve upon it. They did!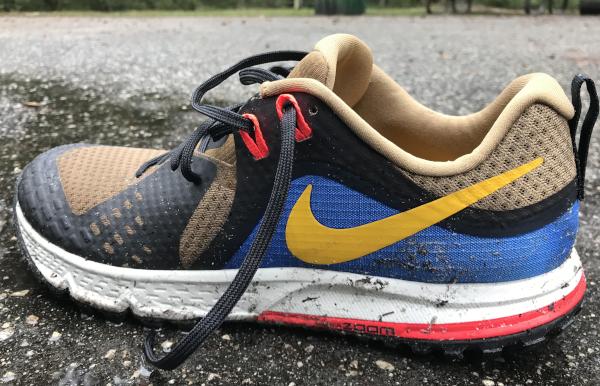 Style/design
Let's face it, Nike has always been a leader when it comes to style. The Wildhorse 5 is a fantastic looking shoe. I'm sure you have seen the white/pink version of the 5. Very out of the ordinary for a trail shoe but amazing looking. I really like the colors of the pair I picked up.
Beautifully contrasting colors with the swoosh near the heel. I really dig how they put the Wildhorse on the tongue as well. It's just a great looking shoe.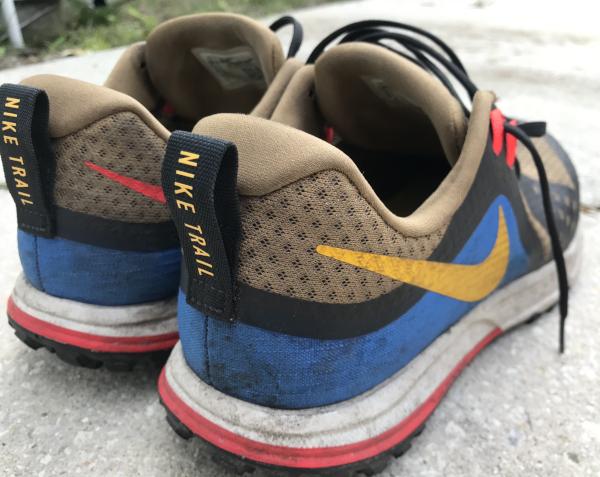 Comfort
The Wildhorse 5 is not the most cushioned shoe. I'm ok with that. I like a perfect blend of comfort combined with a feel for the terrain.
Nike has found a perfect combination with this shoe. They are great for speedy single track and comfortable on long, slow days. I wore this pair for my first hundred last month and I never had any issues. Yes, my feet were sore after, but that is expected after 28 hours on your feet.
Toe box
The toe box in the Wildhorse is superb! I prefer a roomy toe box after running in Altras for a while but have found that they are sometimes too roomy.
The Wildhorse is spot on. My toes don't slide around during lateral movement and my toes never feel constricted.
Durability
These are probably one of the more durable trail shoes I've run in. After putting 150 miles on them, they are in great shape.
There is a thin rubber layer along the toe that should prevent any blowouts. I don't run rocky, mountainous terrain so I can't speak for how it would handle that. But for average single track, these should last a long time.
Traction
I love the tread on these! Perfectly placed lugs that grip very well.
They grip well through sand and dirt and they're not so aggressive that if you run on pavement that it feels like you're running in cleats.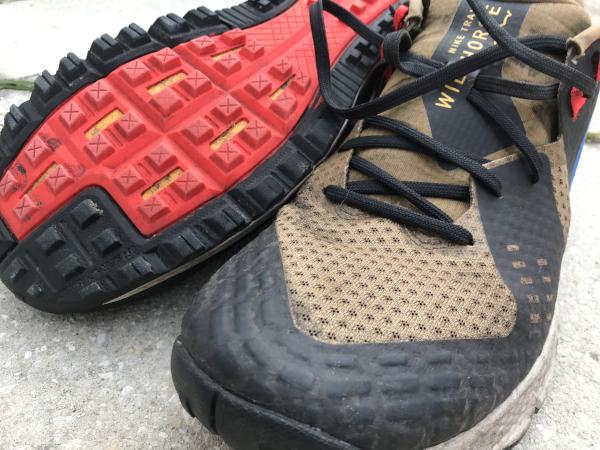 Weight
I like a trail shoe that carries enough weight to feel rugged yet light enough to be fast. The Wildhorse 5 is nearly perfect. I'd prefer a shoe a touch lighter but I think the sacrifice is worth everything else this shoe brings to the table.
Breathability/drainage
With the materials that make it so durable, Nike had to sacrifice a little in the breathability department for the Wildhorse 5. They aren't so bad that my feet were sopping after an hour but they are not the most breathable.
When I filled them with water, they drained very well with no standing water. So for water crossings, you're golden.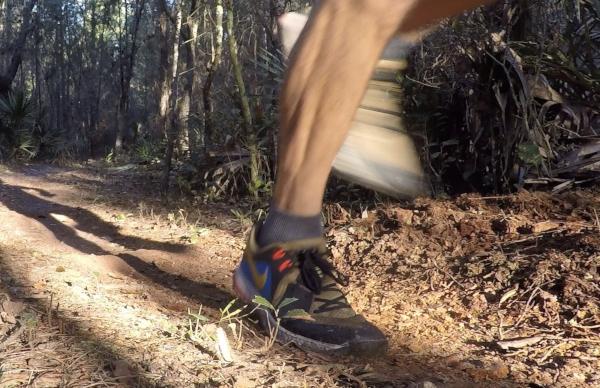 Stability
The Wildhorse 5 provides a great feel for the trail. They feel solid in turns at higher paces and uneven terrain. An extremely stable shoe.
Fit
A near-perfect fit! The lacing system allows for a secure fit around the forefoot. I had no areas where I felt movement inside the shoe.
While I haven't experienced any movement of the tongue to either side, the material used makes it a little thicker than I am used to and I don't really care for it.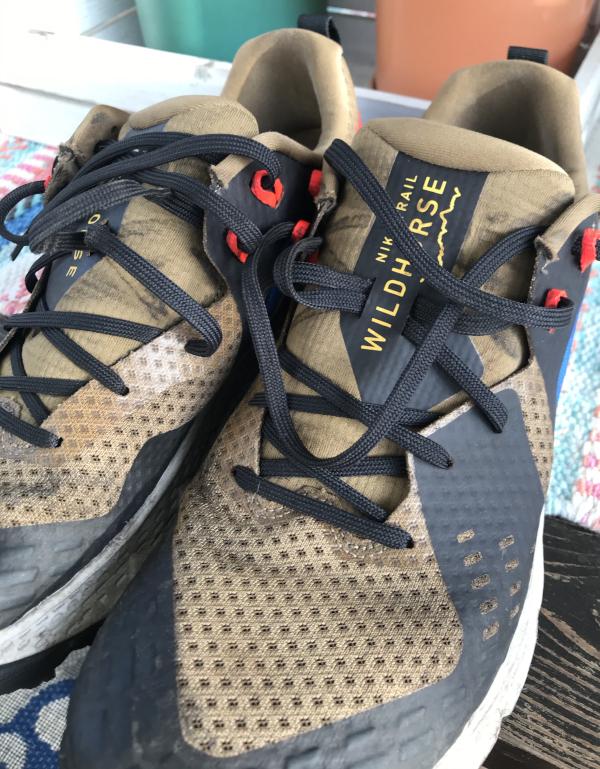 Heel
The Wildhorse 5 provides one of the best heel fit I have experienced. The shoe perfectly cups the heel giving the foot a secure ride. I have experienced no slippage and have had no need to adjust the laces mid-run.
I haven't found a road shoe of theirs that I really enjoyed and didn't have high hopes for their trail game. They have far surpassed my expectations. Nike has some of the best research and development in the shoe game and has obviously done its work in developing trail shoes.
They have relied heavily on their trail team to provide feedback on what they look for in a top-performing trail shoe. With each pair I have tried I have been more convinced. The Wildhorse is a shoe that I will continue to have in my lineup for the foreseeable future.
Updates to Nike Air Zoom Wildhorse 5
The Nike Air Zoom Wildhorse 5 features a major update in its upper. The shoe received a new look but it still offers maximum breathability just like its predecessor. The new version now uses an open mesh that is still flexible and durable.
Outsole
In the outsole of the Nike Air Zoom Wildhorse 5 is the high-abrasion rubber that is environmentally-friendly. It gives durability to the outer sole without affecting flexibility and traction.
Configured in the outsole is also the multi-directional lugs that are designed to deliver reliable traction on soft and hard surfaces.
Added in between the midsole and the outsole is the Stoneshield. It provides added underfoot protection to keep the foot safe from sharp trail debris. This additional layer does not affect the shoe's flexibility.
Midsole
Utilized in the midsole is the full-length Phylon foam that delivers lightweight cushioning. It protects the foot against impact and delivers flexibility for a more satisfying running experience.
Working together with the Phylon foam is Zoom Air unit, which is also used in other best-selling running shoes from Nike.
A crash pad is added at the bottom of the heel. It has a gender-specific design and is efficient in reducing landing impact.
Upper
In the upper of the Wildhorse 5 is the open mesh material. This mesh coverage has enough ventilation to keep the foot dry and sweat-free. It also offers maximum durability for long-term use. It also comes with seamless overlays for structural integrity and improved fit.
The Dynamic Flywire is integrated into the lacing system. It is used to give runners an impressive fit and added support. It also provides a secure mid-foot lockdown.
The padded tongue and collar provides added comfort and enhanced fit.
Compare popularity
Interactive
Compare the popularity of another shoe to Nike Air Zoom Wildhorse 5: