3 Best Nike Tennis Shoes in 2023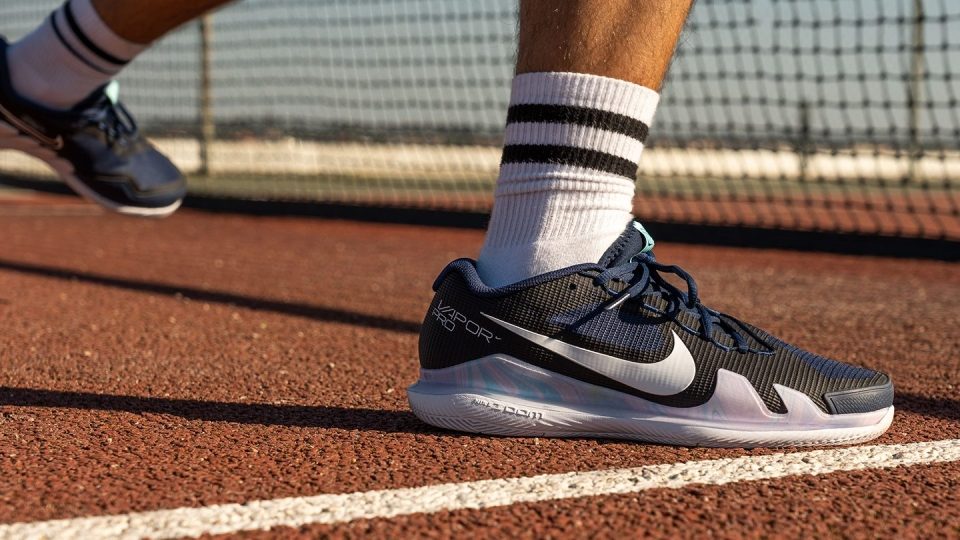 We earn affiliate commissions at no extra cost to you when you buy through us. Why trust us
Is it your first time to try Nike tennis shoes or you are about to park your old pair but uncertain which Swoosh to grab? We hope our highly recommended listings will help you in deciding which one to purchase.
Several factors come into play when picking the best Nike tennis shoes including cushioning, speed, and price competitiveness. We noted all the salient and critical points in filtering our top choices among the pairs we have playtested and scrutinized inside our independent lab.
Best Nike tennis shoes overall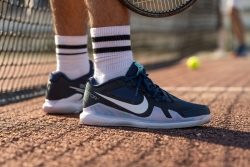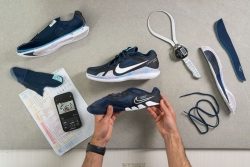 What makes it the best?
Out of all the Nike tennis shoes we've scrutinized, the one that is cut above the rest is the NikeCourt Air Zoom Vapor Pro. While it's superior in terms of performance, it's not priced over the average cost of Nike tennis shoes. In fact, it's equal to the $120 average. What we especially love about it is twisting on the court doesn't lead to twisting of the ankles.
Vapor Pro is an incredible companion on the court because we get to be nimble without subjecting our feet to any pain or possible injuries. Accordingly, in our lab, we found that the base and overall flexibility of the shoes make for a very stable confine. The midsole is 113.5 mm in the forefoot and 84.8 mm in the heel, giving us a wide platform. On the other hand, plying our digital force gauge, we learned that Vapor Pro resisted bending at a 44.6N force. This shows how stiff the shoe is, securing our feet and ankles.
The shoe also doesn't leave our feet swampy in sweat after hours of playing. We attributed this to the ventilation holes on its sides. The open pores of Vapor Pro became more apparent when we observed the upper over a bright light. On our smoke test, the holes on the sides were also the areas where most of the smoke escaped.
However, we discovered that Vapor Pro is not for the long haul. We noticed that the outsole was rubbed down easily. We checked the outsole thickness in our lab and discovered that it is only 4.4 mm. We suggest looking for shoes with thicker outsoles so they won't immediately thin out.
Pros
Extremely light
Breathable upper
Responsive cushioning
Stable platform
Glove-like fit
Comfortable in-shoe feel
Grippy outsole
Cons
Constricting plastic wall
Lacks durability
Break-in needed
Full review of NikeCourt Air Zoom Vapor Pro
Best Nike tennis shoes for beginners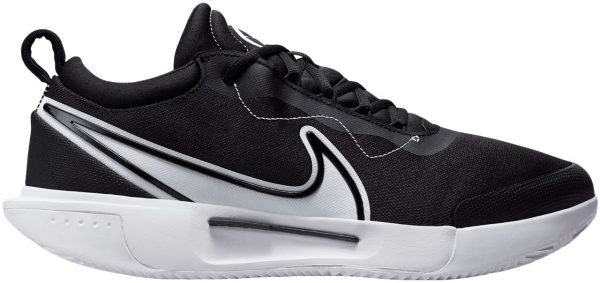 What makes it the best?
The greatest Nike tennis shoe we can recommend for entry-level players is the NikeCourt Zoom Pro. We found that it is the best as it makes people new to the game feel like they are already pros. The comfort it delivers absolutely takes all the intimidation away from the demands of the sport. Plus, it is only $100, so apart from being 17.3% cheaper than most tennis shoes, it's the perfect way to dip your toes into the water.
We particularly love the upper of this tennis shoe which not only promoted uninterrupted airflow but also embraced our feet comfortably, absolving them from any chance of slipping out. When it comes to propulsive bursts, we felt really accelerated in NikeCourt Zoom Pro, thanks to the springy plate we found in the midsole.
The unfavorable thing we discovered is the shoe's lack of robustness. We noticed that holes appeared on its upper faster than most of the tennis shoes we have played on. If you are a beginner who would like to invest in a long-term pair, we recommend searching for other robust Nike alternatives.
Pros
Good lockdown
Effective traction for sliding
Closes vertical gaps quickly
Can be worn off the court
Comes at a low price
Provides arch support
Breathable even during hot days
Cons
Little lateral support
Upper breaks easily
Full review of NikeCourt Zoom Pro
Best Nike tennis shoes for clay court
Comparison of the 3 best Nike tennis shoes
| | | | | |
| --- | --- | --- | --- | --- |
| Best | | | | |
| CoreScore | | | | |
| Users rating | | | | |
| Experts | | | | |
| Best price | | | | |
| Ranking | | | | |
| Popularity | | | | |
| # of colorways | | | | |
How to choose Nike tennis shoes
Nike is a brand that needs no introduction in the world of tennis. From Serena Williams to Rafael Nadal, the famous Nike swoosh has been seen on the feet of many of the world's top tennis players for years, and for good reason. With its cutting-edge innovation and quality designs, Nike tennis shoes are an exceptionally popular choice for both amateurs and professionals alike.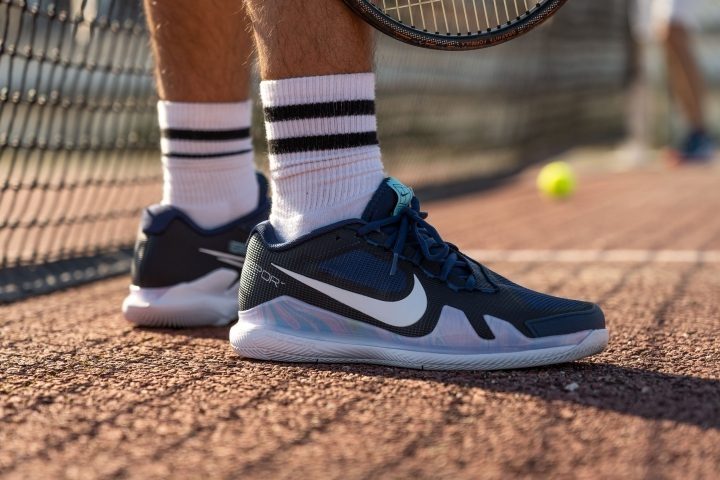 So let's take a look at what are the best Nike tennis shoes on the market today, and help you choose the perfect Nike tennis shoes for your next on-court session.
Factors to consider when looking for the best Nike tennis shoes
When looking for the best Nike tennis shoes, there are several factors to consider to ensure you get the right shoe to complement your tennis style.
Court surface - Nike manufactures tennis shoes specifically to suit both hard-court and clay courts. For everyday tennis enthusiasts the differences may be hard to notice but for a keen amateur or professional competitor the reason the outsoles are made the way they are becomes obvious.
Player type - Each player knows what style of tennis they play, and Nike tennis shoes are available in different models to accommodate each. From an aggressive fast moving competitor to a more laid-back approach, choose the shoes that match your type.
Cushioning and durability - Tennis is a high-intensity activity that can be hard on your feet. Choosing a pair of shoes that offer the combination of excellent shock absorption while being hard-wearing is tennis utopia. To assist with that Nike has created patented cushioning systems such as Nike Zoom which is designed for speed and agility.
Style - While every tennis player naturally strives for better performance, it would be remiss not to consider on-court style. It's often said that looking good on the court helps make you play well, and Nike offers a vast range of stylish tennis shoes in various colors and designs to help you achieve your own on-court style.
Nike hard-court vs. clay-court shoes
Any tennis diehard knows that the difference in court surfaces can have a remarkable impact on the game, and the player(s). So if you're in the market for a pair of Nike tennis shoes you may be wondering if Nike actually offers different types of shoes for different surfaces. The answer is a resounding yes!
Nike hard-court tennis shoes
The most popular and common tennis court surface is a hard court. However, its concrete base means it is also the most demanding in terms of outsole durability. Nike's hard-court shoes are designed to provide players with durability, traction, and support.
They are often identified with their modified herringbone outsole pattern, to provide a mix of on-court grip and give. If you're a tennis beginner, a pair of Nike hard-court shoes would be the best place to start. They are more versatile and can also be worn in clay or grass courts.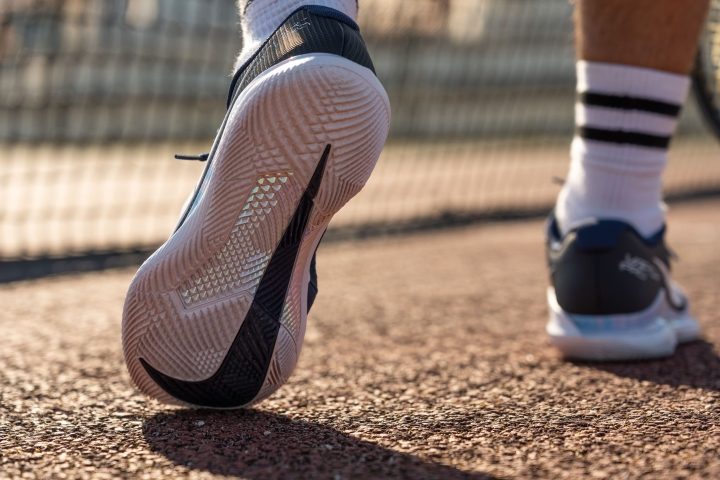 Nike clay-court tennis shoes
As a leading tennis brand, Nike also offers a range of tennis shoes specific to clay court surfaces, although the range is much smaller. These are designed to provide players with excellent traction on the slippery surface.
Easily identified by the full herringbone (zig zags) tread pattern, they have a more flexible upper to allow for better movement on the court - particularly important if you're sliding around chasing forehands and backhands. Nike's clay court tennis shoes will note that they are clay court specific in the product title and on the shoe box, while the hard-court versions do not.
Understanding the difference between Nike tennis shoes
Broadly speaking, Nike tennis shoes come under four different families:
Nike Vapor tennis shoes: Designed for a speedy and supportive fit. Models include the Vapor NXT, Vapor Pro, and Vapor Cage.
Nike Zoom tennis shoes: Exceptionally popular amongst tennis players of all abilities worldwide. Nike tennis shoes made with Zoom Air technology provide responsive cushioning to keep feet supported throughout a long match. Models include the Zoom NXT, Zoom Pro, Zoom Cage, and Zoom Lite.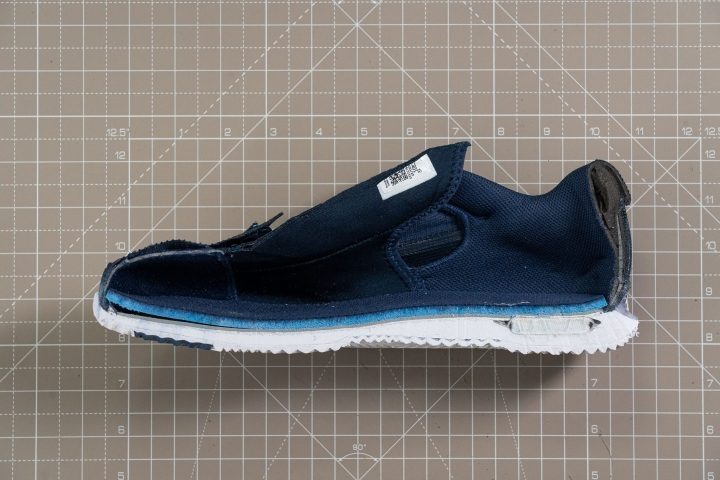 Zoom Air unit embedded into the heel of the Nike Air Zoom Vapor Pro
Nike Court series tennis shoes: The 'court' series of Nike tennis shoes are also considered the best choice for other similar (but less popular) racquet sports such as squash and pickleball. Models include Court React and Court Air Max.
Nike Cortez tennis shoes: Casual, laid-back, and retro elegance and class. The Cortez has a certain style that's instantly familiar yet made for on-court performance. Despite their heritage, they are also popular off the court as people enjoy wearing this style of comfortable tennis sneakers in casual dress environments.
Who wears what?
Nike has a long history of partnering with the best tennis players in the world. Let's take a look at some of the top Nike tennis athletes and see which model they choose:
Throughout her career, the signature shoes for Serena Williams was the Nike Flair 2 HC. With lightweight cushioning and brilliant comfort levels, these shoes helped her execute fast switching of directions and therefore accommodated her aggressive style of tennis.
Venus Williams, sister of Serena, wore the ever-popular Nike Air Zoom Vapor X shoes for years throughout her career of winning on-court performances. A clean design with a lightweight feel without compromising on support makes this one of the most popular Nike tennis shoes on the market.
Rafael Nadal wears a slightly customized version of the Nike Air Zoom Vapor Cage 3 shoes. You won't see the exact model Rafa wears in stores, and that's a result of him having chronic career-threatening foot problems and injuries throughout his career. Nike have collaborated with the grand slam star to create shoes especially for him, but if you're looking to match his style the Nike Air Zoom Vapor Cage 3 is as close as you'll get.
Despite being known for trying out different shoes regularly, Naomi Osaka generally prefers to wear the Nike Court Air Zoom GP Turbo. These shoes are best known for their exceptional responsiveness and feel, without having to add much weight or lose stability. If you like to mimic your tennis based on Osaka's aggressive playing style, the GP Turbo's are a great choice.
Russian star Victoria Azarenka prefers the Nike Vapor Pro 2 for her on-court performance. Available in a range of beautiful colorways, these incredibly popular tennis shoes are a Nike favorite. With notable cushioning underfoot and a springy feel, a well-measured player who doesn't mind a bit of style and flair will enjoy these shoes.
Nike has collaborated with Maria Sharapova to create the Cortez range of tennis shoes. Available in both women's and men's styles, they have a classic retro look and a sponge-soft midsole. If laid-back tennis is your style, the Nike Cortez might just be the shoe for you.
He's no longer a Nike-sponsored athlete but special mention to Roger Federer who was wearing the Swoosh logo for a long time in his exceptionally successful career. Fed would wear the Nike Zoom Vapor X shoes to accommodate his on-court speed and agility.
Choosing the best Nike tennis shoes for you
No longer is Nike just an iconic sports brand, it's also a technical and performance-oriented product and, with a solid tennis line-up, suits all types of tennis players around the world. Ultimately choosing the best Nike tennis shoes comes down to individual choices and preferences, including the court surface you're most commonly playing on, the type of player you are, the cushioning and durability you need to move around the court, and of course the style you're looking for to suit your outfit.
Nike offers a wide range of tennis shoes designed to meet these specific needs so whether you're a beginner or a rising professional, taking the time to research, select and invest in the best pair of Nike tennis shoes might just be the difference between your next game, set and match.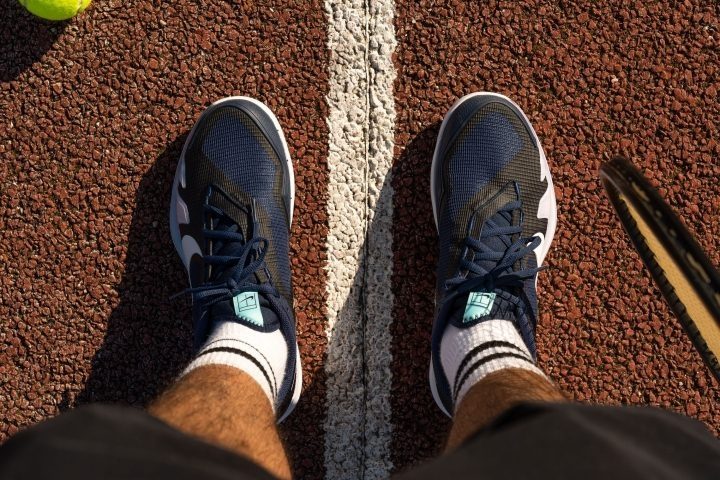 How we test tennis shoes
The only way to recommend the best Nike tennis shoes is to be critical and hella nerdy in examining each of them. And during our testing procedure, we sure do stand by this!
First things first, it is fundamental to explicitly cite that we buy the shoes that we test using our own money. We do not patronize sponsorships but we choose not to participate in these kinds of deals because we want to be as candid as we can in expressing our opinions.
We are a group of tennis experts and we exercise our expertise by assessing the shoes on racket games, mainly focusing on tennis. We play in these shoes on hard and clay courts, both indoors and outdoors. We also observe how the shoes react when we are doing sudden stops, quick turns, and nimble movements in them.
We are not satisfied with that. We want facts and figures. And we acquire them through a series of tests in our lab. We measure a lot of parameters and compare them to other related models and to the average values. We also dig a little deeper by slicing all the shoes into pieces.