6 Best Tennis Shoes in 2023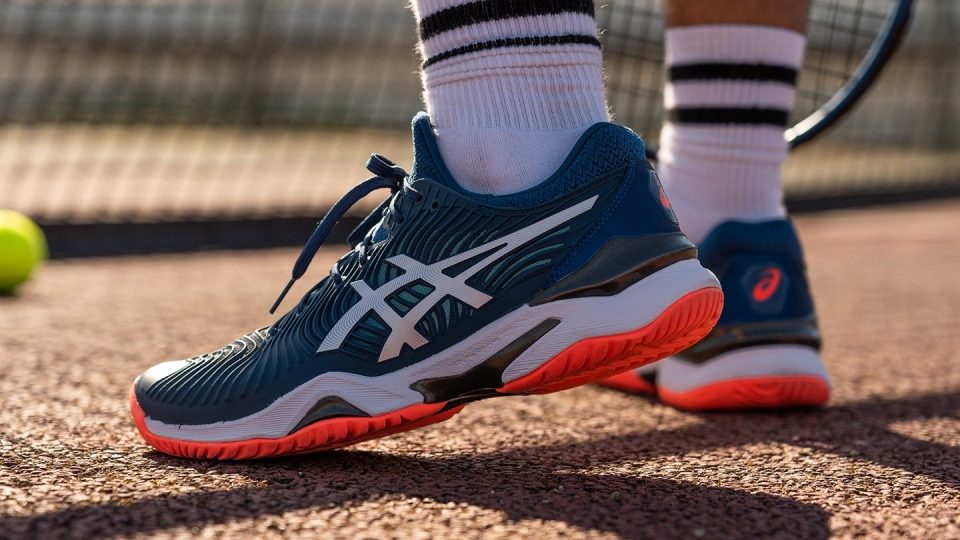 We earn affiliate commissions at no extra cost to you when you buy through us. Why trust us
Disclaimer: This guide will be covering athletic tennis shoes that are used for playing on the court. If you are after a pair of casual sneakers, see our selection of tennis-inspired kicks.
When you are just starting out, all tennis shoes appear the same. However, the way they feel and perform on the court can vary greatly. We have tested over 40 pairs of tennis shoes to help you find the one that works best for you.
Some tennis shoes are made for nimble players, others have more cushioning or stability for the most active playing styles. When in doubt, just go with the top picks we selected in various categories.
To learn more about choosing tennis shoes based on the type of court and your playing style, read over our guide.
Comparison of the 6 best tennis shoes
| | | | | | | | |
| --- | --- | --- | --- | --- | --- | --- | --- |
| Best | | | | | | | |
| CoreScore | | | | | | | |
| Users rating | | | | | | | |
| Experts | | | | | | | |
| Best price | | | | | | | |
| Ranking | | | | | | | |
| Popularity | | | | | | | |
| # of colorways | | | | | | | |
Hard court, clay court, and all court tennis shoes
Tennis shoes are categorized by the type of court they are intended for. The most common ones today are hard-court and clay-court tennis shoes. For those who are new to the game or need a shoe for recreational use, there are versatile all-court trainers as well.
The brands most often release the same model in both hard-court and clay variations.
Hard Court

Clay Court

All Court / Multi Court

made of concrete or asphalt, covered with an acrylic top

Characteristics: tough, faster game, higher traction, harder on the body and shoes

made of crushed brick, stone, or shale

Characteristics: soft, slower game, less traction (can get slippery), easier on the body and shoes

includes both hard and clay courts

Use: Professional

Use: Professional

Use: Recreational

Outsole:

a multi-directional tread pattern allows for both grip and sliding; has the most durable outsole lugs

Outsole:

a full herringbone lug pattern allows sliding and doesn't collect dust from the court

Outsole:

a hybrid outsole pattern adapts to different types of courts

Midsole:

has more cushioning to protect the foot on concrete

Midsole:

has less cushioning and a close-to-the-ground feel; more lightweight

Midsole:

the level of cushioning varies depending on the model

Upper:

solid materials help to stabilize the foot

Upper:

made with materials that prevent dust from entering the shoe; have a very tight fit to prevent foot or ankle rolling

Upper:

available in a wide range of materials
Good to know
It is not recommended to use hard-court shoes on clay and vice versa. While it may not be a big problem for a game or two, for regular use, it is better to wear a court-specific or an all-court trainer.
Clay-court shoes on the hard court: high grip makes it difficult to slide on the court, which can be hard on the ankles and joints; the outsole wears out faster.
Hard-court shoes on clay: do not have the needed amount of grip; easily get clogged with clay dirt.
What about grass-court shoes? A while back, players could also come across tennis shoes for grass courts with special pimpled outsoles. However, these are no longer common for two reasons: the rarity of grass courts and the fact that the knob lugs ruin the lawn too easily, which is expensive to upkeep. You may use hard-court, all-court, or clay-court tennis shoes on grass.
All tennis shoe brands offer a 6-month durability warranty for some of their models. It is a one-time replacement guarantee which applies to tennis shoes that have sustained considerable outsole damage within 6 months from the day of purchase.
3 types of tennis shoes based on playing styles
All tennis shoes can be roughly segmented into three categories based on the primary benefit they offer: speed, cushioning, and stability. Which one to choose depends on the type of player you are and your preferences in the shoe feel.
The table below describes the differences between the shoes in more detail.
Types of tennis shoes based on playing style

Best for agile, aggressive players who slide often

Weight: the most lightweight category among the three

Upper: feature minimal designs; flex more efficiently with the foot

Midsole: have a low-to-the-court profile with moderate cushioning

Outsole: not as durable as stability tennis shoes

Best for players who move around the court a lot

Weight: average

Upper: come in a variety of styles

Midsole: have thicker and bouncier cushioning

Outsole: durable

Best for baseline players who prefer solid and supportive shoes

Weight: on the heavy side

Upper: crafted with supportive features (often TPU overlays)

Midsole: have an abundance of cushioning; embed supportive structures like shanks to keep the foot stable

Outsole: the most hard-wearing, often comes with a durability warranty
Finding the best fit in tennis shoes
The shoe's ability to hold your foot securely defines the level of grip, stability, and surefootedness on the court. When you try on a pair of tennis shoes, check for the following signs of the right fit:
Forefoot: a little extra space in front of your longest toe, around 1-1.5 cm (½ inch). It allows for some wiggle room throughout the movement and accommodates foot swelling during longer games.
The fit should not be constricting on the ball of the foot, either. If you need more space, consider Wide or Extra Wide tennis shoes.
Midfoot: the hold must be firm. Your foot should feel a brace-like containment as it is crucial for side-to-side stability on the court.
Heel: should be locked inside the heel counter and not slipping out.
Using other types of shoes for tennis
A pair of running shoes that you wear regularly may appear suitable for all sorts of athletic activities. However, it is not effective in accommodating the abrasive surface and rapid movements involved in tennis.
The only type of sports footwear that is closest to tennis shoes are basketball shoes. However, they are not ideal either for several reasons listed below.
Reasons not to use other shoes for tennis

Running shoes

NOT recommended because they:

lack outsole durability for the wear-and-tear on the court
tread patterns are not sufficient for gripping and sliding
do not offer the same level of lateral support
no protection from toe dragging

Basketball shoes

can be used because these shoes:

can be okay on hard courts
designed to support sudden stops, changes of direction, and lateral movements
low-top models will not hinder ankle movement

NOT recommended because they:

lack outsole durability and wear out faster from all the sliding and toe dragging
get slippery on clay courts, collect dirt easily
the higher ankle collars will constrain most tennis footwork techniques
may be too heavy and bulky for tennis
How we test tennis shoes
At RunRepeat, we do not let a tennis shoe release pass unnoticed. We are proud experts in scrutinizing each model deliberately. To deliver you a downright honest view and observation:
We buy all the tennis shoes that we are going to test using our own funds. We do not accept sponsorships or any form of assistance from anyone, especially the brands.
We wear each tennis shoes in games of tennis and pickleball. While on our feet, we try to gauge and assess how the shoes perform on clay courts and hard courts, as well as how they generally respond to sudden stops and quick movements.
We take the shoe to our lab and we further perform tests that indicate other parameters such as fit, stability, and flexibility.