The Salomon XA Elevate gathered mixed reviews from consumers, but mostly geared towards the positive side. Compliments were relayed about the shoe's structural elements that worked excellently, while some admired the competent features as a trail runner. Although there were some disappointments regarding missing tech, these criticisms did not reflect the shoe's performance. In summary, many users thought the shoe was a worthy investment, with some even asserting that it is a "must-have."
---
Verdict from 11 experts and 100+ user reviews
8 reasons to buy
The XA Elevate was more responsive compared to some of Salomon's other shoes, said a customer.
The shoe displayed outstanding performance on technical trails, according to an amazed runner.
The Profeel Film gave a good impression of the trail while it offered forefoot protection, a user relayed.
One reviewer stated the shoe reduced their ankle instability.
Several wearers felt great support from the XA Elevate.
Many users commended the outsole for its fantastic grip while remaining flexible.
The Quicklace™ feature was very convenient, a lot of runners mentioned.
Purchasers agreed that the shoe was versatile as it easily handled both rocky trails and soft ground.
4 reasons not to buy
A runner was dismayed that the cushioning was not as plush as they expected.
One user experienced issues with the outsole while running on wet rock.
A couple of reviewers anticipated the Vibe technology in the shoe and were thus dissatisfied when it was not.
The tongue did not hold its place and kept on moving around, said a customer.
Bottom line
The Salomon XA Elevate gathered mixed reviews from consumers, but mostly geared towards the positive side. Compliments were relayed about the shoe's structural elements that worked excellently, while some admired the competent features as a trail runner. Although there were some disappointments regarding missing tech, these criticisms did not reflect the shoe's performance. In summary, many users thought the shoe was a worthy investment, with some even asserting that it is a "must-have."
Best price from 50 shops
We earn affiliate commissions at no extra cost to you when you buy through us.
70% say it's true to size.


Our reviews
The perfect outsole
What I love the most about these shoes is the outsole. I can agree with Salomon that the outsole, Contragrip MA, is built for the widest variety of surfaces.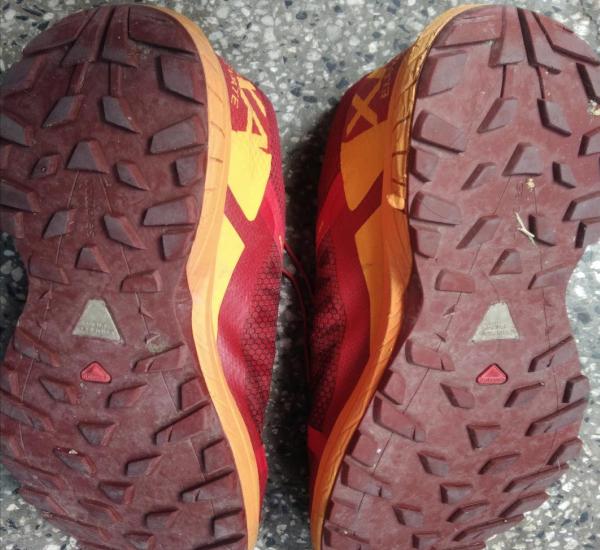 I've had a lot of Salomon pairs, but this outsole is something different. They give you confidence on wet rocks and muddy trails. It is a non-slip, incredibly solid, and stable outsole.
What I don't like is that they are a little stiff and heavy. The shoes weigh 300g.
Size and width
It is of standard size. They have ample space for feet, which is good if your feet are a little wider. But, overall, it is a standard fit.
Outsole/Contragrip MA
The premium wet traction Contragrip sole ensures grip on all trail conditions. The scrambling zone around the forefoot has more surface contact for better grip on rocky terrain.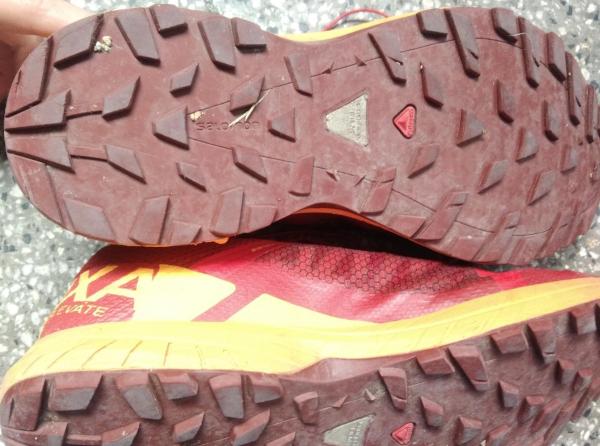 As I already said, the outsole is what I like the most about these shoes. I describe the outsole with these two words: SOLID AND STABLE.
Midsole/ Energycell
The shoes provide good cushioning and durability.
Chassis
The advanced Chassis, which is in between the outsole and midsole, provides an efficient, stable and responsive ride.
Upper
The shoes have good protection for the toes and the back of the heel. The 3D open Mesh provides maximum breathability. It has a very comfortable upper, made of synthetic and textile.
They also have a quick lacing system, which is perfect for this type of shoes.
Drop and height
Its regular drop is 8mm with a midsole toe height of 7 mm, and a midsole heel height of 25mm.
Flexibility
I expected these shoes to be flexible. But, honestly, they are very stiff. I wish they were flexible and stable at the same time, but maybe this is not possible.
Weight
For men, the shoes weigh 295g and and 255g for women. These are heavy.
Durability
These shoes are surprisingly durable. I have run more than 200km on races with these shoes, and they still feel like new. The outsole also looks good.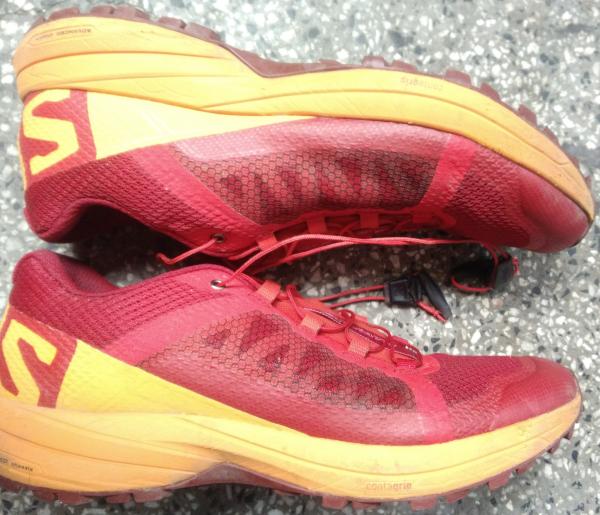 I run with these shoes only on very technical races, and I don't take it easy with them. I use them on full-wet rocks, alpine terrain, and muddy trails.
I've tried them on every technical terrain possible, and they still feel great.
Use
I mainly use them in races. But, before my first race with these, I ran more than 60km with them during a series of training. Thus, you can definitely use them both for training and races.
Terrain
For me, they are built for the wildest trails, muddy trails, wet rocks and stones. These shoes will have your back. They are definitely your best friend in bad weather.
I don't recommend you to run with them on light trails, though. You'll only lose if you do it. Go out and try them on the wildest terrain you have around you and have fun.
Intensity of usage
I wear these shoes from my training down to the actual races.
Waterproof
They are not waterproof. If they are, they would be even heavier. But. you don't need to worry when using these on rainy weather.
Pros
Stable
Confidence
Breathable
Durable
Solid and wild
Cons
A little heavier than other shoes
Stiff
Design
As every Salomon shoes, they have really good design and look.
Also, these have really good color combinations. We always want to look fresh and cool, and Salomon gives us that.
The most important qualities of Salomon XA Elevate for me (scores 0-10):
Stability:10
Durability-8
Breathability: 7
Flexibility- 3
Lightness-3
Comfort-6
Design:9
Conclusion
If you're looking for stable and confident shoes, Salomon XA Elevate is the shoes for you. This is built for technical terrains, mud, and rainy weather.
When I run with these on wet rocks, I feel very confident. This is a big plus when you run with them on races. You always need a little confidence when competing.
I've never had even one slip, and believe me I tried them on really technical terrains. When I get new shoes, I always want to know how far I can go with them and if I can trust them.
So, I always make sure to test these before racing. The only thing I don't like is its stiffness, which makes them feel heavier. Otherwise, I recommend them if you're looking for technical shoes.
Updates to Salomon XA Elevate
With the Salomon XA Elevate, runners are encouraged to "elevate" their runs up a level, as the shoe capably handles all kinds of trails in both wet and dry environments. Additionally, the shoe effortlessly undertakes long distances.
An open mesh upper invites optimal airflow, and it is also lightweight to reduce the foot's exertion in carrying the shoe. It also features a few of Salomon's tried-and-tested technologies, including the Sensifit™ and the Quicklace™.
The EnergyCell+ midsole allows a bouncy ride without scrimping on underfoot protection and comfort. Beneath it sits the Premium Wet Traction Contagrip®, which guarantees the runner a superior performance without worrying about the surface condition.
Size and fit
The Salomon XA Elevate has a standard running shoe length. Its overall construction, from the forefoot to the heel, caters to wearers with low to medium foot volumes. Runners who prefer a wide toe splay could try a half-size up to achieve a more comfortable fit. The shoe comes in medium width for both the men's and women's versions.
Outsole
Salomon's Premium Wet Traction Contagrip® makes an appearance in the XA Elevate, which is only fitting because the shoe is meant for the trails. With this outsole, the runner is more confident to go through even the most rugged terrain.
Midsole
The XA Elevate uses EnergyCell+ in the midsole, which is a unique material out of foam. The EnergyCell+ is lightweight, and it offers a soft cushioning, as well as a long-lasting rebound. While the weight might be insubstantial, the level of durability and energy return is considerable.
The EnergyCell+ is part of a dual-density structure that makes up the bulk of the midsole of the XA Elevate. The other part, called the Advanced Chassis™, is located underneath the EnergyCell+.
For underfoot support, the shoe has Advanced Chassis™. This feature works by balancing motion control, forward propulsion, and energy management, resulting in a responsive and stable ride.
Within the midsole is a thin thermoplastic polyurethane (TPU) unit, named the Profeel Film. It provides overall underfoot support. This detail is essential during the transition, enabling a consistent stride and a steady toe-off for a smooth running experience.
Delivering an added layer of cushioning is a molded EVA sock liner. It has hygienic properties that help reduce moisture and odor.
Upper
The upper of the XA Elevate is a breathable mesh that has an open construction, which aims for maximum airflow that permits ample foot ventilation and quick-drying effects.
Salomon's overlay structure, the Sensifit™, is installed in the midfoot area. The Sensifit™ gives a secure wrap to hold the foot in place, preventing unnecessary movements during the run.
For a swift and convenient way of wearing the shoe, there is a Quicklace™ system that tightens the fit in a single pull. A pocket on the tongue permits storage, so the laces could be quickly taken out of the way, thus minimizing distractions.
A protective synthetic toe cap supplies the shoe a sturdy yet comfortable shield against trail elements that could potentially cause injuries.
Rankings
How Salomon XA Elevate ranks compared to all other shoes
Popularity
The current trend of Salomon XA Elevate.