Salomon's newest entry to their racing category offers a grippy, responsive, and fine-tuned ride. From the new midsole to the classic Salomon lacing system, the Sense Pro 4 has everything.
Pros
Fast
Responsive
Lightweight
Amazing grip
Good lacing system
Durable
Breathable
Cons
Narrow for many
Not for long runs
Could be lighter
Not waterproof
Salomon Sense Pro 4 Review and Lab Test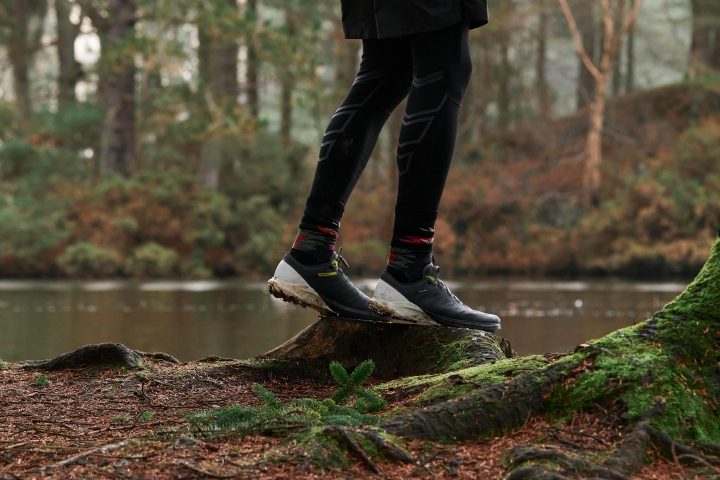 The Sense Pro 4 is an aggressive, minimal trail running shoe that might serve best as a dedicated race day/hard training day shoe in a rotation.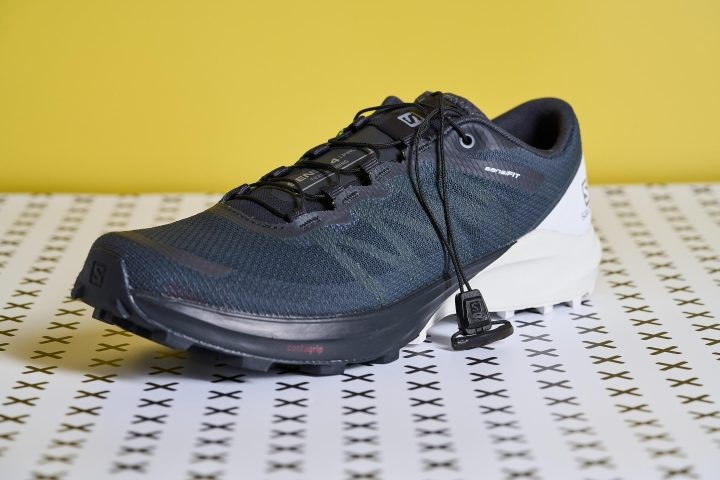 With 4mm of drop and a low stack height, the Sense Pro 4 is made to feel quick underfoot, although not the lightest trail runner out there.
Most complaints are with the narrowness of the shoe, which is common among most of the Salomon range.
This shoe is for you if:
You're looking for a new trail race shoe
You need something with incredible grip
Ground feel is something you care about
Don't buy the Salomon Sense 4 Pro if:
Starting from the ground up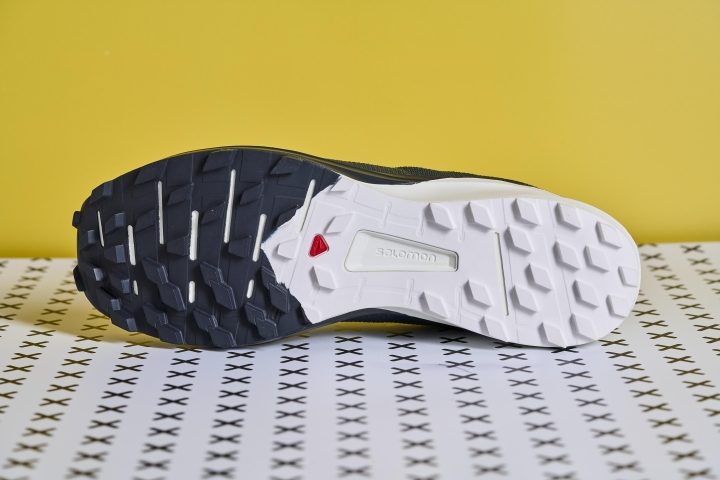 The Sense Pro 4 is an off-road monster. With deep 4.3mm lugs, this shoe is built to take you where you want to go, no matter what's in you're way. I had no issues with traction while testing these on snowy and wet days in the Scottish woodlands.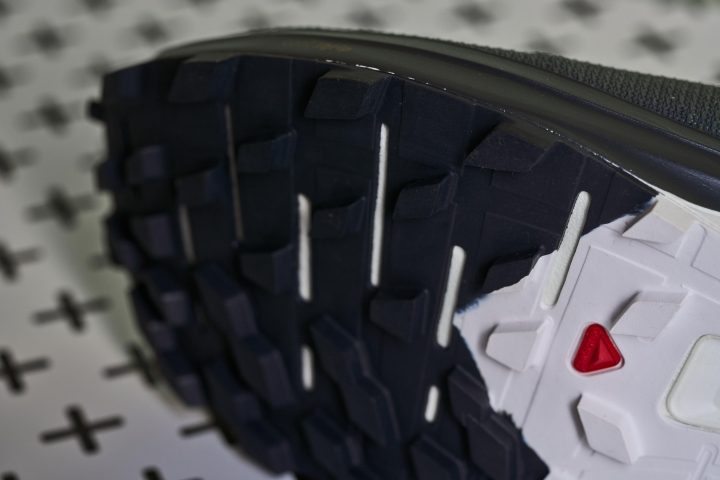 Salomon has gone a long way to ensure the durability of the outsole and the lugs, and the entire piece is made of rubber to help with this.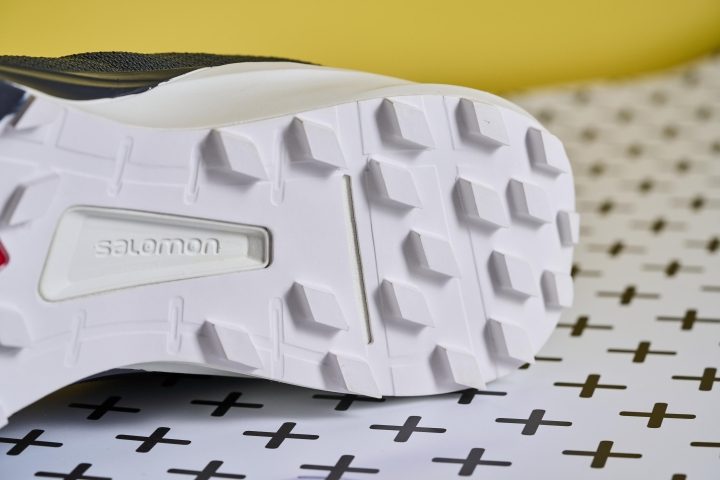 Instead of a rock plate, Salomon has used their 'Profeel Film'. To be honest, I didn't notice it too much, this shoe has a fair bit of ground feel, but not too much to worry me on sharper rocks.
The Salomon Sense 4 Pro offers focused cushioning
Looking at it, the Sense 4 Pro is definitely a minimalist shoe, focusing on speed and responsiveness over plush padding.
That being said, the OPTIVIBE foam midsole does a fair job of dampening vibrations when you are on harder surfaces.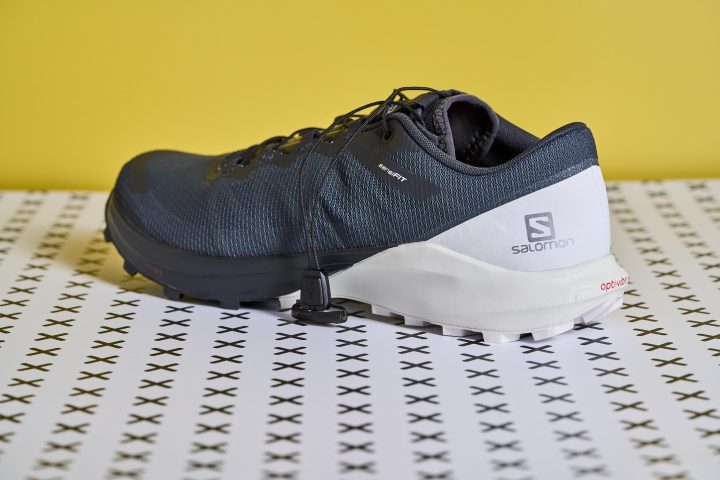 That being said, with the lack of a proper rock plate, this really might not be enough for heavier runners.
What I will say is that there's a hint in the name, being a Pro shoe I definitely felt that this has been built for trail runners who want to race and cover long long miles in these. Maybe for those whose feet have become accustomed to the damage of the trail.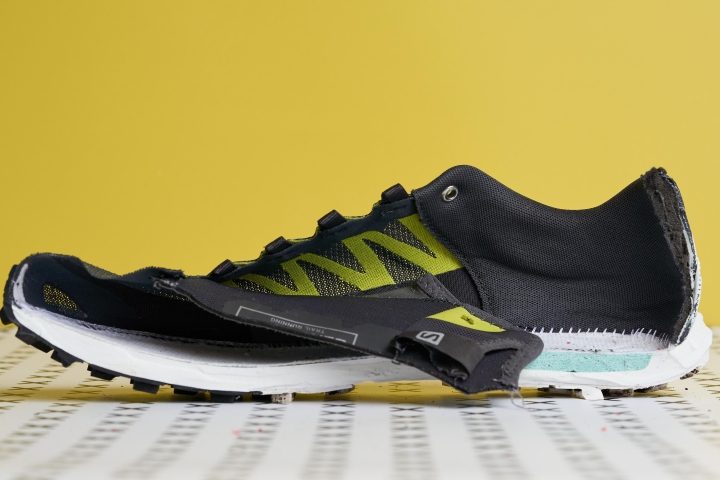 Lack of stability support
There isn't a huge amount of arch support and stability correction in the Sense 4 Pro. In the same vein as the midsole, the shoe is not here to correct you and might not be the best choice for overpronators especially.
The Salomon Sense Pro 4 are ready for anything
The upper construction of the shoe is rock-solid. With a synthetic, hydrophobic rubber knit which is incredibly thin.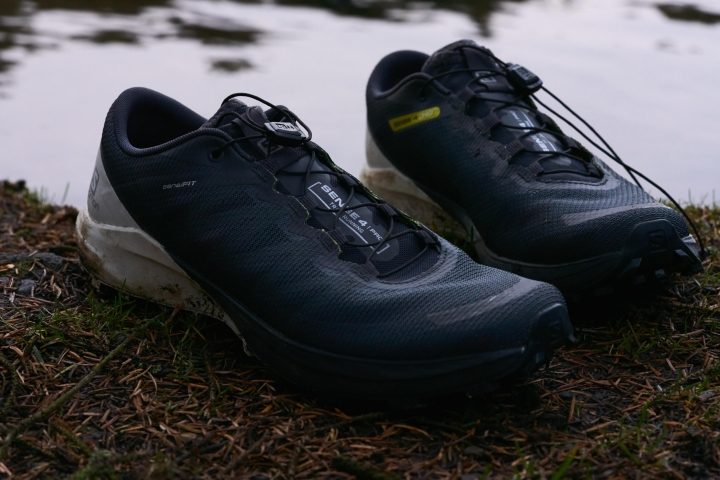 While it's so thin that you can see your feet through it, it's actually a very robust, plastic weave that looks like it can hold up against anything.
You'll have to be ready for the cold and wet though…
While sturdy, the upper material is thin enough and has enough gaps to let in lots of water. It's also terrible at insulating against the cold, so bear that in mind.
On the plus side, it's incredibly breathable, so any water that goes in doesn't stay for long.
Could be lighter
Being essentially a racing shoe, Salomon Sense Pro 4 should be a bit lighter than it is. At 9.6oz (272g) it's just around the average weight of a running shoe. That being said that's still a fair deal lighter than it could be, especially for the amount of grip and midsole on offer (a lot of the lighter shoes out there are the minimalist or barefoot shoes.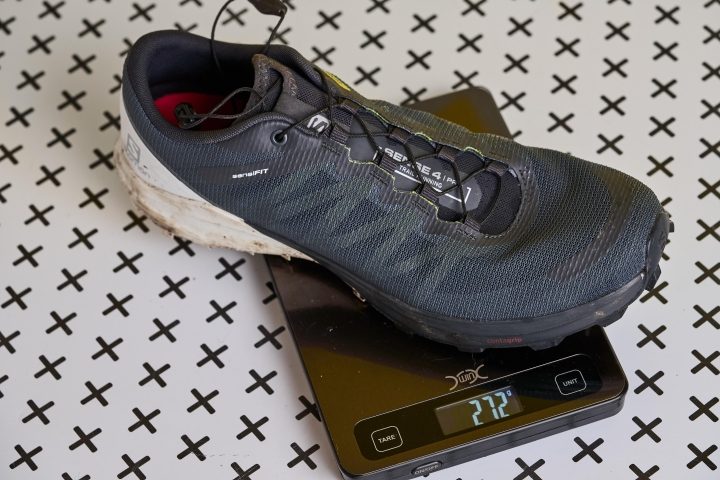 The Salomon Sense Pro 4 fit great, for some
The more running shoes I test, and the more reviews I see, the luckier I feel to have narrow feet. The Sense Pro 4 is no different from many of Salomon's lineup; they don't accommodate any extra millimeters of width.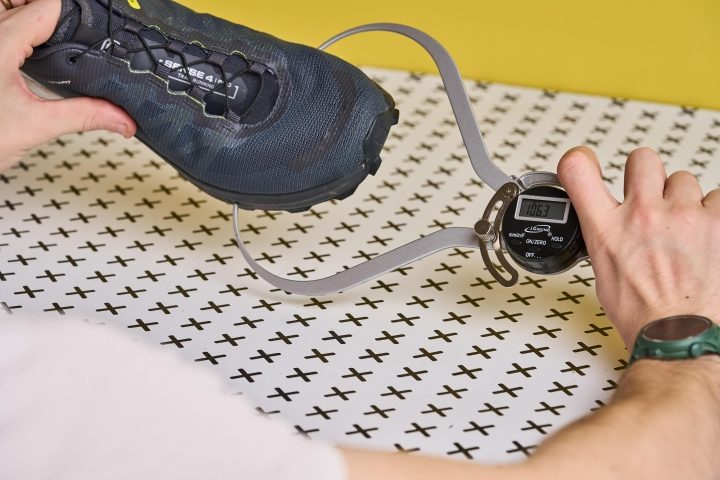 The problem with the Sense Pro 4 is that the hard synthetic upper means there is no stretch in the material, so there's really nowhere for your foot to go.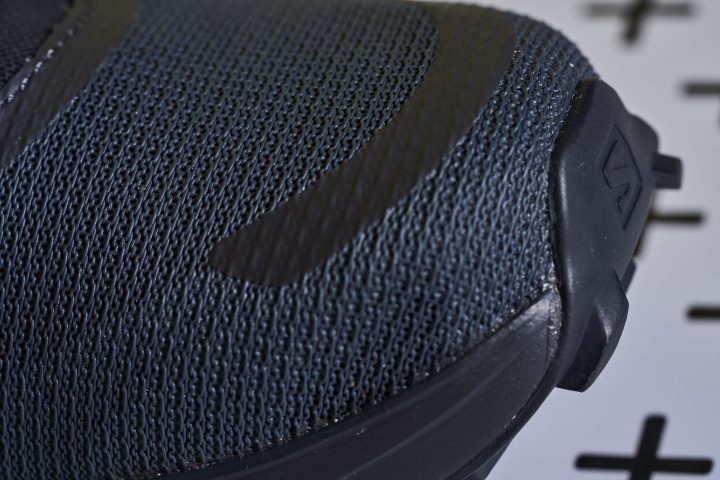 Lacing can either make it better or worse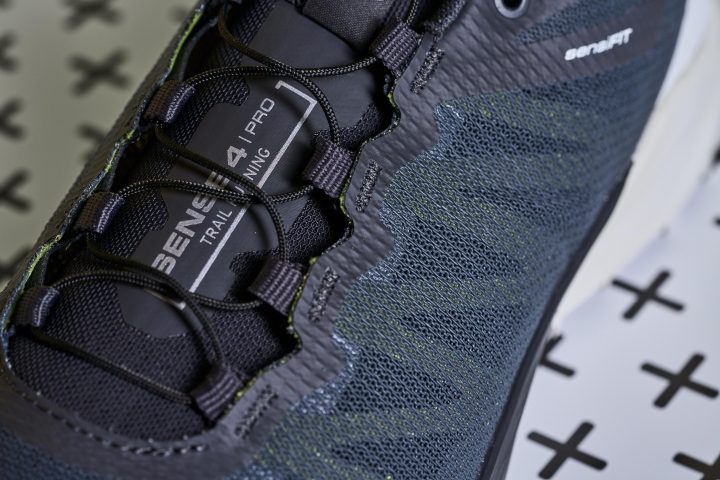 The kevlar lacing system is a nice touch in my opinion. The speed of lacing plus never having to worry about it coming undone is a load off my mind. The Sense Pro 4 offers "Sensifit" strapping with has a very tuned feel around the foot and really adds to the responsiveness of the ride.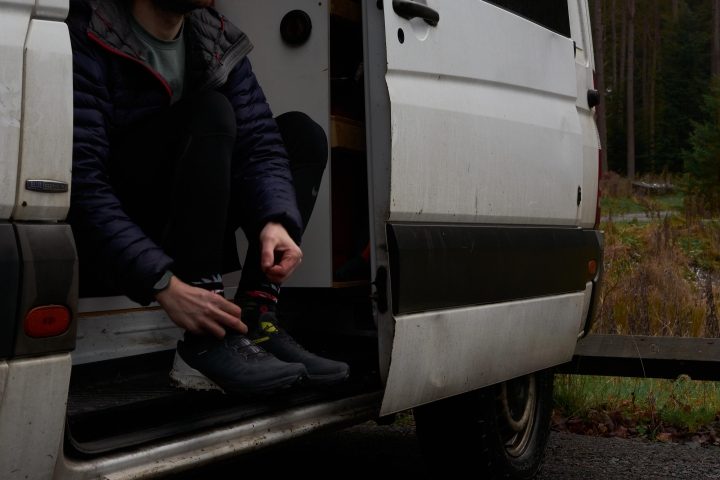 I really sympathize with anyone with a wider foot though because the rock-hard, non-stretchy lacing again only exacerbates the problem.
Conclusion
The Salomon Sense Pro 4 is an awesome shoe if you're in it for the long haul. For serious trail runners who love a more minimal feel and have the joy of narrow feet, it's a perfect shoe. Luckily Salomon has so many product choices that they are beginning to cater to everyone, so don't worry if not. Salomon Trail Running Shoes.
Complete lab-specs overview
Salomon Sense 4 Pro
Average
Whole shoe

Weight (g)

272

269

Weight (oz)

9.6

9.5

Drop (mm)
4
8.3
Flexibility of the shoe (N)

25.7

37.1

Flexibility of the shoe (Freezer 20 min) (N)
30.8

48

Flexibility of the shoe (% of change)

19.8

35.1

Lace slip test with the knot (N)

NA

24

Longitudinal flexibility (1-5 scale, 5 being the stiffest)
3

3.2

Torsional flexibility (1-5 scale, 5 being the stiffest)

3

3.3

Upper

Thickness - Tongue (mm)

5.5

6.1

Width Upper - Forefoot (mm)

101.7

98.7

Width Upper - Heel (mm)

77.6

75.8

Lace Stretch (1-5 scale, 5 being the most stretchy)

1

2.7
Flexibility of the heel counter (1-5 scale, 5 being the stiffest)
1
3
Tongue: gusset type
Yes

-

Heel: pull tab

No

-

Midsole

Width Midsole - Forefoot (mm)
106.3

112.2

Width Midsole - Heel (mm)
78.9

89.1

Stack - Forefoot with insole (mm)
20.5

24.3

Stack - Heel with insole (mm)
24.4

32.6

Durometer Midsole Heel (Room temperature) (HA)
50.3

25.1

Outsole

Outsole thickness (Heel) (mm)
6

3.6

Lugs Depth (mm)
4.3

3.3

Durometer Outsole Heel (Room temperature) (HC)
87.5

81.1

Insole
Insole Heel Thickness (mm)
3.9

4.3

Insole: removable

Yes

-