The Salomon XT-6 has been a hugely popular shoe for nearly a decade both for its looks and its ability to take you anyway on a trail. With heaps of protection, insane grip, and a responsive, speedy ride the XT-6 is still a relevant trail shoe to help you explore the less beaten trails. It's a shoe that's sure to leave you confident traversing steep gradients, or comfy at the end of a long hike.
Pros
Fit true to size
Superb responsiveness
Quicklace system is a breeze
Zero Heel-slip
Amazing grip
Breathable
Super stable ride
Great protection
Stylish
Durable
Cons
Quite heavy as some trail shoes go
Stiff in colder conditions
Salomon XT-6 review and lab test
The Salomon XT-6 is a robust trail shoe that has a lot of hype around it as a fashion item.
Interestingly, the XT-6 has some of Salomon's best trail running technology but is often largely overlooked as an actual running shoe, possibly due to its high demand as a streetwear sneaker.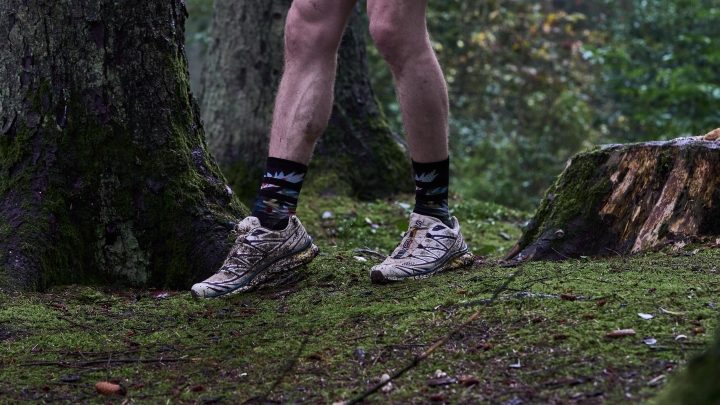 That doesn't mean it's not a great choice for the trails, Salomon has built a responsive, grippy trail shoe that doesn't compromise on appearance.
Who should buy the Salomon XT-6
Buy the Salomon XT-6 if you're a trail runner who:
Spends most of your time running through softer conditions.
Wants a reliable shoe for longer runs (stiff foam, durable lugs, and a fair amount of protection will keep you safe).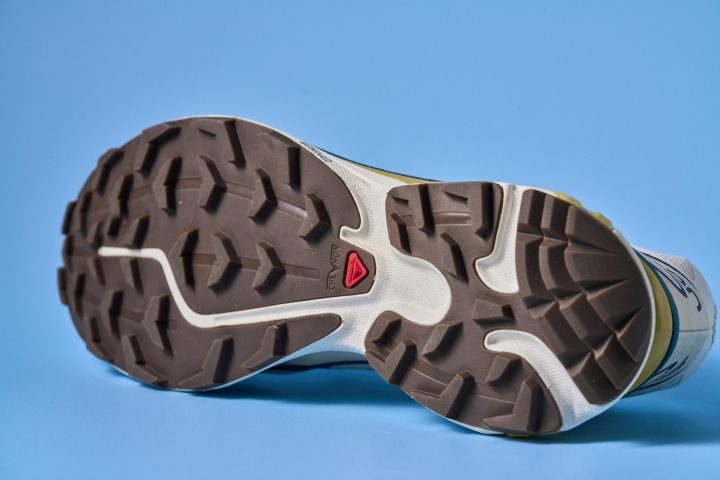 Who should not buy it
We suggest you to look away if you're looking for any of these: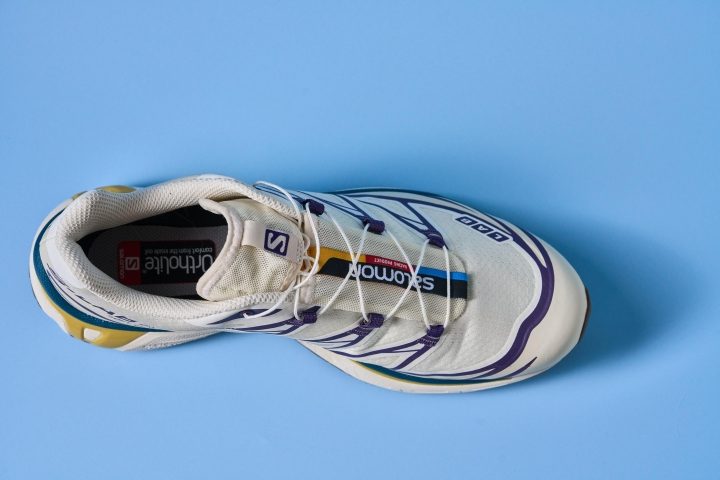 The XT-6 is able bridge the gap between hiking shoes and trail runners, with a stronger emphasis on running. Still, at 12.8oz(365g), this might not be best suited for your next race.
The Salomon XT-6 fits and sticks
I used to be a huge Salomon fan when I'd wear their trail shoes on astroturf but quickly went off them for longer hikes and runs, finding them slightly long on downhills. Thankfully this hasn't been a concern with the XT-6, which fits snug.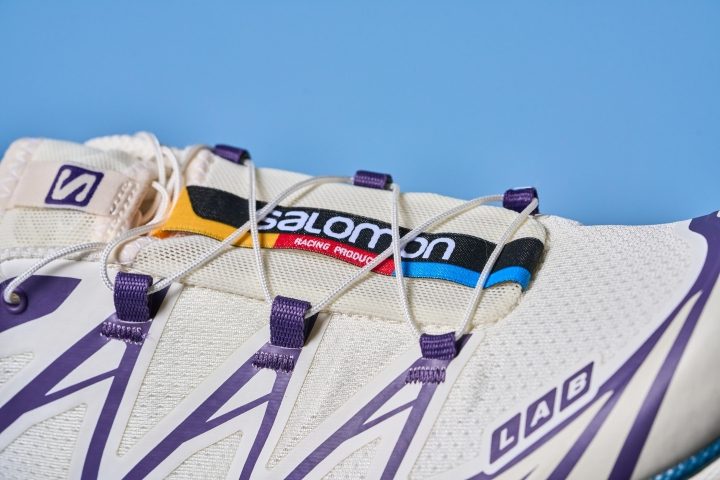 The lacing system has to be one of my favourite parts of the shoe, not only easy to tighten and adjust, the loop structure locks your feet in and I felt no heel slip whatsoever. I previously came away with painful toes in the old Speedcross 3s, where they would scrunch against the toebox, I felt nothing here.
Superbly responsive
What I noticed about the Salomon XT-6 more than anything is its inclusion of tried and tested technology throughout the shoe. True, not much has changed since 2013 except colourways and padding, but 'if it ain't broke, don't fix it'. Salomon's ACS (Agile Chasis Skeleton) and AC Muscle 2 work to provide some cushioning where you need it but recycle energy where it can.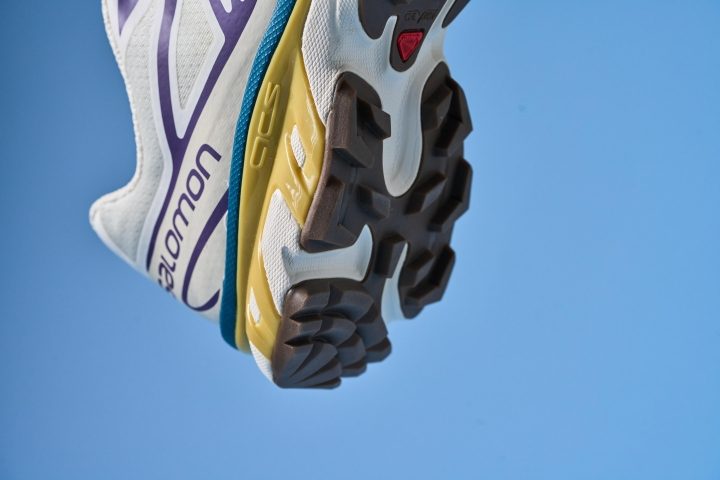 The ACS is a rigid plastic plate running along the edge of the midsole (and throughout it in sections. I really felt this on more technical downhill sections of my runs, and on the rockier parts of my uphills.
The Salomon XT-6 is neither minimal nor plushy
The ACS structure sits under a layer of dense, durable foam. This provides a little cushioning to the ride, but not much at all. Meanwhile the foam of the "AC Muscle" while substantive (the shoe has a 32mm stack height including the insole), is also quite dense.
It's not a surprise then that the XT-6 operates best in softer conditions, relying more on the terrain for the cushioning, than the shoe. While this was great on long runs through wet conditions, my runs on mixed trails with elements of tarmac or harder track left my feet sore.
Moreover, after testing the flexibility of the XT-6 after 20 minutes in the freezer, it's clear that any cold conditions are going to exacerbate the situation, leaving very little flex and firming up all of the dense foam.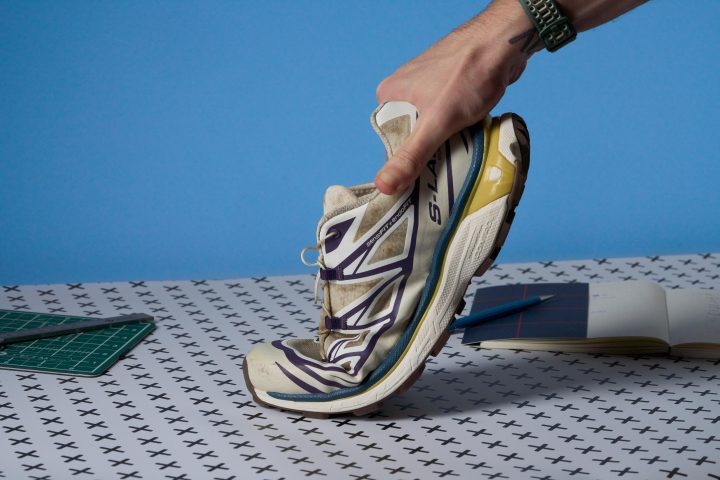 It will grip pretty much anything
While maybe not comfortable on harder surfaces, the Salomon XT-6 is an all-rounder when it comes to traction control. The 5.5mm deep lugs clearly provide lots of traction through soft conditions, even pushing through layers of dead leaves. What surprised me was how well it took on wet rocks and wood.
Albeit I was more careful than in mud, I had very little difficulty taking stone slabs and larger wet roots at speed. Thanks to the spacing of the lugs more often than not they give you something to grab on to.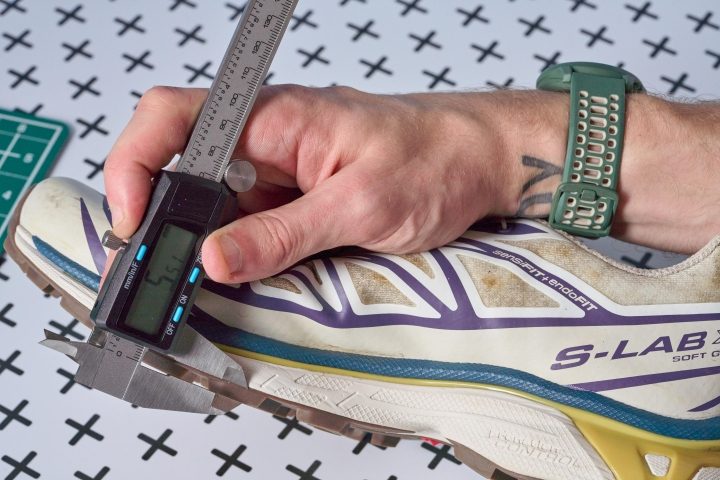 Not even close to waterproof, but not a problem
There are a lot of trail shoes in the Salomon lineup that boasts Gore-Tex waterproofing. From experience, they work well on a trail that maybe had some rain the day before. For more extreme conditions, you can rely on gaiters with them, but even then, you're probably going to get wet feet.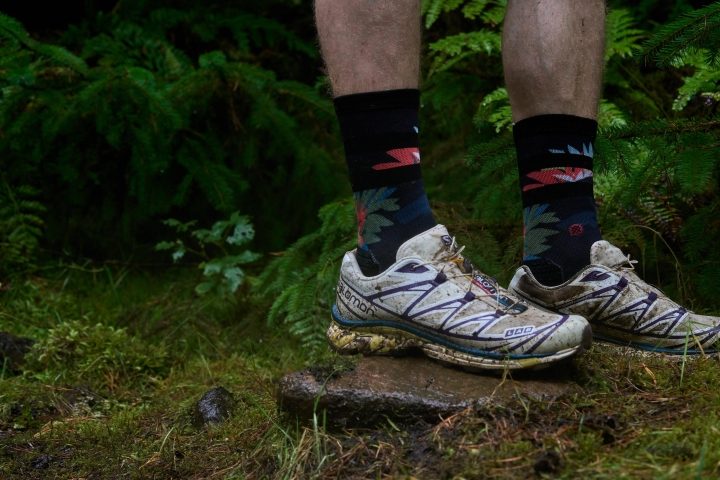 Accepting that as a fact (especially trail running in Scotland), I don't mind the lack of waterproofing from the XT-6, because what you have instead is an incredibly breathable, yet warm shoe that dries quickly.
After 10 miles through wet forests, rivers, and bogs, I found the shoes shed most of the weight from the water quickly, and were left only damp by the end of my run.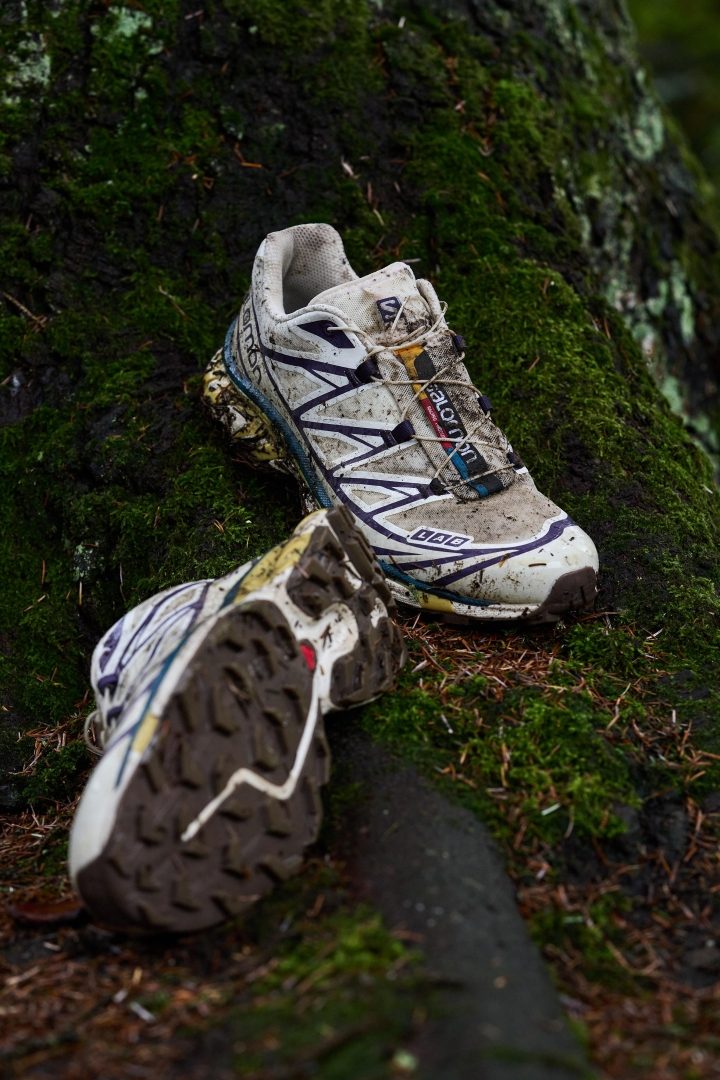 The Salomon XT-6 is durable, but maybe overly so
The upper of the shoe is almost laminated with a hardened rubber that's especially prominent around the toe box and the heel. While I love a bit of toe protection, this seems a bit excessive.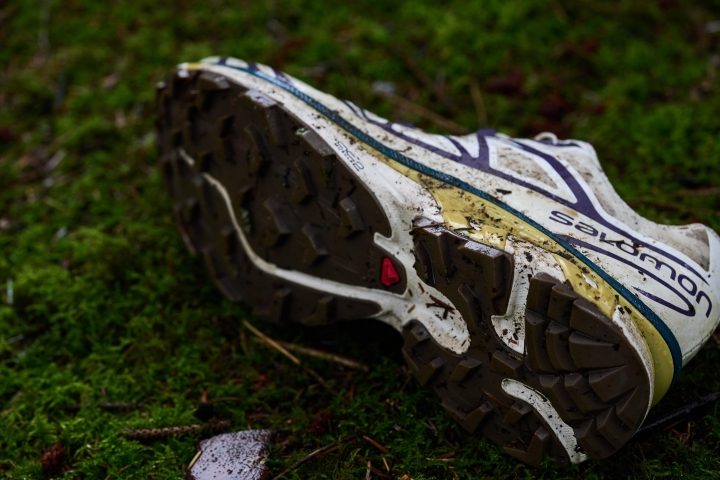 Seeing as the XT-6 comes in heavy, it's a real surprise to me that they've stuck with this structure at the heel. If anything this is where the material is at its thickest. While most trail shoes feature something similar to help strap in the heel, I'd like to think that Salomon could solve this while keeping a lower profile.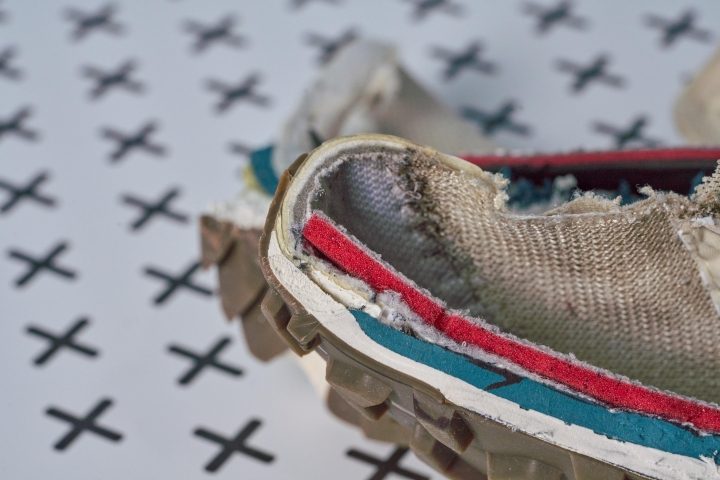 Worth mentioning
I think maybe the Salomon XT-6 is a slight victim of its fame. For years the running world has lived by the rule of function over aesthetics. It might not be a surprise therefore that the XT-6 has seen more development in its colorways than its padding or weight.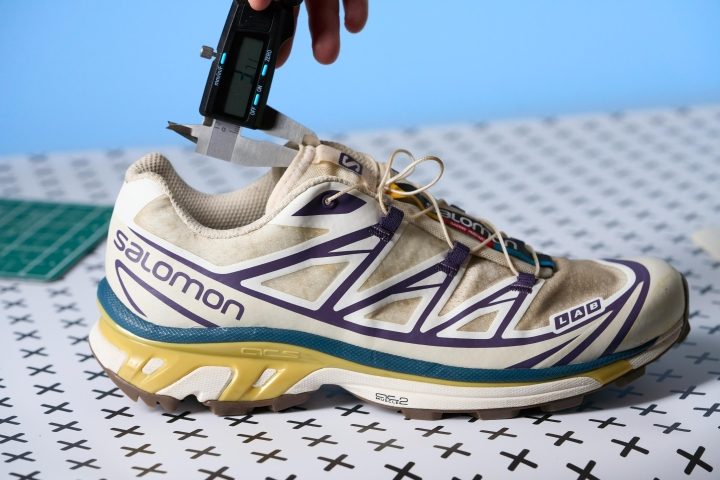 As Salomon are clearly responding to surprising market demand for the XT-6 as a sneaker, it's easy to forget that it is a near-perfect trail shoe.
While we see huge leaps in Salomon's S-Lab series in terms of technical features, there's a stubborn attachment to block colors and even a return to the dreaded purple of the early 2000s.
Why can't we have both a development of style and substance from trail behemoths like Salomon?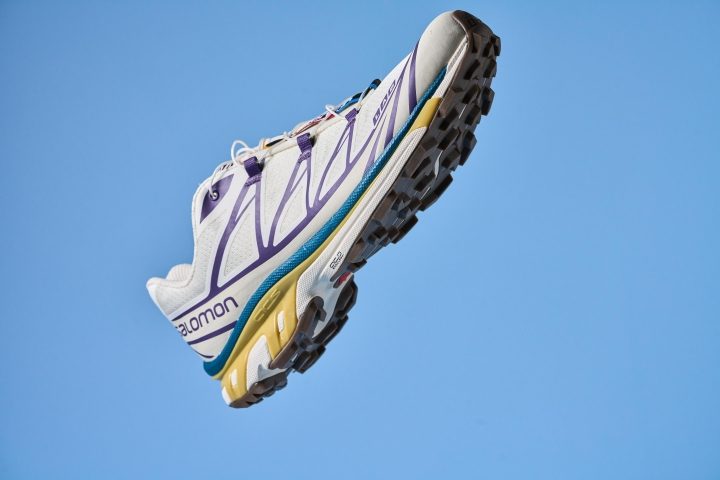 Complete lab-specs overview
Salomon XT-6
Average
Whole shoe

Weight (g)

365

264

Drop (mm)
12.4
8.3
Flexibility of the shoe (1-5 scale, 5 being the stiffest)

3

-
Flexibility of the shoe (Freezer 20 min) (1-5 scale, 5 being the stiffest)
4
-
Longitudinal flexibility (1-5 scale, 5 being the stiffest)

5

3.2

Torsional flexibility (1-5 scale, 5 being the stiffest)

5

3.3

Upper

Thickness - Tongue (mm)

3.7

5.5

Width Upper - Forefoot (mm)

100.3

98.6

Width Upper - Heel (mm)

66.8

75.9

Lace Stretch (1-5 scale, 5 being the most stretchy)

2

2.9
Flexibility of the heel counter (1-5 scale, 5 being the stiffest)
1
3.2
Tongue: gusset type
Gusseted

-

Heel: pull tab

No

-

Midsole

Width Midsole - Forefoot (mm)

103.4

112.6

Width Midsole - Heel (mm)

78

89.6

Stack - Forefoot with insole (mm)
20.2

24.6

Stack - Heel with insole (mm)

32.6

32.7

Outsole

Outsole thickness (Heel) (mm)
6.1

3.5

Lugs Depth (mm)
5.5

3.3

Insole
Insole Heel Thickness (mm)
5.6

4.3

Insole: removable

Yes