3 Best Salomon Hiking Boots in 2023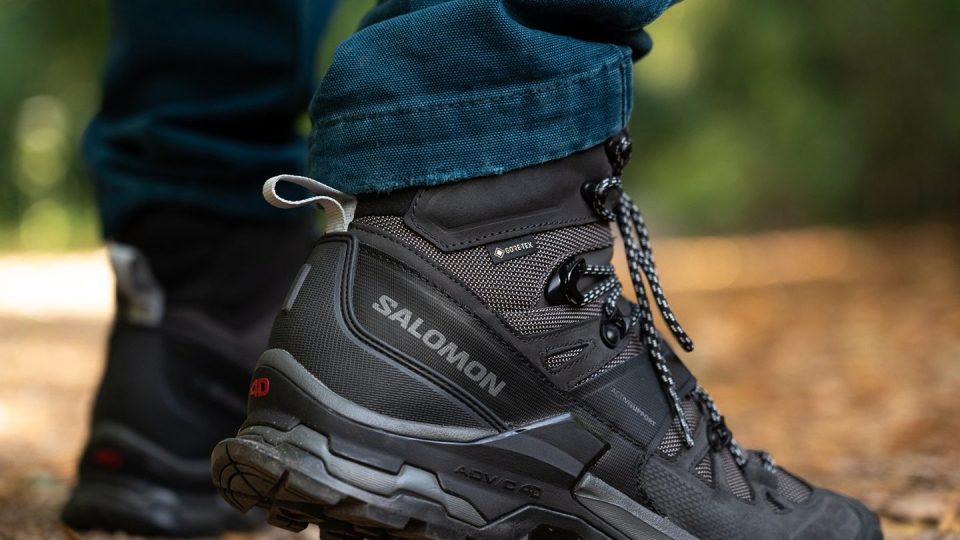 We earn affiliate commissions at no extra cost to you when you buy through us. Why trust us
If the best hiking boots are what you demand, we give you our tried-and-tested top picks from a brand that needs no introduction—Salomon.
The kicks that await you here are the crème de la crème under Salomon's fantastic roster of magnificent boots. We know this for sure because we realized this ourselves during our long and excruciating process of testing. Whether you're looking for a pair that can give you a burst of speed both on and off the trail, or you require something quite well-rounded, we set up this corner for you.
Best Salomon hiking boots overall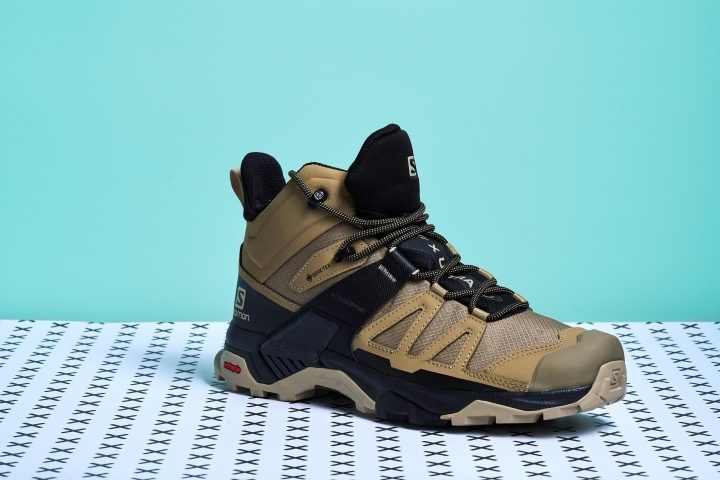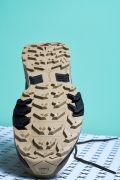 What makes it the best?
Both in our lab tests and on hikes, the Salomon X Ultra 4 Mid GTX came out on top as the best overall hiking boot from Salomon. It's impeccably waterproof, supportive, and insanely lightweight, making it the perfect companion for our long-distance hikes.
In the name of science, we gave them a good dunking, submerging them in water for over a minute. Not a drop of water made it through the faultless Gore-Tex membrane. The fully gusseted tongue and mid-height collar are a bonus in deeper puddles.
These boots exhibit stellar stability, and on closer inspection, we found this was due to several factors. We experienced excellent lockdown from the traditional lacing - rather unusual to find in a Salomon shoe these days, and it does the job perfectly in the X Ultra 4 Mid GTX. Our ankle was well-supported by the collar, and the shank in the midsole kept our foot from rolling on uneven terrain. We measured the stiffness of the midsole with a durometer and found it's on the stiff side: 54 HA compared to the average 32.9 HA. This was good news for our hikes, as it supported our feet over long distances.
When we put these on the scales, we could hardly believe our eyes. At 13.8 oz (390g), these boots are an unbelievable 29% lighter than the average for the waterproof hiking boots we have tested! We could really tell the difference after long days on the hill, and our feet still had energy to spare!
On our winter hikes, we noticed these boots stiffened up a lot until they warmed up. We double-checked in the lab by placing them in the freezer for 20 minutes and then testing the flexibility with a force gauge. We recorded an astounding 126% increase in stiffness compared to room temperature! Therefore we don't recommend them to those who want a flexible boot for cold-weather hiking.
Pros
The boot of choice for multi-day hikes
Lightweight
Waterproof
Excellent grip
Supportive midsole
Detailed ground feel
Great ankle support
Protective
Perfect lacing system
Cons
Midsole may be thin for some
Very stiff in colder climates
Full review of Salomon X Ultra 4 Mid GTX
Best Salomon hiking boots for backpacking







































What makes it the best?
Backpackers looking for a supportive, stable boot that will protect their feet every step of the way need look no further. With support and durability in bucketloads, the Salomon Quest 4 GTX is our best backpacking boot from the Salomon lineup.
With a whopping amount of ankle support, the Quest 4 GTX means business. Salomon's tried-and-tested support system keeps our feet perfectly locked into the boot, and we experienced no slippage (bonus: no blisters!). Our manual tests of the heel counter showed it is among the stiffest we have tested, so we awarded it a solid 5/5 (5 being the stiffest). It held our feet securely without compressing or squeezing, and we felt confident even with the added weight of a heavy pack.
It goes the extra mile in terms of stability, too. The wide platform offers a solid landing surface underfoot, and we felt surefooted and stable while hiking on rough, rocky trails. Back in the lab, we measured the midsole width at the forefoot with a caliper. Sure enough, at 116.5 mm, the Quest 4 GTX is 2.7 mm wider than average at the forefoot. It's no wonder it feels so stable on uneven ground!
The last thing we want on our multi-day hikes is to worry about our boots taking one bump too many. No need to worry about that with the Salomon Quest 4 GTX. It's got durability written all over it, with the multi-layered overlays, and a protective toebox which combines a sturdy rubber toe cap, nubuck leather and robust nylon weave. We applied a Dremel to the toe cap for 12 seconds at a force of 3.2 N at 5K RPM to see what it's really made of. Pretty stern stuff, as it happens - there was only a minor scrape to show for our efforts! This boot is tough as nails, and we trust them to keep going for a long time.
On the flip side, when we calculated the heel-to-toe drop, we found it was a jaw-dropping 18 mm. This is a significant increase from the average of 12.4 mm, and it may be uncomfortable for some hikers. We therefore don't recommend it to backpackers who prefer a more natural feel underfoot.
Pros
Exceptional durability
Top-notch waterproofing
Excellent impact protection
Highly secure ankle support
Fantastic stability
Comfortable in-boot feel
Effective grip on various terrain
Fits as expected
Cons
A bit heavy
Gets very stiff in cold
Full review of Salomon Quest 4 GTX
Best Salomon hiking boots for speed hiking







































What makes it the best?
Agility is the game of the Salomon Outpulse Mid GTX, which is why on our hikes, we felt all our strides and movements optimized. This hiking boot is so gentle on our feet but when it comes to performance, it is hella fierce.
We can't help but draw comparisons with the Salomon Outpulse Mid GTX to sneakers because of its super light build. At 13.6 oz (380g), it can easily be mistaken for a sneaker, especially since it is 20.6% lighter than the usual weight of hiking boots. Moreover, the in-shoe feeling it provides in our treks is somewhat similar to the feeling when we are just cruising the streets. Using our durometer, we found out that its midsole is 18.8 HA soft, which is softer than the average by 27.1%.
While it overflows in comfort, this hiking boot supports our feet very well. We don't mind wandering in this pair for the whole day, as it keeps our arches from falling. We found that the torsional rigidity of this boot, which we rated 4/5, also helped in resisting twisting. The support around the ankle is not up to par, though. We only gave the stiffness of the heel counter a 3/5. So, if you want a better fit, we suggest searching for other hiking boots that securely wrap around the ankles.
Pros
Astonishingly light
Comfy like a sneaker
Excellent waterproofing
Very durable build
Soft and springy cushioning
Low-to-the-ground platform
Remains soft and flexible in cold weather
Cons
Loose collar fit
Not for technical terrain
Full review of Salomon Outpulse Mid GTX
Comparison of the 3 best Salomon hiking boots
| | | | | |
| --- | --- | --- | --- | --- |
| Best | | | | |
| CoreScore | | | | |
| Users rating | | | | |
| Experts | | | | |
| Best price | | | | |
| Ranking | | | | |
| Popularity | | | | |
| # of colorways | | | | |
How we test hiking boots
Here at RunRepeat, we do our best to deliver honest and professionally written reviews. Our means to that end are as follows:
We buy Salomon hiking boots with our funds. This ensures our reviews come out as unbiased as possible.
We put every model to the test, taking a closer look at each one's level of comfort, setting-specific performance, and longevity, among other parameters. To achieve this, we take these boots to our actual hikes, exposing them to different environments and conditions.
We tear the shoes into pieces and we measure all 30+ of their properties. This includes durability which we gauge by applying abrasive force to the upper, outsole, and sock liner using our Dremel tool. We even insert attachments like a wire brush or a steel hole saw to see how the shoe holds.