According to 100, 000 shoe reviews, Salomon is a top choice for trail running, but the brand is slowly working on its performance footwear collection to cater to road runners, fitness enthusiasts and racers. Their shoe innovations and features have made headlines in the active community, so it is not hard for runners to trust Salomon in all things running-related.
Salomon Running Shoes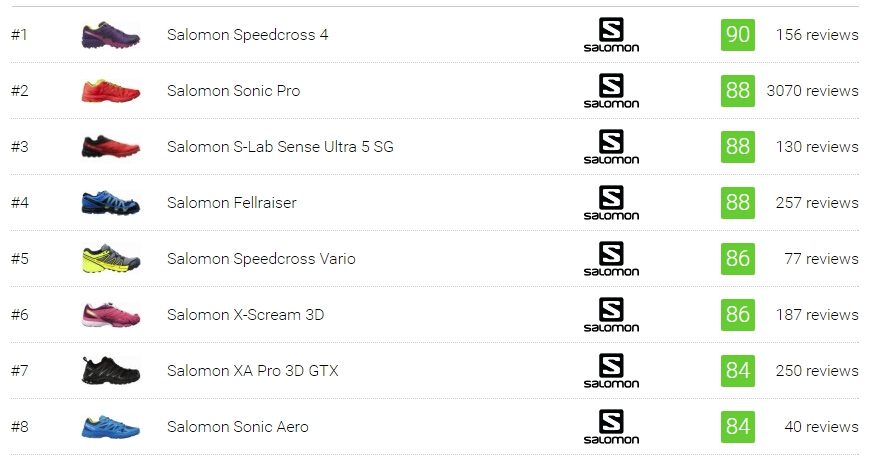 When it comes to trail running, Salomon running shoes are great alternatives for beginners, casual runners and thrill seekers. Their range of shoe technologies is designed and developed to commit to their brand slogan, which is "Freedom, Action, Sports". They put priority in comfort and protection, so runners could conquer more miles on uneven ground. According to reviews, the Salomon brand may have a limited range, but it is slowly expanding to provide more selections for trail racing and running, as well as off-trail activities in the future.
What can you expect from Salomon shoes?
Trail runners need sole protection, comfort and traction in their shoes to maintain a top-notch performance on rugged topography. The best Salomon trail shoes will never disappoint in providing such aspects to adventure seekers. Meanwhile, the Salomon road shoes are developed with shock attenuation properties, comfort and support to help runners become flexible and fast on the pavement.
Go low with the best minimalist and low drop shoes from Salomon. Salomon low drop shoes will help runners get used to ground contact so transitioning to barefoot running will go smoothly. Salomon minimalist shoes are true to its name, so you can enjoy a lightweight structure and more flexibility.
Salomon race shoes are developed to suit competitive running on the trail or track. Incorporated with racing-specific technologies, runners can expect a high energy return and better flexibility.
The low arch structure of a runner might lead to wasted motion because of pronation. Picking Salomon stability shoes or Salomon motion control shoes is a wise move to decelerate pronation and maintain gait efficiency. Salomon neutral shoes are fitted for neutral pronators and supinators (under pronators) who can facilitate an efficient gait cycle without much support.
Why should you trust the best Salomon running shoes?
Popularity. When it comes to popularity, Salomon is already linked to adventure racing and trail running. In fact, a lot of trail runners are building their Salomon collection for regular running, performance training and adventure racing. Through the years, the brand continues to amaze running authorities, like Outside Magazine and Outdoor Gear Lab. The best Salomon shoes have won varied awards in the past, including "Best Trail Running Shoes", "Best Debut" and "Best Update Award".
Pricing. Salomon puts a high value on their footwear collections and shoe innovations. In fact, the best Salomon shoes are among the most expensive on the market, often reaching $150 and above. For runners with a tight budget, the cheapest options from the brand are still beyond $100. There are shoe deals and discounts you can take advantage of, but these are usually for older models. Professional athletes have no qualms in spending more for technologies they trust.
Footwear innovations. The high pricing is justified by Salomon's top-notch range of footwear innovations. Their outsole technologies are made for the trail and track and include the Contagrip outsole, OS Tendon, 3D Grip, Mud and Snow Contagrip and AC Tendon among others. Their upper features are mostly dedicated for trail running, including the Anti-Debris Mesh, Mud Guard, Sensifit Overlays, Endofit System, Quicklace system and Protective Rubber Toe Cap. Salomon is highly praised for their midsole technologies that provide comfort, stability and sole protection on the road or trail. Salomon midsole technologies include the AC Skeleton, Dual Density EVA, LT Muscle and the ProFeel Film.
This shoe has recently been added to RunRepeat. There are still not enough reviews for us to assign it a
Corescore
.
Corescore
A score from 1 to 100 that summarizes opinions from users and experts. The average Corescore is 78.
More...