The Swoosh sign is already a global symbol that signifies the Nike brand. This American multinational corporation is still one of the best shoe manufacturers in the world, given that professional athletes, fitness enthusiasts and fashion forward people treat it as a favorite in their shoe collection. With a team of designers, developers and innovators behind the brand, Nike constantly improves its men's and women's collection of sports equipment, footwear, apparel and accessories. It is considered to be one of the largest athletic shoe suppliers globally, making it a valuable business in the sports industry. Shoe collections, such as the Nike Air, Nike Dual Fusion and Nike Lunar, have garnered accolades and great reviews in the past.
Nike Running Shoes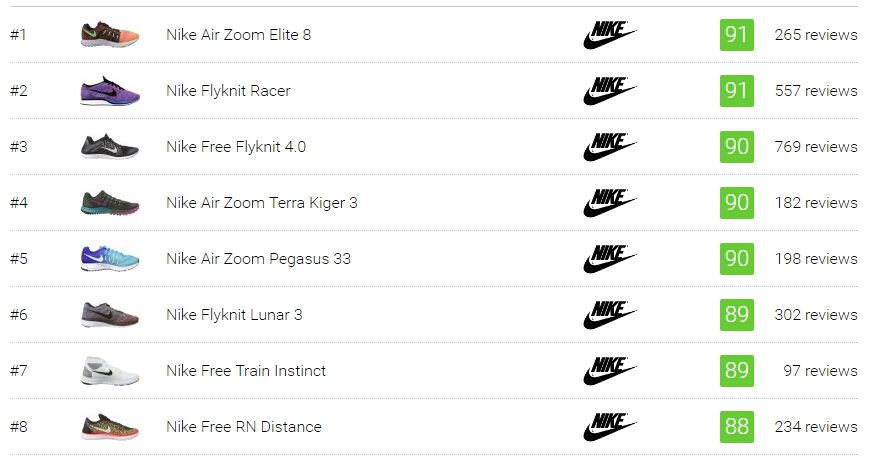 Nike running shoes are some of the most popular models on the market. Whether you choose to don a pair for daily training, performance running or racing, there is surely a pair or two that will satisfy your needs. The brand is committed to innovating shoe technologies to keep performance at par with the high standards of professionals and expectations of beginners. Its wide selection of men's and women's footwear is not just proof of the brands decades of presence, but also how versatile it is when it comes to keeping athletes prepared for every sport or activity, particularly running. For years, its shoe models deservingly get awards, high ratings and great reviews from running magazines, organizations and runners worldwide.
In terms of performance, comfort and style, Nike does not disappoint in delivering top-notch collections that eventually find their way in more or less 100, 000 shoe reviews from the running community. Runners, whether beginners or seasoned athletes, already consider Nike as one of the go-to brands when it comes to performance footwear.
How can Nike shoes develop your fitness routine?
Over pronators need a combination of stability, pronation control and comfort in their shoes. These could be given in adequate amounts by Nike stability shoes and Nike motion control shoes. As for supinators (under pronators) and neutral pronators, there are Nike neutral shoes to provide a flexible and comfortable platform for running.
If you wish to improve ground contact and train for barefoot running, choosing Nike minimalist shoes and Nike low drop shoes is a wise choice. These platforms do not have thick cushioning to hinder a natural movement, so your soles and Achilles tendon could prepare to go barefoot in the future.
Nike race shoes will improve your speed record with its lightweight platform and racing-specific technologies. In fact, these shoes are versatile because they can also be used for performance running, speed workouts, cross training and casual wear.
The best Nike shoes are either designed for the track or trail. However, there are models that could fare well on both uneven and even ground.
What makes Nike shoes the best in running?
Pricing. The best Nike shoes are undoubtedly some of the expensive products on the market. But this is for a good reason. The brand never fails to amaze runners in terms of designs and shoe developments. With their top-notch footwear technologies and quality performance standards, each pair will likely improve the wearer's running performance. Beginners and casual runners can take advantage of entry-level shoes that cost up to $150. However, the brand's technical shoes for the advanced runners and athletes are fairly reasonable. You can get a decent performance pair for the price of $90 to $120.
Popularity. When someone says 'shoes', Nike immediately pops into mind. The brand is managed by one of the oldest shoe manufacturers in the world, so it is expected that the brand recall of its products is already high enough. Their performance shoes are frequently the choice of professional runners and athletes. Running authorities, such as Runner's World, also gave awards and recognitions to the best Nike shoes on the market. These products are frequently enlisted in "Best Running Shoe" lists and even garnered "Best Debut Shoe" awards.
Shoe technologies. Nike already developed a fair share of running technologies throughout their dedication to the sport. Brand-exclusive technologies are constantly improved and incorporated in some of the best Nike shoes to up the ante when it comes to running performance, comfort and speed. Their cushioning technologies and midsole features lead the pack and these include Zoom Air technology, Air Max technology and Lunarlon foam. As for the outsole, there is the Free technology, Waffle Sole and Shox technology among others. Upper innovations like the Flyknit technology, Dynamic Flywire System and Dri-Fit technology, complete the Nike running experience.