Zoom Fly 4 feels like a
Vaporfly
but it's more durable and incredible for everyday speed training. Finally a shoe that can go fast often! And with a price point way below its carbon-plated competitors, what's not to love!
Pros
Rockered toe design
Propulsive
Breathable
Affordable for carbon-plated shoe
Sock-like fit
Large heel-loop
True to size
Feels like more stable Vaporfly
Snug and secure fit
Perfect for carbon newbies
Cons
Stiff
Unstable at slower speeds
Grippy on dry road only
Nike Zoom Fly 4 review and lab test
The real only updates to this shoe are in the upper, which is a great update, but it took Nike 2 years to get this updated.
The main benefit of this shoe though is it feels like the Vaporfly. You can confidently train in this shoe and switch to the Vaporfly for race day without much, if any, adjustment.
Its name is misleading though as there's no Zoom midsole, but rather a Nike React midsole which we'll talk about a ton down below.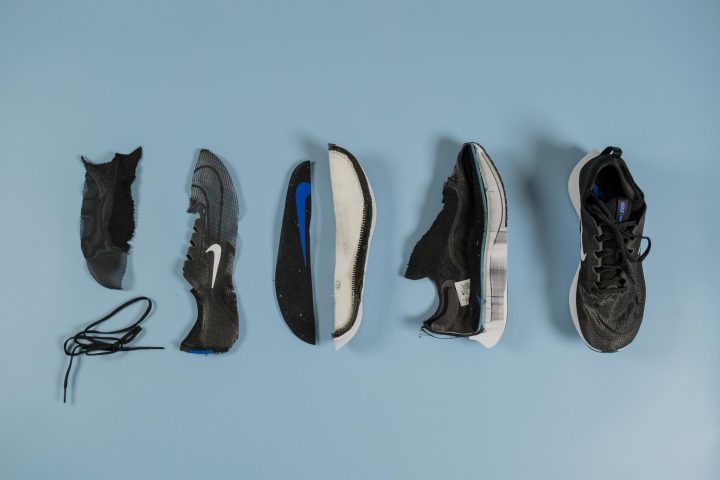 In the end, though, this shoe can work as a do it all shoe, on race day and on training day if you're a one-shoe bandit.
Who should buy the Nike Zoom Fly 4
Buy the Nike Zoom Fly 4 if you're looking for a fast, carbon-plated shoe, on a budget that most carbon shoes won't allow for.
If you have the Vaporfly, this is a great training partner shoe as well.
Or if you just have narrow feet, and want something that's quick and nimble give it a try.
Who should not buy it
Don't buy the Nike Zoom Fly 4 if:
You have wide feet. It's just too narrow. Try the Saucony Endorphin Speed 2 instead.
You're not a speedrunner. It's tippy if you're not going fast or on your toes. Try out the Nike Pegasus 38.
You want comfort and softness. This is a tempo shoe, check out the Nike ZoomX Invincible Run it's like wearing pillows on your feet.
Nike Zoom Fly 4 Fit
Right off the bat, the shoe runs narrow. At just 94.4mm in the forefoot and 67.6mm in the heel it's considerably below the average shoe (98.4mm and 75.4mm). I have wide feet, and most Nikes feel tight on me, and this one was no different. Steer clear if you are wide-footed like me.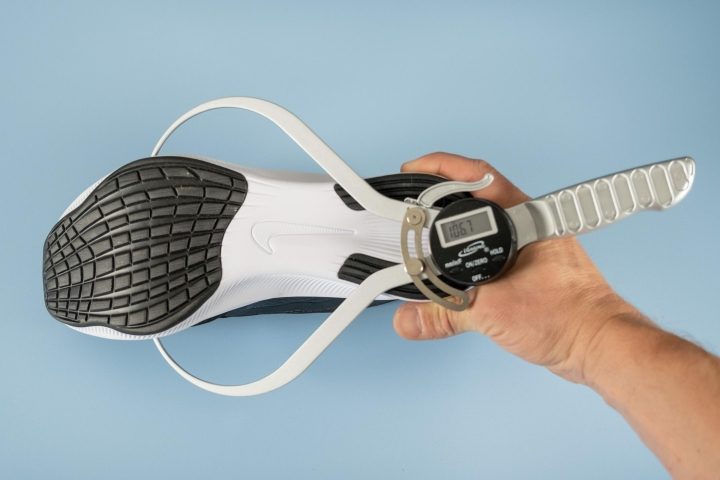 Past that, the fit was nice. The Nike FlyKnit ankle collar is soft and stretchy and sock-like, while the rest of the upper is a more restrictive mesh without much stretch and really aimed at performance and lockdown, which it achieves.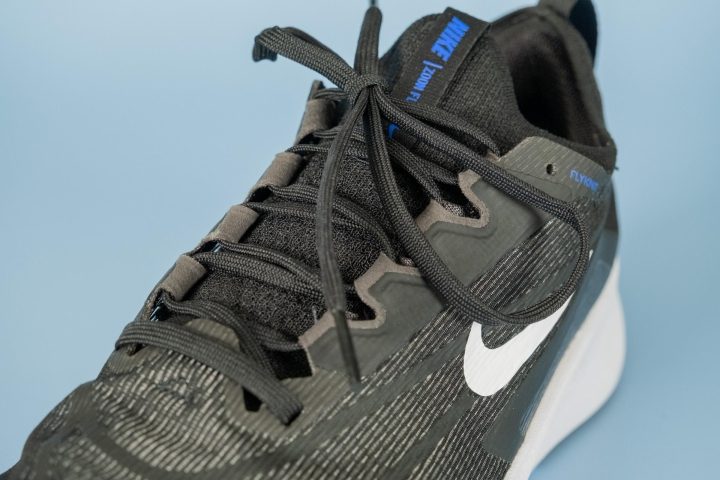 The lacing structure is built on a webbing system that connects to the shoe's Strobel board, providing a customized fit with each lace eyelet moving a bit as you tighten the shoe up. It worked well and I had no slipping or movement within the shoe.
There's a thick strip of padding in the heel cup that helps with lockdown, but it's pretty boxy and could be more refined.
Comfort comes with breathability
The best part of this shoe is how breathable the new upper is. It's a two-layer design, which normally runs hot, but this shoe was breezy and cool to run in.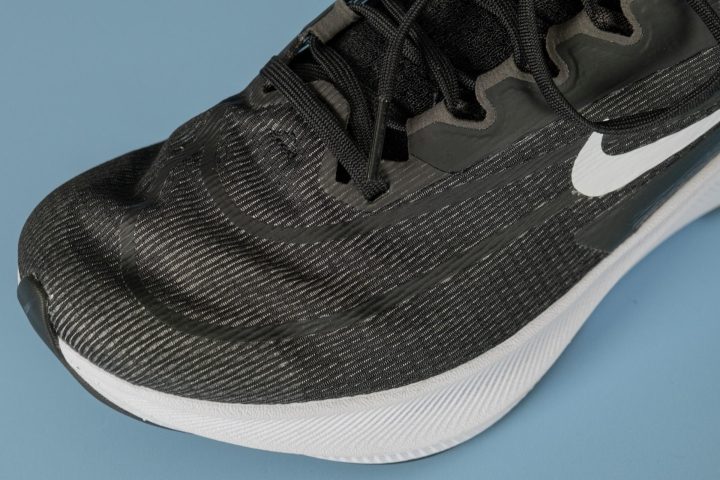 The lockdown is aided by this chunky, rectangular foam heel pod I mentioned above. It's a bit obtuse really, it just sticks out more than I like, but it's soft on your Achilles and seemingly works since I didn't have any heel slip issues.
Nike Zoom Fly is quick
I'll hand it to Nike, they know how to make a quick shoe. The Zoom Fly 4 does feel energetic and fast underfoot with a rockered toebox and its stiff carbon-plate design.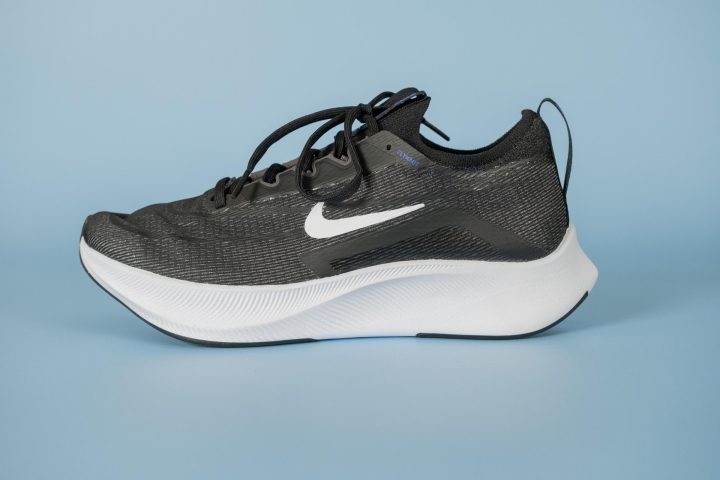 The shoe does not feel fully rockered, it's just from the midfoot forward which has a tippy sensation as you make it through your gait really making the shoe feel like it's pushing you onto and off of your toes.
It feels like a more stable version of the Vaporfly, which of course is the goal with this shoe since it's meant for daily training. But feeling like the Vapofly is a good thing, it's fast and a perfect training companion since they feel so similar.
To me the Vaporfly was a bit bouncy with it's soft ZoomX foam (19 on the durometer), and this firmer React midsole (23.5 on the durometer) gives this shoe a more consistent and tempered feel. Beginners to carbon-plated shoes will appreciate this I think as there's a way lower learning curve than on a softer, bouncy race shoe.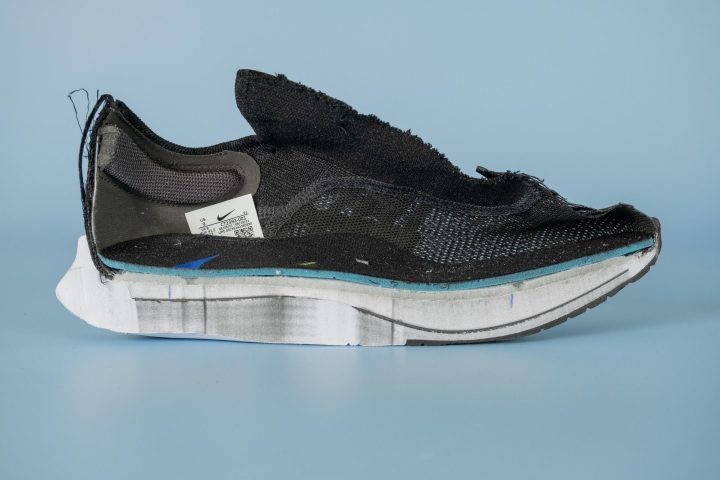 This shoe is tall and narrow. At 38.4mm of heel stack, it's just shy of the international race regs (40mm), and it's only 106.7mm wide in the forefoot (average shoes are 112.2) and a puny 77.2mm in the heel (89.2mm is average) which makes it unstable at lower speeds. This shoe wants to go fast, take it there or beware it's a bit tippy.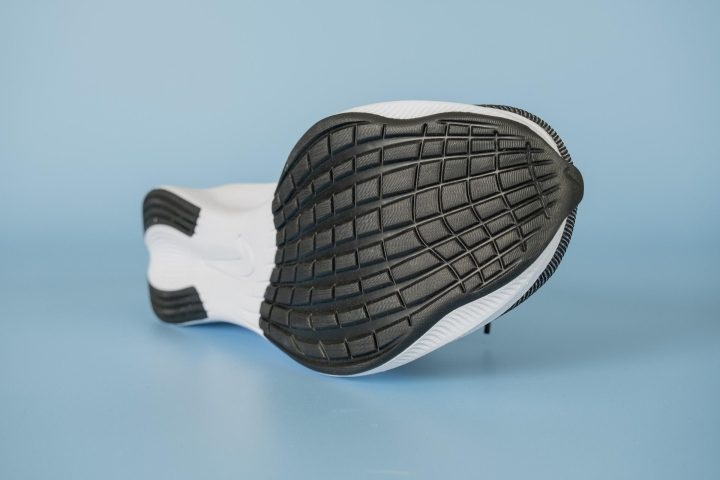 Of course, we need to talk about the carbon plate. It's insanely stiff, basically the same plate as the Vaporfly, which gives it great toe-off propulsion, but for runners landing more on their heels, it's a bit awkward underfoot as the shoe struggles to flex with your gait.
The shoe is padded, but I'd call it a fairly harsh ride and my legs were feeling that stiffness after a few miles for sure.
What's going on with the weight
At 9.6 ounces (271g) this is no lightweight race shoe. It's a bit confusing as a carbon-plated, narrow-platformed shoe with this much heft.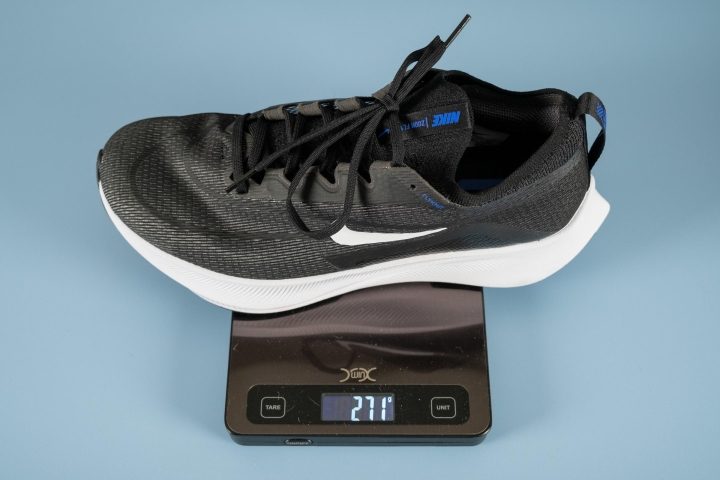 It's also gained over half an ounce from version 3… Nike you're going in the wrong direction here!
Durability
I have durability issues with Nikes, they just don't hold up to the pounding I put shoes through.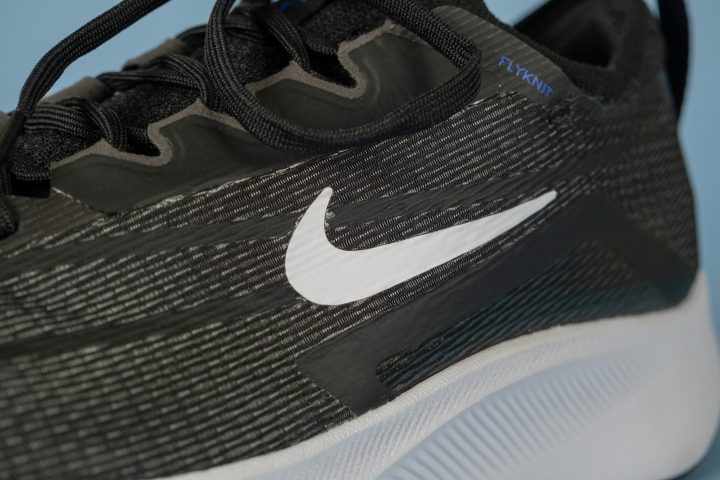 Maybe it's their narrow design and my wider feet. I don't think this shoe is any different and won't last too long. Its midsole is dense and shouldn't pack out early, but the outsole is thin at just 2.7mm (average outsoles are 3.5mm thick) and the mesh upper feels delicate to me. It's doesn't stretch so at some point it's just going to wear out and tear.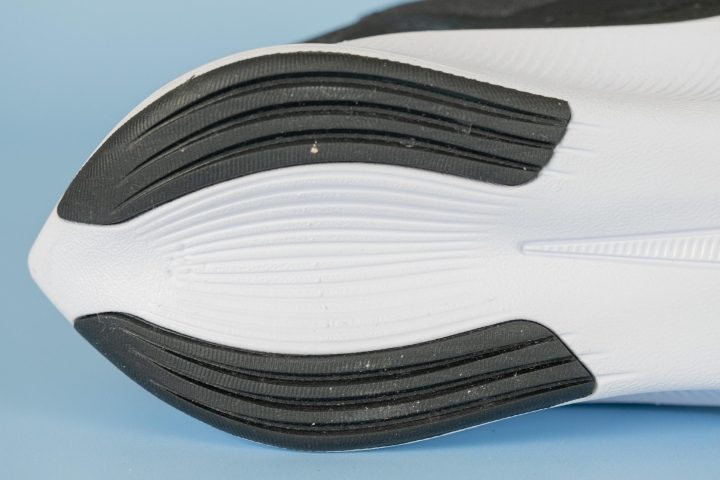 The silver lining though is it will last much longer than the Vaporfly, so if that's your race shoe, this is an obvious companion shoe.
Poor grip in wet conditions
The shoe grips fine on dry surfaces, but keep this on the tarmac.
It's no good on the edge of the road or in the dirt, and on wet surfaces, it gets a bit slick.
Decent price Nike
At $160 this is a pretty affordable shoe for a fully, carbon-plated race shoe. Most of these are in the $200-250 range (ASICS Metaspeed Sky, New Balance FuelCell RC Elite v2, Saucony Endorphin Pro 2), which makes this a bit exciting for runners that want to try out carbon without having to spend over 2 bills.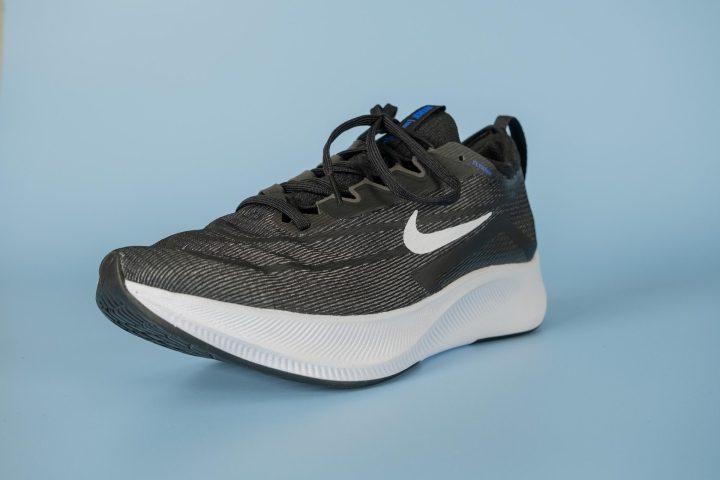 Day running only
One element that's sadly missing from the Zoom Fly 4 is anything reflective. Be sure to run during daylight hours in these kicks as they are hard to see at night.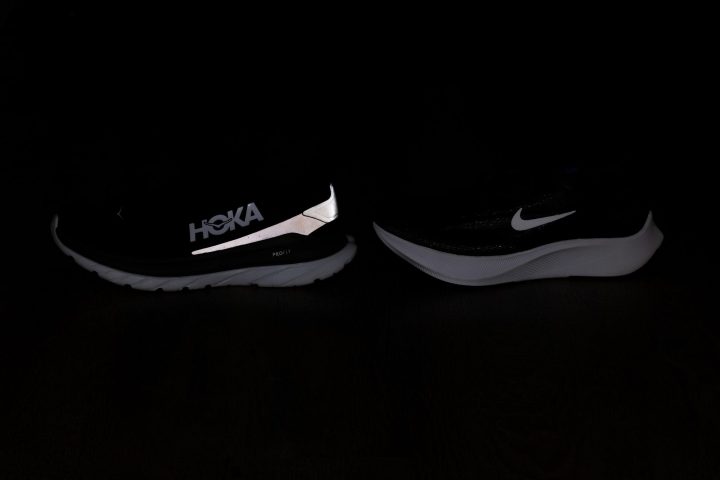 Conclusion
In the end, if you race the Vaporfly, consider getting the Zoom Fly 4, or if you want carbon for a decent price, it's worth checking out. But for wide-footed runners, find something else.