Adidas is one of the top shoe brands for fashion-forward people, sports enthusiasts and professional athletes. This German multinational corporation was founded in 1924 and continues to make a global symbol out of the three-striped logo. The brand does not only design and manufacture men's and women's sports shoes, but a tasteful selection of athletic gear, apparel and accessories as well. Adidas running shoes are doing amazing in reviews and clearly testify what they are made of: great quality, innovative designs and technologies that exceed athletic expectations. As proof of this, professional players choose Adidas running shoes for serious racing, such as Letshego Moshoeu.
Adidas Running Shoes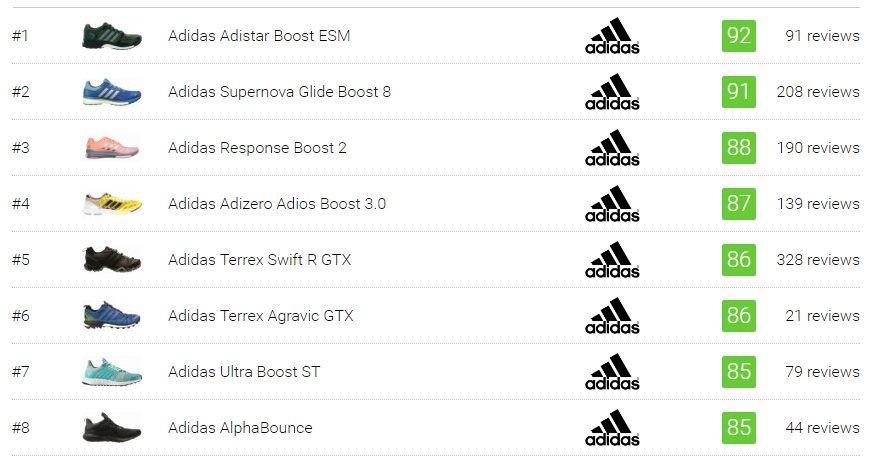 When it comes to unlimited sports potential, Adidas running shoes will make sure that you remain on top of your game. With award-winning models, like the Adidas Energy Boost and Adidas AdiPure Gazelle, under its belt, the shoe brand's dedication to provide a blend of performance and style in every run is obvious. The new technologies of Adidas constantly are developed for high performance, yet not all of them gain high ratings and great reviews. If you want a trusted brand for your running needs, not hurt to pick a pair or two. Whether you are a flat-footed runner, an under pronator or anything in between, Adidas has got you covered.
Adidas is a constant mention in over 100, 000 shoe reviews because of their top-of-the-line running shoe collections. With their brand-exclusive technologies and feature, Adidas shoes never fail to provide a blend of comfort and performance in every pair. Know more about the best Adidas shoes to maximize their athletic advantage.
What do Adidas running shoes offer you?
There are two categories of Adidas shoes. The first one consists of Adidas road shoes and these are designed to fare well on gravel, track and pavement. The second category is for the trail. Adidas trail shoes are suited for the off-roads, nature trails and other uneven terrain.
Runners with high to medium arches can take advantage of neutral shoes for their running needs. On the other hand, flat-footed runners can rely on Adidas stability shoes and Adidas motion control shoes for their pronation control and stability needs.
Pursuing a natural running movement seems to be a major goal among runners nowadays. To achieve this, they would want to invest in Adidas minimalist shoes and Adidas low drop shoes. These platforms are flexible and minimal enough to facilitate a barefoot-like experience on the road or trail.
If speed is your game, the Adidas race shoes will keep you light on your feet. Whether you aim to race on the track or trail, the brand has the best options for you.
What makes the best Adidas shoes different from the rest?
Footwear technologies. Adidas never comes last in terms of shoe technology. In fact, their innovations have garnered their models prestigious awards in the past. Old technologies are constantly developed and incorporated in their new models, from the upper to the outsole. Upper technologies include the GeoFit technology, ClimaLite technology, Gore- Tex technology, HUG System and Ortholite technology. Midsole parts include the Phylon, Phylite, EVA (Ethylene-Vinyl Acetate) and the Polyurethane material. These are further improved by cushioning technologies such as the Boost technology and Bounce technology. As for the outsole, runners will trust the abrasion-resistant and durable Traxion technology and Adiwear technology.
Popularity. The best Adidas shoes have garnered a number of awards in the past. Their long standing presence in the shoe industry and dedication to improving their performance line make them deserving of recognition. Through the years, Adidas shoes were included in prestigious lists of running shoes, such as Runner's World's "Best Running Shoes" and T3's "Best Marathon Shoes". Adidas continues to manufacture the best performance footwear for running, so expect to see their models in future lists of the best.
Pricing. Adidas shoes are considered to be some of the most reasonable footwear options on the market. Their performance line does not disappoint in keeping the running community happy, from the casual beginners on their way to their first marathon, to the professional athletes who hit the track a few times in a week. Entry- level shoes are priced between $80-$100, which is already decent for fitness enthusiasta and running beginners. As for their technical shoes for the road and trail, you can expect as expensive as $200. These are usually running shoes with top-notch technologies, like Gore-Tex technology (GTX).