Often dubbed as Adidas' version of the Hoka Bondi, the Adidas Adistar is a max-cushioned running shoe that's a no-brainer for long easy days. With its highly cushioned design, it provides ample protection from shock during impact. On top of this, it nails the hallmark stability of the past Adidas Adistar collection despite it being a neutral shoe. However, one drawback worth noting is that most runners found the shoe to be too firm.
Pros
Stable landings
Maxed-out cushion
Relaxed and accomodating fit
Roomy toe box
Tongue stays in place
Durable
Summer-ready breathability
Recycled upper
Grippy on ice
Great for long runs
Cons
Could be more responsive
Firm for heel strikers
Heavier than most trainers
Becomes a brick in winter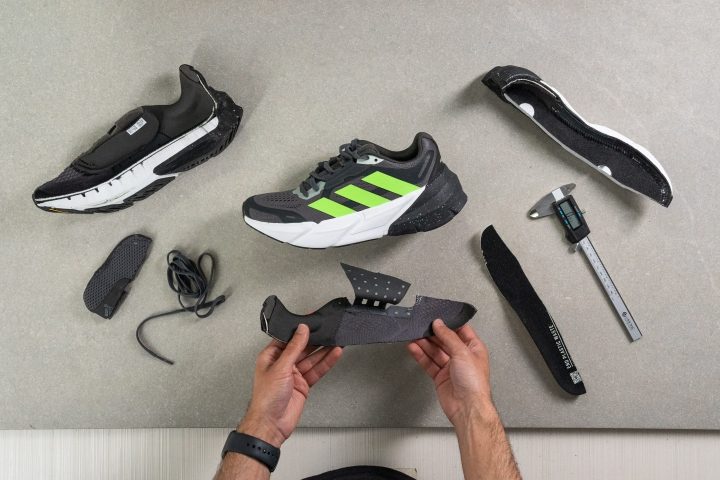 Who should buy the Adidas Adistar
If you're any of the following, don't write off the Adistar from Adidas:
neutral runners looking for a shoe that's stable and guides the foot
road runners who want daily trainer with plenty of padding
runners who want a protective shoe for recovery days and long runs
heel strikers who want to change their running stride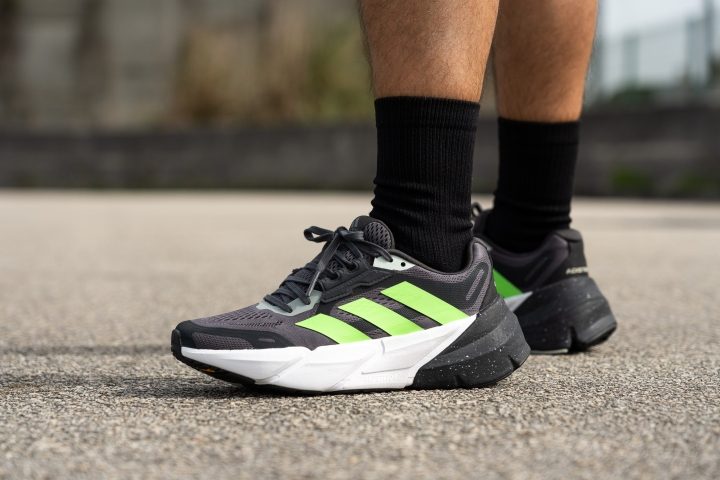 Who should NOT buy it
Adidas fans who want something lighter and cushier can go for the Adidas Ultraboost Light. Alternatively, experts also recommend the Nike Invincible Run 3 and Hoka Clifton 9 to runners who want a soft yet responsive ride.
And for heel strikers who want a more forgiving rearfoot, opt for the Saucony Triumph 20 instead.
The Adidas Adistar screams surefooted
Fashioned after the highly stable Adistars of the past, this Adidas Adistar keeps your strides steady and anchored. With a pronounced heel flare and a firm rearfoot cushion, loads of testers claim that it "guides" their feet.
The midfoot area also has raised sidewalls that prevent excessive rolling inward and outward. And in the forefoot, the base is wide for planted steps.
Don't worry about hot weather conditions
The upper is very porous and light, runners say they can feel the air "breeze on their skin." So much so, they highly recommend it for summer runs. One tester said that "the majority of the upper is engineered mesh that is incredibly breathable and stretchy in every direction."
Fact check
We put these claims to the test and boy, were we impressed! We gave the Adistar a solid 4 out of 5 rating in our breathability test, with 5 being the highest score.
To make sure, we ran with the upper under the light to examine its thickness and breathability.
That's when we discovered how Adidas achieved remarkable results, thanks to strategically placed ventilation holes in the toe box. They are HUGE!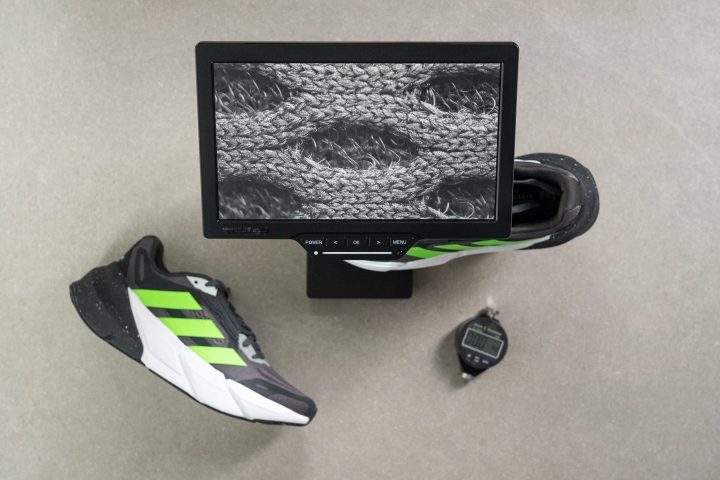 When we stumbled upon those awesome ventilation holes in the Adistar upper, we got more curious. We just had to get out our microscope and zoom in to see how they looked up close.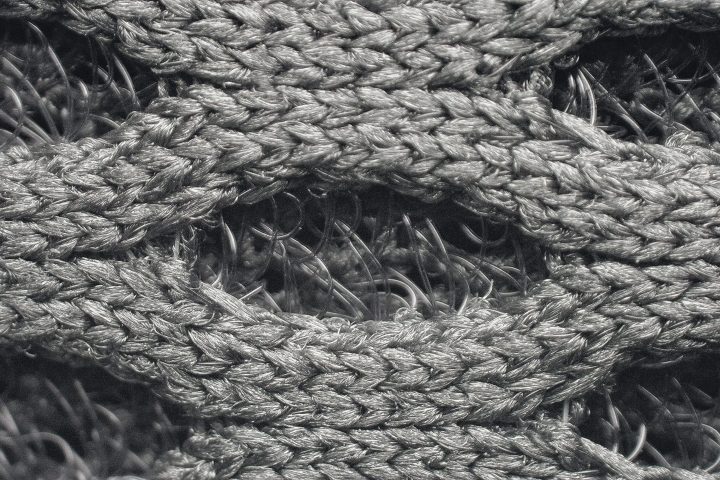 Well, it's safe to say this shoe lets your feet breathe like a breeze!
Fits just right!
The upper it's very roomy, experts say it's close to toe boxes from Altra and Topo. There's ZERO restriction up front.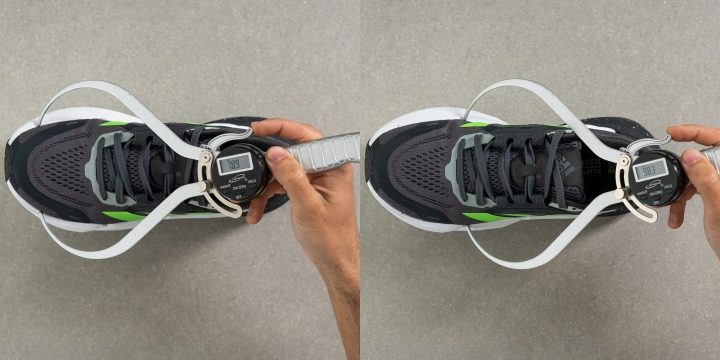 The heel is really well built. Well padded, not too rigid but enough to prevent heel slippage, and it doesn't irritate your Achilles.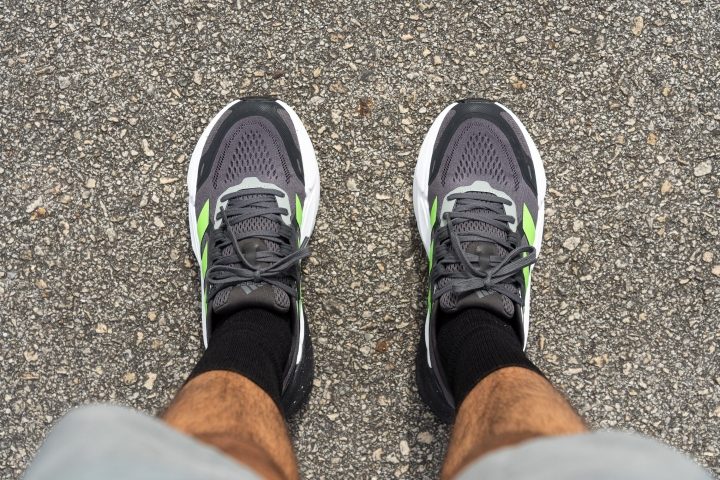 The overlays keep the foot in place. And in the midfoot, the fit is neither too snug nor too sloppy.
It's also very stretchy, almost like those of the early Boosts; it adapts to the shape and size of the foot. According to reviewers, there's no need to lace-lock at all.
The trade-off for such incredible breathability and stretchiness is, of course, durability. The upper didn't stand a chance against our Dremel.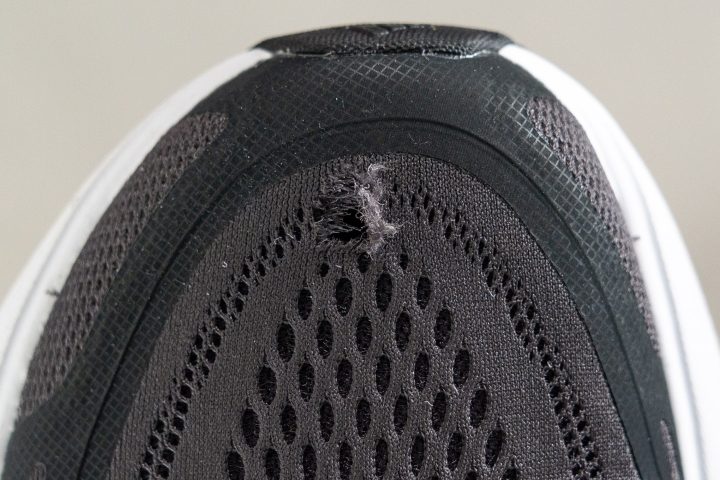 The damage is evident, leading to a clear conclusion—if you have a tendency to wear holes in thin uppers, this one might just join the club.
Mutes out ground feel
The Adidas Adistar is one heck of a chunky shoe, reported several runners. Because of this, it's an easy pick for days where protection from impact is needed, especially high-mileage efforts.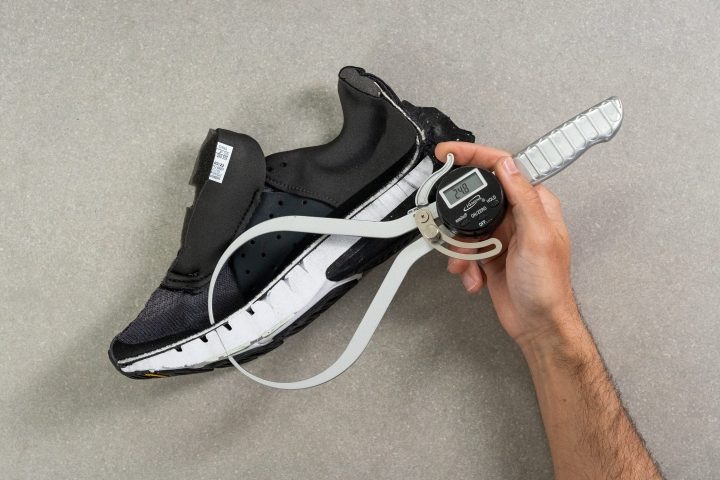 Disclaimer: Our stack measurements include the insole that comes with the shoe.
Fact check
Adidas, we hate to break it to you, but your claim of a 6-mm drop it's not true. We carefully measured the stack height of this shoe and, guess what? We found out it actually has a 9.6-mm heel-to-toe drop. That's 60% steeper!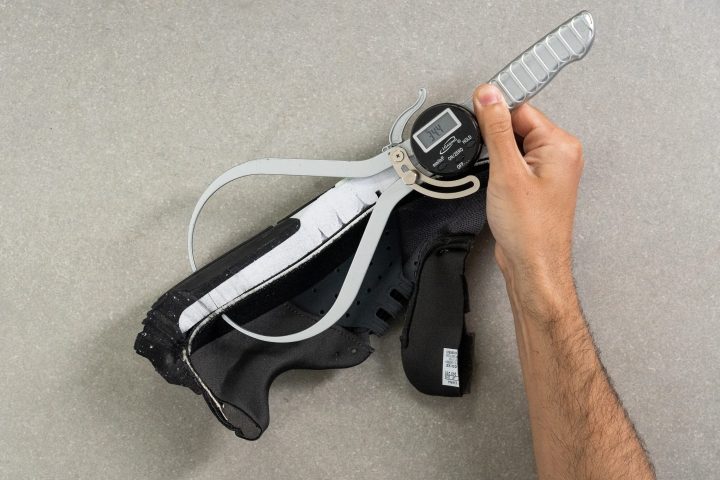 Disclaimer: Our stack measurements include the insole that comes with the shoe.
The midsole of this shoe is crafted from two distinct EVA-based foams:
White: In the forefoot and midfoot areas, you'll find the REPETITOR foam with a hardness of 24.0 HA, which is just slightly below the average value.
Black: The heel features REPETITOR+ foam, which is 29% firmer than the white one, which enhances stability for those who tend to strike with their heels while running.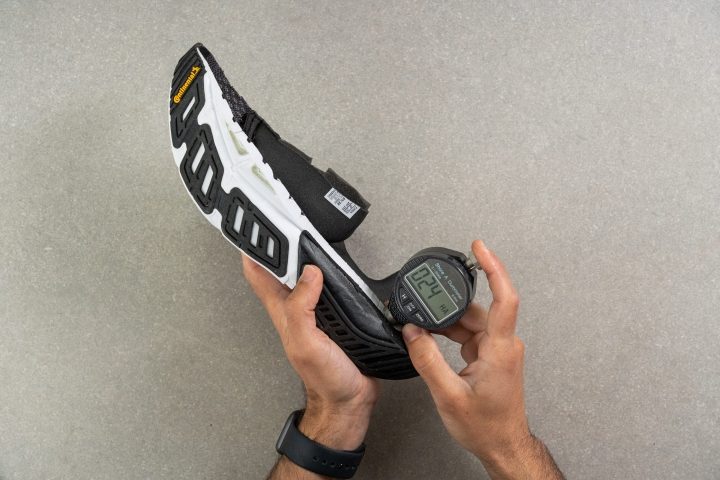 Disclaimer: We calculate an average of 4 measurements and disregard any outliers. This image portrays just one of those.
Because of the rigid heel, the Adistar has an uninspiring ride. It focuses more on protection and cushion rather than faster strides.
On the other hand, a running expert commented that the REPETITOR+ foam is "ultra firm." As for the non-plus version, they mentioned that the "softer Repetitor midsole firms up quite a bit in cold conditions, not an ideal winter shoe". Is that true?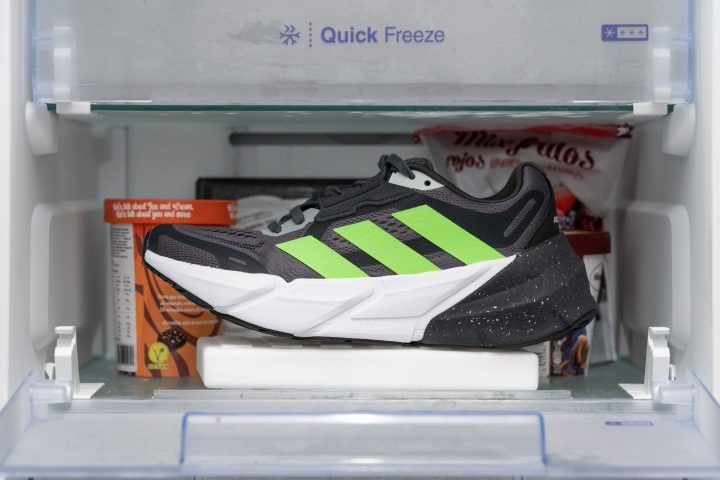 Fact check
Bummer, but it's true. The EVA-based Adistar gets a whopping 57.3% stiffer (less flexible), and its foam turns 28.6% harder when put through our freezing test. Sadly, both values fall short of the average shoe.
So, if you're looking for a winter-ready running buddy, you might want to look at a shoe without an EVA-based foam. As we explained in our foams guide, premium midsoles like Nike's ZoomX work wonders in winter.
Clunky and dull ride
Daily trainers, on average, weigh in at 10 oz. or 286 g. (in men's US 9). The Adidas Adistar tips the scales 325g. Reviewers had mixed thoughts on it:
"That is an insane weight for a trainer these days."
"I didn't feel the heavyweight under my foot."
"The size and weight of the Adistar do become a problem when you run at speed in the shoe."
"It took me a while to get used to the heavier weight and somewhat bulky size."
In addition to the probably-too-much-weight, the Adistar is also somewhat-stiff. An expert said that "Adidas has certainly succeeded in creating a stable and stiff rearfoot," which "will work well for some people searching for that, but not for others who want a smooth heel transition."
Fact check
This aligns perfectly with our findings. We gave the Adistar a rating of 3 out of 5 for longitudinal flexibility and a rating of 4 out of 5 for torsional flexibility. With 5 being the maximum score, it's safe to say these shoes are quite stiff, no doubt about it.
There is absolutely no chance of feeling a flexible ride in this one. If you need that, check the Nike ZoomX Invincible Run 2, which scored only 2 in both manual assessments and is 9% less stiff in the 90º bend test.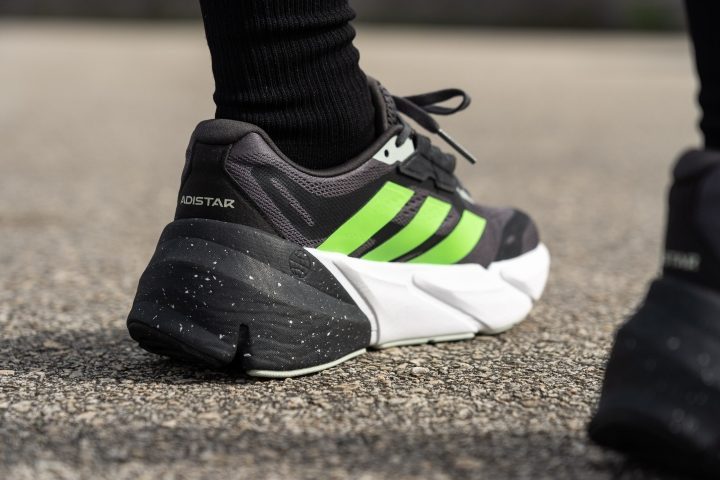 Even though it has a somewhat-rockered shape, particularly in the forefoot, don't expect the incredibly smooth ride you'd get from a New Balance SC Trainer. If you're looking for a shoe that's soft and rockered, get that NB instead.
World-class stability!
The Adistar line has been always marketed as a stability-oriented shoe. Now, Adidas markets it as a neutral shoe, but running experts loved how stable it felt:
"This is an extremely stable shoe with no traditional methods of stability."
"Adidas did a good job creating a guided and stable shoe."
How can any shoe achieve incredible stability without relying on the usual tricks like rigid heel counters or medial posts? Well, the answer is simple: by having a hyper-wide platform.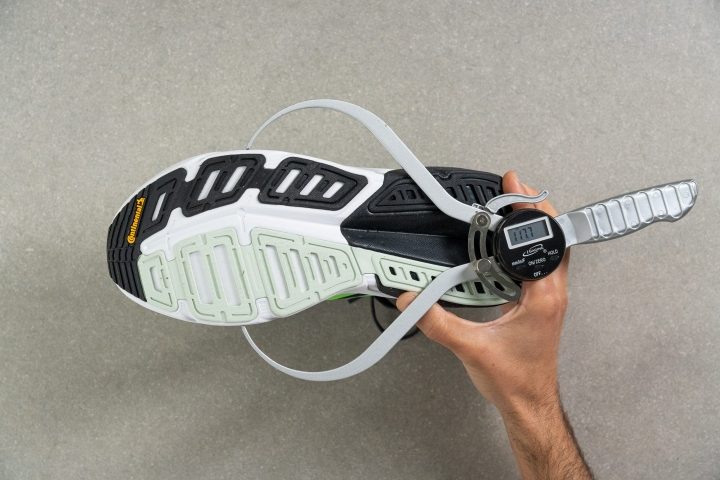 Fact check
We took out our trusty caliper to get precise measurements of this shoe, and it's WIDE. With a jaw-dropping 117.7 mm in the forefoot it's even wider than the highly acclaimed Hoka Gaviota 4 (115.0 mm), which is known as one of the top stability shoes on the market.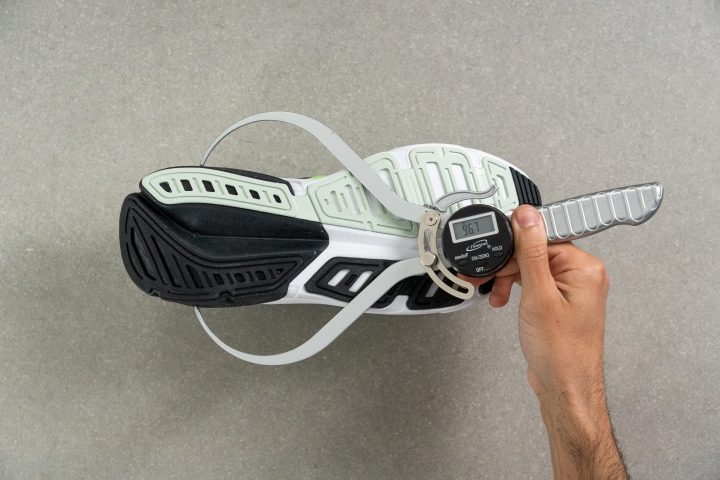 The trend continues with the heel, which is a remarkable 8% wider than your average shoe.
Tongue amps up lockdown and feels like a pillow
It's not gusseted but it does an "excellent" job in tucking the foot in position. Even better, almost everyone agrees that it stays in place through the entire run.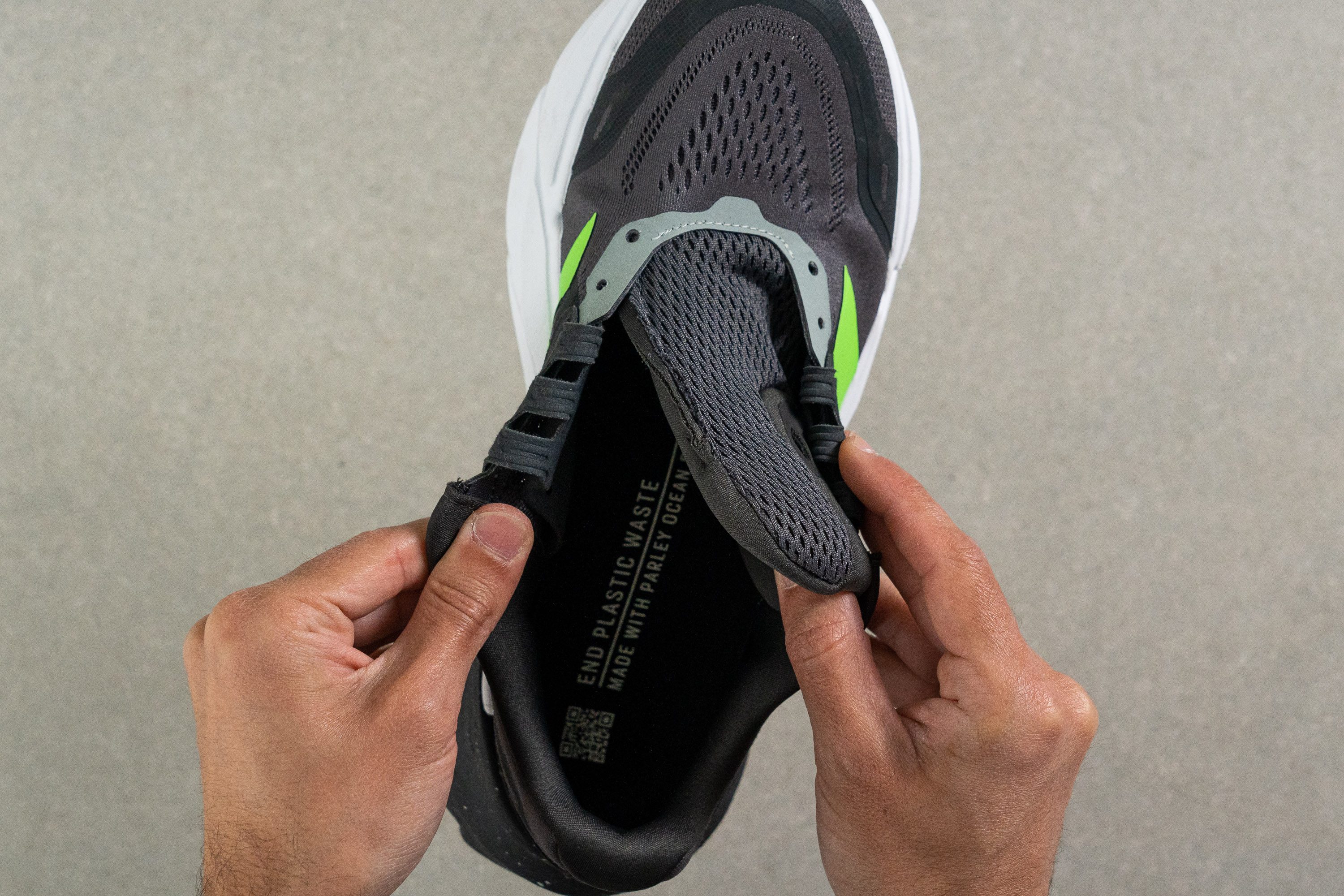 But where it truly excels is in the comfort department. Adidas really went all out on this, without worrying about adding any extra weight.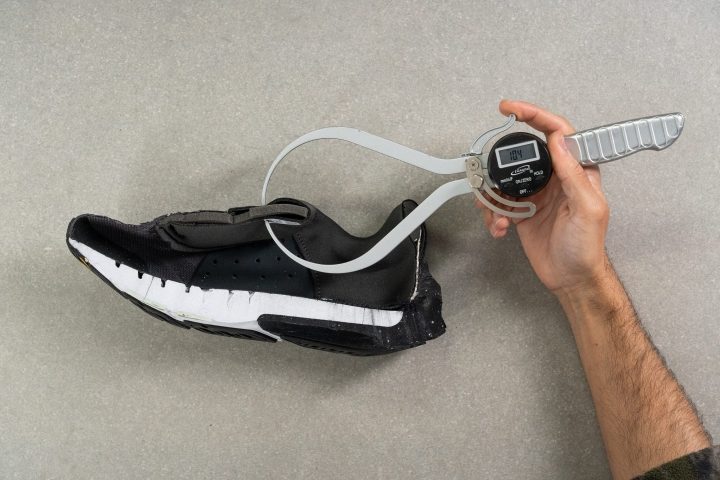 That means there's absolutely ZERO chance of experiencing lace bite with this incredible 10.4-mm thick tongue. It's almost double the thickness of the average shoe!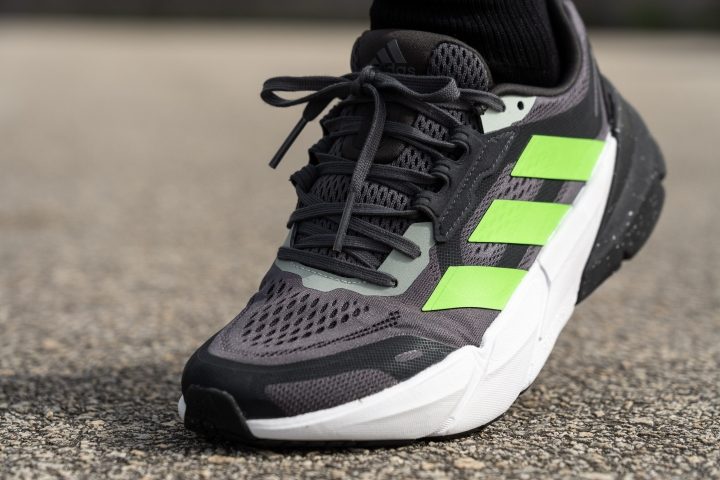 The Continental outsole clings like claws
Like other Adidas running shoes with Continental rubber, the Adidas Adistar's traction is best-in-class. Commenters say that on icy steps, they feel confident. It's nearly perfect.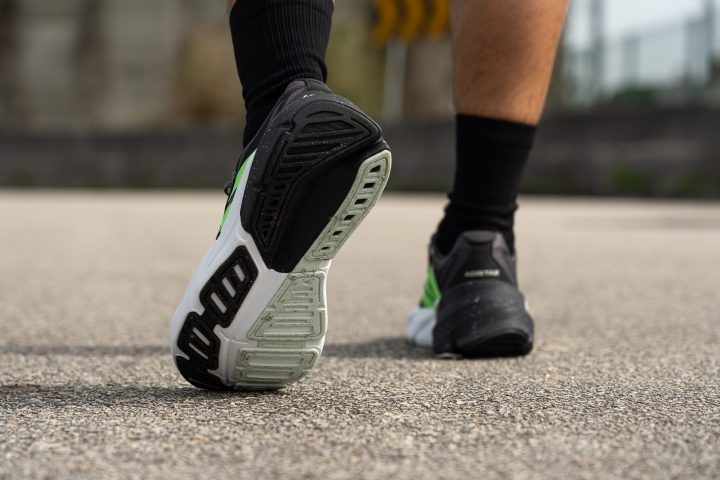 After 30 miles of wear test, there's barely any dent on the shoe's Continental outsole.
Fact check
We discovered that the 3.3-mm rubber is super durable, easily withstanding wear and tear for countless miles on the road.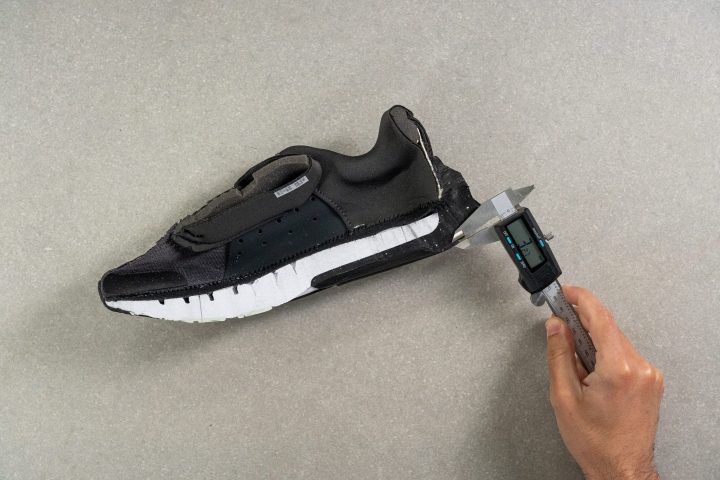 We gauged the rubber's hardness at 81.1 HC, which is even 2% higher than the average shoe.
Combined with the well-known durability of Continental outsoles, it's highly likely that the upper part of the shoe will wear out way before the outsole does. We bet on it!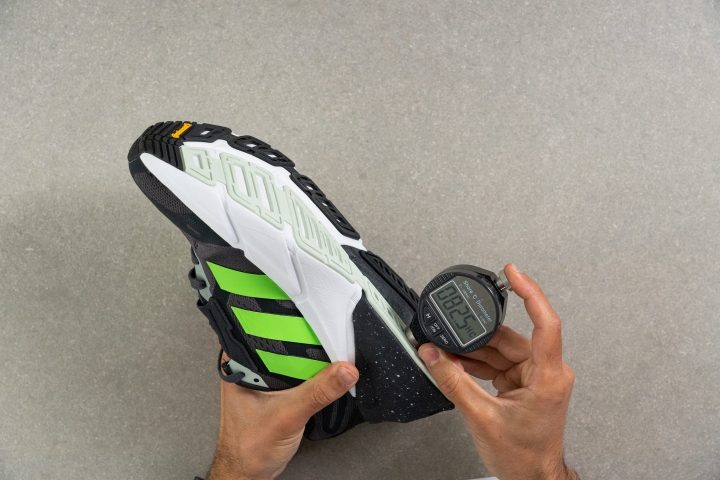 Disclaimer: We average four measurements and eliminate any outliers. This image depicts only one.
Paper-thin insole
Upon examining the whole shoe, our anticipation for a thick insole is met with a surprise. Instead, we discovered a 2.7 mm insole, which happens to be 63% thinner than the average measurement.
Now, here's the good news: the insole is removable. This means you have the chance to replace it with a thicker or more cushioned one.
Cares for the planet
Lessening impact on the environment, 50% recycled polyester and 50% recycled sea plastic are used in the upper. Better than most brands, but still not enough.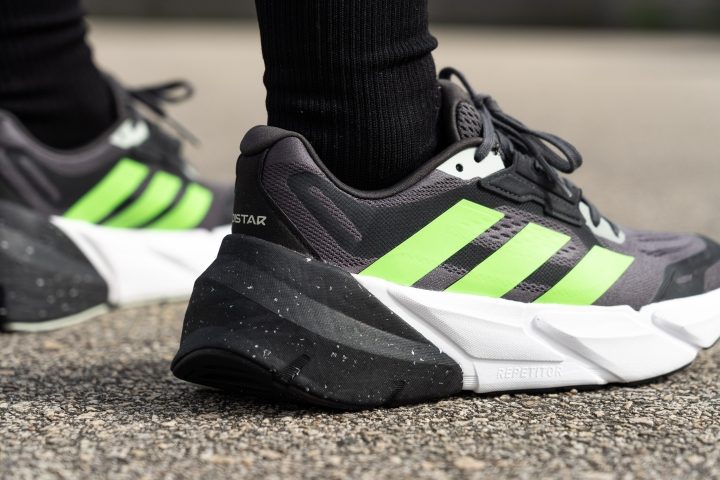 And don't worry, although it's partially made with plastic, there are NO reports of it being scratchy.