10 Best Adidas Hiking Shoes in 2021
When it comes to hiking shoes that underscore athleticism, you can't go wrong with Adidas.
This household name features fantastic kicks that give adventurers the edge they need to conquer the outdoors. We've tested 25+ Adidas hiking shoes to provide you with our top picks. So, whether you need a great all-rounder, an Adidas hiker that makes you go faster, or perhaps a highly affordable pair, we've got them all here.
Overview of this guide
How we review Adidas hiking shoes
At RunRepeat, we strive towards honest footgear reviews. Here is our approach:
We buy Adidas hiking shoes with our own money. This affords us to come up with objective reviews.
We hike in every Adidas kick. Each shoe goes through a particular process unique to its area of expertise, gauging every pair in various terrain and weather conditions.
Our comprehensive reviews have in the mix the opinions of gear experts and regular Adidas users alike.
As a result, each Adidas hiker receives what we call a CoreScore—an exclusive grading system that makes this selection of top picks possible.
Best overall
Boom! After hiking in over 20 amazing Adidas trail shoes for tens of hours each, we now give you the best—the Terrex Swift R3 GTX!
Slipping? Sliding? Those words don't mean anything to the Terrex Swift R3 GTX. Seriously, we never lost our footing in this Adidas gem. We came away with bruise-free knees, and we didn't feel the need to scramble on inclines in this. Yes, this hiker is a monster in the traction department!
Hotspots and bunching also don't exist in the Terrex Swift R3 GTX's vocabulary. It's one comfy hiker whose break-in period is almost non-existent. The plushness around its collar and heel we give extra credit here.
Speaking of its heel section, we found the Terrex Swift R3 GTX to be mighty cradling. Despite its rather low clearance at the back, the shoe gave us immense heel support. We never got heel slippage at all in it, as well.
And we can't talk about the greatness of the Terrex Swift R3 GTX without mentioning its bad-weather performance. Indeed, this athletic hiker is incredibly waterproof, thanks to its Gore-Tex membrane!
So, if you want to be in full control on your daily adventures, the Terrex Swift R3 GTX is your best bet!
See our full review and facts
Worthy on the trail in both form and function, the Terrex AX3 GTX from Adidas won't let you down.
You'll give in to the Terrex AX3 GTX just for its super-comfortable confines alone. While it's not instantly plush, this bad boy gave us real cozy feet the moment we got it fully broken in. We want to highlight its padded tongue, too, for giving us that supple feeling around the instep minus the bunching.
Now, we at RunRepeat are magnetized by lightweight hikers. We are happy to report that the Terrex AX3 GTX, at no more than 400 g per shoe, didn't restrict our movement whatsoever. Even when subjected to moisture, this remarkable alternative didn't weigh us down.
Speaking of moisture, light rain and two-inch-deep puddles have nothing on the Terrex AX3 GTX. While we were treading this shallow creek as carefully as possible, no seepage happened during the act.
The Terrex AX3 GTX's outsole made us proud, too. On dry terrain, especially on rocks, this hiker gave us excellent traction. The depth of its lugs also afforded us sure footing on mud. Incredible!
See our full review and facts
Best for speed hiking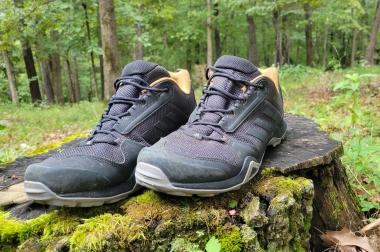 6 colorways available
Top pick
Do you want a literal zoomer? As in something that can make you "zoom" past everyone else, leaving them in a cloud of dust? Then let us present you the Terrex AX3 from Adidas!
This speedster is both lightweight and durable. About the former, we're talking about 350-ish grams per shoe, which brought us enchanting agility. About the latter, the shoe has no signs of wear and tear, and that's after logging in 75 hiking miles in it!
In terms of comfort, the Terrex AX3 didn't let us down. The shoe's tongue felt plush right from the start. Blisters and hotspots were nowhere to be seen anywhere on our feet.
Our fast hikes (in the sun) also didn't give us sweaty feet, thanks to the Terrex AX3's mesh upper. Its incredible breathability kept with our pace, meaning every step ejected stuffiness without fail.
We also don't have any slippage to report about the Terrex AX3. Indeed, this speed hiking shoe kept our feet planted and secure on a variety of terrain types, whether wet or dry.
So, yeah. We highly recommend the Adidas Terrex AX3. And this is without mention of its 80-dollar price tag yet!
See our full review and facts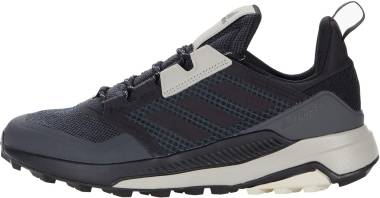 4 colorways available
Also great
Are you tired of sluggishness on the trail? Give your pace a jolt, then, in the Terrex Trailmaker from Adidas!
Also affordable like our top pick for speed hikes, the Terrex Trailmaker is a sweeper in both performance and design. At around 500 grams per pair (per pair!?), this lightweight speedster made lightly rugged trails a cakewalk for us. Transitions in it were buttery smooth, thanks to the shoe's springy midsole and heel and toe rockers.
Underfoot, the best way we can describe the Adidas Terrex Trailmaker is "brilliant." Of course, we're talking about the way its toothy outsole latched on to mildly wet terrain without a hint of slipping. On dry ground, we've no complaints about the shoe, either!
We also had no qualms about the Terrex Trailmaker on the comfort front. After a few short hikes spanning a couple of days, we got it loosened up nicely, giving us that comfy feel all over. Its higher-than-usual backrest surprised us, too, in that we thought it would give us that rubbing sensation but didn't.
After several days of testing, the Terrex Trailmaker only sustained light scratches. Yes, this hiker is a tough one to crack (literally).
We wouldn't recommend the Terrex Trailmaker to fast hikers who dislike chunky soles, though.
See our full review and facts
Best budget shoe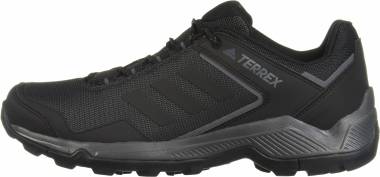 3 colorways available
Top pick
A wallet-friendly hiking shoe from Adidas? We say a big "yes" with the Terrex Eastrail. Indeed, if its 70-dollar price tag doesn't make your heart skip a beat or two, we don't know what will!
Equally breathtaking is the Terrex Eastrail's plush interior. From its cushy heel to its no-rub instep, this mighty affordable Adidas hiker compelled us to smile the moment we put it on.
There's also that thing called breathability in the Terrex Eastrail. Stuffiness didn't happen in the entirety of our test hikes. Because of its amazing ventilation, we saved ourselves from ever sustaining blisters. Awesome!
Now, the Terrex Eastrail is light at 350 grams per shoe. This translated to boosted strides on level terrain. We also got it soaked on purpose to see whether it could keep us mobile. We're happy to report that it didn't matter—wet or dry, the Terrex Eastrail rode with us with high agility.
And let's not forget the Terrex Eastrail's rubber outsole. On dry rock and low-lying boulders, the shoe never slid. Its grip performance on wet terrain (i.e., moist grass, mud, and damp mossy roots) was also one for the books!
So, if you have the humble dough, give the Adidas Terrex Eastrail a go!
See our full review and facts
Other buying guides