Most trail runners haven't been very KEEN on Adidas trail shoes. They seemed like an afterthought given that the brand's focus was admittedly on sneakers and soccer cleats. But then the Adidas Terrex Speed Ultra arrived. It performed so well out on the trails that many runners have chosen it as their go-to.
Pros
Lightweight
Nimble ride
Grippy outsole
Breathable
Dries quickly
Great lockdown
Reflective elements
Cons
Feels a touch minimalist
No heel pull loop
Adidas Terrex Speed Ultra review and lab test
Fast, light, and sexy!
Adidas really caught my eye with the new Adidas Terrex Speed Ultra. Their trail lineup hasn't impressed me in the past but these were a must-try.
They are light, nimble, quick, fit great, dry fast, and grip anything and everything, well except mud…
I was so enamored by these that I had to keep them, and I think anyone whose foot fits well in them will feel the same way.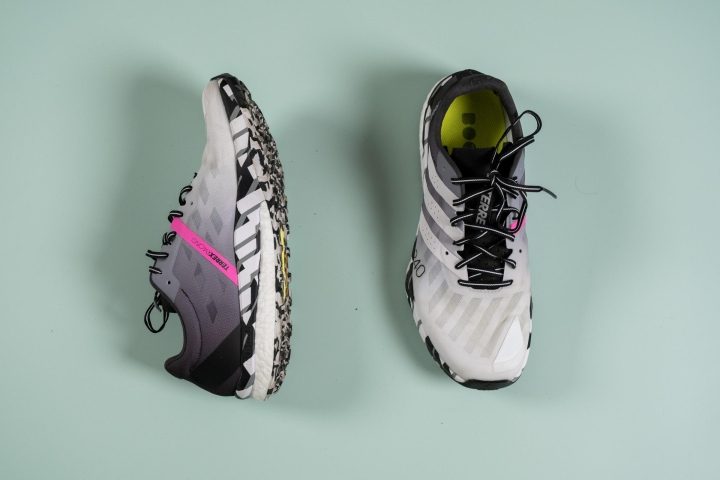 Even though I am not dreaming about soccer, I am dreaming about these Terrex Speed Ultras!
Who should buy the Adidas Terrex Speed Ultra
But the Terrex Speed Ultra if you are looking for a fast, quick, speedy trail shoe that has a bit of ground feel, a great ride, and a grippy outsole.
These dry fast, and would be perfect on a trail race day or a commuter run from the house to the trails on mixed terrain.
Who should not buy it
Don't buy these shoes if:
You truly want zero ground feel and would rather just stomp rocks and roots into oblivion. Try the Saucony Peregrine 11.
You want something above a minimalist shoe but want zero drop or at least a lower drop than the 8mm the Terrex Speed Ultra offers. Try Inov-8's Terraultra G 270.
Adidas Terrex Speed Ultra fit is amazing
First off I love how these fit, but there's not a ton of breaking in to be had, so if you really struggle with these on try-on, maybe they won't work, but if they fit on day one, these are killer!
The Terrex Speed Ultra fits more like a glove than a thickly padded shoe. They have a super soft heel counter, and I love minimal heel counter. It scores just a 1 out of 5 on our scale,1 being the most flexible.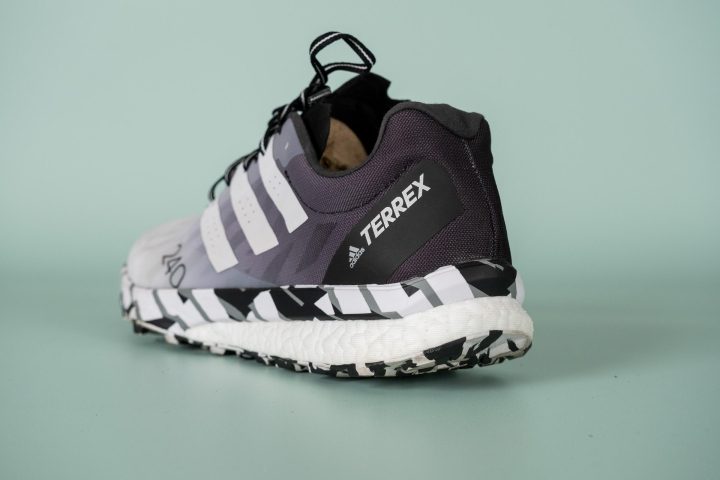 The upper doesn't have a ton of giving, so the lockdown was great, and I felt solid and secure even on the technical trails I threw at the shoe. The laces follow suit and are not stretchy at all, again scoring a 1 out of 5 on our test, 1 being the least stretchy, offering tight lockdown over the top of the foot.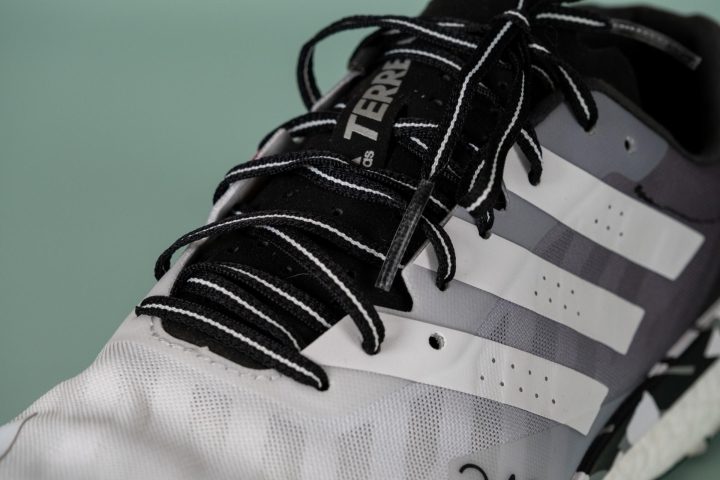 Other than needing a heel pull loop there's not much else to say about fit other than Adidas nailed it in this shoe. It's not overdone, there's no heel slip, padding is minimal and my wide foot is happy without having to give up on any compromises.
Comfort is subjective
This is really more of a race shoe, so comfort is subjective, but with that being said, I find this shoe extremely comfortable.
It offers enough protection without fear of hurting your feet, while it's not a minimalist shoe it's also very far from a maximalist design that's more in trend right now.
It has a thin 2.7mm removable insole that keeps these feelings light but grounded and the tongue follows suit at just 3.7mm it's also thin and more minimalist than many competing shoes.
The tongue is perfect in my opinion, not too bulky but enough to ensure no lace bite, and it will dry quickly if it gets wet compared to average shoes (5.5mm) padded tongues.
Adidas Terrex Speed Ultra has a sweet ride
First off, again this shoe runs a bit more like a racing flat or a beefed-up minimalist shoe, think Saucony Switchback 2, instead of the more trendy rockered, big-stack shoes these days.
It has an 8mm drop, 32.8mm of heel stack, and 24.6mm in the forefoot.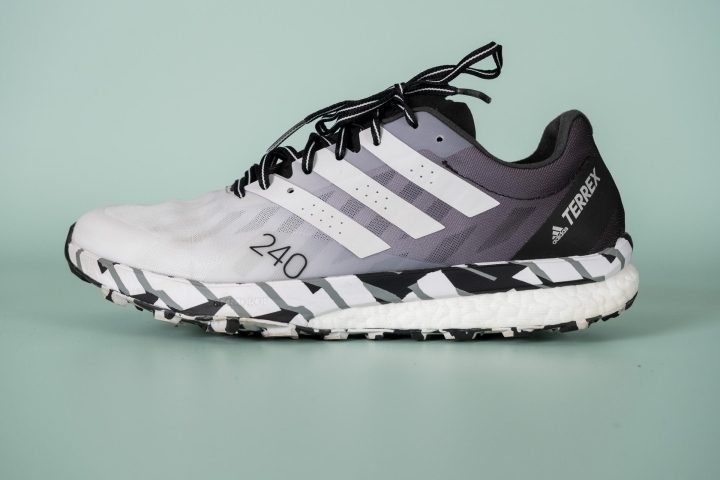 They are nimble thanks to the fairly narrow platform for a trail shoe at 110.6mm in the forefoot and 77.2mm in the heel.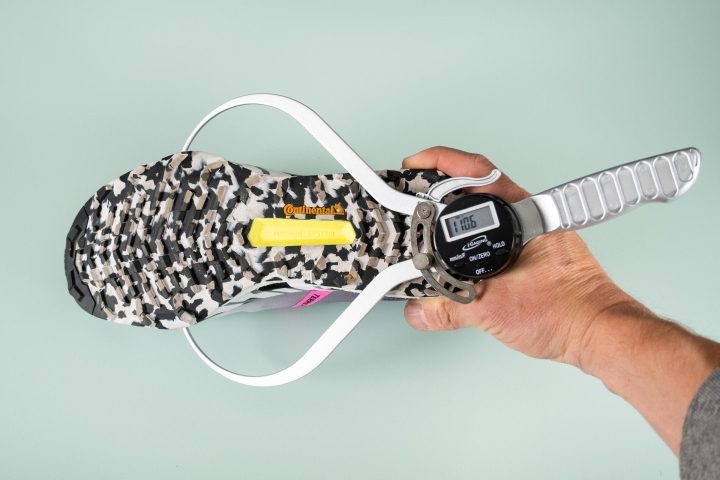 The Terrex Speed Ultra is soft on flex at 24.3N in our flex test which is great and makes the shoe feel more like a part of your body than an extension of it.
In colder temps the Adidas Boost midsole foam performs well too, only stiffening slightly to 29.1N (19.8%), compared to the average midsole (35.3%).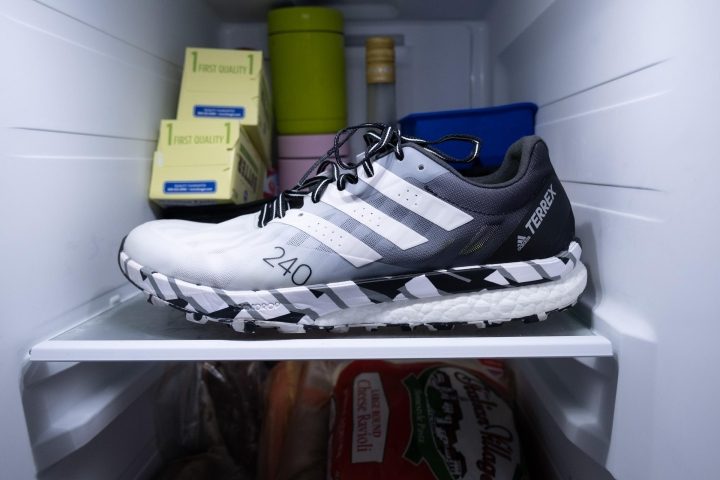 Both longitudinally and torsionally the shoe scores 2 our ot 5 in our tests, 1 being the most flexible. At times this shoe felt somewhat minimalist which I liked, but with plenty of protection from the ground and enough drop to feel confident on steep climbs.
The dual-density midsole is the show stopper. The shoe features both Boost and Lightstrike which gives it a soft and cushioned, but responsive ride. The Lightstrike runs the whole length of the shoe stiffening it up to have pop off the toe, and the Boost is just from the midfoot back giving landings a ton of cushion without any feelings of instability.
There's not enough Boost foam in the heel through for trial bashers that are heavy heel strikers. The shoe definitely wants you on your toes more than on the heels, and heel strikers may want to look elsewhere. Midfoot and forefoot runners will probably love the ride.
Adidas also found a way to keep some of the ground feel in this shoe too, which I commend and personally love.
One thought though is, these may not really be ultra-marathon, ultra-distance shoes. They are speed-oriented and not really great for the long slog of an ultra. I say that and remember the days ultra runners were reading Born to Run and racing in truly minimalist shoes, so I guess they can be used for 100-mile efforts, but these really excel at 50K, and shorter distances in my opinion where light and fast is key.
Light and fast
At 9.1 ounces (258g) this is an extremely lightweight trail shoe. And somehow it feels even lighter on your feet. Honestly, it melts onto your body and runs with you, not under you.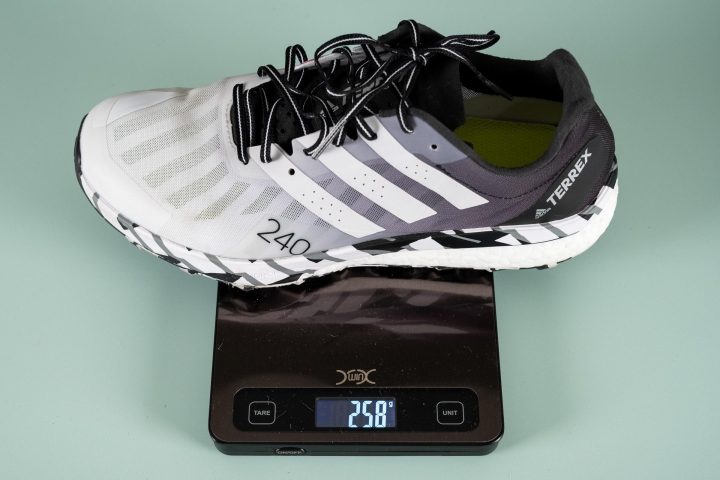 Continental outsoles rock
At first glance, the outsole is not impressive. The shoe has a mini-lug pattern but they are everywhere. Reminds me of a pair of Adidas turf shoes I had for a high school indoor soccer season years and years ago.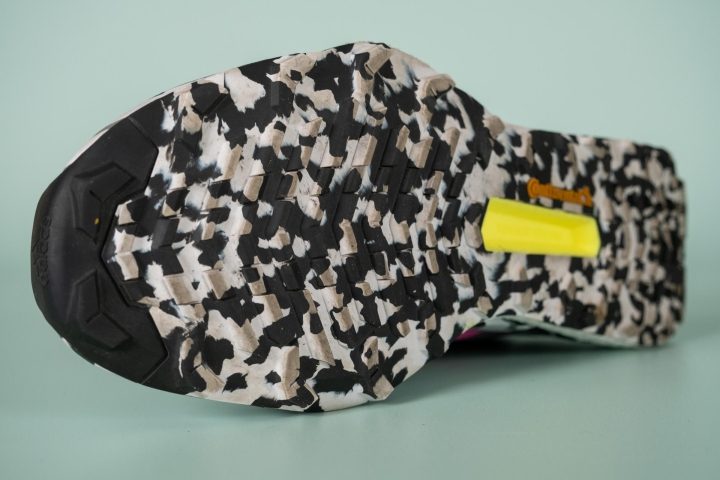 The lugs are on the smaller side at just 2.6mm (average lugged shoes have 3mm lugs) but they feel consistent and balanced because they completely cover the bottom of the shoe.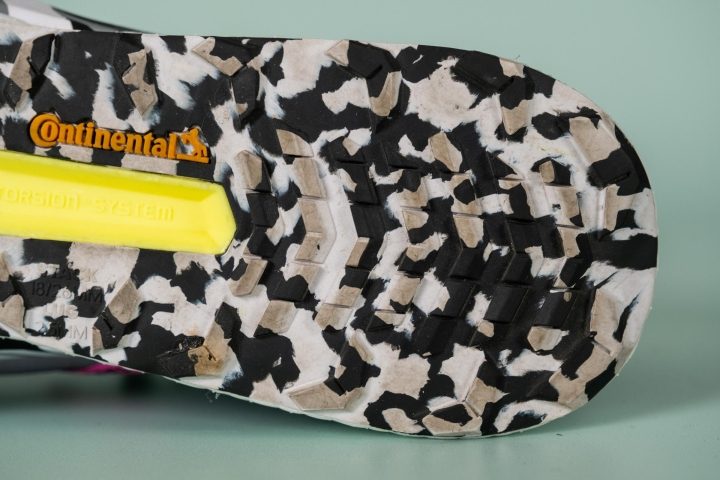 The Continental rubber is magic and tacky even on wet slick surfaces. I really don't know how it performed as well as it does. The tread pattern literally looks like the Continental tires I have on my gravel bike, it works amazingly well in both applications!
The one caveat is, they won't excel in the mud but they do extremely well on just about everything else.
Terrex Speed Ultra's breathability
The shoe is super-breathable thanks to its thin upper with minimal welded overlays.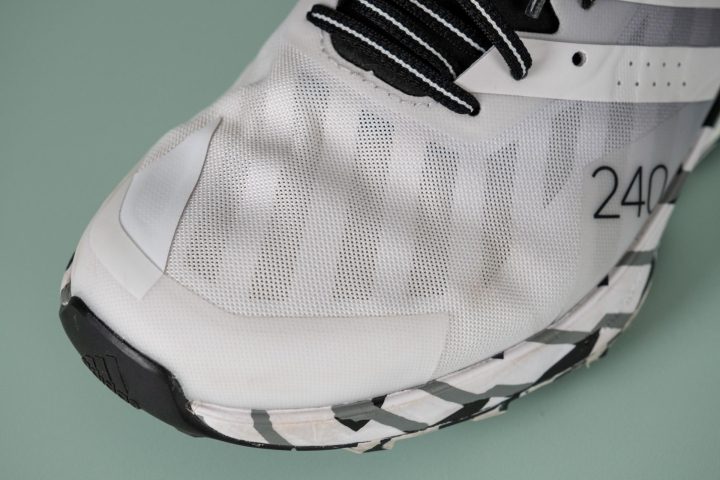 The upper feels a bit plasticky but I like that because it's pretty hydrophobic (fancy speak for it doesn't soak up a ton of water) making this shoe great on days where moisture is an issue. Ie, It doesn't get all that wet so it dries super fast.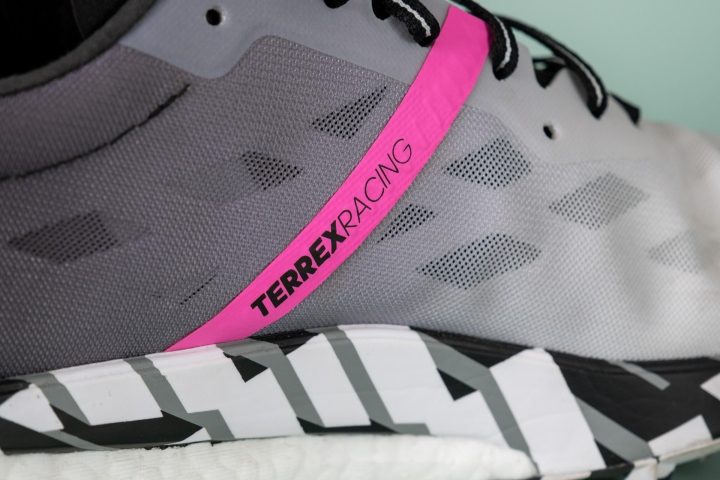 Reflective
Adidas planned ahead and knew ultra runners would inevitably be running in the dark and gave this shoe ample reflective elements on its three strips.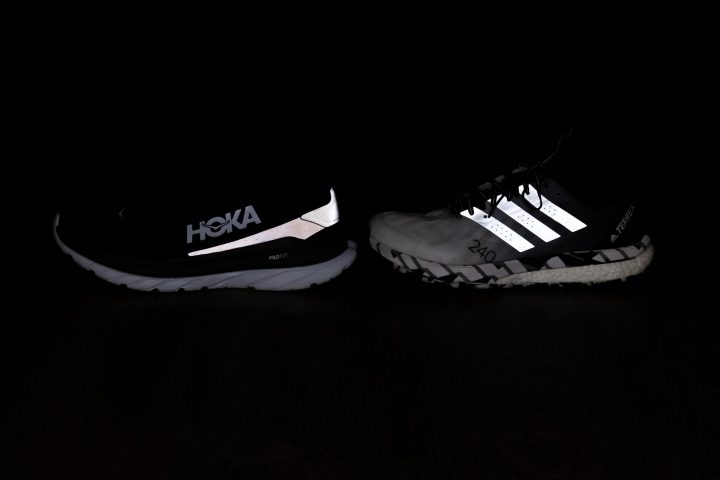 Conclusion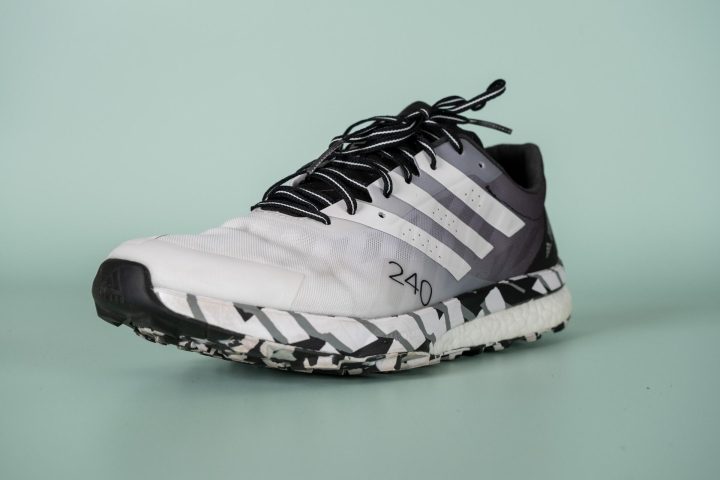 Three stripes are no longer three strikes in the trail world, this shoe is a winner!